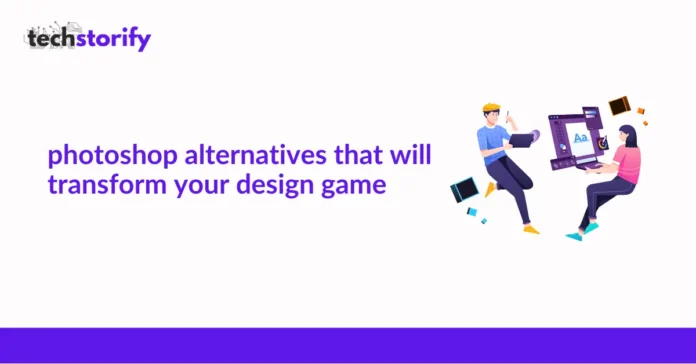 Photoshop is a market leader when it comes to photo editing. However, there are many Adobe Photoshop alternatives.
Adobe Photoshop has revolutionized photo editing in the last 10 years. Every marketer, brand, and various creative artist are using Photoshop to edit images. Certainly, it is the best photo editing tool. It is also used for designing marketing collateral.
Today, we have curated the 15 Best Photoshop Alternatives for Mac and Windows for you all. These are a mix of paid and free tools that do similar work as Adobe Photoshop.
Related Article – Best Photo Editing Apps for Android & iPhone
Best Photoshop Alternatives You Need To Know
1 –  Luminar AI  (Free Trial 30 days)
Luminar is one of the best photo editing tools available as a replacement for Photoshop. If you are looking for a quick enhancement without spending a lot of time and money, then Luminar should be your pick.
It comes with a 30 days trial period and can help you edit your images professionally.
Some of the features it provides are AI Sky Enhancers, Advanced Contrast, and Dehaze.
2 –  CorelDRAW Graphics Suite (Trial 15 days or Full Paid or Monthly sub)
You might remember CorelDRAW before Photoshop became popular among designers and photo editors.
CorelDRAW gives you dynamic editing and design interface. You can not only edit your pictures on this but also add additional elements to create a spark.
CorelDRAW has always been the best Photoshop alternative. Their new edition has come up with some fantastic updates.
Photopea is a powerful online editor that allows users to perform many of the same tasks that can be accomplished using professional software like Adobe Photoshop.
Here are some of the key features of Photopea:
Support for a wide variety of file formats, including PSD, XD, Sketch, JPEG, PNG, and more.
Layer-based editing, which allows users to easily create complex images with different elements on separate layers.
Tools for adjusting color, brightness, contrast, and other image attributes, as well as filters and effects for adding special effects to images.
Support for vector editing, including the ability to create shapes, paths, and text with full control over size, position, and color.
Powerful selection tools, including the ability to select by color, shape, and area, and tools for refining selections with masks and feathering.
The ability to work with multiple images at once, with support for tabbed browsing and the ability to copy and paste between different images.
Integration with Google Drive, Dropbox, and other cloud services, which makes it easy to access and save your images from anywhere.
A customizable interface that allows users to set up the workspace to suit their needs, with options for customizing the toolbar, keyboard shortcuts, and more.
The ability to work with 3D images and create 3D models using the built-in 3D tools.
A range of advanced features for working with text, including the ability to apply text effects, adjust character spacing, and use advanced font settings.
The ability to record and playback actions, which allows users to automate repetitive tasks and save time when working on large projects.
If you are a beginner in photo editing. Serif PhotoPlus X8 will be the perfect tool for you to experiment with editing. A simple and effective Photoshop alternative for amateur editors. The software is easy to use with a lot of tutorials available
Adobe Photoshop Elements is a different tool from actual Photoshop. It offers similar features and is more suitable to enhance your images. It is more comfortable and minimalistic.
The top features that it provides are Blend and Adjustment layer modification. Try this as one of the top Photoshop alternatives.
6 – Sketch  (Free Trial 30 days)
The sketch is a perfect alternative to Photoshop if you are working on a Mac. It is cost-effective and boasts similar features to Photoshop and Illustrator. As the name suggests, it has design features as well.
The reason it comes closer to Photoshop is its flexibility and control that a user gets to design anything.
GIMP, as many of you, might have heard of this tool which is an open-source cross-platform image editing software. It is very similar to Photoshop and offers a similar features.
People who are just starting the photo editing game can find tons of tutorials to get used to GIMP.
Features
Open-source image editor
Customizable brushes, filters, and layer masks
Supports a wide range of file formats, including PSD files
8 – Acorn  (Trial 14 days)
Another software for Mac users. Acorn is a simple and effective photo editing software that is available at a better price as compared to Adobe Photoshop. You can enjoy similar features like Photoshop editing pictures.
From custom brushes to layer styles, Acorn has a plethora of features to offer.
Next on our list is Affinity Photo. One of the best Photoshop alternatives available for Mac and Windows users. It is a fantastic photo editing tool with all the relevant features. It is less expensive than Photoshop and delivers a similar level of work.
Do check this out. Also, another good thing about this is that it is available for iPad as well.
Pixelmator recently released its Pro version for Mac users and is one of the coolest things to happen. The Pixelmator Pro is a power-packed image editing tool and a Photoshop alternative if you are on Mac.
As the update is new, you can expect the best features update.
11 – Pixlr  (Free Version Available)
Pixlr is a simple and powerful photo editing app. Apart from covering the basic photo editing options, it provides advanced-level features as well like infinite overlays, adjustment layers, brushes, backgrounds, etc. Also, it is available for Android and iOS.
12 – SumoPaint  (Online + Desktop)
SumoPaint is a design tool that is made with fewer complexities than Photoshop. It is a simple design and editing tool that can be accessed online and downloaded for Desktop. You can find the basic design features similar to Photoshop here. It is slightly old-school but does the job of basic editing and designing.
Paint.net is an ideal image editing tool available for Windows users. It has some fantastic photo editing features that can enhance your image well.
This is more like photo editing than a designing tool. However, it is simple to use and gives brilliant results. Do check it out.
14 – PicMonkey  (Trial 7 days)
PicMonkey is less of a Photoshop alternative but a good photo editing software. This is inclined to be more of a collage tool that can help you create amazing designs.
PicMonkey is quite popular with a lot of beginners and does the job pretty well.
It is not as complicated as Photoshop, and the interface is friendly for everyone.
15 – Canva (Free Basic Plan + Trial 30 days)
Last but not least. Canva is the previous and the best free tool out there, which is a fantastic design tool along with a powerful photo editor tool. With a huge fan base to create amazing designs, Canva is undoubtedly a top alternative for Photoshop out there. It is also available for Android and iOS.
Some of the features that it offers are – Free templates, Free stock pictures, Free text layouts, free vector graphics, and many more. We did a review on Canva; you might want to check that out for details.
Wrapping Up
So, here are the 15 best Photoshop alternatives that are available for Mac and Windows users.
All these tools can help you design or edit your images, just like Photoshop. Some of them are paid but offer a trial version that can give you an idea of how the software performs.
Do let us know which one of these you recommend the most and we will do a detailed review for the same.
Have something to say about this article? Comment below or share it with us on Facebook, Twitter, or our LinkedIn.