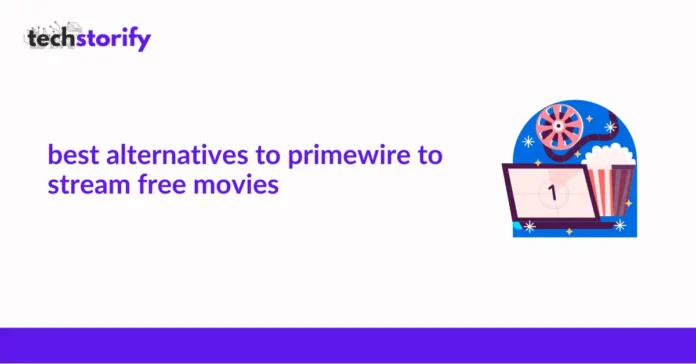 PrimeWire is one of the most renowned sites to stream movies for free. But for some reason, the site was blocked.
Although developers moved the site to a new address, frequent viewers are worried as the site may be taken down again and looking for better or stable alternatives.
Now we are going to see 10 best alternatives to PrimeWire where we will be able to stream movies and TV shows and also get some extra features in no particular order.
Best Sites Like Primewire for Movie Streaming
WatchMovieStream site is proud of its license of 657 and public domain movies to watch online. All the movies are free to watch, and most of them are in High Definition.
The site is updated often so you will find most of the new movies here. The movies are sorted by genre, year, alphabetically etc.
The downside is the website contains advertisements, which pop-up whenever you click on a movie. But keeping in mind that everything is free, the little adverts should not bother that much.
MoviesJoy is an excellent alternative to PrimeWire. The website not only contains movies but also has an extensive collection of TV series.
Not only English, but there are also many overseas collections, like Chinese, Japanese, Indian etc. You can also look for movies in suggestions, popular, Top IMDb tabs.
The thumbnails have a beautiful animation to flaunt and also has icons to show if the films are in HD or CAM.
By signing up, you can make your library to and add movies to watch later list. You can find adverts here and there, but they are pretty limited.
1Movies is one of the best websites to stream films and TV series. The user interface is excellent with features like there are many genres to check and movies are curated by year, IMDb rating etc. so you can always find something of your taste.
Hovering over any thumbnail a little window appears showing a brief about that film or TV series, with various other information like time, release year, ratings etc.
Although the website has some advertisements, you can make an account and buy premium for only $5 and get rid of those.
By logging in, you can also contact the site manager and ask to upload a movie not present on the site.
FlixGo is one of the best-looking sites to watch movies and TV series for free. The dark theme makes the appearance for dramatic, and the UI is easy to navigate.
The collection is almost the same as in PrimeWire in FlixGo, and an extra feature is some movies are also can be streamed in 4K.
The thumbnails got the same attributes as 1Movies and sign up option is also present.
The site offers everything for free with a lot of advertisement, and to get rid of those you have to get the VIP pass for $2.99 for a month. But that is not mandatory by any means. Do check out Flixtor Alternatives here.
MoviesNinja is another excellent alternative to PrimeWire as the site has lots of movies and TV series in their collection.
Also, they make sure to update the library, so if you want to watch the latest and greatest films or episodes of your favourite TV series, MoviesNinja got you covered.
The black theme all over the site make the UI eye-catching, and it is easy to find the movie you are interested in through many categories.
The site has some minor advertisements, but that should not be an issue. You can also log in to build up your library or add videos to watch later.
One of the sites launched in recently is StreamLikers, which is building up their library pretty fast and has all the recent movies and TV series.
Hovering over the thumbnails shows a short description with other information like release date and IMDb rating. The site has a switch for dark theme and UI is simple clutter-free.
They also offer a download option for any of their videos, and that does not need logging in. You can also add films to your favourite list.
One negative point is you will need 3-4 clicks to play the stream, as the other clicks reveal only advertisements.
OpenLoadFreeTV provides all the latest movies and TV series as soon they are launched by updating the site every day.
The user interface is prim and crisp and has separate tabs that make choosing one film easy. You can also search for a specific movie or TV series, and the search engine is quite good.
The site also offers few Bollywood films and trying to make the collection bigger. Although you might want to install an ad-blocker first as every time you click somewhere, you will be able to see a full-screen advertisement, which is the most frustrating part of the website.
5Movies is a black-themed website offering movies from a wide variety of genre and countries. When all the other sites are busy showing all the latest movies, 5Movies took a different approach as with new movies; they also feature great but lesser-known films.
So if you are looking to watch a film but has not made up your mind what to watch, you should give this website a try.
You can also contact the site developers and ask for a movie not listed in the site.
The website also has advertisements, but less likely you will bother as they offer different mirrors and download option for every film.
CMovies is a well-built streaming site offering all the latest movie and TV series. As an extra feature, you can also watch live sports on this site.
Films are offered in good quality of video and audio, mostly in HD, and you can also download those. The web player is stable, although it takes a bit to buffer.
Thanks to Disqus, you can share your experience with the movie or episode with emojis and comment, like any social networking sites.
Another positive side is that even if the website has advertisements, they rarely show up. So the overall experience is pretty good.
The list could not end without PutLocker as it is one of the most used websites to watch movies and TV series ever.
After the launch, they had to change their site address a lot of time, but now it is stable, and they also have upgraded the UI to suit the new generation.
On the main page with the movies listen you can see the IMDb ratings and check if the film is in HD. The site also has genres and categories to make the search easy.
The site also has some adverts like others, but those are not intrusive so you can ignore them easily and overall this is one the best sites available now. We have published Putlocker alternatives article, and you can check that too.
Wrapping Up
I hope you have found the one suiting your needs and do let us know which one is your favourite or in case you know any other better alternative.
Have something to say about this article? Comment below or share it with us on Facebook, Twitter, or our LinkedIn.
Remember, sharing is caring!