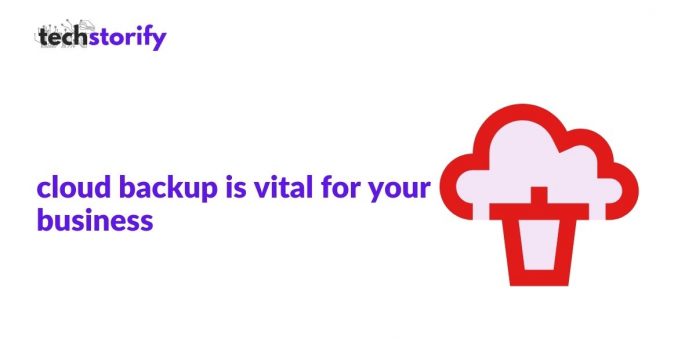 Today we'll be going to talk about the best cloud backup services to buy in 2020. Cloud backup services also known as online backup services. And as the name itself suggests, it's a tool you can use to save your important data to prevent a substantial data loss.
However, you can save/store your data in an external drive. Still, you don't know when the disaster will happen such as theft, or any accidental damage.
On the flip side, a cloud backup can give you peace of mind by storing your data online. Also, you can activate a virtual key or password to prevent data loss by a cyber-criminal. Now every cloud backup service works a little differently than others.
Some of them will give you unlimited storage, others allow you to share your files through the file-sync option. On the other hand, some of them allow you to backup your system files, even if it's a tablet or a smartphone.
Best Cloud Backup Services
Now it all depends on you and your requirements. Do you want to back up a single PC or are you an office owner who wants to backup the whole bunch of 30 computers? Because I don't think so there's a cloud backup service with a backup of unlimited storage and an unlimited number of devices. And if something like this exists, it'd really expensive.
Now let's talk normally because no one needs that kind of feature. Today we'll get to know about the 10 best cloud backup services for different kinds of users.
Let's get started then.
Moreover, it comes with blazing fast upload speed. And the mobile app of this service works well to backup a device. Also, this app can easily recognize your faces in photos to use the tagging feature. Plus, the file-syncing option allows you to mail in full drive. Yes, you don't have to wait for hours and days to upload a piece of data. And this cloud backup service keeps this data forever.
IDrive is easy to use and comes with two-factor authentication. So you can make your personal and professional data secure than before. Also, you can backup your system and application data. However, you have to turn on these settings because it'll not work as default.
It also has a basic plan for free which provides you 5GB storage capacity. And there is no credit card needed. Moreover, the plan starts from $52.12 per year. In this plan, you'll get 5TB storage for unlimited computers yet only one user. And the second plan costs $74.62 per year with a 250 GB plan. But you get unlimited computers and unlimited users in this plan.
Acronis True image is a cloud backup software based on a disk imaging system. It's an ideal service for users who tend to use powerful backup services.
It's a powerful and feature-rich online backup software that allows you to take full image online backups. Also, you're allowed to backup your mobile devices too. Besides these features, it comes with syncing and sharing options. Moreover, you can take backups from your social media accounts and external drives to store your favorite memories.
Further, it comes with antivirus software and ransomware protection to save you from dangerous viruses. Also, you'll get a survival kit that allows you to create a bootable file-restoration tool. Acronis True image features a storage capacity of 5TB and can supports up to 5 computers.
However, it's one of the best cloud backup services to save and secure your data. Still, it comes with a few complications and things I didn't like. For example, it doesn't come with two-factor authentication. And could be expensive and complicated for home users.
3. Icedrive – Best Cloud Storage Service for Mobile Users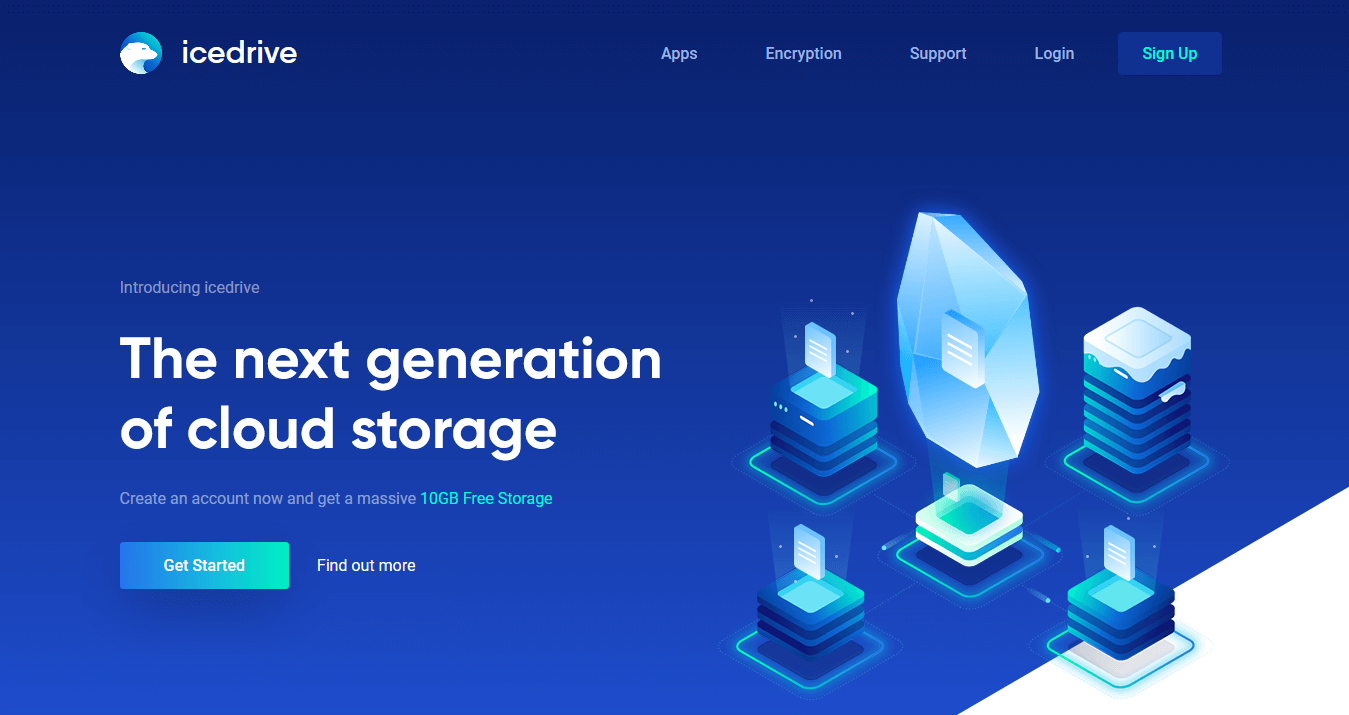 If you're looking for a cloud service to backup your phone then Icedrive is the best. At the very first glance, you'll love the clean and simple UI of Icedrive. It comes with lots of useful features and affordable payment plans.
Icedrive offers you its service through web-based, desktop, and mobile applications. And there are publications who don't get tired by admiring that mobile app. You can download it from Google Play and The App Store. Application is easy to use and well compatible with phones and tablets.
Icedrive is also known as the "strongest encrypted cloud storage." The client-side two fish encryption system is here to feel you secure than before. You can share files and folders directly from the app. Also, you can see them through a built-in document and a vector viewer. Also, a custom media player is here for audio and video files.
If we talk about the price you can choose according to your needs and budget. There are monthly, yearly, and lifetime plans available in the market. Every plan has three different tiers- 500GB, 1 TB, and 5TB. Moreover, you can also signup for free to get 10GB FREE Cloud Storage.
It comes with two annual price subscription programs. The first program costs you $ 47.88 and comes with a 500GB storage. On the other hand, the second program costs $95.88 and storage of 2TB. The same planes cost you $175-$350 and give you the same storage for a lifetime period.
6. Zoolz – Best Cloud Backup Service for Long-Term Cloud Storage

If you got a company to run then Zoolz can help you to give a data backup. It's one of the best cloud backup services for big enterprises' data needs.
You can get a cloud storage space of 100TB  for one-five years, according to your needs. Also, this cloud backup service comes with military-grade encryption included. And yes, as a company owner if you want to store all of your company's data Zoolz is good. It is excellent for long term storage and costs you less expensive than other backup products.
Further, it has features like a smart duplication algorithm, and custom system alerts. Also, it can easily be deployed to 1000's of users. You can add some advanced user rules to add some privacy or restrictions to critical data. Moreover, you can see backup previews and continuous data protection. In that way, you can ease your workload and pressure on your mind due to security issues.
Zoolz comes with three pricing tiers- 1TB, 2TB, or 5TB. 1TB costs you $199, 2TB costs you $399 and 5TB costs you $999. Moreover, for 5 years and 100TB of storage, you can purchase a plan that costs you $30,000. This sounds expensive but as compared to the market it's one of the best and affordable cloud backup services.
7. Sync – Best Cloud Storage Service for High Workload
Want to enhance your security by adding end-to-end encryption, or password protection? You can choose Sync. It's one of the cloud backup storage that compliance HIPAA or GDPA.
Although it's a well-known software for European and Canadian companies. Also, many health cares and banks organizations use Sync. You can easily send and receive files from known sources. Further, you can use third-party tracking, two-factor authentication, and granular user permission. Remote device lockout and end-to-end encryption give you peace of mind by securing your data.
You can share as many files as you want by creating unlimited folders. Also the files you'll send will be password protected. So any government or any private regulation won't be able to steal your data.
Sync comes with two pricing categories- Individuals, and Teams. Both these plans divided into three pricing tiers. Individuals plans costs $8, $10, $15/per month. And it gives you storage of 2TB, 3TB, 4TB. On the other hand, Teams' plans cost $5, $8, $15/per month. The storage you get 1TB, 4TB, and 10TB.
8. LiveDrive – Best Cloud Backup Service for Remote Team Collaboration
Due to the pandemic, every company is now applying work to home approach to its business. And to handle a remote team, LiveDrive can help you a lot. This cloud backup service allows you to share, collaborate, and access your files all across the world.
LiveDrive supports both Mac and PC and gives you unlimited backups. As a business owner, you can get started at $50/month. You can also give permission to your remote team to edit files from anywhere just with an internet connection. It also comes with a high level of security features such as SOC2 certified, SOX compliance. Alongside you'll get UK data centers that have 24/7 physical security.
And obviously, you can restore the data whenever something bad happens. In short, just focus on work and leave the backup fear aside.
You'll get two pricing tiers- Business Express and Business Standard. Business Express costs you £30 /month and will give you 2TB for 3 users. And Business standard gives you 10TB for 10 users in £100 /month.
9.Google Drive – Simple and Free cloud storage service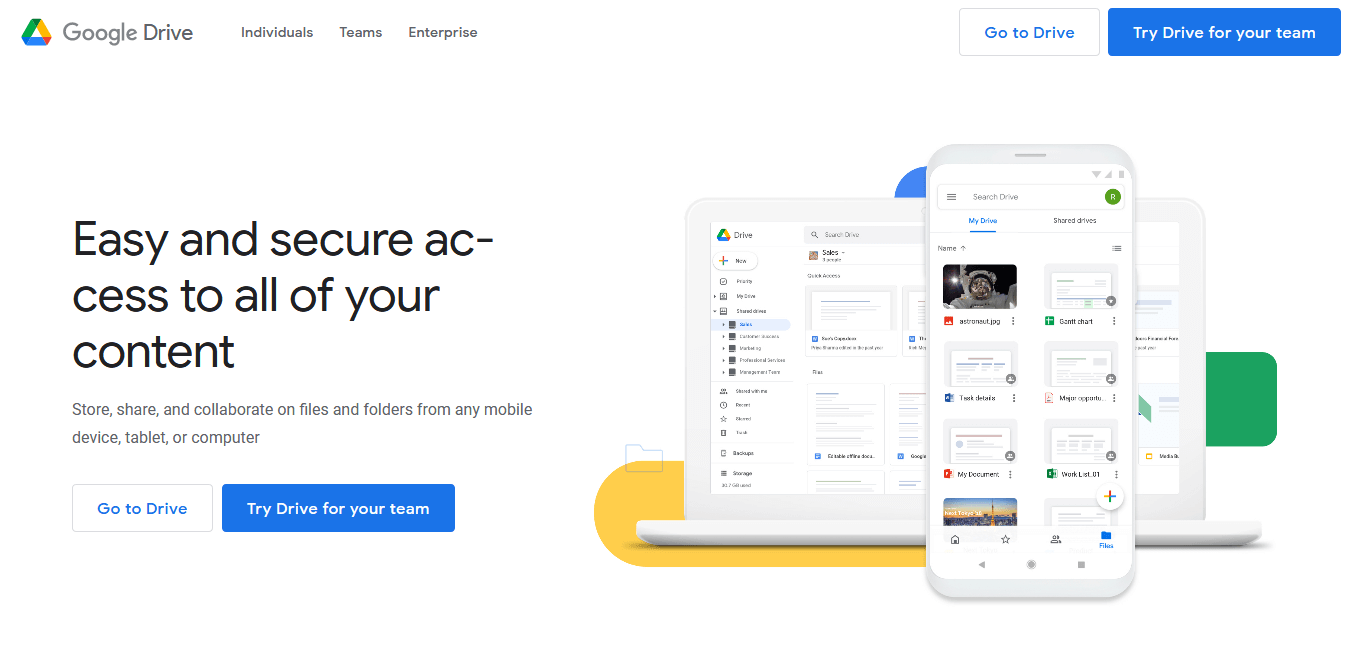 Well, this cloud backup service need not any introduction. Google Drive is a free platform to store your data online. And with 5billion downloads, it's quite popular, especially for Android users.
If you're using Android as a person or your company uses GSuite or other Google services, then it's a deal. Well, chances are you already using Google Drive as a primary cloud backup service. But if you're not using it then you should.
Google Drive integrates well with Android devices and Chromebooks. Moreover, you can easily integrate it with Adobe products and project management software such as Salesforce and Slack. You'll get free 15GB after signing up. You can use this storage for personal or business usage. If you want some extra storage, you can have 30GB of storage at $6/month for one user. Although you must have a GSuite.
Alongside the extra 15GB, you'll get other features such as Gmail business with Google Meet video conferencing. Moreover, if you want unlimited cloud storage, you can have that too. All you have to sign up for a business plan that costs you $12/month for 1 user. This plan also allows you to search for files through the smart cloud search.
Further, you can get an Enterprise plan worth $25/user for one month. You'll get security backups and advanced admin controls alongside everything you get in the business plan.
10. Microsoft OneDrive – Best Cloud Backup Service for Windows Users
Google Drive was all about Android, Gmail, and Chromebook users. On the other side, you'll see Microsoft OneDrive. It's a perfect cloud backup service for Windows users. Obviously, best for you, if you have a team with windows devices.
You won't find some unique features like some of the previous cloud backup services. But you can get 5GB of storage without paying a buck. Also, users can get offline access to files to use them from anywhere. However, you can automate the backups of your window device.
Moreover, the "Personal Vault" allows you to add another layer of security to your essential data. You can get peace of mind after storing your data with OneDrive. However, storage is much lower than the storage we get in Google Drive. So, it's recommended to individuals for personal use and without any complications.
Microsoft OneDrive has 2 pricing categories- Home and Business. The home pricing tier starts from free and lasts up to $99/year. On the other hand business plan starts from $5 to $12/month. You can check out the pricing details by visiting here.
Conclusion
So there were the 10 best cloud backup services that you can consider to buy in 2020. Every cloud backup program is different, in the aspect of price, features, and security. You can choose according to your business or personal requirements. Do you need advance integration, security, and extra features? Or you just want the best cloud backup for free? Like Google Drive or for Windows it's OneDrive.
Hope this post helped you find a better backup service. And if it did, let's know in the comments. Also, share this post with the person who always worries about his data's security.