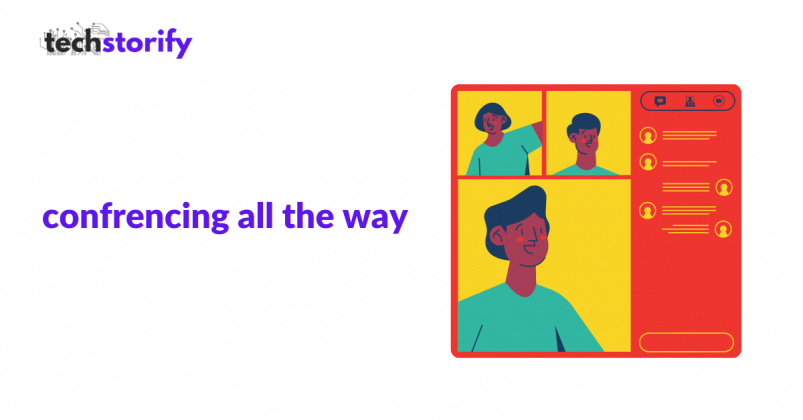 Due to the COVID-19 pandemic every Govt. and Pvt. organizations closed their workplaces. And to achieve the work goals they all started following the work from home approach. Thanks to technology and plenty of video conferencing software in the market. These software are one of the reasons that we're still learning and growing at a certain place. Yes, I agree that this nasty COVID thing slowed down us a bit yet we're still going on. And anything is better than nothing.
In October 2019, Owllabs published an article named- State of Video Conferencing 2019. To write this article, they surveyed 1,017 U.S. professionals who use video conferencing software on a daily to weekly basis. They compiled the results in this post by putting lights on the various aspects of video conferencing.
Here's a few of them:-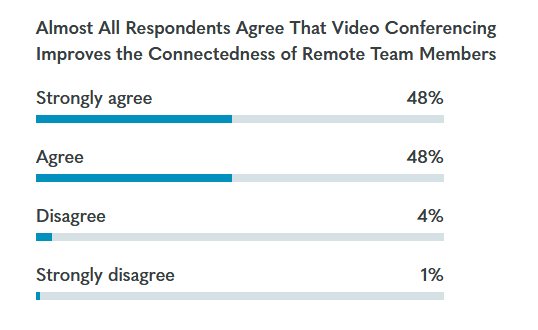 According to these above screenshots, 96% of 1017 U.S. professionals are agreed that they improved the connectivity of their remote teams by using the video conferencing software. Now half of them were strongly agree and half of them just simply agreed with the same fact.
Moreover, in the next screenshot, you'll see the problems that 1017 U.S. professionals faced while using video conferencing software. However, you won't see a lot of difference in all these metrics. But still, it was a great idea by Owllabs to figure out the user's problems while using the video conferencing.
10 Best Video Conferencing Software
To sum it up, yes video conferencing a productive and useful idea to run up a business. However, it is hard to find the best video conferencing software for your business. To help you, Techstorify compiled a list of best video conferencing software to find you a better one.
1. Zoom – Best Video Conferencing Software for Personal and Startup Webinars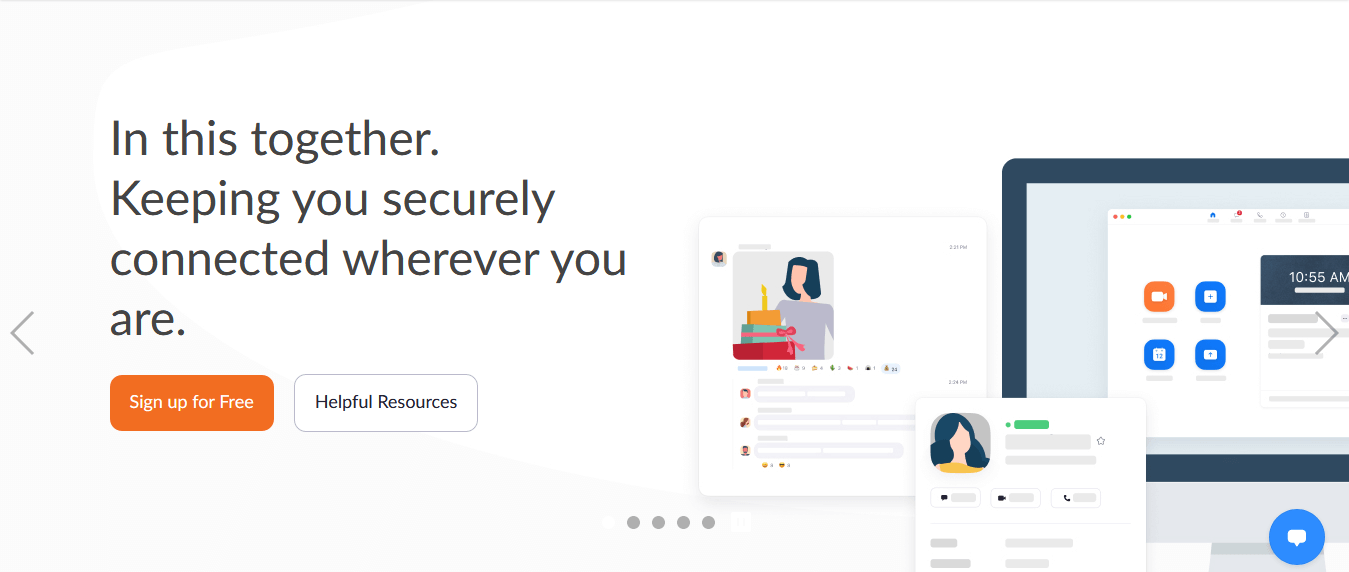 Zoom is the top of the video conferencing software that caught lots of attention in a pandemic.
According to BBC's published article, Zoom said on Tuesday that we got a 169% increment in sales in the three months to 30 April which was $328.2m. Also in this quarter, it turned the $27m profit. And Zoom said it was more than the profit they made in all of the prior fiscal year. Overnight success huh?
Apart from these facts Zoom is actually simple and generous for a startup. Also, it comes with a unique feature that allows you to add a filter on your face while attempting video conferencing. Plus, you can hide your noisy background by adding a virtual background.
Pricing
Zoom comes with 4 pricing tiers:- Personal, Pro, Business, Enterprises.
A personal plan is a free plan that allows you to add 100+participants. You can host a conference in the free version for up to 40 minutes.
For unlimited group meetings, you can buy the Pro plan. It costs you $14.99 per month. And you can choose 1-10 hosts for your plan.
If you want to add 300+ participants and break the 40 minutes limit, you can get a pro version is $19.99 month, per host. However, the minimum host limit of Business and Enterprise plan for Zoom is 10. So you have to pay at least $199 per month for a business plan no matter if you've 10 hosts or not. That's actually a con.
Later, you can check the pricing page of Zoom to know more details.

Google Hangouts Meet is one of my favorite video conferencing software. It's clean, simple, and best for talking with friends and known. Also, it seems Google made it for personal Gmail users. You can conduct a video conference with 10 participants by using G-mail and G Suite basic. You can add 15 more means a total of 25 participants with Business or Education accounts.
Moreover, this software has been divided into two parts:-
Google Hangouts Meet-  useful in conducting a video conference
Google Chat- to talk with your known with the help of text.
Also, you can use it for other essential Google integrations such as Gmail. Moreover, you can also connect third-party apps like Zapier through Google's designated API. Definitely, It's an easy and useful source that can fulfill the needs of a small business.
Pricing
It comes with three pricing tiers:- Basic, Business, Enterprise. Also, you can get a free trial for basic and business classes.
And if you want more advanced features, you can purchase Google Hangouts Meet which is a part of G-Suite. You'll be able to add more than 250 participants with the paid version. G-Suite costs you $6 per user for a month.
It's one of the best free-to-use software for your personal preference or to your startup. However, sometimes it got laggy, and not connect them right away. Still, you can expect a couple of good features from Google Hangouts Meet.
3. Skype – Best Video Conferencing Software for Personal Use

Skype is not a newcomer in the video conferencing industry. Even I also used it just to call my friend for fun. And at that time for the sake of internet connection, I had a Reliance 3G dongle. And, it still works well at that time. Yes, it was quite laggy at that time but if we compare it to 4G now it works well.
Skype owned by Microsoft and it's a widely popular telecommunication app to chat and video call with people all over the world. It's been 14 years old that millions of worldwide users are using it right now.
Moreover, you can also share your screen with the other person you're talking. Also, users can share photos, documents, and videos up to 300MB while communicating with the other person. You'll find shared content in the chat gallery.
Also, Skype can be easily integrated with other Microsoft software. Also features like call recording, showing subtitles while communicating makes it one of the best video conferencing software.
Pricing
Skype has a freemium version. You can host a video meeting in one click, without any download or any sign-up. You can also host a meeting with up to 50 people. But if you want to add more people you can go for a business plan which costs you around $5.50 per user per month.
Also if you want to send voice mail, texts, or making calls outside of Skype or to a landline, you can buy Skype credit or subscription. You can visit this page to know more about these terms.
4. Microsoft Teams – One of the Best Business Oriented Video Conferencing Software

Now there is a lot of confusion while talking about Microsoft Teams and Skype. You'll also see some popular Google search queries too. Something like "is Microsoft Teams and Skype is the same thing?" Actually, Microsoft acquired Skype in May 2011 for $8.5 billion. But Skype and Microsoft Teams are both different.
Also, lots of sayings are here and there that Microsoft Teams will replace Skype for business online. Who knows the future? For now, both have their own branding and pros, cons. MT has known as a project management solution that comes with certain useful features for business use.
You can arrange video and conference calls and chats on it. Apart from, you can also use GIF uploads and Snapchat-like filters. You can also integrate with other Microsoft and third-party software like Excel, GTMHub, LeaveBot, Remind, etc. Moreover, you can choose different account options for various purposes such as business use, educational use, and personal use.
Pricing
Microsoft Teams starts at $5/user/month and also with a free 30-day trial.
5. Slack
Well, some of the users call it the new age Skype. It's the program that got really famous in less time. Now it has over 8 million active daily users and 3 million of them are the paid ones.
Slack is mostly popular as a communication app that you can use for business use. You can create a chat group in this software which is called "channels." You can use these channels to message your team members. Apart from that, you can use it to group video conference and for screen sharing to share ideas and concepts with the team.
Moreover, in a span of time, Slack gained a great amount of reputation. From the past years, it got customers from over 35,000+ paid companies such as IBM. Also, you can use it on iOS and Android to keep the workflow at a fine pace.
Also read:- 17 Awesome Slack Alternatives for Team Chat in 2020
Pricing
Slack comes with 4 prices tiering- Free, Standard, Plus, Enterprise Gold.
In a free plan, you can only make a voice/video call with one person. Also, you'll get 10 integrations, 5GB in total, and 1 workplace.
The standard plan costs you $US2.67/month and the Plus plan costs you $US5/month. Still, you'll lack features in both plans. To unlock all these features you can contact the inquiry team to buy the Enterprise Gold plan.
6. Cisco Webex – One of the Best Video Conferencing Software for Team Communicating
Cisco Webex is one of the best video conference software to do video conferences for remote places. This tool also offers multiple useful features to simplify and enhance your team connectivity.
Cisco Webex offers you conference calls, storage, and features like screen sharing. Also, one great thing about CW is that you can conduct unlimited meetings in every plan. Moreover, most of the users reported that it has such a low bandwidth. So you can expect great sound and video quality without any stuttering and laggy issues.
Simultaneously, you can use it to integrate with other major software such as Outlook and Gmail. In that way, you can add a web meeting in the calendar without much effort. Also, it supports integrations like Google Drive, Gmail, and Office 365, etc.
Although you can expect some problems while connecting through a browser. You have to download the extension or an entire application to do that. Rest you can expect better from CW.
Pricing
It comes with 5 plans- Free, Starter, Plus, Business, Enterprises Plan
In a free plan, CW allows you to arrange a video conference with up to 100 people. And you'll be able to conduct that video for 50 mins.
To get the video conference time of 24 hours and cloud recording storage of up to 5 GB you can buy a starter plan worth $13.50/host/month.
7. Adobe Connect – Best Video Conferencing Software with Creative Features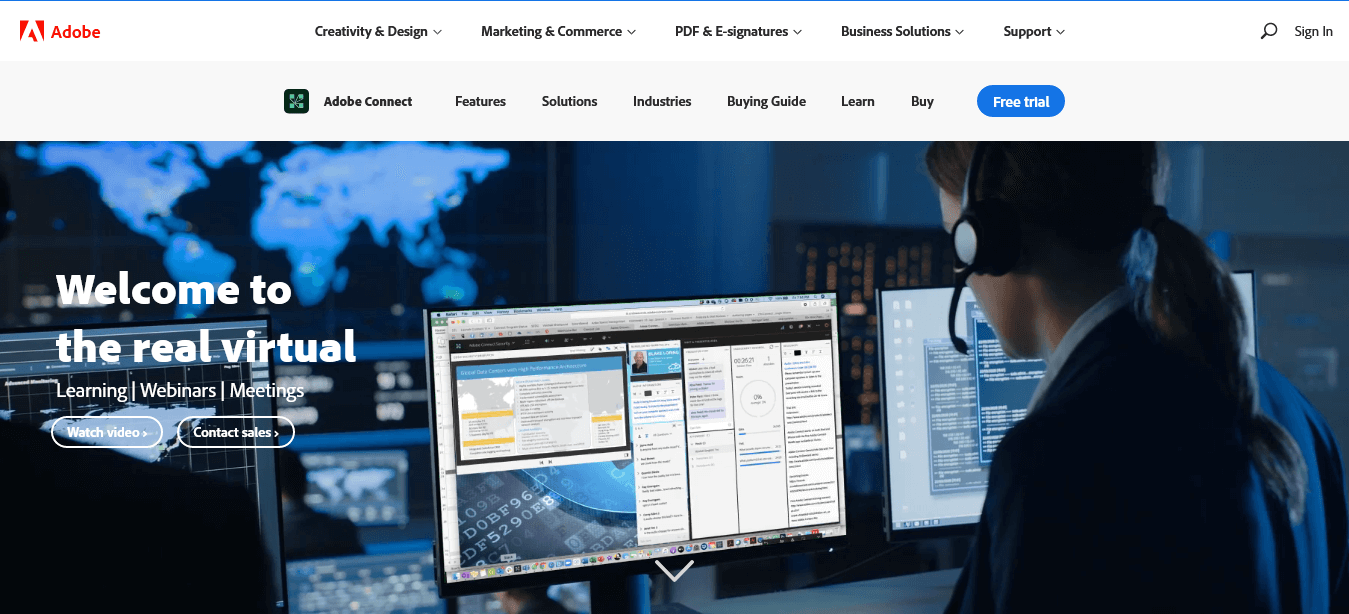 Adobe Connect is a complete solution for people who wants to conduct visual classrooms, webinars, and company meetings. Also, as you see it's from Adobe, so it comes with editing tools and included storage.
Moreover, Adobe connect offers advanced tools like chats and polls, media sharing, on-demand recordings, etc. You can customize your room according to the meeting session or for better branding. You can also start with a clean whiteboard if your video conference is something about brainstorming.
Also, it got some other features like webcam pause to get a break from fatigue. Moreover, you'll get a couple of integrations options such as Countdown timer, Adobe Connect Clock, Custom survey, Youtube player, etc. Even it can be integrated with simple time killers such as Tic Tac Toe.
You can use it on almost every major platforms-Windows, Android, and Mac. However, it comes with plenty of options to create actually something new. Still, it has a con which is its learning curve. It has lots of advanced options and due to these options, it sounds a bit complicated for newcomers.
Pricing
Adobe connect comes with 4 pricing tiers- Small meetings, meetings, webinars and learning.
A small meeting plan is free and allows you to conduct a video conference with 3 participants.
To increase the participant's limit up to 25, you can subscribe to a $50/month plan. In this program, you can add up to 4 hosts. This plan also comes with a 90-day free trial which is absolutely free. To learn more about these plans you can visit this page.
8. Join.me – A simple UI Video Conferencing Software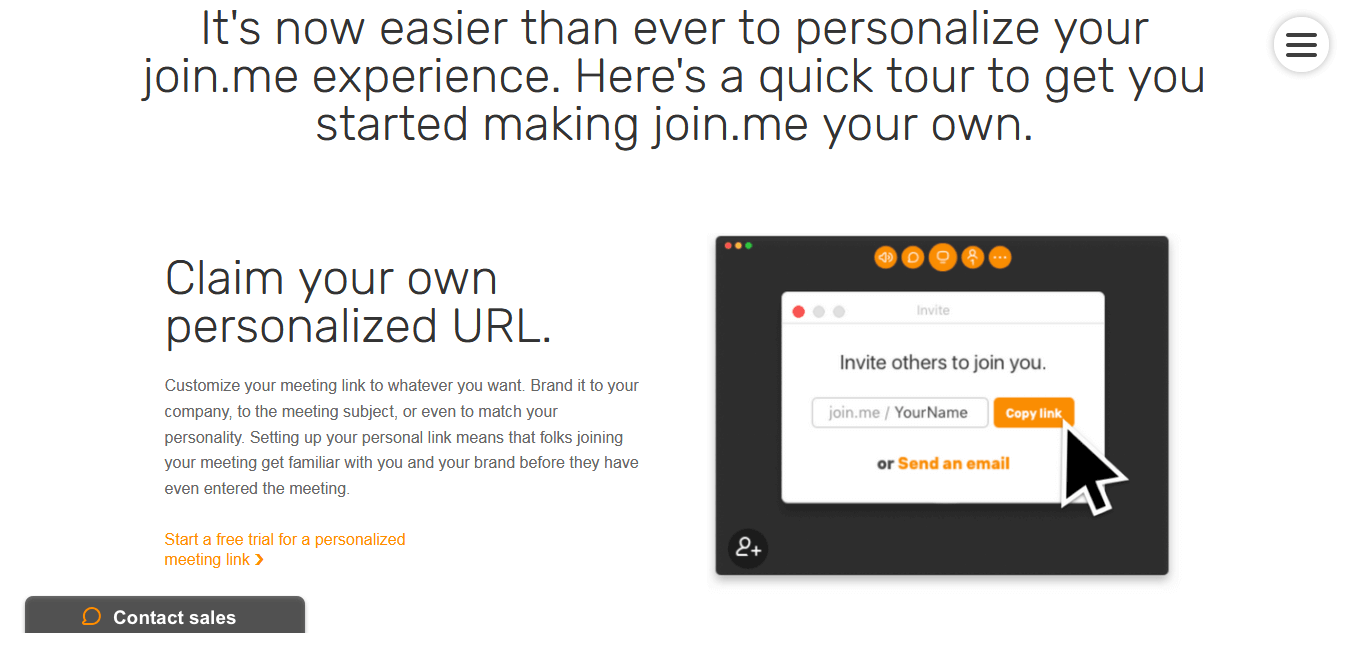 Join.me is the best video conferencing software for you if you want the software with the best screen sharing capabilities. It has unique and interesting abilities like showing video bubbles of you and the person who is attending the video conference.
Also, it comes with audio controls like Active Speaker, Individual Mute, Roll Call, etc. Moreover, you can customize your meeting background and claim a personalized URL for the next meeting. Apart from these features, it is easy to set up and comes with a pretty simple UI. You can just make an account and host a meeting in a few moments. Pretty easy, even for users who're non-tech savvy users.
Join.me also comes with plenty of integration options such as Outlook and Google Calendar. Also, it has some third party integrations like Zapier.
However, you'll find some cons in this app such as few lags while attending a video conference call. Still, it's one of the best video conference software, if you're looking for a simple and fun screen sharing communication platform.
Pricing
Join.me comes with three pricing plans- Lite, Pro, Business.
The Lite plan starts from $10/month and comes with a 14-day trial. You can add 5 participants to manage a meeting with no time limit. The Pro version costs you around $20. In this plan, you'll get extra features like 50 GB cloud storage, etc.
9. Teamviewer – Best Video Conferencing Software for Client's Support
Teamviewer is the software that I used most of the time to do little configurations on my friend's laptop. Well, this is what Teamviewer is known for. It is the best video conferencing software to do work as a supporter. Most of the support team using the same software to help the customer to do some tweaks.
Teamviewer is not just helpful, it's also quite popular too. According to their homepage's 400,000+ people download Teamviewer daily. Apart from giving support to the customer, Teamviewer has a couple of amazing features. You can communicate and conduct a conferencing session with HD quality. Also, the whiteboard feature can help you and your clients to understand a concept better.
It's an all-in-one solution for various collaboration problems. Also, you can use custom branding to give a unique presence to your business and personal brand. Moreover, you can integrate it with your favorite apps such as Zendesk, Microsoft Teams, Zoho, Okta, etc to enhance your workflow.
Pricing
You'll get 3 price tiers in Teamviewer- Single User, Multi-User, and Team.
In a single-user plan, you can conduct a meeting with 5 participants. And it costs you around $19/month. The multi-user costs you $37/month and in this plan, you'll be able to conduct a meeting with 15 participants.
10.uMeeting – A Simple Video Conferencing tool for Public Webinars

Are you looking for the best video conferencing software to organize the public webinars? uMeeting can meet your requirements. It has some features that make it software that is specially designed for creating online meetings and webinars.
The first one is "Invitation only." This feature allows you to control the list of participants to keep the credentials and information safe only for certain personalities. On the other side, you can also invite the lecturer or a professional from around the world.
Also, it has features like screen sharing, whiteboard, and laser pointers. These features help you to dig into a specific topic and make it understand better. Moreover, it has an AES-256 bit and end-to-end encryption. So you won't have to worry about the security and your meeting details anymore.
Later, you can also blur your background, optimize the lighting, and add the touch-up effects.
U Meeting scores well in the UX section of the evaluation criteria, not only because the tool looks good but also because they have many interface "enhancement" options; they offer vanity options like AI-powered background blur, optimized lighting, and AR-powered touch-up tools.
However, Integrations were not mentioned on the U Meeting website. And, if it doesn't have any integration, it would count as a disadvantage. Rest, this is one of the best video conferencing software that you can consider.
Pricing
uMeeting comes with 4 pricing tiers- Basic, Pro50, Pro100, and Enterprise Features.
The basic version is free and allows you to organize a video conference up to 25 participants in it. And the max time limit of this conference will be 30 minutes/meeting.
You can try Pro50 which costs $9.99/month. And you can add up to 50 participants in it. The max limit of this video conference will be 24 hours.
Conclusion
As you already know there are a plethora of options available as video conferencing software. Yet the problem is finding the perfect one. As you can consider the software I already added to the list. And if you still looking for a certain piece of video conferencing software, I'd suggest you make a checklist of the followings:-
User Interface:- Is UI one of your first preference? If yes, do you need a simple and clean interface? Or is it ok if it'll be little elaborative?
Features:- Is there any specific feature you're looking for? Screen sharing, laser pointers, whiteboard, etc. If yes, make a list of these features.
Integrations:- Is integration important to you? If yes, is there any particular software integration you're looking for?
Compatibility:- Are you looking for a video conferencing software for iOS devices? Or you want it for multi-devices?
Learning Curve:- Will it is ok if you have to spend some time learning the software? Or you just want to start your work just after installing the app? Choose wisely.
Price:- Is the software you're going to install budget-friendly? Or is it fit in the price: value ratio? Are you actually getting the thing you desperately want in this video conferencing software?
First, answer these questions and then start looking for the product according to it. This will definitely help you to find the product you actually want. So that was the list of the best video conferencing software you can buy in 2020. Hope it helps. And if it did leave a comment and share this post with the person who is looking for an ideal video conferencing software.