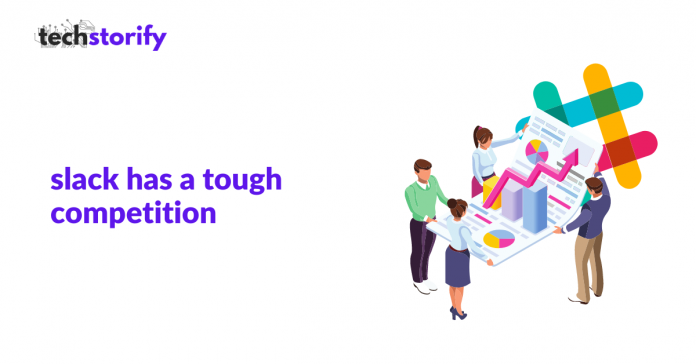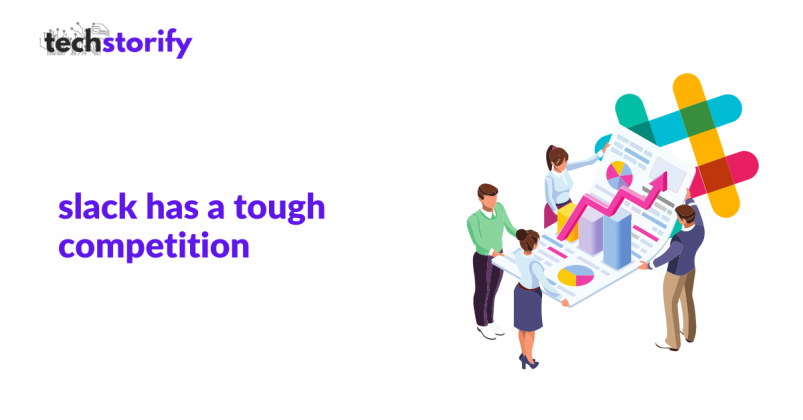 In today's post, we'll talk about "Slack", some of its features, the features it lacks, and the best Slack alternatives.
Slack channel based messaging platform that individuals and employees can use to work together in an efficient way. It can be used by connecting their software, services, and by sharing the information they need to work more productively.
August 2013 was the day when Stewart Butterfield's company released a program named "Slack." And within 24 hours of launching 8000 customers signed up for this service. Fast forward to April 26, 2019, Slack has more than 10 million users from 600,000+ organizations from more than 150 countries. And the number is increasing day by day, well, let's say hour by hour.
However, in 2020, things changed dramatically at an extreme level, thanks but no thanks to COVID-19.
Now from individual to a small or mid-sized business, everyone is focusing on work on the home model. And yes, Slack got another hike up in its numbers of users. But like pandemic gives us enough time to think about our lives important things, the same happens with Slack's users. And this time they all got a keen intention to the inabilities and features this software lacks. And these are the features that actually make a difference that you can easily find in slack alternatives.
Here're some of the features that could be improved:-
Search feature skip lots of information and present results inefficiently.
The built-in video feature doesn't support HD features that you'll find in most of the Slack alternatives.
Once you create a Slack channel privately, you can't change it into a public channel later.
You can't sort out the notifications for every member of the group. As a result, every group member will receive the notification if it's irrelevant.
Best Slack Alternatives of 2020
Google Hangouts is another popular yet free messaging application with 1,000,000,000+ downloads. Users can use it to the message, free audio, or video call to their contacts. You can make a video and audio call with up to 10 contacts at the same time.
You'll also find a team chats for up to 150 people in Hangouts. It's from Google so you can synchronize well with other Google applications. Well, in comparison to team communication, it's one of the better Slack alternative.
Also, you can use status messages, photos, emoji, stickers, and Animated GIFs to communicate better. Plus, you can keep in touch with your friends using any device, even if they're offline. And Google Hangouts can be easily managed remotely by using Google Cloud.
Moreover, it comes with a chrome extension that you can use across all devices. You can use it as an individual just to talk casually with your knowns or to manage your small or large business by conducting video/audio call with clients. However, mobile carrier and ISP charges apply on Hangouts but if you're looking a free Slack alternative, this is the one.
2. Chanty – One of the Best Slack Alternatives for New Business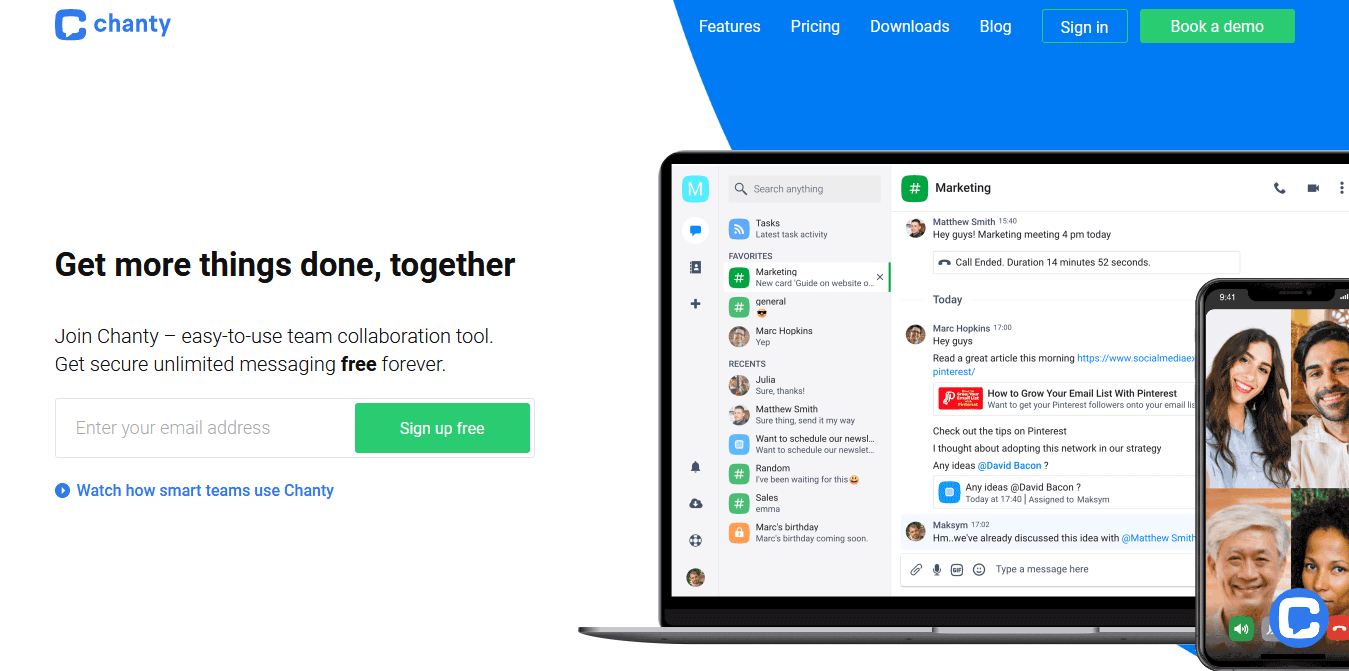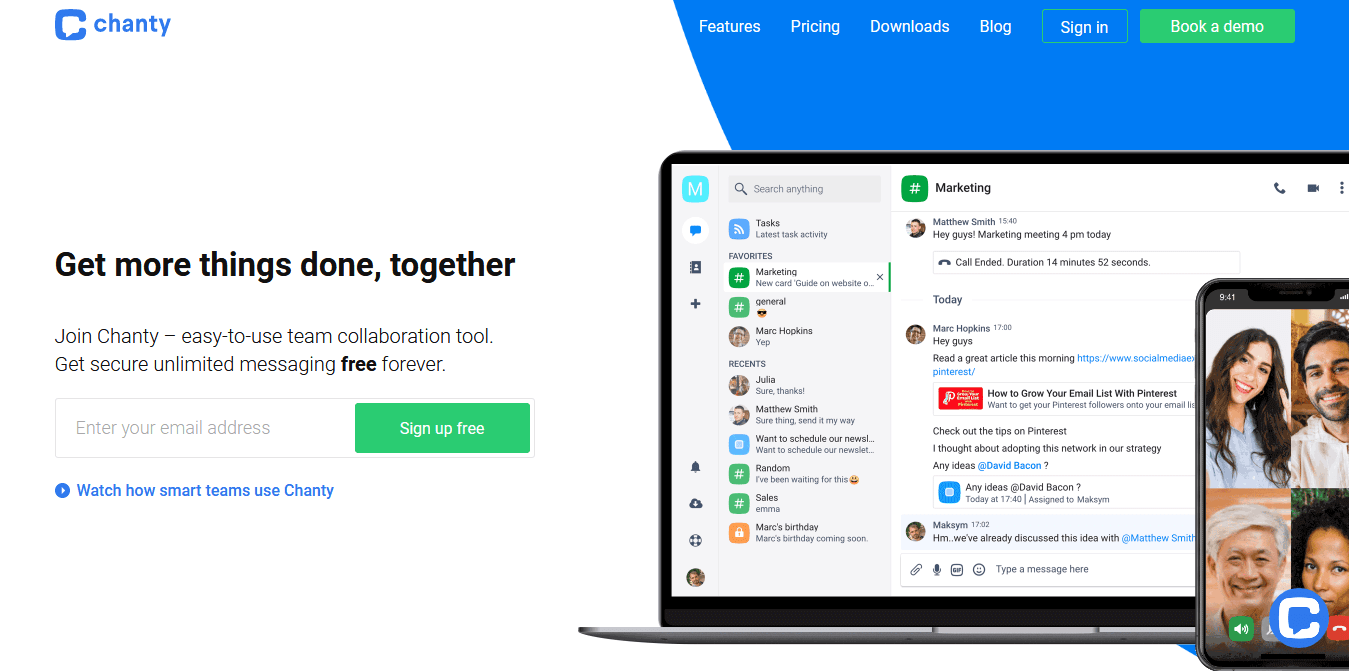 Chanty is the second-best connecting platform that will top on the results of "Slack alternatives." This alternative gives you the potential of accessing across all devices and platforms. Most of the publications tell the sole purpose of Chanty's design is to help small-sized business teams to increase their productivity.
Moreover, Chanty supports useful and important features such as unlimited message history, task management, and file sharing. Also, you can integrate Chanty's messaging with popular apps such as Google Drive, Dropbox, Trello, etc.
It supports a simple AI-powered team chat to connect via video/audio call and screen sharing. Also, you can share content from Youtube and other social media sites without switching the apps. Group discussion can be started with one click. Simultaneously, you can highlight the teammates by mentioning them. And you can pin innovative ideas, pictures, and important messages for future reference.
Pricing
Chanty is free to use with up to 10 team members however you can purchase a business plan by paying $3 per user/month to get additional features such as unlimited members. Definitely one of the better Slack alternatives you can try for free.

People who love Microsoft and use Office 365 most of the time got a chat-based workspace named Microsoft Teams. In Microsoft Teams, you'll see a fine combination of both video conferencing software and team collaboration tools. You can use the tools in it to do content collaboration easily and more effectively.
MS Office users can use it to communicate through conference calls and share files through Sharepoint. Also, you can join or start a group chat in it. And you're allowed to create certain groups. You can create a team from 10 to 10,000. And you can host audio/video web conferences too. Users can also share the screen while conducting a conference.
Moreover, you can send, and open different types of files. Alongside you can tag a particular user in a specific document file. You can place Powerpoint presentations on a conference display. Likewise, you get a virtual whiteboard and the ability to integrate the calenders with E-mail software to schedule a meeting on a particular date.
Pricing
MT offers three kinds of pricing tiers-
Subscription-less:- a free option that offers the same features as paid yet not come with admin tools such as analytics, web support, etc.
Office 365 Business Premium:- Plan starts from $12.50 per user/month billed annually. You are allowed to customize your needs.
Office 365 E3:- Plan starts from $12.50 per user/month billed annually. Best for larger enterprises.
4. Fuze – One of the Best Slack Alternatives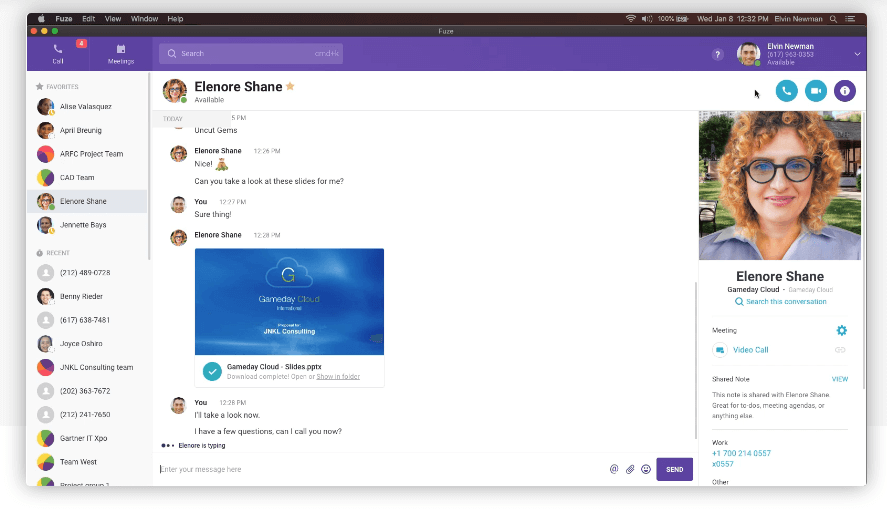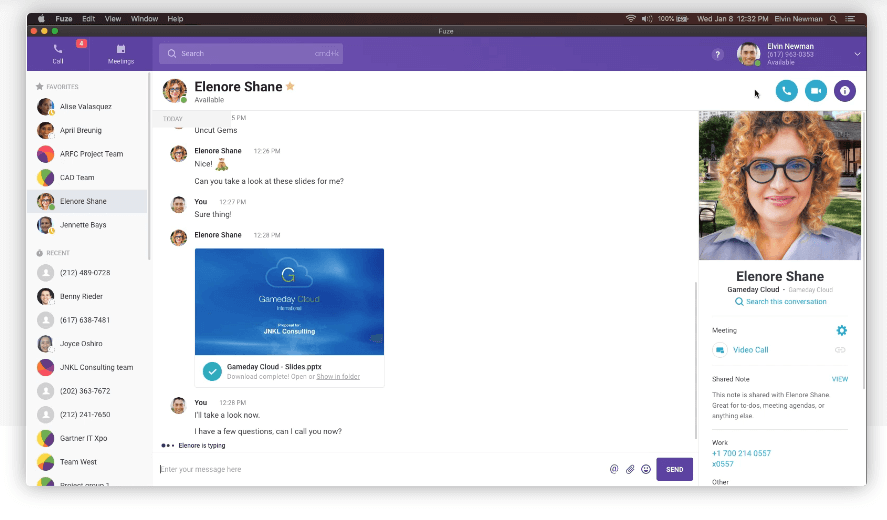 Fuze is one of the popular Slack alternative platforms that you can use for iOS. It's useful to make business calls, meetings, and share important document files in between.
Fuze is known for giving a modernized and better communication experience to its users. And for some of the agencies, it's one of the best Slack alternatives to boost the productivity level, especially for team communication.
You can use Fuze to connect your teammates using any type of device, anytime and from anywhere. Also, you can conduct HD video and audio calls with up to 1000 members. And this software also offers screen and content sharing. You are able to do teamwork through any device alongside the Callender integrations for Google and Office365.
It is specifically developed for enterprise and allows unmetered calling for up to 110 countries and power superior voice quality. Fuze is reliable, secure, comes with intelligent cloud architecture, and gives you good quality customer support.
Pricing
Fuze plans are highly customizable and you're free to use it according to your needs. From unlimited internal and incoming calls to voicemail management and PBX features, you can just choose accordingly.
5. RocketChat – One of the best Open Source Slack Alternatives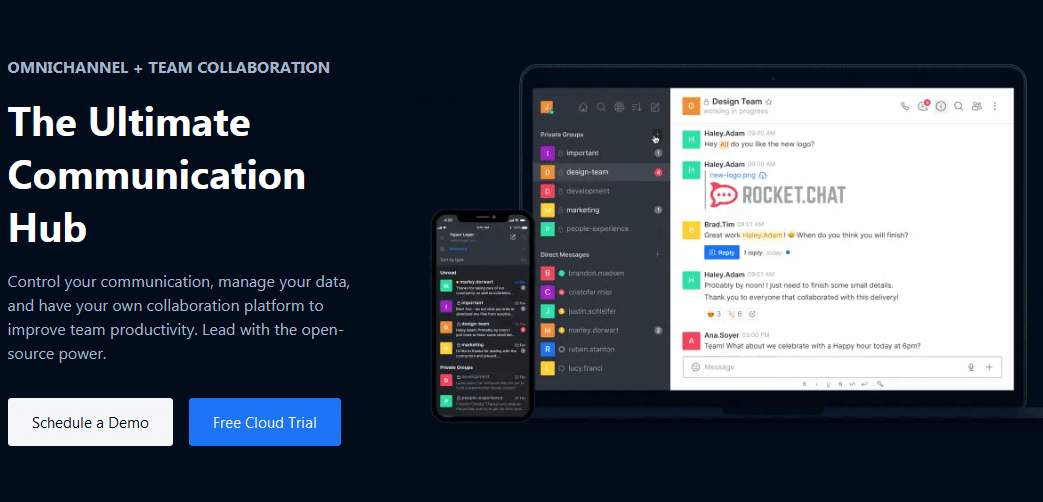 Rocket chat is the best Slack alternative if you're looking for an open-source connecting and team communication software. Rocket chat allows you to connect with your team members, colleagues in real-time. And, you can use do that through the web, mobile, or desktop across various devices.
The feature I like most in Rocketchat is the better customization level of interface comparison to Slack. You can achieve a desirable look by using different themes, plugins, and integrations with other key software. Also, it offers work-stream collaboration and omnichannel customer engagement control.
The developer-contributors count of Rocketchat is over 1000+ and on Github, it's 25k stars. Also, Rocketchat has one of the largest active chat developer open-source communities. Moreover, with unlimited users, channels, and messages, it's such a powerful Slack alternative.
Users can create and private the channels to speak their teams and members according to the work nature. Team chat is a good option if you want to communicate with the team. Likewise, you can mention a particular user by @ mention them. Moreover, you got a complete source code access, real-time chat alongside the content sharing. And be able to join with blockchain projects such as Brave, Golem, Hyperledger, Token, etc.
Pricing
Rocket Chat has a different kind of plans to choose accordingly which is below:-
Self-Managed:- To host on their premises or in the cloud.
Pro:- Mostly focused on business and more features than community plan which costs $3 per user/monthly; $30 per user/annually.
Enterprise:- Offers a high level of customizations and unlimited features.
SaaS: a-  14-day free trial of cloud hosting by Rocket chat. In this price category, you get three subcategories:-
Bronze: Costs $2/month and 20/annually for one user.
Silver: $4/month and $40/annually.for one user with more features than bronze and focuses on consumer communication.
Gold: Provide unlimited features and high-level management with customized and tiered pricing. Also, you'll get discounts in good volume by choosing this category.

Skype is the Slack alternative that is known by some of your family members too. It's also the software that I used for the first time to do a video call to my friend in 2011. Also, due to its simple UI, it's a favorite of most of the professionals too.
It has a personal edition that allows you to conduct free web meetings, video conferencing, and VoIP software. Moreover, there is a free version that also has most of the features that make it better and free Slack alternatives. In the free version, you can send instant messages, audio, and video Skype to Skype calls. Also, you'll be able to call local phones and paid international calling. The conference calling capacity of this software is up to 25 people.
Moreover, Skype comes with great portability options. And with the phones, desktop, tablet you can use it with browsers, Alexa, and Xbox. The extra features like background blurring, location share, and voice, and text translation make this software more likable.
Skype supports HD video calls with up to 25 people and you can easily mention someone by adding @. Simultaneously while instant messaging, you can send GIF and annotate images with words, lines too. Skype to Skype calls are completely free but you can buy Skype subscriptions at affordable prices. And after that, you can call and send SMS to any phone through Skype.
Pricing
Subscription starts from $2.99/month for the U.S. that can vary by destinations. However, to call specific destinations, users can purchase monthly subscriptions.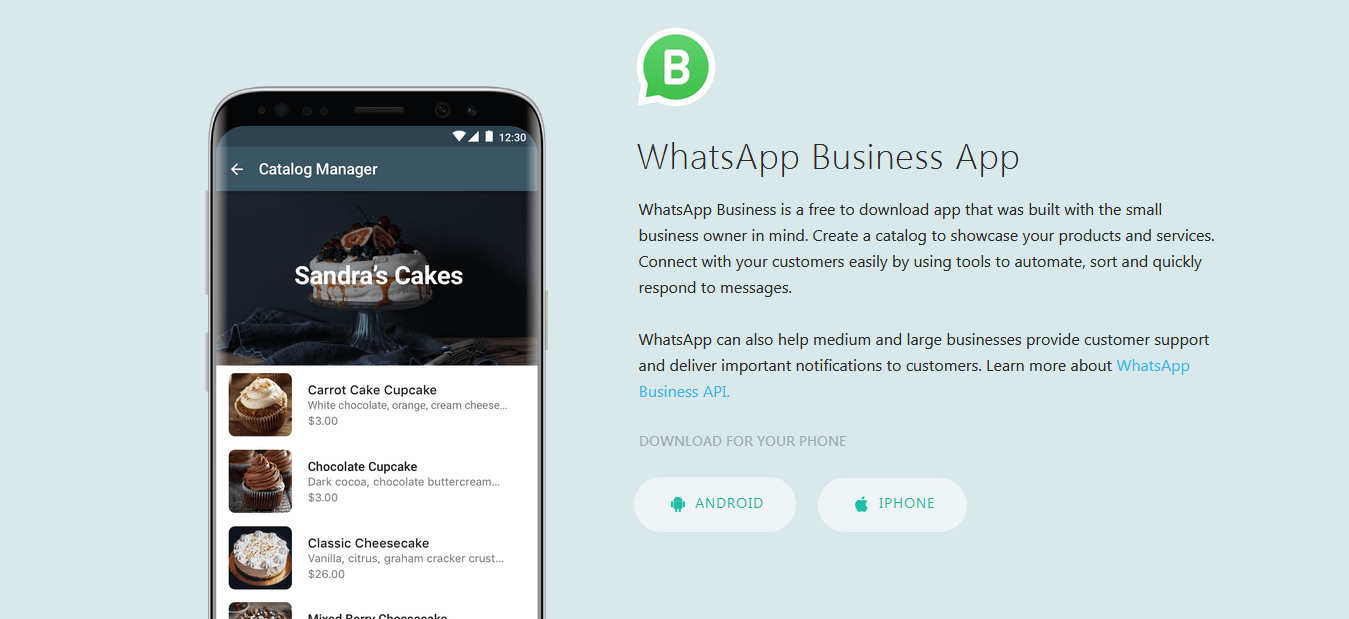 We are talking about the software we can use to discuss some business stuff. And, it would be unfair if we will not add Whatsapp for Business in it. This popular software is another best Slack alternative which is ideal for fulfilling the small owner's business needs. However, it works great for medium and large businesses.
You can use it to create a catalog to showcase the services/products. Next, it allows you to set up a quick message to give the initial information to your customer. Moreover, Whatsapp for business is an encrypted alternative. So you don't have to worry about your personal shared moments. Also, end-to-end encryption is enabled while calling and messaging. So only you and the person who is communicating to you have the access to them.
In Whatsapp for the business, you can create groups. Also, you can share content with up to 256 people in one tap. Moreover, you can use it via web and desktop and synced all the contacts. You can also use it to do video/audio calls from any country from the world.
Also, you can send documents up to 100MB such as PDF, spreadsheets, and slideshows. Also, voice messages can be sent if you don't like typing. And the most fun thing is that the Whastapp Business app is completely free to download.
8. Flock – Beautiful & Creative Team Chat Software
Now, this is the program that is very similar to Slack. Maybe they just want to compete with the slack. So as a Slack alternative this software is for collaborative business messaging application.
Flock is fast, reliable, and it's completely free to use. It made especially for modern teams and businesses with a variety of features to enhance your productivity. Features like to-dos, polls, screen sharing, notes, reminders, and much more.
Flock can be used to integrate with major third-party apps. The list consists of Google calendar, Twitter, Facebook, Github, JIRA, Analytics, and much more. Also, users no longer switch between apps. Definitely, this is one of the best Slack alternatives for better team communication while working remotely.
Users can communicate with teammates through 1 on 1 chat and group messaging. Also, you can share the necessary files on the go. Also, users can create different channels for different projects and topics. Plus, you'll be able to search through channels. Users can also communicate through video/audio alongside the screen sharing feature. There are some built-in productivity tools and integrate options available to increase your workflow. Also, Flock has encrypted security features. So you don't have to worry about privacy for your data and conversation.
Pricing
Flock is available in three pricing tiers as below:-
Pro:- It costs you around $6/month and $4.5/month if billed annually. Also, it has a 30-day trial. And you'll get unlimited private & public channels, 10 GB per team member, multiple team admins, group video calls, screen sharing, 24*7 priority support in this tier.
Enterprise:- It costs you $10/month billed monthly, and $8/month if billed annually. And, it is for large-sized businesses and offers 20 GB per team member, active directory sync single sign-on.
Starter:- This tier is completely free to use and available for small businesses who just get started. This tier features unlimited 1-1 & group messages, 1-1 video calls, 10,000 searchable messages, 10 public channels, 5 GB total per team, single team admin.
Also read:-9 Best Firewalls For Small Businesses To Try Out In 2020
9. Mattermost – Cost-Friendly Slack Alternative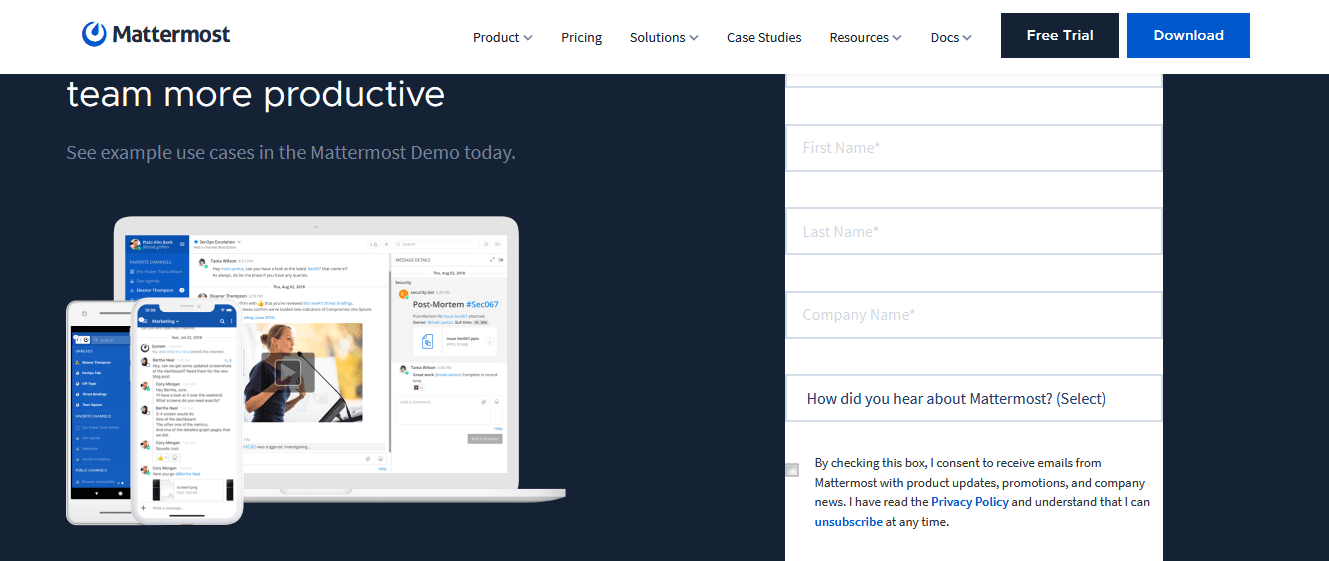 Mattermost is another open-source communicating software that you can use as a Slack alternative. This software is known for software innovation, cost-friendly, and strong security. It is also data encrypted so you can use it to maintain control over vulnerable data.
Also, you can do a collaboration with other developers for immense care taken measurements. Developers will get complete control to modify and upgrade the security requirements as you like. Mattermost is also popular for its automation to simplify your team coordination to get maximum the work efficiency and organization's productivity.
Moreover, you can easily search for the required information. And you can also integrate data by connecting other tools and systems. You'll also be allowed to send a message from behind the firewall. As a result, you can discuss topics and ideas without worrying about privacy security. This option makes it one of the secure platform for communicating and messaging with your team members.
Mattermost is compatible with hybrid architectures for public and private clouding. Also, the pre-built open images to support AWS, Azure, and Google cloud. Simultaneously, you can use it on the web as well as all major OS such as Android, Windows, Linux, Mac. The integrated tools like DevOps integration set, Custom slash commands, Bots, and developer toolkit, Robust API library, and OAuth 2.0 applications are useful to speed up your workflow.
It comes with such a powerful security system, protects layers data, preferred customization. And comes with a free trial and an easy installation process. Users will also be able to control data through the command line. Simultaneously they can easily monitor your business performance in it.
Pricing
Mattermost comes with 2 pricing plans as below:-
Enterprise E10:- It costs you around $3.25/user for a month if billed annually. This could be a great option for companies who just get started and require strong security.
Enterprise E20:- It has a starting price of $8.50/user for a month if billed annually. This plan works well for high trust organizations and regulated industries.
Also, you can get a free trial to use this program.
10. Discord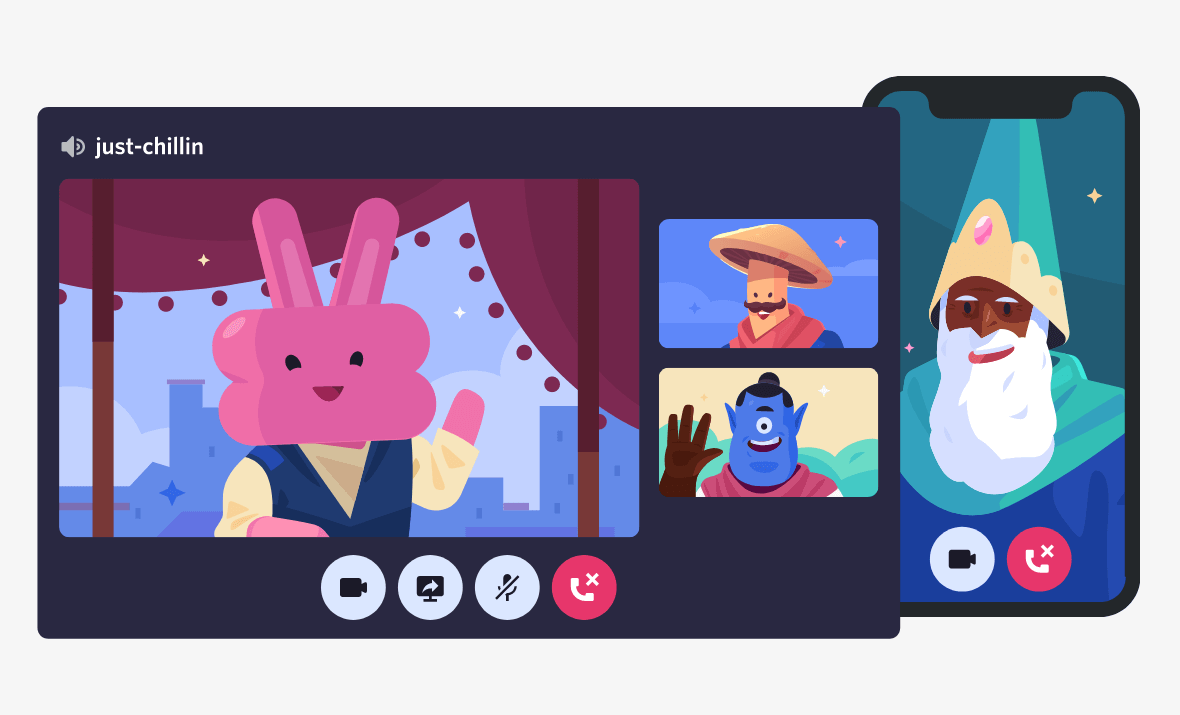 Discord is one of the communicating apps for people who are looking for all of the applications in one. You can use it for team communication or talk with your family members. You can talk with your friends alongside playing games. People can also chat, send messages, and open various voice channels.
Discord is a cross-platform voice and the chats app provides specific features for gamers. Users can assign moderation and admin roles to group members. You can create different channels on various topics to connect your team of friends on daily basis. The option of creating a VIP group is also available to add only a specific person in it and to talk privately. Also, it claims to be better at security as a comparison to other Slack alternatives.
Users can get a smooth, reliable, and high-quality communication from desktop or mobile. Users can also share the screen during video calls. Also, they can attach content like GIFs, images, and videos while calling. Moreover, you can pin important messages and content for future usage or as a reminder.
Pricing
Discord doesn't have major pricing plans but for starters, you can read below:-
You can get started with a free version with some basic features.
Discord Nitro:-This category has two plans- Nitro Classic and Nitro. Nitro Classic will cost you around $4.99/month and Nitro has a starting plan of $9.99/month. You'll get extra features like access animated emojis, choice of your favorite server, or enjoy bigger file uploads.
11. Glip- One of the Cost-Effective Slack Alternatives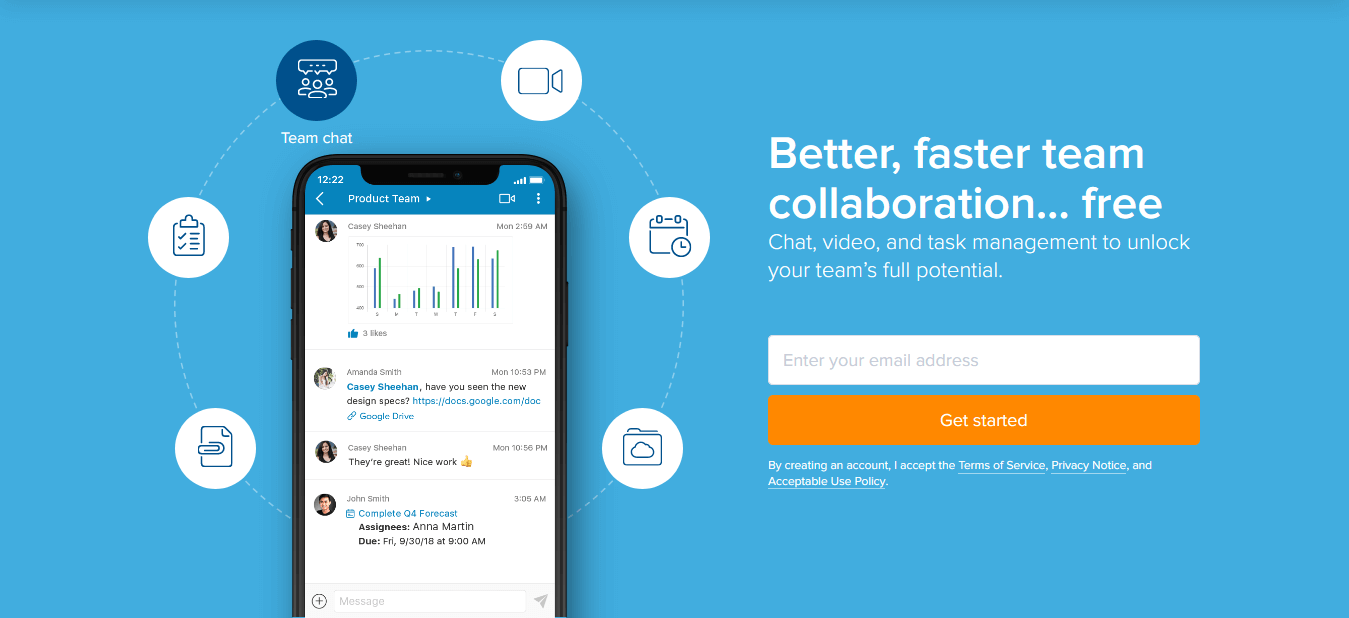 Glip is another one of the best Slack alternatives that you can use to enhance your work productivity. It's simple to use and a collaborative team messaging app. And you can use it to monitor your team's work process.
You can do chatting, share files, and manage your important tasks with Glip. It allows a safe and productive work environment to make collaborating better. Users can use Glip on any device, anywhere, and at any time. And you can make conversation while sharing files, tasks, and calendars. In short, it is one of the best Slack alternatives to work remotely and get great connectivity.
You can create teams here based on different projects, themes, and topics. So everyone in the team will be able to check progress while working on the same project. It provides free built-in services with a one-click dial for video calls and meetings. Glip also has integrated options for apps like Google Drive, Jira, etc. Team members can also comment on certain files to keep updated and error-free project results.
Pricing
Glip comes with two pricing tiers as below:-
Free:- You can use it for free that gives you features like unlimited chat, unlimited storage, unlimited teams, and shared video time for 500 min total.
Standard:- This is the standard price category that comes with the added features of video time is for 1000 min per user for one month. This category costs you around $5/month for a user.
12. Fleep
Fleep is another collaborative communication solution and best for team communication. Users can use this app to create projects for both external and internal communication. It's known for a reason that it has better flexibility than Slack.
Moreover, you can use this app to integrate with any E-mail client. As a result, you can easily send and receive E-mails through this app. Apart from these features, you can use this app to one to one communication. And storing and sharing files through this app is also quite easy. It comes with a file drawer to gather all images and important documents. And a pinboard to attach contacts, notes, and links, etc.
Teams can make plans, be connected, and synchronize through this app easily. Users don't have to sign-in and sign out separately to connect with others. Presence features are here to know who is online and available to connect. Also, reading and writing indicators to know who is writing a message to you right now.
Pricing
Fleep comes with a three pricing plan tiers:-
Basic:- It is free and best for startups as well as students to connect with friends and colleagues. This category consists of features like Full message history, up to 3 group conversations, 10 GB file storage, and native apps.
Business:- It's best to plan for small and mid-sized business companies. Alongside all basic plan features, it consists- customizes your own logo, my tasks, status message, 10 GB file storage, premium conversation, retention policy for files, etc.
Enterprise:- It has a customized price package that is suitable for large corporations. It has the same features as a business plan alongside you'll get a volume amount of discount.
13. Zoho Cliq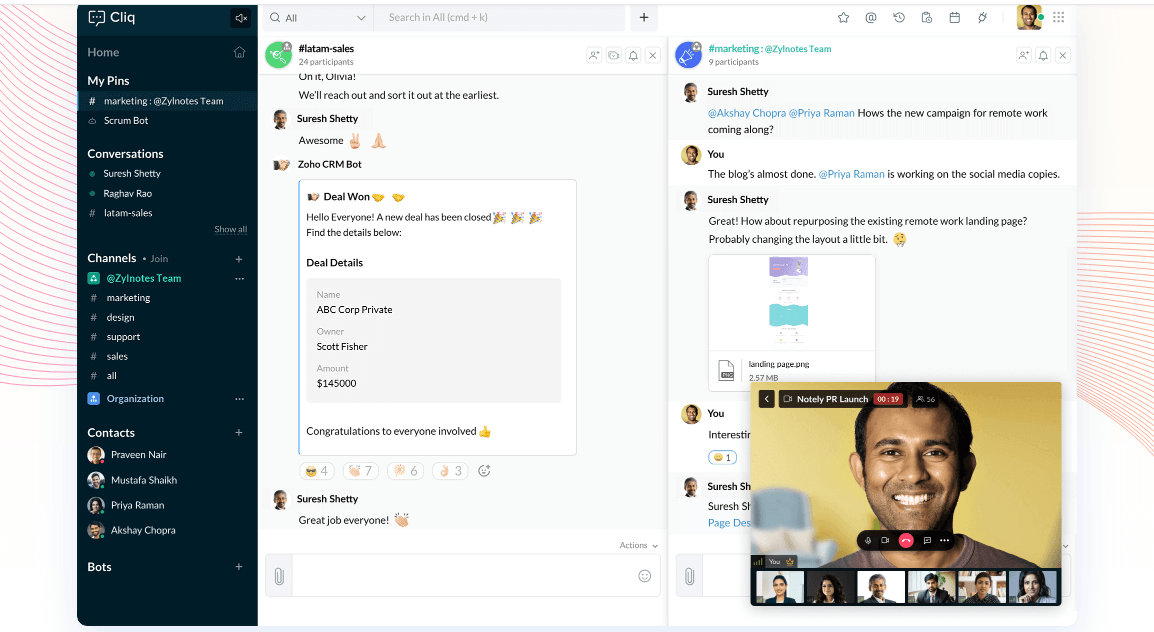 Zoho Cliq is another best Slack alternatives that you can use to communicate between teams to get work done in a more efficient way. It comes with a simple purpose- to simplify the way of connecting and communication between team users.
Moreover, Zoho is designed not just for small or mid-sized businesses. You can even use it to communicate with your friends and family members from the other country. Also, you can share important data while having a real-time messaging conversation.
You can easily create separate channels for different teams and different ideas. Also, you can use these groups to make video/audio calls. You can do video call with up to 100 participants.
Separate channels for particular teams can be created. These are great because they eradicate unnecessary time that is wasted in meetings, and it also keeps everyone informed. These channels can make audio and video calls. Group video calls can have up to 100 participants. Also, you can easily search for the day-to-day conversation for urgent.
Teams can connect by using any device. Likewise, remembering day-to-day tasks becomes easier to integrate it with the calendar. You can even build bots to automate commands on a daily basis. Also, you don't have to worry about security which sharing data or communications.
Pricing
We divided Zoho Cliq's pricing plans into two categories as below:-
Free:- In the free plan, you'll get 10,000 searchable messages, 100 GB file storage, SAML, Google/Google apps sign-on, Screen sharing, etc.
Unlimited:- This price category has tiered based for total users in your team:-
For 10 users $3 per user/month
For 50 users $2.5 per user/month
And for 100 users you can pay $2 per user/month and so on.
Also, this plan adds unlimited searchable messages, 100 GB/user file storage, custom roles and permissions, user groups (teams), multi-team channels, and more.
Also read:-10 Best Conversational Marketing Platform For Your Business
14. Samepage- One of the Best Single page Slack Alternatives

Samepage is a Slack alternative to improve the work potential of an employe by working on the same page. You can organize, track, chat at the same time just by using one tool. Also, it is a single cloud-based collaborative workspace that comes with great features.
You can manage projects, meetings, and coordinate events. Users can also write articles as well as discuss the ideas all with this single app. You can also assign and execute the task frequently. Moreover, it's available in most of the devices.
Samepage works great to add text, images, videos, and to make immediate changes to a document. And you can invite customers to get feedback. Likewise, you can use a collaborative canvas to plan on your ideas. Alongside the video/audio call you can capture and assign the main points for future reference.
Pricing
Samepage comes with three pricing plans as below:-
Free:- Quite great for small and startup businesses or for personal use. You'll get features like unlimited pages, unlimited chat & search history, 2GB Storage, unlimited members & guests, etc.
The starter:- This plan starts from $7.5/month per user. It consists of extra features like 1TB storage, live and in-product support, etc.
Pro:- This plan costs you around $9/month for a user. Alongside the free and starter plan's features, it'll give you content manager mode, 1TB storage per member, plus an added team, and support controls.
15. Troop Messenger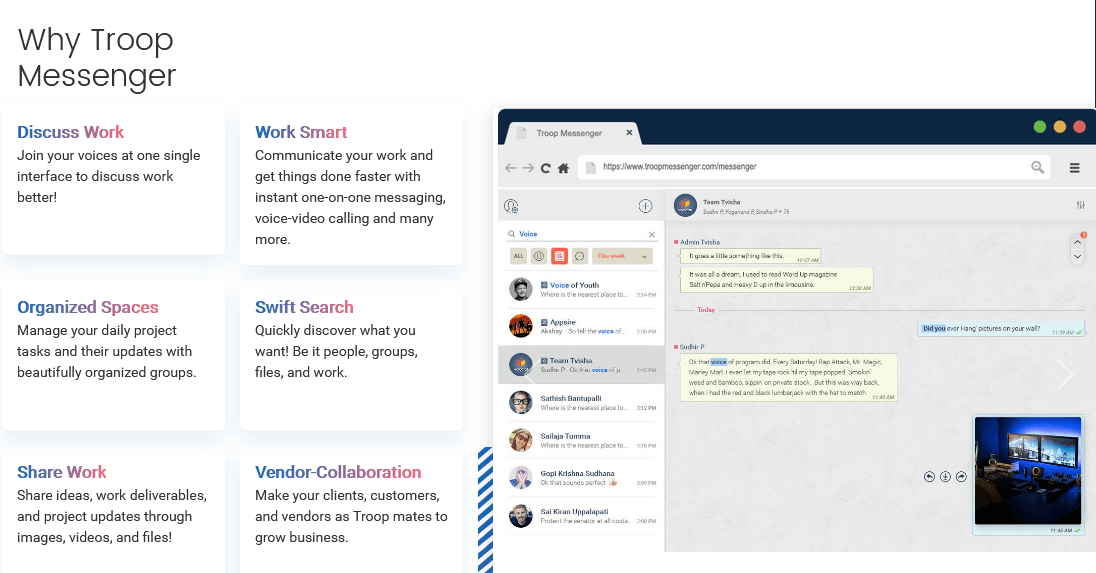 Troop Messenger is a chat application that is perfect for team collaboration. You can use this app to send and receive the content alongside the communication text. It's no matter you're working from home or an office cabin, Troop Messenger is one of the best Slack alternatives.
Moreover, apart from businesses you can send and receive messages to your friends through this app. Also, if you're a workaholic, you can assign work to remote teams. And you can monitor and manage your teams accordingly, no matter where you are.
You can access this messenger through Android and iOS. It also comes with a security PIN verification and fingerprint security. Also, you can integrate it with major apps like Google Drive, LDAP, Dropbox, etc. You can use incognito chat, send a direct message to multiple users.
Moreover, you can share the location and screen in real-time. Also, you can organize video conferences, webinars, and webcasts.
Pricing
Troop Messenger comes with three pricing plans:-
Premium:- It costs you around $1/month per user. It provides you 150 GB storage space including messaging, global search, video/audio calling, etc.
Enterprise:- It costs you around $5/month per user. Alongside the premium plan features, you'll get flagging, screen sharing reminders, and more.
Self-Hosted:- It starts at a cost of $5 per month for a user. This plan will give you more features to monitor your business on a large scale.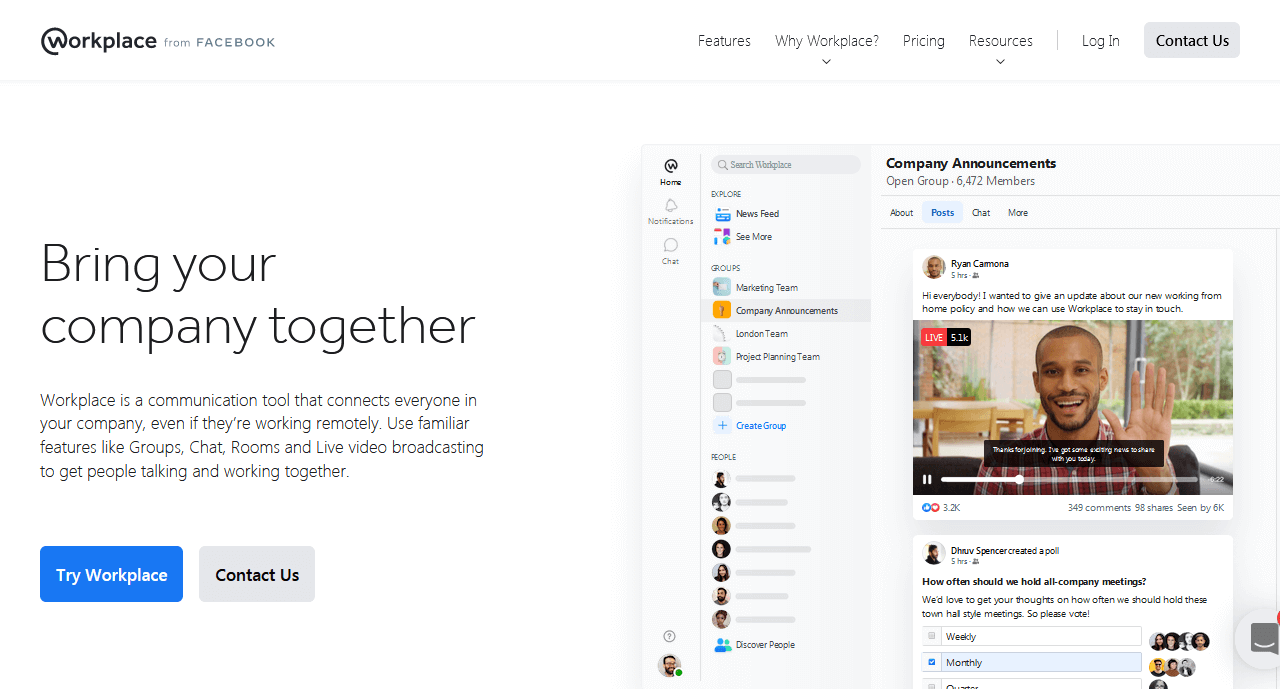 If we talk about the learning curve this platform is one of the best Slack alternatives. Almost everyone internet user is on Facebook and knows how to run it. And, now it comes with a tool "Workplace from Facebook."
You can use Facebook on all major platforms and devices. And it's easy to exchange words and work through messaging and video calling. Apart from, you can run meetings, share some content, create projects on it. Also, it can be integrated with essential apps such as Office 365, G-Suite, and Jira. You can easily track and find important files documents here.
Absolutely, it is the perfect Slack alternative for people who work remotely. Businesses with large teams also can connect quickly to manage their business more effectively. Moreover, you can tag someone so he'll get a notification for a particular message. You can search for message content easily with a search feature.
Users can also create different projects for different projects. To connect them you can make video/audio calls. Also, you can access it through a cloud-based site. Definitely, it's one of the simple, easy to install and best Slack alternatives to team communication.
Pricing
Workplace for Facebook features three pricing plans as below:-
Standard:- It's free of cost, and best for teams and projects group for up to 50. In this plan, you'll get features like auto-translate, live video streaming, mobile apps, workplace chat, group video calls, file storage 5 GB per person, etc.
Advanced:- This plan costs you $4 per user/month if billed monthly. It'll come with added features- org chart, safety check, surveys.
Enterprise: It costs you around $8 per user/month if billed monthly. This plan comes with an extreme priority and unlimited storage.
17. Flowdock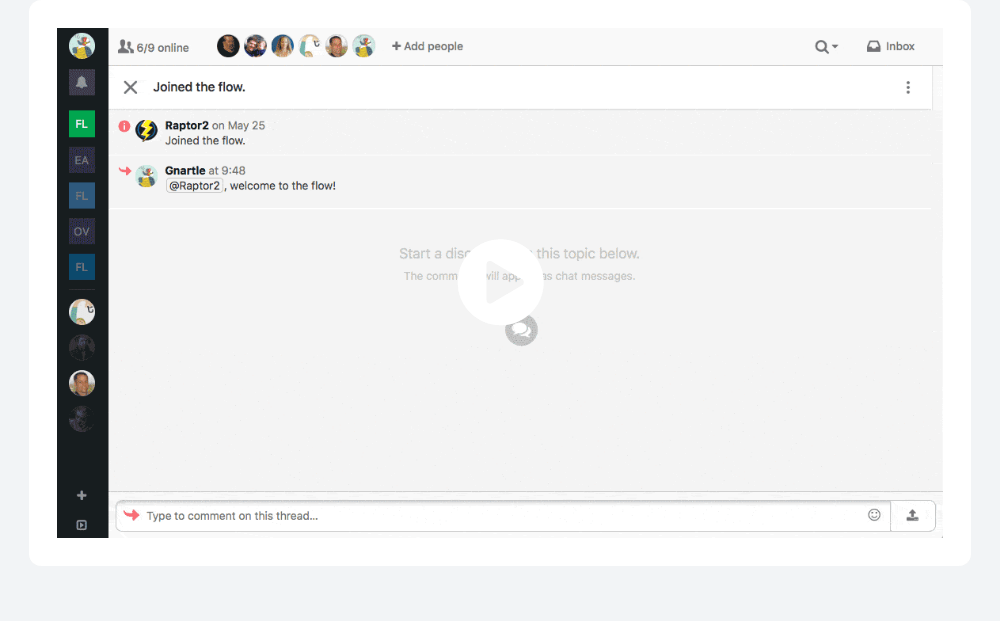 Flowdock is a tool available for both Android and iOS. And, it's extremely useful for conversations and comes with all work essentials with it. It also helps users to monitor and organize their tasks. Plus, you can use it to organize your team with these features.
You can easily search, filter, and locate work items in your integrated inbox. It comes with a modern UI and great compatibility. In short, you can use it to manage business strategies and team growth charts side by side.
You can use it to send GIF, and custom emojis to express yourself in a wide range. Also, you can use Open API to integrate what your team needs. Moreover, you can invite stakeholders to join the discussions and to see updates. You also do settings to receive particular notifications. And, color coding options are useful to keep topics organized. Plus tag feature is useful to get better filtration in groups.
It comes in last but considering these features it's one of the best Slack alternatives.
Pricing
Flowdock is available in 3 pricing plans:
30-day trial for free to use. It has all the standalone features.
Standalone:- You have to pay $3/user per month for this plan. This plan gives you infinite integrations, unlimited flows, endless history. You can also use 30 days trial for free to use Standalone.
Enterprise:- You'll get this app for $9/user per month. This plan comes with the added features- SSO, integration auto-removal, custom data retention policies, etc.
Conclusion
No doubt Slack is a wonderful communicating software. Still, it has some disadvantages that you won't find in other apps. And, you can get them at the lowest price or even free.
So that's the list of 17 best Slack alternatives that can help you to be more productive. Comment your favorite Slack alternative and share this post with your entrepreneur friends.