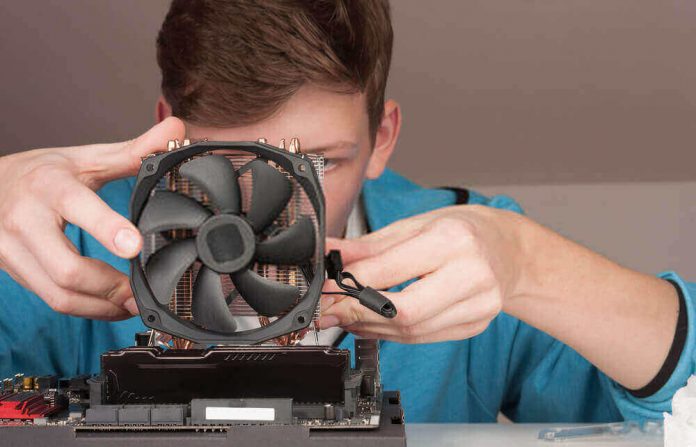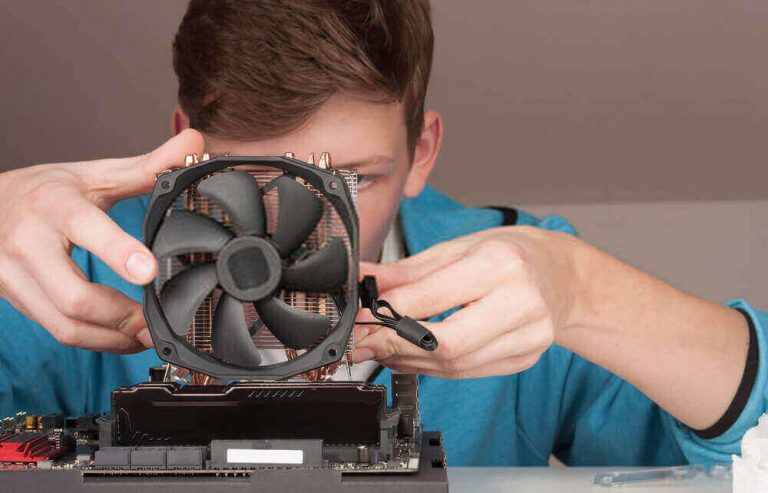 Choosing the best CPU cooler while building a PC is such a critical yet confusing task. Your mind will definitely cloud up by lots of silly question- Which brand should I choose? What is the exact budget I should make? What is the best placement for it?
Well, if you look at the internet to choose the best CPU cooler, almost everyone will tell you only about their experience. Some will just boast about their little cognizance about PC building. And others would blindly refer you to a specific CPU cooler brand just because they have the same in their PC.
Now you just need a CPU cooler that actually helps your PC to eliminate the excessive heat to get the peak performance of it. Well, Techstorify has already created the list of 10 best CPU coolers of 2020. And, that would certainly help you to choose the best CPU cooler for your future PC.
Best CPU Coolers
Now there are two types of CPU coolers in the market- Air Coolers and Liquid Coolers.
Also, you can check this video to understand better about Air and Liquid coolers:-
And, there are already enough CPU cooler brands to arouse confusion in your mind. That's why we pick the best one to help you. However, they're not in a particular order, something like better to best. So just check out the whole list before making a conclusion.
Let's started with the first one.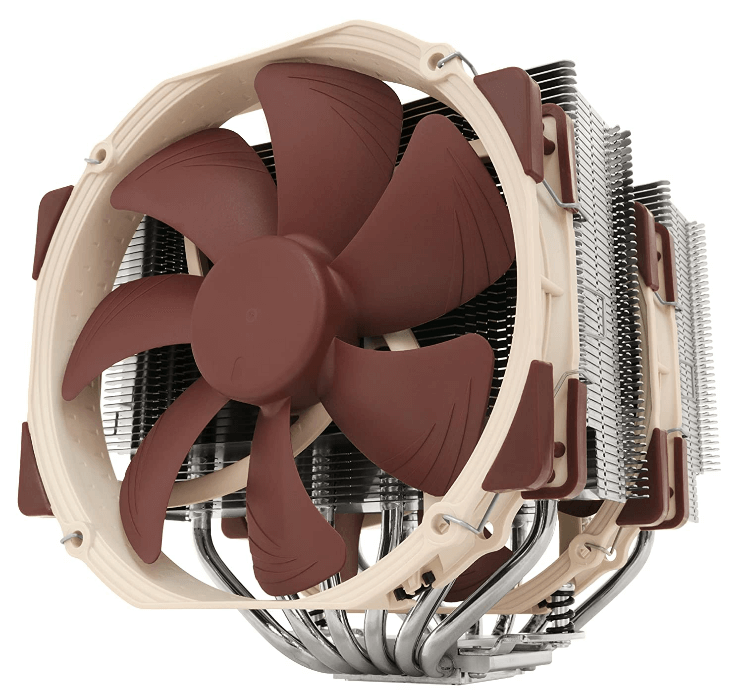 The Noctua NH-D15 is the updated version of its predecessor which is Noctua NH-D14. This CPU cooler became the editor's choice product of popular publications in no time. Also, it's an award-winning product and recommended by some of the famous hardware websites.
Noctua NH-D15 is one of the premium products that every gamer loves. The build quality and the color combination of this CPU fan is great. It features a 140mm dual-fan with an A.O.O standard aerodynamic design which works perfectly to emit the heat from your system.
Moreover, it's compatible with high RAM modules and also with the AMD and Intel LDA chips. Alongside these features, it has 2 low noise adapter fans to keep your system at an ideal temperature level without creating irritating fan noises.
Also with a 6-year warranty by the official company, Techstorify considers it the best air CPU cooler in the market with a number #1 position of our list.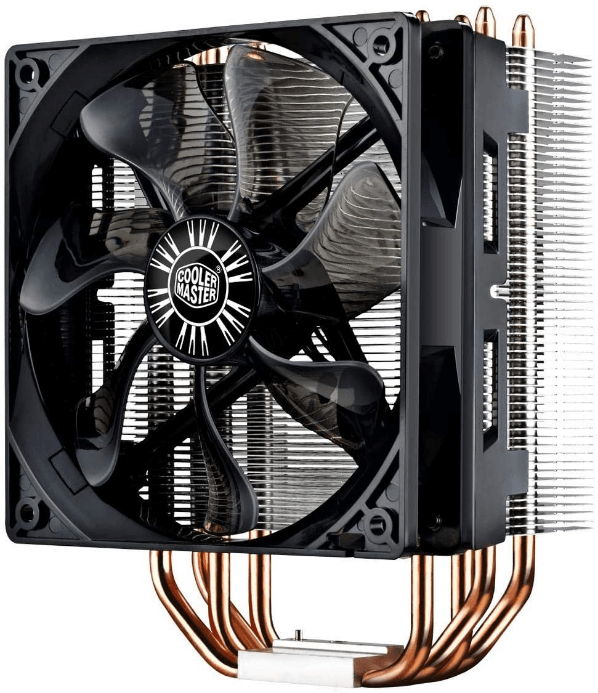 No doubt, Noctua NH-D15 is extremely good at its work but if you're low of budget then here is our #2 pick for the best CPU cooler which is Cooler Master Hyper 212 EVO.
It's another famous CPU cooler among serious PC builders due to its great performance. And they always try to compare it with Noctua NH-D15. Both have their pros and cons. However, the Cooler master costs you around $35 USD, and Noctua NH-D15 has a price tag of around $90 USD.
Moreover, Coolermaster comes with a 120mm PWM cooler. It gives your PC a balanced temperature experience by emitting the high temperature from it. The blades of this CPU fan are specially designed to support the airflow. Also, the four heat pipes are attached with a patented C.D.C. (Continuous Direct Contact) system to enhance the heat effusing performance of it.
It's compatible with a wide range of chips, still some publications recommended using it with Intel Core i7 Extreme, Intel L.G.A., and AMD processors. However, it is said that Hyper 212 EVO tends to make a little noise while doing intensive gaming. Still, it's the best CPU cooler that you'll find at that price.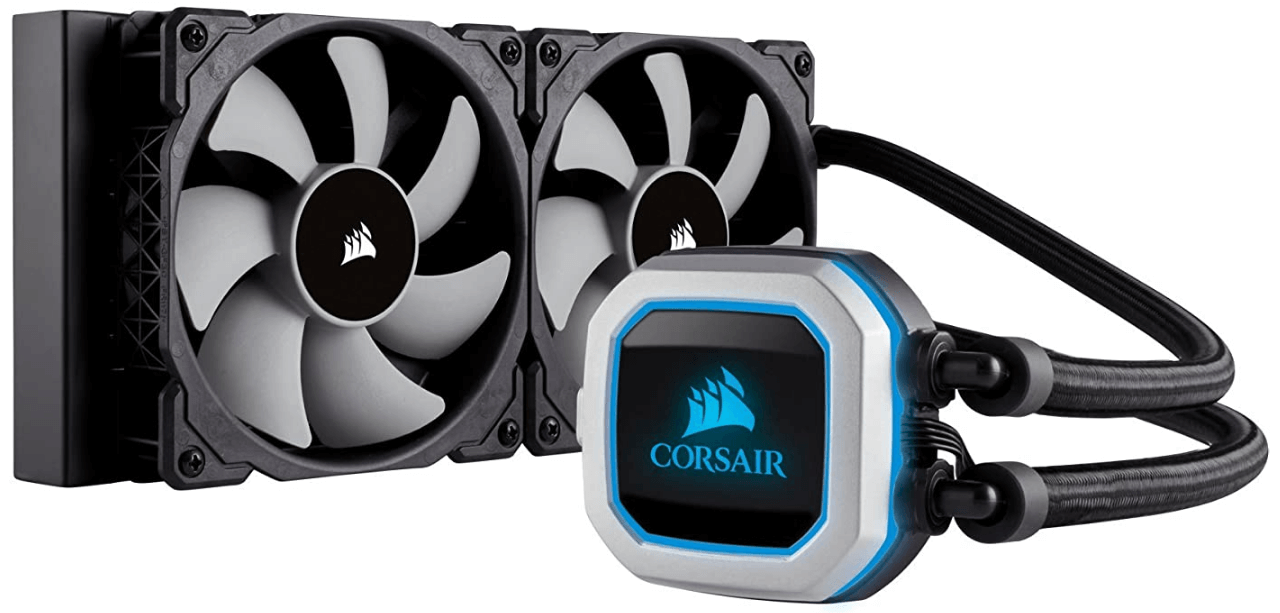 Corsair is the brand which is quite famous in most of the gamers or experienced PC builders. Also, this brand is famous for manufacturing the best liquid CPU coolers.
Corsair Hydro Series H100i Pro offers a great cooling performance to keep your system temperature normal. Besides its super performance, the RGB lighting effects in it tells that the company also gave enough attention to its looks.
H100i Pro consists of a 240mm liquid cooler that is compatible with almost every computer setup. No matter, it's a full tower PC case or the smallest one, it gets fits perfectly. Besides its fitting, you don't have to read a thick manual book to install it into your system. It'll take just a few minutes and you're ready to go.
However, it has a price tag of $212 USD but for a closed-loop, all in one CPU cooler which is quiet, easy to install, has cool RGB effects it's worth to make a purchase.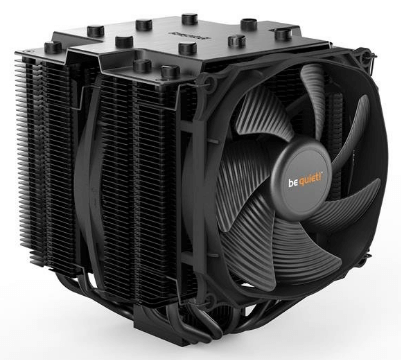 The Dark Rock Pro 4 CPU fan comes with such a sturdy and premium look that got seven heat pipes in it. And because of them, you get a 2x performance in comparison to a normal cooling fan.
The design and the shape of wings in this cooler are well designed to give a consistent airflow. Also, this helps to discharge the hot air from your system. In that way, your system temperature would be normal and you'll see no drop on the performance.
Dark Rock Pro 4 comes with a black coating and build by ceramic particles to an easier air outflowing. It comes with the compatibility of Intel and AMD chips, so you can install it with any desirable chipset system.
I found one con in this CPU fan- it comes in bulky size. However, it's the best CPU cooler with the great build quality, a wide range of chipsets compatibility, create almost no noise, and ideal for heavy gaming. Still, if you want a compact and small-sized CPU cooler, this isn't the one.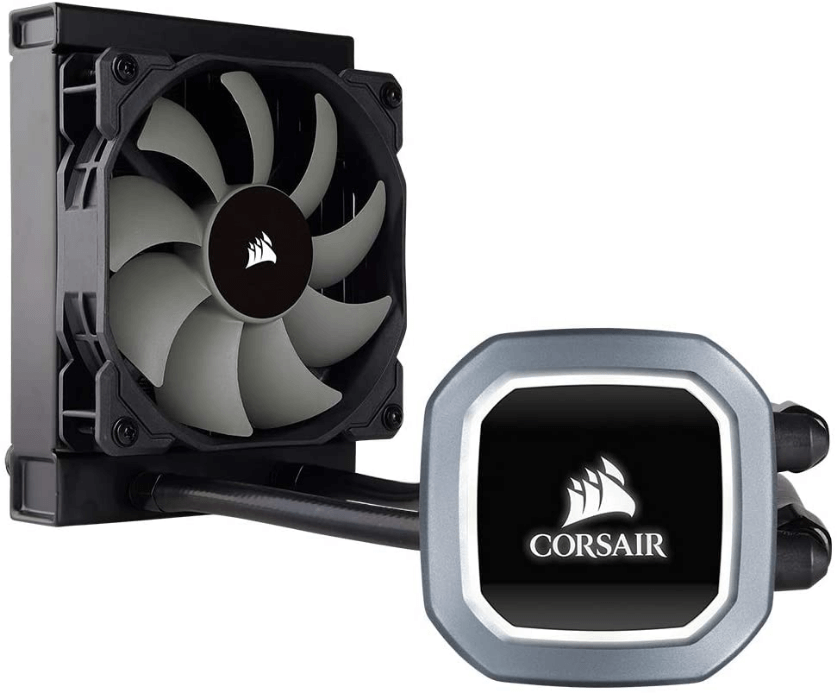 If you're looking for the best AIO liquid coolers in an affordable price range, you'll definitely like this CPU cooler which is Corsair H60. It comes with at a price tag of $80 USD but like we already know that Corsair is such a well-reputed brand, so you can expect a standard quality from its products, even at that low price.
Corsair 60 features micro-fine copper cold plates in it. It works like a charm for eliminating heat and to improve the overall system performance. Alongside the thermal compound has already applied on it to faster your installation process.
Moreover, it comes with a 120mm Corsair SP series PWM fan. The feature I like most about this fan is that you can adjust fan speed between 600 RPM to 1,700 RPM. As a result, you'll get almost no noise even while experiencing the maximum airflow.
It has an outstanding rating of 4.5 out of 5 from 4000+ users which is enough to be convinced that it's the best liquid CPU cooler in the market.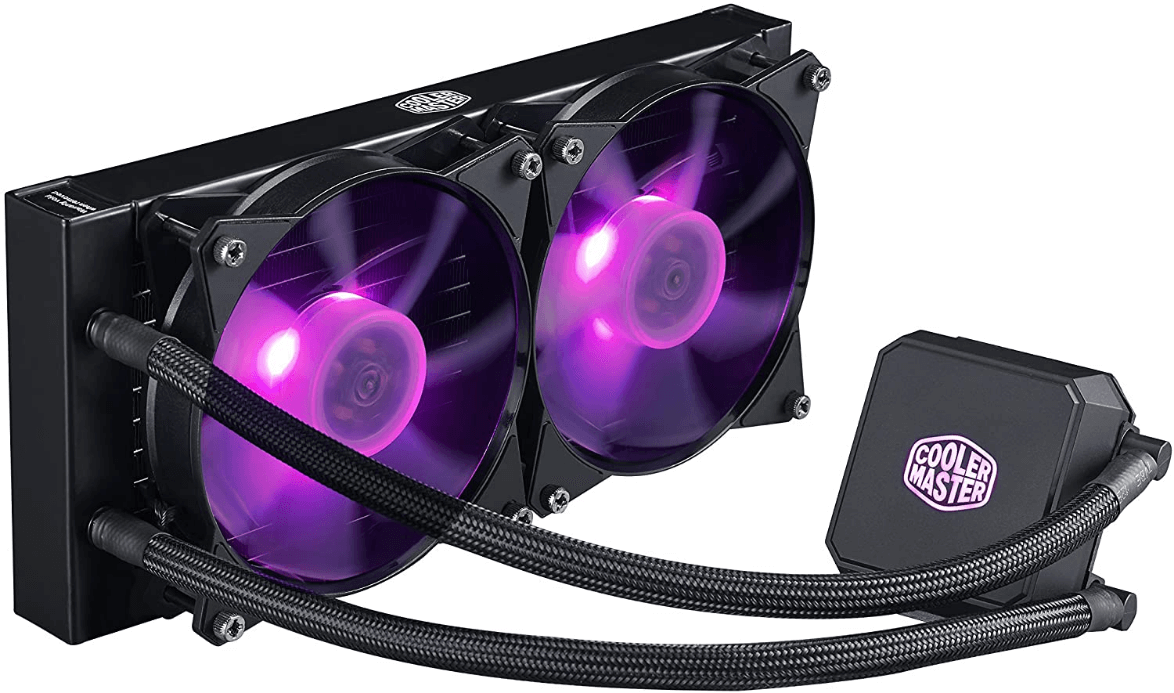 There're two kinds of users- the first one prefers performance over attractive design. And the second one just wants a gaming setup with a sleek design and stunning visual effects such as RGB lighting. If you're the second one I found the best liquid CPU cooler for you.
Cooler Master MasterLiquid ML240R RGB is a liquid CPU fan that comes with RGB lighting effects with it but not like an average CPU cooler. It features RGB lighting on the radiator fans alongside the rim of the CPU pump block. It's a CPU fan that comes with a sleek black color on it that highlights the glowing fans of it.
The company gave enough attention to its design but without forgetting about the quality performance. This is 240mm AIO which is solid and even performs better with the most overclocked processors. Except for the quality, it comes with a library quiet which is less than 15 dba. Moreover, it costs you around $72 USD which makes it one of the best CPU coolers with such cool RGB effects.
7. Le Grand Macho RT – Europian's Best Air CPU Cooler of 2020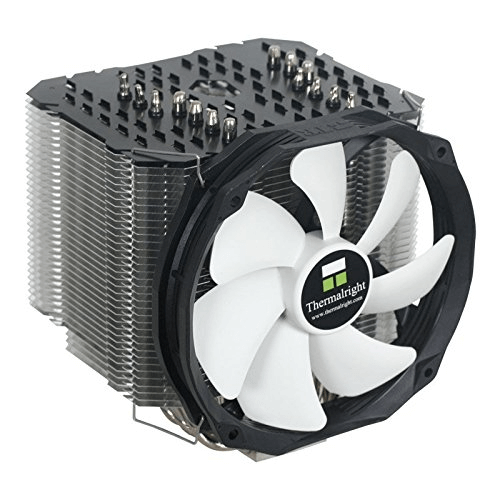 Like you can guess by reading its name. Le Grand Macho RT is one of the popular and best CPU coolers in Europe. This Air CPU fan is made by the European manufacturer which is specialized in manufacturing Air-based CPU coolers. In short, you can keep your expectation high for its quality.
Some users called it a "Quick Solution" to all your heating issues even in a cost-effective way. It comes with a fine built design and consistency of 6 heat pipes that effectively outburst the extra hot air from the system. Still, if you want to hike up its performance you can also connect the additional fan in it.
Moreover, it comes with a Copper and aluminum material which is compatible with both AMD and Intel chipsets. One thing more, you won't need extra heavy-duty graphics to run it. It works perfectly with a VGA card. With 4.5 out of 5 ratings, and easy installation process and the price tag of $80USD make it one of the best CPU coolers you can buy at that price.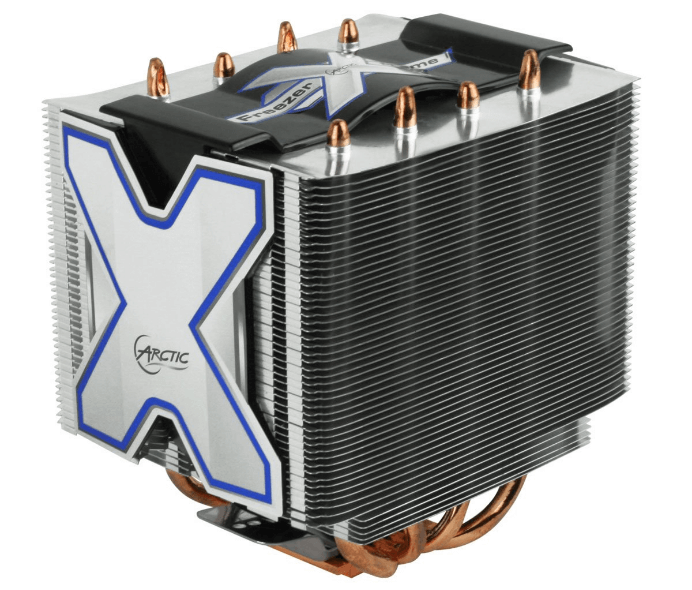 The ARCTIC Freezer Xtreme is a pretty fine fusion of excellent performance and attractive looks. If your only motive is running a high intensive game on max settings on your system then, look no further.
ARCTIC Freezer Xtreme comes with a unique heatsink design that consists of 102 fins and 4 double-sided heat pipes. This configuration is best to improve your system's cooling performance and to diffuse the extra heat from it.
Also, it features a central-mounted 120 mm fan with low noise impeller and a patented fan holder. Plus the fan speed can be adjusted according to the CPU temperature. As a result, the noise you'll notice remains at a minimum level.
Moreover, it comes with 3 different models which cost you around $30 USD to $60 USD. It has a low noise level, excellence power efficiency, and quick installation process that makes it worth the investment.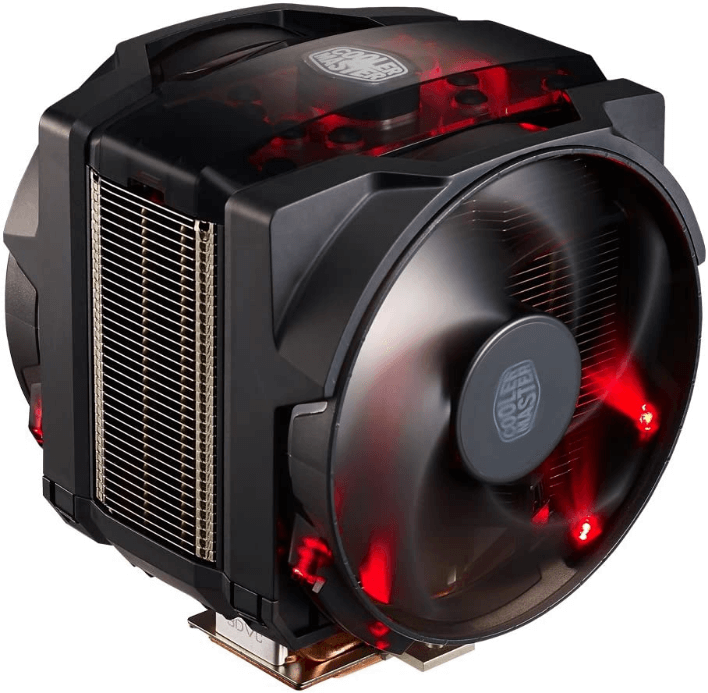 To complete the overclocking process successfully, you have to choose your computer parts, specifically. If you are also looking for the best CPU cooler for overclocking, you can consider this MasterAir Maker 8.
It's a CPU fan that has an excellent build quality and better performance than average CPU coolers. It comes in a single tower design accompanied by up to two 140mm fans. It has a complete copper base and eight heat pipes to emit the hot air from a CPU.
Large aluminum fins, excellent thermal conductivity, and exclusive Cooler Master technology give you 19% extra performance in comparison to other CPU fans. Also, it features FP fans with Cooler Master exclusive silent driver IC technology and a noise level of 24 decibels makes it one of the quietest CPU fans.
Moreover, the customizations like interchangeable covers, 3d designs on the top of it, little decorative LED lights, and excellent performance make it one of the best overclocking CPU Coolers. However, it could be a little expensive for you because of its price tag which is $200 USD.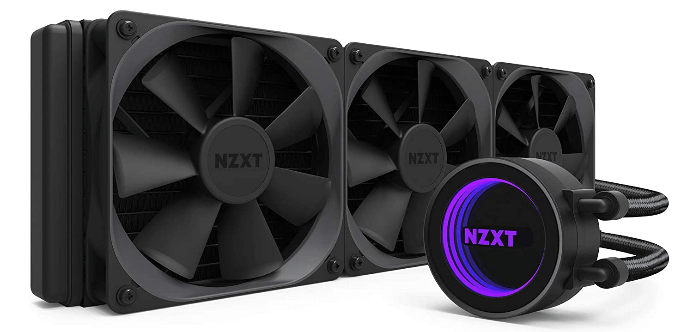 The NZXT Kraken X72 liquid cooling system is one of the famous yet controversial CPU coolers you will find on the internet. I added it to the list because of its intensive heat emitting performance.
It comes with the Aer P radiator fans with a heat release of about 185 W maximum which is perfect for heat release and to get a powerful cooling performance. Also with the Fan Noise Level of 21-38dBA and anti-vibration inserts in the fan frame make it one of the quietest CPU fans in the market.

Moreover, you can manage/monitor the performance, as well as make some necessary changes using your desktop or a mobile app. This is possible by using CAM, one of the coolest features of the best CPU cooler.
At last, it's an award-winning CPU cooler that is cost-effective, compatible with major chipsets, comes in 4 different models and a 6 years warranty makes it one of the best AIO liquid CPU coolers in a budget-friendly price.
Conclusion
As you can see, there are a plethora of CPU cooler options available from different manufacturers. However, the CPU cooler I added on the list is the famous one, compatible, and able to give you an overall best performance.
Moreover, you have to clearly look at your needs and system requirements before buying a CPU fan. For example, what's the rig size of your system, as well as check out the power output, noise level, reliability, air pressure, and the price you can pay to buy a CPU fan from a certain brand.
I hope that post will help you to find the best CPU cooler for your next gaming PC. And if you're planning to build an entire gaming setup, you must check out my other posts on gaming products too:-
Here's a bonus: How to install a CPU cooler on your system:-