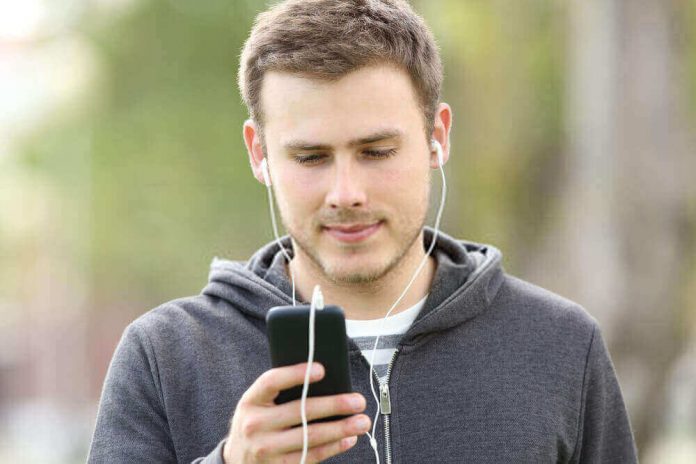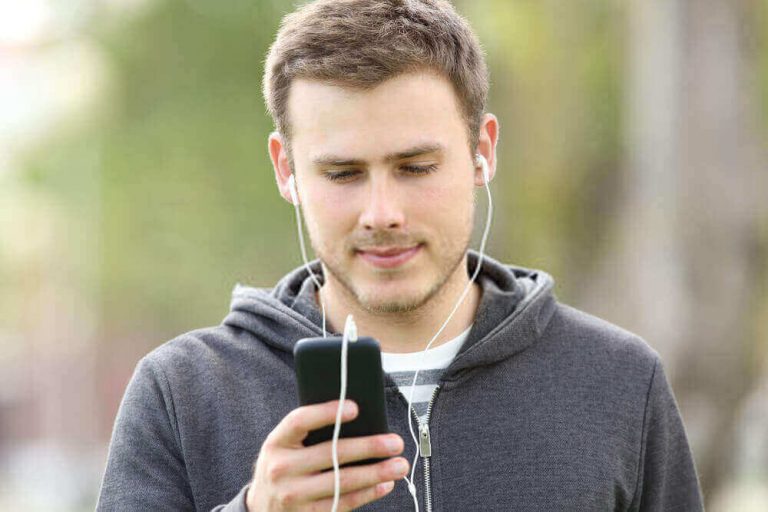 You might have searched for the term, "best gaming earbuds with mic of 2020". Aren't you?
Now, the chances are you don't like wearing a heavy gaming headset. Or maybe the gaming buds you're wearing right now are already broken Or you've to hold them in a certain position to listen to your squad.
No matter what's the case, one thing for sure you need a new piece of gaming buds. Just relax, because Techstorify is here to help you to choose the best earbuds for your gaming needs.
10 Best Gaming Earbuds with Mic
Gaming earbuds are an integral part of your gaming setup. But it's such a sensitive device that no matter how much you will care for it, one minute of neglection could result in you a serious malfunction. Still, you can look over some essential factors before buying your next gaming earbuds. This can help you to avoid annoyance in the near future related to your gaming earphones.
Moreover, we have already chosen some of the best gaming earbuds with a mic that you must consider before buying a gaming earphone.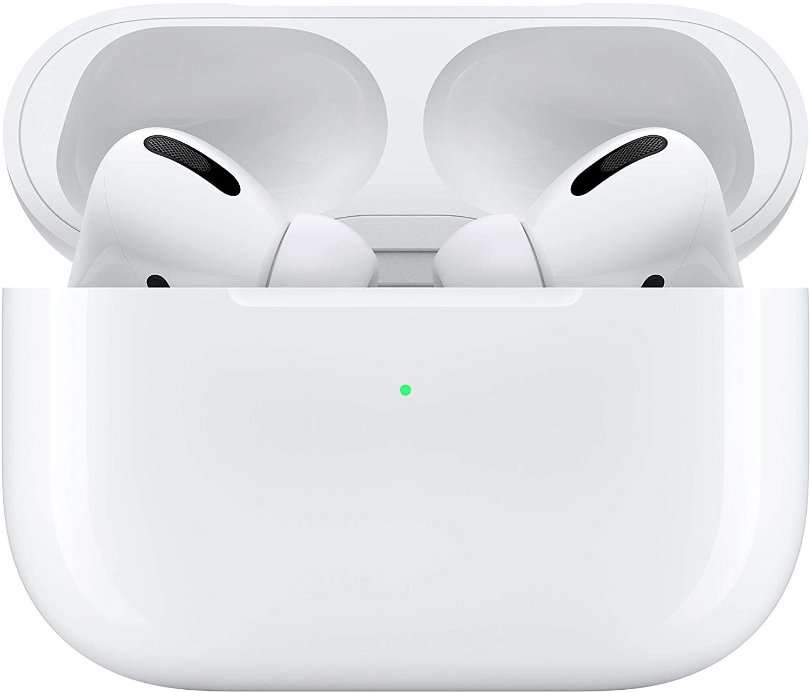 No matter what you'll say about other gaming earphones or about the Apple Airpods, in reality, no brand can easily beat the durability and quality of Airpods. It comes with a brilliant active noise cancellation technology. The interactive transparency mode allows you to use Airpods even at places with loud sound noises such as road traffic, cafeteria, shopping malls, etc.
Apple features an adaptive equalizer that automatically tunes the music and sound according to your ear's shape. Also, it comes with enticing sound effects to give you a better hearing experience. Airpods can automatically turn on and off according to their usage.
Moreover, it's water and sweat resistant build quality, double-tap features to do basic functions such as play or pause the song, Quick Siri access by saying "Hey Siri", alongside a 24 hours battery life with a wireless charging case. However, it has only one single disadvantage- it's an expensive price tag. Still, if you can afford this is our first pick of the list of best gaming earbuds with a mic.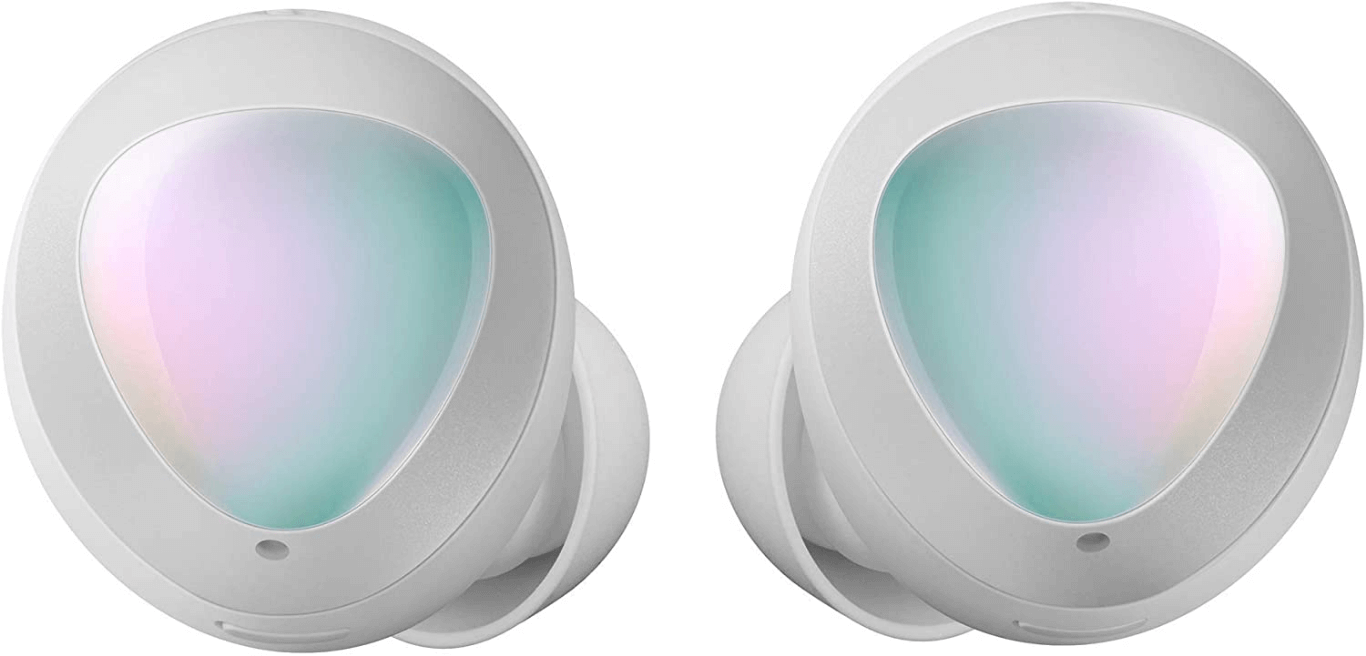 Most of the users only love to purchase products from international brands that already gained a certain level of goodwill in previous years. "Samsung" is one of them that known as an old yet a brand with premium quality products.
Samsung Galaxy Buds come with an AKG tuned premium sound including all the optimized drivers. As a result, you got a great bass quality while using them. Also, a special volume driver allows you to make a wider volume change without interfering with the bass quality.
It comes with a comfortable grip with 3 ear tips and a battery life of 6 hours. Moreover, the surrounding noise control allows you to hear what people are saying to you. It supports both Android and iOS devices, has touch-based controls and splash and water-resistant technology.
If you're looking for brand value at a less expensive price than Airpods then these could be the best gaming earbuds for you.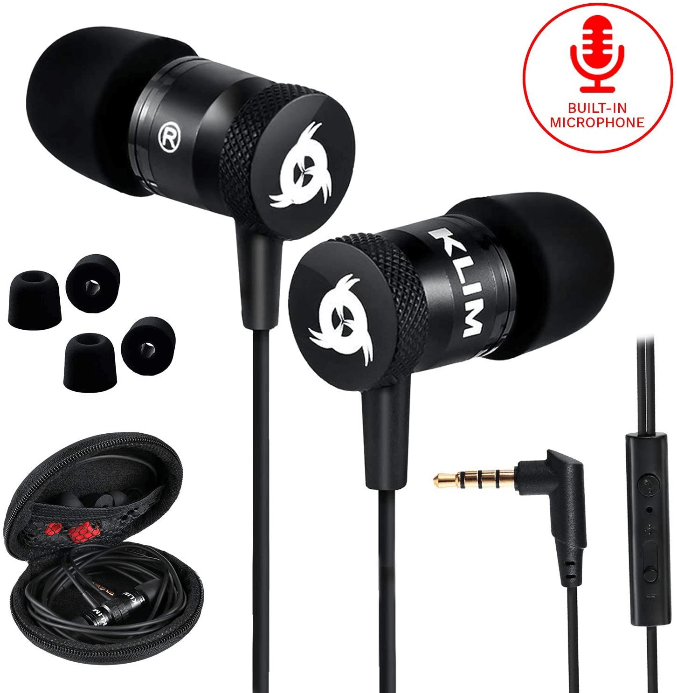 Klim is a quality brand known for providing gaming products with high-rise quality and a great level of durability. These earphones reprove these facts through their great performance. The bass-heavy sound profile of these gaming earbuds gives you a real-like sound experience. It brings the sound effects like "loading a gun" or a "car explosion" to you with such a crystal clear voice that you'll be compelled to feel that intimidating moment for real.
The game mode of Razer Hammerhead earphones also features a "Game Mode" that allows you to play your favorite game on a smartphone without any interruption. Also, the integrated microphone and the buds which have a memory foam is a great fusion to attend a video or audio call without any outside noise. Moreover, it includes 10 exchangeable ear tips of different colors, presents high-quality audio, comes with a 5-year warranty, and costs you only 20 USD. In short, if you don't have problems with wires it is the best gaming earphones in this price range.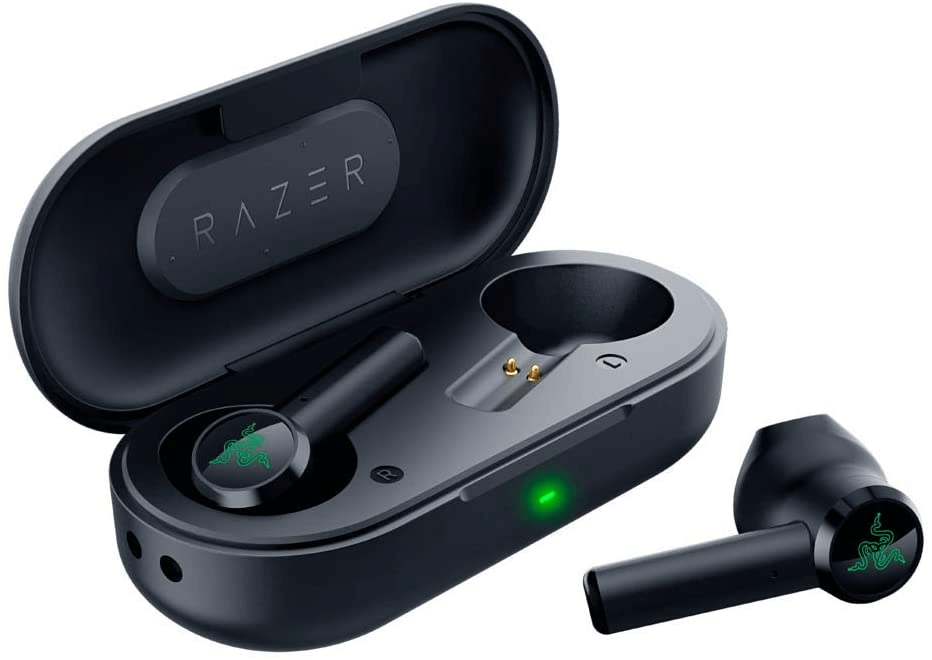 Razer is a brand that mainly focused on providing top-notch gaming devices to dedicated gamers. They provide gaming keyboards, mice, PC, and phone accessories for their targeted audience. Definitely, you can take your expectations high while buying their products.
Hammerhead True Wireless Bluetooth Earbuds a great example of their premium quality products. These earbuds let you experience the real-like sound experience, especially the intimidating sound effects of your firefighting games. Also, if you're a crazy fan of genres like hip hop and jazz, you'll even enjoy more listening to them on these earbuds.
It comes with a built-in mic and an integrated equalizer to fine-tune the bass or treble effect of these buds as you desire. These features make them one of the best gaming earbuds even among these big brands.
However, it has a battery life of only 4 hours but the extremely low 60ms input latency, water-resistant design, custom-tuned 13mm drivers, voice compatibility, and a price tag of 99 USD making it one of the best gaming earbuds that you can consider.
Our next pick is for the user who wants a pair of gaming earbuds that are affordable yet want a feature-rich product with Bluetooth compatibility.
Here' it is- TOZO T10 that got a 5.0 Bluetooth technology. And it's one of the advanced Bluetooth technology with-in call stereo sounds. It has stable and fast pair connectivity alongside the untie sound transmission. The 8mm large size speaker drivers and 177 times bigger drive area than an average earbud let you experience the powerful bass experience.
It comes with a great noise cancellation feature alongside a comfortable and ergonomic design. The inner nano-coating technology works perfectly against sweat also good for water sports. Moreover,  it got 4 hours of battery life, 4 different bud extensions for different ear sizes, and available in 5 different colors.
Except for the battery life, at a price rate of 30 USD, TOZO T10 gives you lots of amazing features.
Airpods users complained that they got a great build quality but didn't mean for a workout. Airpods are not for the users who can afford that price and love to jump, move, and walk a lot. Powerbeats pro wireless earphones could be a perfect companion for that kind of user.
These earbuds come with an ergonomic and durable design. It does not matter if you're dancing, running, fighting with your friend while playing a multiplayer game, these earbuds will never fall/slip from your ears. Also, it features the Apple H1 headphone chip and class 1 Bluetooth to let you experience better call handling without any dropouts.
Both the earbuds equipped with track change and volume controls. Alongside this, you'll get a voice and automatic play pause features in them. These earbuds also give you 9 hours of active battery life and it gives you the charged time of 1.5 hours just after 5 minutes of charging.
Plus the 4 changeable tips, sweat-resistant design, and 8 different colors make these earbuds worth the price.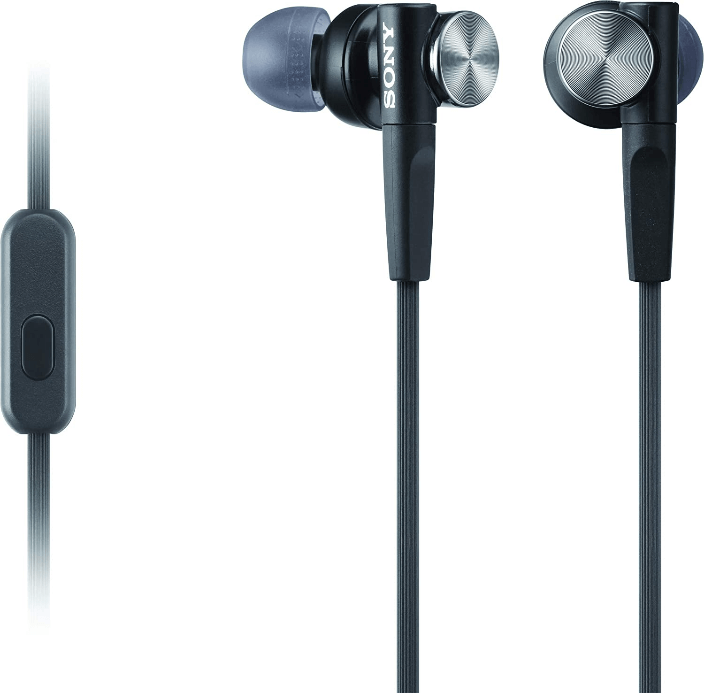 We're talking about the voice and sound quality and it would be unfair if Techstorify will not mention a Sony headset. Now, who doesn't know about Sony also the sound quality of its audio devices?
Sony MDRXB50AP Extra Bass earbuds work like a charm like its name. It features dome-type magnetic drivers with 12mm neodymium. In short, you'll experience a balanced and clear experience of bass and treble. Also, the inline microphone is clear and the extra bass feature gives you a powerful and clear bass boost.
Also read:- 10 Best Integrated Amplifiers Under $3000 [Buying Guide 2020]
Moreover, the noise cancellation feature of these earbuds works extremely great. It comes with a 3.9 feet long rubber flat style cable tends, so don't worry about the messy cable issues. Plus it'll be available in 3 different colors and comes with 3 extra pairs of bud tips and a carry case.
In conclusion, Sony MDRXB50AP is the best gaming earbuds for users who prioritize a decent audio output, clear bass, and great noise isolation.
8. Skullcandy Ink'd Plus In-Ear Earbud – Black


Skullcandy is a brand that provides amazing sound devices to its users at an affordable price.
Ink'd plus earbuds is another amazing product from this brand that comes with such a premium quality yet a low price tag. Gamers who're on a tight budget can definitely buy these earbuds to play their favorite game with it. Even for music lovers, it's one of the best brands, as it comes with a great bass treble balance and such a clear sound.
The noise isolation feature works perfectly in these earbuds. It comes with an inline microphone alongside the inline volume and tracks controls with it. These earbuds available in 6 color variants, comes with 2 extra ear caps for different ear sizes and 2 years of warranty.
Although it doesn't come with a water-resistant body yet at a price rate of 16 USD what more you're expecting?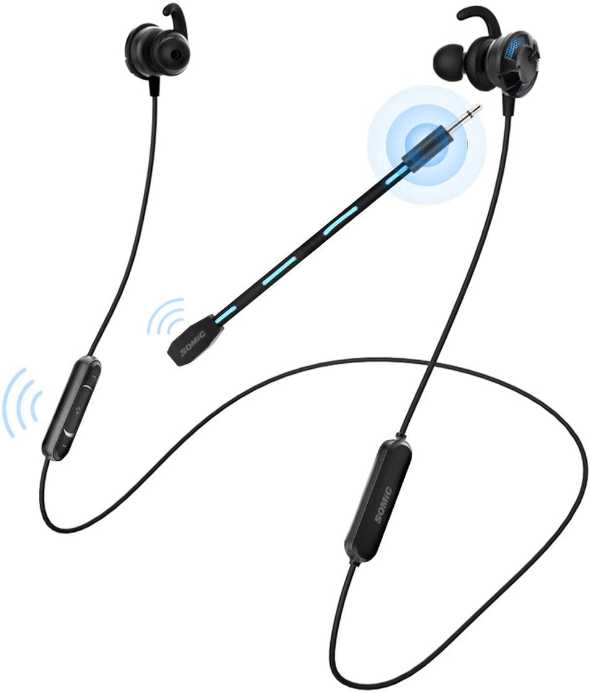 This is our pick for one of the best wireless earbuds for gaming. Somic is also a brand that makes quality products for its users. Somic G618Pro is a piece of gaming earbuds that has a unique idea behind its quality build.
These gaming earbuds come with a comfortable and attractive design with a detachable mic. Yes, a detachable mic. So that you can attach it while attending a gaming session to talk with your squad. And, definitely, you can untie it while going for a morning walk.
Also, it has three group control buttons to do basic functions while calling or listening to music. Moreover, Somic features an ergonomic design and honeycomb cooling. So you'll be able to wear them for hours without losing any comfort. And with 8 hours of battery life, it's one of the best wireless gaming earphones that you can use for gaming and exercising both.
10. MINDBEAST Super Bass – Best Gaming Earbuds with 90% Noise Isolation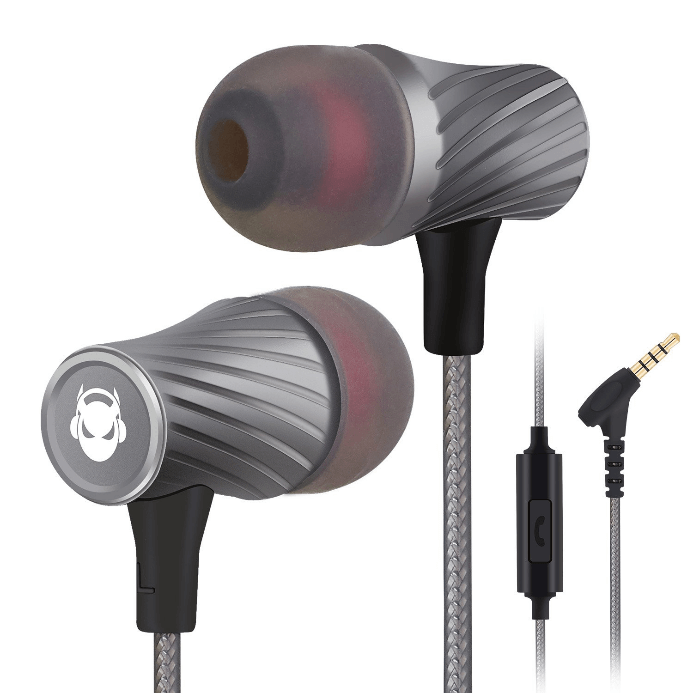 However, Mindbeast is on the 10th place of our list of best gaming earbuds. Still, it has some awesome features that come in not a hefty price tag.
Like its name these Mindbeast earbuds come with a 90% noise cancellation effect which is the stand out feature of these earbuds. But that's not it. These earbuds also feature exclusive drivers that give you an ultra-clear sound experience with a quality bass effect.
These earbuds are light in weight and also comfortable in wearing. Besides, these earbuds are sweatproof, so you can wear them while doing a workout and intense gaming as well. Also, it comes with a leather zipper case that looks attractive and lets you store these buds when you're not using them.
Moreover, it comes with 3 sets of ear tips- small, medium, and large to choose you accordingly and a 135° angled plug protect its conjunction parts. However, I don't know why it has only 30 days warranty but for a gamer, it could be perfect earbuds for gaming as well as for listening to music.
Wrapping up
I would like to mention honorably some of the more brands that manufacture some good audio devices such as Boat, Boss, or JBL. You can consider them if you got good past experience with them. However, I already spent 5 to 6 hours checking almost every popular publication, also the Amazon listing page. And, after that research, I found these gaming earbuds.
Still, if you can choose earbuds out of this list, I'll recommend you to check the following factors:-
Design
Water and sweat-resistant
Drivers
Frequency Response
Noise Isolation and Noise Cancellation
Sound Profile
Sensitivity and Sound Pressure Level
Total Harmonic Distortion
Warranty
A single Google search can help you to know these terms. This would be enough for your solo research before buying gaming earbuds. Let's know in the comments which gaming earbud you're using right now. Also, share this post with a gamer who searching for the best gaming earbuds for a better gaming experience.
Next, you can read:-