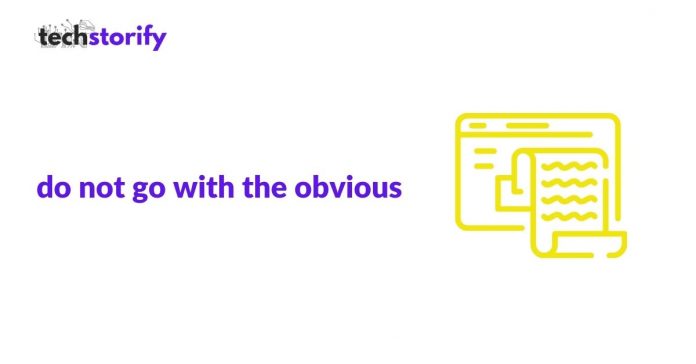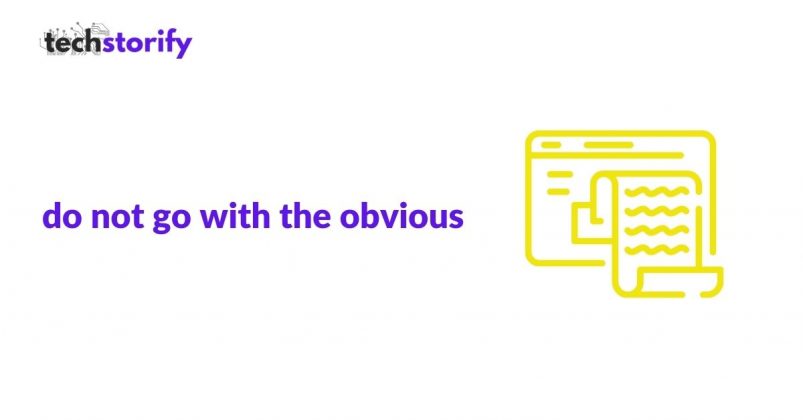 Gone are the old hassle-filled days of having to manually track down the paperwork in dingy filing cabinets. And which company doesn't want to go green?
All that is now possible, all thanks to the various document management systems that are available in the market these days. 
Document management software is a safe, flexible, and better way to organize, share, and store all your company's documents. A document management software can even help you digitize your existing paperwork with ease. 
SOME OTHER BENEFITS OF A DOCUMENT MANAGEMENT SYSTEM 
Streamlines communication and improves efficiency 

Improves functionality 

DMS can be integrated with various other tools.

Also offers advanced security features such as audit trails, advanced permission capabilities, and enterprise authentication

File retention
Here is a list of the best document management software that we've created for you. 
1. MICROSOFT ONEDRIVE FOR BUSINESS:
This software is designed for businesses to share, access, and collaborate on files from anywhere.  Save them and access them from anywhere. This software lets you stay productive & connected, even while you are miles apart. 
SOME FEATURES
A cohesive file experience. You can easily add shared files from Teams to SharePoint to OneDrive. 

Allows you to upload files up to 100GB.

Integrations allow you to create sharable links, and grant expiring access.

You can apply sensitive labels, sync reports, and even manage migration.

Offline editing.

Create, edit, view, and share files on the go with OneDrive mobile application.

You can easily capture whiteboards, scan work receipts, and business cards. 

Easy backup and file retention.

Personal vault.
PRICING
Starts from Rs.330/user/month (annual commitment) 
2. DROPBOX BUSINESS
It is the world's smart workspace that helps you and your team stay organized, focused, and in sync.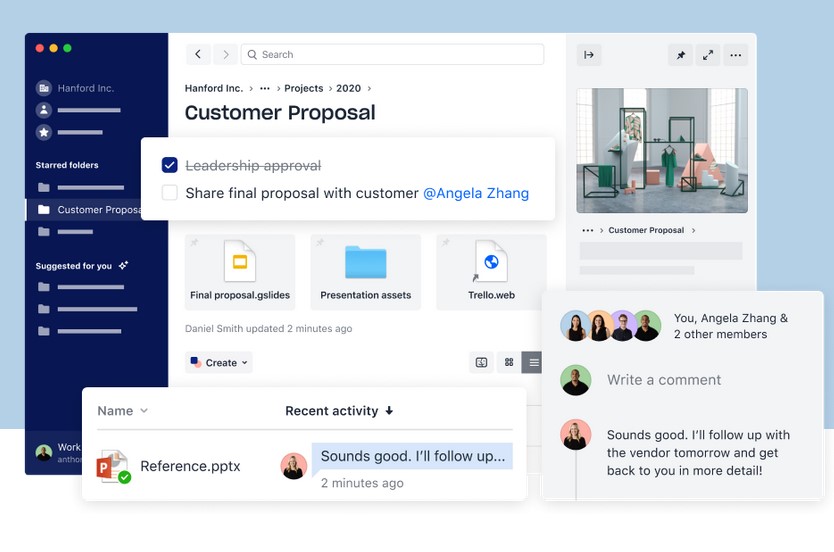 Used by more than 500,000 teams, Dropbox's business is a lot more than just secure storage of your documents and files – the tool is a seamless way to optimize your workflow and increasing productivity. 
SOME FEATURES
Provides online cloud storage to keep your files secure.

Easy and hassle-free sharing of large files with Dropbox Transfer.

Easily collaborate, edit, and share content with your team. 

Easy recovering and resorting to disaster-proof your file by protecting them against unwanted edits, deletions, hackers. 

Easy integrations with tools like Slack, Zoom, and others.

Get notified about every update or change. 

Access your files from your computer, phone, or tablet. 

Gives you personalized suggestions for files and folders so you spend less time searching.
PRICING 
4 different plans – Professional (starts from $16.58), Standard ($12.50), Advanced (starts from $20), and Enterprise (visit website)
3 – M-FILES
Say goodbye to content chaos with this intelligent information management software. The software leverages Artificial Intelligence technology to automate the whole organizing process.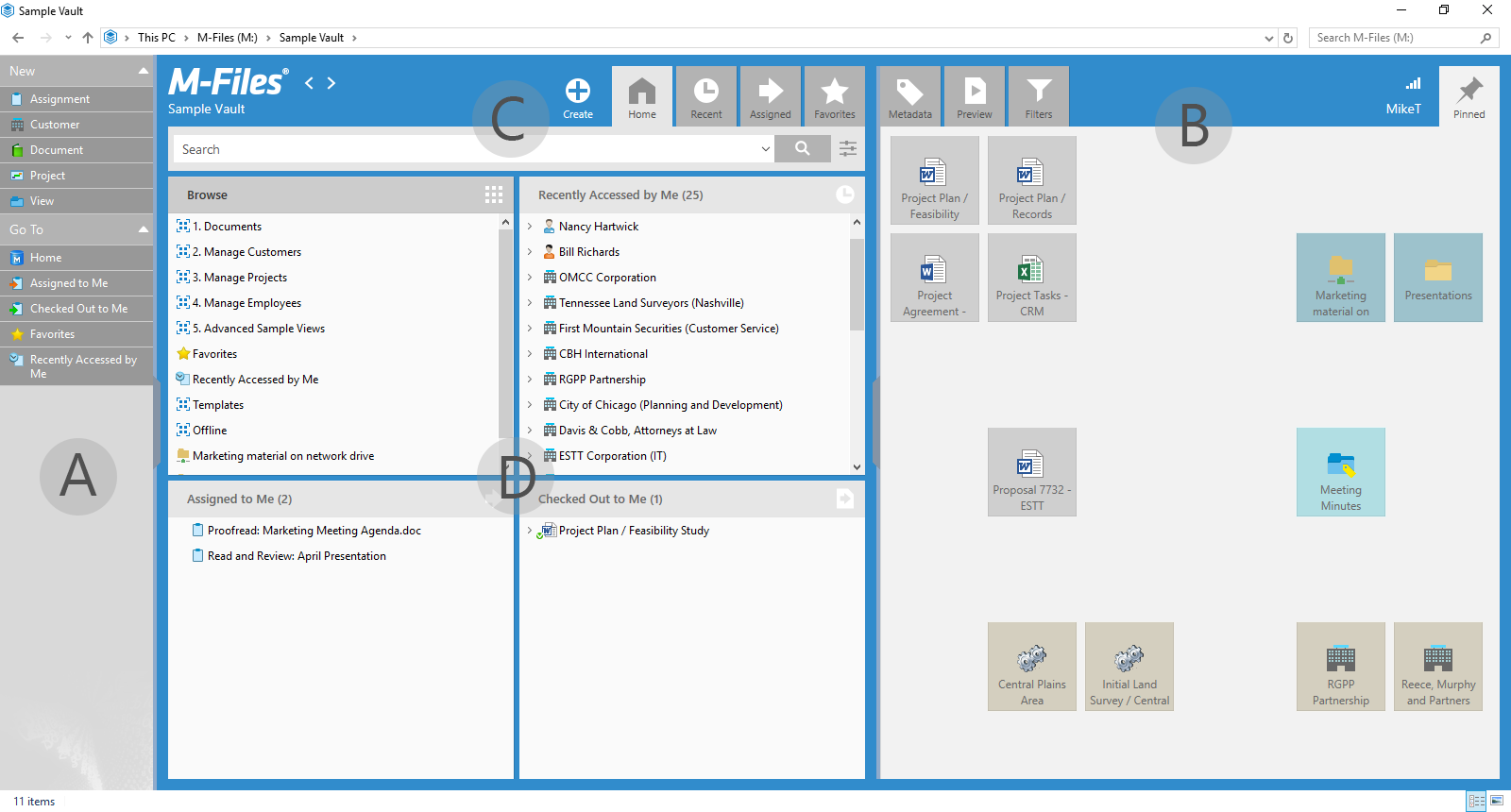 It is excellent software for larger teams that need to access documents at different times. Go beyond the traditional document management with other features of M-Files
SOME FEATURES
It is metadata based, repository neutral, and intelligent. That means that you can find data based on what it is, not where it's stored. 

M-files can be installed in the cloud, on-premises, or as a hybrid solution.

Uses AI to automate, simplify, and assist you.

M-files document version control makes sure that you are always working on the latest version of your document. 

Supports all types of documents, including emails. 

Allows you to access documents anytime, anywhere. 
PRICING 
Try their 30 days free trial. For pricing, you will have to contact their sales team. 
4 – MICROSOFT SHAREPOINT
Share and manage content, knowledge, and applications and enjoy seamless collaboration within your organization.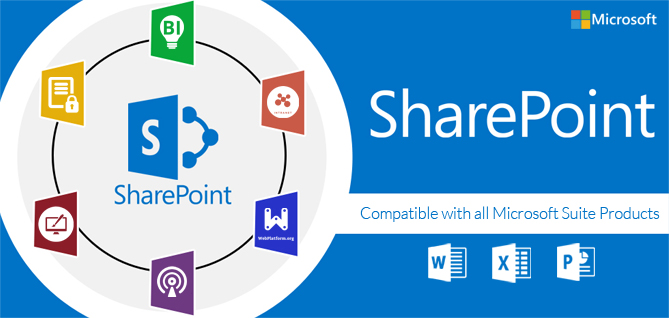 The web-based platform can be used as a secure and safe place to store, organize, share, and access information from anywhere at any given point – it's like a shared file repository. 
SOME FEATURES 
Let's collaborate effortlessly and securely with your team members and other stakeholders. 

You can easily connect with your team and organization with a mobile and intelligent intranet. 

Powerful search option.

Accessible from both android and iOS phones. 

Provide SharePoint training.

Provides a hybrid cloud solution.

Get tips and advice from other users and Microsoft experts with Microsoft SharePoint Tech Community. 
PRICING 
2 different plans – Plan 1 (starts from Rs. 330) and Plan 2 (starts at Rs.660) 
5 – HIGHTAIL
It is one of the best platforms for file sharing and collaboration. If you are a business that needs to send large files with security, then this is the platform you must consider. It just takes file sharing to the next level.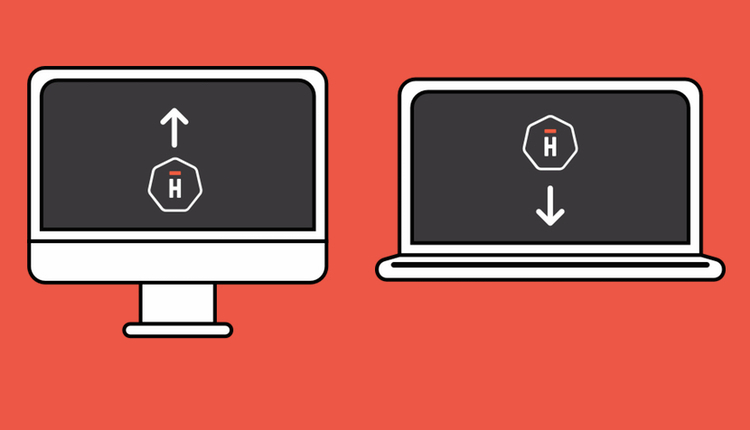 SOME FEATURES 
High-resolution previews.

Real-time conversations.

Simple sharing – all you have to do is just drag-and-drop.

Easy tracking of downloaded and delivered documents.

You can password protect your files and even set an expiration link. 
PRICING
4 different plan – Free, Pro (starts from $12), Teams (starts from $24), and Business (starts from $36)
6 – ABBYY FineReader PDF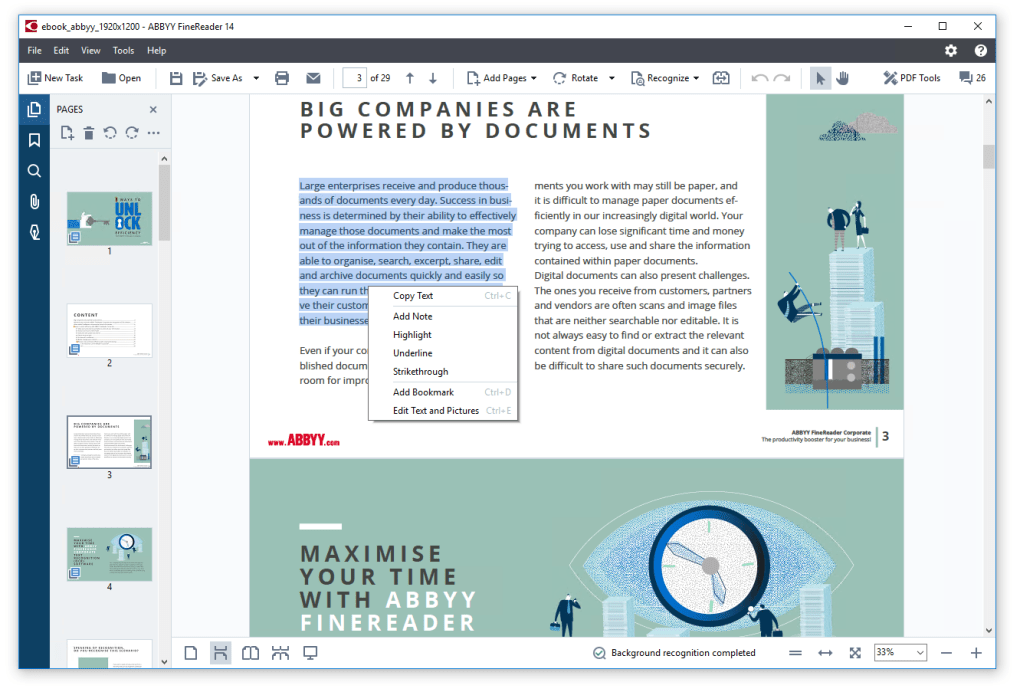 SOME FEATURES
Let you create fillable PDF forms.

Compare documents in different formats.

Protects and sign PDFs. 

Automates digitization and conversion routines.

Allows you to separate large PDFs into small ones. 
PRICING
You'll have to get in touch with the sales team for a business plan. However, for individuals, there are 3 different plans  – Standard (starts from $199), Corporate (starts from $299), and Pro (starts from $119.99)
7 – FileHold
This one is one of the electronic document management software. It's rich in features, enterprise-grade, and extremely affordable. You can easily scan, capture, index, store, search, review, and approve.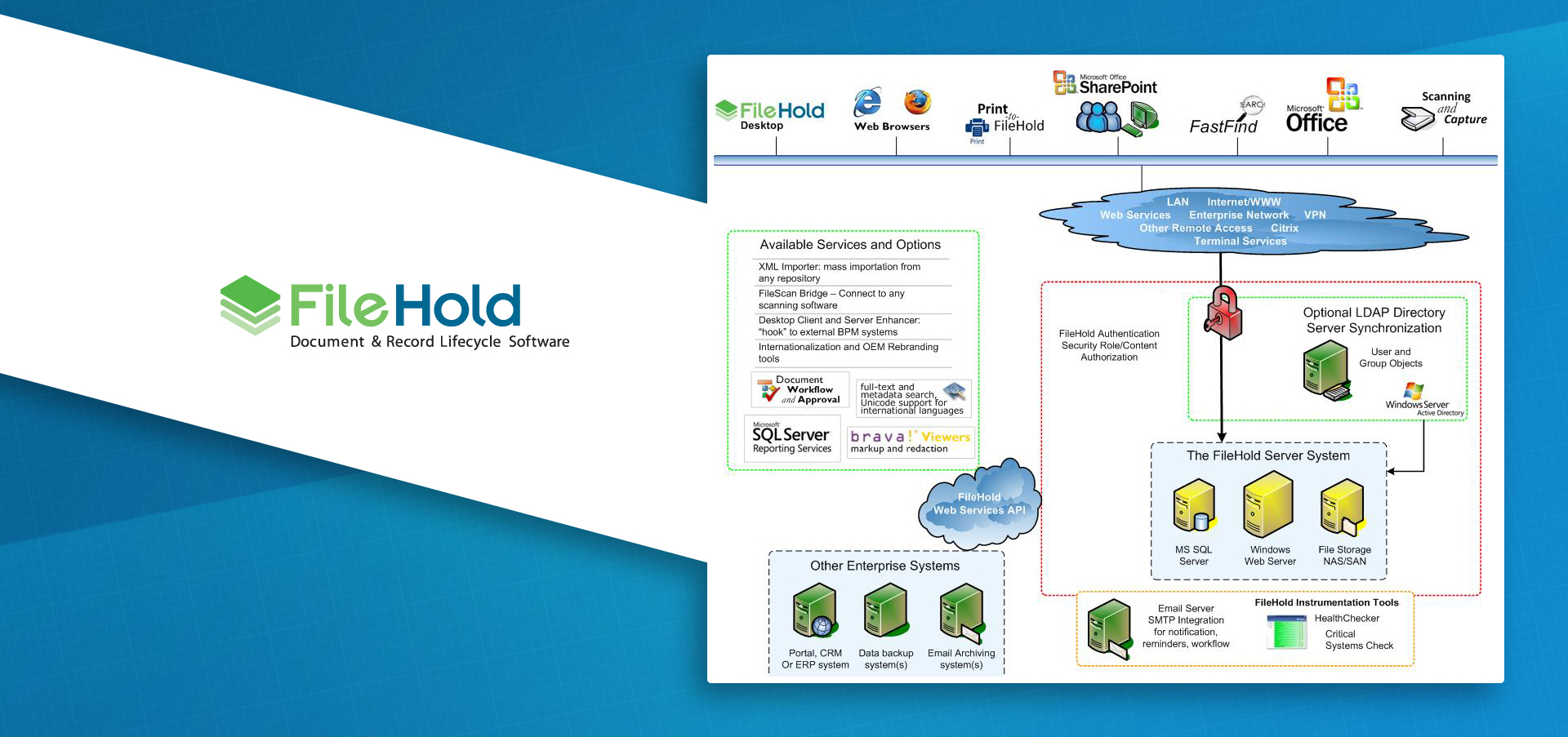 FileHold in short improves security, increases compliance, streamlines operations, and saves paper. 
SOME FEATURES
The software can be accessed on your server or the cloud. 

Works on desktop, browser, and mobile devices.

Collaborate with electronic document workflow.

Provides unlimited technical support.

Knowledge base, Support Portal, and online videos are available all the time. 

FileHold Courier lets you provide secure access to documents in FileHold to anyone with an email address. 

You can create pre-designed workflow templates consisting of document reviews, and approval activities. 

Automatic Record Management Archiving and Disposition. 
PRICING 
You'll have to get in touch with their sales team for pricing.
8 – RUBEX
Experience the next generation of document management with this powerful document management software.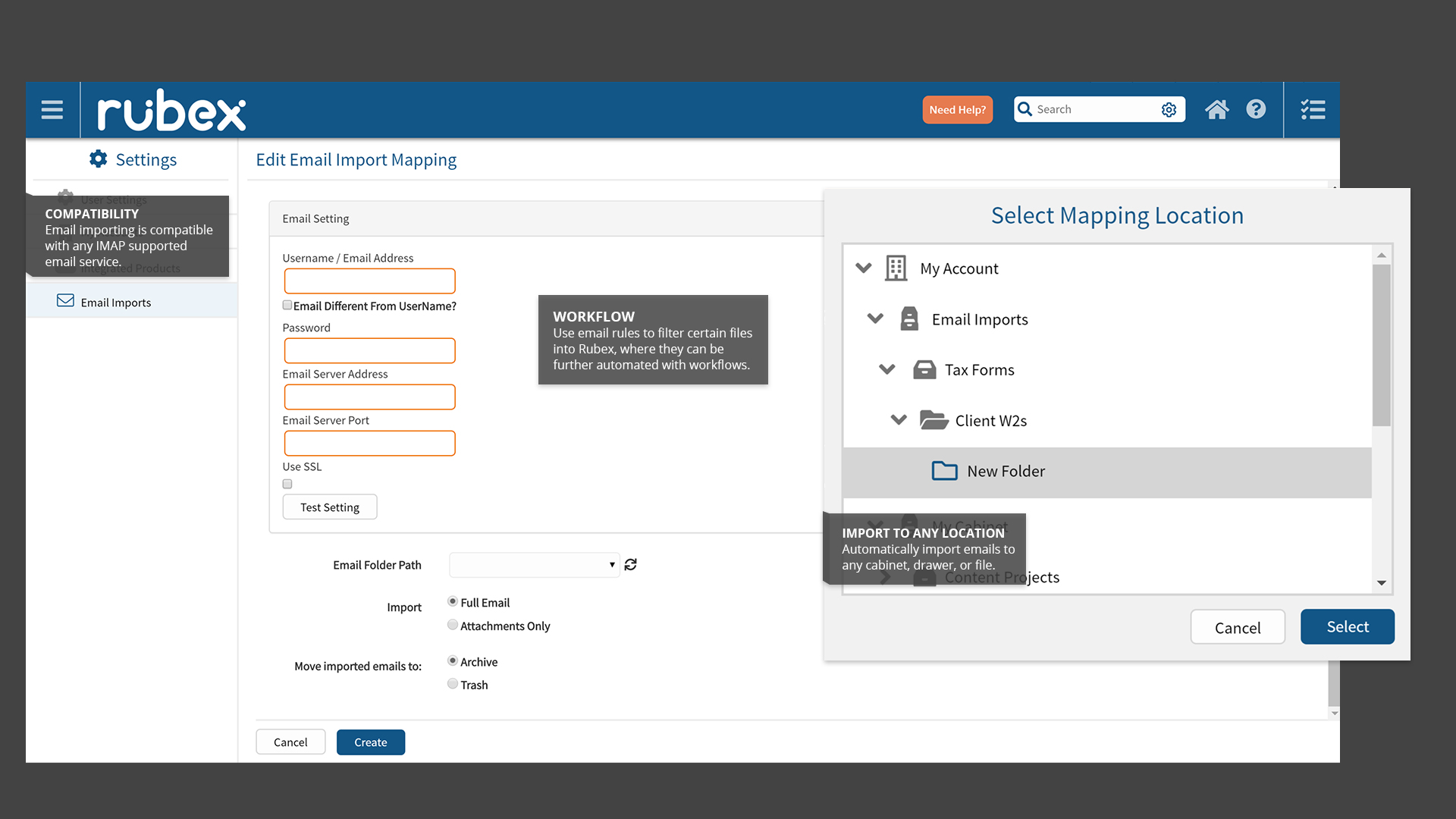 Ideal for any business, Rubex by eFileCabinet is a low-cost cloud-based online document management software that saves time and increases efficiency. When you have this software, there's only one place where your document could be. 
SOME FEATURES
Secure sharing portal and templates.

Automate your repetitive tasks and save time with automated workflows and zonal OCR. 

Full-text searching and mobile accessibility.

Easy to implement naming structures and templates.

Dual screen preview. 

E-signatures.

Branded customization.
PRICING 
3 different plans – Advantage (starts from $55), Business (starts from $99), Unlimited (starts from $199).
9 – BOX
Box is a simple platform that allows you to create, collaborate, and manage your documents. With Box at your side, be rest assured that your documents are completely safe.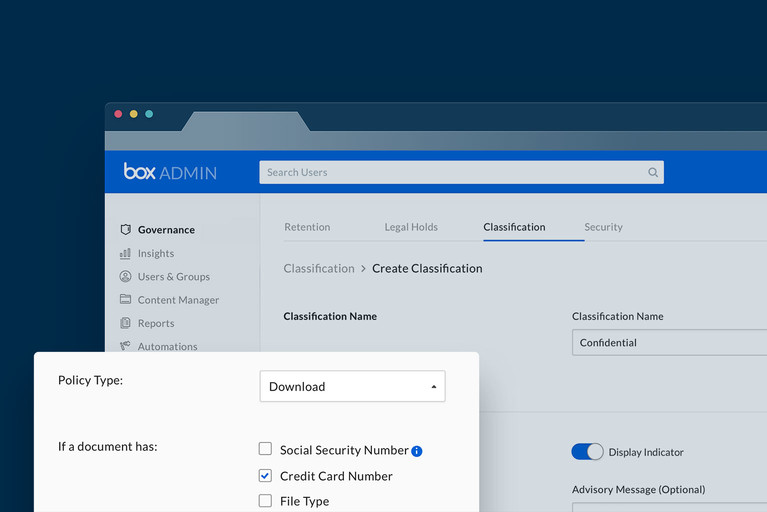 The cloud-native document management platform can be accessed from any device with proper security and governance. Box has been named a leading document management system by Forrester, IDC, and Gartner, the top three analyst firms.
SOME FEATURES
Enjoy seamless collaboration with your team, customers, partners, and vendors.

Automate repeated tasks.

Allows integration with 1500+ apps. 

Provides easy-to-use and flexible security controls.

End-to-end data encryption. 
PRICING
4 different plans – Starter (starts from Rs. 410), Business (starts from Rs. 870), Business Plus (starts from Rs. 1,980), Enterprise (starts from Rs. 2730). 
This document storage and synchronization service by Google is easy and secure access to your content. With this cloud-native app, you can easily store, share, and collaborate on files and folders from anywhere.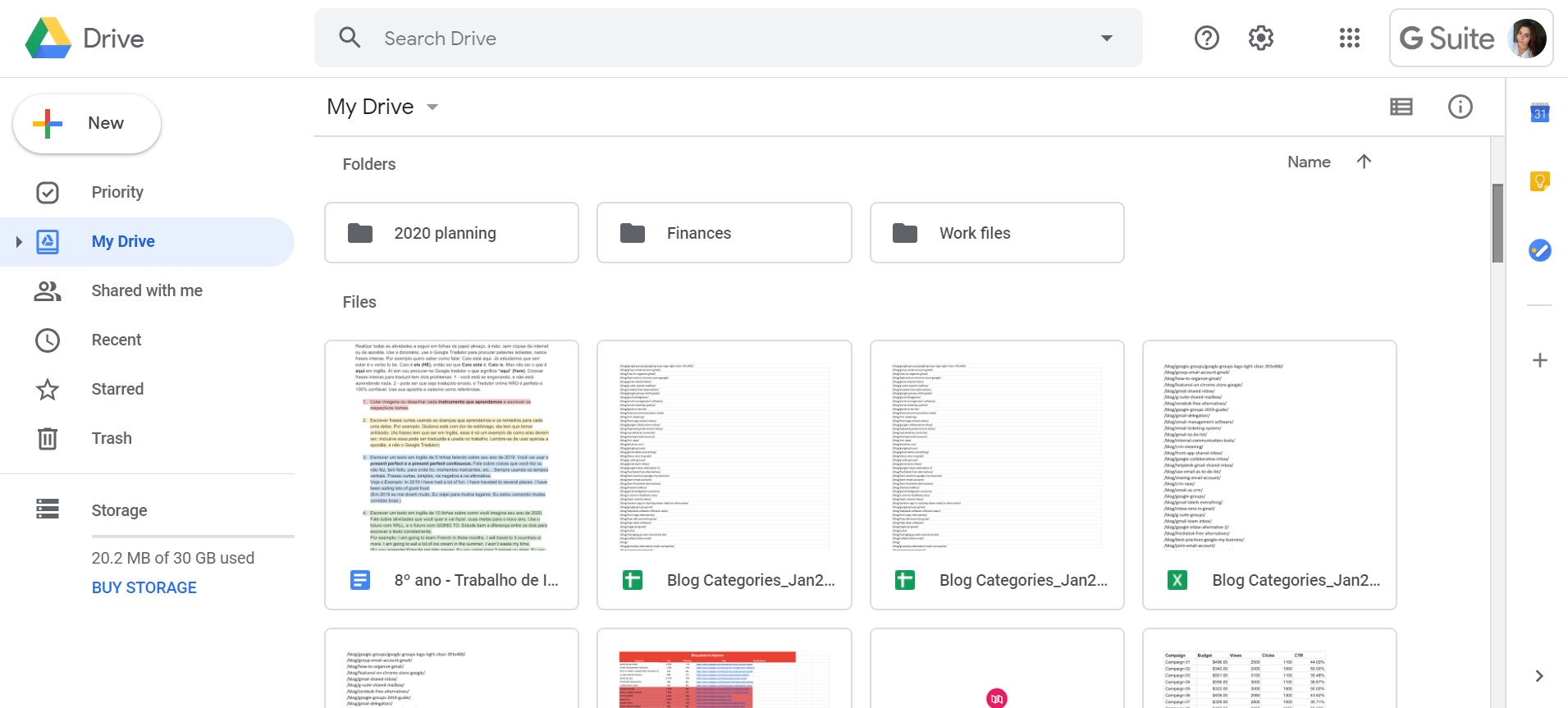 SOME FEATURES
Collaborate effectively in real-time. 

Easy integrations.

Powerful search capabilities. 

Priority use AI predicts the file you are looking for and surfaces the most relevant content. 
PRICING 
You'll have to get in touch with their sales team for pricing.
11- MASTERCONTROL
MasterControl is a digital & automated document control system that ensures efficiency, reduces overall compliance cost, and accelerates time to market.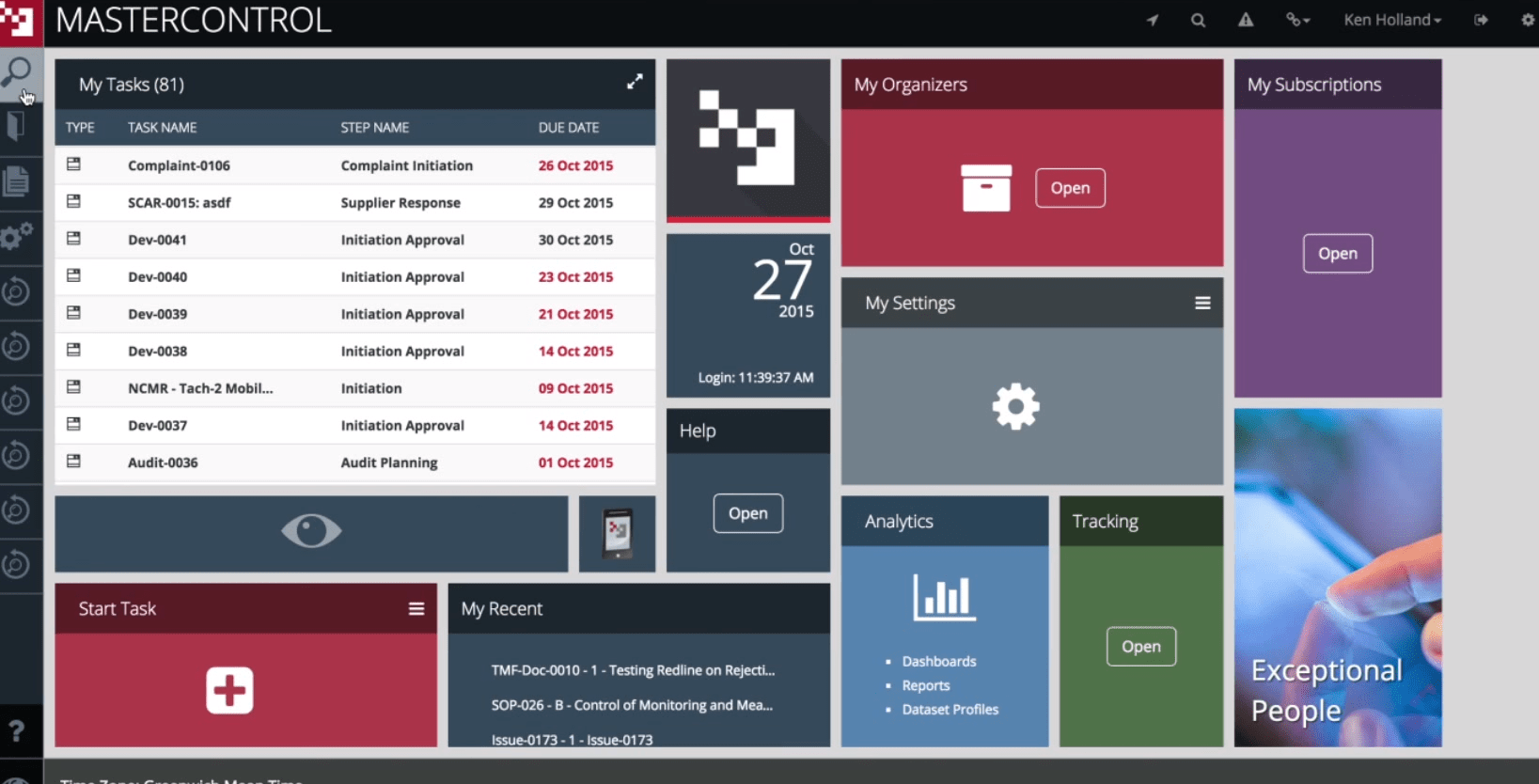 SOME FEATURES
Simplifies approval, distribution, and retrieval of documents. 

Let's you automatically track revision history.

One centralized place for all your documents. 

Provides a time-stamped audit trail, reporting, and electronic signatures.

Enables access to documents regardless of geographical location. 
PRICING 
You'll have to get in touch with their sales team for pricing.
12- DOCUWARE
Ideal for remote teams, DocuWare is cloud document management and workflow automation software. It lets you digitize, secure, and work with business documents.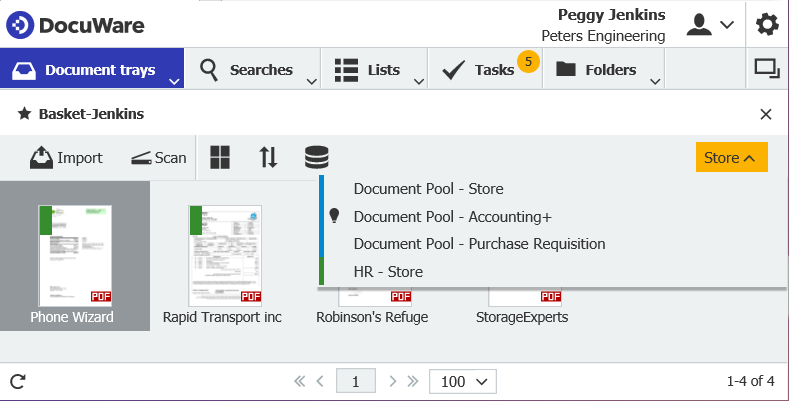 SOME FEATURES 
Automatically processes all incoming invoices. 

Automate reoccurring tasks. 

Share, edit, archive contacts, proposals, and other sales collaterals. 

Secure document archiving.

W

orks on any browser.

Intelligent indexing with AI-based technology.

Creates a full-text record of all content for precise, customizable search queries.

Barcode recognition.

Automatically saves edited documents as a new version.

Flexible search.
PRICING 
You'll have to get in touch with their sales team for pricing.
13 – ASCENSIO SYSTEM ONLYOFFICE
  Designed for a collaborative experience by a Latvia-based company, it offers a complete range of productivity applications to cater to document management, CRM, Calendar, Mail, Project management, and corporate networks.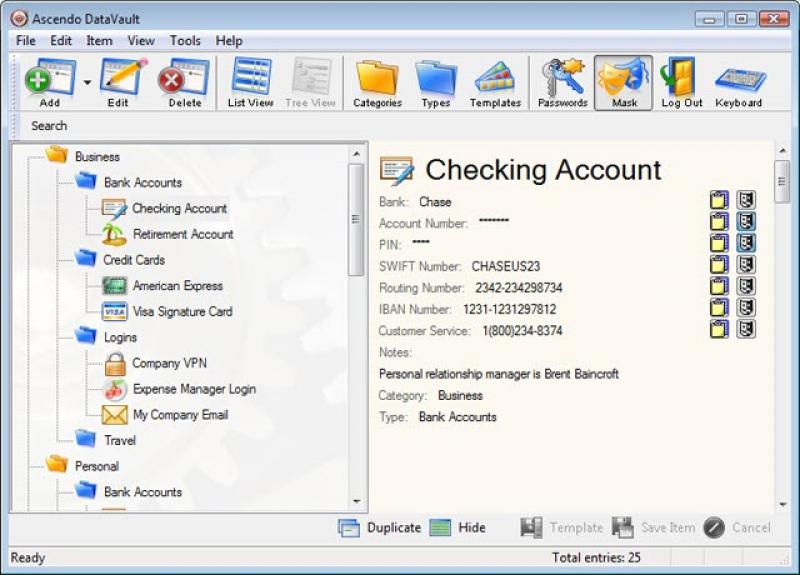 SOME FEATURES 
Enhanced security features including private rooms

Compliant with global security standards

Compatible with MS Office formats

Greater connectivity being cloud-based

Easy integration with Ready-to-use connectors

Collaborative online document editors
PRICING 
You'll have to get in touch with their sales team for pricing.
14 – VIENNA ADVANTAGE COMMUNITY
Known for its enterprise solutions, Vienna Advantage offers a community-based solution to offer an unmatched set of features, best in the open-sourced offerings.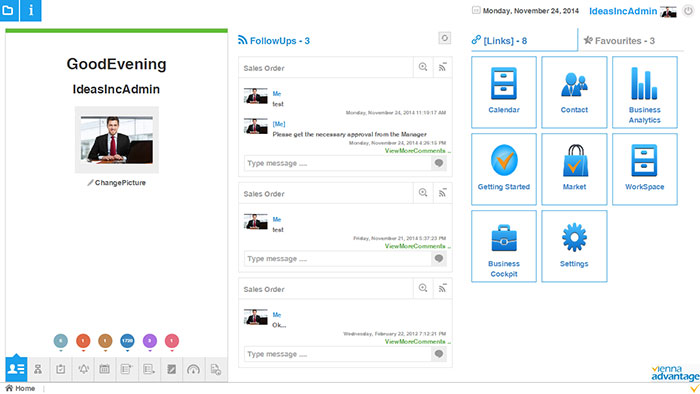 They offer solutions for specific industries like Textile & apparel, retail & supply chain, F&B, telecom, Manufacturing, E-commerce, etc. as well as by function including but not limited to inventory, purchasing, order management, sales & marketing, HR payroll, etc.
It offers solutions for different scale of businesses as well – MNCs, Governments, Medium to large enterprises. 
SOME FEATURES
Powerful search engine. 

Automatic version control.

Access from anywhere.

Workflow management.

Digital Signature integration.

Create custom forms without coding to record process-specific data and attach documents to forms. 

Indexing and OCR. 
PRICING 
You'll have to get in touch with their sales team for pricing.
WRAPPING UP
Each of the above-mentioned software offers different features and is suitable for different industries and sizes of business. You would need to do thorough research and comparison to see which one fits your business and budget best.
But one thing is sure, irrespective of whatever document management software you pick for your business – the decision will surely make your life easier and even help save the environment. Remember to 'Go Paperless, Go Green.'
Check some amazing small business management software as well.