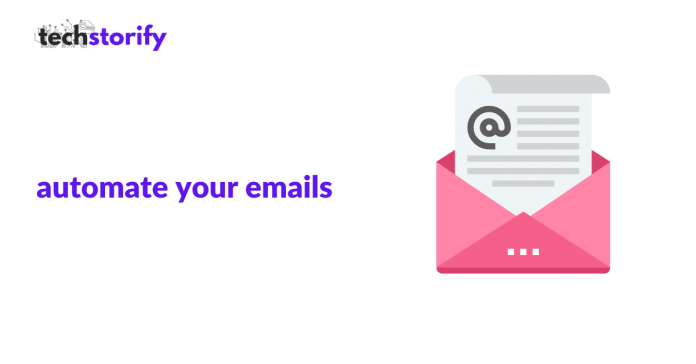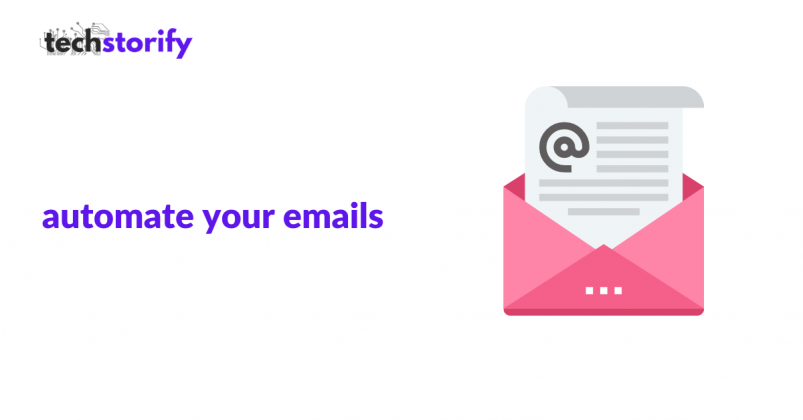 Email marketing automation is a great way to boost your visibility and get more leads. If you want to grow your business, you will require an excellent automated email service that's easy to use, affordable, and will turn your leads into customers. It enhances your work productivity and efficiency.
An automated email campaign is a series of emails that are sent automatically to your subscribers when they perform some action. Email automation offers a great way to handle repetitive marketing processes.
Email Marketing Automation is one of those things that can give you lots of features without costing you much effort on a day-to-day basis.
In this post, we're sharing with you the best email marketing automation software that you can use to grow your business revenue.
These tools will help you get more work done faster. Also, it will save time and money.  Instead of sending the same email repeatedly to subscribers or your website visitors, you can just run an automated email campaign with the right automation tools.
So here is the list.
Best Email Marketing Automation Tools
1 – OptinMonster

OptinMonster is the best tools to automate your conversion optimization process. Using this email list building tool, you can capture leads and convert your website traffic into subscribers or paying customers.
OptinMonster helps you to build high converting forms for your websites and landing pages within a few minutes.
OptinMonster is being used by some of the largest brands in the world including McAfee, Experian, TripAdvisor, Pinterest, Harvard University, Pateron, and more.
Features:
Detect your visitors' behavior
Always display the right campaign to the right person at the right time
Create special offers and promotions for returning visitors
Create device-specific popups
AdBlock detection
Seamless integrations
2 – Sendinblue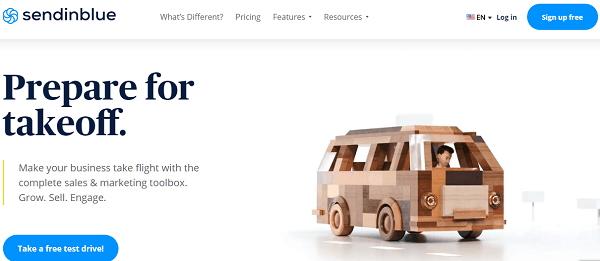 Sendinblue is the best email marketing automation tool that combines both email marketing services as well as SMS messages.
It boasts a workflow-based automation feature. Sendinblue helps you trigger campaign actions using your visitor's email and website engagement, assign lead scores, automatically send transaction messages, and a lot more.
This tool is the best fit for all types of organizations and sizes.
Features:
Sends an automated message for specific actions and preferences
Create attractive campaigns
Gain email list
Increase conversion for your business
Send SMS for your business just like you send emails
Create clean and professional newsletters
Measure performance
3 – AWeber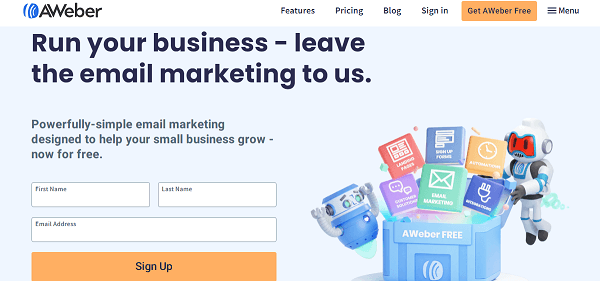 AWeber is a reliable automated email service that provides a range of features and tools that help small to medium-sized businesses to grow.
Its Follow Up feature lets you follow up your subscribers without any hassle. You can automate this task easily. AWeber has a user-friendly interface that can well be integrated with other applications on your website.
With this tool, you get things like A/B testing, email analytics and conversion tracking. It also comes with a mobile app so that you can send emails on-the-go.
Features:
Automatically create amazing-looking emails
Design landing pages
Drag and drop email creation
Free template library
Automate emails and campaigns
Personalize communications
Ensure message hits the inbox only
Pre-built reports
Build and manage the lists of contacts.
4 – Ontraport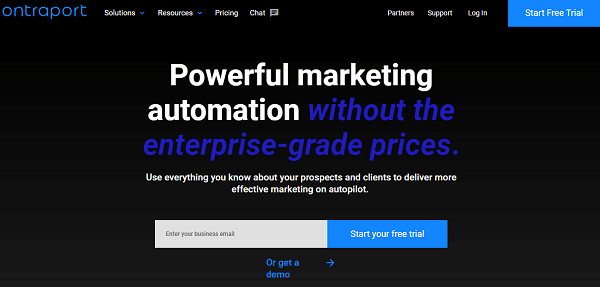 Ontraport is best known as a customer relationship management tool first, and email marketing platform second.
With its automation feature, you can write, design and schedule emails for your campaigns. It offers services like email and SMS marketing, content management, CRM, billing and online payments, etc.
This email automation software is cost-effective for enterprises with large contact lists of more than 50,000 subscribers.
Ontraport assigns customers and leads based on various criteria such as interests, behaviour, lead score, and more.
Features:
Email and SMS campaign builder
Create an amazing landing page and digital ads
Integrated with CRM, e-Commerce, and marketing automation tools
Visual campaign performance reporting tool
Live reporting
Collaborate with other users
Excellent email deliverability
5 – MailerLite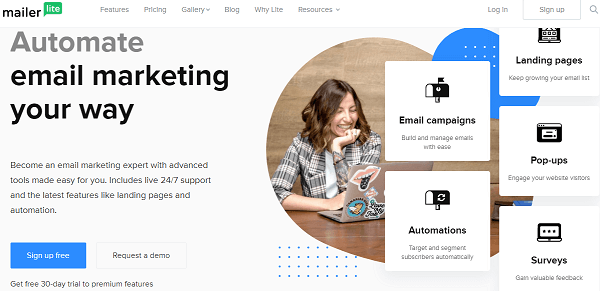 MailerLite is one of the best email automation tools, which is simple, easy-to-use, and offers great flexibility.
The software is free for sending up to 12,000 emails/month to less than 1,000 contacts.
Setting up automation is straightforward, with an easy workflow editor that lets you set up multi-step campaigns.
Features:
Create emails and campaigns
Tracking of emails sent/opened and links clicked
Deliverability rates and delivery by time zone
Create mailing lists from scratch, or you can upload a bulk list via a CSV file
A/B split testing
Target and segment subscribers automatically
Personalization options available
Reporting and analysis
Link to your social media accounts when you send emails
CRM integrations
6 – MailChimp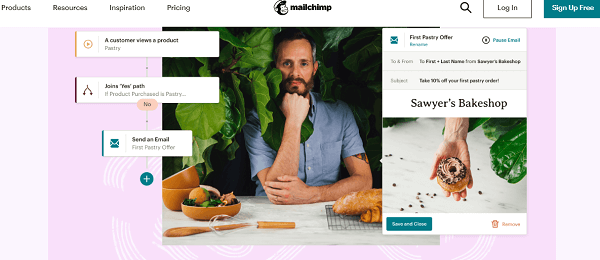 MailChimp is our next recommended Email Marketing Automation software for small business or a blogger.
The tool comes with pre-built templates and ready-made segments that you can use to design your emails.
Another perk is, with Mailchimp's free plan, you can send up to 10,000 emails a month, and add up to 2,000 subscribers to your list.
Features:
Send a welcome sequence to new subscribers
Follow up on purchases
Reward frequent buyers
Re-engage with inactive customers
Deliver relevant messages to your customers
Reach out to people on birthdays or anniversaries.
7 – Zoho Campaigns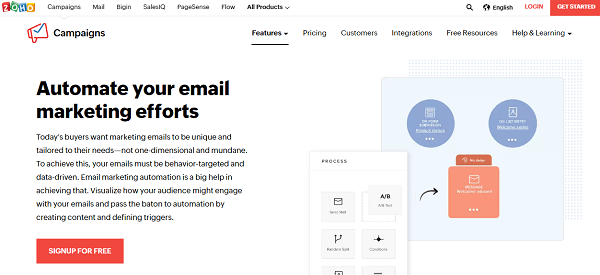 To achieve behaviour-targeted and data-driven emails for your buyers, Zoho Campaigns are the right choice.
With this tool, you can visualize how your audience engages with your emails and pass the baton to automation by creating content and defining triggers.
Zoho Campaigns let you send a series of action-based emails or an email for a special occasion.
Features:
Engage your audience with personalized and behaviour-centric emails
Send a series of emails as well as build a criteria-based email journey
Drag-and-drop workflow builder
Nurture and engage your leads and contacts
Automate contact follow-up at the right time
8 – Email on Acid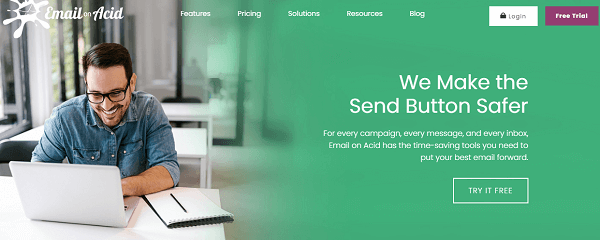 One of the best parts about Email on Acid that may attract you is it lets you preview your email and send it from your email service provider. Alternatively, you can also upload your HTML to their system.
The software lets you deliver error-free emails with the push of a button. It's a great email and landing page testing tool that allows you to check the compatibility of your emails in multiple email clients. You can preview how your email looks on mobile phones, tablets, and other devices.
Features:
Remove the manual review process of emails
Preview emails
URL validation
Blacklist verifications
Accessibility checks
Create optimized, error-free messages
Ensure your emails land in every inbox
9 – GetResponse

GetResponse is another fully-featured email automation software that enables you to design flexible processes that support your unique business model.
It offers advanced automation such as triggered campaigns, segmentation, tagging and data updates. It also remembers subscriber behaviours you want to encourage and follow up.
GetResponse will also help you to create responsive templates to design your landing pages.
Features:
Use pre-built automation workflows for your specific goal
Intuitive drag-and-drop editor
Capture and convert new leads
Create automation events based on user behaviour
Add a personal touch to every message
Create paths designed for the specific needs of your customers
Track customer actions
Automatically recommend products
10 – SendPulse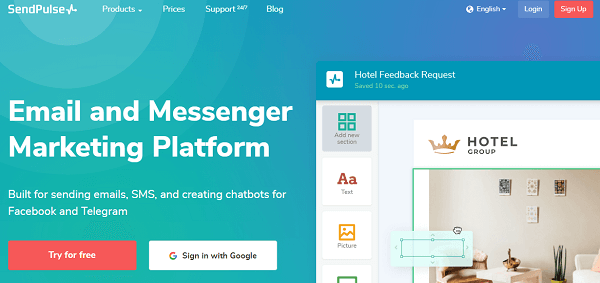 What makes SendPulse unique from other email marketing automation tools is that it offers seven different kinds of automated emails, including registration, abandoned carts, confirmation, purchase, custom event, feedback, or re-engagement.
It provides solutions for multiple channels of communication with prospects and customers — email, SMS, web push notifications, Facebook chatbots.
Their free mail plan allows an email list of up to 2,500 subscribers and up to 15,000 emails per month.
Features:
Automated emails
Trigger campaigns
Subscription forms
Drag and drop editor
Transactional emails
Campaign analytics
Free email templates
A/B testing
11 – ActiveTrail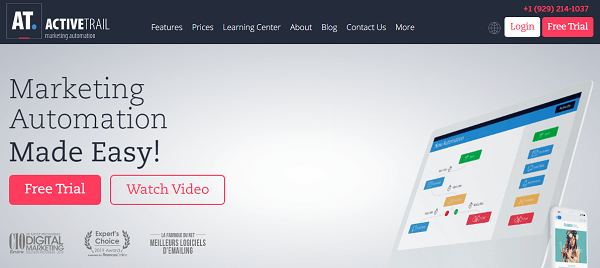 ActiveTrail is an excellent email marketing platform, newsletter software and marketing automation software. It provides a multichannel platform for authorized email marketing, landing pages, surveys, lead management and more.
With their A/B testing module, companies send email to a limited number of users first to see how they respond to it. ActiveTrail offering its services in multiple languages, including English, German, French, and Hebrew.
Features:
Real-time data/analytics tracking
A/B testing
Timed Email Delivery
Visual automation builder
Autoresponders
Users receive specific messages based on their behaviour
Dynamic segmentation
Implement smart code on your website or landing pages, to track user behaviour
12 – ActiveCampaign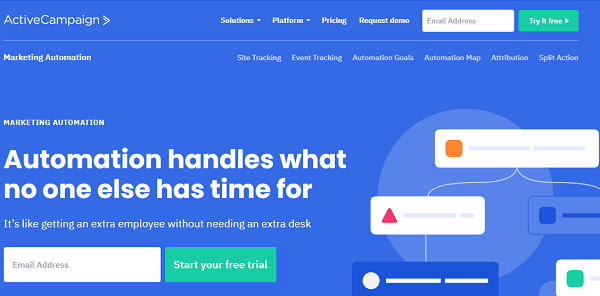 ActiveCampaign is another name in the list of email automation tools. It is one of the most popular email marketing tools with over 90,000 small businesses customers.
The tool helps businesses build stronger relationships through targeting. It allows you to send your potential customers exactly what they want to see, which generally converts into a lead.
ActiveCampaign lets you create powerful automated marketing and sales processes. Get to know about the needs and interests of individual contacts.
Features:
Marketing automation
Email marketing
Smart autoresponders
Find your most engaged contacts
Integrate your favourite apps
Drag-and-drop automation builder
Make sure the right people get the right information
Website Visitor Tracking
Reporting/Analytics
Subscriber Management
13 – GIST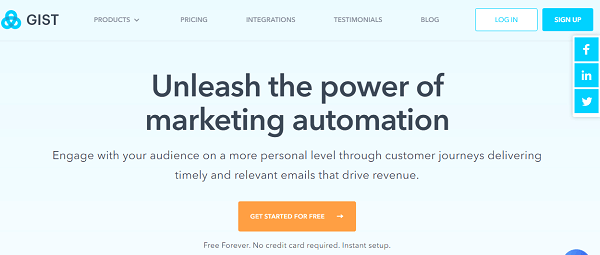 Gist may not be as popular as other Email Marketing Automation tools, but it's a great email communication platform that organizations actualize their online marketing goals.
Using this marketing automation software, you can filter your email contacts based on how they behave or interact with your site.
Moreover, they offer different email campaign options for SaaS, e-commerce, and service-based businesses which is obviously the best part.
Features:
Intuitive visual workflow builder
Communicate with your audience with even greater precision through filters
Create custom automation by defining your trigger rules and desired consequences
Pre-Made Automations
Import workflows from other Gist members
Email and SMS communications
Predict performance and visualize results
14 – SendGrid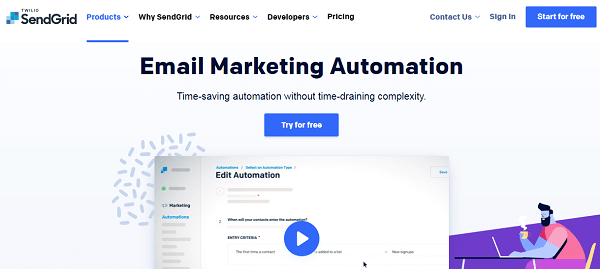 Here comes our next pick, which is SendGrid. Its intuitive workflows leverage automation triggers. SendGrid is the best email tool for developers with complex requirements plus a desire for great code and flexibility.
Its automation functionality enables you to deliver welcome emails with an onboarding series, nurture attendees ahead of an event, and follow up with leads who interact with content.
You can send automated emails or time-based drip series using triggers you define.
Features:
Create personalized experiences
Automate time-based drip series
View aggregate performance of your automation
Automated emails
Easily update subject lines and content in real-time
Email testing
15 – WebEngage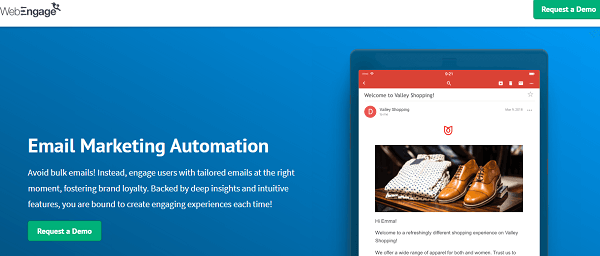 Using WebEngage, you can engage users with tailored emails at the right moment, fostering brand loyalty.
It's a multi-channel user engagement platform that automates communication between the website visitor and the chat operator.
Marketers can connect with the people visiting their website through various digital channels such as push notifications, emails, web messages including survey, feedback and notification, and text messages.
Features:
Personalization of messaging
Create campaigns based on who the user is
Analyze the segments in real-time
Intuitive drag-and-drop email builder
Fetch real-time data from any source such as your CRM system to create hyper-personalized emails
A/B test campaigns
Easy integration with email service providers
16 – Omnisend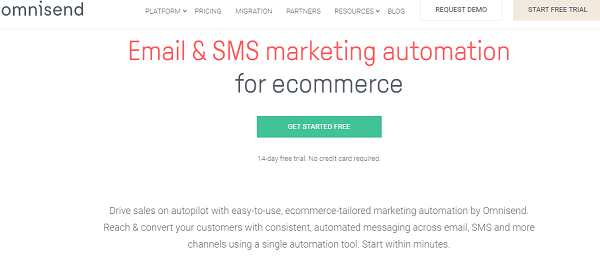 Omnisend comes with pre-built automation workflow templates that are designed, keeping in mind the best eCommerce practices.
Using this tool, you can send personalized messages to your customers. Smart triggers let you automate your communication with your customers based on their buyer journey.
Moreover, you can add several channels to the same automation workflow: email, SMS, push notifications, Facebook Messenger, and more.
Features:
Email & SMS marketing automation
Combine multiple channels using a single platform
Pre-built workflows
Ready-made sets of friendly emails
Drive more sales by suggesting more recommended products
A/B split testing
Track real-time performance
17 – ShortStack

Using ShortStack automated email service, you can send automated emails instantly when someone fills out your form, or schedule emails to send on a later date.
The tool is specifically built for engagement, lead collection and marketing automation. It helps to acquire customers and increase sales and revenue. Moreover, it allows you to design landing pages, create forms, and run contests and promotions.
There's an excellent option for filtering email recipients that ensure the right people get to see your emails.
Features:
Engage leads using scheduled emails
Send a confirmation email automatically
Filter email recipients
Engage your new subscribers
Trigger actions with a click
Collect entries and send emails all in one place
Set up emails in minutes with templates
Build quality lists with double opt-in
18 – Aritic

Aritic is a full-stack marketing automation tool and provides functionalities other than email marketing automation. The software allows organizations to send customized emails to different segments, and schedule emails, for increased customer engagement.
It ensures that your emails are secure and are sent and delivered to the customers' inboxes means a higher probability of a higher number of click and open rate.
The intelligent autoresponder feature enables sending automated replies to emails based on specific predefined behavioural triggers.
Features:
Email Campaign Management
Build actionable workflows
Device responsive personalized templates
Gather right lead
Contact segmentation
Create landing pages
19 – Jumplead

Jumplead is the best marketing tool that turns website visitors into leads and then nurtures them until they become paying customers.
It is a one-stop solution for everything from lead tracking to CRM, analytics, and automation.
Jumplead offers a selection of business tools so that a single software can fulfil all your inbound marketing automation needs. The tool gives you complete control of your customer journey and understanding of your lead's interactions.
Features:
Create and send email campaigns
Complete campaign activity reporting
Create and update contacts
Email marketing tools
Marketing automation
Create a landing page and web form
Marketing analytics
CRM tool for managing your contacts
20 – Campaigner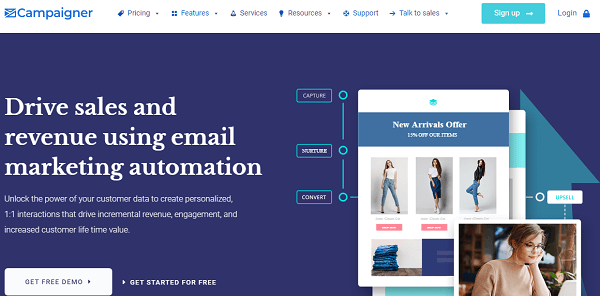 Campaigner is a very popular email marketing automation software that enables small, medium and large businesses to strengthen customer relationships and drive sales.
It's an ideal solution for organizations that want to use customer data to build personalized and automated interactions via email.
The data-driven automation allows you to send emails based on event triggers automatically.
Campaigner is good at capturing new subscribers, nurturing your leads, and converting them into paying customers.
Features:
Powerful email automation
Visual drag and drop builder to create email automation workflows
Build workflows around behavioural segments
Create conditional workflows
Send a personalized email to each subscriber
Supports conditional content, dynamic content, and custom fields
Test anything from subject lines and from-names, to design, call-to-action, content and delivery times
24/7 support
21 – Mailjet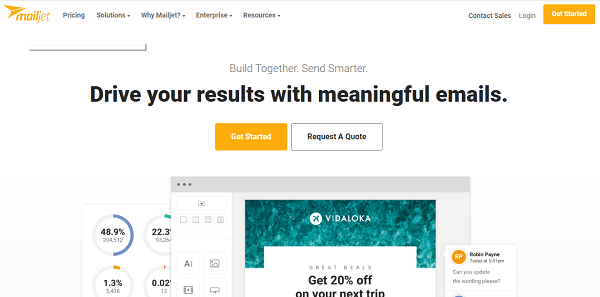 Mailjet lets you create email templates that fit your needs. It offers basic tools for marketing automation, though you can stretch them out with some creativity.
Also, with this tool, you can communicate easily and work collaboratively to build effective email marketing campaigns. The platform allows real-time collaboration feature for seamless collaboration if you work with a team.
Mailjet offers the most advanced drag-and-drop editor for creating email newsletters, welcome emails, drip sequences or campaigns.
Features:
Email automation
Email marketing templates for personalization
List management
Real-time statistics
Advanced segmentation
Dynamic content blocks
A/B testing
22 – Benchmark Email
Our next pick is Benchmark Email that offers a strong portfolio of tools, including effective visual automation, smooth A/B testing, and good analytics.
This email marketing tool is used to design responsive emails that look great on every device. Its drag and drop email builder comes with a built-in photo editing tool that lets you enhance your images, change your font, add effects, and do more.
Moreover, it offers a selection of pre-designed email templates based on industry, type and occasion.
Features:
Email marketing automation
Segmentation, tagging, autoresponders, drip campaigns
Automated customer journey funnels
CRM integration
Track user activity
Follow-up at the perfect time
23 – Autopilot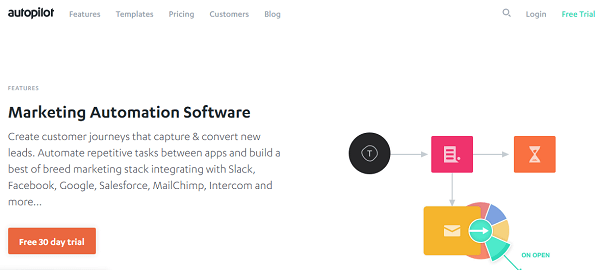 Autopilot is an easy-to-use, visual marketing automation solution that helps companies of all sizes create automated journeys for their customers.
This tool helps you to create your own text-based emails. You can choose any pre-designed template, or design from scratch using the drag and drop editing too.
It also offers multi-channel marketing capabilities including email, in-app, SMS, online and snail-mail communications.
Autopilot comes with other features such as measuring campaign ROI (return on investment) and optimizing the revenue funnel based on real-time performance.
Features:
Stream engagement activity of customers
Marketing automation
Multi-channel journey setup
Performance tracking
Integrate with best in class apps
24 – MoonMail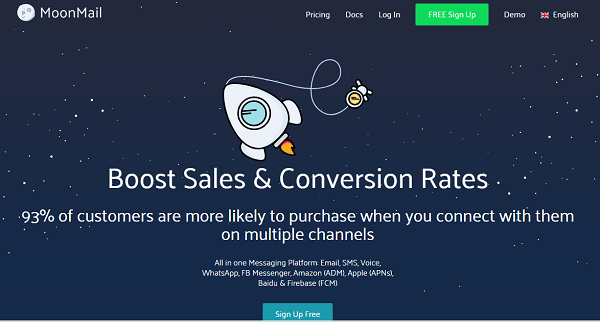 MoonMail is an all-in-one email marketing solution that allows users to send messages via email, Voice, SMS, WhatsApp, plus Facebook Messenger, and chatbots.
It lets you run huge email marketing campaigns through Amazon's cloud network. After creating multiple email lists, you can deliver your emails to your target audience based on their specific traits.
Well, MoonMail is for those people who have significant technical knowledge and already know exactly what they are doing when it comes to creating email campaigns.
Features:
Create mailing campaigns
Behaviour-driven rules
Create templates
Drag and drop editor
View reports
Design email campaigns
Analyze the success of campaigns
Multilingual dashboard
25 – Bronto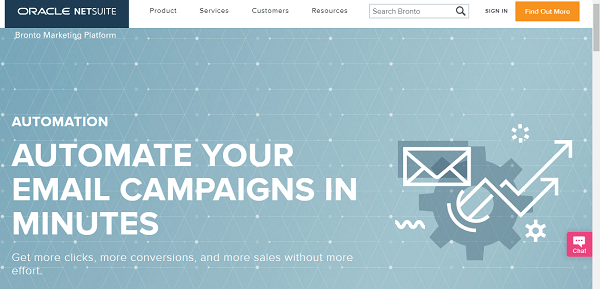 This Email Marketing Automation platform lets you automate your email campaigns in minutes. Bronto helps marketers and entrepreneurs boost revenue and customer engagement.
The tool offers integration with all leading eCommerce systems. It makes it easy for businesses to keep all the information about your customers in one place.
Bronto's automated email service increases your team's efficiency by introducing automated message triggers to your email marketing program.
Features:
Easy to create workflows
Send personalized message
Create an email series
Automate emails
Re-engage customers
Final Words
Email marketing automation is a simple way to create emails that reach the right customers with the right message at the right moment. It increases the productivity and efficiency of your business.
We hope the list above can help you find the best email automation software that fits your business needs.