One of the most important aspects of running a successful business is the relationship with the customers. For the small and medium-sized business, the case is extremely dire and need serious implications to get the desirable results. 
Moreover, most businesses are cluttered and need a smooth passage to build relationships with their customers. That's where CRM software or Customer Relationship Management software work for small to large businesses. 
CRM software accounts for one of the biggest markets in the world with around $49 bn forecasted revenue in 2025. 
So, what's so special about CRM software and do you need it? Let's find out below in our article that consist of a list of Best CRM software for small businesses. 
What Is CRM Software?
CRM or Customer Relationship Management software is a tool that helps build relationships and organize customer data better. 
In other words, CRM software is a set of tool that helps companies and organizations manage communication with their clients and build a better relationship by creating a marketing funnel.
Different businesses have different demands for accomplishing sales and close the deal with their customers. From generating leads to better data organization and tracking, small businesses have a considerable need for the right CRM software. 
What Features To Consider Before Choosing CRM Software?
Some significant features of Customer Relationship management software include: 
Reporting:

Most small businesses use excel or spreadsheet to track and create reports.  However, CRM software the best in the business when it comes to tracking the activities. 
Provides Team Collaboration:

Besides connecting with the customers, it should be able to provide a robust team collaboration to connect different departments together. This way, all your data can be stored at a single place which makes it accessible for all the departments. 
Integration:

Most CRM software platforms offer various integration options. More the number of integration, easier it becomes to handle tasks with CRM software. CRM tools combine with various email marketing, social media tools, calling and SMS marketing tools to enhance efficiency. 

 

Ease of Use:

Choosing the easy to use CRM software becomes critical when there are so many tools and tasks to perform. Hence, CRM software should offer ease of use.
There are various other factors to consider when choosing the best CRM for small business. However, choosing the right ones could still be overwhelming and hence, we have shared the list of Best CRM software to consider for small businesses in 2021. 
Best Customer Relationship Management Software Of 2021
1. HubSpot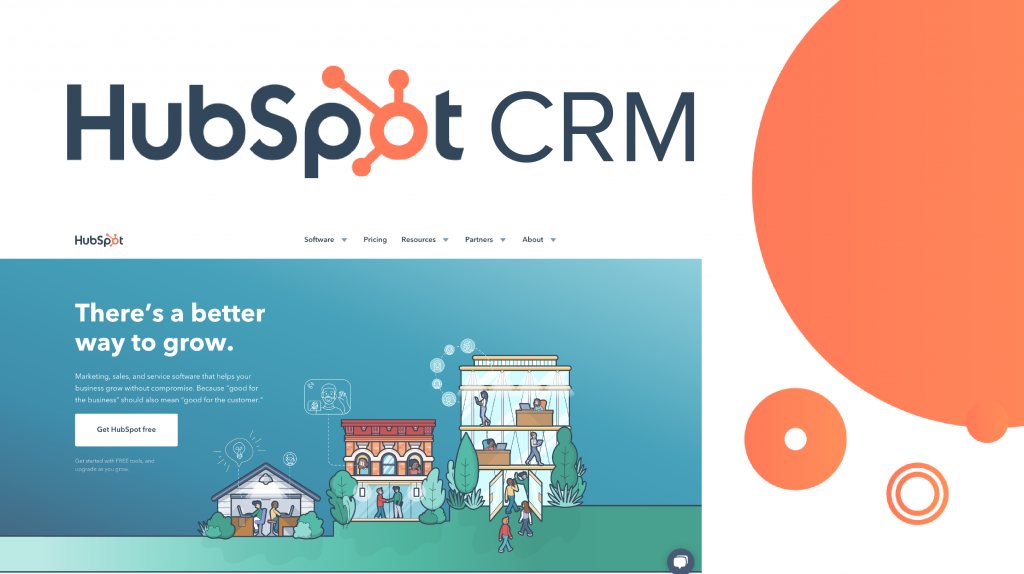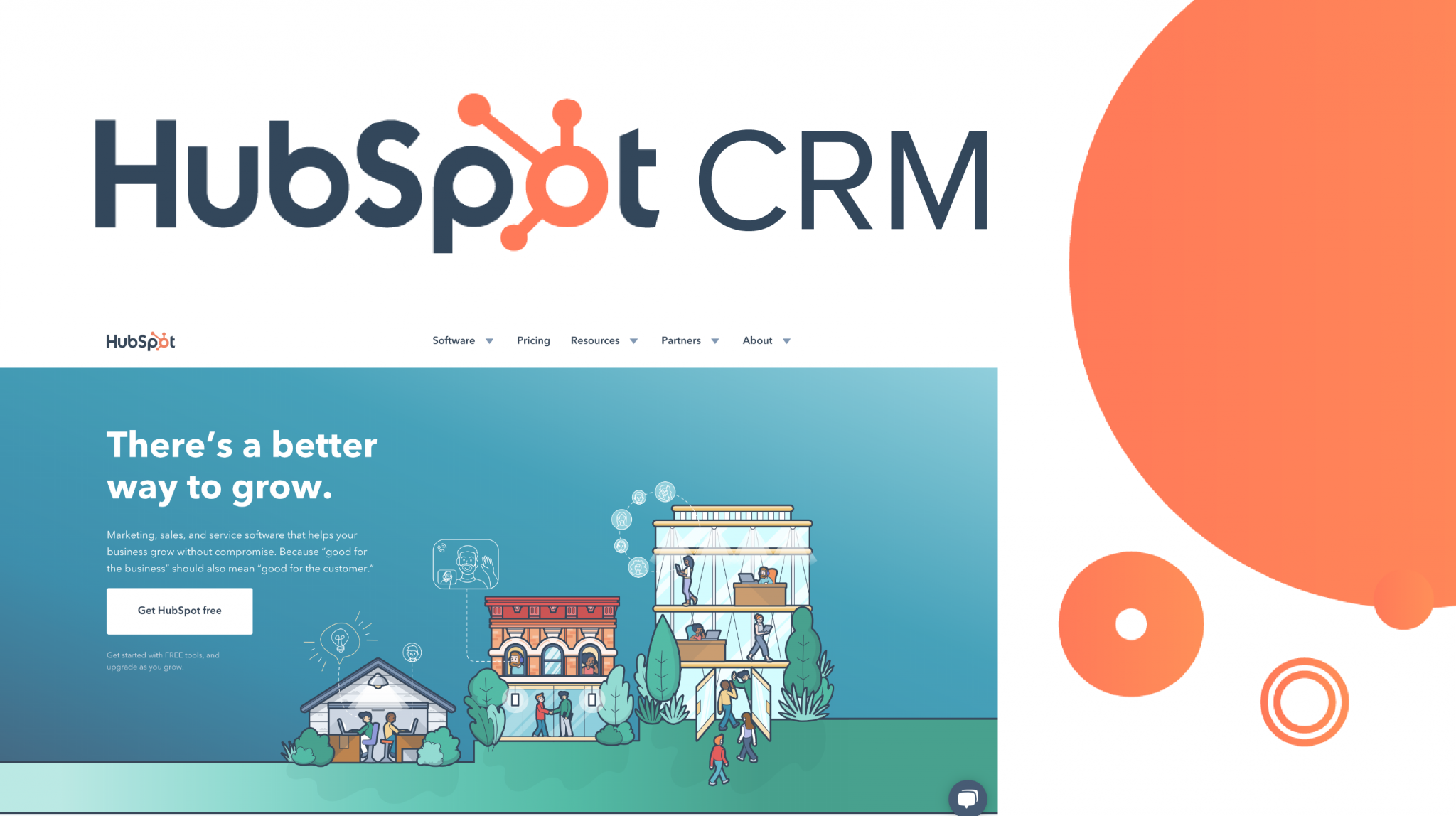 Founded in 2006, Hubspot is a number one CRM for small businesses. It is 100% free and most easy to get started with. 
In fact, most startups and small business consider Hubspot as their top choice as a part of an inbound marketing tool as well. 
It gives a complete insight into your sales funnel. You can manage and organize the contacts with ease and also look out for the deals that have closed or cracked. 
Quick Features:
Capable of storing unlimited contacts and unlimited user data. 

Marketing Automation feature for Hubspot lets marketers track their sales, email conversations, and workflows. 

Mobile App for Android and iOS. 

Consists of various marketing tools for SEO, Blogging and Content Management system. 

Integrates with Gmail and Outlook and 300+ tools. 
Pricing:  Hubspot is free for up to 1000 contacts. If you need more features like phone calls and group meetings or email tracking, you can upgrade to a paid plan. 
Also Read:10 HubSpot Alternatives
2. PipeDrive
PipeDrive is more than a CRM for small business. Besides the CRM software, Pipedrive offers a pipeline management solution for all size of business.
With Pipedrive's pipeline management, you can visualize and track your entire sales funnel. Hence, it is the USP of Pipedrive. 
Quick Features:
Mobile Apps for Android and iOS. 

It gives various API for integration with any software. 

Pipedrive dashboard gives advanced sales forecast and reporting with filters. 

Integrates seamlessly with Gmail, Trello, MailChimp and Alexa. 

Robust Activity and Goal Tracking. 
Pricing: It offers a free trial for 14-days. Pipedrive pricing starts with $12.50/month for Essential plan and ranges to $79 for Enterprise plan. 
3. Insightly
Insightly is one of the best CRMs for multi-level organizations that come with a plethora of features. 
For tasks such as project management and delivery system, this CRM software is strikingly an amazing alternative to the above two. 
It is a complete CRM tool for small business that focuses on three factors: 
Accelerate Sales

Delivering Projects and 

Build Relationships
Quick Features: 
Robust Project management and delivery system. 

Integrates Seamlessly with 25+ applications including Google Drive, Dropbox, MailChimp and others. 

Easy to use mobile app for Android and iOS. 

It lets you create milestones and pipelines for projects. 

Easy tracking of emails and report sharing. 
Pricing: Insightly gives a 14-day free trial.  It offers three pricing plans; Plus ($25/mo), Professional and Enterprise ($99/mo)
4. Agile CRM
Agile CRM is a popular CRM among small business because of its sleek dashboard and the intuitive customer relationship process. 
This software offers big business like features including the Drag and Drop choice, creating custom appointments, and in-built integrations.
AgileCRM offers various features which include tracking emails, call automation,  voice mails and setting up meetings. 
Quick Features: 
Robust Project Management Tool

Drag and Drop Landing Page Builder

360° Dashboard and Contact view using web conversations. 

Automated Scheduling and Calendar share with your team. 

Seamless Integration with Twitter, Facebook, Twilio, LinkedIn and Ring Central. 

Advanced Automation software with drag and drop interface. 

Effective email tracking and instant notifications. 
Pricing: Free up to 10 users. It offers three paid plans; Starter Plan ($14.99/mo), Regular ($49.99/mo) and Enterprise ($79.99/mo). However, you can save up to 20% on yearly subscription and 40% on 2-year subscription. 
5. Freshworks CRM
Freshworks CRM is your next go-to CRM software when it comes to scheduling the emails. It manages your important emails in order of importance and assigns them to the specific salesperson. 
It consists of everything that you need for better customer management. Freshworks offers tons of features such as quick lead capture, creating the sales funnel, phone calls and email tracking and automation. 
Quick Features: 
Robust Email Templates 

360-degree customer dashboard view

Complete Insights about deals on customer dashboard. 

Personalized Pipelines for each contact

Segmentation for lead generation. 

Real-Time Reporting and Tracking of Visitors

Seamless Integration with Freshdesk, Freshchat and Freshcalls. 
Pricing:  Freshworks offers a free trial of 30-days. After the free trial, you can start with $25/user/month as the basic plan. 
6. Zoho CRM
Zoho is a top-notch CRM software for startups because of its ease of use and affordable costs. It consists of various bells and whistles for effective customer management.
Using a single platform, you can manage a vast customer base, track emails, and automate social media and live chat all from a single dashboard. 
In a nutshell, Zoho CRM brings all your features in a holistic environment. 
Quick Features: 
Connects customer through various platforms. 

It offers integration with Zia AI that creates robust workflows based on customer's behaviour. 

Step-by-Step break up of reports on workflow automation. 

Quick Customization to create functions that work the way you want. 

Wide Range of Email Marketing Tools Capabilities and Integrations. 
Pricing: Free trial for 15-days. After a free trial, four pricing plans are available: Standard ($12/user/month), Professional, Enterprise and Ultimate. 
7. Drip CRM
Drip CRM is undeniably the best E-commerce CRM in the market. It is specifically designed for the eCommerce marketers to help them manage contacts, gather and track leads and finally convert into paying customer.

An easy-to-use CRM tool that comes with marketing automation. Drip's USP is its drip campaigns and email automation tool. 
It has a plethora of eCommerce automation workflow templates that can be used instantly to set up quick workflows. 
Quick Features: 
Creates segmentation of customer data

Various custom fields and events to track customer activities. 

Robust email builder

Content optimization and customization options. 

Solid Integrations with platforms such as Shopify, Magento, Lead Capture software, and others. 
Pricing:  Offers 14-day free trial. The pricing of Drip works according to pay-per-use pricing. 
8. Streak CRM
Streak is an amazing CRM for small businesses because of its ability to integrate with your Gmail and Google Suite. 
It captures the data from your email and contact to track and automate the marketing progress. 
For smaller teams or medium teams, Streak CRM is undeniably the best when it comes to tasks like filtering and sorting the data or customize and see upcoming tasks. 
Quick Features: 
Track your email through the sales pipeline

Integrates with more than 900 platforms including Zapier.

Streak also offers a mobile app for Android and iOS. 

Best Email Tracker (tracks opened and closed emails)

Free browser plugin. 

Send, track and schedule mass emails using the Gmail Spreadsheet. 
Pricing: Streak offers a free plan for up to 500 contacts. For paid plans, it comes with three plans; Solo, Pro and Enterprise plan. 
9. Salesmate
Salesmate CRM is one of the best CRM software for the sales team that provides a smooth and productive sales experience. It makes your relationship with the customers a cakewalk. 
Salesmate tends to provide the features that focus more on generating potential sales for your sales team. With Salesmate, you can send emails and track the status of your email sent. 
Quick Features: 
Create campaigns for well-targeted calls, followups and email pings. 

Multiple Sales Pipeline Management

Workflow Automation Campaigns

Deal Management Tool 

Track and Schedule emails on the go. 

Offers Integration with various tools like QuickBooks Online, Data Studio, InvoiceBerry, Google & Microsoft Calendar, MailChimp, and more.

Free Chrome Browser Plugin
Pricing: It offers a 15-day free trial. Salesmate offers three pricing plans; Starter ($15/mo), Growth ($30/mo) and Boost ($50/mo). 
10. Salesforce
Salesforce is the real OG of all CRM software. When it comes to choosing the best CRM for small businesses and startups, Salesforce could be our top priority. 
With tons of features, Salesforce efficiently handles all the departments- marketing, sales, commerce team or service in a single dashboard view. 
Quick Features: 
It has Flow builder that creates automated workflows using drag and drop capability. 

Salesforce use AI called Einstein to integrate Gmail with your Calendar to schedule meeting here. 

It offers a collaborative feature that lets user collaborate with their team.

Offers integration with Google Cloud, Slack, Jira, Docusign and Quickbooks. 
Pricing: Salesforce offers a 30-day free trial. It offers two plans; Lightning Essentials package ($25/month/user) and Lightning Professional ($75/month/user). 
Also Read: 10 Salesforce Alternatives for SMBs
11. SugarCRM
SugarCRM comes handy as the best CRM software for small business and startups. It is in fact used by various businesses to automate the sales funnel. 
This platform is best known for offering its unbeatable customer experience solutions that create an intuitive customer experience. As a bonus, users can customize the tools according to their own wish. 
Quick Features: 
Quote management system that offers quotation for the new clients. 

Project management feature for streamlining the projects.

It offers a campaign management tool for tracking and creating quick campaigns that can be executed across multiple channels. 

Supports more than 30 languages. 
Pricing: SugarCRM offers five different pricing options starting from $52/user/month.
12. Copper
Copper is considered as the viable choice for the small businesses seeking a CRM that is as easy as managing the email. Well, Copper or ProsperWorks CRM integrates with everything that Google offers. 
It works best with GSuite and hence much like how you would manage your Gmail contacts and mails. Copper is one of the best CRM for small business that wants to close deals without many efforts. 
Quick Features: 
Drag and Drop functionality for managing emails. 

Offers Integration with Zapier, Hubspot CRM, Quickbooks, Xero and others. 

Two-factor Authentication and Data Encryption.

Quick Optimization of Sales and Contacts. 

Create optimized workflow and set custom rules for the qualified leads. 
Pricing:  It offers a 14-day trial. Copper has three pricing plans; Basic ($25/user/mo), Professional ($59/user/mo) and Business ($119/user/mo). 
13. Bitrix24
Rated as the Best CRM software 2019 by Techradar, Bitrix24 is everything a CRM should have under the one roof.
Even for the freelancers, this CRM is a jackpot. Bitrix is a well-rounded CRM that manages all types of task and handles Sales, marketing and large teams. 
Not only this, Bitrix 24 can design various free website with its templates and various landing pages. It offers a 360-degree customer view with pipeline management, sales management and sales reports. 
Quick Features: 
Set up Sales funnel and create rules to automate workflows. 

Detailed insight into marketing campaigns and keywords that bring more deals. ,

Chat option with teammates. 

Seamless Integration with Google Drive, Office365, Mailchimp, Slack and others. It also offers API integration. 
Pricing: Bitrix offers free plan forever. It has five pricing plans with Starter starting at $24/month. 
14. InfusionSoft
InfusionSoft by Keap is a CRM tailor-made for small businesses. It makes in our list of Best Customer Relationship Management software including features like invoicing, eCommerce, and project management. 
Keap is a more effective way to track all your customers and map their revenue while you ditch the spreadsheet. 
Furthermore, Infusionsoft's USP is its customer segmentation through the dashboard. It offers you an insight into what customers to target based on a specific field.
Pricing: InfusionSoft has three main pricing plans with 14-day free trial. The lowest plan Lite costs $56/month, Pro ($105/mo) and Max ($140/mo). 
15. Less Annoying CRM
This CRM software stands out to his name. Less Annoying CRM is amazing for the small business and especially for the freelancers. 
With the kind of features that it offers, Less Annoying is quite easy and the customer management is a breeze here. 
Although lean, it has a  light CRM toolkit that makes it a handy CRM tool for the freelancers as well. 
Quick Features: 
In a single screen, you can view the contact's information including Notes, Tasks, events and contact information. 

Set up your tasks and calendar in one place. 

It offers a quick lead list with the status report against each. 

Quick Team collaboration

1-Click Export in the spreadsheet form. 
Pricing:  Offers a 30-day free trial. Less Annoying CRM has just one paid pricing plan; $15/user/month. 
Related Articles: 
Wrapping Up
Here it is. This was our list of Best CRM or Customer Relationship Management software that fits Small or medium business. If you are freelancer, you should pick some CRMs from the list like Streak or Bitrix24. 
We would recommend investing in the CRM only when you are ready to do that. Most CRMs may come costly and hence it is better to get a free trial or a free plan first. You should only invest in a CRM once you are too sure to do that. 
You might consider some features that are more important to you and hence pick the right CRM software. 
One of the most important things is to consider the Integration capabilities that provides easy export and import and data management from any platform. Are you ready to give a shot? 
Do let us know in the comments if we have missed on to some best CRM that we could add up to the list.