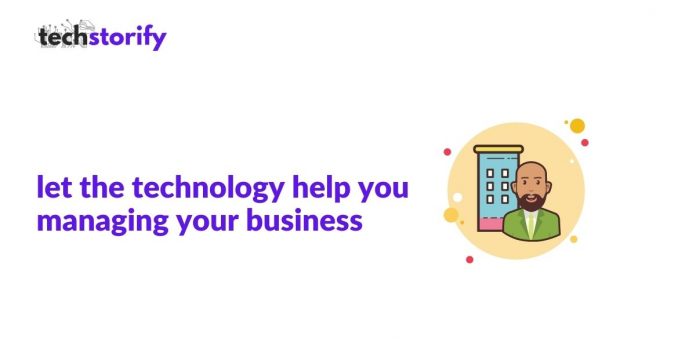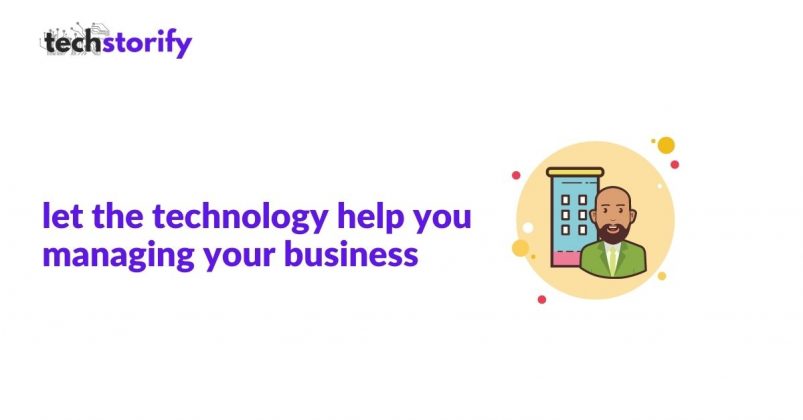 Business management software is something that every entrepreneur is either aware of or not. 
If you are a startup founder, you will face a lot of operational challenges. Be it financial management or team management, using business management software is key to your growth.
A lot of people think that not using business management software is a good cost optimization tactic. However, which is a wrong perspective. Investing in business management software is for people who have the vision to scale their brand. As a founder, you will face a lot of management challenges across divisions.
As a founder, you should identify such sections where a business management tool can help you. A business management tool also makes things easier for you. It helps you save time and finish the work with more efficiency.
What is Business Management Software?
A business management software of business software is an enterprise platform that leverages technology to help your company to do tasks with less human resource involved with more efficiency.
One of the best business management software that we could think of is team management software like – Asana. It helps you manage tasks and teams effectively.
Similarly, a communication management tool like Slack helps you manage internal communications with your stakeholders. A business management software will help your company to align various process-driven tasks using technology.
Where Can You Use Business Management Software?
Essentially for any work that can be replaced by software and helps you manage things in a more structured way. Let's take actual business scenarios.
Project management business software can help you manage your projects in an organized way. Its main objective is to empower your team to streamline the project, collaborate, and deliver it within the given timeline.
Communication is a critical aspect of any organization. If your teams can communicate properly, half of the problems get solved. There is a lot of amazing team communication business management software that we will be talking about today.
Managing prospects and customer is a big task. You have to be on your toes all the time. A CRM will definitely help you to keep track of your leads and customers. CRM Software is one of the best examples of business software.
Human resources, Training, Finance, documentation, admin, and other business also require business software. Depending on the business category, these might differ in terms of requirements for your company.
Let's dive into the 12 Best Small Business Management Software out there.
1 – Asana 
Asana is one of the best business software that you should consider having for your business. It is a project management and task management tool that helps your team organize, strategize, and implement various tasks.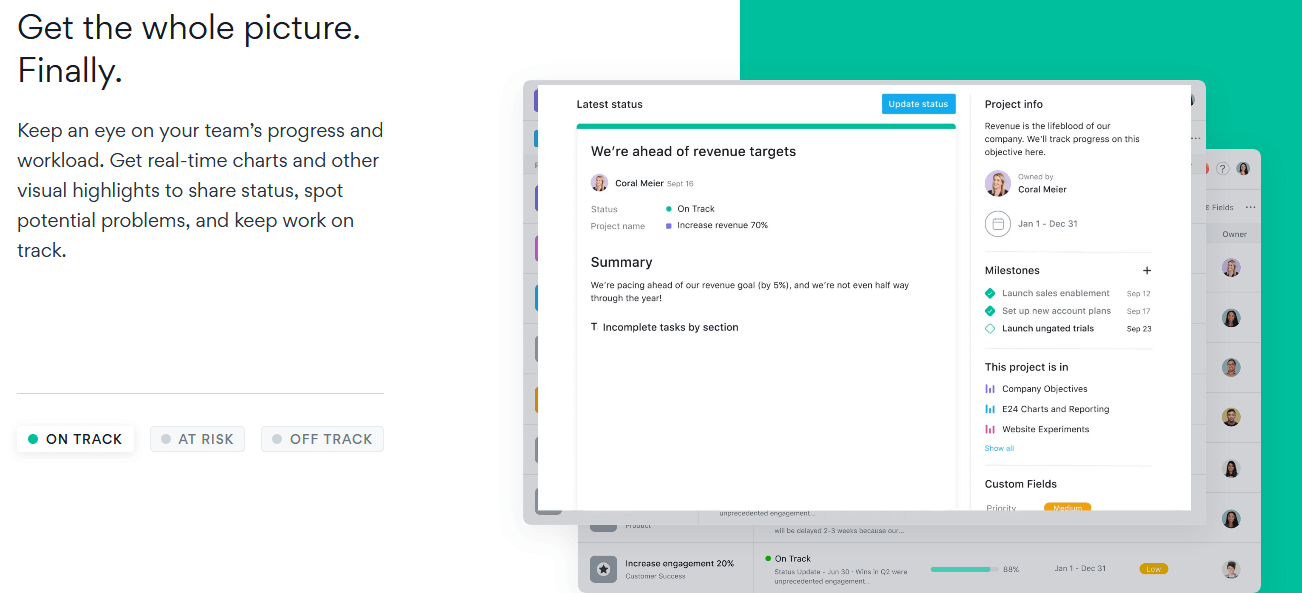 Top Features
Task Manager
Dependencies
Project Management
Comments and custom deadlines.
Calendar and Timeline View
Third-party app integration
2 – Trello 
Trello is another business software that can help a small business to streamline tasks. One of the most popular task management software that is loved by many freelancers and small business owners.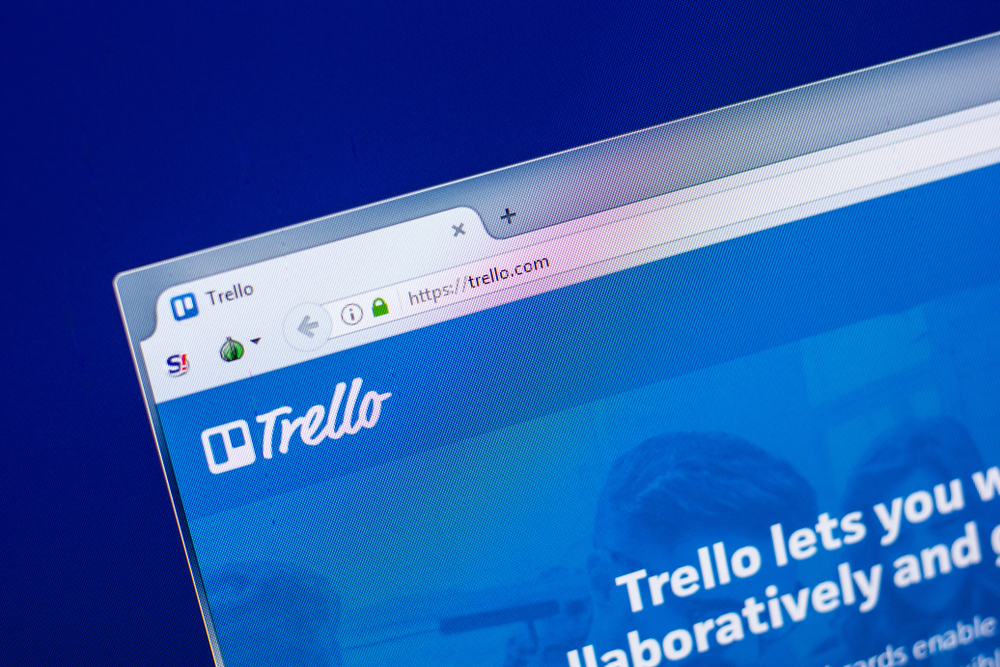 Trello was one of the first project management tools that became popular and is still widely used.
Top Features
Creating Boards
Easy interface
Add-ons for specific tasks
Timeliness and automated follow-ups
The free version is good for small teams.
3 – Toggl Plan
Toggl plan is a top-notch project management business software and is sleek. Adding a lot of modern elements makes it one of the best project management software out there. You can create projects and also update the status to them. It also has board format along with drag and drops functionality.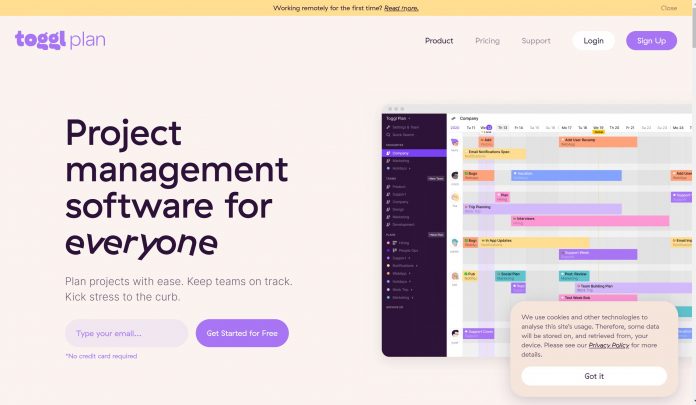 Top Features
Project Creations
Board format like Trello
Project status and monitoring
Drag and Drop
Comment and discussion feature
Well, these were some of the top project management business software. Now, you might be getting to realize the importance of business software. This is just the start. Keep on reading for more amazing business tools. You can also check more such project management software on our other blog.
Team Communication Tools
4 – Slack
Slack is a modern business communication tool that empowers businesses to take control of internal communications. Smart integrations with apps like Zoom, Google Drive, and others, Slack is a top business management software. You can create custom channels to streamline discussions.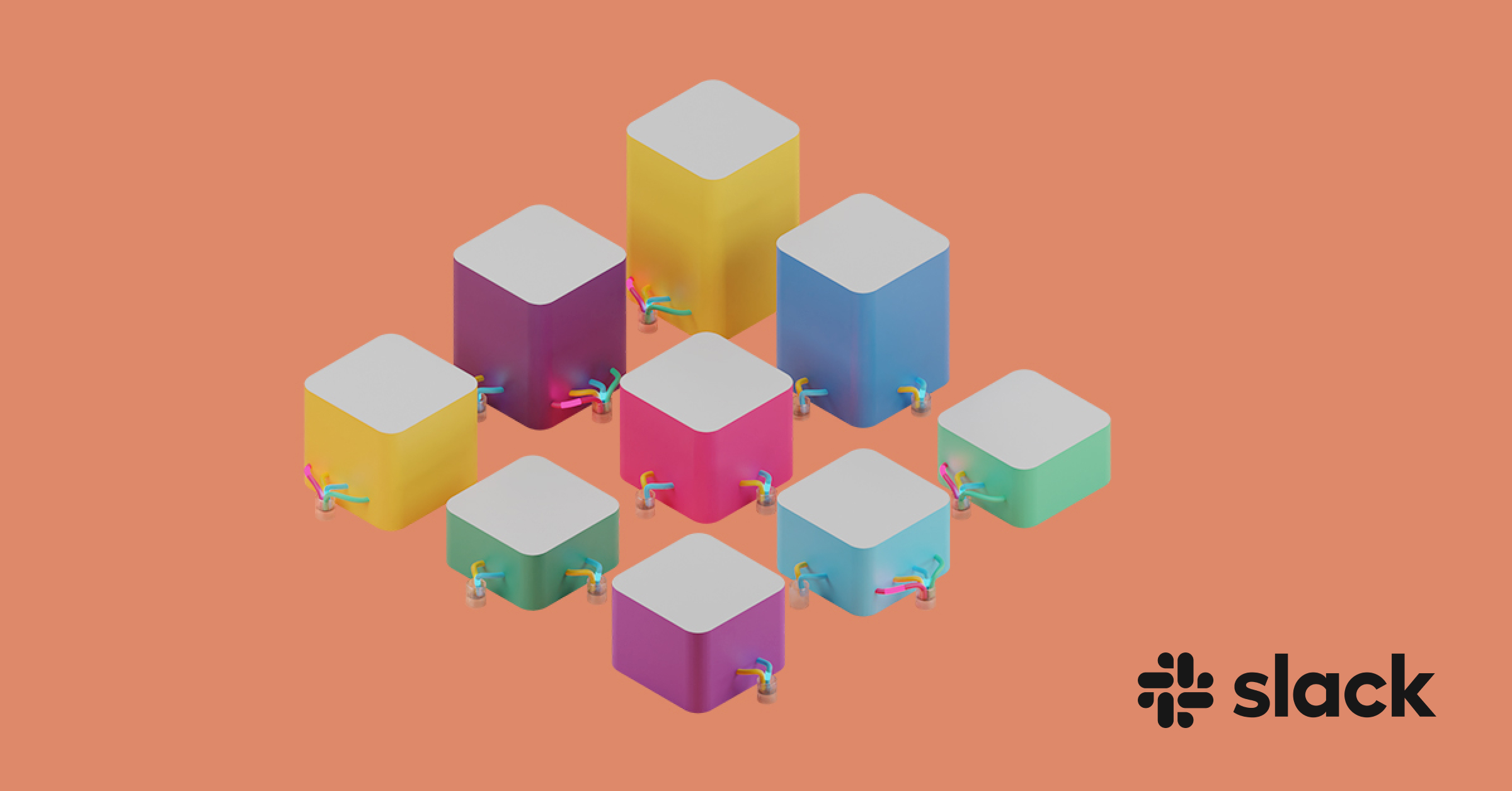 They have a free version that is quite popular with smaller teams. After slack gain some popularity, there have been many other players trying to make their mark. You can check some of the top Slack alternatives on our different blogs.
Top Features
Channels for specific discussions
Third-party integrations
Slackbot for automating things
Chat search
5 – Microsoft Teams
Due to the work from home culture, communication with the team became more important than before. Zoom picked up drastically. However, if you talk about a business management tool with the capabilities of a chat-based interface and features of a video conferencing app. Look no further; Microsft Teams is a choice for some of the best companies in the world.

Top Features
Video conferencing
Chat ecosystem
Security
File-Sharing capabilities
Screen sharing like Zoom
6 – RocketChat
RocketChat is an open-source business management software that allows you to communicate with your team on a real-time basis. Due to the open-source, it is preferred by a lot of companies. The amount of customizations that can be done on this is huge.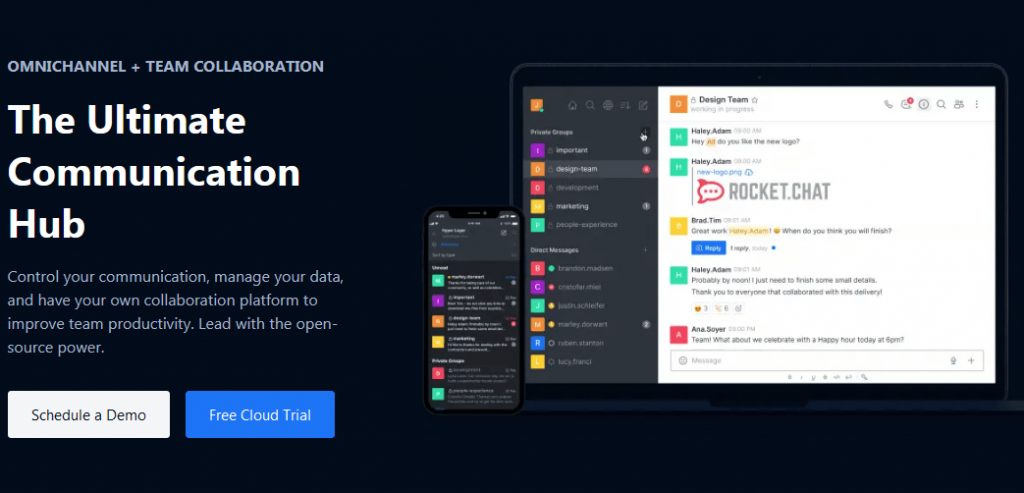 We would rank it better than Slack to create a customer chat interface as per your requirement. One of the top-rated communication tool in the developer's world.
Top Features
Open-source
Customizations
Content sharing capabilities
Mentions and forum
Dynamic and flexible in nature
Custom pricing available
CRM Business Software
7- HubSpot CRM
HubSpot is a marketing automation tool that helps you automate sales and marketing. Running on the concept of Inbound Marketing, HubSpot has been the most common choice for good CRM. However, as it is like a suite, you should look at various tools it offers.

From creating funnels to email automation to chatbots, they have everything. Another good thing about having HubSpot as a CRM is its education portal – HubSpot Academy. It is one of the best online learning platforms for marketing, digital, and business in general.
Top Features
Sales and Marketing Automation
Email Marketing
Contact Management
Social Media scheduling
Funnel management
Chatbots
Don't Miss – HubSpot Alternatives
8 – Pipedrive
Pipedrive is a simple yet effective CRM software. Known for its minimalistic approach, it is one of the most preferred CRM across the globe. Pipedrive, as the name suggests, helps you maintain your pipeline in a structured way. You can create deal stages and update them with all the necessary updates.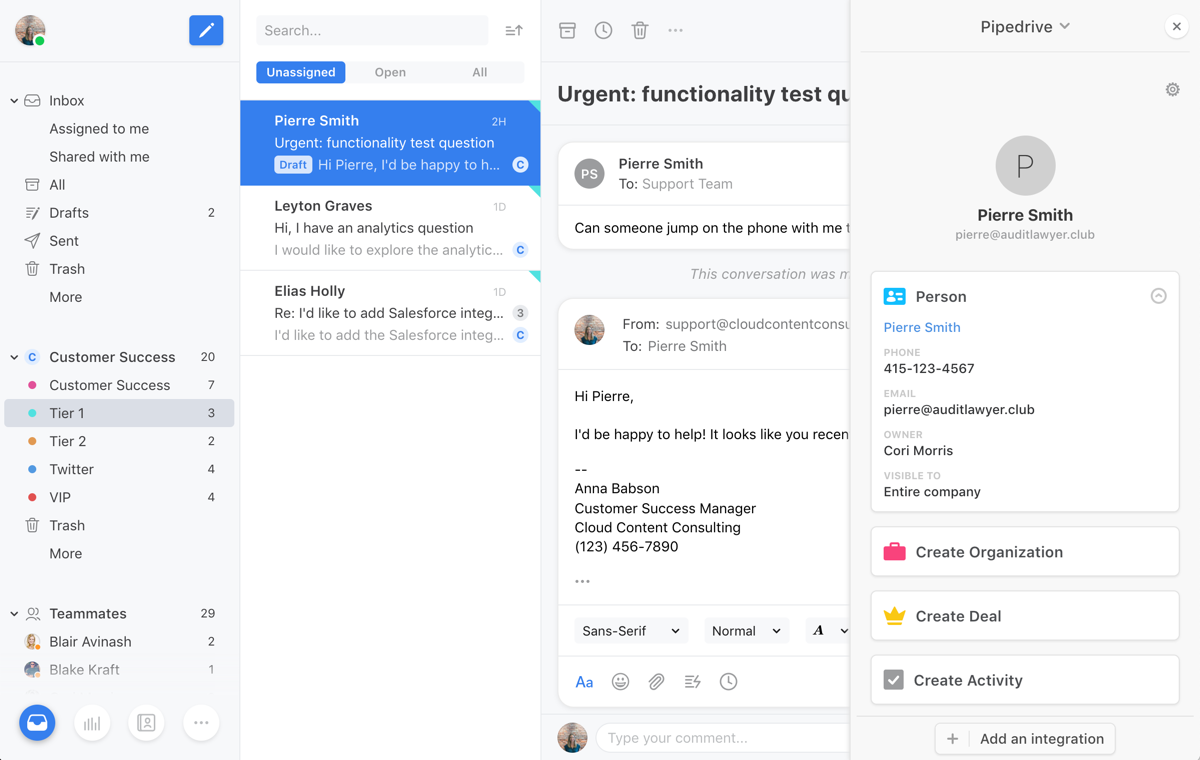 Top Features
Stages creation
Business pipeline management
Tracking e-mails, calls, etc
Data management
Secure
Simple to use
9 – Salesforce
Salesforce is an award-winning CRM that has empowered many businesses with tremendous growth with its tool. It is a cloud-based CRM that takes care of almost all the marketing, sales, and operational tasks for your business. You can automate emails, social media, chatbots, lead funnel management, and a lot more. Salesforce is a complete business management software that your business should be investing in.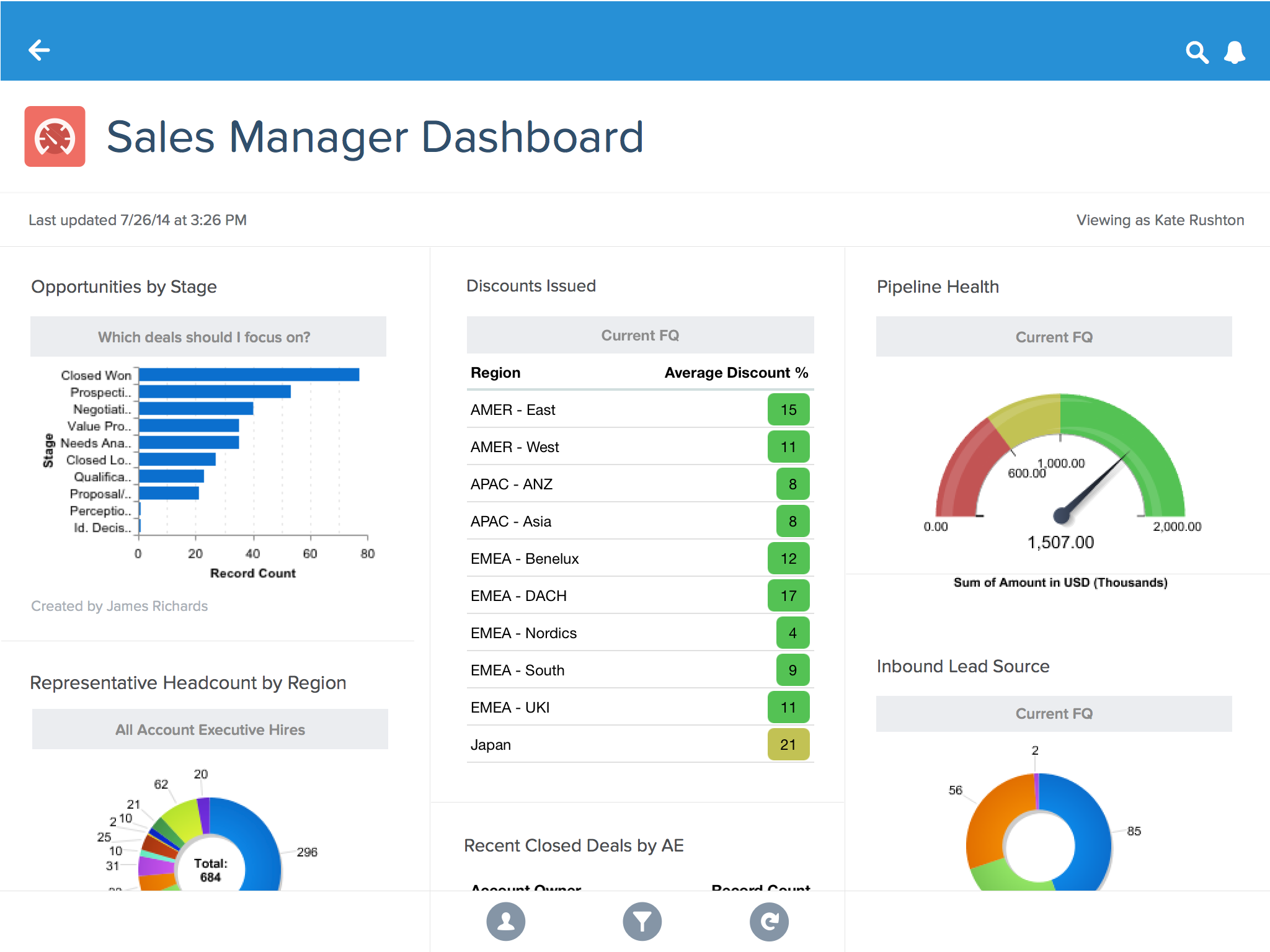 Top Features
Marketing and Sales automation
Analytics
Third-party integrations
Managing customer support using chats
Master Dashboard for look over everything
Secure and Dynamic
Ranked No 1 CRM in the world
Recommended – Salesforce Alternatives
You would also need some other business management software for your startup. Below are some of the tools that you can look at to improve your company's overall operations.
Operational Tools
10 – ZOHO One
Many founders go for a business suite like Zoho One, a complete business management ecosystem with more than 40 business apps that will help you run your business. It will have collaboration tools, communication channels, professional e-mails, CRM, Task manager, and more.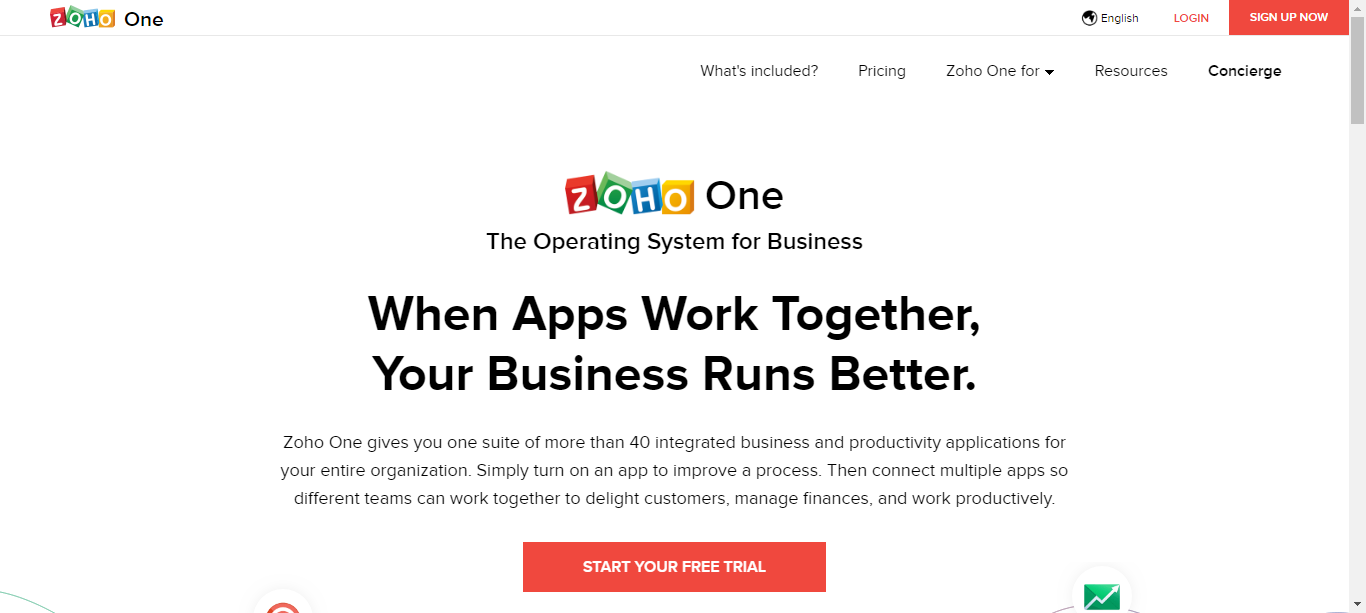 Zoho's suite is quite popular with young founders who are always looking to invest in something more flexible and modern.
Top Features
Complete Business Management
40+ Business Apps
Storage Options
Data sharing
Data security
Strong support
11 – Honeybook
Documentation is one of the most critical aspects of managing your day-to-day operations, and Honeybook is a smart and intuitive business management tool that will help you fasten up the documentation process. Quick contracts and invoices are something that you should not be worried about now.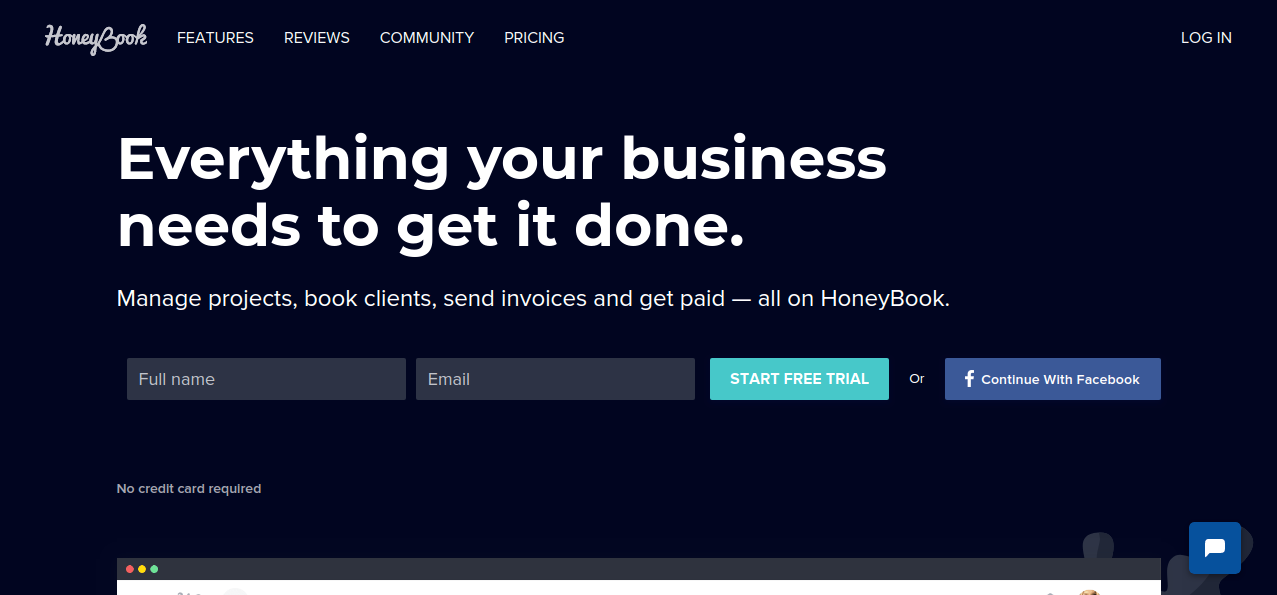 Top Features
Rapid documentation
Invoice Automation
Project Management
Customizable Workflows
12 – Canva
If you want to save hefty salaries on design work, you should definitely check out Canva. It is one of the best online design platforms we have ever seen in a long time. It is super easy and has thousands of customizable templates for everything. Be it print or digital; you can easily design anything within minutes.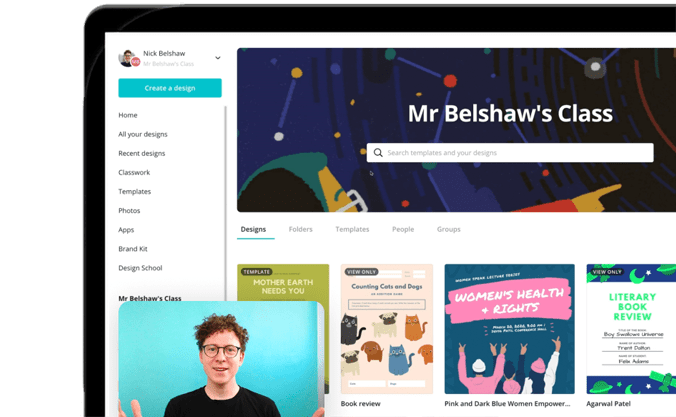 They have a free version but will recommend the Pro version because of its vast library and features available that can also replace Photoshop to some extent.
Top Features
Free Templates
Re-sizing
Stock images and video library
Team Editing – Real-Time
Canva Academy
Simple to use
Wrapping Up
Business management software is the backbone of your company. Not everything can be managed manually using people. As a business principle, you have to be smart and pick those tools to grow faster.
You have to empower your team and make sure they are not doing non-productive tasks that could have been easily done using business management software.