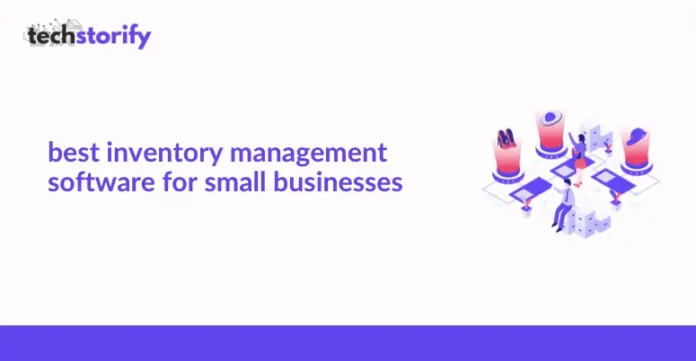 Inventory management is much more than just knowing what's left in the warehouse. It is a systematic approach to source, store, and sell both raw materials and finished goods. Navigating through different inventory management software can be a tedious process.
To help you save a little time, we've researched different options and collected what we think are the top five inventory management systems for small businesses.
Inventory Management also includes two important aspects of business, which are controlling and overseeing purchases from both suppliers and customers.
For any business, the value of a good inventory management system cannot be ignored; it is one essential system that any business would need to run smoothly and efficiently.
WHAT IS INVENTORY MANAGEMENT SOFTWARE? 
Inventory management software is an advanced platform for tracking and managing inventory, eliminating overproduction, and wastage and helping in cost reduction.
Good inventory management software integrates with your back-end office system like accounting and enterprise resource planning to facilitate even logistic management of products and in the creation of an automatic process for trading, ordering, costing, and other aspects of running a seamless business.
If you are looking for indispensable business success, then you need to have advanced and accurate inventory management software.
THINGS TO LOOK IN INVENTORY MANAGEMENT SOFTWARE
In today's time, choosing the right inventory management software can be tedious & erroneous to select the one that fits your business needs and requirements. Some of the things that you must look for in an inventory management system are – usability, accessibility, features, integration options, and price.
Here are some key factors to consider when selecting the best inventory management software for your business.
Inventory Size and Complexity: The first thing you need to consider is the size and complexity of your inventory. If you have a small inventory, you may only need basic software that can track your stock levels and sales. But if you have a larger inventory with different SKUs and multiple warehouses, you need more advanced software that can handle complex inventory management tasks.
Integration: The best inventory management software should integrate with your existing systems, such as your point of sale (POS), accounting, and e-commerce platforms. This integration ensures that your inventory data is accurate and up-to-date across all your systems, and you can avoid data entry errors and duplication.
User-Friendliness: The software should be user-friendly and easy to navigate. Your team should be able to understand and use the software without much training. Look for software with an intuitive interface, clear navigation, and customizable dashboards.
Reporting and Analytics: The software should provide real-time reporting and analytics that help you make informed decisions about your inventory. You should be able to generate reports on sales trends, stock levels, and order fulfillment rates, among other metrics. This information can help you optimize your inventory management processes and improve your bottom line.
Cost: Finally, you need to consider the cost of the software. Some inventory management software can be expensive, while others offer affordable pricing plans. Consider your budget and the features you need, and choose software that offers the best value for your money.
Best Inventory Management Systems for Small Businesses: Our Top Picks
Let's look at the best inventory management software.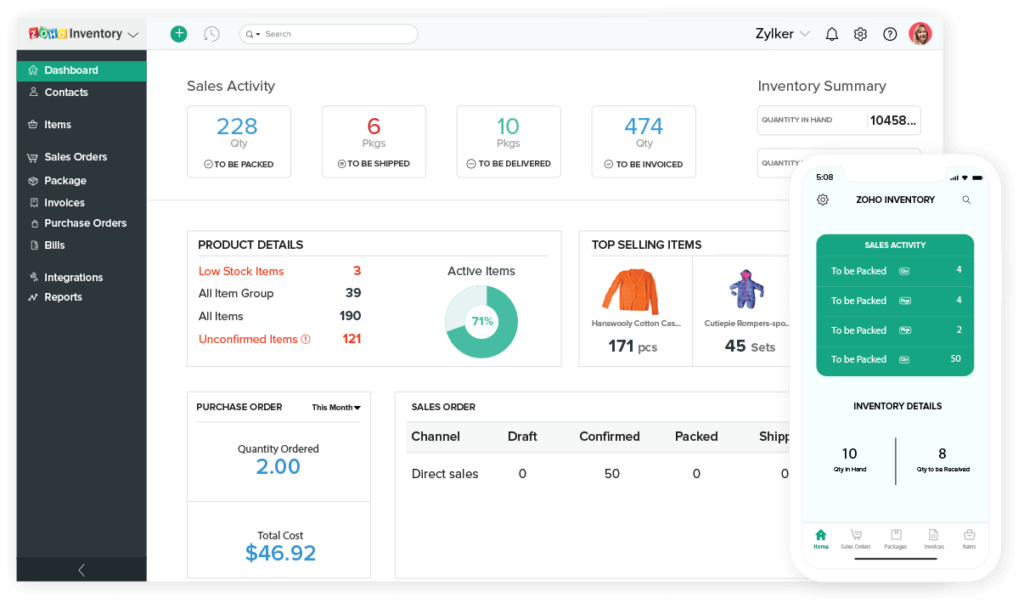 If you are a small business owner with less budget, this Zoho is one of the best inventory management software for you.
The software helps you track inventory and sales and also helps in managing shipping and purchase orders. Undoubtedly, this is complete inventory management software.
Features & Pricing
You can integrate Zoho with various marketplaces, e-commerce platforms, shipping providers, and payment services. Receive real-time updates with Zoho's Android and iOS apps.
Inventory Control: It lets you go to the tee of each item. With Zoho Inventory, you can automatically update inventory quantities based on sales, conduct item kitting, and keep track of any item with a serial number, batch, and expiry date.
Warehouse Management: With Zoho Inventory, you can manage multiple warehouses and even control the flow of stock between the store and warehouse.
Multi-channel selling: Zoho allows you to connect and integrate with various applications and marketplaces like Amazon, eBay, etc.
It lets you manage all orders in one platform, set reorder points, and even send updates on stock levels.
Zoho also generates a comprehensive report based on trends and most selling items.
It allows you to connect with 40 shipping carriers.
Uses one single dashboard to monitor orders.
Zoho's pricing ranges from free to $199 /month if you buy their annual plan, or if you plan to buy it on a per-month basis, then the cost comes out to be $249/ month. 
 2. QuickBooks Enterprise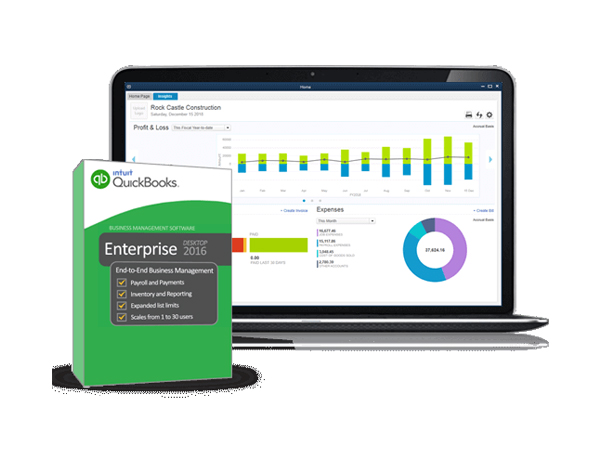 You can also use otherwise popular accounting software, QuickBooks Enterprise, as inventory management software by opting for its advanced inventory feature.
The software lets you do much more than just tracking inventory, sales, and expenses; it allows you to do bin management, order fulfillment, and much more. Not only this but with their Platinum Plan, you can also create automatic pricing rules to apply quantity discounts & promotions.
Features & Pricing
The user interface is quite a consumer-friendly one.
Provides real-time inventory tracking in the cloud using a single dashboard.
Offers bar-coding support.
Allows you to create purchase orders, bills, and update inventory levels automatically.
You can create and customize pricing rules.
The Platinum Plan also includes an accounting feature, which allows you to track sales, taxes, expenses, bills, and more.
You can also accept payments within QuickBooks.
Asset Management feature is also a rare feature.
You get access to helpful reports that can help you reconcile transactions, see customer information, and track sales.
QuickBooks can also predict how your business will do based the historical data.
It allows you to create custom reports if you are specifically looking for a particular detail or data point.
The QuickBooks Enterprise Platinum Plan comes for $191 / per month if you pay annually.
We have published a blog post on QuickBooks Alternatives also.
3. Lightspeed Retail: Best for Retail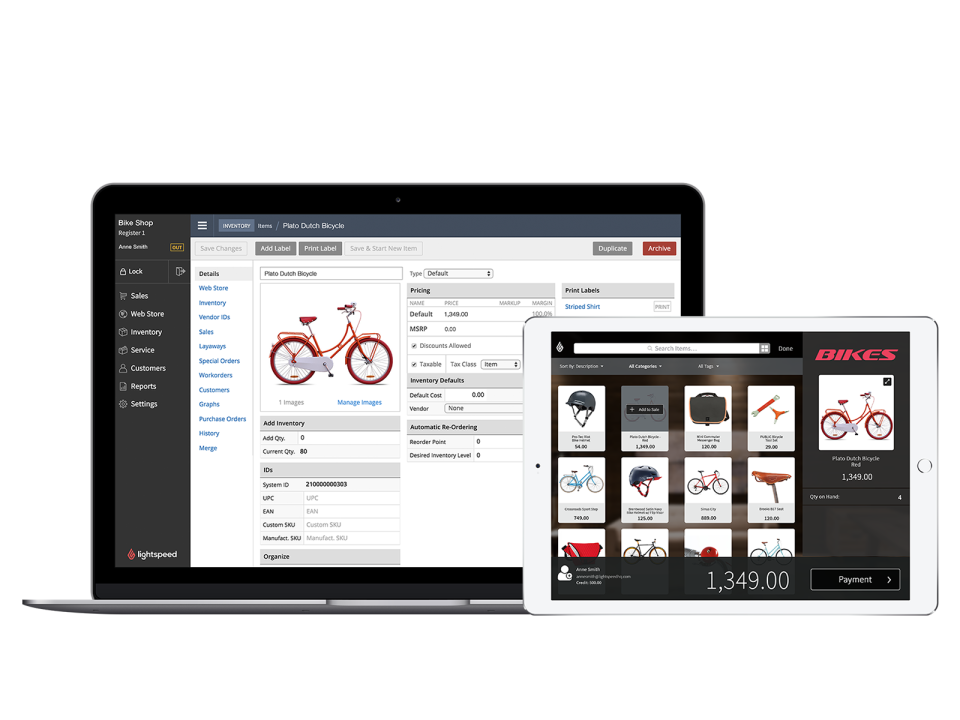 Primarily a POS software, Lightspeed is also known for having robust inventory control and excellent prebuilt reports.
With Lightspeed Retail software, you can track unit costs and dust stocks. Apart from this, the software sends your notification about low stocks.
Features & Pricing
Easy-to-use & affordable
Lightspeed Retail's integrated vendor catalog lets set up reorders and manage purchase order management.
You can import inventory from a spreadsheet, add several variants to each product, and include a serial number.
In the case of multiple stores and warehouses, you can transfer inventory from one spot to another, and inventory levels will balance automatically.
The POS part of Lightspeed Retail lets you manage your business from employees and sales to work orders and contacts form the software.
It also offers more than 40 different types of reports.
Lightspeed Retail pricing starts at $99/month if you pay annually.
4. Odoo
It is the best open-source inventory management software. Odoo is a highly customizable solution, which means you can tailor is at per your needs and requirements.
Odoo can also work as a complete software to meet all your business needs, including CRM, POS, accounting, and much more. It is also fantastic software when it comes to managing and tracking inventory across warehouses.
Features & Pricing
Highly customizable.
Inventory control methods help you track inventory movements from suppliers to customer.
Odoo's order management features let you automated requests for quotes to suppliers for stock, forecast orders for manufacturing, and track orders.
Easily integrates with almost any other app or marketplace.
Odoo's first module is free for all, but as you start adding features and users, the prices will go up. Odoo Inventory is $36 / month.
5. Cin7

Cin7 is the best inventory management software because it connects online sales channels, POS systems, warehouses, Electronic Data Interchange, and third-party logistics.
It automates processes like organizing and stock management and helps you save more time for your business.
Features & Pricing
This inventory management tool has a vast knowledge base.
You get a dedicated account manager at your disposal to guide you through the setup process.
Let's manage multiple warehouses, retail shops, and e-commerce channels.
It supports customer and supplier consignments.
The kitting and bill of material features make Cin7 ideal for manufacturers.
It supports various currencies, batch imports, and purchase orders.
Cin7 lets you track stock in warehouses using the First Out (FIFO) method, batch tracking, and serial tracking.
The bill of materials (BOM) feature is best for people that want to track parts as well as sums.
The Cin7 dashboard gives you a picture of inventory levels, cost of goods sold, and information about the top-selling products. All this reporting also helps in forecasting for the business.
Cin7 integrates well with software like Amazon, eBay, QuickBooks, and others.
The starter plan starts at $299 / month.
Wrapping Up
This was our list of top 5 inventory management software. However, every business has different needs, so just make sure you exactly know what you want for your business and then choose an inventory management software. Many of the names mentioned above offer a free trial, so feel free to try them out before actually investing in them.