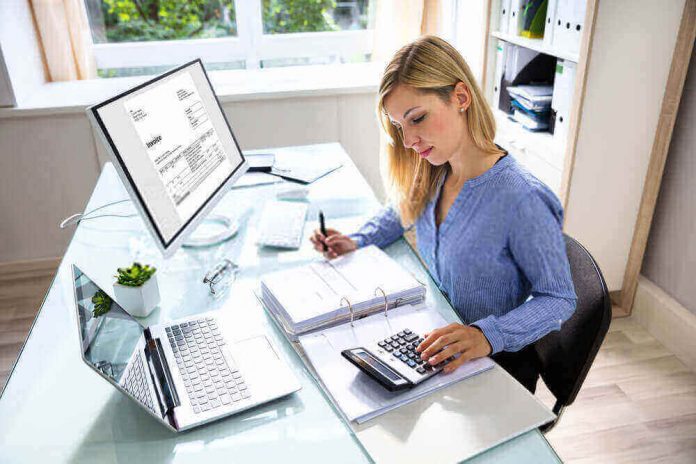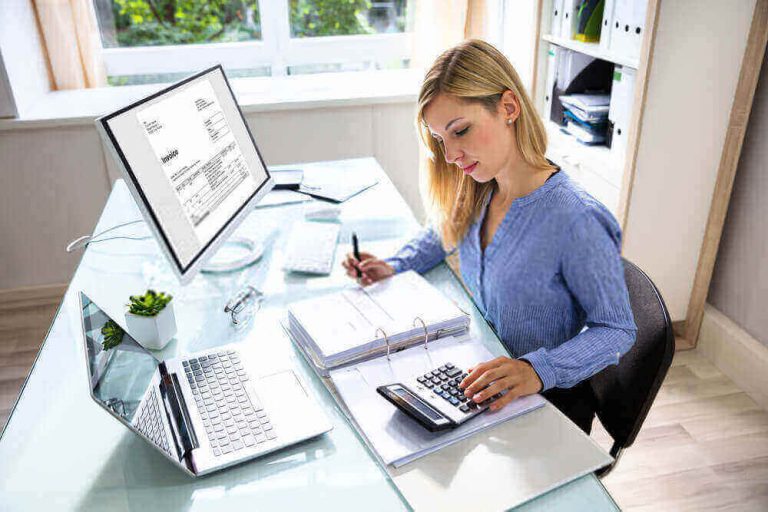 If you have started a small business and looking to manage your account, then why not invest in accounting software. You can automate your work by spending a little less.
There are many in-budget, best small business accounting software to help your business grow while keeping all the financial records in place. You can also create invoices for your sales, and the software will help you maintain records with ease.
As accounting plays a major role in any business, so keeping this part in-line from starting becomes quite important. You will be able to calculate the expenditure and profit with ease and grow your business accordingly.
Hence, we have shared the 12 Best Accounting Software for Small Business that can ease your work.
12 Best Accounting Software for Small Business
1. Xero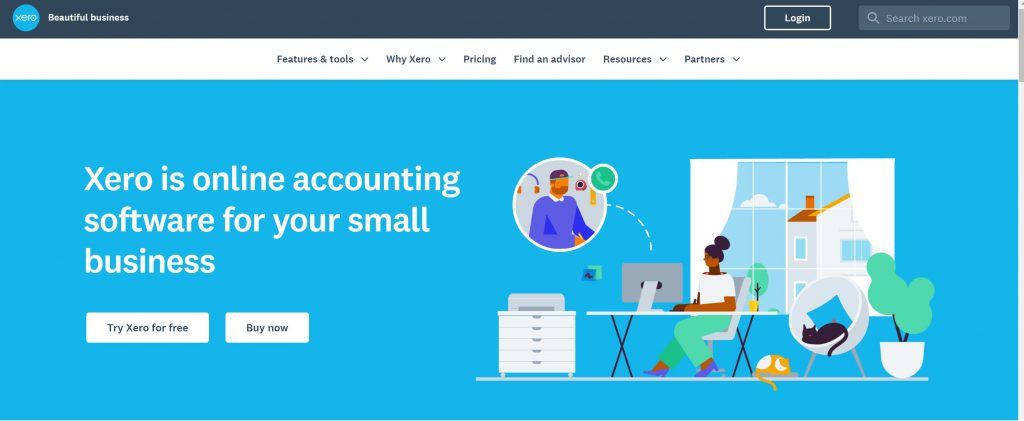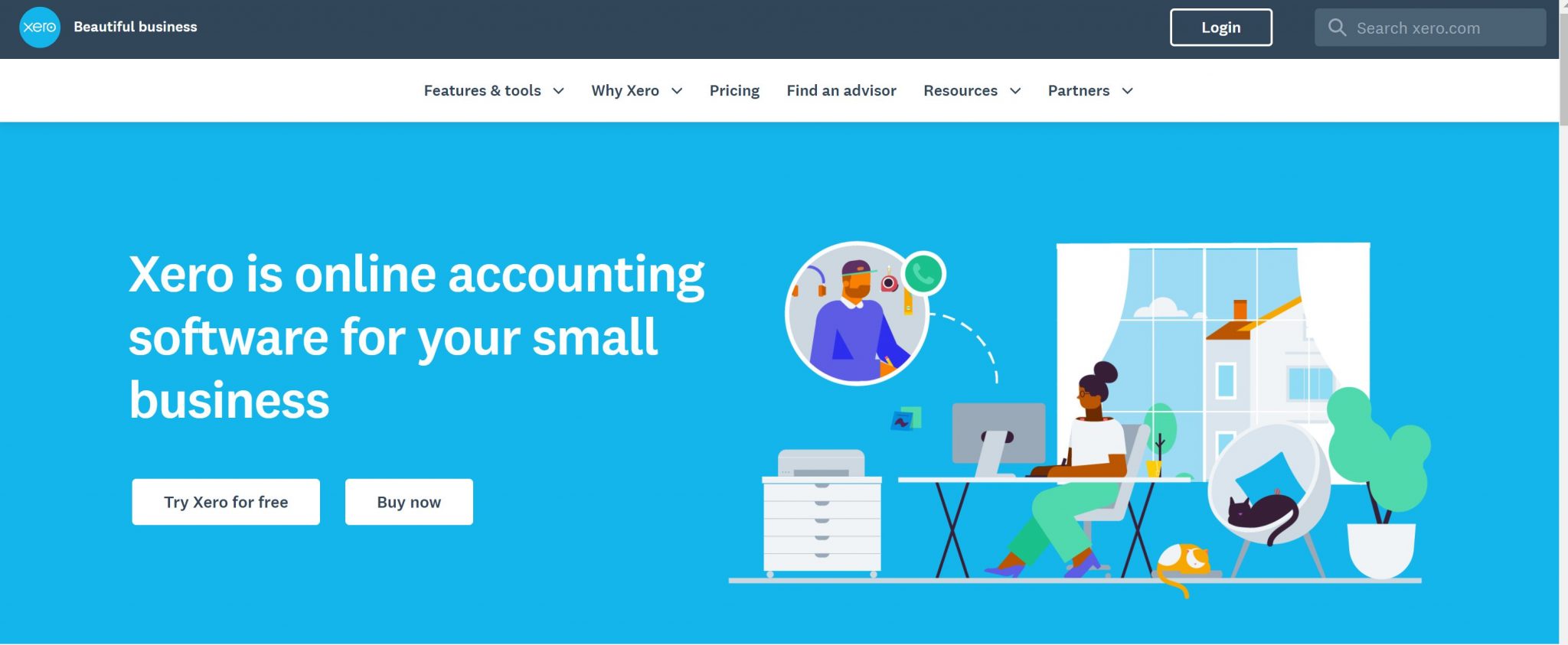 Xero is a leading business accounting software because of its sturdy features and nominal starting price. You can send customized invoices, synchronised bank transactions to balance the book at just $9/month.
It also tracks inventory and captures receipts for record-keeping in a relatively easiest method.
You don't need to pay extra for conscientious responsibilities; rather, everything is included with unlimited users. Bank conciliation and expense tracking for every user is flexible in Xero.
They provide easy integration with third-party apps, and you can send unlimited invoices by just upgrading.
Xero is offering a 50% concession to all its users for two months.
2. FreshBooks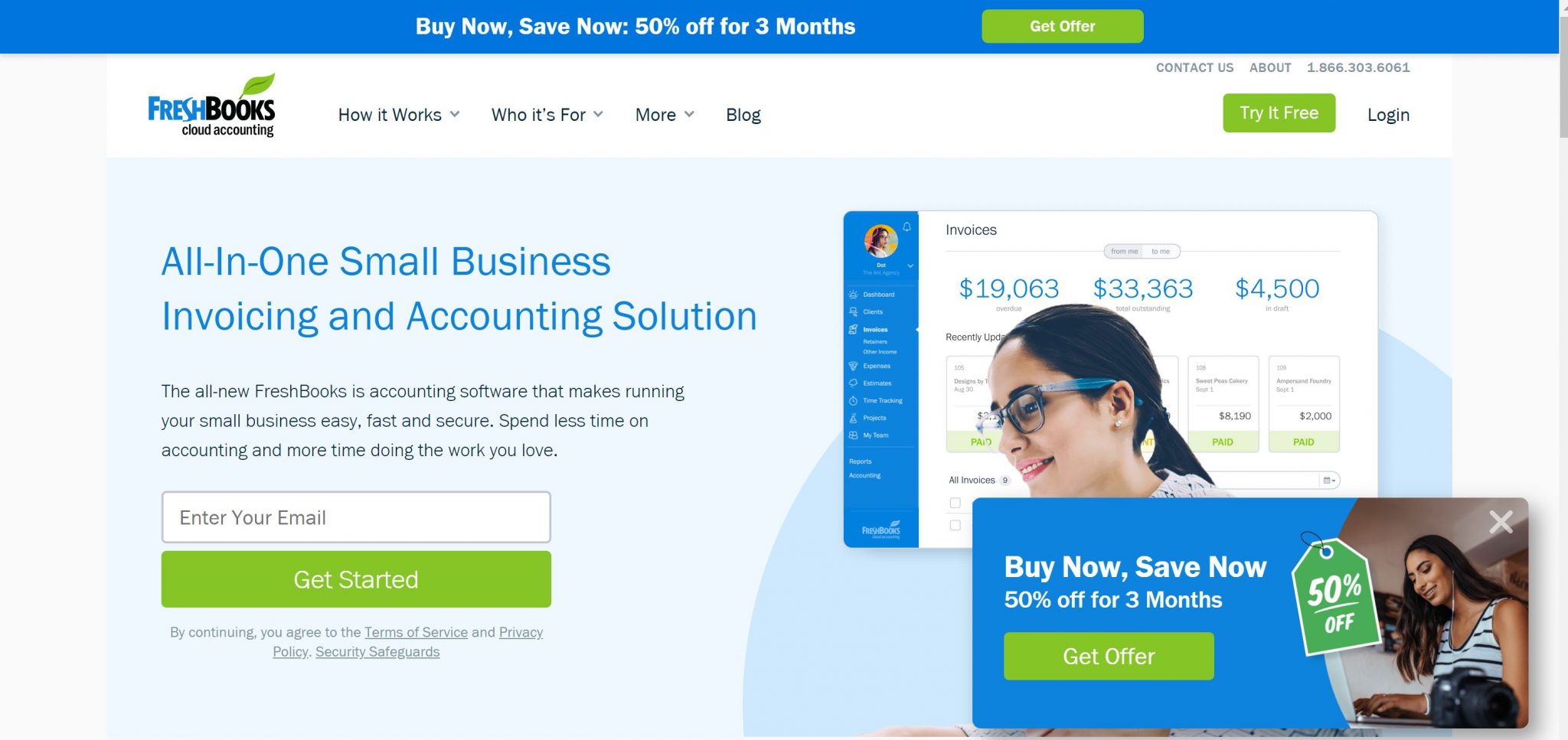 If you send unlimited invoices for your business, FreshBooks provides this advantage with every plan. If you are a solopreneur or freelancer having a small business with a handful of regular customers, you are in the right place.
Freshbooks is the exact accounting software which will fulfill all your requirement.
FreshBooks limits the number of customers to whom you can send the invoices.
Expense and time tracker is available with every plan, and they have a customizable format for invoices estimates and proposals.
FreshBooks is considering a 60% discount on its plans.
3. QuickBooks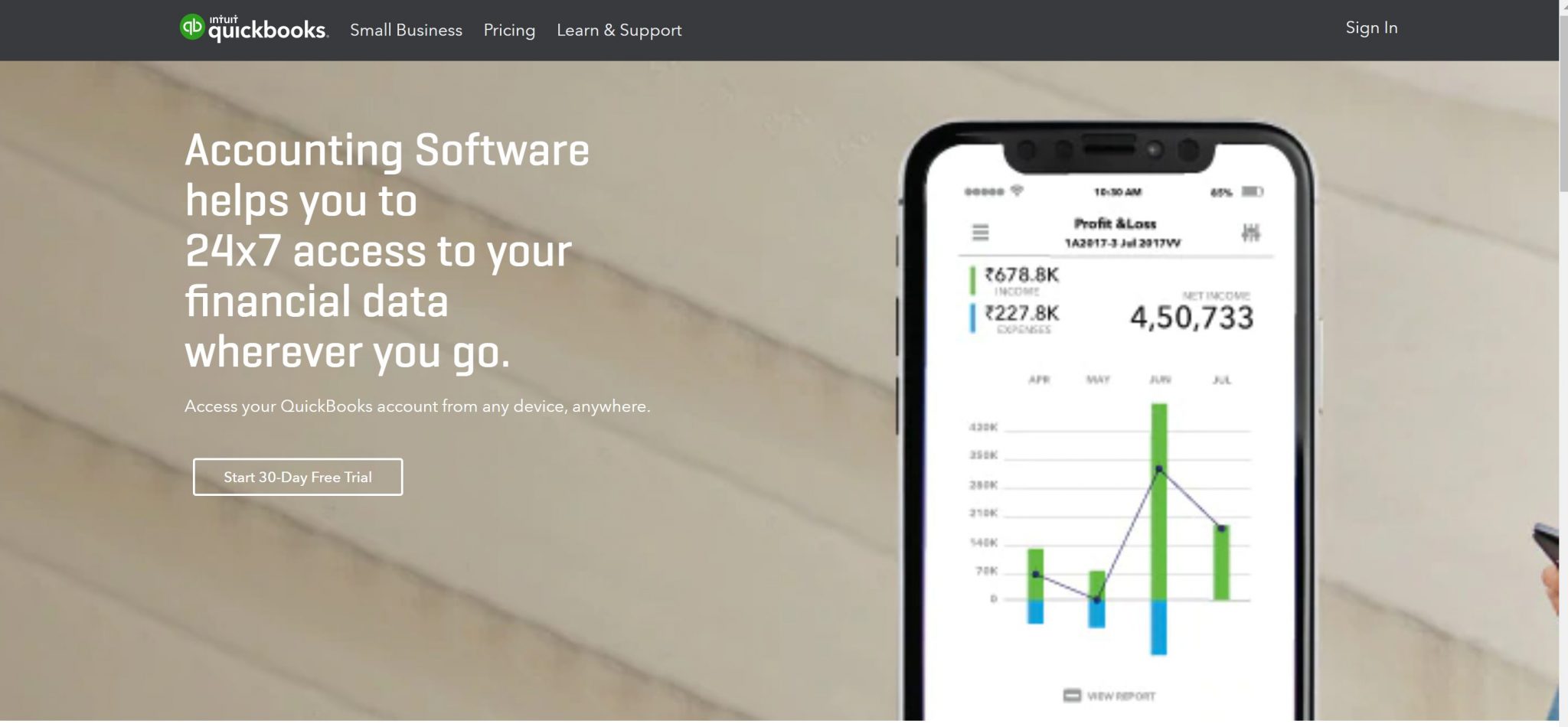 QuickBooks is a bit pricier than its competitors, but the user-friendly interface and low learning curve are the aspects that justify their cost.
It offers through tax help and financial reports, which makes it the best small-business accounting software. It also provides tracking, sales tax tracking, automatic tax deduction categorization, and mileage tracking.
These features make it a reliable software to work upon a small scale business. It helps them to grow by making this automated, which helps start-ups to survive in the competitive market of entrepreneurship.
We have also highlighted QuickBooks Alternatives.
4. Sage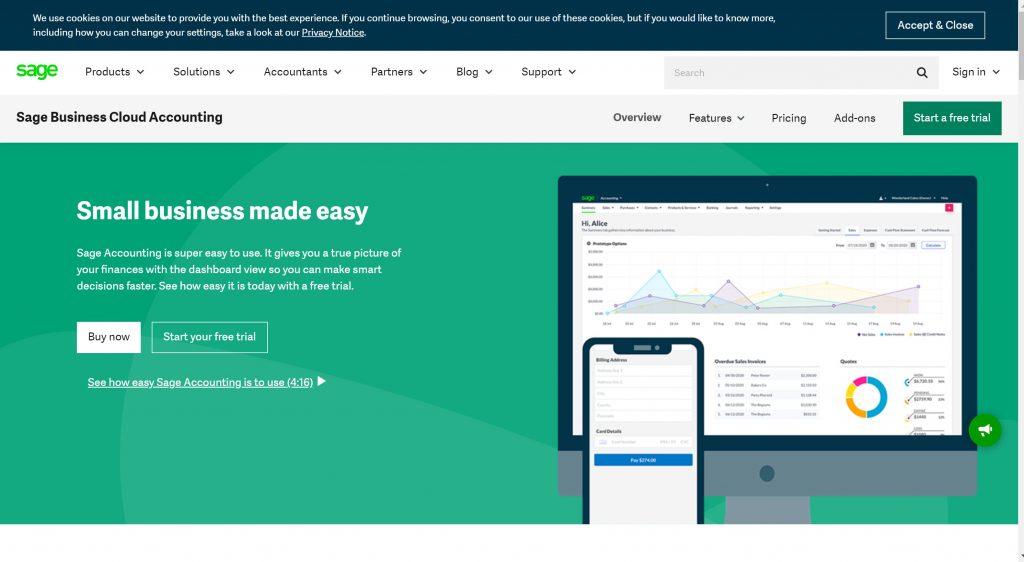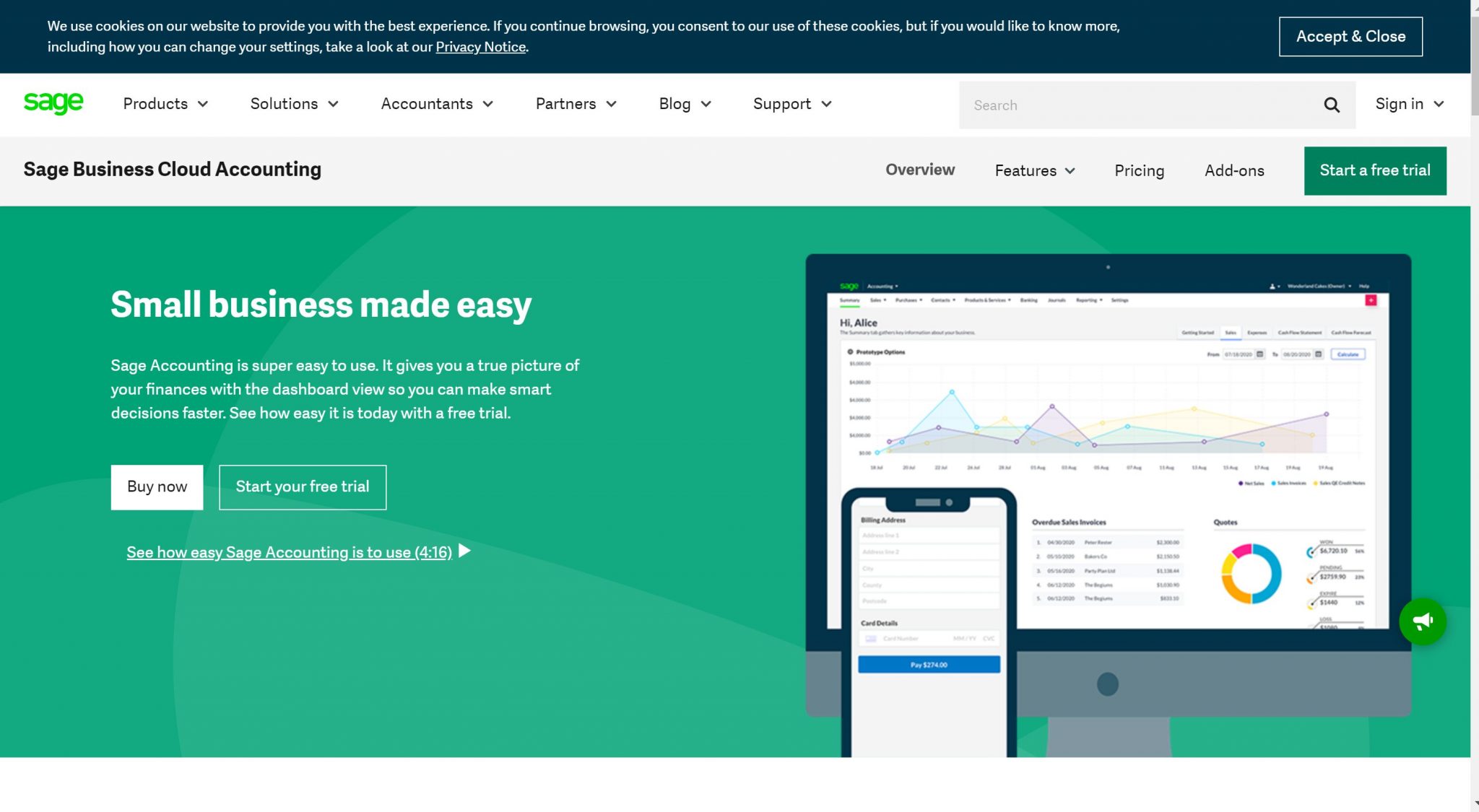 Sage is a well rounded small desktop accounting solution, imbedded with comprehensive features such as cloud facility and customisation option.
You can customise data according to the requirement. The available set of features are exceptionally sophisticated. It keeps the item record with in-depth contact and requires least data from your end; rest is handled on its own.
It walks you through the process of selecting a method to create a chart of accounts because it is a multi-page tool. You can also select an accounting year and get the fiscal data by the year-end.
Every user using the software is secure and has their privacy as they provide the column to create your identical user and password. You can control access using your admin dashboard.
5. ZohoBooks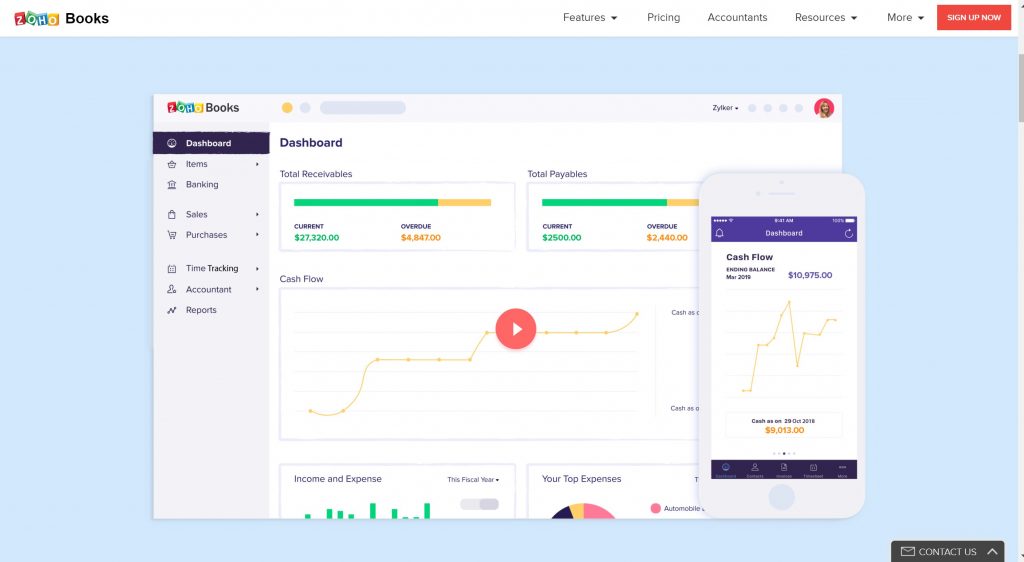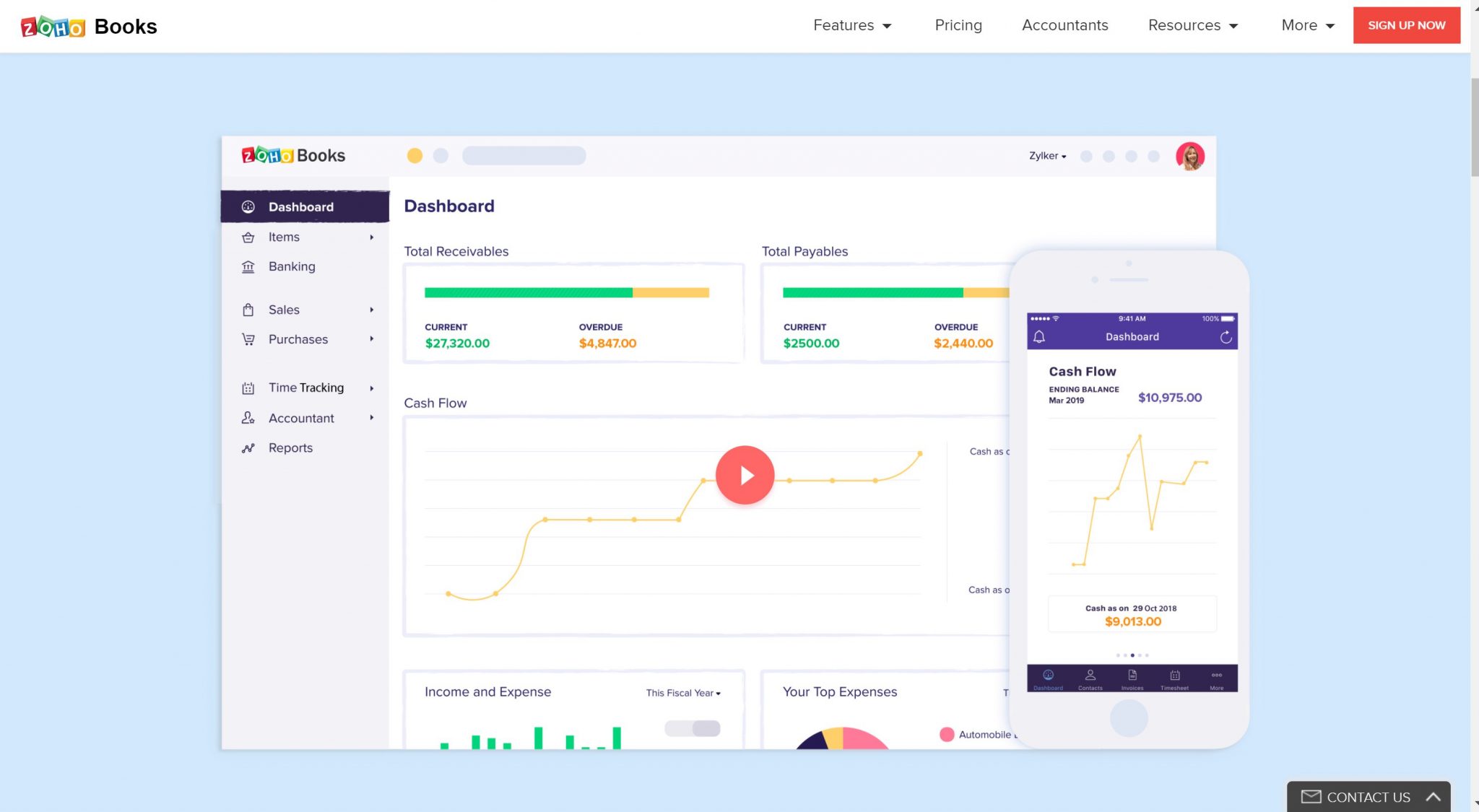 ZohoBooks is accounting software that has a user-friendly interface and with some ice-breaking features for the business.
Proper depth in terms of records and transaction forms makes it reliable for maintaining accounting records, and the customization facility is also in a wide range, unlike Xero or sage.
You can customise the utmost details and make it as per your requirement. After a trial period of 14-days, you can subscribe to the basic plan of 9$ per month for an organization. The capability of managing inventory is also immensely appreciated.
Item records contain all significant fields, such as sales & purchase and rates & accounts. However, you can also create and use units of measure here. Once you make any contact, you can view them anytime in different windows, which is not available in any other accounting software.
6. Billy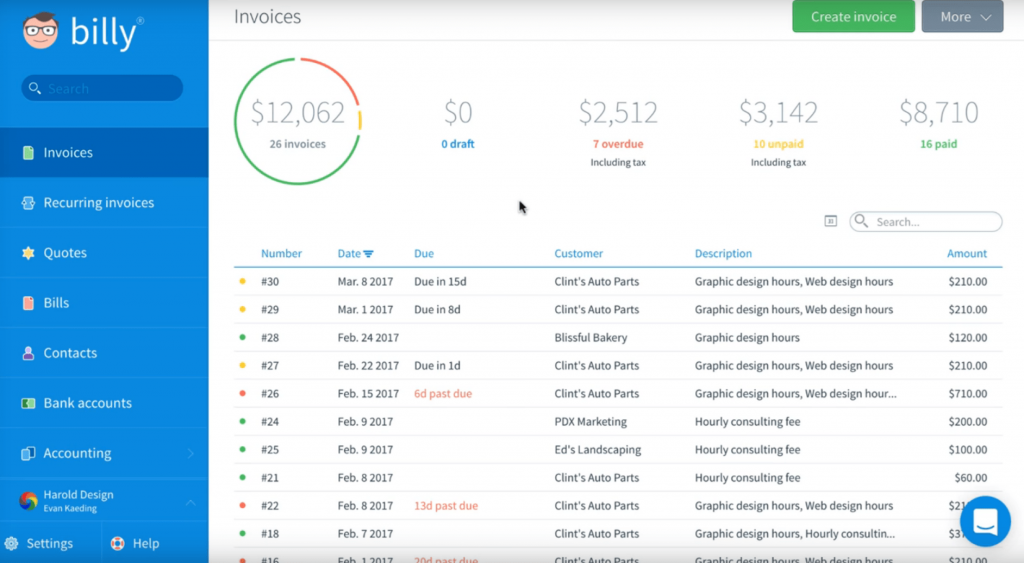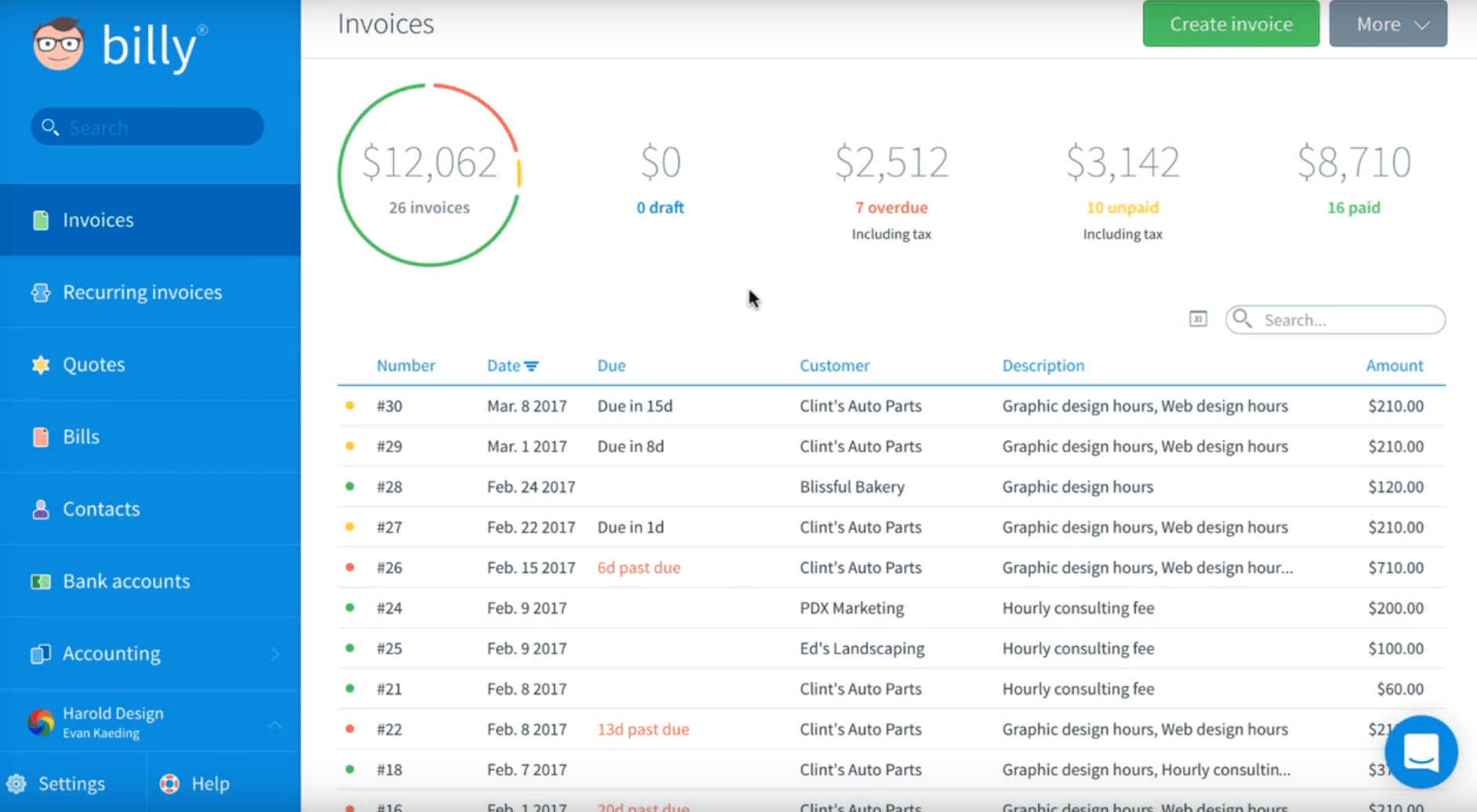 Billy will help you exchanging currency in the easiest way possible if you have a business dealing with foreign customers.
Also, different sales taxes can be established very quickly. It favors quotations, estimates, expenses recurring invoices and final invoices, and importing data from financial institutes.
Users can create records for customers and vendors for both companies and individuals to provide extra contacts to the organization, along with email, phone, and street address.
Billy's contact and product records are among the best small-business accounting software. The window name 'Create Product' has attributes such as name, description, revenue category, sales tax, price, and product code.
You can upload the item images too. Billy also has its app for iOS and Android, which makes it more appealing.
7. GoDaddy Bookkeeping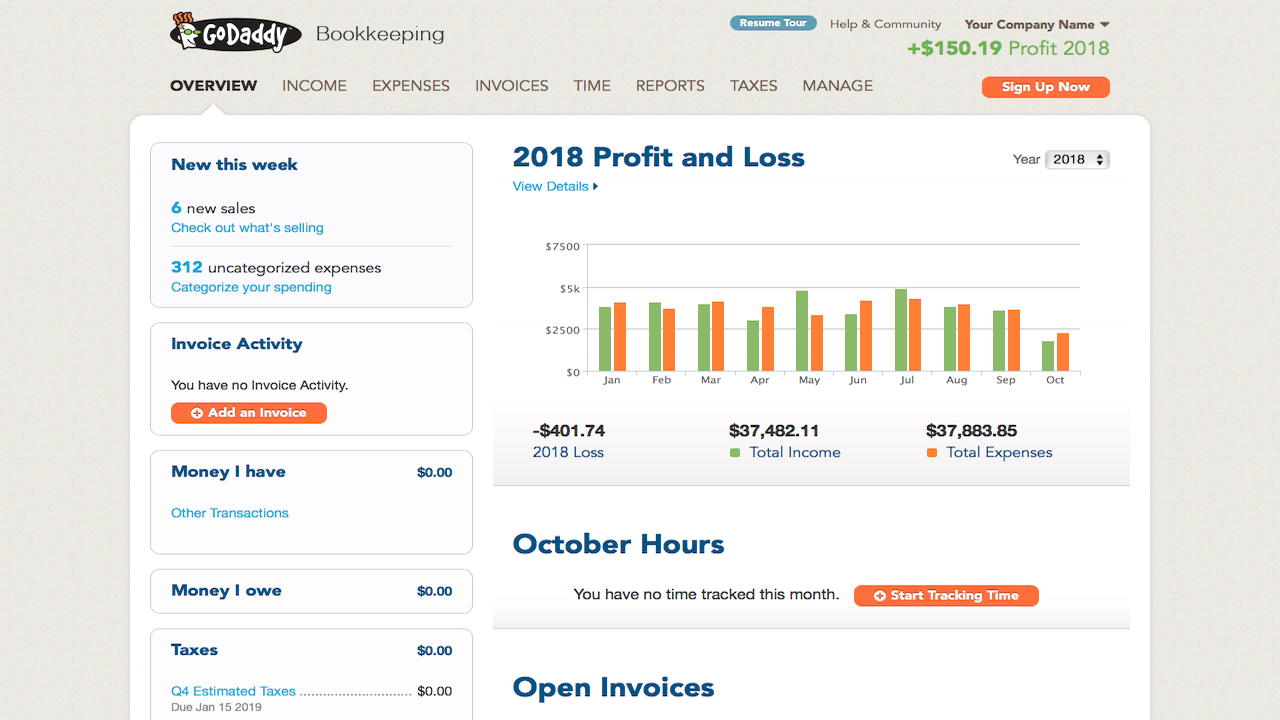 Godaddy has a reliable interface with less expensive costing and also the tax calculator.
Once you log in, GoDaddy will automatically download your recent transactions and will update it daily.
GoDaddy is a cloud-based business accounting software that automates the data rather than manually feeding it. You need to assign income and expense categories if you want to make full use of GoDaddy Bookkeeping, which helps them calculate estimate quarterly, tax for you.
This software was designed, keeping in mind the small businesses, so the language is very simple, and the interface is user-friendly.
It provides all the necessary data on the dashboard. Hence, GoDaddy is in our list of most reliable accounting software for small businesses.
8. Kashoo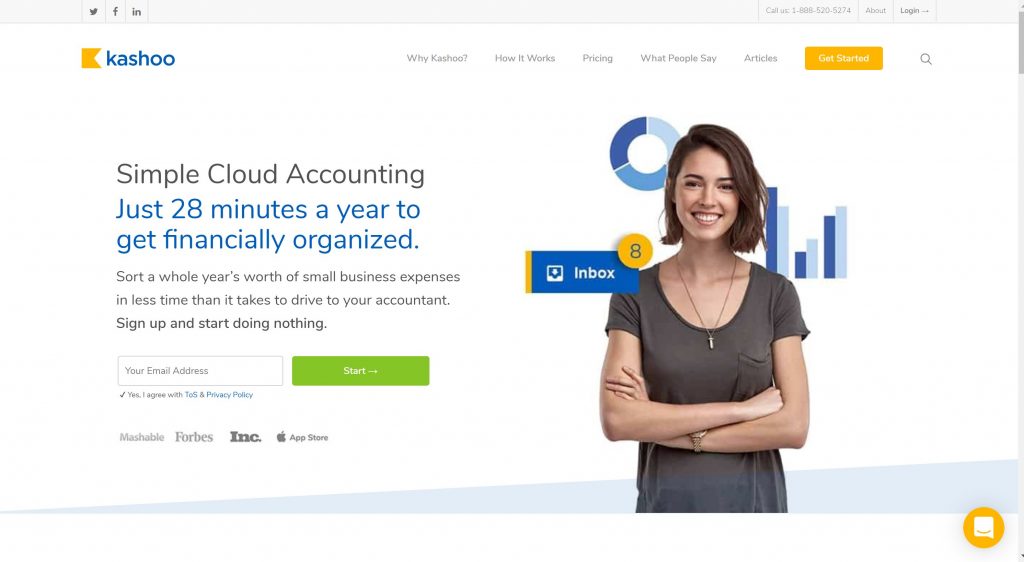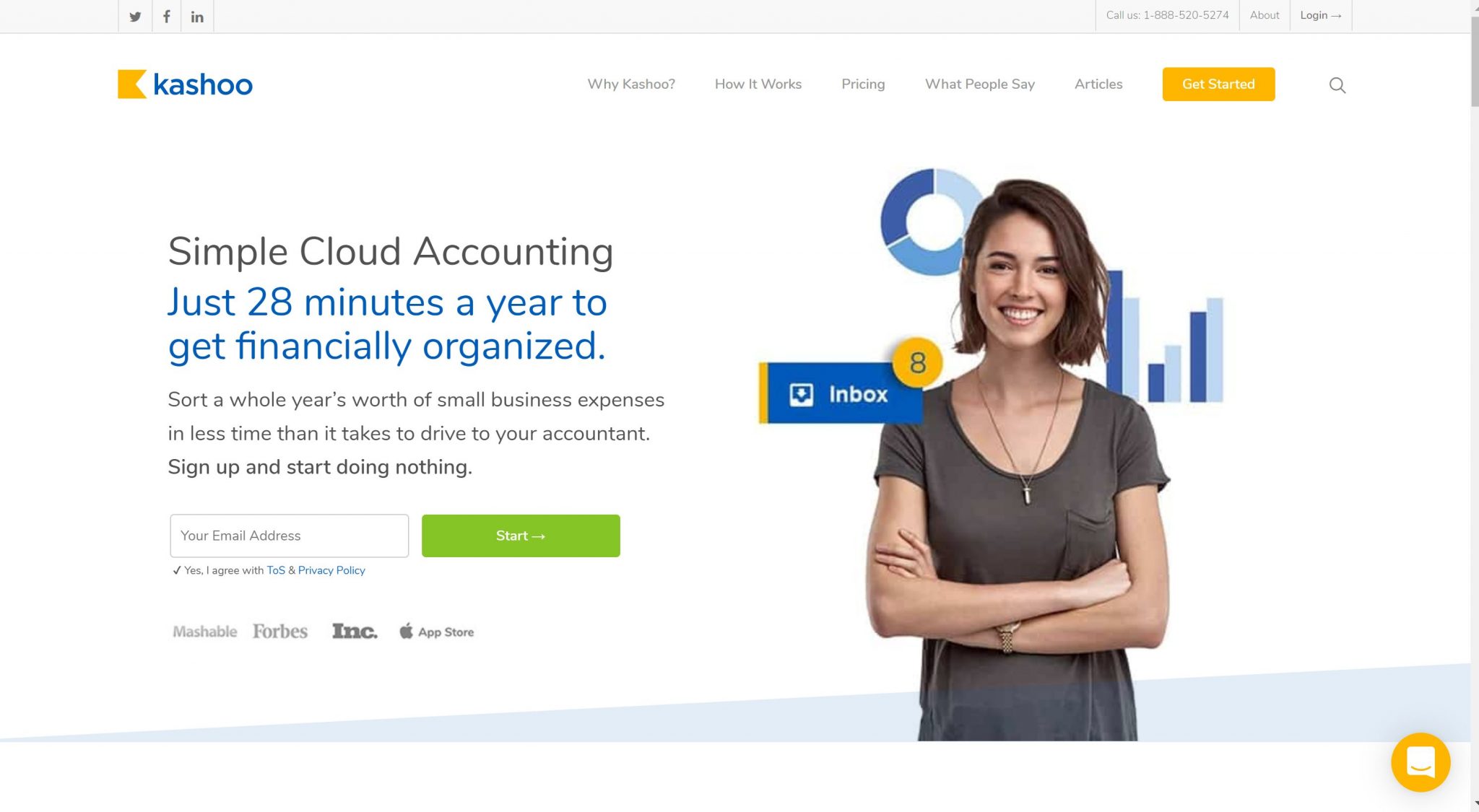 Kashoo is an iPad-optimized app, with impressive, user design and a solid double-entry accounting framework.
It offers free chat, voice, and email customer support. Kashoo also provides a multi-currency facility and has a free version of up to 20 transactions per month.
Kashoo has an intuitive design and manages all sales and purchase records, though the cast is not very cheap but comparable with the services provided.
The software shadows the basic requirement by an accounting application, including record templates for clients and suppliers, inventory items, chart of accounts, bills, and other expenses receipts. Besides this, it also offers the transaction forms for invoices, preformatted reports, and other income.
9. Wave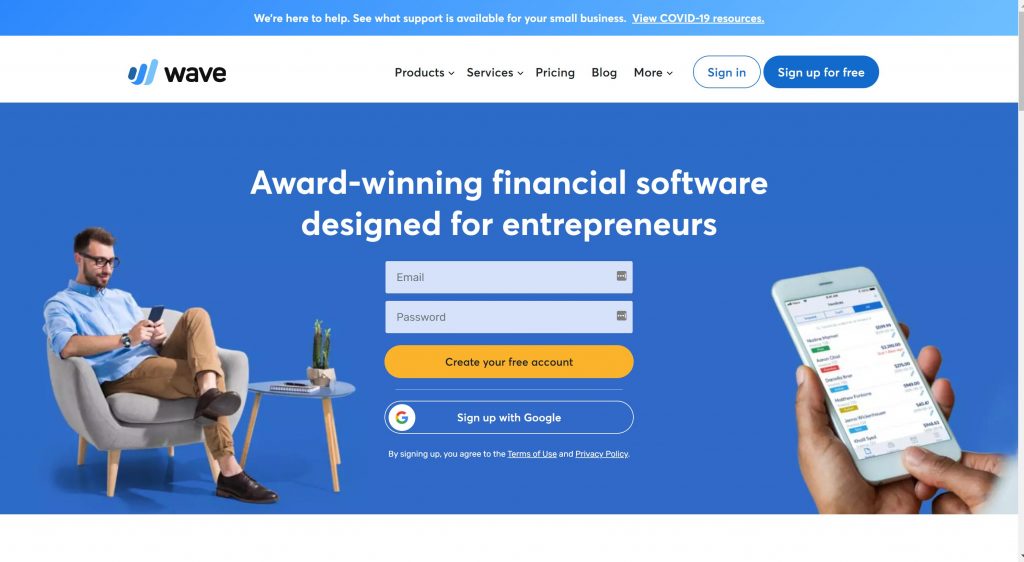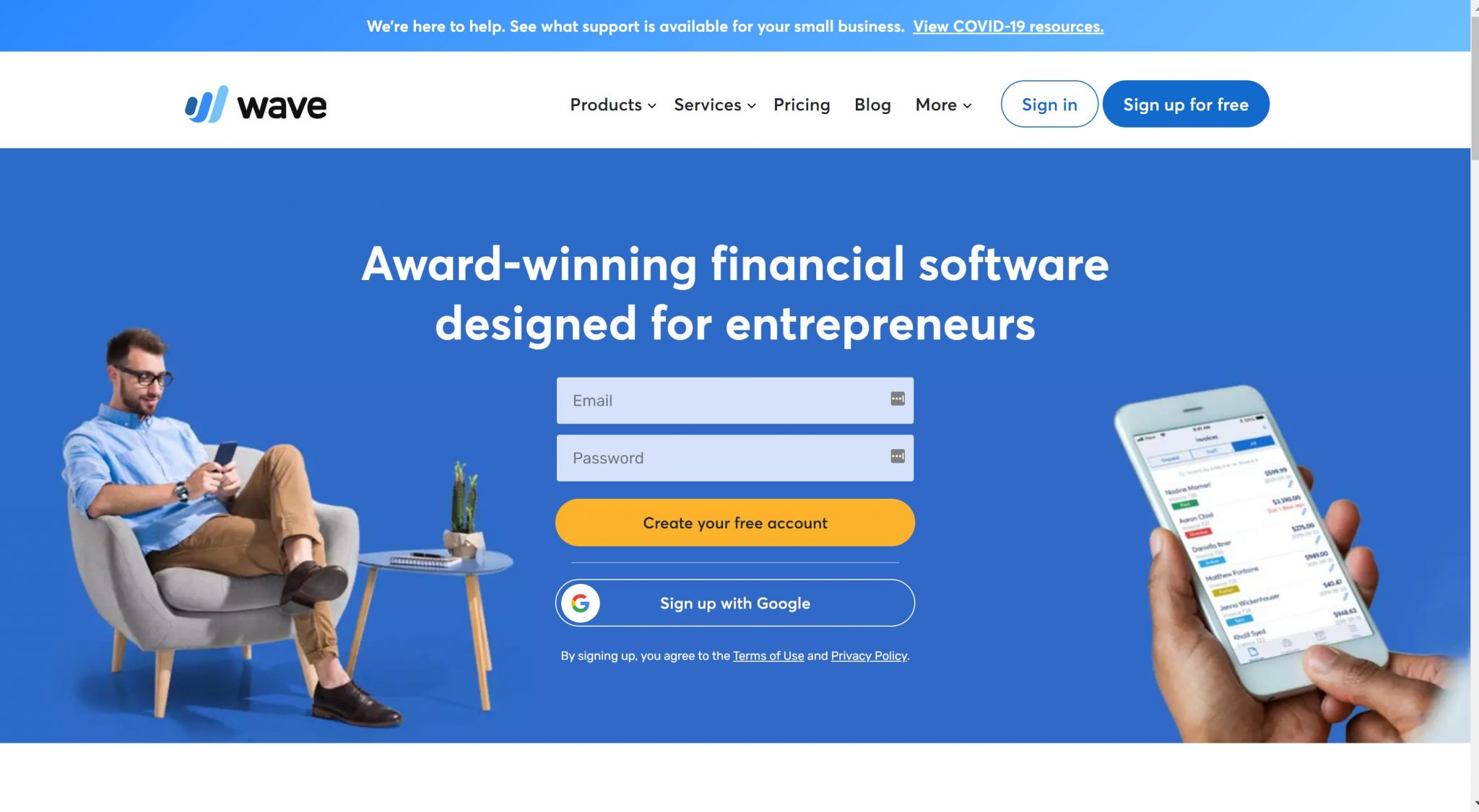 Wave has an appealing mobile app with an excellent transaction and payment screen. Selection features for small business in an intelligent format are also embedded with the multi-currency feature.
It has a few sets of features that will attract budding proprietors. Wave is undoubtedly one of the most accessible accounting software to use. Its dashboard judges the foremost outlook of any software; Wave provides a feasible dashboard which attracts freelancers and sole proprietors.
The report of cash flow appears at the top of the screen in graph format, followed by profit and loss details. Then comes the list of outstanding bills; you can click on any of them to view the underlying transactions.
The dashboard also displays account balance and expense details as well as links to everyday activities. Wave also simplifies double entry for non-accountants but also has advanced features for accountants.
10. Pabbly
Pabbly is one of the best account management software for small businesses that provide real-time actionable metrics on your monthly payment, net revenue, and active customers.
It automates all your business workflow, customer communication, and invoice creation so you can focus on your business growth.
The best thing about Pabbly is, it does not charge any additional transaction fee. The affiliate arrangement module makes it more welcoming, and customer details can be, which is not available in any other software, easy export, and import in it.
Single sign-on client portal review is also one of the major features of Pebble.
11. Account Edge Pro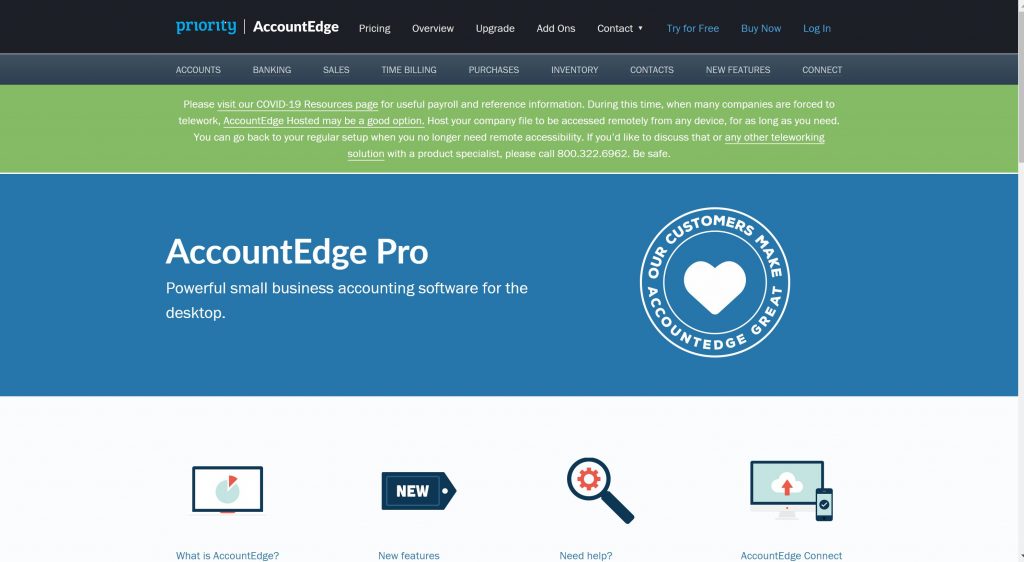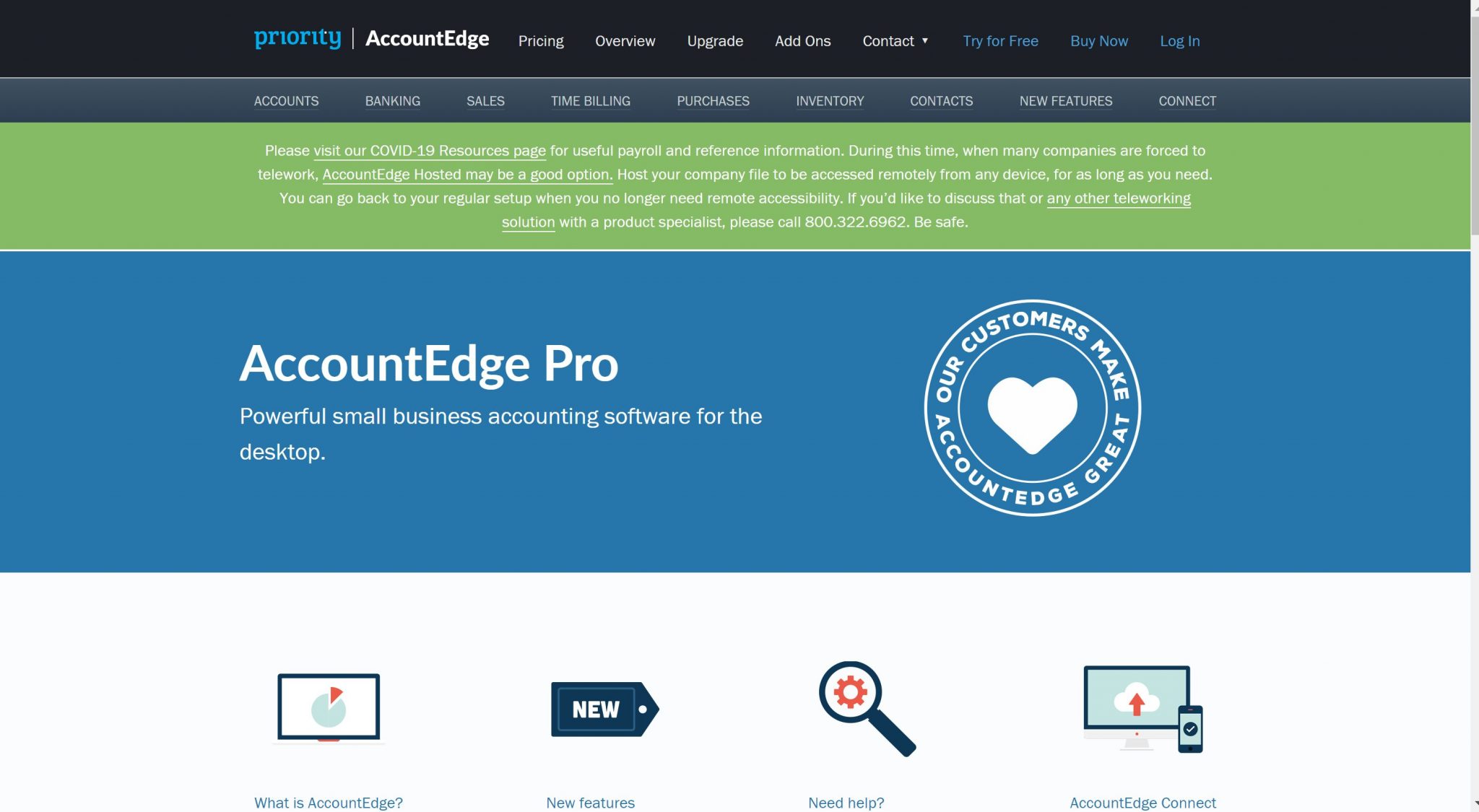 AEP or Account edge pro is an easy to use accounting software for small business in any country.
It offers a Premium accounting for Mac. With AEP, you can select your home currency and set up adding as many currencies you want. You can also create the type of tax required for your country, with reports that give you what you need for your tax forms.
It also provides a free trial for 30 days to make you comfortable using it further. The latest release includes many new features and lots of enhancement to make your experience better than ever.
You can customize your job status to see what's in progress, pending, completed, on hold, or whatever you choose. You can add a Promise Date on a job as an easy reminder of completion schedules.
12. OneUp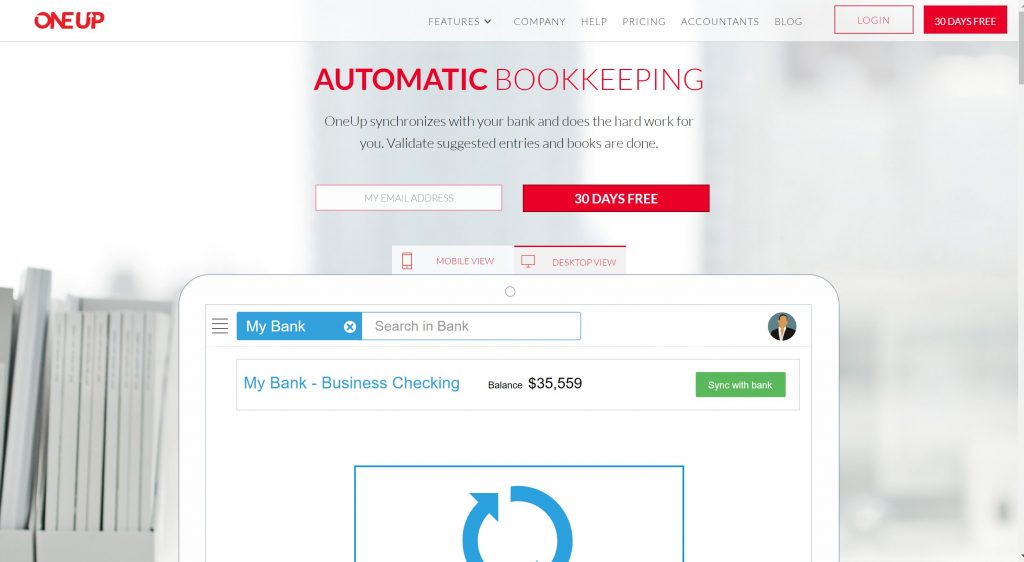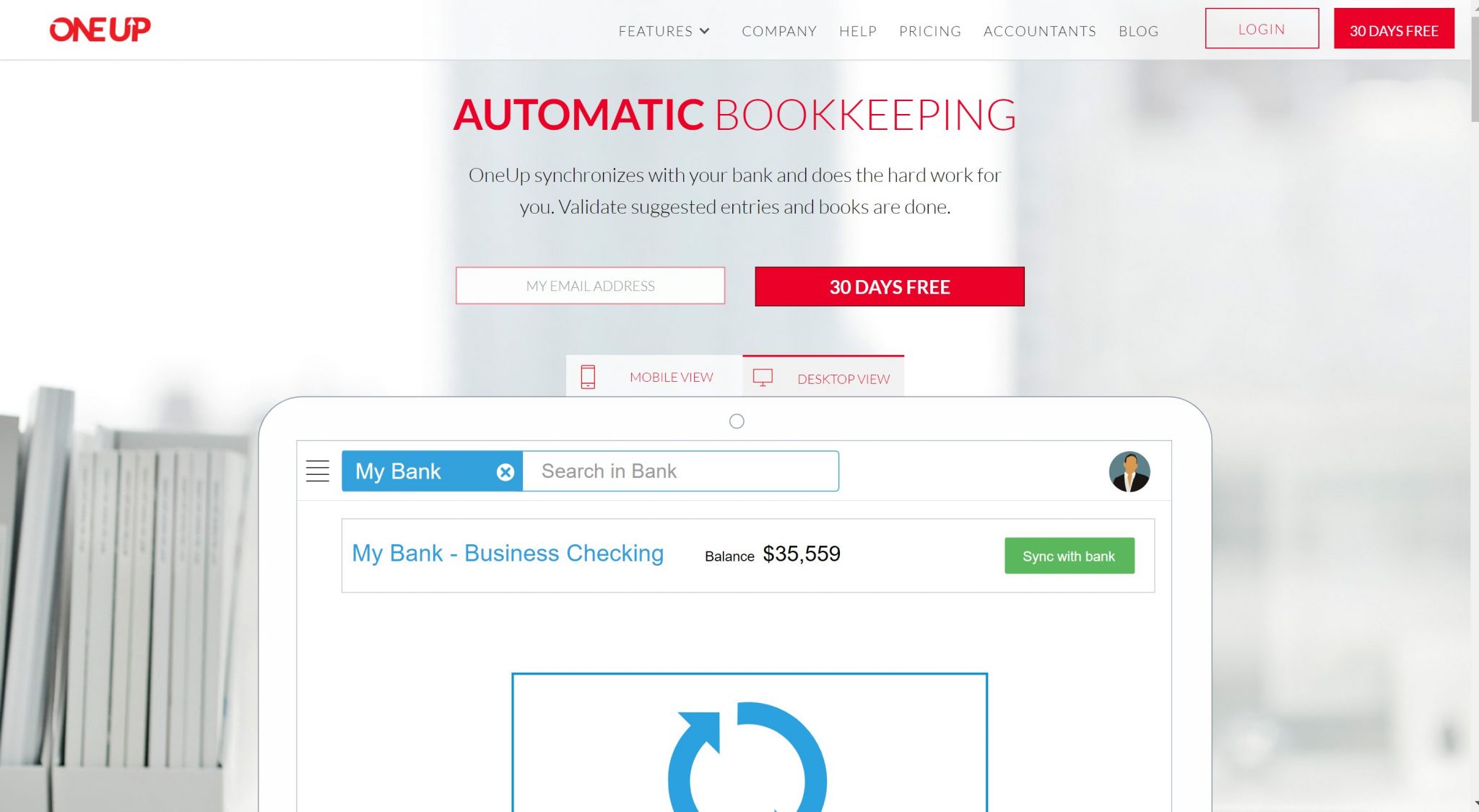 If you are focused on inventory management and pricing, then this is another double-entry accounting software for you. It validates suggested entries, so your books are done quickly and accurately, and it also syncs with your bank and categories band entries.
It categorizes bank entries and makes segregation of records more accessible. OneUp validates all the suggestions of accounting, before introducing it to you.
It will update you about workflow and profit in your business. You will get 30 days trial, and then you can subscribe to the premium plan of OneUp- to continue enjoying the services.
Conclusion
Before choosing the right business accounting software, make sure that you consider its features such as tax calculation, multi-currency options, data entry and invoicing and billing features.
Furthermore, it should be considered cheap to be considered for small businesses because you wouldn't want to spend a massive sum on accounting software.
This was our list of Best Small Business Accounting software to consider. If you have more suggestions, let us know in the comments box.
Quick Links: