Do you have a big idea? What's stopping you from launching it? Is it the fear of creating a website? Not anymore! Website builders can be a good option for people who don't have money to hire a web developer.
Whether you are a small business owner, artist, consultant, photographer, blogger, influencer, or writer – you need to have a website to showcase your work and talent to the millions of people out there. We know many of you would dread the thought of a website because of one primary reason i.e., coding.
Building a professional website doesn't require a lot of time, effort, or money. Yes, you read that right. There are so many website builders out there to help new business owners or newbie entrepreneurs. Companies like Wix, Squarespace, and Weebly have made it even for even small business owners and non-coders to hit the ground running.
Over the last ten years, the website builder industry has grown exponentially, which also means that users have more choices than ever. Today, users can easily find the best website builder that matches their needs and requirements. One can smoothly and professionally showcase their services or business without being a web developer, having coding skills, and knowing HTML.
Here's a list of all the information you require about the 12 best website builders. From prices, and plans, to features, this list has everything you should know before deciding on a website builder for your business.
Top 12 Website Builders: Our Top Tested Picks
1. WIX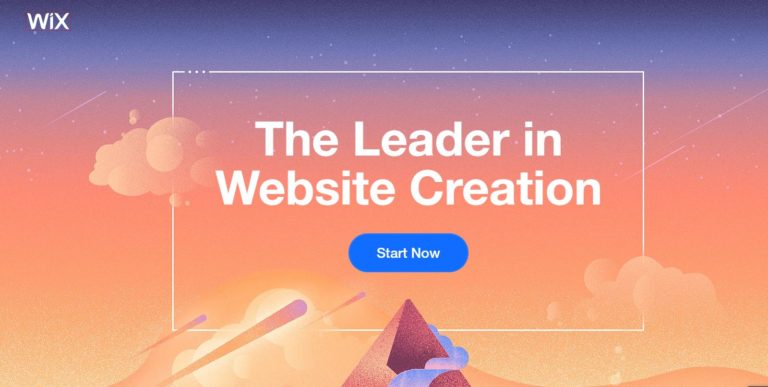 Wix is one of the best website builders today. It's is undoubtedly the more significant player in the market with over 110 million websites built and the greatest quantity of tools, capabilities, and freedom.
It covers the full ease-of-use spectrum by offering an AI-fueled automatic website creator on one end. This automatic website creator requires minimal effort. On the other hand, Wix Corvid is an open development platform for advanced applications like Javascript, databases, and data-driven dynamic pages.
Wix offers a basic free plan that allows you to create a free website starter site with ads. Moreover, if you want an ad-free site, you can always go for a premium plan.
Pricing for a COMBO pack that covers most of the needs for a personal website is $13 per month, whereas, a Business VIP e-commerce plan for an online store is $49 per month. Please note that the domain price is not included in the prices, as mentioned earlier.
Wix does have a few drawbacks as well. It comes with data limitations for each of its plan tier. So, make sure that you do the math before choosing a plan for yourself.
2. SQUARESPACE
Squarespace is ideal for small & medium size businesses that require a nicely designed page and e-commerce growth with lower transaction fees.
The Squarespace editor isn't very intuitive and requires a little bit of work until the user gets the hang of it. It offers add-ons, website templates, tools, photo editing, and the universal style editor. The website made on Suparespce will be responsive, which means it will always look good on mobile, but it doesn't allow you to make mobile-specific edits.
The customer supports is extremely helpful and responsive. This is a plus point for all new business owners.
The Personal Plan of Squarespace starts at $12 per month; it comes with unlimited storage, bandwidth, and a domain. Their Business Website Plan starts at $18 per month. This Business Website Plan includes unlimited contributors, a Gmail pro account, and e-commerce capabilities.
They also have an Online Store Plan, which is priced from $26 to $40 per month, and includes touches like abandoned shopping cart recovery and gift cards.
3. WEEBLY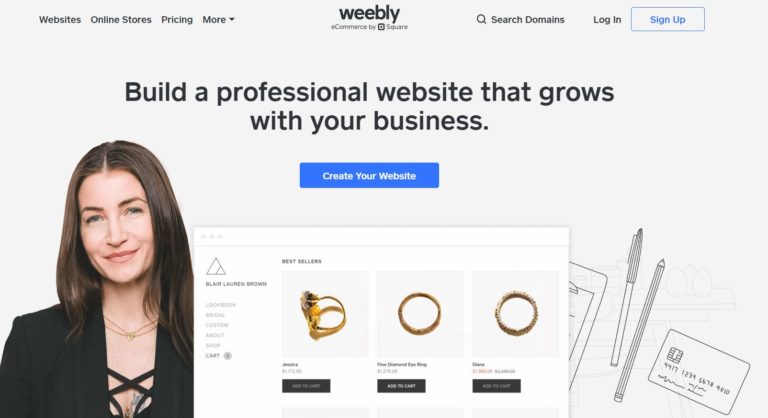 This is another popular website builder with 50 million websites created. So, if you are looking for a simple and easy-to-use DIY website editor, a large website, unlimited storage, site probability, and powerful online store capabilities, then go for Weebly.
Weebly's editor is extremely easy to use, as the editor is more limited in terms of add-ons and design flexibility, and it doesn't have the range of options or mobile customization like other website builders.
The pricing is pretty much similar to Wix or Squarespace. They also have a free plan option among the paid ones.
Weebly offers a rare feature in the site builder landscape – it lets you download the site files so that you can easily move to another host.
4. DUDA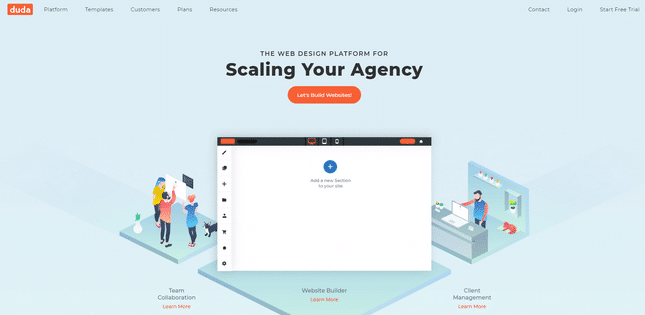 It is a smaller player when compared to others, with around 15 million websites built. Duda focuses on a specific market segment of designers and design agencies.
Duda's builder boasts several features like the mobile site, customization, detailed data analytics, and user personalization. It is also known for its multilingual support and a free e-commerce add-on that allows you to sell up to 10 products.
The pricing is a little bit higher when you compare it with Wix and Weebly. Their Basic Plan starts at $14 per month. If you wish to add four editors for your website & access advanced analytics, then the cost is $22.
They also sell an Agency Plan, which starts at $74 per month. This plan is geared towards web designers who build pages for multiple clients and includes eight websites and the ability to download site files.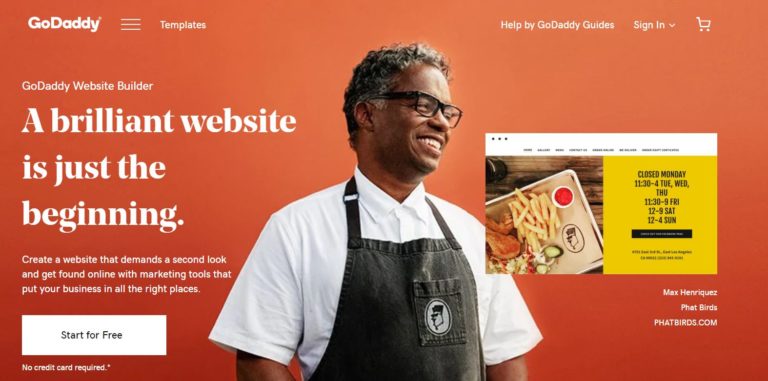 GoDaddy is known for its custom domain names and web hosting services, but it also offers website builder software. If you are looking for a simple and user-friendly interface, then GoDaddy is a good option.
GoDaddy's "GoCentral" builder is one of the simplest & restrictive tools available out there. However, it's really challenging to make specific site edits to the pre-made templates. The editor is more of a fill-in-the-blank instead of a responsive, free-flowing experience.
The straight-up basic plan comes for $6 monthly. If you want a PayPal option and SEO help, then the plan is for $10. If you want to keep track of email marketing and social media integration, the plan is $15. And if you want to add online store capabilities, abandoned cart recovery, inventory management, discounts and promotion, and Amazon, Etsy, and eBay integrations, then the cost is $20 per month.
6. WORDPRESS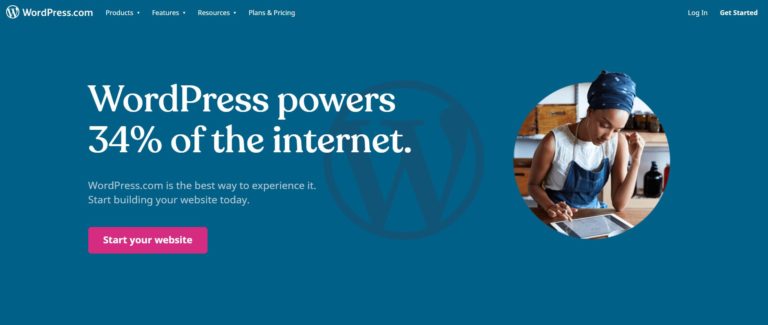 The WordPress.com website builder is primarily skewed toward bloggers and writers. The editor is limited, but at the same time, it is easy to set up and has almost everything a blogger would need to start.
It is one of the most affordable website builders, starting at $5 per month to remove WordPress ads, and it also gives you 6GB of free storage. For 13GB storage & online selling capabilities, the cost is $8. And if you wish to customize themes and add-ons, then the price is $25.
7. 1&1 IONOS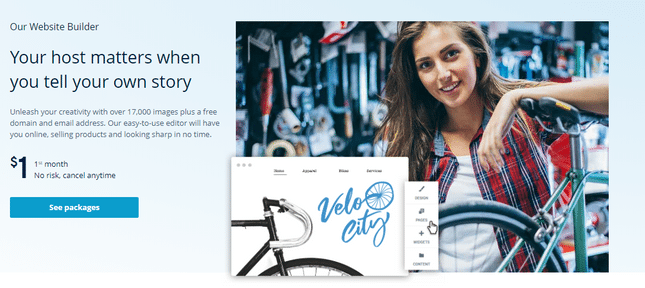 1&1 Ionos is a website builder from the German internet giant 1&1 IONOS and is based on the Duda system.
This website builder is aimed at small and medium-sized companies that want to build their own online presence. Ionos features a massive amount of industry-specific templates for all kinds of niches. Moreover, you are provided with a variety of layout, images, and texts that are tailored to different industries.
The best part about Ionos is that it allows you to create an online business card. It also allows you to create a personal website using 1&1's website builder; that means you can customize the photos and language on the website as per your needs.
Apart from this, their affordable package includes a domain name and email address.
8. WEBNODE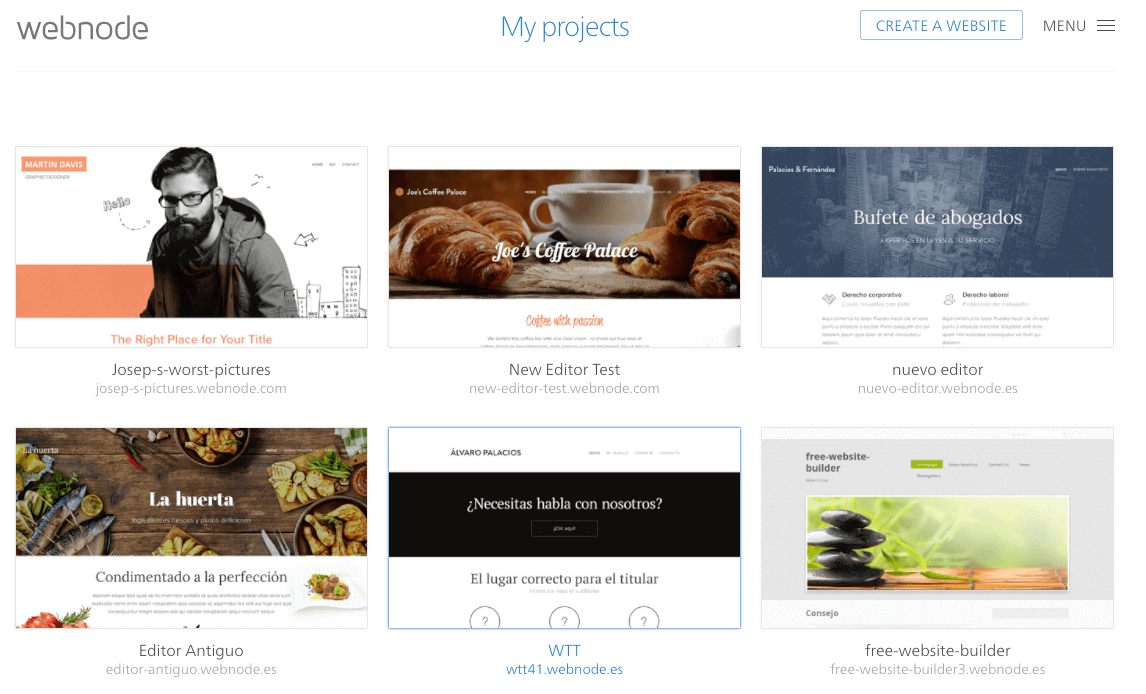 This website builder is not as popular as others mentioned, but still, it is one of the most globally used website builders.
Some of the features are really advanced and unique, but it also lacks some of the primary functions. They support more than 20 languages, so you can easily create a multilingual website. Surprisingly, their support is also in different languages.
Their designs are also modern and responsive; the SEO feature is also excellent.
9. IPAGE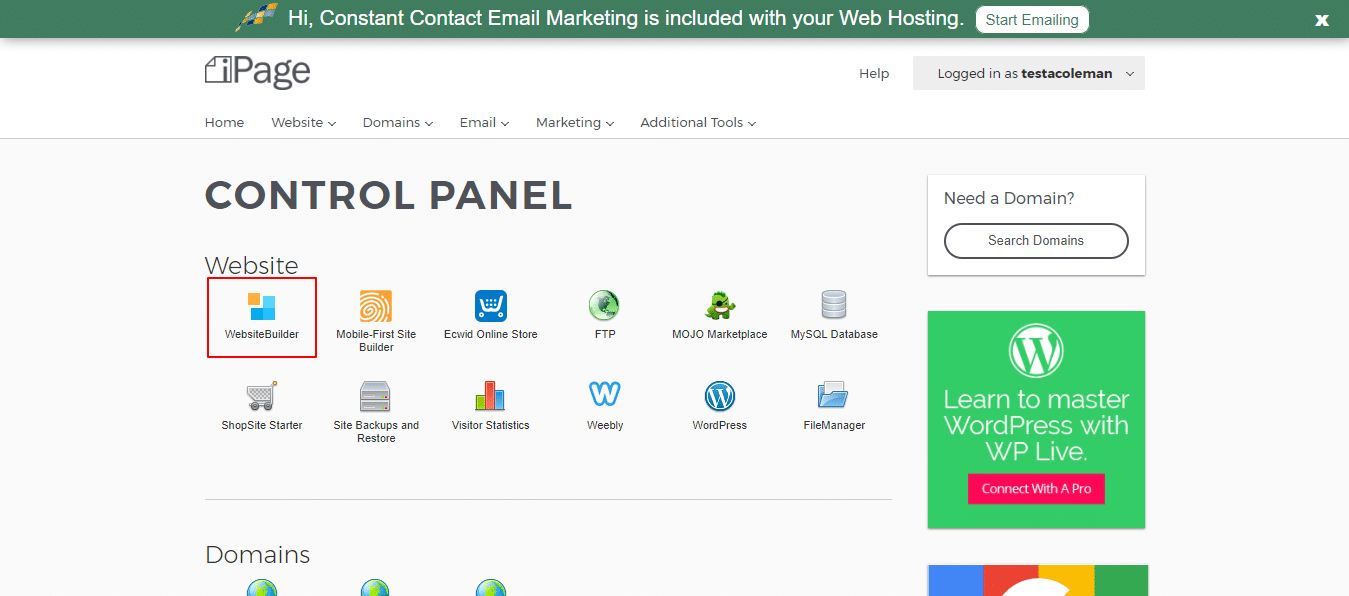 iPage offers a user-friendly interface, instant provisioning, and free domain name. With iPage, you can create an attractive website in just a few minutes.
Powered by their proprietary builder, iPage makes it easy for you to have a professional-looking website.
All you need to do it to choose your favorite template from their vast list of options. Moreover, you can add forms for comments, RSVPs, and business contacts.
iPage gives you unlimited storage, bandwidth, email aggresses, MySQL databases, and domains included upfront. You also get 24/7 protection via SiteLock and network monitoring, along with load-balanced servers.
10. ONE.COM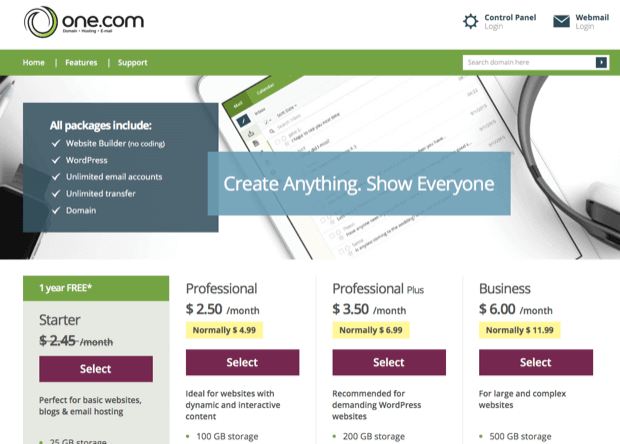 One.com is the new website builder category that stormed into the industry just a few years ago. This Danish provider became popular in no time because of the lowest price they offered.
One.com provides hosting, which is really convenient if you are using a website builder and a CMS. They have modern and responsive templates, which can make your website look amazing on any device.
You can easily reach their customer support team via email or live chat. Apart from this, they offer a great storage capacity.
With great features, there come limitations too. One.com doesn't allow you to password-protect your website; moreover, if you need to add a blog to your website, it has to be added separately using another editor.
11. SITE123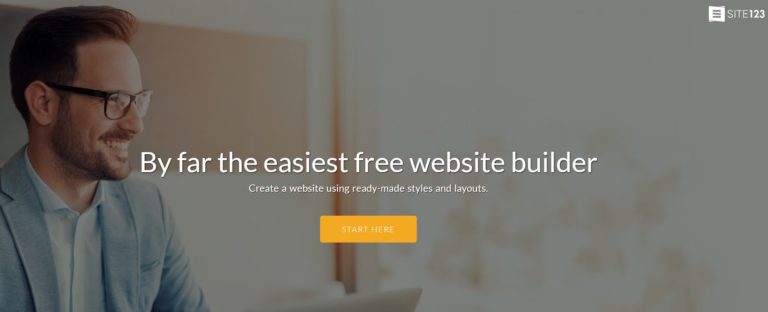 This website builder makes creating a website feel extremely easy. As the name suggests, you can put together a site in just three simple steps – choose a design, add content, and go live.
The designs on SITE123 are divided into general categories like business, online store, or portfolio and are even divided into specific niches like a law firm, hair salon, etc.
Like many other website builders, Site123 also comes with a blog and an online store. The editor is provided with more than 20 languages. However, the editor is relatively restrictive in terms of their template system.
12. WEBSTARTS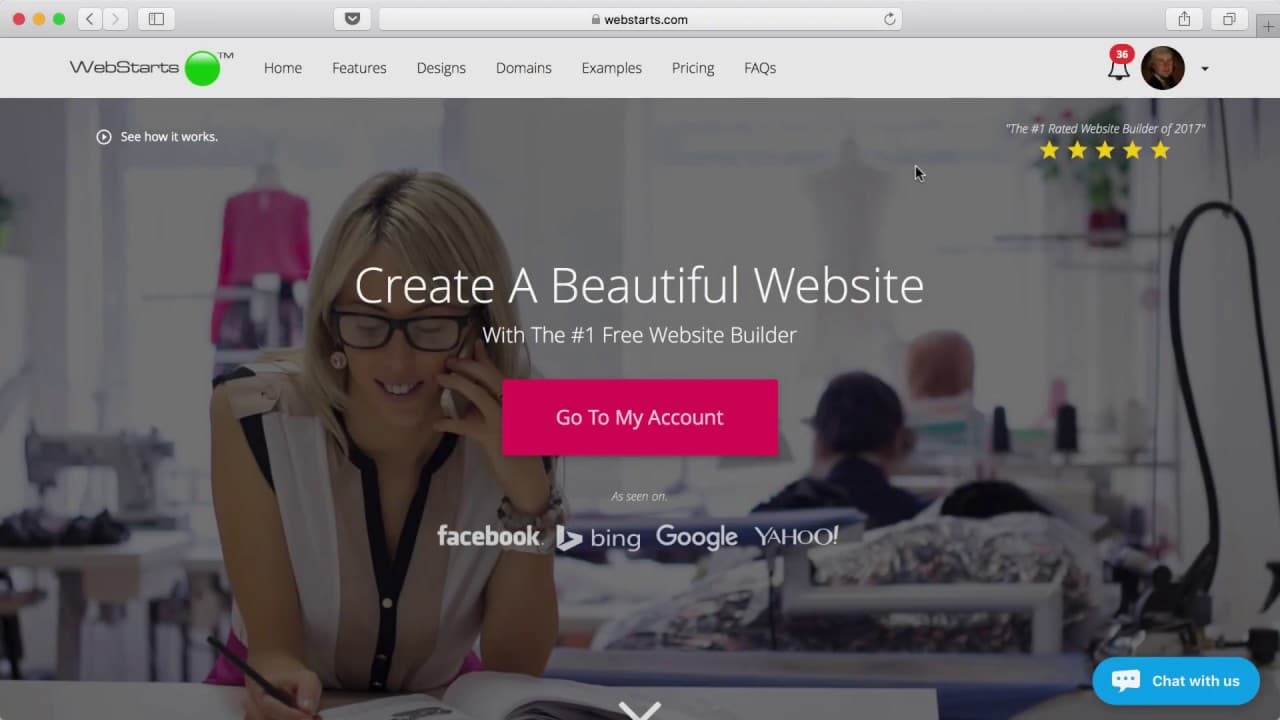 Webstarts, the All-American website creator, hosts almost 4m websites. Their editor and features are very similar to those of Wix.
Apart from this, their design section is also fantastic and flexible. It also offers a free plan which offers 1GB of storage space and bandwidth.
Wrapping Up
Now that you have so many options and the fact that many website builders don't allow you to pick up and move, later on, you must pick a website builder with a clear purpose. You must establish your priorities, analyze, and then find a suitable website builder for your business.