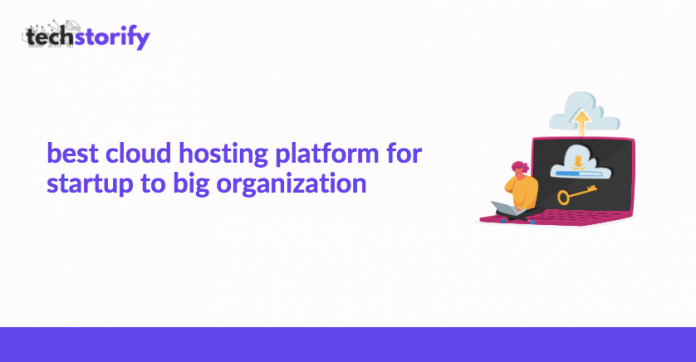 In today's world, nobody wants to lose their data or even store than in large storage. It's the generation of cloud computing and there are many available Cloud hosting platform to start a new organization on large scale.
Here we are going to discuss such cloud hosting platforms which are best in the market and appropriate for startups.
Cloud Hosting Platform is a pillar for any startup to Big Organization. Since the Cloud computing market is growing faster and will keep continuing to grow in the coming years as everybody wants to keep their data safe, cloud computing is the safest for storing data.
There are many cloud hosting providers; still, very few offer a range of products to host from a simple static website to complex machine learning applications.
As per Flexera, AWS (Amazon Web Service) is the leading cloud hosting platform.
So undoubtedly, Amazon is the leader in today's world, but others cloud hosting platforms are never the less and doing pretty well.
Let's have a look at some of the below mentioned reliable cloud platforms to host your applications. There are more than a hundred hosting providers and they offer multiple types of hosting.
However, we will focus on some of the best IaaS (infrastructure-as-a-service) platforms available in the market.
Though Amazon is leading the race, we cannot rely on one cloud hosting platform and we should always look for options so that we can compare them and find the best as per our needs.
So we have listed some best cloud hosting platforms in the list so that you can choose one for your startup to big organizations, we have kept in mind that these cloud hosting platforms and the best for big organizations and institutions to handle huge data with the best features provided for your startup.
Best Cloud Hosting Services & Providers
1. AWS
This cloud hosting platform doesn't need an introduction and has been at the top of the list of cloud hosting platforms.
But still, if you are not aware, it was launched in 2006, and it operates in 20 geographical regions across the world. It offers a large number of products to meet every business requirement.
You can virtually host any applications, including networks like firewall, DNS, Load balancing, or even you can have your virtual private cloud. The great thing about AWS is you pay for what you use and offer a FREE tier for some of their popular services.
So, if you are looking to try out AWS, take advantage of a FREE account to experience the platform.
AWS is the top notch cloud hosting platform with commendable features, and too few popular services are free of cost for its users. You can definitely opt for an online course to get the working procedure of the cloud hosting platform.
Amazon Web service is quite a user friendly and you can easily perform your task after one explanation. You can take the opportunity to access the free platform of Amazon in case you want to check before purchasing.
2. Digital Ocean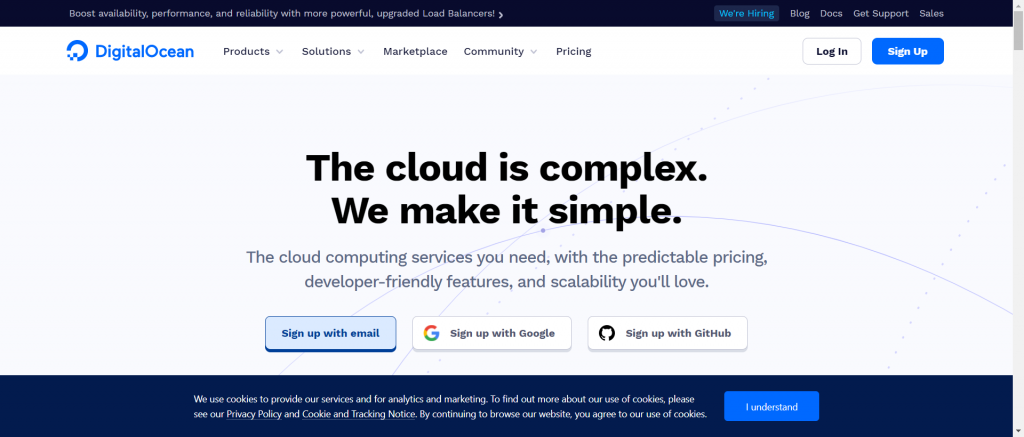 Digital Ocean is also one of the renowned cloud hosting platforms, not as big as AWS, but very popular among developers.
The experience of its users is always recommended as the best and world-class among top cloud hosting platforms. Even computing is super cheap on this platform and is always chosen by experienced developers.
Recently, they announced a few services like managed Kubernetes, database, load balancer, object storage, etc. Digital Ocean is available in 12 data centres globally.
If you are a startup, you can get 12 months of infrastructure credits through their Hatch program. This credit can be further used to avail of the paid features of this cloud hosting platform.
You can rely on this cloud hosting platform for your startup to big organizations. The low price and amazing available features make it the best voice, though it is not as big as AWS, but very similar to it.
3. Kamatera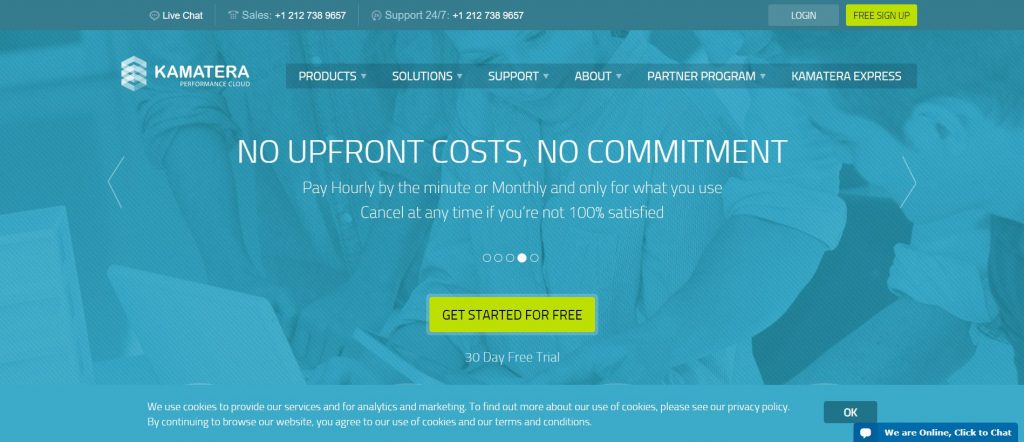 Kamatera offers a variety of cloud services like firewalls, servers, storage, block storage, load balancer, etc. The platform is super user-friendly and offers over 40 of the most popular applications and services deployment, with a click of a button.
Some of them are WordPress, Docker, pfSense, NFS, MongoDB, HAProxy, Mattermost, Rancher, Elasticsearch, OpenVPN, etc.
Even though the company has over 20 years of cloud experience, Kamatera is the new booming player in the global markets.
With 14 Datacenters across four continents, Kamatera's sudden increase in popularity is mainly due to its unique added values – fairly price VM (starts from $4 a month), amazing scalability and flexibility with server configuration and payment options, great performances, and most important: customized and tailored made cloud services with 24/7 support.
This cloud hosting platform is famous for the variety of services that they provide to their users.
4. Microsoft Azure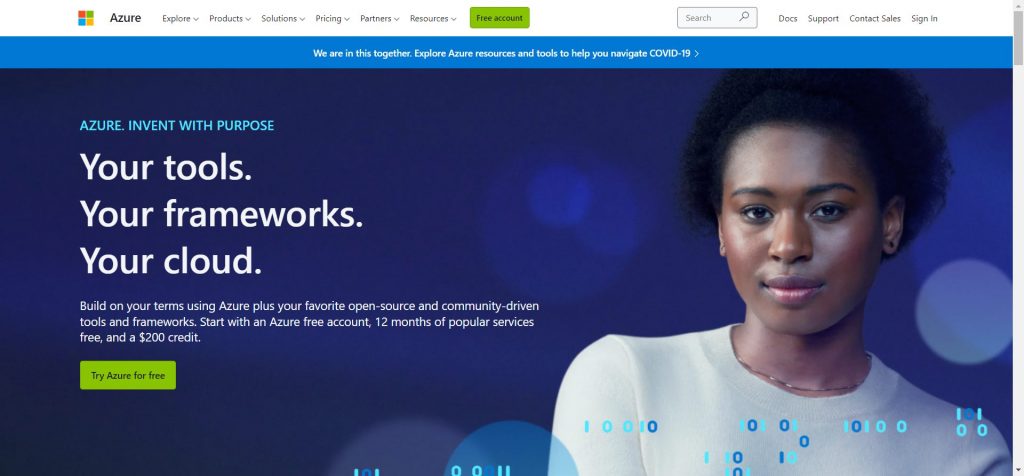 Microsoft Azure is known and trusted among startups to big organizations and developers as well. Since it lies under the branch of Microsoft which itself is a trusted and recommended brand in the IT industry.
Microsoft Azure was launched in 2010 as Windows Azure, and later in 2014, it was renamed, Microsoft Azure.
Azure has a large set of product offerings, including its own software like IIS, MS SQL, Exchange Server, and much more. Literally, everything – AI, IoT, compute security, analytics, container, database, etc.
Microsoft Azure is also available in Mainland China, so if your business is in China, this would be your interest.
If you are a startup, you can join their BizSpark program to get free Azure service.
You can also avail yourself of its multiple features within this range. Microsoft Azure provides a wide range of learning and hands-on this cloud hosting platform can help you in long run.
5. Vultr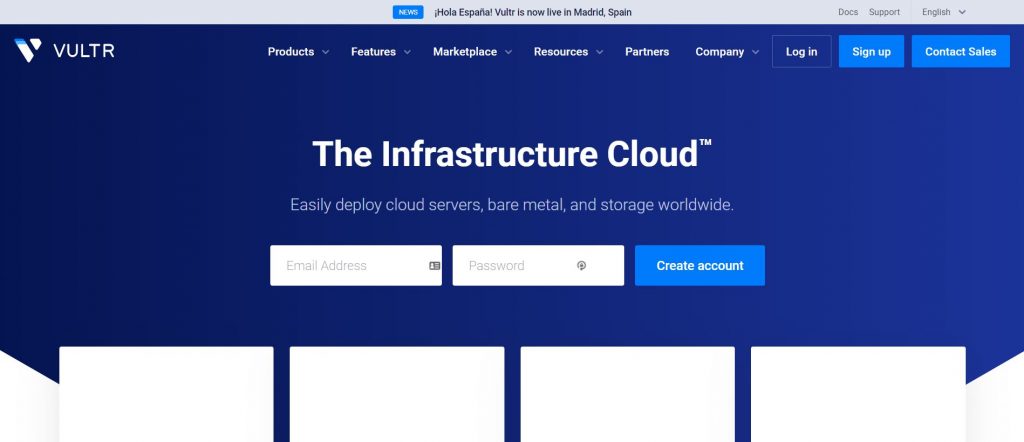 Cloud hosting could be a tempting choice with its scalability and reliability. However, managing a platform like AWS or Azure could become a cumbersome job. Vultr simplifies the task for you while offering cloud hosting at a very economical cost.
The plans start at as low as $2.5 per month. This cloud hosting platform provides a majority of the features you can expect, like auto-scaling, resizing, choice of OS, high-speed SSD storage, and others.
Some of the following are worth knowing for your startup to the big organizations-
• Choice of 16 different regions
• Runs redundant cloud server in the background to ensure excellent uptime
• Abundant choices for computing as per custom needs
• Provides dedicated SSD block storage to scale up storage anytime
• Provides APIs to build or manage your own custom hosting platform on top of Vultr
• Schedule automatic backup, take a snapshot of the entire VM.
• Firewall and DDoS protection
• Load balancer for scalability and high availability.
With user friendly control panel, you can get your VM up and running in around 60 seconds in each run.
6. Google Cloud Platform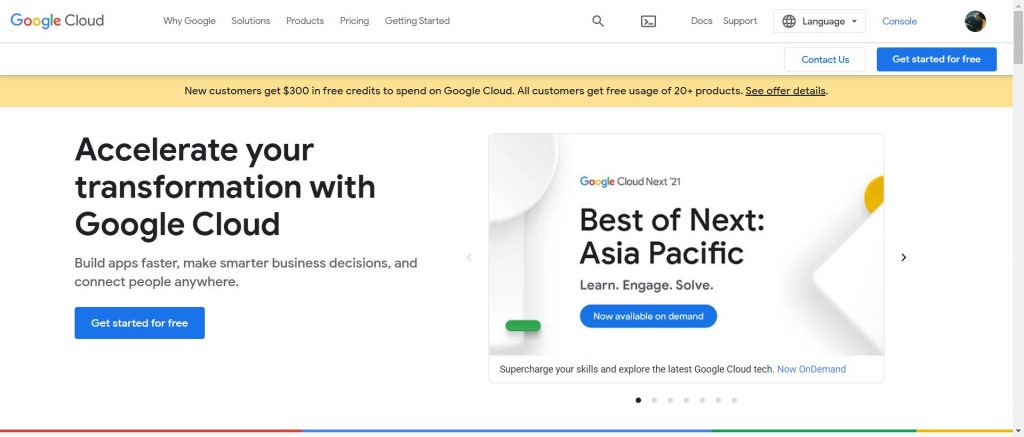 GCP (Google Cloud Platform) lets you create anything from a simple blog to complex applications. This cloud platform is very suitable for startups to the small and big organizations and it makes the data manageable and you don't need to rely on any other way to do so.
If you are serious about latency to build performance-oriented applications, then GCP can be your first choice. We all know about Google's products Gmail, YouTube, Search, which are hosted on the same infrastructure.
Google cloud is available in 19 locations and got more than 130 network edge locations. Most of their products are available in all the regions so you can host your application in your neighbourhood or near to the users.
For WordPress users, I listed some of the best-managed WordPress hosting on Google cloud. This cloud hosting platform offers $300 in credit to be used in 60 days as a free trial.
7. Alibaba Cloud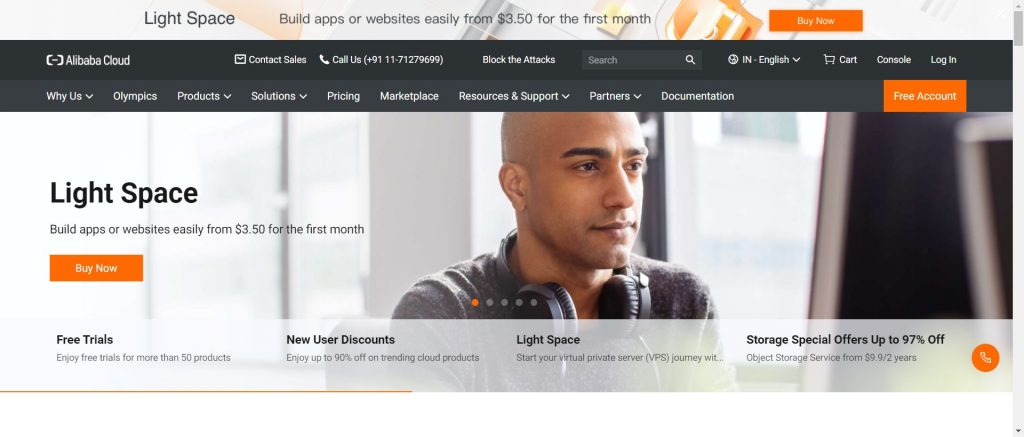 You can't ignore China market, so Alibaba Cloud is a gateway to China.
This cloud hosting platform offers a vast number of products, you can think of hosting almost everything inside China to provide the best possible experience to your customers.
China is a large consumer of multiple products so you should not over look it and focus on it through this cloud hosting platform to increase your large scale business. You can get up to $1200 worth free trial.
This cloud hosting platform provides a quick architecture to tap China market when you have no offices in China.
Alibaba Cloud also offers ICP support, which can be a great deal when you don't want to get into complicated ICP license processes and formalities to enter the Chinese market and increase your business without hassle.
8. Upcloud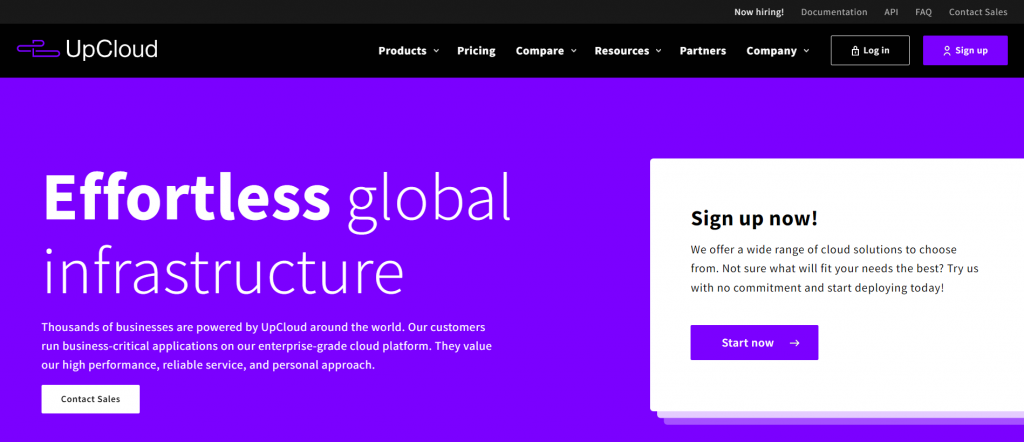 UpCloud is a developer-centric platform that focuses on making DevOps easy.
It requires a group of experienced developers for a cloud hosting platform to start a big organization. It is a unique platform that supports infrastructure creation using code.
It supports the majority of the Infrastructure as Code (IaC) frameworks like Terraform, Ansible, Packer as well as LibCloud. Moreover, it also provides API client libraries in various popular languages, which makes it stand out.
UpCloud stands out for the below features.
• MaxIOPS storage which ensures better performance
• Build custom OS images to meet organizational security standards
• Powerful API to automate everything
• Private networking between their data centres.
These features make it a top choice for startups to big organizations. This cloud hosting platform has all the available frameworks which are required to build a strong cloud infrastructure.
9. Linode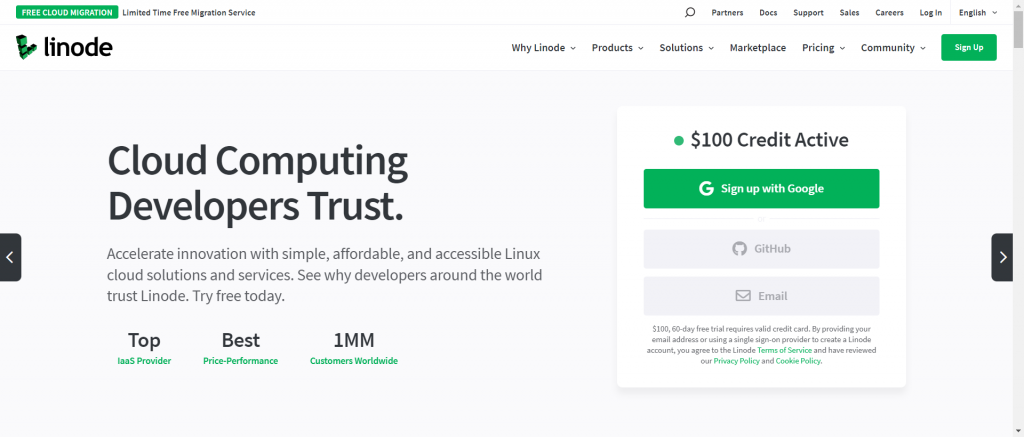 Linode is considered perfect for hosting web applications from a personal blog to an eCommerce platform.
Linode takes care of everything, starting from cloud migration to DNS configuration, load balancing, auto-scaling, and providing predictable pricing. It would be a good alternative to DigitalOcean.
Linode is well-known for its essential features, like below.
• Excellent 24×7 support
• Nano computes for tiny web applications or for a test server
• S3 compatible object storages which make it an ideal fit for big-data analytics and machine learning operations
• 11 global data centers giving excellent deployment flexibility and ability to meet country-level norms
• One-click apps for WordPress, Drupal, Gitlab.
Not only the features of this cloud hosting platform is commendable but also the customer service which is a base for any startup is also provided in the best form so that the startups can have the best experience with Linode.
10. Brightbox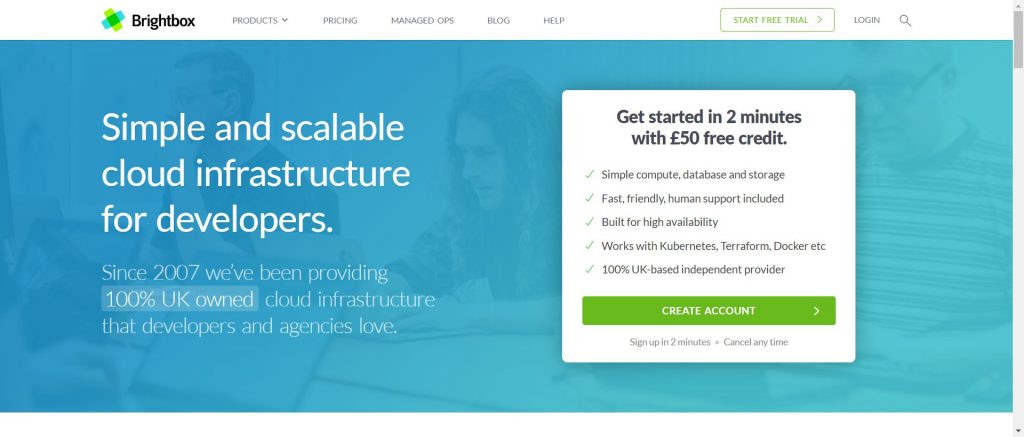 Though Brightbox is mentioned at the end of the still the features are of top quality and every business consider these features as their star requirement. Brightbox is a perfect choice for the European market.
It provides 100% UK region hosted solutions. Technologically, Brightbox provides highly advanced security and enterprise-scale features like PXE bootable hardware, fully private networking, and the ability to use practically any operating system.
Despite its simplicity and limited catalogue of services, it ensures that the provided services are fully backed with essential backend services.
It provides some unique services with each of its offerings. You can sell and advertise all the products required for the European market within the wide range of cloud computing.
This cloud hosting platform is very popular among developers and considers the best option for startups to big organizations.
Very similar to every other provider, Brightbox offers a range of cloud VM to choose from.
It also has the ability to export custom images similar to Amazon or Azure machine images. It also provides a full private network of servers to avoid any type of duplicity or eavesdropping.
The cloud IP address provided helps in switching servers easily without changing the IP address.
Conclusion
We have shared the best cloud hosting platform in the above list of top ten cloud hosting platforms for startups to big organizations. This will help to start your business in any part of the world.
We have also mentioned a couple of cloud computing servers that are dedicated to particular countries where you can easily build your market without having much knowledge of the physical road map since it is provided virtually to you through the cloud hosting platform.
You can use the cloud server with large cloud storage space for your big organization. We have created a list that is a mix of user-friendly and developer-oriented cloud hosting platforms.
So that you can choose any as per your requirement according to the market and users demands.
Also Read