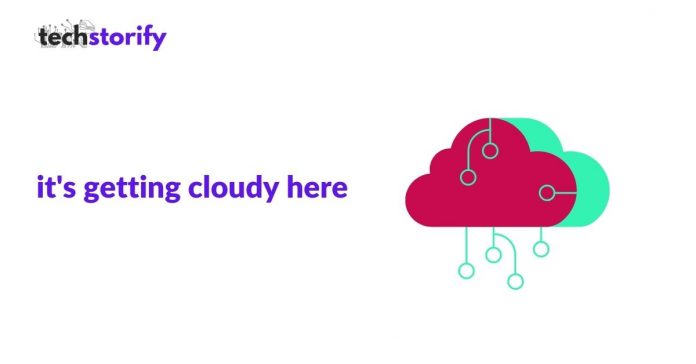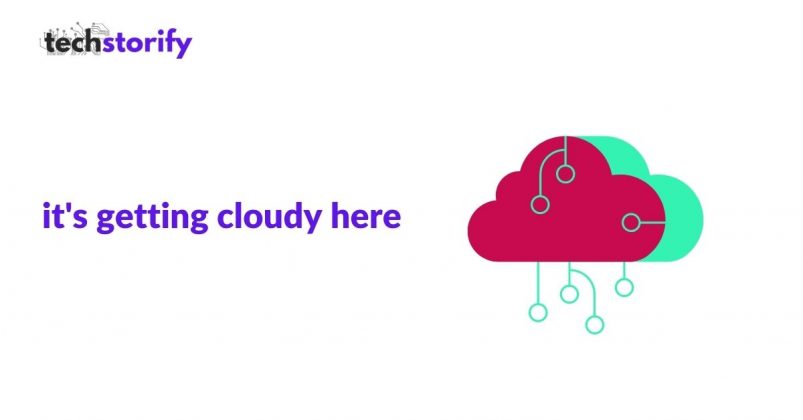 Do you remember those days when you used to store your data in hard drives on a computer? Thanks to Cloud Computing services that have replaced such hard drive technology.
In today's post, we will discuss some of the most popular cloud based services, and their amazing set of benefits. But before that, I want you to understand the concept of cloud computing and how it helps your business.
What is Cloud Computing Services?
What will you like most? Storing your data on OneDrive, SharePoint, or an email server or keeping that data on a desktop hard drive or a USB stick? I think everyone wants to access their data from just anywhere with any device that has internet access. Correct me if I'm wrong. There are many people who will love to go with cloud-based services like SharePoint, OneDrive, and many more.
The term, Cloud computing is used for storing and accessing data over the internet. This service helps you to access your data from a remote server. It doesn't store any information on the hard disk of your PC.
Cloud computing services go from full applications and development platforms to servers, storage, and virtual desktops.
The benefit of using cloud computing services is that organizations can avoid the upfront cost and complexity of owning and maintaining their own IT infrastructure. They simply pay for what they use when they use it.
A cloud can be private or public. The services of a public cloud are for everyone on the internet. On the other hand, a private cloud is a proprietary network or a data center that offers hosted services to a limited number of people, with certain access and permissions settings. Be it private or public, the goal is to provide easy, scalable access to computing resources and IT services.
Now let's see the Top 10 Best Cloud Computing Companies that offer data protection, improved availability, and expanded access to cutting-edge technologies.
Best Cloud Computing Services
1 – Kamatera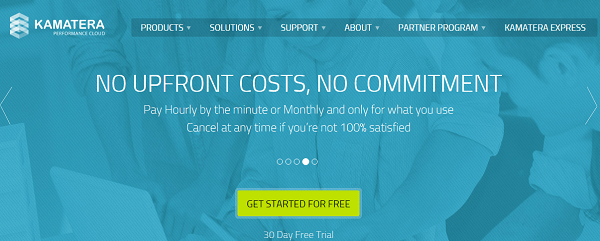 Kamatera is a global cloud service platform provider, providing enterprise-grade cloud infrastructure products to organizations of all types and sizes. This cloud computing service has a virtual infrastructure, making it a cost-effective and flexible option for every business.
Kamatera offers its clients various Cloud Services: Hosting Virtual Private Servers, Cloud Servers with Web hosting Panel, WordPress and Cpannel's Server Hosting, Cloud Servers, Cloud Private Network, Cloud Firewall, Managed Cloud Services and more.
Products can be purchased as and when you need them, for as long as you need them. Some products can even be customized to your specific requirements, while others are fixed.
Features:
Low pricing
No hardware maintenance
95% uptime guaranteed
Simple backup and monitoring
Add or remove servers without any penalty
Unlimited storage
Assign roles to administrators or users
2 – Serverspace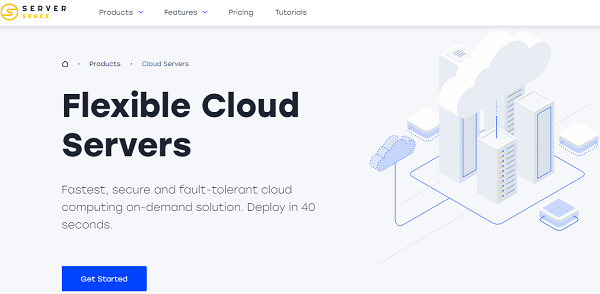 Serverspace is another best cloud service provider that offers the best customer experience in building Cloud Infrastructure.
It works on innovative hyperconverged vStack platform based on superior Open Source technologies. Cloud servers are available around the world in 4 global markets: USA, Europe, Russia and Kazakhstan.
This cloud-based service offers all cloud capabilities to build the strongest infrastructure for development.
Features:
Use the cloud for any workloads such as development, hosting, business etc
Powerful hardware
Pay & Go billing
Live support
Deploy worldwide
Data protection
100 Mbps bandwidth

Founded in 2006, Amazon Web Services has expanded well beyond cloud compute and storage. This market leader's primary strength continues to be the breadth and depth of its services, with more than 175 across compute, storage, database, analytics, networking, mobile, developer tools, management tools, IoT, security, and enterprise applications.
It offers an extensive range of IaaS and PaaS services. These include Elastic Cloud Compute (EC2), Elastic Beanstalk, Simple Storage Service (S3), and Relational Database Service (RDS).
Features:
Offers flexible compute, storage, and networking
Self-service
Instant provisioning
Autoscaling
Security
Extensive admin controls
Customize infrastructure requirements
Free trial
4 – Google Cloud Platform
There are many cloud computing services available in the market, but Google Cloud stands out from the crowd due to its features.
Google Cloud Platform is available in 22 regions, 61 zones and 200+ countries. It offers a variety of products and services, including AI and Machine Learning, API Management, Compute, Hybrid and Multi-cloud, Internet of Things, Management Tools, Media and Gaming, Migration, Networking, Security and Identity, Serverless Computing, and Storage.
Google Cloud provides you with a wide range of resources, such as PaaS and IaaS services.
Features:
Flexible technology
Access to data analytics and AI
Offers Google products such as G Suite, Google Maps Platform, Google Hardware, Google Identity
Flexible payment plans
5 – Oracle Cloud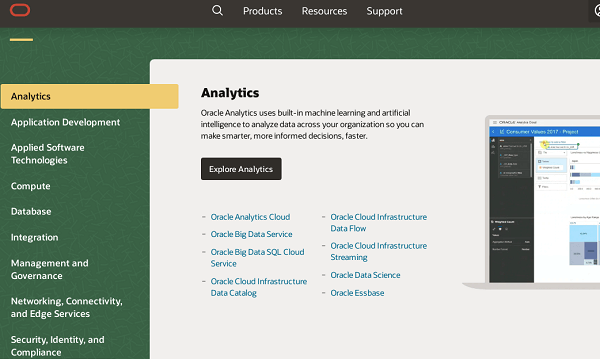 In the list of top cloud computing companies, you can't forget to mention Oracle Cloud. It helps the companies in transforming their business quickness and reducing the IT Complexity.
Oracle Cloud offers IaaS, PaaS, SaaS, and Data as a Service (DaaS). These services are used to build infrastructure, develop and deploy software, integrate on-premise and cloud environment and implement applications in the cloud.
The platform supports an array of workloads. This usually includes microservices, IoT, OLTP, and other applications that are dependent on machine learning and artificial intelligence.
Features:
Protection against cyber attacks
Modern technologies like machine learning, AI, and chatbots
Data management
Business analytics
App development
Pay-per-use costs are relatively low
Good customer service
6 – DigitalOcean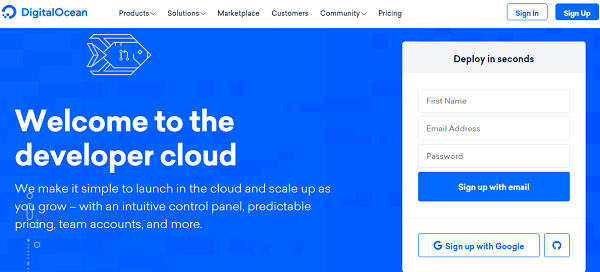 DigitalOcean is a powerful cloud service provider, which is easy and quick to set up, reducing the development time and costs.
It helps businesses to scale various apps running on multiple computers at the same time. DigitalOcean allows you to create multiple server instances using the same account. This platform is ideal for those who provide managed hosting services for web applications or websites in shared environments.
The company has data centers located in Amsterdam, Singapore, London, San Francisco, and New York.
Features:
Offers high-performance machines
Simple, user-friendly, and uncomplicated setup
Affordable pricing
Offers well documented FAQ and tutorials
99% Uptime
Dedicated Solutions engineering support with 24/7 priority phone & email support
7 – Salesforce Cloud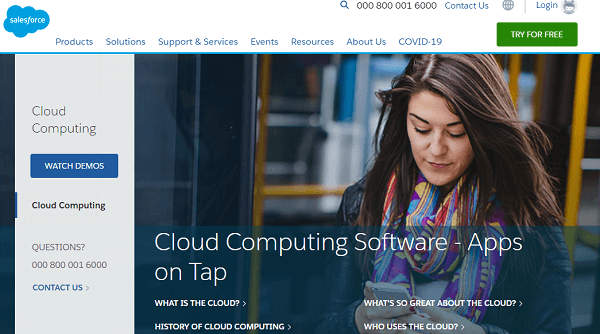 Salesforce Cloud is the next name in the top cloud computing services list. Although the company's primary product is the customer relationship management (CRM) program widely used by organizations globally, in 2015, Salesforce was ranked as the largest and most highly-valued cloud computing company.
The platform enables developers and entrepreneurs to focus on innovative ideas rather than infrastructural setups. Its unparalleled multi-layered data security system ensures that no information is lost or falls prey to viruses or hacks.
Salesforce cloud-based service provides you with several services, which includes Marketing Cloud, Sales Cloud, and Service Cloud.
Features:
Automates business process
24×7 customer support
Instant scalability
No up-front costs
Access anywhere
We have also covered Salesforce Alternatives.
8 – Alibaba Cloud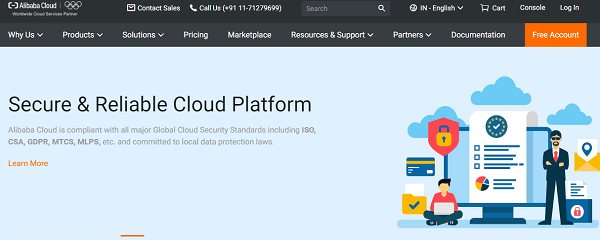 Another major player in the cloud computing industry is Alibaba cloud. This cloud platform offers standard cloud computing services, referred to as EC2 and ECS, respectively.
In addition, it provides cloud storage solutions (object, block, and "cold" or archive), a content delivery network, a container service, database management, big data platforms, and serverless computing.
Alibaba Group understands both the vulnerability and importance of cybersecurity. The cloud-based security service of Alibaba Cloud, Anti-DDoS Basic, integrates with Alibaba Cloud ECS, and it safeguards data and applications from DDoS attacks.
Features:
Services are available on a pay-as-you-go basis
Offers Elastic Compute, Data Storage, Relational Databases, Big-Data Processing, Anti-DDoS protection, and Content Delivery Networks
Ample of data storage
Data security
9 – IBM Cloud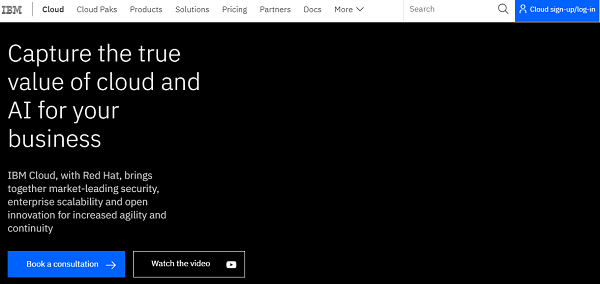 IBM Cloud ensures that the implementation, development, and deployment of a world-class Cloud services infrastructure is easier than ever.
It offers PaaS, SaaS, and IaaS. With IBM Cloud IaaS, organizations can deploy and access virtualized IT resources such as compute power, storage, and networking over the internet.
Moreover, it allows you to incorporate highly performing cloud communications and services into your IT environment.
Features:
Lightning-quick speeds
Configure and deploy high-performance Cloud servers
Freedom to choose your ideal Cloud infrastructure
Increases value of your business
10 – Microsoft Azure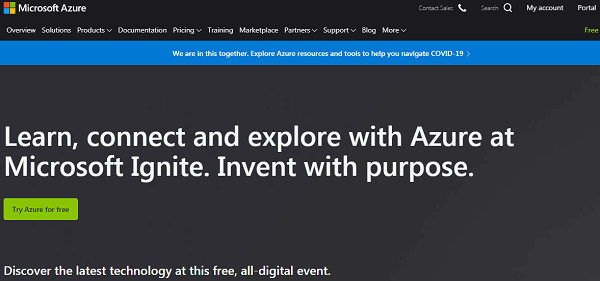 Microsoft Azure is undoubtedly one of the best cloud services platform that offers a wide array of solutions suitable for all industry types.
The platform is used for deploying, designing, and managing the applications through a worldwide network. It supports various operating systems, databases, tools, programming languages, and frameworks.
Azure is one of the most significant choices for enterprises, which prefer both IaaS (Infrastructure as a Service) and PaaS (Platform as a Service). The services include analytics, storage, web, database, and more.
Features:
Faster software development
Enhanced security
Flexible and cost-effective technology
Data Analysis and Intelligence
Final Words
You have got the list of best cloud computing services that will offer you various cloud services like file sharing, automatic backup of files, file locking, and notifications to users regarding any updates.
Based on your needs and requirements, select a cloud-based service that matches your business!