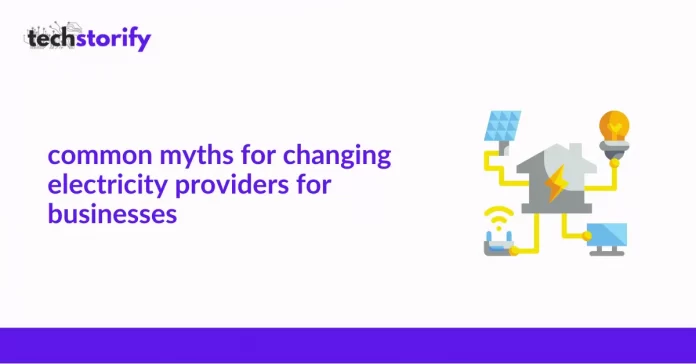 As you know, almost everything runs on electricity these days. From televisions to electric vehicles, people around the globe need reliable electricity providers for their basic needs. Especially businesses rely entirely on electricity to ensure their smooth workflow.
If you are a business owner looking to change your electricity provider for any reason,  you might have some concerns about which provider to choose. You have to weigh all the pros and cons before reaching your decision.
But here, we have compiled some common myths that might be stopping you from opting for an alternate electricity provider! Also, the great news here for you is that now you have the opportunity to compare the power rates online without any hassle. This surely will allow you to make a well-informed decision while selecting the new electricity provider for your business.
All your concerns will be cleared after we bust the following myths about changing electricity providers for your business!
1. The Contract Wouldn't Allow me to Switch
This is the first concern that might occur to you while considering the change. The answer to this myth is; NO! There is no specific clause in the contract that doesn't allow you to switch to another power provider in your area. In the contract, you agree to the terms and conditions so you have to follow the things you have already agreed to. 
But signing the contract doesn't imply that you don't have any other options! You will surely be charged an exit fee from your current provider. You don't have to worry about paying this fee to your current provider, as you might be able to save much more money on your power bills after switching to a cheaper and more reliable provider.
2. Cheaper Electricity Providers are a Scam
No, they are not! This is a common myth that if certain commodities are available at competitive prices, then they are scams. We don't blame you, considering the high rate of scams happening these days. But in this business, the providers abide by the regulations and guidelines stated by the state's public utility commission.
Which is why getting scammed by an electricity provider is highly unlikely. These guidelines and regulations include the clause that if any power company is found scamming any consumer, then the provider is going to face serious consequences, which include heavy fines and even prohibition from operating.
3. Switching is a Big Hassle
No, it doesn't have to be! The actual process of switching the electricity company does not take more than 5 minutes. The real time-consuming process here is to research the options you have and then select the provider which you want to proceed with. Moreover, when you have selected one, your new provider will directly contact the old one and handle the exit process for you.
So, in short, you don't even have to take care of the exit process yourself as it will be done for you by your new electricity provider. Now that you know the reality switching to another better power company should not feel like a hassle. 
4. Only the Default Electricity Retailer is Reliable
This is another myth because of which people prefer not to switch to third-party providers. But let us clear this misconception; all the generated electricity is distributed equally. So, you will not face any issues whatsoever with the electricity you receive from a third-party provider.
Another reason why you shouldn't worry about the electricity being reliable is that the wires and infrastructure for transporting the electricity are controlled and managed by the state's power institution, which means that all the homes and businesses get the same quality of electricity no matter where they are located. 
5. Power Cutdown during the Switching Process
You don't have to worry about any kind of electricity cut down during the switching process. This is a seamless process that won't affect the electricity supply by any means, contrary to the internet outages that you might face due to switching the internet provider. This means that you don't have to worry about any issues in your operations, as no one will cut off your power.
6. Not a Big Money Difference
You might think you won't be able to save enough money by switching your electricity provider, but here, you are wrong again! In today's era, you can research easily online to search for the cheapest power company operating in your area. Switching will allow you to save your precious money in the long run.
Search for Better Rates and Switch Today
You don't have to wait any longer now. You can search and compare the electricity rates provided by different providers in your area and select the best one fitting your needs.