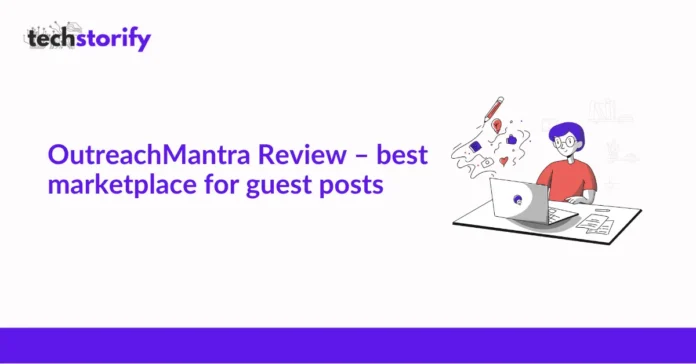 Guest posting has been a part of the blogging industry since its inception, and it has seen a great jump too. While most of you use guest posting as a medium to get high-quality sites to link back to yours, OutreachMantra has brought a drastic change in the way you do it.
The very usual process is to find relevant sites that are working in the same industry as yours, find the emails of the editors, and confirm whether the site is a genuine blog or a link farm, it is a lot of manual work to be done, and this requires knowledge, time and tools too.
Being a blogger myself, I have always preferred outreaching on my own, but since I am inclined towards growing my portfolio of sites, it is becoming a neck-breaking task for me to manage outreach for all of the sites while searching for the best guest posting platform to automate this task, I came across OutreachMantra, signed up for an account and decided to give it a try.
A lot of my fellow blogger friends were wondering what tactics I use for Off-page SEO, which is majorly guest posting; I decided to write an in-depth review of OutreachMantra, let everyone know what made me leave outreach and stick to the platform.
What is OutreachMantra?
In simpler words, OutreachMatra is a guest posting platform that brings advertisers and publishers together. It onboards publishers and advertisers with the same interests. Advertisers can explore the sites they wish to publish on, and publishers may accept it in return for a fixed price (set by the publishers). The entire process is pretty smooth and time-saving. I'll share more details in the next section.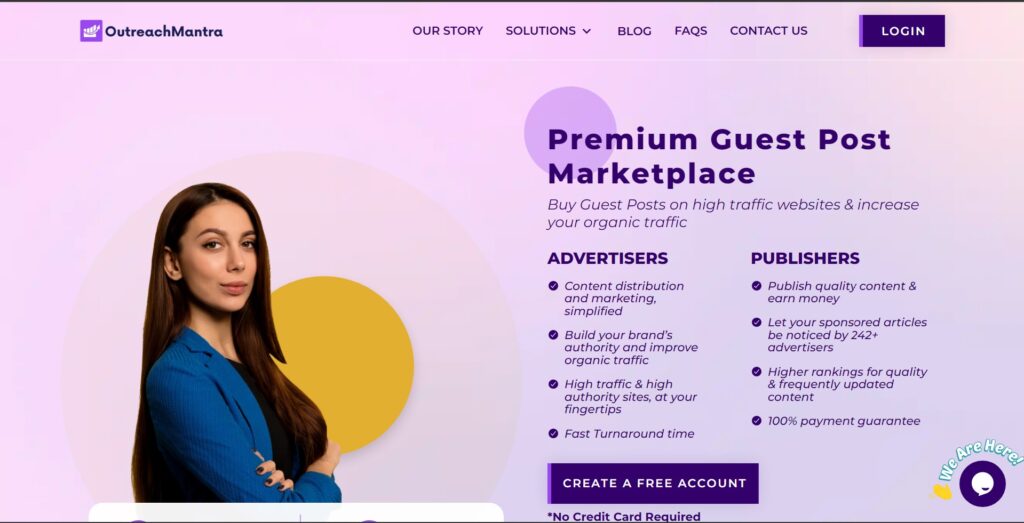 OutreachMantra Features (for advertisers)
OutreachMantra is heaven for business owners who need an organic push for their brands and do not have enough funds to hire a full-time outreach manager. Let's see how.
A huge database of publishers
OutreachMantra isn't a network of just 100-200 publishers, and it is much more than that. Last time, when I had a word with the founder over a zoom call, he told me that they had onboarded 6,000 publishers in a week, which is not a small number.
These publishers have sites in several verticals like pets, home improvement, technology, health, and 50+ more. So if you have a business related to any of these verticals, you'll definitely love the platform.
Affordable and worthy
To be totally honest here, if someone offers you 10 websites for $50 dollars, the first thing you need to do is get rid of that person. Guest posting isn't this cheap because publishers who run a blog for their audience won't sell off for this low.
OutreachMantra onboards publishers who rightly value their blogs and treat them like real blogs, unlike others who use it to milk money by selling guest posts. This ensures that all the advertisers have peace of mind while publishing a guest post on a blog for SEO purposes.
Turn around time
Before finding OutreachMantra, I had contacts with several freelance outreach managers, who used to keep a database of sites that allowed guest posting, and what I hated about that was the turnaround time.
But thankfully, OutreachMantra's system is fast enough that reduces the turnaround time; as soon as you create an order, it is directly mailed to the publisher, which takes a few seconds.
The publisher then accepts the order and starts working on publishing it, which hardly takes an hour, so most of the time, the order is delivered within 24 hours, or the max it goes is 72 hours.
Feature packed, saves time.
OutreachMantra has various filters that help you pick sites according to your requirements. You can pick sites according to their DA, PA, Traffic, and niches. Moreover, you can even save the filters and use them again whenever you want to find sites with the same statistics. Isn't that cool?
You can create multiple filters and save them, and there's no limit to that; moreover,  you can also add sites to your wishlist; just click on the "heart" icon displayed in the top right corner.
Lastly, the sites that you have already ordered in the past can be removed with just one click. There's a button to remove the sites that you previously ordered. Just click on it, and you are good to go.
No credit card is required for signup.
This is what caught my attention while exploring OutreachMantra's homepage, and they didn't want to force me to enter my card details when I just wanted to explore their platform. You only have to enter card details while creating an order; exploring the platform doesn't require any kind of details other than an email, name, and password.
OutreachMantra Features (for publishers)
Publishers are the most important part of OutreachMantra, because where will we (advertisers) publish our guest posts if there are no publishers :p?
OutreachMantra has provided publishers with one more revenue-generating stream without doing anything other than keeping their blog's traffic inclining. Cutting short, I had a word with the publishers' onboarding manager of OutreachMantra, who explained to me everything that the platform has for the publishers.
Another income stream
I couldn't stop myself from elaborating on this because not every blogger knows they can earn from publishing guest posts on their blogs. The most prominent methods of earning money from a blog are Adsense and affiliates.
But partnering with OutreachMantra will open one more income stream for you, and that is the publishing fees paid by the advertisers when you publish their guest posts on your blog.
As a publisher, you don't have to worry about the hidden terms and conditions of OutreachMantra, because there are none. However, to avoid getting banned from the platform, you need to make sure you are not violating the generic rules of guest posting, which is removing the article after receiving the publishing fees.
Timely payments
Just like Adsense, you will get your payments on time without having to worry about anything other than the correct bank details that you need to provide to receive the payment.
Content Writing Services
Other than providing guest posting services, OutreachMantra also offers content writing services that help you to scale your blog/content creation work. You can order content and get it written by professional writers.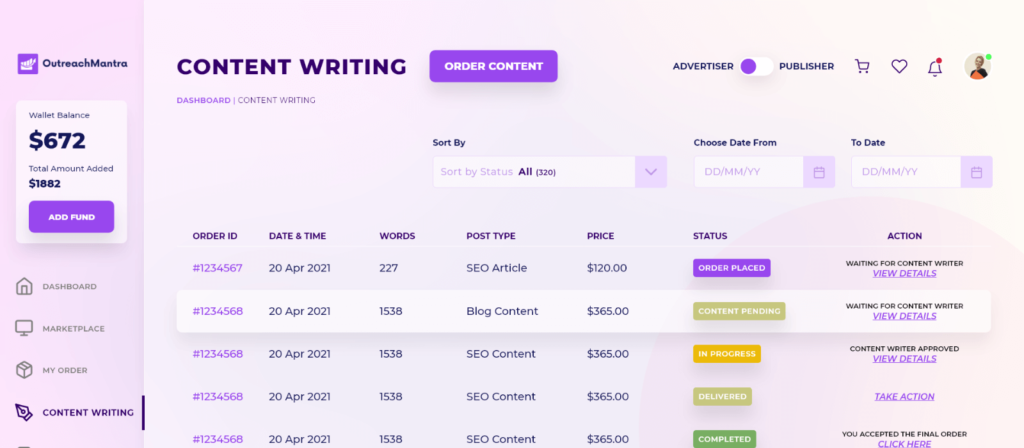 You can find out how to order content here.
FAQs
Does OutreachMantra require a credit card for signup?
No, you can signup for a free account. No credit card is required.
Is OutreachMantra trusted?
Definitely, yes, I have placed several orders with OutreachMantra, and never faced any problems; all of the orders were completed before the deadline.
Do I have to provide content for guest posts, or will they arrange it on their own?
Either of them. If you have the content ready, then you can attach the document while placing the order. Otherwise, you can select an option to order content along with the guest posts directly from the dashboard.
My Verdict
My experience with OutreachMantra has been better since day one; the support is outstanding, they are easy to approach, and they won't let you down. The best thing I liked is the custom filter feature, and you can create as many filters as you want in your free time and use them when you are in a hurry to buy guest posts.
All in all, you may consider trying it once and save a lot of time by not outreaching publishers on your own.
Signup for a free account today, and explore the platform.