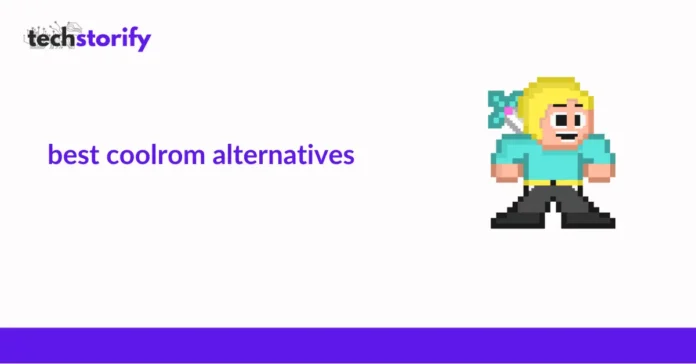 The gaming industry is evolving rapidly, and new games keep popping up now and then. But let's be honest, there is nothing more nostalgic for a gamer than playing those classic and retro games again on your PC or your mobile device. And if you are like me, it is highly likely that you have come across or probably even used CoolROM.
For those unaware, CoolROM is one of the largest and best sources for gamers to play old-school retro games on the internet.
You can use it on your Windows PC, Mac, or any other device, as long as it has a stable internet connection.
The primary reason behind CoolROM's popularity is the massive collection of games (ROMs) and emulators that they feature on their platform.
You can access several gaming rooms and try out many vintage video games.
And you know what the best part about CoolROM is? You get to play an incredible number of top-notch games for free.
Another advantage is that CoolROM not only allows you to play retro games but also offers other related gaming materials.
However, there are multiple times when the website is not working. It can face copyright issues, or the site could be down temporarily.
And there are some days when I do not have the patience to wait to download ROMs/emulators.
Hence, I started looking for alternatives I could use instead of CoolROM whenever required.
Fortunately, I found some of the best CoolROM alternatives you can try out whenever your favorite platform is not working. And that is precisely what I will share in this article.
So without any further ado, let's get right into it and check out the best alternatives for CoolROM in 2023.
Best CoolROM Alternatives
Mentioned below are some of my recommendations for the best CoolROM alternatives you can try out this 2023.
You can check out the review and the features to choose any, depending on your requirements.
The first thing I noticed about DopeROMs is that they follow a very user-friendly interface that is easy to navigate, even if you are trying out these types of websites for the first time.
Remember the old computer games you played on your PCs and smartphones? This platform lets you play the upgraded versions of these games easily.
All the ROMs and emulators on this platform are free, and the download process is pretty straightforward.
They have a vast selection, and I appreciate that there are not many pop-up ads, spam notifications, etc. Suppose you want to download anything to your tablet or computer, you can do it easily.
DopeROMs offer ROMs for more than 400 unique systems apart from the regular ones, like Nintendo NES, GBA, MAME, SNES, etc.
The emulators required to run the ROMs on your devices are also included.
And if that is not enough, the platform makes sure to regularly update the emulators and ROMs so that you can continue playing all your favorite games on your devices.
I highly recommend this site, and I am sure you will be satisfied.
Features
It is a safe and efficient site to get ROMs.

You can play your favorite game in the language you prefer.

The user interface is very beginner friendly.

They have a large collection of ROMs and emulators.

You get regular updates on the emulators and ROMs.

The platform is free to use.

You can use it on your PC, tablet, or smartphone.
Okay, I want to start by saying that this website's vibe is pretty unique, and they accurately capture the vintage theme.
Vimm's Lair is a site dedicated to nostalgia for some of the greatest game consoles that ever existed. And after having used it, I can totally agree with it.
You get thousands of games on this site, and it is one of the best CoolROM alternatives to download custom ROMs.
You can download anything on your device and enjoy your favorite retro games.
Another significant advantage of using this site is that you always get the latest content because the site is updated regularly.
Besides the ROMs, Vimm's Lair also offers full-color manuals, codes, data, scans, etc.
It also follows an open review system, making it easier to know what you can expect beforehand.
You can also post your genuine experience with the site and any opinion or review. Last but not least, if you are a total newbie and face any type of confusion, the site has instructions for help.
It is a definite must-try if you enjoy classic and vintage games.
Features
The platform offers tons of vintage games and console emulators.

You get access to data, codes, reviews, etc., for thousands of games.

You can use the site for free.

There are thousands of full-color manuals, and you can add your own.

The website is updated frequently.

There are instructions to help you out with the different functionalities.

You can post your genuine review or any comment on the site.
Ever since I used this one, I haven't looked back. RomUlation is one of my personal favorite alternatives for CoolROM, and I have already recommended it to a lot of my friends and family.
The site instantly gives you a sense of nostalgia with its massive collection of more than 30,000 retro games.
The platform has existed since 2003, and it continues to give users access to games of various specifications. There are thousands of emulators and ROMs present on the platform now.
In fact, dare I say, I may even like it better than CoolROM in many aspects. The security from the games after the simulation is better in the case of RomUlation.
You will be able to find games for most gaming consoles. And even if you like trying something new, you can choose anything from their top games category.
Another thing I really like about the platform is that the developers and admins make sure that the tools are operational.
The organization also gives the site an edge over many other platforms. All the downloadable sources are appropriately arranged in a sequence, and the system name, volume, space, ratings, etc., are mentioned to make the installation process easier and more convenient.
You can also participate in forum discussions, but you must sign up for an account on the platform. And even if you face any problems recording the usage and functions, RomUlation offers free tutorials for people.
This tool has only one con- it is only partially free. Yes, there is a free plan, but it has restrictions regarding downloading. Your experience will be much better
if you go for a premium plan which offers unlimited access to all files. The premium plans start from $9.99 per month. But purchasing the 3-month plan for $19.99 will help you save some bucks.
Features
The site has more than 30000 retro games.

It offers great security after the emulation of the games.

The user interface is convenient and modern.

You can participate in forum discussions by shining up on the platform.

The site offers free tutorials for new users.

It has both free and premium pricing plans.
LoveRoms is another great website to play those classic retro games for free. The website has a collection of more than 100 games; all you need to do is search for your favorite ones and play them online.
It is also an emulator for several gaming consoles and converts your device into a gaming arcade.
If I had to differentiate between LoveRoms and CoolROM, it would be that LoveRoms is slightly more detailed, and you get to know a lot about the games, like the developer names, release dates, system requirements, etc., apart from the general information.
The site is compatible with almost every primary operating system, including Android, Windows, Mac, Linux, and iOS.
I also liked the user interface because it was very simple and easy to navigate.
I simply entered the full name of the game I wanted to play, and the site found the perfect match.
Features
The platform has a modern and straightforward interface.

You can play classic retro games for free.

There are more than 100 games on the platform.

You get all the minute details about a game.

The platform is compatible with almost every operating system.

There is no superfluous content on the website.
Emuparadise is one option that came up multiple times while I was researching this topic. And, of course, that intrigued me, and I wanted to try it out for myself.
It is considered one of the safest CoolROM alternatives, where you get legit links for all the classic ROMs.
So I can say that it did give me peace of mind knowing that I am downloading only safe files on my PC.
You get access to a lot of different ROMs, ISOs, extensions, music, and much more. The best part I observed in Emuparadise is that you do not even need to download or emulate anything.
You can play your favorite retro games from the browser window itself.
Another helpful advantage is that the platform allows download speeds of up to 1 Mbps, which is pretty impressive, in my opinion. Because most of the other options I have tried offer an average speed of around 300 kbps.
Apart from featuring classic games, the platform also allows you to explore the history behind those old-school games.
Hence, you will see multiple magazines, TV episodes, retro games announcements, etc., that you can use as material to dig deeper and know more about what you loved to play back then.
There is another thing that was extremely exciting for me, and that is the video section. It contains several documentaries about game processes and the story behind their development.
The tutorial section will also guide you if you want to know how to win certain games. And the help section lets you reach out to the developers.
Overall, I feel Emuparadise is a complete package and worthy of being on this list.
Features
It is one of the safest platforms that feature ROMs and emulators.

You can use this platform for free.

You can play classic games right from the browser window.

It features a massive collection of vintage video games.

You can get access to epic game soundtracks.

It features documentaries about gaming processes and developers.

You can interact with fellow retro game lovers in the community section.

There are tutorials to help you understand how to pass games.
When I used Rom Hustler, I found it quite similar to CoolROM. However, I liked Rom Hustler's interface better, and it is cleaner and more attractive, in my opinion.
The platform offers hundreds of retro games for you on any console, and all the games have been arranged in a proper layout.
If you want to search for any particular emulator and ROM, all you need to do is simply enter a keyword, and the website will do the rest to provide you with accurate results.
There have been many discussions on CoolROM regarding it being unsafe, but that is not the case with Rom Hustler.
The website does its best to prevent any malicious software and illegal activities.
I also appreciate the fact that you can check the votes of customers, ratings, and reviews for the emulators and ROM files.
This helps someone make a decision regarding whether that particular file is reliable or not. It is also easier this way to search for top and trending ROM files on the platform.
They also have a news column that gets updated at regular intervals. The best part of this website is that you get a fantastic user experience, and you will get to know about all the trending vintage games that are receiving the highest amount of attention.
Features
The platform is safe and easy to use.

You can download free ROMs for GBA, PSX, NDS, SNES, etc.

The user interface is clean and attractive.

You get access to genuine ROM files and emulators.

You will come across a few ads in between.
NO$GBA was recommended to me by a colleague, and after using it, I can say that it is an excellent alternative to CoolROM.
My brother has become a regular user of this platform, and every person he recommended it to really loved using this tool as well.
This platform is specifically for Nintendo DS games and Gameboy Advance players. If you want to enjoy those classic games, you just need your PC, this platform, and a few ROMs for NDS or GBA.
The major advantage of using NO$GBA is that you can play all your favorite retro games for free.
Apart from just offering ROMs, it also lets you take and view pictures and browse the internet.
We are all aware of how expensive Nintendo DS games are, and it is natural not to want to invest in them every time. So this is an affordable way to enjoy those games.
I recommend trying out this platform if you're a Nintendo DS games and Gameboy Advance fan.
Features
You can enjoy Nintendo DS and Gameboy Advance games for free.

The platform can also help take and view pictures and browse the internet.

The interface is easy to use.

It is a reliable tool for enjoying classic vintage games.
If you're specifically looking for an emulator for GameCube and Wii, Dolphin Emulator is one of the best options.
It is a free and open-source emulator, and one of the biggest advantages is that it is available in multiple languages, like English, Portuguese, French, Russian, Italian, and Spanish.
I wanted to know more about safety and dug around a little. The developers use the host from Google, so you don't have to worry much about its safety.
Moreover, the site also gets updated frequently to take care of errors and bugs. If I compare it to CoolROM in that aspect, my vote will probably go to Dolphin Emulator.
If you are new to the world of ROMs and emulation, the platform has video tutorials to explain everything you need to know.
The site also offers you details on system requirements, game-related news, and if any version of the emulators is available.
I didn't find any major cons, and I would highly recommend you to go for it if it meets your requirements.
Features
The site is free and open source.

The emulator is for 

GameCube and Wii consoles.

The site has been translated into several languages.

The platform is safe and reliable and gets weekly updates.

You get access to video tutorials to learn about the basics of ROMs and emulation.

The platform is compatible with Windows, Linux, and Mac OS.
I guess the name gives away two crucial details- the site offers ROMs, and you get them all for free.
The interface is straightforward; you can download any ROM you want with just a single click.
I have been using this website for a few weeks now and find it very reliable. I usually do not prefer complex interfaces, and this one is just neat and simple.
I was expecting the site to throw a lot of ads my way since it is free. However, it was different with Free ROMs.
There are hardly any interruptions and fake games to ruin your experience.
I can attest that it is one of the best CoolROM alternatives, and you might actually be in love after using it.
Features
The site is free to use.

It features several ROMs for you to download.

The user interface is simple and works smoothly.

There are hardly any ads or fake games.

The platform is dedicated to ROMs only.
The first thing that came to my mind on hearing about Romspedia was the similarity between the name of the website and the word 'encyclopedia.'
After using it, I realized the developers might actually have an intention behind that wordplay.
Romspedia is like a massive encyclopedia containing all the ROMs and ISOs you could ever want.
The platform's list of retro games is impressive, and I have a significant reason why I prefer using Romspedia over CoolROM.
It is because this site features direct downloads, and you do not have to deal with any exe files or viruses.
The platform offers several emulators to run your favorite games with various ROMs.
The only thing I have to say about Romspedia is that every functionality is fast and efficient, and you will have a great experience using it.
Features
The platform has a message collection of ROMs and ISOs.

It features direct downloads without any exe files and viruses.

The platform is easy to use.

The download speed is pretty great.
Conclusion
The list mentioned above contains my recommendations for the best CoolROM alternatives in 2023. They are all great performers, and you can choose any based on your convenience and requirements.
However, if I have to pick a winner based on my experience, it will be RomUlation. I absolutely loved using it and still continue to do so quite often.
The collection is excellent, you get good security, the interface is well arranged, and you can even participate in forum discussions with fellow retro game lovers.
All in all, it is a solid option to try out, in my opinion.