At last, Winter is Here! Gear up for the most significant ending, the biggest show, Game of Thrones Season 8.
And now for the important stuff:
Start Time: May 19, 2019, 9 p.m. EST
TV Info: HBO
Episode: Season 8, Episode 6
Writers: David Benioff and Dan Weiss
Director: Miguel Sapochnik
Run time: 79 minutes
The wait is over. It seems two years have just passed like days and the world's favorite TV Series is here.
Yes, it took two years to shoot the Game of Thrones Season 8. Game of Thrones is one of the greatest shows created in our times. The following for the show is nonetheless like a cult out there.
No show in the history has ever achieved such fame ever and why not? It is one of the wonders that has been created beautifully.
For all of those who don't know about Game of Thrones, Game of Thrones is a show based on George RR Martin's book -A Song of Ice and Fire.
A show that has all the elements like – Love, Politics, Battle, Suspense, and Drama. From crazy fan theories to death of your favorite character, Game of Thrones never disappoints you.
After a successful seven seasons in the past, we have Game of Thrones Season 8 coming in 14th April.
Season 8 will have 6 Episodes, which are less as compared to other seasons however the air time for each episode is longer than before.
Episode 1 – Sunday, April 14, 9:00 PM (ET/PT) – runtime: 0:54
Episode 2 – Sunday, April 21, 9:00 PM (ET/PT) – runtime: 0:58
Episode 3 – Sunday, April 28, 9:00 PM (ET/PT) – runtime: 1:22
Episode 4 – Sunday, May 5, 9:00 PM (ET/PT) – runtime: 1:18
Episode 5 – Sunday, May 12, 9:00 PM (ET/PT) – runtime: 1:20
Episode 6 – Sunday, May 19, 9:00 PM (ET/PT) – runtime: 1:20
Want to know what all happened in the last seven seasons under 3 minutes? Here is a super cool video about it.
Now, as the fans await the Game of Thrones Season 8, we must tell you how to watch it without Cable. If you are flying out of the country or you don't have access to cable. Here are some ways you can watch Season 8 easily online.
Digital has given us the advantage of watching content anywhere in this world. It is better than your cable networks, which have a lot of restrictions.
In this guide, I have discussed ways to watch Game of Thrones Season 8 live online without cable.
This includes premium subscription and free options for live streaming of GoT Season 8.
It also includes different country regions and for different devices.
Let's Start!
Watch Game of Thrones Live Online (Premium Streaming Legal Options)
#1. HBO GO/ HBO NOW
Overview
Plans
$14.99 per month
Multi-screen streaming
Yes, Limited Streams
Device support
Amazon Fire TV, Android TV, Apple TV, Chromecast, Fire TV Stick, Samsung Smart TV, PS3, PS4, Xbox 360, Xbox One, Android smartphones and tablets, iOS smartphones and tablets, Fire tablets, web
Free trial
Yes, either one week or one month
Visit
HBO Now
As HBO owns the rights to Game of Thrones and they broadcast it on their channel. They also stream it online through HBO GO & HBO Now. The primary difference between them is the login procedure.
It offers a 7-day free trial and costs $14.99/month for HBO Now subscription. It will stream every other HBO series alongside Game of Thrones season 8.
You need to have login creds from your cable operator for HBO Go whereas you can create your profile with HBO Now. HBO Go is only active in the states, but they have gone OTT for other countries. You might want to check its availability in your country.
#2. HULU
Overview
Bundles
A single bundle – Hulu with Live TV – $44.99 per month
Customization
Premium channels – HBO ($14.99/mo), Showtime ($10.99/mo), Cinemax ($9.99/mo), STARZ ($8.99/mo)
Channel Packs – Entertainment ($7.99/mo), Espanol ($4.99/mo)
Device support
iOS, Android, FireTV, Apple TV, Xbox, Chromecast, Samsung Smart TVs, browsers
DVR
50 Hours Cloud DVR by default, Enhanced Cloud DVR – 200 Hours ($14.99/mo)
Free trial
Yes, 7 days
Visit
Hulu
The next platform that you can take up to watch Game of Thrones Season 8 online is HULU. HULU is a fantastic platform that offers you a double feature. VOD and Live TV.
You can either take both of them or go for VOD. HBO is offered at $14 here and with other content as well.
#3. Direct TV Now
Overview
Bundles
Plus ($50/mo) and Max ($70/mo) Other Packages – Entertainment ($93/mo), Choice ($110/mo), Xtra ($124/mo), Ultimate ($135/mo), and Optimo Mas ($86/mo)
Customization
Channel packs – DirecTV Now Deportes ($5/mo) and DirecTV Now Espanol ($15/mo) Premium Networks – HBO (included with Plus and Max), Cinemax ($11/mo or included with Max), Showtime ($11/mo), STARZ ($11/mo) International Bundles – Vietnamese ($20/mo), Brazilian ($30/mo), Korean ($30/mo)
Device support
Apple TV, Chromecast, Fire TV, Samsung Smart TVs, iOS, Android, browsers
DVR
Up to 20 hours, 30 days limit, no expansions
Free trial
Yes, 7 days
Visit
DirecTV Now
Another fantastic option out there is Direct TV Now. This revamped platform has come back with revised branding and package.
You can pick from two bundles Max and get HBO at $15. It has other channel packs as well as covering live sports and other entertainment shows.
#4. Prime Video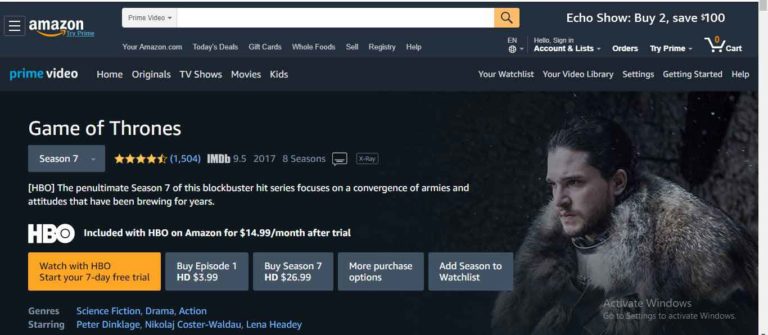 Overview
Plans
None, it's part of Amazon Prime – $12.99/month or $119/year
Multi-screen streaming
2 devices
Device support
Amazon Fire TV and Fire Stick, Smart TVs, Blu-Ray Players, Game consoles, Fire tablet, iPhone, iPad, Android phone or tablet, Roku
Free trial
Yes, 1 month
Visit
Amazon Prime Video
Amazon Prime Video is one of the oldest video streaming platforms. You can buy HBO subscription on Prime at $14 and enjoy all the episodes of Game of Thrones Season 8.
You will also get one month free with the package. Amazon Prime is also famous for its amazing original content.
#5. Optimum
Optimum is a cable and online video network based out of New York. You can buy HBO subscription here for 14.99$ and enjoy the latest Game of Thrones Season 8.
It comes with a seven day trial period and might be restricted to few states. However, you can use a VPN to access the network.
The networks mentioned above are a renowned paid subscription model. However, most of us who wants to stream videos online look for free models.
As a true fan, you might not want to go for a free account, but when you can watch the content without paying any cost, then why not?
Watch Game of Thrones Live Online (Free Options)
You will find hundreds of websites that offer you scheduled releases of the episodes. However, these links are not to be trusted. While you entertain yourself with a direct airing of the episode, you'll be compromising your device's security and privacy. These websites are pirated, which means that they're not legal.
6 – CouchTuner
CouchTuner is a fantastic streaming website that has a vast collection for movies and shows to stream free of cost. It just requires a basic registration step to access all the content.
Don't worry; it is all free of cost. So, sit back with a bucket of popcorn and enjoy your favorite Game of Thrones episode. Also, there are sites like couchtuner where you can watch GOT Online for FREE
7 – PutlockerBox
Another brilliant streaming website with some fresh collection of free movies and shows. You can also find content as per the category you like. They have an excellent search option to make sure you get what you want. They will be streaming GOT Season 8 as well. So, bookmark the website because winter is here.
8 – TopWatch HD
A classic magazine style website to stream free movies and tv series. You can easily find all the famous shows and movies here. Their elegant and straightforward interface is easy on your eyes and helps you find your favorite movie/show easily.
This is another option to consider if you are looking out for a free streaming website for the latest season for Game of Thrones.
Now, there might be a chance that you already has a paid subscription to the previously mentioned networks, but you made a travel plan outside the country. For situations like these, there is a simple solution called VPN service.
What does VPN do?
A Virtual Private Network allows you to watch any content online even if the service provider is not available for the same.
There are a couple of paid VPNs that will help you to enjoy your paid subscription from anywhere in the world.
Some of the best VPN service providers are – Express VPN, IPVanish, and NordVPN. All of these brands are well known, and they will work correctly for your already bought subscription.
So, you can be worry-free and wait for the nail-biting season of Game of Thrones this coming week.
Another issue sometimes is a geographical restriction for content publishers. There might be a way to watch shows as per your country. Below are some country-specific solutions for you to check.
Watch Game of Thrones Season 8 Live Online (Different Regions)
Watch Game of Thrones Season 8 in the USA
Well, HBO has the official rights, and their paid subscription is the best way to enjoy the finale. With the best quality comes a cost.
For HBO subscription you have to pay $14.99 and watch the show seamlessly.
Fans in America can tune into each episode of Game of Thrones on HBO at 9 pm Eastern time on Sunday, April 14 (tonight!)
Watch Game of Thrones Season 8 Stream in Canada
If you are based out of Canada, you can go for Crave. Crave is one of the biggest online video networks and offers you fantastic content online.
There are annual, and monthly packages, and the price may vary accordingly. However, if you are looking to get a month's subscription to watch Game of Thrones finale, it will cost you $20.
Stream Game of Thrones Season 8 in Australia
There are streaming platforms that will air Game of Thrones live online.
There are three ways in total to stream Game of Thrones in Australia. These are:
Foxtel Now
iTunes and Google Play
HBO Now (There's a catch)
Head to Foxtel, if you are in Australia mate. Just pay the subscription and start binging Game of Thrones. Foxtel is just like any other video network that offers you shows and movies on demand. We are unsure of the packaging, but you can check their website for more details.
HBO now is blocked in Australia, but we have experimented that by using a VPN, you can subscribe to the service.
Watch Game of Thrones online in the UK
If you're in the UK you get two different options when it comes to watching the show: either through Sky Atlantic or via a Now TV Entertainment Pass.
If you are really, incredibly dedicated to missing out on the spoilers, you can tune in early tomorrow morning on April 15 at 2 am, the official air time for the first episode.
Watch Game of Thrones online in New Zealand
Users who are living in New Zealand have only one option for GOT Season 8, i.e. SoHo.
The Sky premium entertainment channel will be the place to find season 8, airing at 1 pm and then repeating at 8.30pm on Monday, April 15.
Unfortunately, SoHo doesn't do trial subscriptions. So if you don't already have it, you'll have to dive on in on a TV package or upgrade your current one to a plan with SoHo.
Packages including SoHo start as low as $24.91 a month and go up from there depending on how much you decide to include.
Watch Game of Thrones online in India
For fans in India, you're in luck, when it comes to watching Game of Thrones online, India has the cheapest option. Log onto Hotstar and sign up for a premium account. This will cost you either ₹207.39 ($3) for a month or ₹967.84 ($14) for an entire year.
The first episode will be airing tomorrow on Monday, April 15 at 6.30am, yes that does mean an early morning for Indian fans, but we feel like its a small price to pay to catch this much-anticipated show's first episode.
FAQs
Does Showbox stream Game of Thrones?
No, Showbox is a free movie streaming app for Android users, which means it will not be showing Game of Thrones.
Is HBO Available in Sling TV?
HBO and Cinemax are no longer available on Sling TV. You can no longer stream Game of Thrones on Sling TV as a result.
Is Game of Thrones available on Netflix?
No. Game of Thrones is not currently available on Netflix. HBO owns the rights of the TV Show.
How to Watch Game of Thrones with Subtitles?
TV Subtitles is the best way to download subtitles for Game of Thrones. It is available in the video format and as well as in the written form.
Wrap Up
So, here you go. We have listed all the possible ways to watch Game of Thrones Live Online. Can't believe, this is the end of the most excellent show ever created.
I still remember back in 2017 when HBO announced that it would take two years to shoot the final season and here are we, two years did not seem long at all.
Will Arya complete her death list? What will happen to Cersei? Will John Snow sit on the throne? Is Bran the night king? There are so many questions that will be answered by this final season. We are sure; you will be on edge for its every episode.
Just a week far and winter shall come upon the world. You can use this blog as the chat section during the season premiere and discuss theories.
We will surely enjoy it. Hope everyone will be able to watch it as it premiers.
Valar Morghulis!
Have something to say about this article? Comment below or share it with us on Facebook, Twitter, or our LinkedIn.