WatchCartoonOnline: There used to be a time when I used to binge-watch every cartoon on the most popular channel, Cartoon Network, when they used to telecast amazing shows like Johnny Bravo, Swat Kats, Codename Kids Next Door, the Jetsons, Flinstones, and the list goes on.
Nowadays, the cartoon channels are crap and telecast stuff that has no meaning and doesn't even give any value to the viewer. Well, this shouldn't disappoint you if you have heard of WatchCartoonOnline, a famous cartoon streaming site that has been removed from Google due to DMCA stikes.
The site is a one-stop-shop for the 90s kid to relive the old memories and watch their favorite cartoon shows once again. But, as the administrators have mentioned in a note, the site may go down sometimes, and in that case, you need to have some alternatives to it, right?
In this article, we will be listing down 15 best alternatives of WatchCartoonOnline so that your fun doesn't stop even when the site is temporarily down.
---
What is WatchCartoonOnline?
WatchCartoonOnline is the best website on the internet to stream cartoons online. The site has been on the internet for a lot of years but due to DMCA strikes, Google has removed the site from its index.
You can still visit the site and watch your favorite cartoon show if you know the exact domain name, in case you don't know, check below.
www.wcostream.com
www.watchcartoononline.com
www.watchcartoononline.io
www.thewatchcartoononline.tv
www.wco.tv
www.wcoanimedub.tv
www.wcoanimesub.tv
Other than cartoons, you can also watch the latest anime, movies, dubbed anime, and OVA on the site.
So, without wasting much time let us jump on to the list of WatchCartoonOnline alternatives.
---
15 Websites Like WatchCartoonOnline
1. Amazon Prime
Kickstarting the list with a legal and most affordable alternative of WatchCartoonOnline, with a lot of old and new cartoon shows. You will find shows like Johnny Bravo, Gi Joe, Powerpuff girls, Inspector Gadget, X-men, and hundreds of more shows.
You can signup for a 30-day free trial, in case you haven't tried Amazon Prime Video before, in my opinion, you will enjoy the service with various other benefits. The streaming quality is top-notch, and you will face 0 downtimes on Prime Video.
Features:
Legal streaming service
Movies, tv series, originals, and cartoons to watch
Supports various platforms such as android tv, Firestick.
Available in multiple languages with subtitles
---
2.  KimCartoon
Kimcartoon is a cartoon streaming site and a part of KissAnime. It has an extensive database of cartoons shows that you will enjoy watching. There are ads on the site that can be blocked using an adblocker.
The streaming quality is pretty impressive but there is no option for subtitles and not every cartoon show is available in multiple languages. But, if you can't find your desired cartoon series on the site, you can fill up the request form and wait for the admin to upload it.
Features:
Report broken links
Request a missing show/episode
Read comics
---
3. CartoonsOn
Adding another cartoon streaming site to the list, CartoonsOn offers stunning streaming quality and a neat interface but lacks a lot of old and amazing cartoon series from its database.
There are not many old cartoon shows but if you are contented with what the site has, you will love it. Some more issues I faced were with the video player which stopped working as soon as I enabled the adblocker.
Overall, the site is a good alternative for WatchCartoonOnline but lacks a lot of cartoon shows and necessary features such as subtitles, downloading for offline streaming, and creating a favorite list.
---
CartoonCrazy is a decent platform for streaming cartoon shows as well as anime series. There is a list of all the cartoon series that exist in the site's database making it easier to find out the one you want to watch.
As of now, the site has more than 26000 cartoons and anime series in its database. The streaming quality and the video player won't disappoint you. CartoonCrazy has everything you have been looking for but sadly, you cannot download anything from the site.
Features:
Extensive database of cartoon shows
Also has anime series
Doesn't asks you to register to watch
Chat with other viewers
---
5. ToonOva
If you desire a clean user interface with less frequency of ads, ToonOva is a perfect choice for you. The interface may not be fancy or minimal, but what matters the most is the streaming quality. In that case, ToonOva is doing a great job by providing amazing streaming quality but with minor glitches which you can fix by reloading the page.
Moreover, there is a surprise button on the top which brings you a random cartoon show, so you can use it if you don't exactly know what to watch. Additionally, you can also watch Korean drama, read manga, and watch dubbed anime.
Features:
Feature-packed site
Vast database of cartoon shows, movies, manga, and anime.
Android App available
---
6. CartoonExtra
CartoonExtra is a fascinating cartoon streaming site with an old school user interface but a vast database of old and new cartoon shows that you can watch. You can either stream the shows online or download without a watermark to watch later.
If you are tired of binge-watching a show, you can also read comic books or watch movies on the site. There's nothing much to say about CartoonExtra, you can try it out by clicking on the button below.
---
7. Youtube
Youtube is the top video streaming platform where you can watch content and upload your own content as well. If you haven't explored much on youtube, then you should know that there are a lot of cartoon shows on the platform, both new and old shows.
You can also download the videos using free youtube downloader sites and apps to watch later. Moreover, if the show is not in your regional language, you can turn on youtube's auto-generated subtitles.
Features:
Free to use
Create playlist
Legal platform
Download to watch later
---
8. Netflix
It is one of the top OTT media catering wide range of content for its viewers, be it Netflix originals, web series, movies, or documentaries. Netflix is not just for adults, it is also for kids as it has many cartoon shows on its platform that are available in various languages.
The streaming quality is superb but it depends upon the plan you have chosen, so it works on the basis of the plan. You can also download the content to stream without the internet but cannot transfer it on a different device.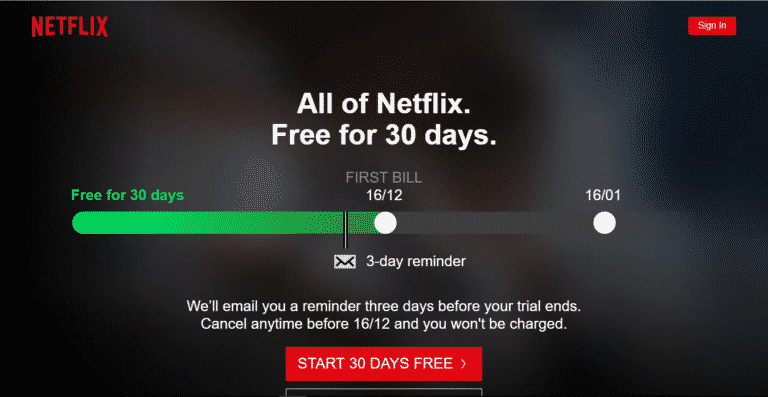 Features:
Watch web series, movies, and cartoons
HD streaming quality
Subtitles available
Dual audio
Android, iOS apps and supports other platforms too
---
9. Hulu
Hulu is another OTT platform just like Netflix but less popular with people outside the USA. Its plans start at just 5 dollars a month and have a dedicated section for kids with lots of cartoon shows and movies.
It has an android and iOS app also so that you can watch content on the go. Other than cartoons, you can watch Hulu originals, web series, movies, and documentaries also. The streaming quality is top-notch and there are subtitles for every type of content.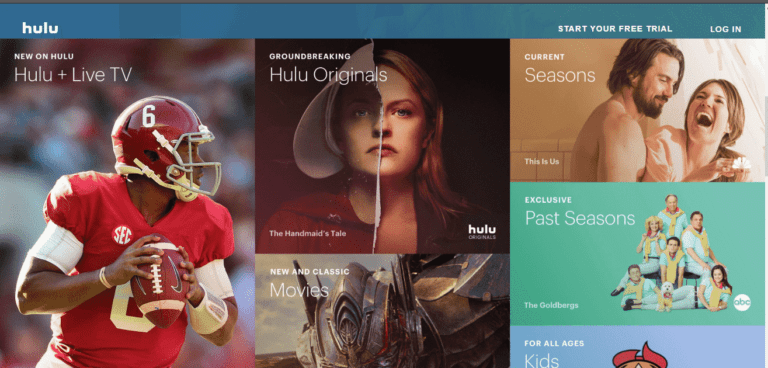 Features:
Legal streaming site
Affordable
Vast database of cartoon shows and other streamable content
---
10. Boomerang TV
Boomerang Tv is a site dedicated to kids with fun activities, games, quizzes, and short cartoon clips. The site doesn't have a vast database of all cartoon shows but it is good if you are looking for an entertainment site for your kids or younger ones.
Features:
Watch cartoon clips
Create videos
Games and other fun activities
Free to use
---
11. AnimeToon
If you are looking for a site with anime shows, Korean drama, comics, and other watchable content, AnimeToon is a perfect fit. The site may not have a fancy user interface but provides full cartoon shows, anime shows, and movies in high quality which is the utmost requirement of a viewer like you and me.
However, the interface is neat with easy navigation and lesser ads. What else do we want from a free cartoon streaming site? Also, it has its own android app which makes it convenient to stream content on the go.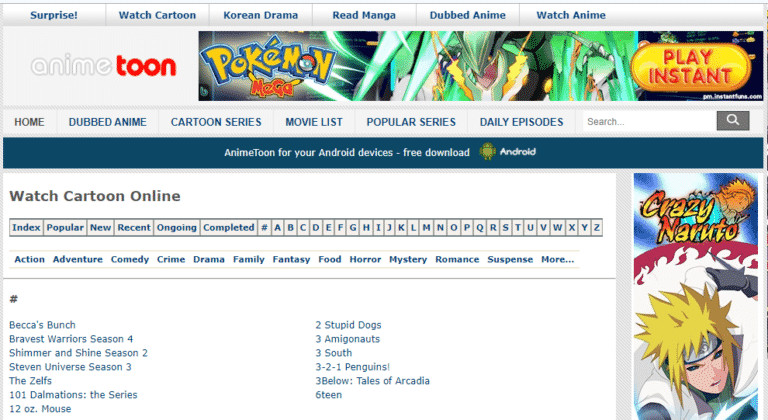 features:
HD content
Very Few ads
Has its own android app
---
12. Watch Cartoon
Watch cartoon is just another cartoon streaming site which I believe is an amazing copy of WatchCartoonOnline with a fantastic user interface and straightforward navigations.
On the site, you can watch dubbed anime series, subbed anime series, cartoons, movies, and watch OVA episodes. There is a search bar on the home page where you can type in the name of anime series you wish to watch.
There are no compromises with the streaming quality but you cannot download the content for offline streaming. But if that doesn't bother you much, bookmark this site and use it whenever you wish to watch cartoons.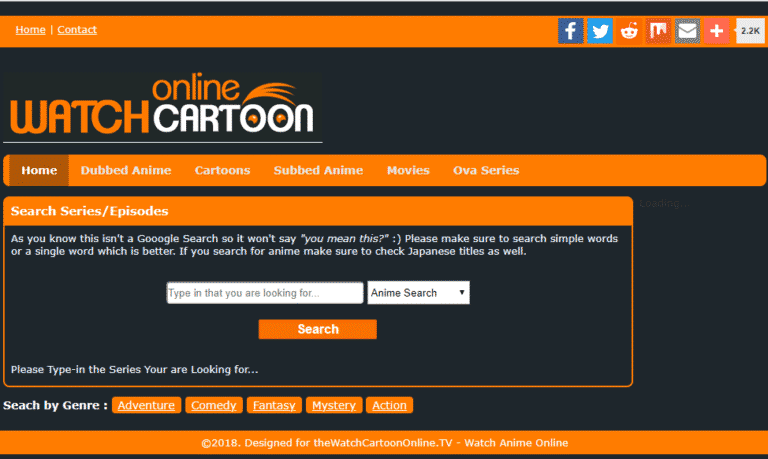 ---
13. Cartoon Tab
A cartoon streaming site with a basic user interface, plain white & orange color scheme, Cartoon Tab is also a good alternative for WatchCartoonOnline. While using the adblocker, no pop-ups or ads annoyed me during the showtime.
However, sometimes the video failed to play which was fixed only after turning off the ad blocker. Video quality is superb but the video player lacks a lot of useful features. Also, you cannot download the content from the site but at least you can stream.
---
14. Cartoon8
Another great choice for watching cartoons online is Cartoon8 with a decent user interface and quick navigation, it doesn't make it look like the site is cluttered. There are some ads here and there which you should get rid of by turning on the adblocker.
There is an option to register on the site which will in return provide you some extra features such as creating a playlist. However it is not necessary to create an account, streaming cartoons has no relation with an account on the site.
I found almost every cartoon show I wanted to watch but there are some cartoons missing from the site. There is no option to request an episode or show and no option even to report broken links.
---
15. Disney Now
Disney is the most favorite channel of every kid, and to fulfill the demand of online cartoon streaming, they have a separate platform called Disney Now. It contains the list of every Disney channel and the shows it telecasts.
The streaming quality is confirmingly amazing but you cannot download anything from the site as it forbids illegal distribution of copyrighted content. Overall, the site is pretty amazing and a good legal alternative of WatchCartoonOnline.
---
In Context,
So, here we wrap up our list of 15 Websites Like WatchCartoonOnline. In this article, we have penned down a brief review of some best cartoon streaming sites. You can use adblocker on the illegal sites and opt-in for a plan if you choose the legal site. If you have another amazing alternative, let us know in the comment section.