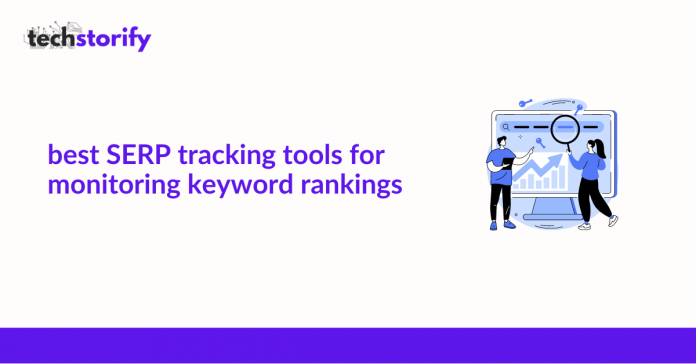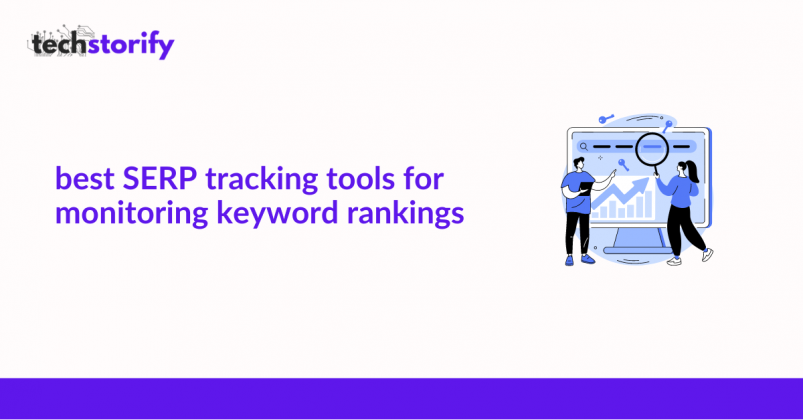 Let us suppose you are working in the field of content or content marketing, and you published an article a couple of days ago. But how to know whether your article is performing well or not? How do you check your ranking on Google? This is where SERP tracking tools come into the picture.
When you are dealing with content regularly, a large volume of keywords must be considered.
However, it is not possible to maintain a spreadsheet for all the keywords and competitors across multiple clients and search engines. Plus, this way of tracking is highly inconvenient and will take a lot of time.
Using SERP (Search engine results page) rank tracker tools, you can enter all your required keywords to monitor them. Using the data, you can understand how your content can perform better and rank higher.
But when there are so many options available in the market, how do find out the best SERP checker tool?
No worries, because here we have a list of the 10 best SERP tracking tools for you with their review so that you can pick the best according to your requirements.
Why are SERP tracking tools important?
The primary objective of using these tools is to validate that your work and efforts are paying off. The progress you make should be quantifiable and visible to you directly. Here are some benefits you can avail of by using SERP tracking tools.
These tools let you keep track of rankings across multiple search engines, locations, devices, and other aspects.
SERP tracking tools alert you if your ranking goes down so that you can fix it as soon as possible.
These tools keep a sharp eye on your visibility to check which features are making you lose or gain views, like snippets, videos, carousels, etc.
It does not just keep track of your performance and keeps an eye on your competitors to keep you aware of their strengths and weaknesses.
It offers you the details of everything related to your content right at your fingertips, like the rankings, conversions, traffic, and so much more.
Best SERP Tracking Tools for Monitoring Keyword Rankings
This is one of the best SERP tracking tools and has established its position at the top of the list because it's an all-in-one solution. It comprises many features like keyword research, site crawling, social media marketing, auditing, enhancing on-page content, etc. You can consider it like a tool with multiple sub-tools inside it. 
A primary feature we look for in the best SERP tracking tools is that they should be user-friendly. Not everyone has years of experience in this industry, and a friendly user interface is extremely necessary for them.
SE Ranking doesn't disappoint in that category. Even though there are so many features, the UI is very systematic, and you will have no issues navigating the dashboard.
SE Ranking lets you analyze the keywords individually, check the progress of your website regarding the SERP factor, and check historical data as well. This particular tool covers all the relevant and significant search engines like Google, Bing, YouTube, and Yandex. 
The pricing scheme is very affordable. For example, if you want an annual subscription, you must pay around $23 per month. But the prices change based on the features you choose.
Overall, SE Ranking is accessible and easy to use, even for beginners in the SEO field.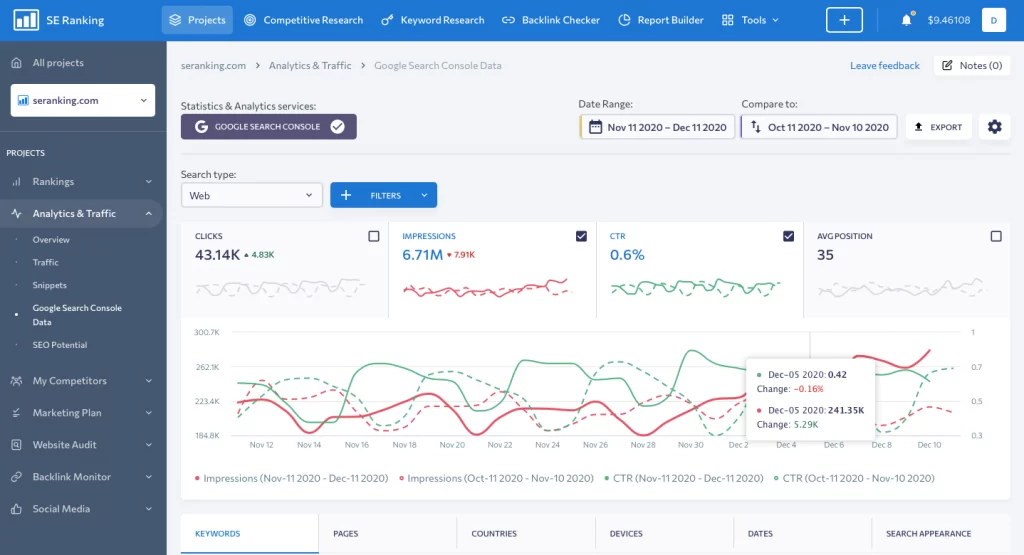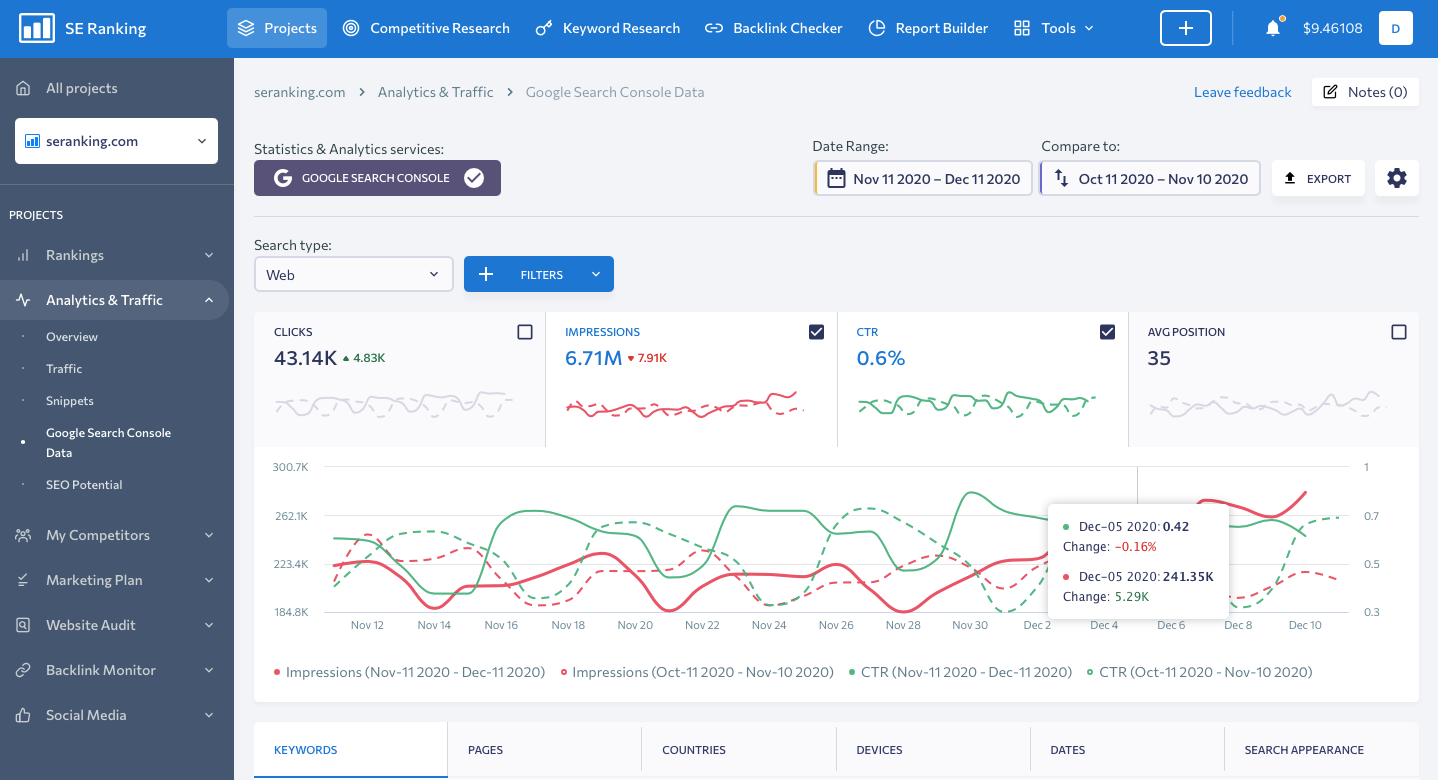 Features
Keyword Rank Tracker with pinpoint accuracy.

Full website audit and fixing issues.

Monitoring on-page SEO.

Managing and tracking backlinks.

Competitor SERP analysis and lead generation. 
You might have already heard of this best SERP tracking tool since it is extremely popular, and 32000 companies are using it! But if you haven't, we are glad this article is introducing it to you. This is an absolute winner, but it missed the first position due to 2 reasons: it is a bit expensive and tracks limited keywords.
The primary USP of AccuRanker is its user-friendly interface and the fact that it is integrated with Google Analytics and search console. When you have the rankings of the web pages and the traffic metrics side by side, it becomes much easier to compare and monitor the loss or gain of views. You'll also be able to determine where the content needs fixes and do it accordingly.
AccuRanker also offers the historic competitor ranking feature where you can track your competitors' ranking against a keyword. The reports are again very useful, and you can set filters to search for specific results like changes in ranks, trends in keywords, etc.
You will get the data daily and can even add multiple users to get extra help. The pricing plan is pretty straightforward and depends on the number of keywords you want to track. The cost reduces if you pay yearly. But there are no plans for tracking less than 1000 keywords.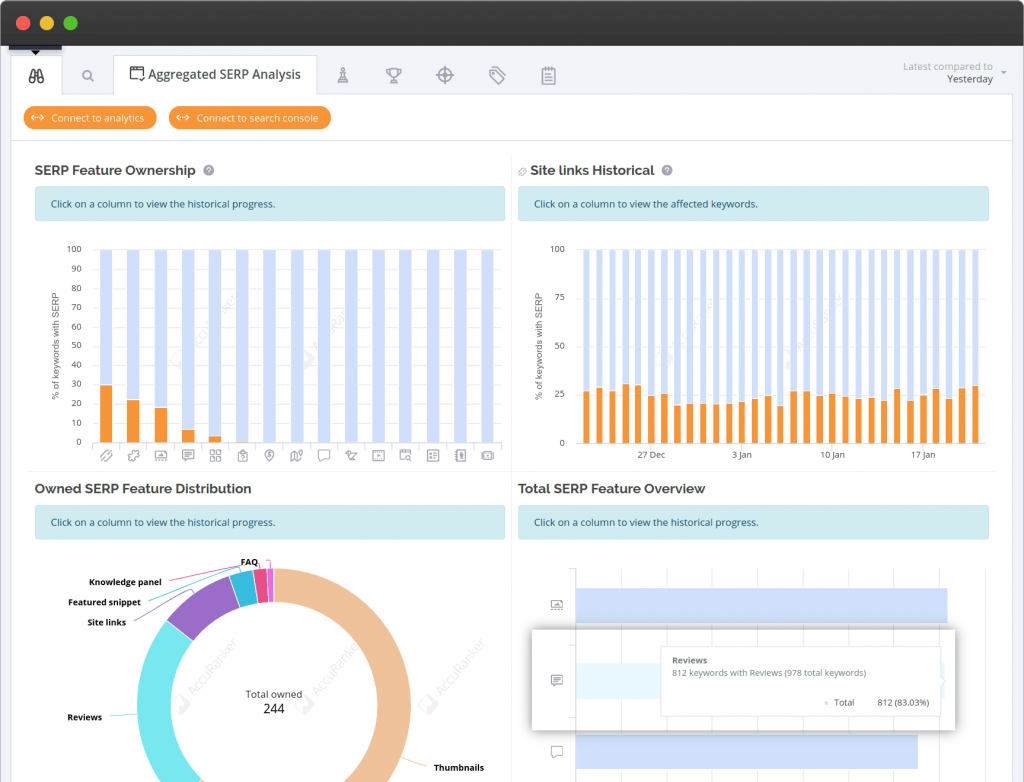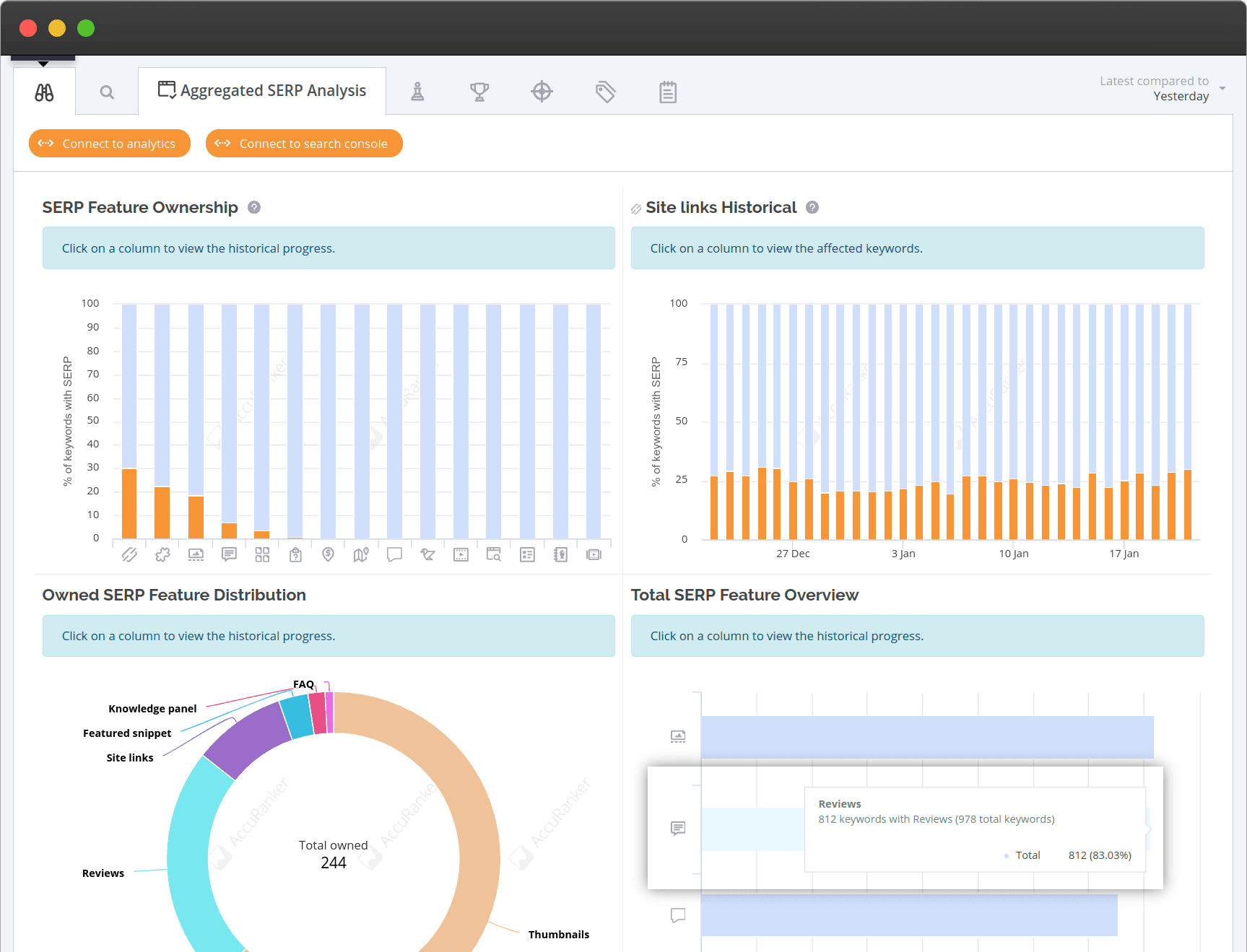 Features
Integration with Google Analytics, CSV Importer, Swydo, and more.

Daily updates and on-demand data.

SERP history analysis.

Fast and accurate keyword tracker.

Unlimited domains and users.

Offers performance insights across multiple devices and search engines.
Well, we cannot start the review without noticing the first feature of this best SERP tracking tool- the all-black website. It looks attractive, modern, and sleek, giving off an edgy vibe. The dark mode looks pretty great, but you might want to switch to the normal mode due to the font being too small.
Another feature you will notice right off the bat: the plans are very affordable. You get a discount of up to 40%, and this is even better if you pay for a yearly plan. The plants start from approximately $39 per month for 500 keywords and then go up to $99 per month for 1000 keywords and $369 per month for 5000 keywords.
Now coming to the features, Nightwatch offers website audits, monitoring competitors, API access, and backlink monitoring. It is a pretty comprehensive product in itself. If you are a fan of the adding notes feature in Google Analytics, you like this tool as it offers the same feature where you can add notes to your account.
This tool is convenient if you want accurate SEO rank tracking at an affordable price.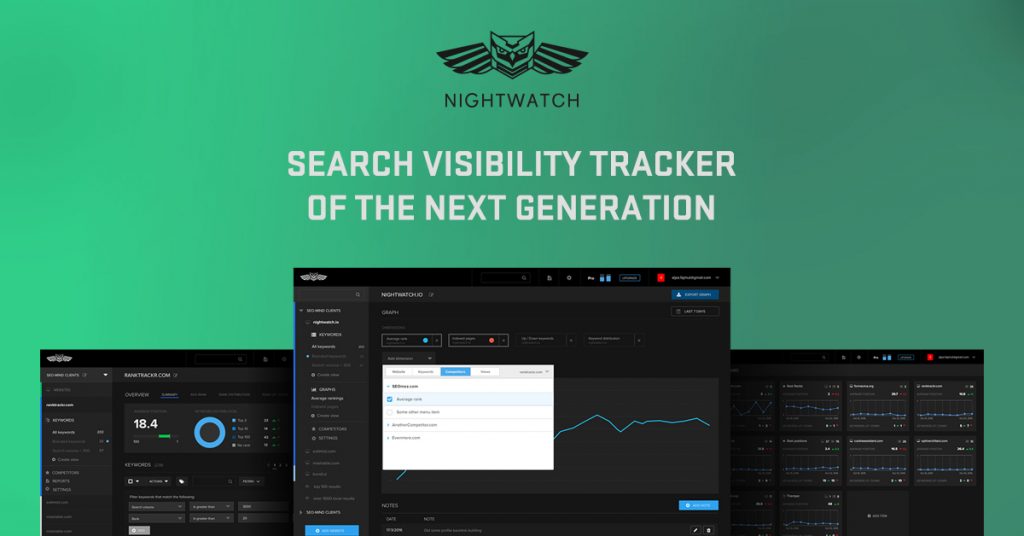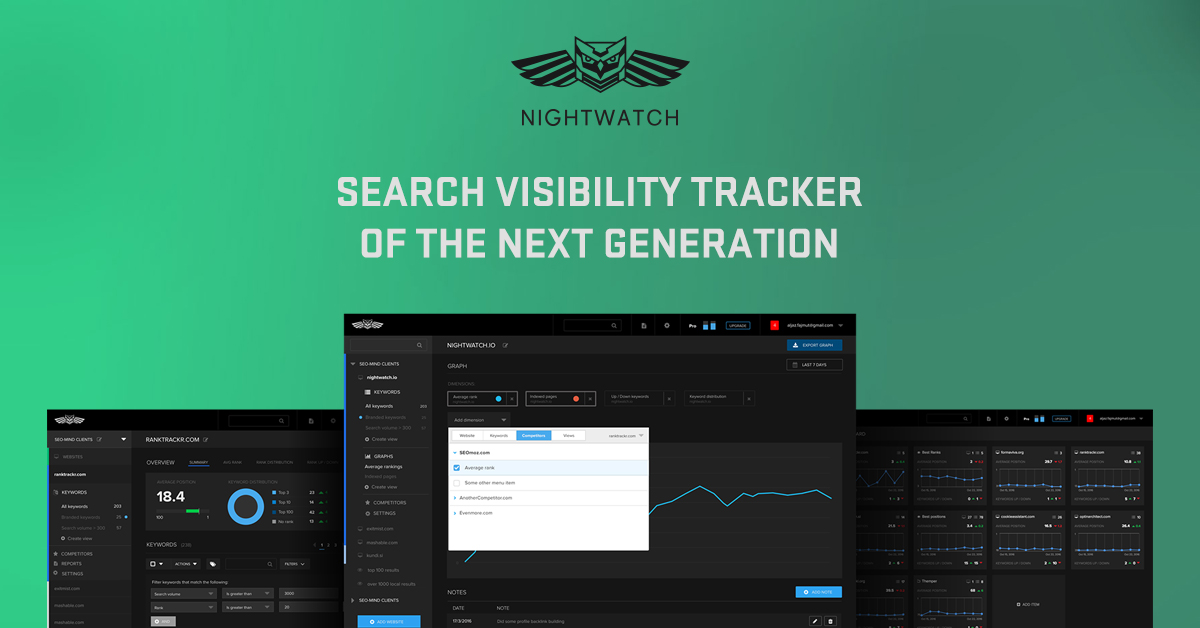 Features
Accurate rank tracking data across 107,296 locations.

Monitoring performance against keywords, web pages, and more.

Reliable local tracking.

Automated reporting with the required information.

Website auditing to boost rankings.

Affordable price plans.
This is another worthy option in this list of the best SERP tracking tools. It is used by more than 60k  customers today and is pretty cost-effective.
It offers you an update of the rankings daily, and depending on the plan you choose, it will also fulfill on-demand requests. ProRankTracker covers all the major search engines and will let you know the top 100 SERP results against any keyword.
You can also monitor the performance of your competitors, view historical data, truck videos, and even E-Commerce websites and products. The tool gives you the results in detailed reports, where you get to see everything in detail.
Whether you are an SEM agency, E-Commerce brand, or any content marketer, this tool will be highly beneficial as it offers accurate data across multiple devices and locations. There are many price plans to select from, starting at a mere $13.50 per month.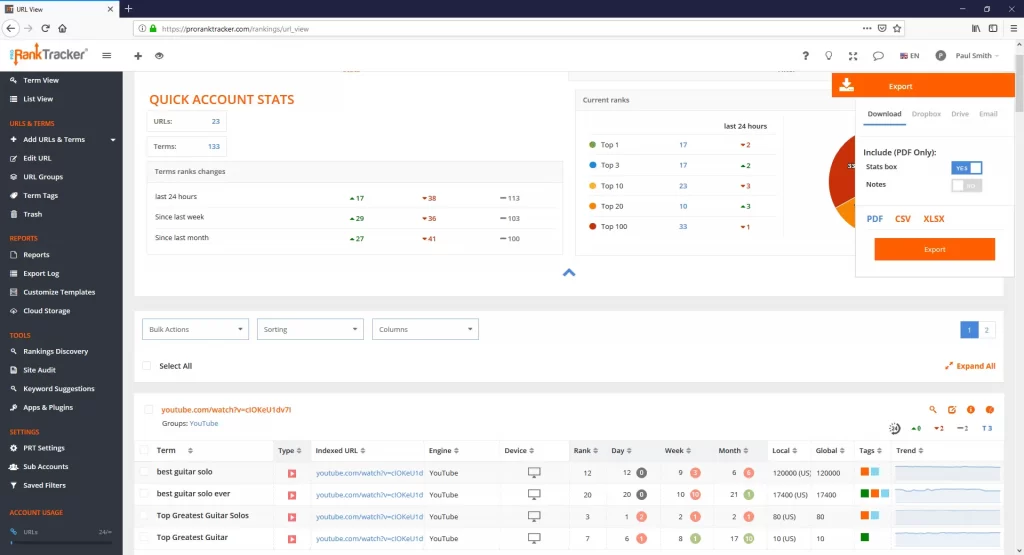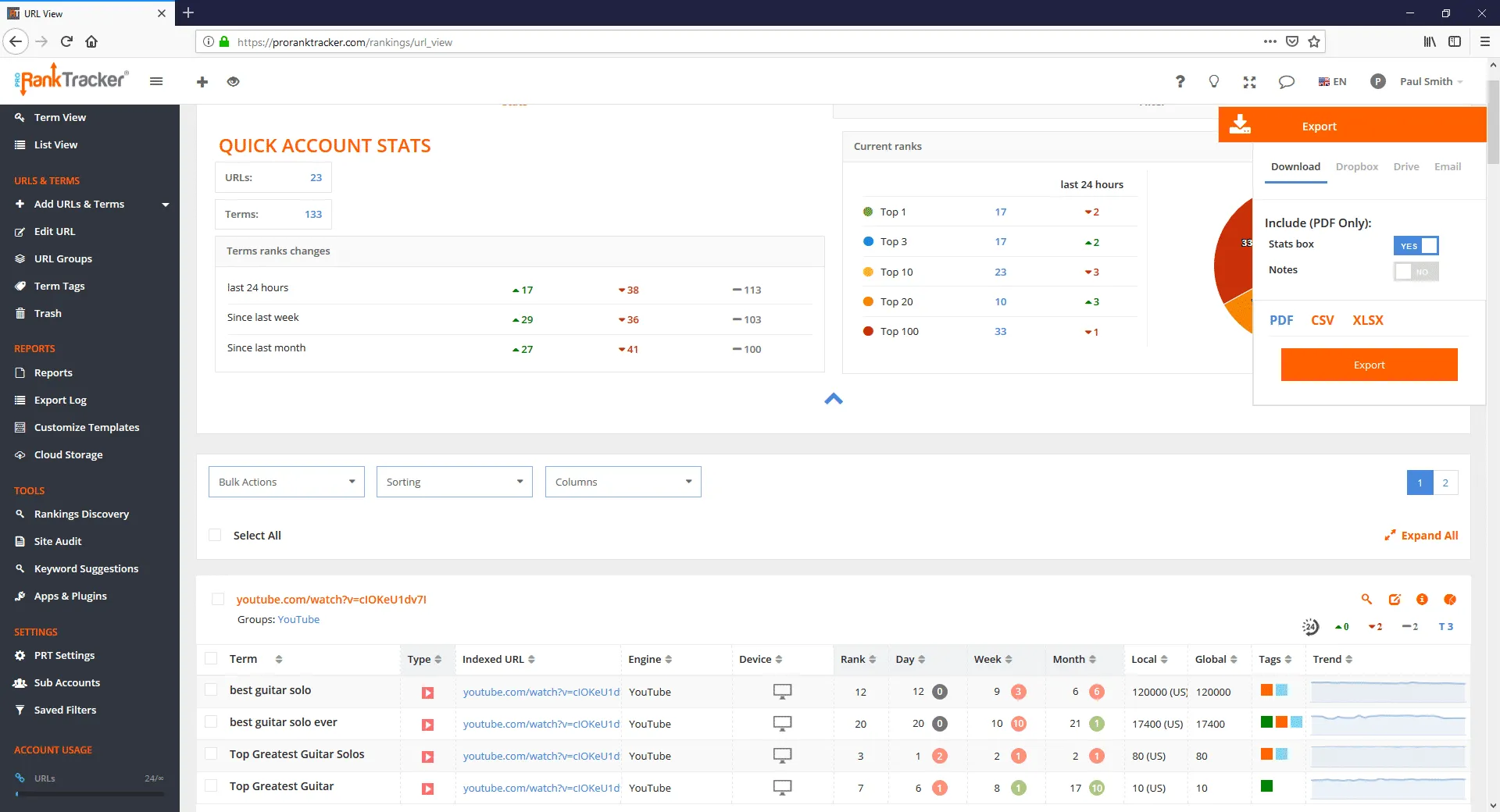 Features.
Accurate algorithm for reliable results.

Allows reporting in multiple languages.

Daily updates and on-demand requests.

Web-based application, no installation required.

Local rank tracking across search engines.

API access on all agency plans.

Allows multiple users in an account with flexible permissions.
The main advantage of this tracking tool is its range of complex features. Firstly, it can track individual keywords across multiple devices and search engines. Secondly, this tool is effective for analyzing a particular website's overall performance and monitoring your keywords ranking.
As soon as you open the tool, you may find it a little overwhelming and crowded. But it is because SERPWoo offers so many complex features that you will want a detailed overview.
Moreover, it will not take too long to get used to it either. This tool also lets you set alerts so that you know when the ranking of the keywords you track changes. The API access allows you to combine the tool with other integrations.
But when a particular tool offers so many features, you might think the price range is relatively high. But that is not the case here. The pricing plans typically range between $49.95 to $299.95. The cheapest price plan lets you track 750 keywords monthly.
Overall, SERPWoo is an excellent beginner-friendly tool. It may take a little time to master it, but once you do, you might not want to use any other tool again.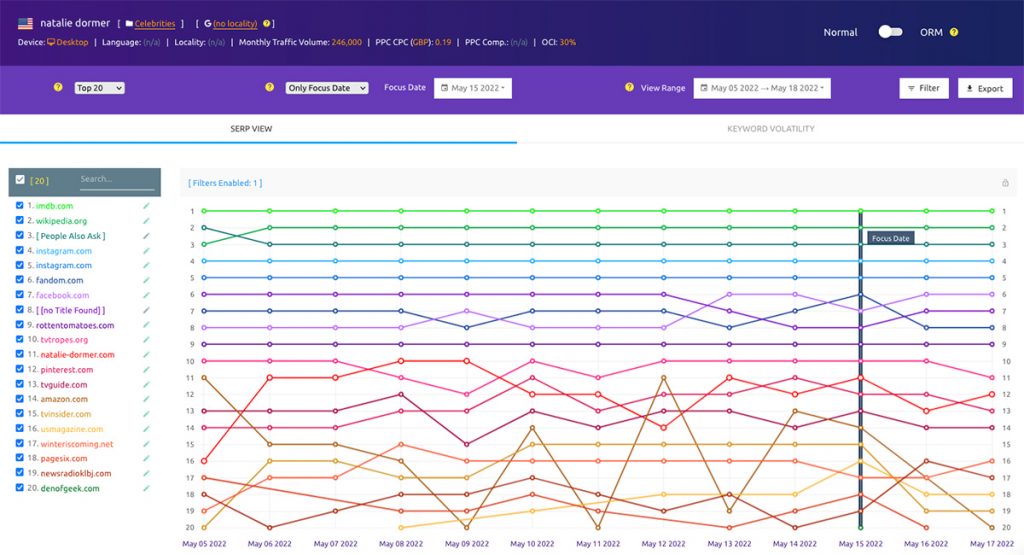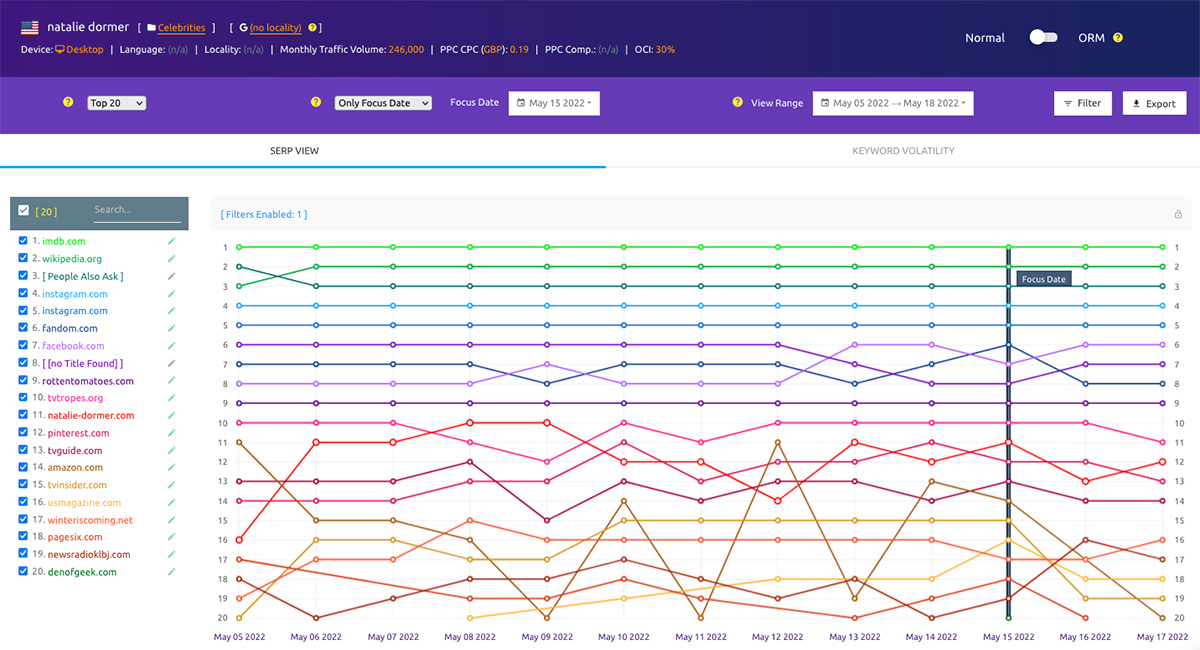 Features.
Keyword Finder tool to extract top-performing keywords.

Monitoring brand mentions against several search engines.

Comparison against competitor performance.

Zora tool fetches Top 100 SERP data.

Daily rank tracking data.

On-page SEO analysis and reporting.
This is another reliable SERP tracking tool that can be used on various devices. It can track keywords on multiple search engines like Google, Bing, Yahoo, and YouTube. SerpWatch can track rankings across unlimited sites and gives you accurate data if you want to check the result in a particular country or state.
It also lets you monitor your top 10 competitors and shows you historical web page rankings in real-time to help you figure out whether your strategies are working. You can check the progress of your campaigns in detail and also be aware of when your competitors rank ahead of you.
The tags and filters make it easy to sort your reports, and the graphs make the data visually appealing and easy to read. The pricing plans are simple, and you can even go for a 15-day free trial to check whether it is suitable according to your requirements or not. You can later go on to get the premium license, which starts at $49 per month.
The price plans include some add-ons and offers. Hence, it is better to go through it in detail before you plan to purchase it.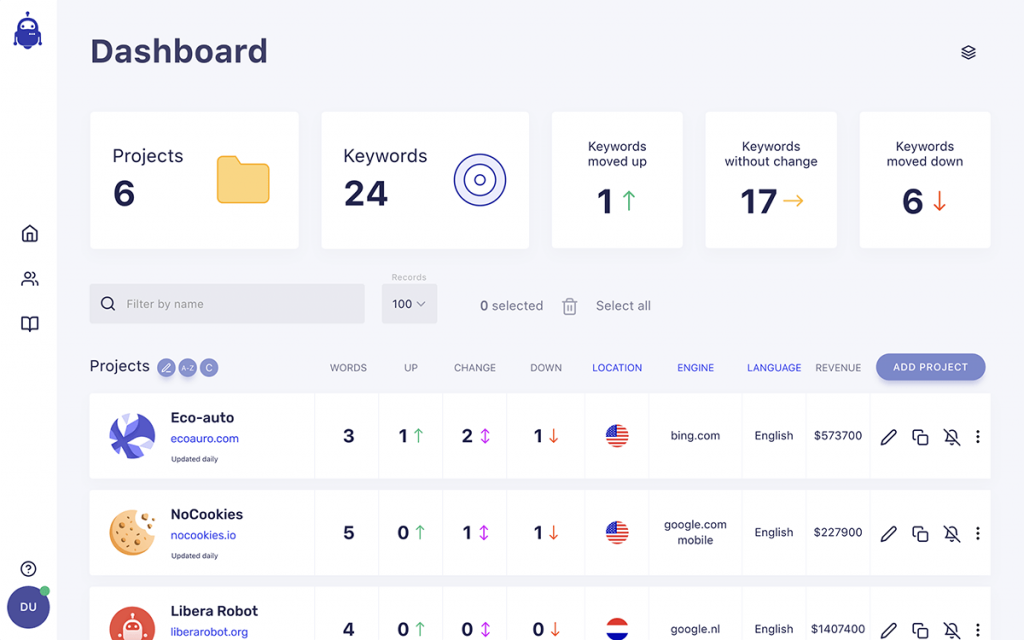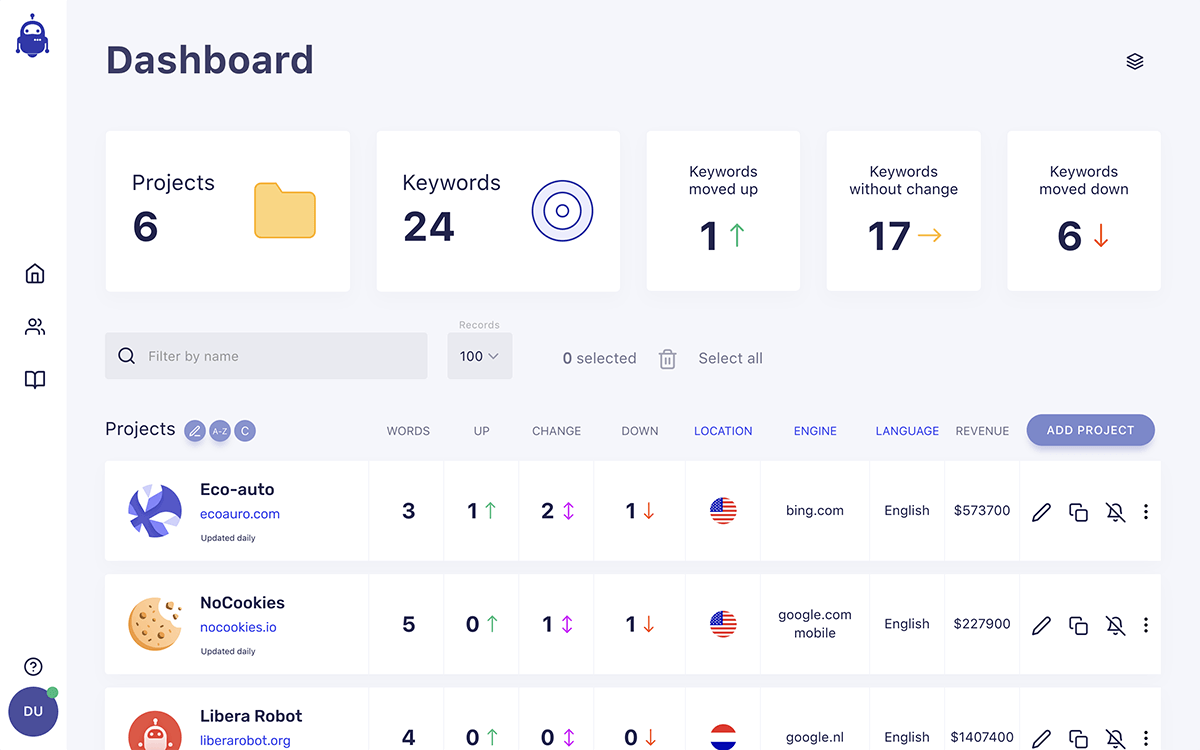 Features.
Custom automated SEO reports.

Easy to manage projects from a single dashboard.

Accurate rank tracking data.

White label client portals.

Notifications on loss and gain in traffic.

Integrated with Google Analytics, Google Search Console, Zapier, etc.
AuthorityLabs guarantees accurate data tracking, and it has 2 unique features that make it a worthy competitor in this list. The first is the local rank tracking feature, which lets you monitor the rankings in terms of countries, cities, and zip codes. 
For example, a potential customer who is your location can find your page at the top position in the search results, while another one who is far away may not see you at the same position.
The next feature is the 'Now provided reports,' which lets you find hidden keywords and help you know the exact term the visitors used when they came across your website.
AuthorityLabs again has a 14-day trial period free of cost. And if you like it, you can purchase the premium plans starting at $49 per month. The cost increases depending on the features you want.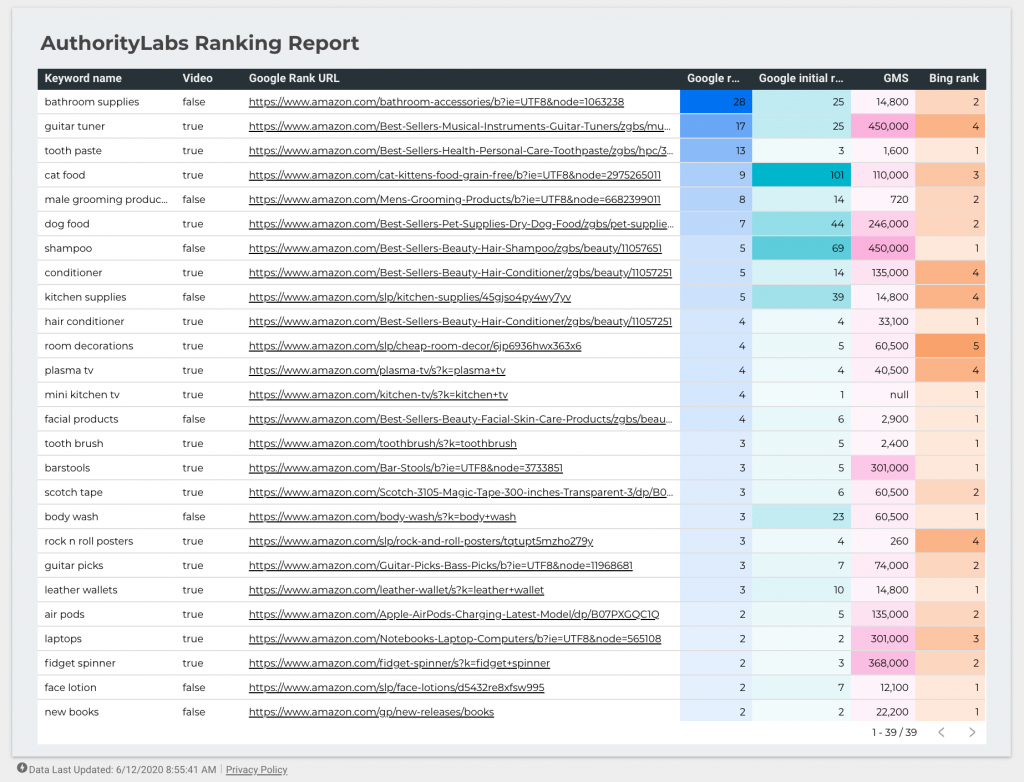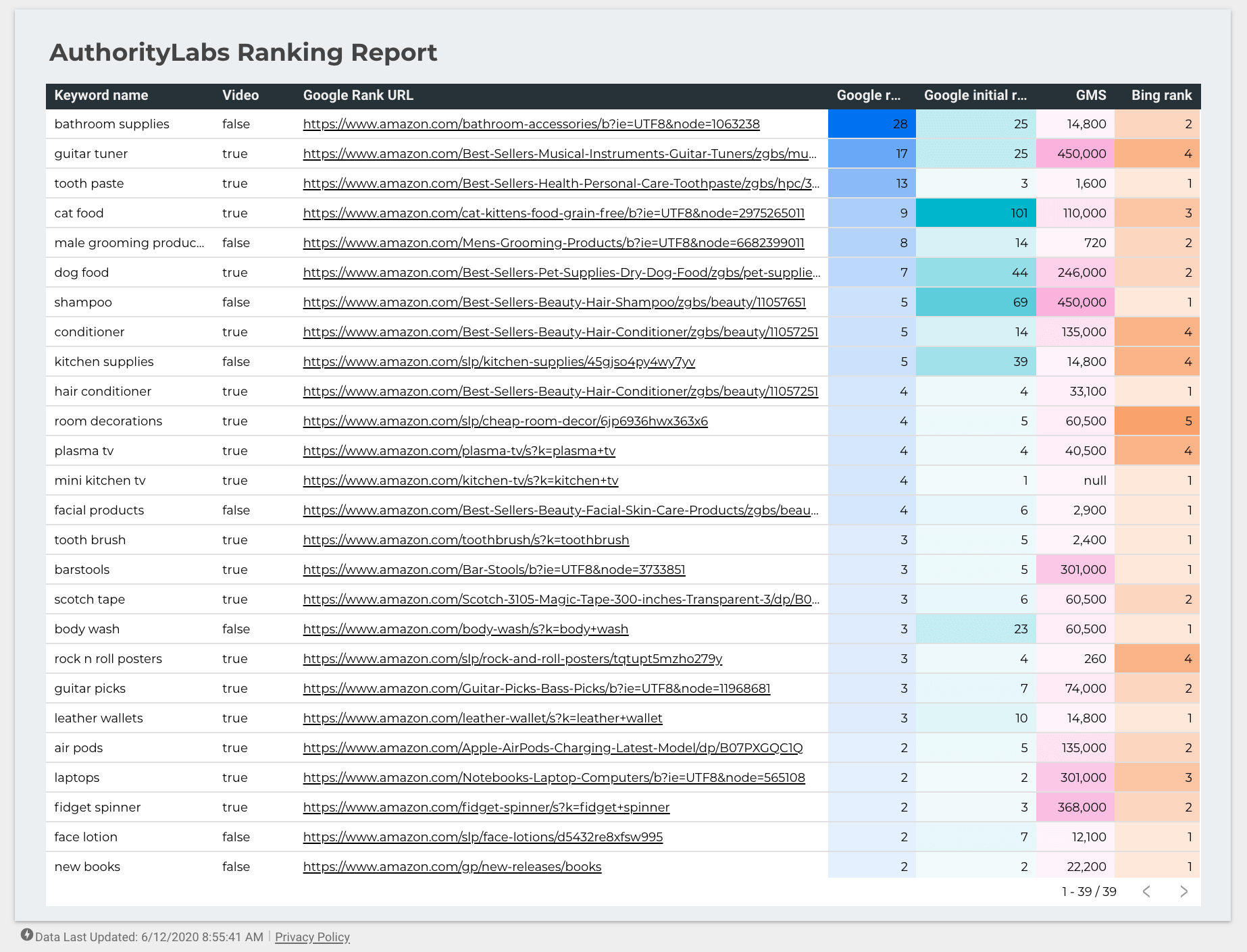 Features.
Daily rank checking data.

Local tracking against cities, states, and even zip codes.

Tracking mobile ranking.

Tracking competitor domains.

Access for multiple users without any extra cost.

Displays 'Not Provided' keywords.
This is again a popular member of the list that is being used by multiple businesses all over. It has a million tools that can seem overwhelming initially. But you only need to go for the ones you require.
The keyword research tool and domain analysis are the most impressive features that give you accurate results. Apart from that, it helps trace and analyze competitors' and PPC advertisements.
There are other mini tools like the SEO writing assistant and the Surround Sound tool, using which you can analyze the SERP of any keyword.
There are different pricing plans like Pro, Guru, and Business. The first two offer you a 7-day free trial period. The business plan is the most expensive, costing around $449.95 per month.
Features.
Displays millions of national and local keywords.

Run technical SEO audits.

Daily updates on SERP tracking. 

Tracking brand mentions and content performance.

Analyze traffic and competitors.

Scheduling and posting content on social media.
A rank tracker tool from Ukraine, this one has more than 100,000 active users today. Whether you want features like rank tracking, keyword research, site audits, analyzing backlinks, or anything else, this can do the job well.
Suppose you wonder what makes it so unique that it has been included in this list. In that case, the visualization of your ranking progress is impeccable in Serpstat. The graph and colors used aesthetic but are easy to read simultaneously. It will display your current state in the SEO field and systematically arrange all the necessary details.
If we have to find one con of this tool, it will be the pricing plans. Considering other keyword rank tracking software, Serpstat is quite expensive at $69 per month for 500 keywords. The price increases to $149 per month for 2000 keywords.
We feel this tool will be ideal for E-Commerce or website owners looking for a range of features in one SEO tool.
Features.
Track best-performing keywords and monitor trends.

Track the rank of your site worldwide.

Track ranks of competitors.

Can schedule daily, weekly, or monthly reports.

Monitor and analyze link-building campaigns.

Site audit tool to find and fix issues.

Set up notifications of your results.

API access for any tool and any paid pricing plan.
Advanced web ranking AWR is another best SERP tracking tool that might be at the bottom of our list but is not a bad performer. It lets you track the performance in SERPs across several locations and devices. The rank tracking feature monitors more than 4000 search engines across more than 170 countries. Impressive right? But that's not all.
It displays the results via reports where you can view all details and even segment the data into different bits. You can remove the Advanced web ranking logo from all reports and use your own instead. It also offers the flexibility to track keywords in any language and with any unique character. You can add multiple users to your account for extra help.
Advanced web ranking is not only helpful in monitoring your progress, but it also keeps track of your rivals too. There are four different pricing plans that you can select based on your budget- starter, pro, agency, and enterprise. The prices start from $49 per month and can go up to $199 per month.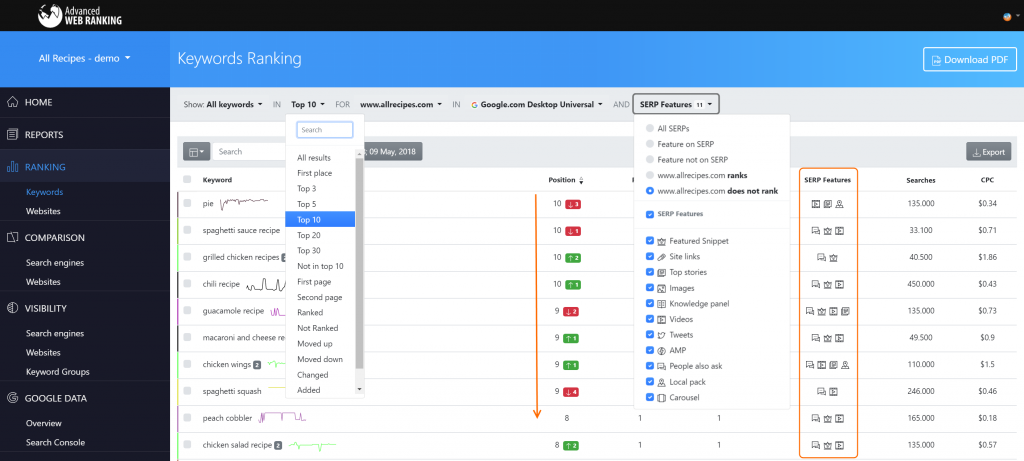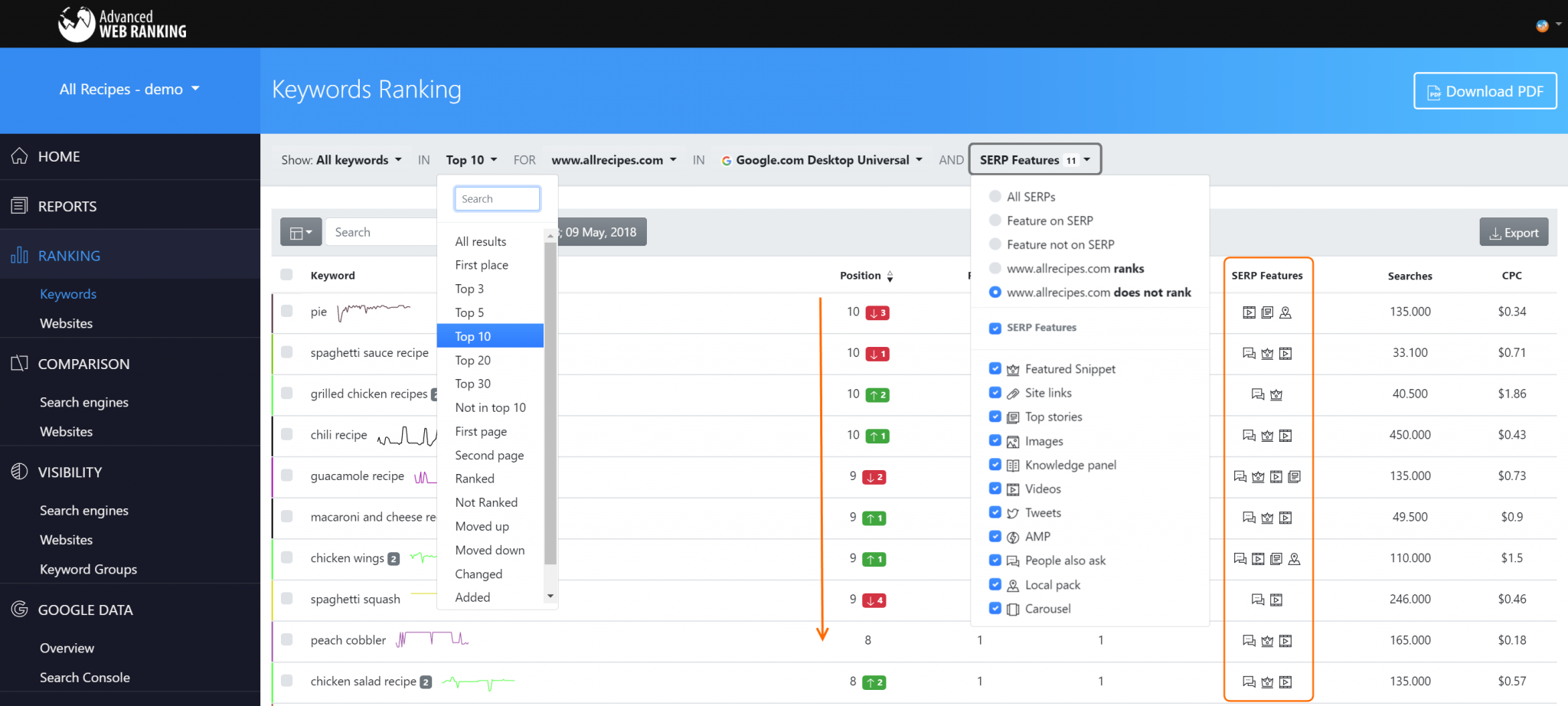 Features.
Accurate keyword ranking data.

Track local rankings across multiple devices.

Complete the Whitelabel interface and reports.

Monitor your ranking across 4000+ search engines.

Track keywords in any preferred language, including special characters.

Unlimited and flexible accounts.

Dedicated account manager and data migration assistance for Enterprise users.
Conclusion.
Mentioned above are our top 10 recommendations for the best SERP tracking tools. Each performs amazingly well, and you can select the one based on your required features and pricing. We have come a long way today in content marketing, and it's incredible how you can monitor the progress of every little thing that can contribute to your growth. 
From maintaining the ranking of a website in search results, tracking keywords, and monitoring rivals to improving your strategies, SERP tracking tools can help in many factors. And the key is choosing the best SERP tracking tool which offers you the most value for the money you spend.