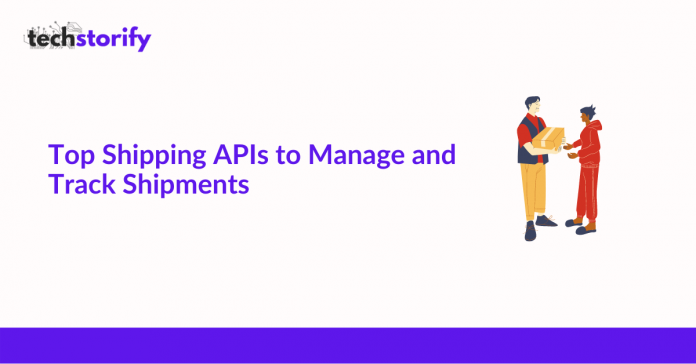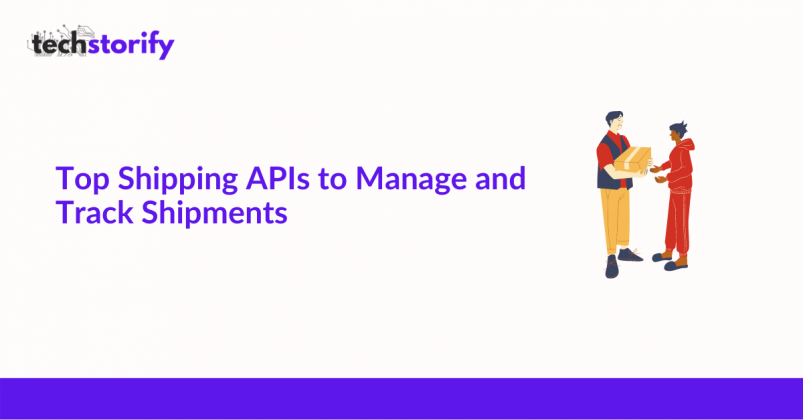 Here are our top picks for the best international shipping API for eCommerce.
The unique selling points of each of these courier APIs create a seamless shopping experience for the customer and the retailer.
After reviewing the key functions of eCommerce APIs, let's move on to API integrations that perform these functions seamlessly.
Why it is important to select the right shipping API?
Shipment is one of the most crucial aspects of an eCommerce business. Making sure your product reaches your customers efficiently and quickly is critical to your success.
Therefore, it is essential to use an API that will make your shipping process simple and easy.
Whether small businesses compete with Amazon, eBay, or multinationals, the market is tough.
It's not about the product anymore. Providing seamless service is a matter of ensuring a seamless purchase and delivery experience.
Almost 38% of shoppers agree that they would never shop at a retailer again if they were dissatisfied with the delivery.
The importance of "shipping and delivery" in eCommerce can be seen here. Nowadays, courier APIs for eCommerce is responsible for making eCommerce shipping hassle-free in today's technologically advanced world.
As an online seller, you recognize the importance of finding the right shipping API.
In addition to being reliable, affordable, and easy to use, you need an eCommerce platform that supports your business.
We have compiled a list of the top 10 courier APIs for eCommerce companies to make things easier for you.
You can use our shipping API to track shipments or to access real-time rates from different couriers, so whether you're looking for a shipping API or a real-time rate comparison, we've got you covered.
Before we can understand how an API can help eCommerce businesses, let's learn what courier/logistics/shipping APIs are.
What are Shipping APIs or Courier APIs?
Businesses can manage their shipping logistics more easily with the best shipping APIs. eCommerce courier API integrations let companies access real-time rates and tracking information from couriers and shipping providers.
By using a FedEx shipping API or UPS shipping API, an online store can connect directly with a service like FedEx or UPS.
Using courier APIs, online shoppers can check out and receive their purchases in an automated and streamlined manner, with little or no manual intervention required by ecommerce businesses.
E-businesses need to run smoothly and without obstacles in order to succeed
Top 10 Shipping API to Manage and Track Shipments
ClickPost Shipping API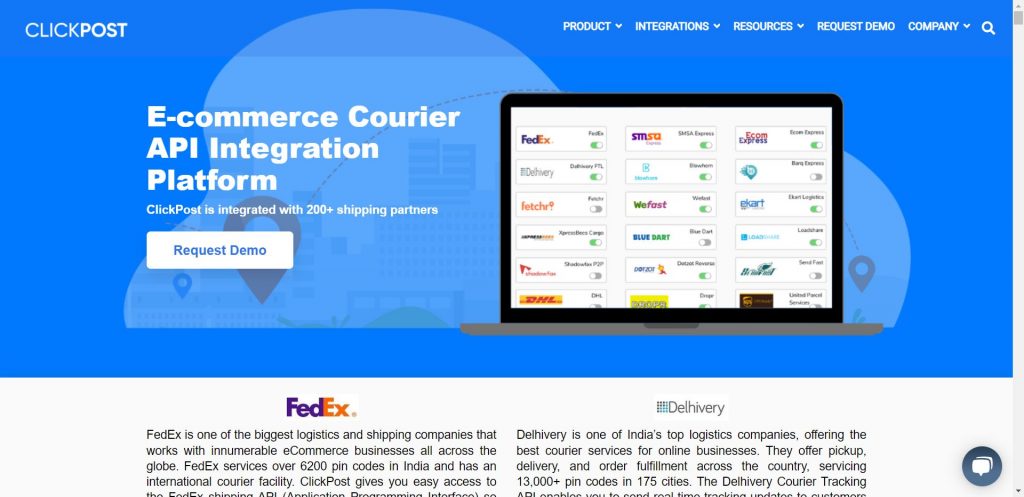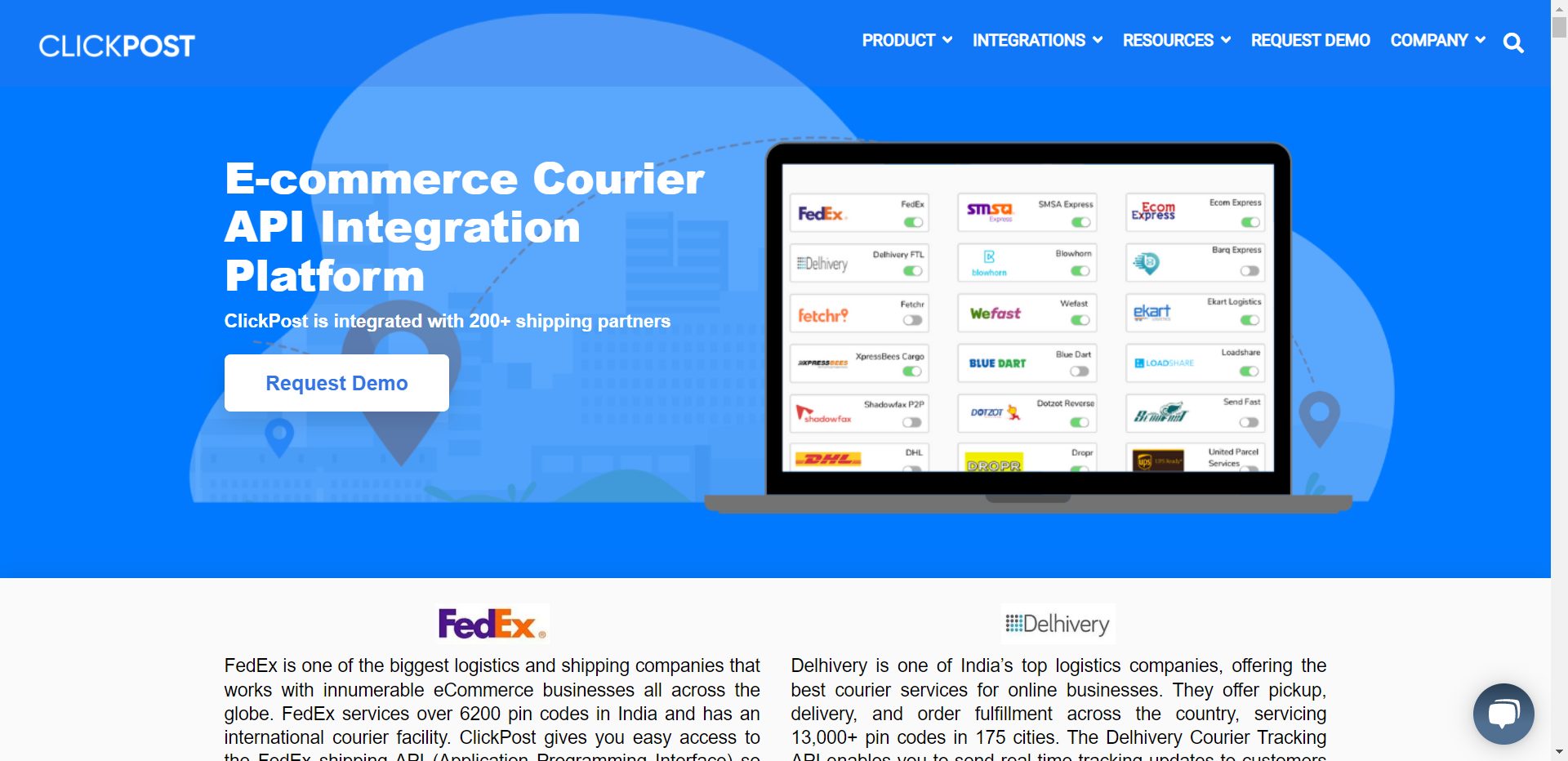 The ClickPost shipping API integration software helps businesses proliferate as the world's most popular API integration software for multicarrier shipping.
It enables users to easily integrate with courier partners in just one day by providing a wide range of APIs.
ClickPost's shipping API offers the following features:
For eCommerce businesses, ClickPost offers a single API to manage order manifest and shipping operations.
Real-time tracking updates are sent to customers through push-and-pull API integrations.
As well as assigning the best carrier for packages, ClickPost analyzes previous performance, package type, delivery location, and other metrics.
With the logistics API integrations, customers can also easily place return requests on a self-serve return portal, where they can select the reason for returning and place their return requests.
Shipments are automatically labelled when an order is created using the API.
ShipEngine eCommerce Shipping API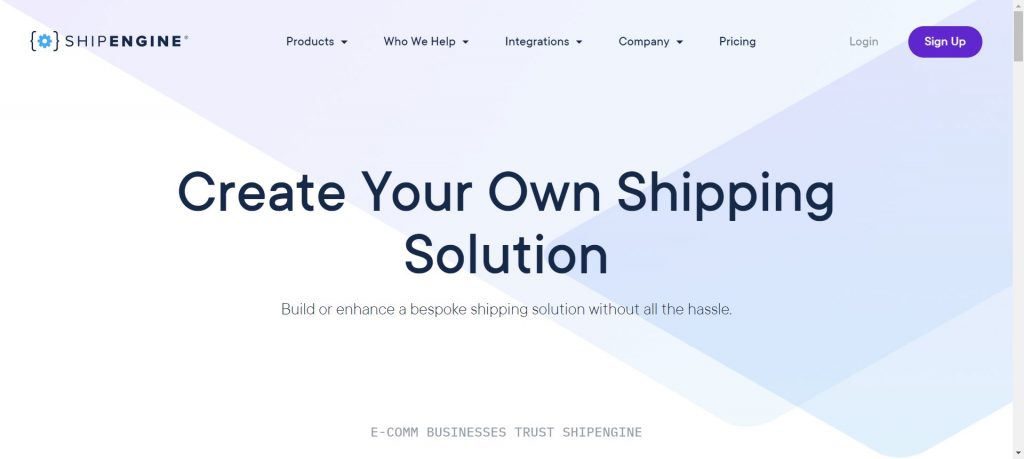 Using ShipEngine, brands can set up the workflows necessary to provide hassle-free shipping and delivery to their customers.
Clients can perform cart carrier rate checks with the tracking API and access other features such as shipping label creation, shipment tracking, and address verification.
Payment for ShipEngine is based on usage.
For example, you only pay 5 cents per label, 1 cent per tracked package, 1 cent for each US address that's verified, and 6 percent for each global address verified.
Here are some of the features ShipEngine has to offer:
Compare rates across more than 30 carriers
Creating shipping labels.
Discounts specific to certain carriers.
You can bring your own rates.
Validating addresses
Tracking shipments
No credit card needed to open a developer account
Shippo Courier API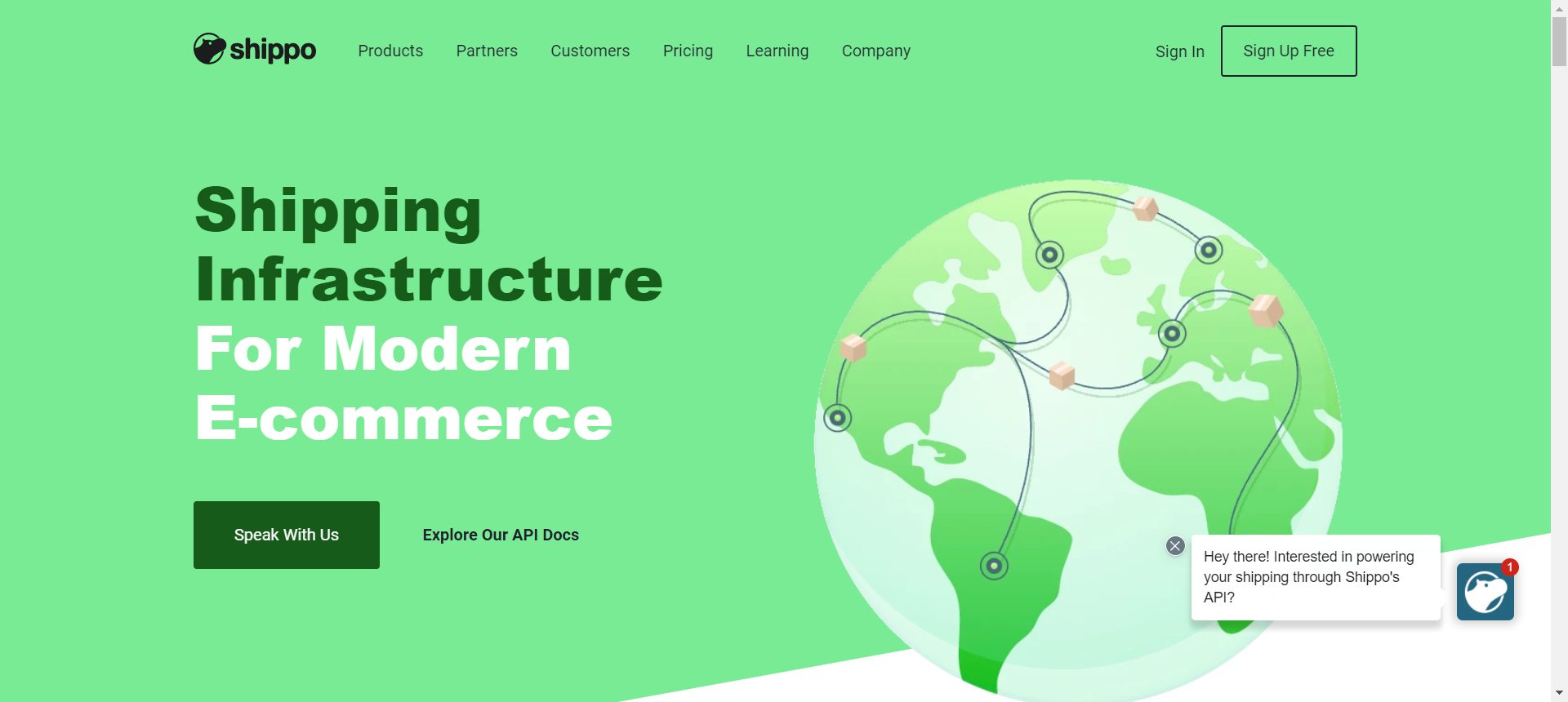 With branded emails and tracking pages, Shippo provides unique customer experiences that enhance shipping operations.
With this application, retailers can handle returns, compare carrier rates, schedule carrier pickups, verify addresses, and track shipments.
Shippo also offers a professional plan for $10 a month or a premier plan with customized solutions for your business in addition to paying as you go for 5 cents plus postage.
Here are a few features to look forward to:
Shopify, Shopify Plus, Weebly, Wix, eBay, and GoDaddy provide multi-carrier shipping with e-commerce platforms like WooCommerce, Weebly, and Wix
Comparing real-time rates among different carriers
Creating labels automatically
UPS, DHL, USPS, and more discounts
Scheduling of returns and pickups
Validation of addresses
Tracking packages and receiving shipping notifications
EasyPost Logistics API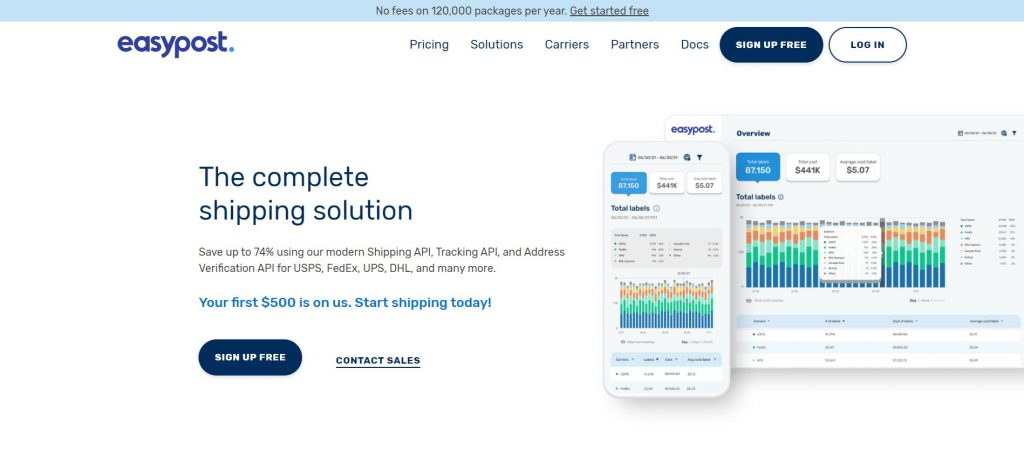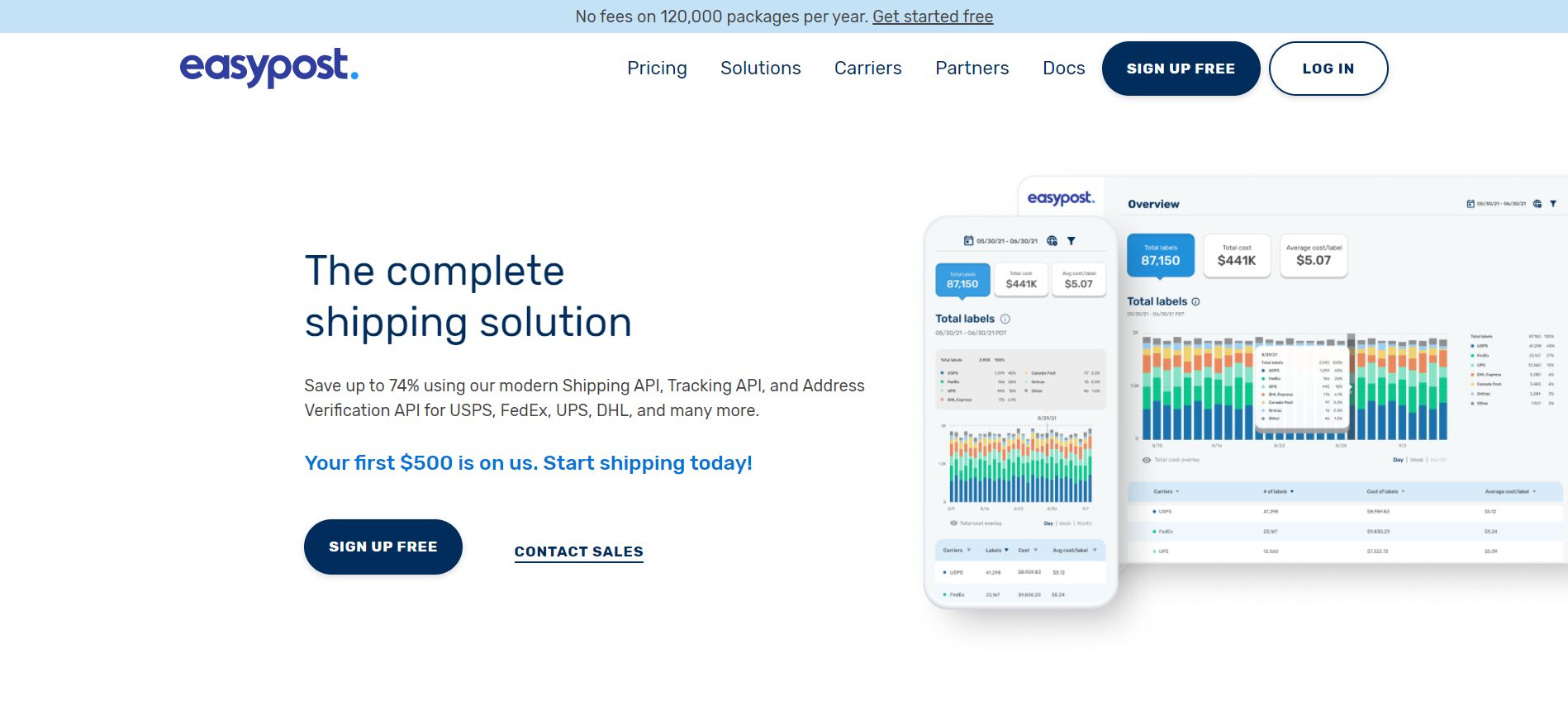 With EasyPost, retailers can control and customize their shipping functionality. You can track shipment status, verify addresses, ship internationally, restrict shipping, and get shipping insurance through its API.
Shipping insurance is available through EasyPost for 1% of the assured value, with a minimum charge of $1. Pricing is based on a pay as you go model.
EasyPost's API features include:
DHL, UPS, FedEx, USPS, and others provide shipping, tracking, and address verification for shipping
Discounts and access to multi-carrier services for leading carriers
Optimizing every shipment based on data
Creating and printing labels
Insurance for shipments
A 99.99 percent uptime guarantee
FedEx Shipping API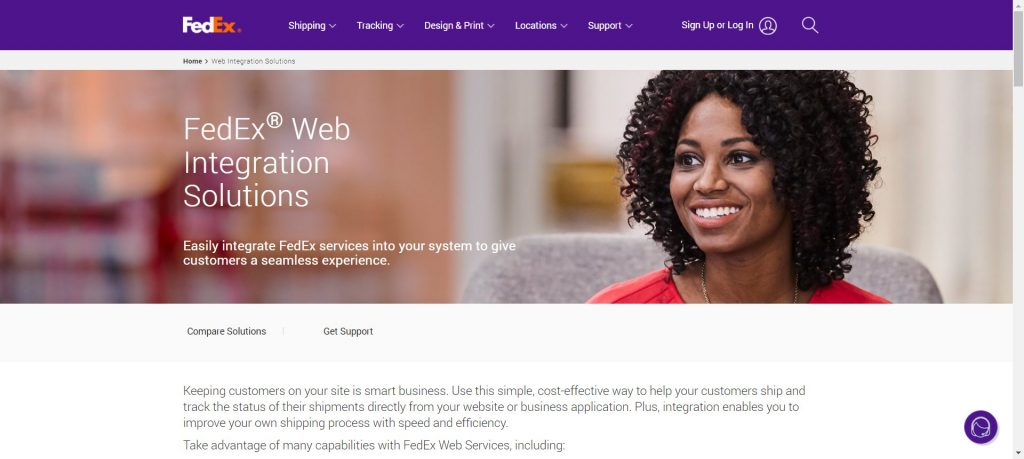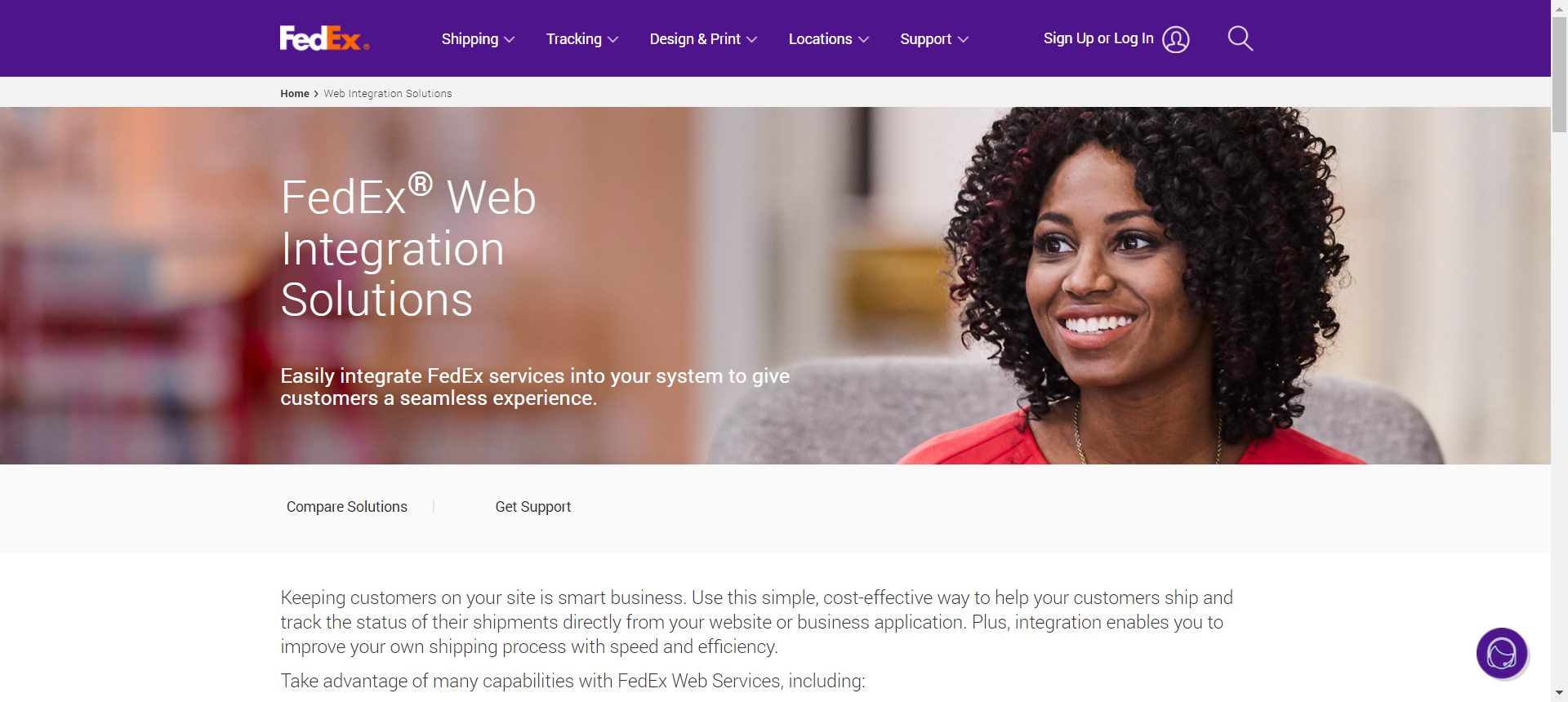 In addition to overnight shipping, FedEx provides real-time location updates for e-commerce stores using its package tracking system.
FedEx shipping APIs are easy to use. In addition to documentation, it provides examples required for integrating a third-party application into its platform.
Any eCommerce business, retail website, or order management system can integrate FedEx's courier tracking APIs to integrate with its different services like FedEx Express, FedEx Ground, and FedEx Freight.
It offers a wide range of API features at a low price.
DHL Best Courier API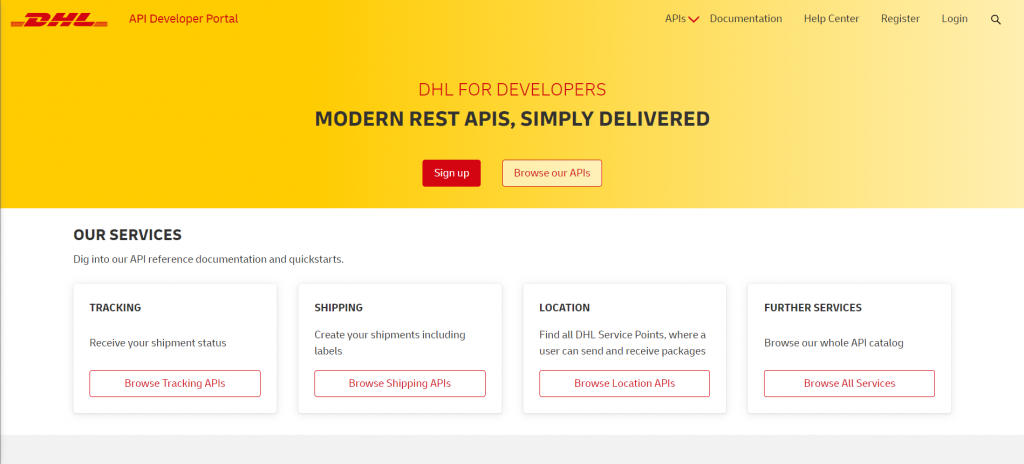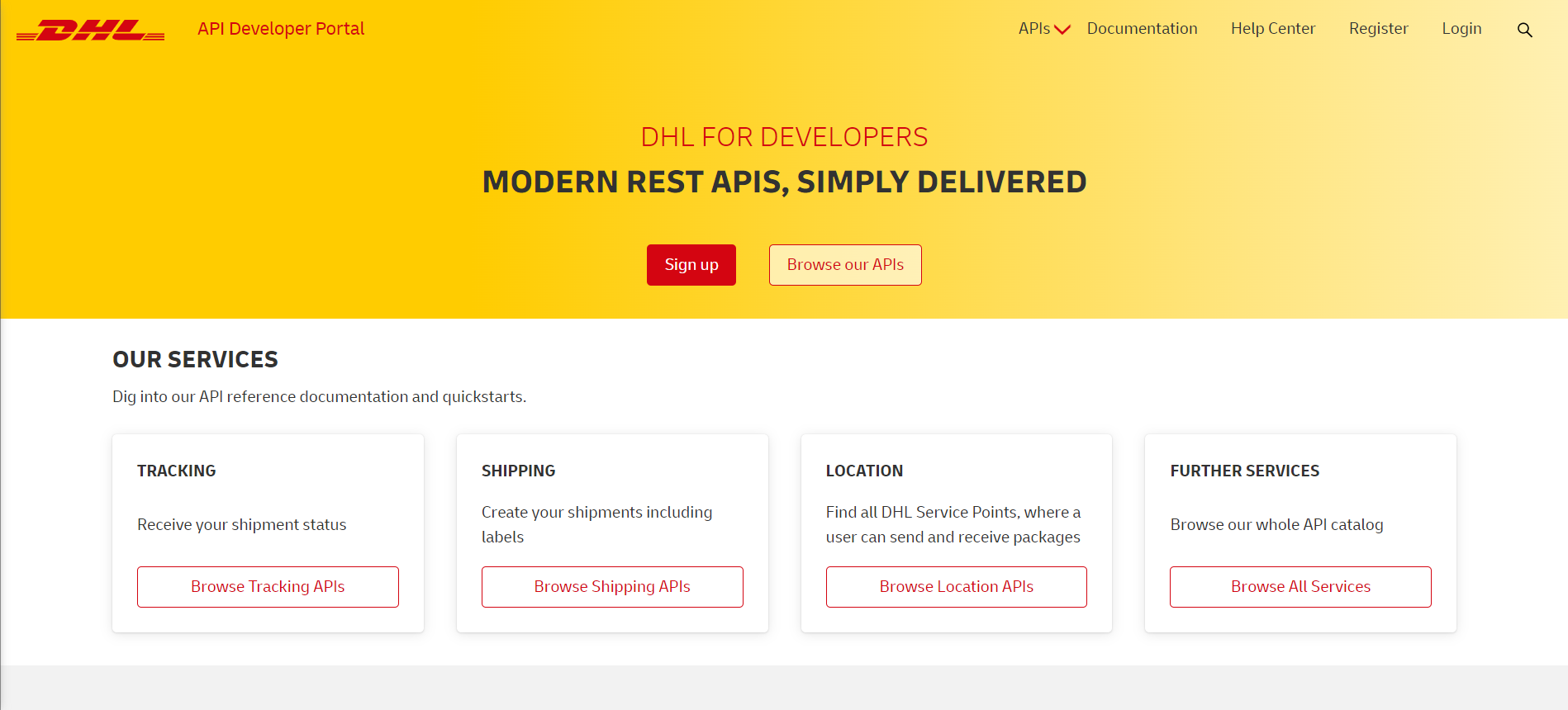 German-based DHL offers international courier and expresses mail services. A powerful shipping API is available.
In addition to being well documented, the DHL API is easily integrated into any brand's website as well as mobile apps. DHL APIs are offered for free, and this is a great advantage.
DHL eCommerce logistics APIs offer the following unique features:
Creating labels
Tracking and status updates in real time
Location finder that finds all the service points for sending and receiving packages from DHL
Address supply chain issues and validate addresses before dispatch.
Uship Logistics API
Shippers and customers can connect on Uship's online marketplace.
By integrating the API into any third-party site, businesses can take advantage of this feature.
Since the API has been well documented, it is easy to use. Uship offers free integrations with the courier API, which saves you money.
Uship's features are as follows:
Instantly estimate shipping based on merchandise
A low-cost and easy shipping option is integrated into the shipping price
Billing, pickup, and delivery automated
There is a wide range of API features available for international shipping to various countries
Flexport Courier API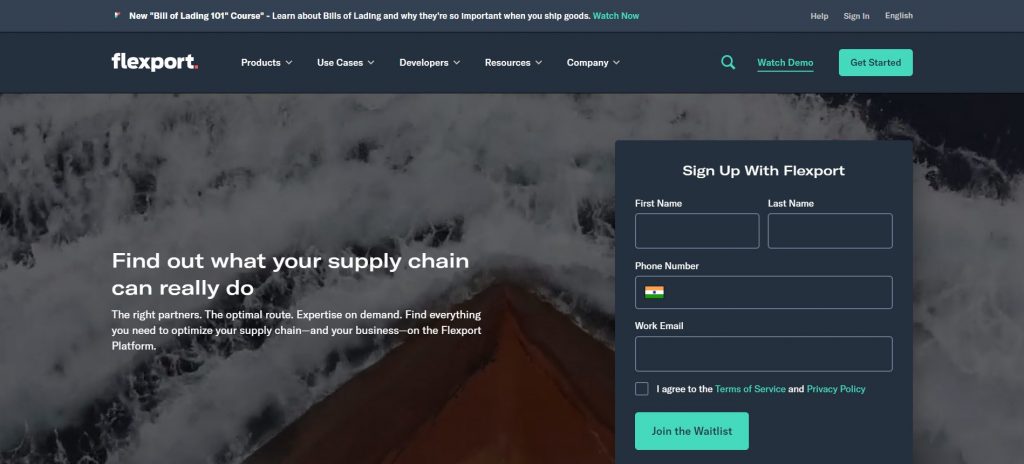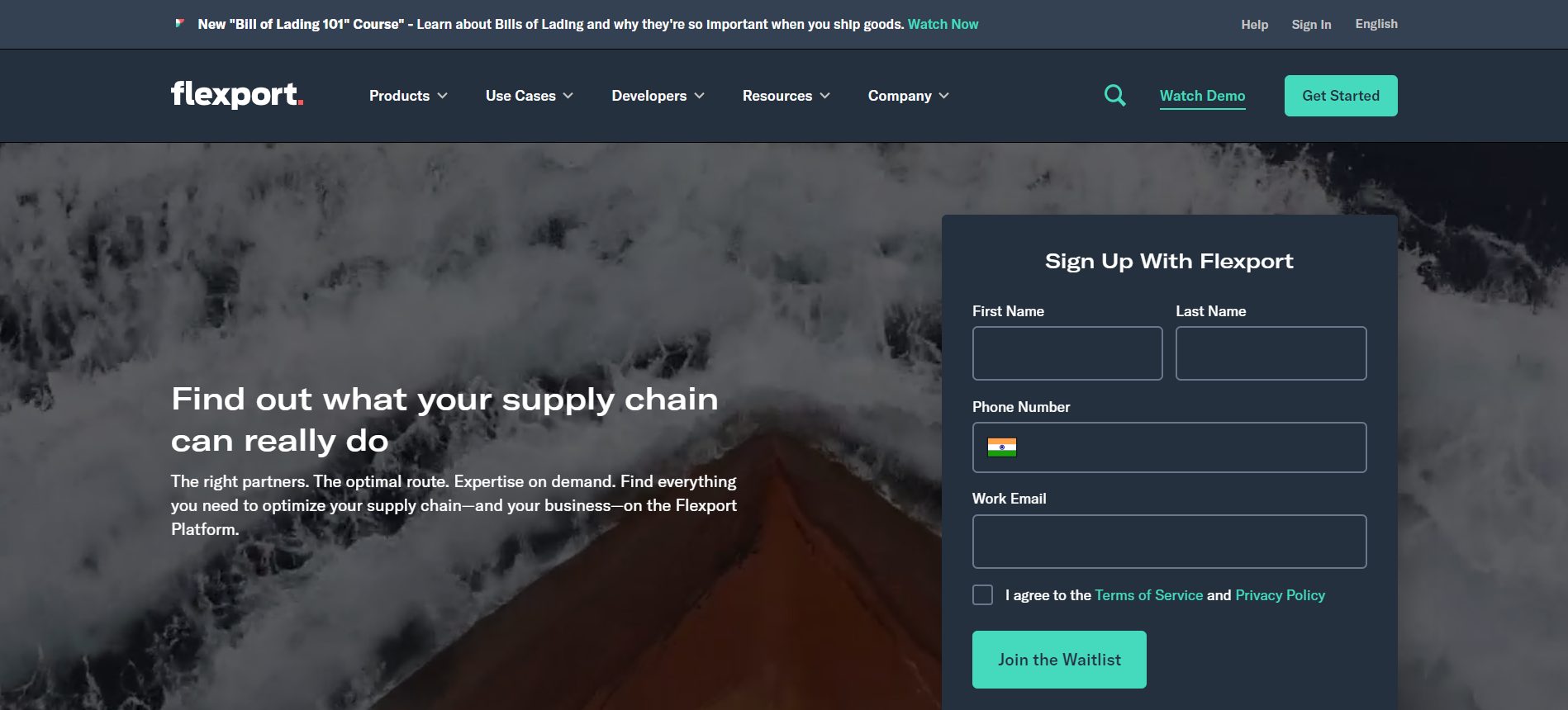 A robust, end-to-end platform for modern logistics was introduced by Flexport in 2013. There are all the necessary facilities and services provided by the full-service air and ocean freight company.
The Flexport logistics tracking API provides detailed documentation, is easy to use, and is free of charge.
JSON-based exchange of information allows you to interact seamlessly with Flexport's freight data. Flexport's developers and users both benefit from its excellent support.
Easyship Shipping API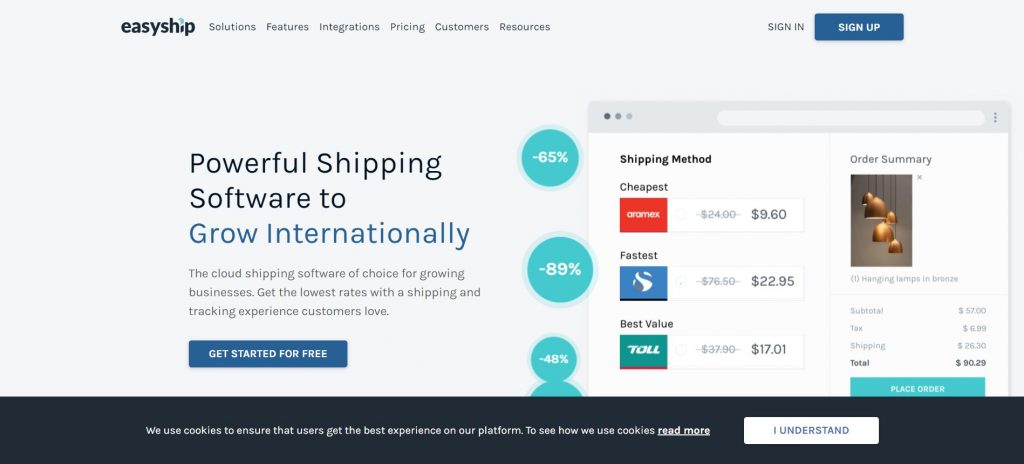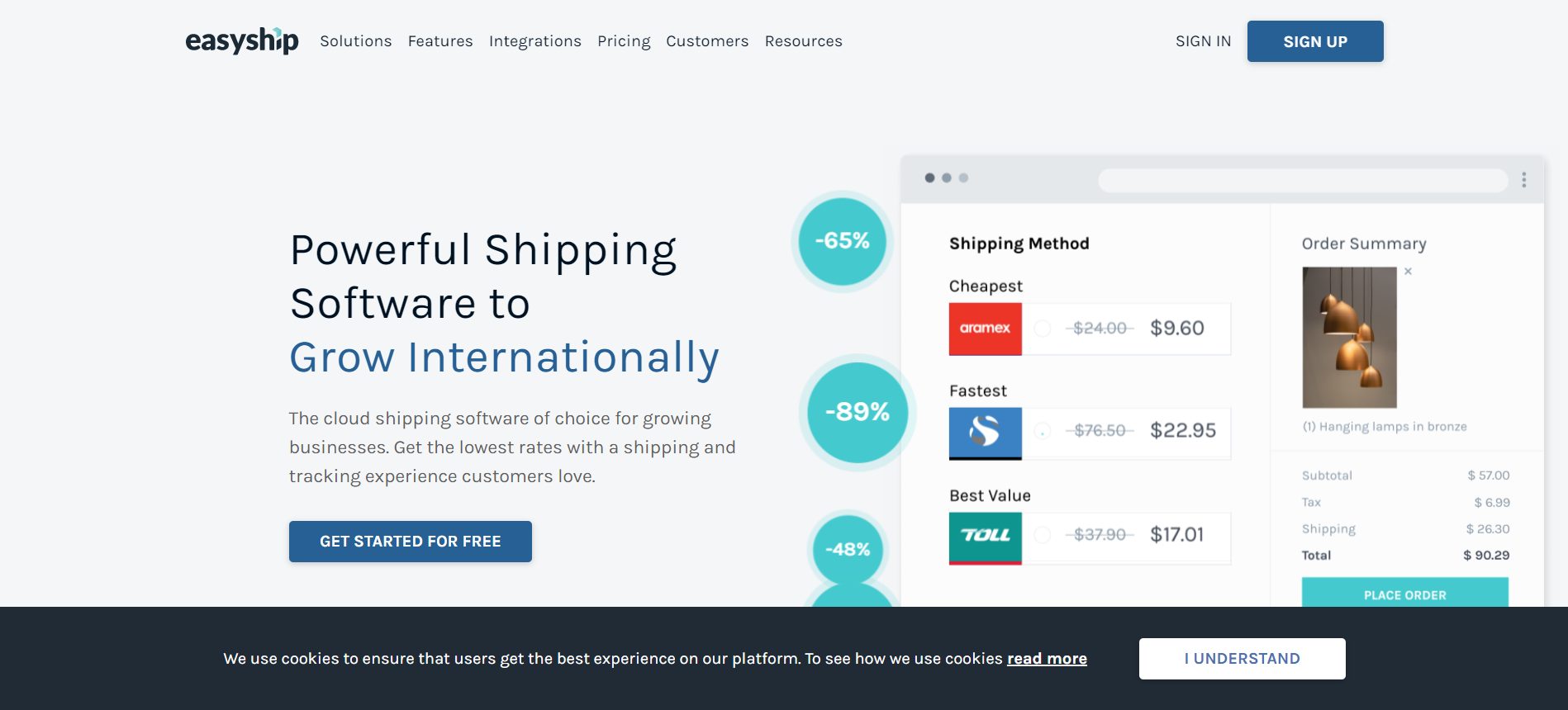 Our shipping solution is modern, cutting-edge, and tailored to your needs. With its API, tracking, labeling, and management features can all be integrated easily.
With Easyship, you can integrate it quickly, get clear documentation, and it's free.
Here are a few features of Easyship:-
Prenegotiated discounted shipping rates offered by a multi-carrier platform
Streamlined integration with leading sales channels
Labels generated automatically and at a low price
Using cloud-based shipping software, you can track finances
USPS Logistics API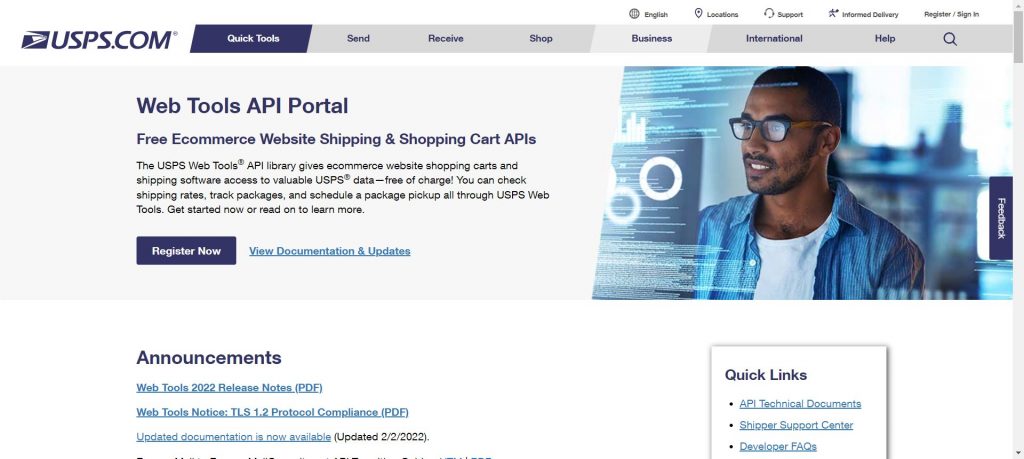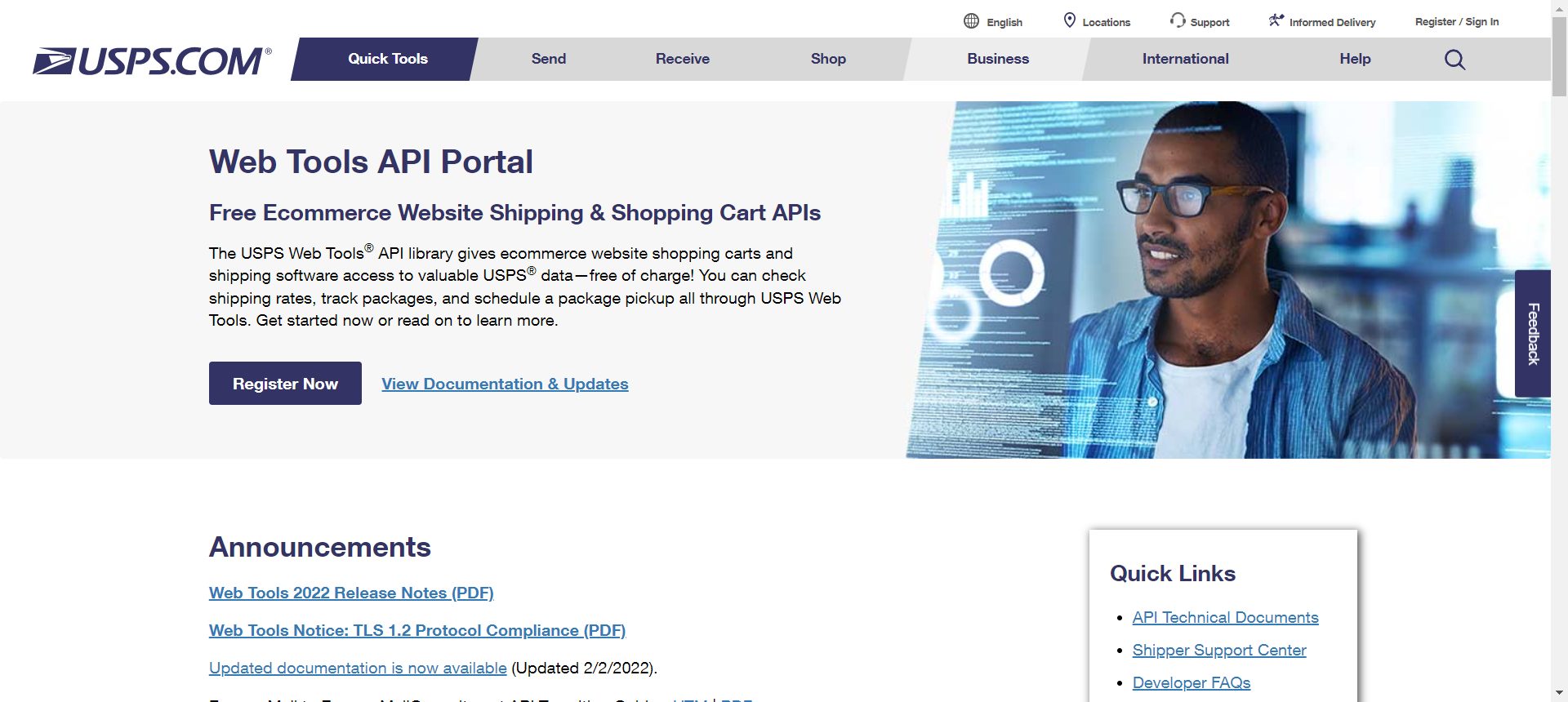 USPS stands for United States Postal Service, founded in 1971. It provides postal services all over the country, and is managed by the United States government.
With the USPS Shipping API, customers can easily access shipping information and services.
In spite of the fact that it is free, the API is hard to configure because it has limited resources and is not suitable for beginners. It is among the top shipping APIs available in the United States (USA).
The USPS offers many features, including:
Calculate the cost of international and domestic shipping
Shipments can be tracked
If you are returning a package, schedule its pickup by a carrier
Validating addresses
Final Conclusion
Many industries, including logistics, have long considered technology to be the key to increasing efficiency. The integration of a multi-carrier platform into a shipping API can help your enterprise stand out from the competition.
In addition to setting up an internal infrastructure, you could integrate APIs or create end-to-end logistics.
Your eCommerce business can be adversely affected by both of these factors. You can keep brand loyalty high by integrating Shipping APIs and shipping intelligence platforms to ensure your customers have a positive post-purchase experience.
FAQs About Shipping/Courier/Logistics APIs
1) What is an eCommerce Shipping API?
Ans: The APIs serve as data repositories and communicate with other connected APIs. APIs that optimize the supply and delivery processes are shipping APIs. To speed up the process, APIs can automate functions previously performed manually. As a result, orders can be handled more easily, losses minimized, and order fulfillment boosted.
2) What is an international shipping API?
Ans: The API can be used to ship packages globally without any hassle through a single API. There are hundreds of eCommerce shipping providers that ClickPost integrates with, including FedEx, UPS, USPS, DHL, and many others.
3) Is the Shipping tracking API the same as the Shipping API integration?
Ans: The automated order/shipment tracking features of shipping API integrations sometimes cause them to be referred to as the Shipping tracking API. Shipping tracking APIs streamline order processing and delivery, just as any other shipping API.
Also Read: