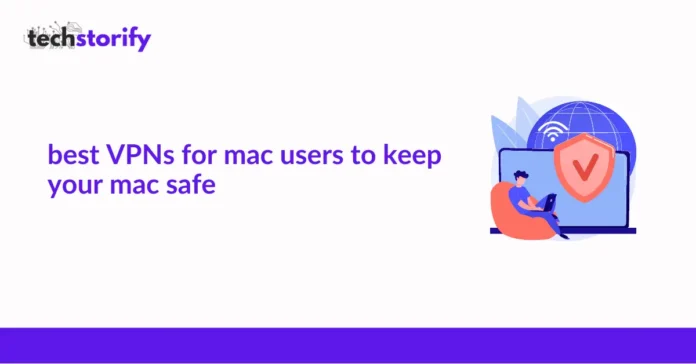 There are hundreds of reasons why you should have a VPN for Mac. Although Mac offers excellent security and privacy while coming to service, there are certain things that only a VPN can make possible. If you want to access a banned site in your locality, a VPN comes to your rescue.
Why Do Mac Users Need a VPN?
Protecting online privacy: A VPN encrypts internet traffic, preventing anyone from intercepting and monitoring your online activity, including your internet service provider (ISP), the government, or hackers.
Accessing geo-restricted content: With a VPN, you can change your IP address and connect to servers in other countries to access geo-restricted content, such as streaming services, news sites, or social media.
Staying safe on public Wi-Fi networks: Public Wi-Fi networks are often insecure, which makes them a prime target for hackers. A VPN protects your online activity, ensuring that your sensitive data, such as passwords, emails, and credit card information, remains safe.
Preventing ISP throttling: Some ISPs may intentionally slow down your internet speed, especially when you're streaming or torrenting. With a VPN, you can bypass ISP throttling and enjoy fast and consistent internet speeds.
You are shielded from prying eyes while using public WiFi. You can use the below VPNs over Hulu, Netflix, HBO, BBC, iPlayer and similar other sites.
So what are you still waiting for?
Let's jump into the article!
Best VPNs for Mac to Secure Your Macbook
Here goes the list of Best VPNs for Mac users. Do note that all of the below come with a price and if you are looking for a reliable VPN, you will have to pay the price for it.
The first one on our list of best VPNs for Mac is ExpressVPN. It is highly optimized and safe to use, as well. This VPN service stands true to its name by providing the fastest service.
You can unblock services and sites from anywhere in the world. It has the easiest method of configuring on your Mac. All you have to do is sign up on its official page, download the app and choose the location for connecting to a secure server.
ExpressVPN has high privacy and security with anonymous IP addresses for all of its 3000-plus servers spread across 93 countries. This VPN works very well with sites like Netflix, torrent sites, etc.
You can also check the article Best VPN for Netflix
The app, however, has two main issues. One for those with a strict budget as its monthly service is for 6.67 dollars per month. This is quite high than usual. The second thing is that you can connect only three devices at one time.
1 Month – $12.95/mo
12 Months – $6.67/mo
6 Months – $9.99/mo
#2. HotSpot Shield
Hotspot Shield is one such VPN service that has over 50 server locations and more than 2500 servers.
This VPN is very secure and safe and has encryption security. This VPN is best suited for streaming and gaming since it has this Catapult Hydra protocol providing the fastest speeds.
You can connect five devices at one time.
1 Month – $12.99/mo
12 Months – $5.99/mo
36 Months – $2.99/mo
IPVanish is one such VPN service that allows you to customize it to a great extent. It has over 12 thousand servers in 60 countries. You can have access to PPTP, L2TP, and OpenVPN protocols with the use of IPVanish.
The price of this VPN may be an issue for a few, and I personally find it overpriced. It is costlier even than ExpressVPN, which is considered the fastest of all. There was an inconsistency in the speeds of IPVanish.
Netflix, TOR, and torrenting can be streamed with this VPN. There is no threat of leaks as well. They do claim to have a no-logs policy, but we are not sure about that.
Don't Miss – Best VPNs for Torrenting Safely
You will find the Kill Switch feature for even Windows and Mac. Up to 10 devices can be connected at a time. You are given a money-back guarantee limited only to 7 days. The payment options vary a lot.
1 Month – $7.50/mo
3 Months – $6.75/mo
12 Months – $4.87/mo
NordVPN is another best VPN for Mac users that offers you unclear servers as well as a double VPN. It has got a new security system as it uses Double Data Encryption to wrap your connection in two layers of VPN.
Although you are offered the best Security, nothing is less good when speaking of the speeds of this service. You can have a lag-free experience using this site.
This VPN service can be used on various operating systems like Mac, Windows, Linux, Android, etc.
Unlike ExpressVPN where the limit for adding simultaneous connections is just three, you can add up to double the connections here! This service has over 5200 servers spread across 62 countries.
NordVPN has an inbuilt Kill Switch that cuts your connection automatically if the WiFi you are using drops. This makes sure that your original location is not revealed.
Over the Mac app of this VPN, you will find a drag-and-drop map where you can easily select the location of the new server. The cost of this VPN service is nearly 3 dollars for a three-year commitment.
1 Month – $11.95/mo
12 Months – $6.99/mo
36 Months – $2.99/mo
Recommended – Best NordVPN Alternatives You Should Try
#5. ProtonVPN
Proton VPN is similar to Surfshark in the feature of Quick connect that will join you to the smartest server real soon. It has nearly 345 servers across 32 countries. There are no leaks to worry about while using this connection.
ProtonVPN has one drawback related to speed. It will slow your internet speed by 40 to 80 percent. This might be an issue for those looking for highly optimized VPNs.
Another issue might be that you can stream sites like Netflix from specific servers like that of the Netherlands, but it is limited to P2P servers and is not adequate for torrenting.
However, it does have apps dedicated to Android, iOS, Mac, Windows, and Linux as well. Not just that but you will also find apps for Tomato Router, DD-WRT and AsusWRT. You do have a money-back guarantee of 30 days so you can have your refund if you are not happy with the service.
#6. Surfshark
Surfshark is a VPN service designed for Mac, Chrome, Windows, Android, Firefox, Linux, etc. that has over 800 plus servers in nearly 50 countries. The best part about this VPN is that it has a no-logging policy and it's the cheapest one on this list costing you just 2 Dollars per month.
Another great feature is the presence of the 'Quick Connect' button. This enables a quick connection of your network to their servers. You can stream websites like Netflix, Hulu, torrent sites, etc. through this VPN.
For all its versions for various operating systems, it does have a Kill Switch, but for Android OS, it is still developing. However, Mac users will find a Kill Switch over the Mac app. The only drawback you may face is speed issues. Otherwise, everything else works perfectly.
#7. Tunnelbear
Last but not least is the Tunnelbear VPN Service for Mac users which has nearly 320 servers in 22 countries. Although it is not as vast as other VPNs mentioned above and not even equally popular, it surely does the job of a good VPN.
It indeed is one of the best VPNs for Mac users as it secures all the information and does not leak any of it. It also has the Kill Switch that saves you from others knowing your actual location. The number of devices that can be connected simultaneously is 5.
This VPN has a feature called 'Ghostbear' which will hide your VPN Connection along with an anonymous IP address. The VPN service claims to work for Netflix as well, but we have not experienced that yet. However, torrenting and similar other things are allowed.
Another thing that might be an issue while using this VPN is the Speed lags. However, considering the price of the VPN which is 5 dollars per month and 60 dollars per year, it offers a free trial period of 30 days which you can see how this VPN works and whether or not you want to buy it.
Wrapping Up
Those were the 7 Best VPNs for Mac. I hope you have all found the article of use. In case you have any more names to suggest for us to update in this list, feel free to drop it down in the comment box below.
Have something to say about this article? Comment below or share it with us on Facebook, Twitter, or our LinkedIn.
Remember, sharing is caring!