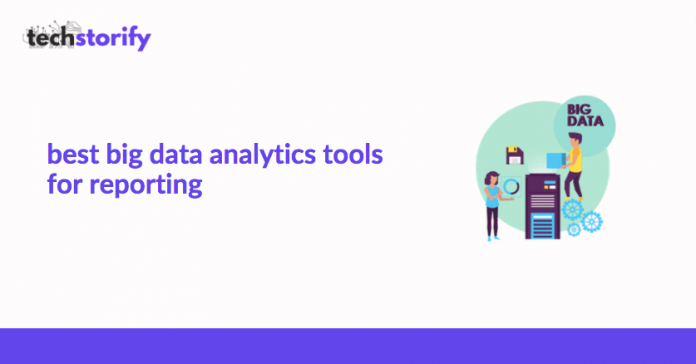 As we progress with shifts in the marketing trends, we need a solid tool and software to take note of your growth. Big Data Analytics tools play a significant part in mapping the growth, calculating the sales and profits and other metrics of your business. 
Moreover, the Big data Analytics tool helps businesses find current marketing trends and the latest changes. These can help companies manage their business budget, and analyse what they need to improve.
Big data software can be both cloud and on-premise. Any cloud software will have a large volume capacity and can be accessed from anywhere. 
Collectively, Big Data Analytics is a collection of a large number of data processes related to your business.  These tools are mostly used by data scientists, programmers and the production and sales teams for analysis. 
Thus, we have shared the list of 10 Best Big Data Tools that businesses must try. 
Best Big Data Software & Tools To Try Out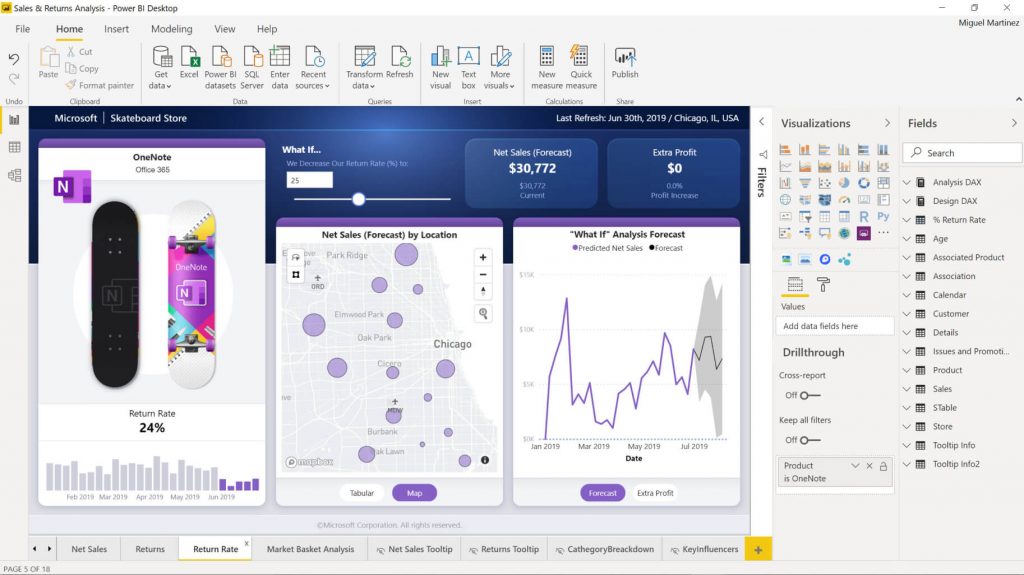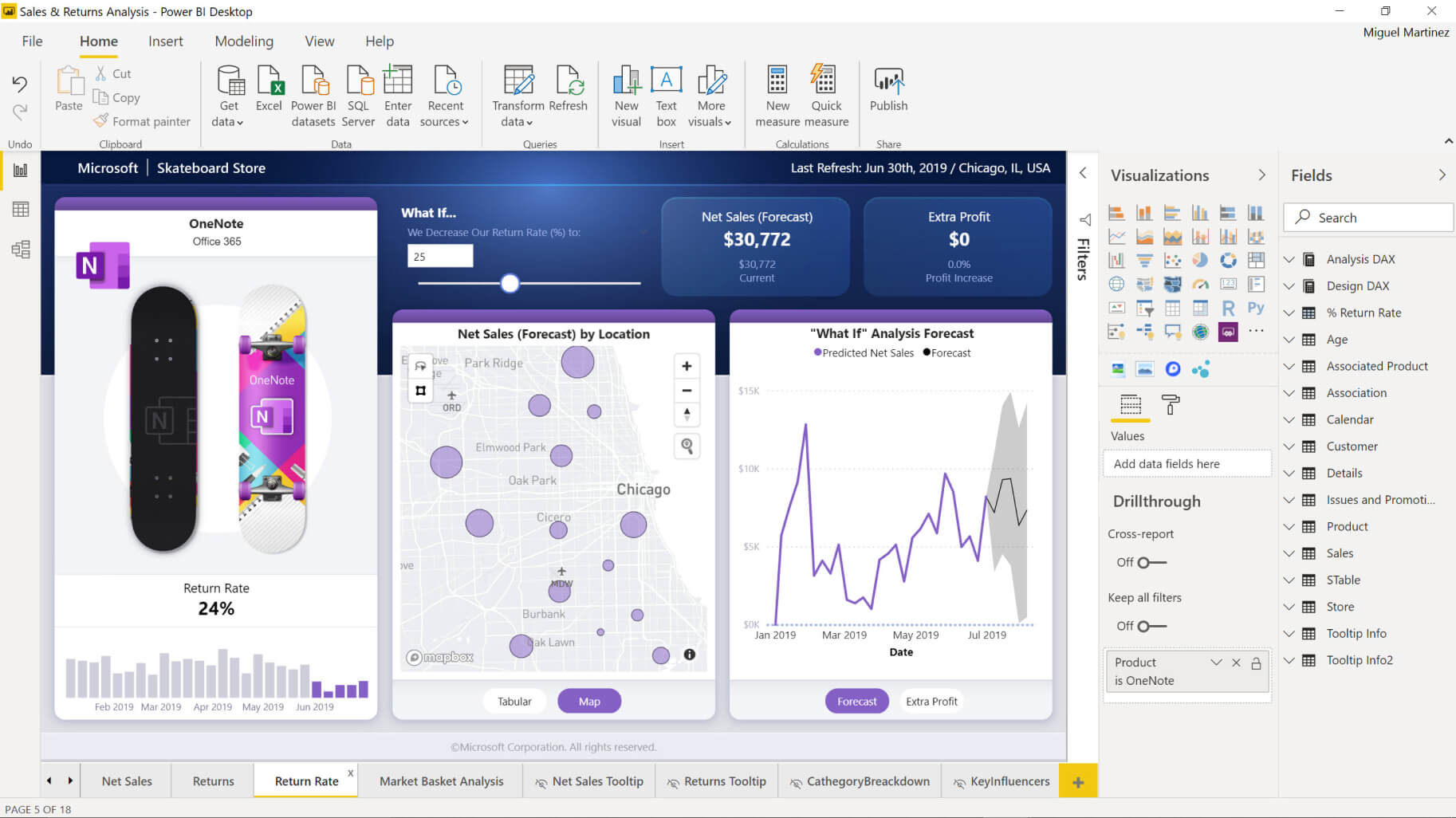 Power BI is an end-to-end big data software that is mostly used for data visualization. It comes with a free demo and a free trial. 
It is was easy to understand analytics software and is considered a reliable source for data as it belongs to the Office365 ecosystem. 
PowerBI has two pricing plans: PowerBI Pro and Premium. The pro plan has a free version whereas the premium plan comes at an enterprise license.
Features:
Power has powerful AI capabilities and smart tools to measure insights and metrics. 

With power BI, users can analyze the data using conversational languages such as in the form of Q&A.

Users can even create and customize the report from scratch so that they can add any information they want. 

There is no limit to the number of collaborators. Add as many collaborators as you can and import them to the dashboard. 
2. Splunk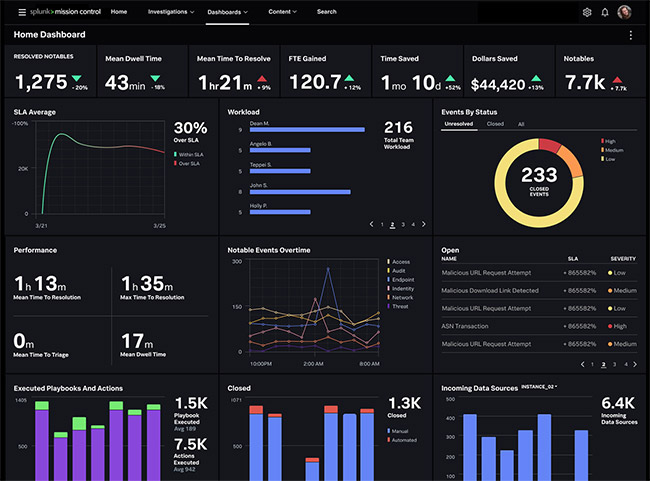 Splunk is a powerful cloud-based big data software that empowers your marketing campaigns. It is a multi-purpose platform for tracking changes, insights and marketing trends. 
It works seamlessly for businesses of all sizes; small, medium, large-sized or non-profits. Splunk comes with a real-time monitoring feature that would detect changes and abnormalities. 
Features:
Splunk has various templates and beautiful visualising features for creating marketing reports. 

It can index your data completely which can then be searched and sorted accordingly. 

You can also customize your dashboard by arranging them and setting up your favourite tools right in front of you. 

Further, it is a user-friendly software that allows and gives permission to APIs and SDKs.
3. Cassandra


Another top-notch bid data software that comes with AI capabilities. It is designed by Apache and is considered best for arranging and distributing large volumes of data which is spread across various commodity servers. 
The best part about Cassandra is that it is a reliable open-source software and completely free to download. In fact, Cassandra is preferred by large companies and enterprises such as Facebook, Accenture, Honeywell, American Express and Yahoo. 
Cassandra is a top choice for database management for online and web applications. 
Features:
Cassandra is completely free to use software with NoSQL DBMS that can help manage large volumes of data. 

It uses automated language such as 'CQL (Cassandra Structure language)'  to interact and arrange its database. 

Moreover, it scales the large volume of data linearly which makes it easier to use. 

There are various options for using it efficiently for ad-hoc, batch, time-series analytics applications.
4. Talend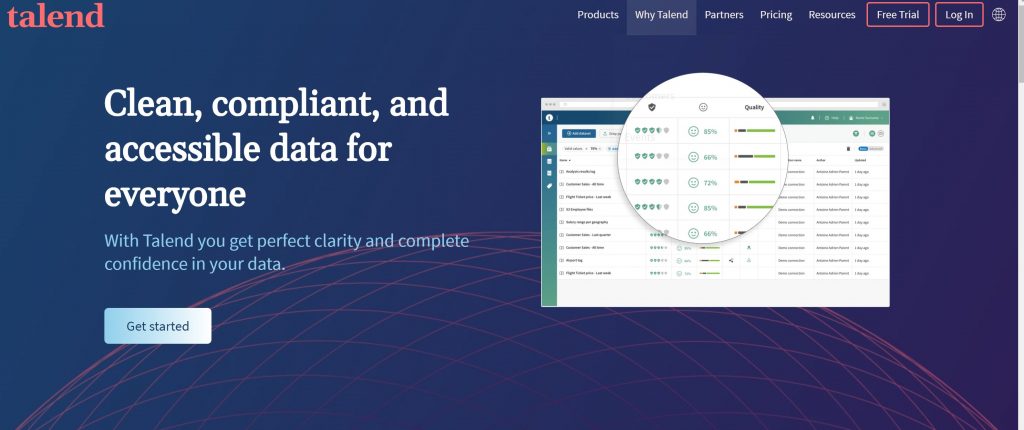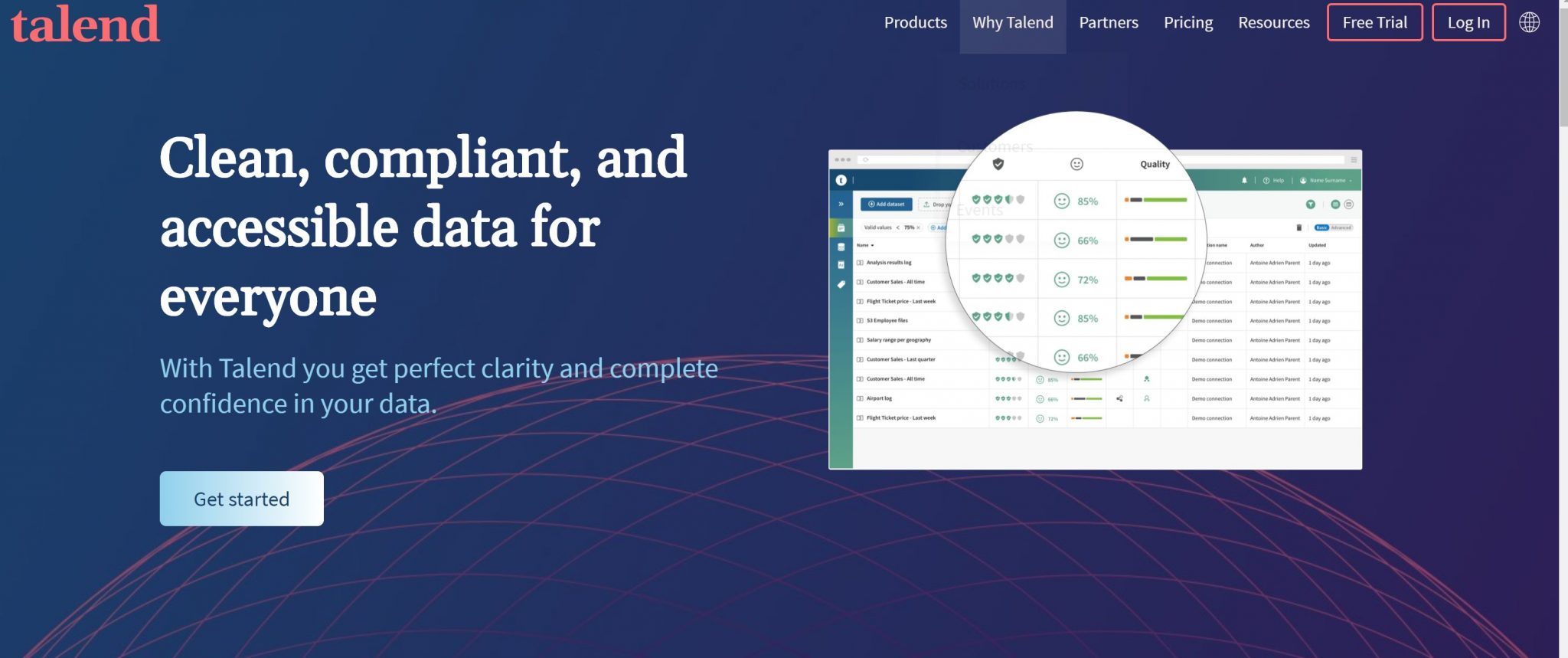 Talend is a cloud-based big data analytics software that has sleek and compliant data management programs. Talend is open-source software that can efficiently handle tons of data. 
Talend Open Source software comes for free. Other Data analytics tools offer a 14-day free trial. Talend seamlessly works with Spark and Mapreduce for creating large data insights. 
Features: 
Tandle uses Data fabric and provides a holistic environment to collect and share all your data.

It streamlines the ELT and ETL for large data usages. 

Talend offers custom marketing solutions using a single platform. It has multiple connectors for processing the data individually. 

You can get the insights using the real-time monitoring features and scale your insights with scalable tools. 
5. Cloudera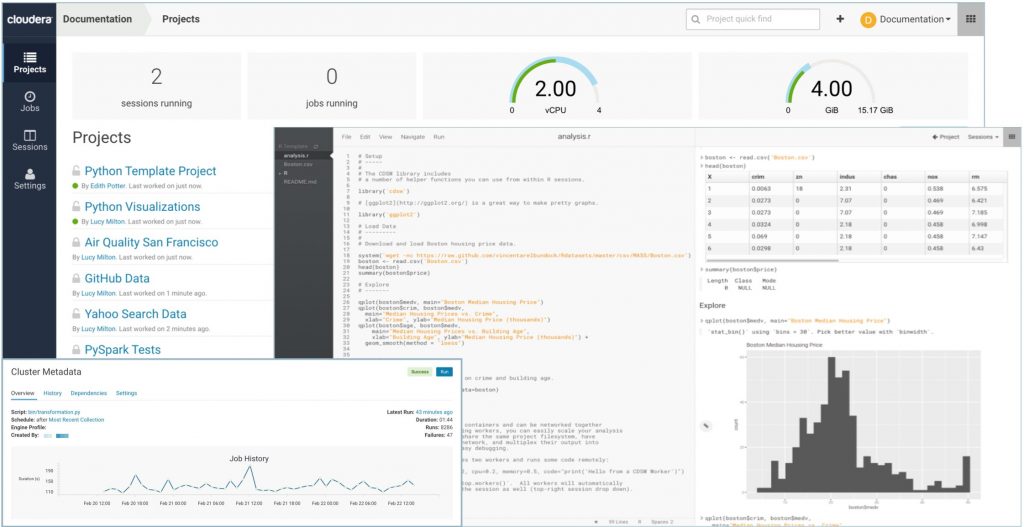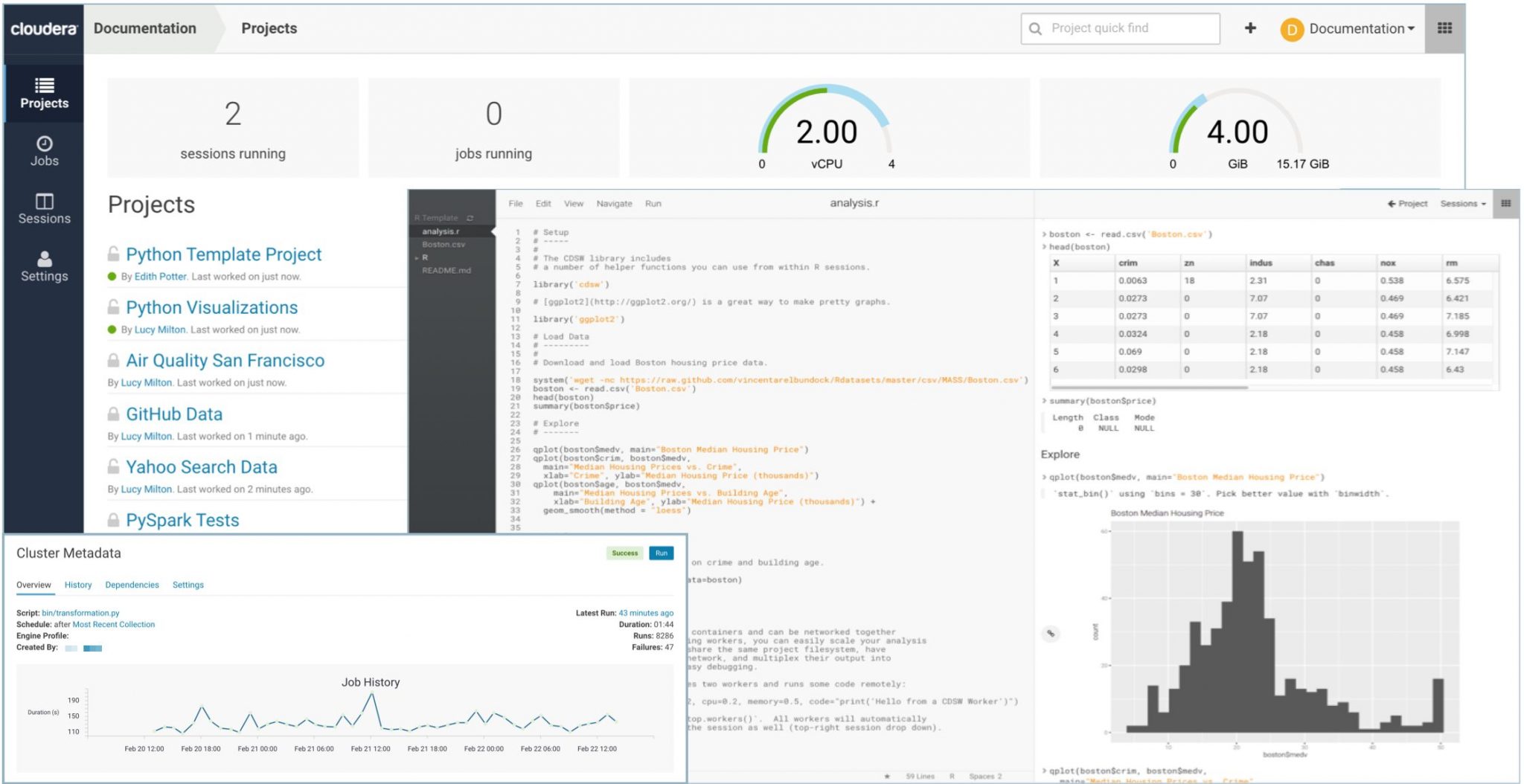 When it comes to data analytics, Cloudera is surely the one on the list. It is open-source database software that comes in a close tie with Hadoop. Cloudera's Data analytics platform is robust, integrated and works on cloud-hosted servers.
Cloudera is useful for organizations that need a full stack of features. It comes with Hadoop cloud features and scale and quickly collects data. 
Features:
It offers a variety of integrated tools that comes with predictive analysis models. 

Cloudera offers various analytics applications for low-cost and quick start of business models based on analytics. 

Also, it is a multi-function and enterprise cloud analytics tool for data processing. 

It has the ability to open and exploit the previously untapped external, enterprise and machine-generated data. 
6. Hadoop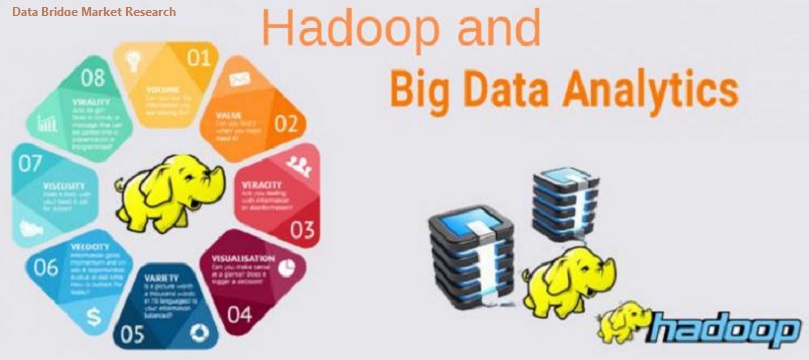 Apache's Hadoop is one of the most prominent bid data analytics. Like various other software, it also distributes a large volume of data using various servers. Hadoop is an open-source framework set around the clusters of computers. 
The client base of Hadoop includes companies from Fortune50 including Facebook, AWS, Intel, Microsft etc. Hadoop handles failure even at the application level. The software is completely free to use under the Apache license. 
Features:
Hadoop has a special feature HDFS for holding all types of data in the same file. This includes video, images, GIFs and other data. 

It uses a single server to divide the data into multiple servers thus handling a large volume of data. 

It comes with various other tools for data processing and data analytics: Hadoop Common, Hadoop Distributed File System, Hadoop YARN, Hadoop MapReduce. 
7. Apache Storm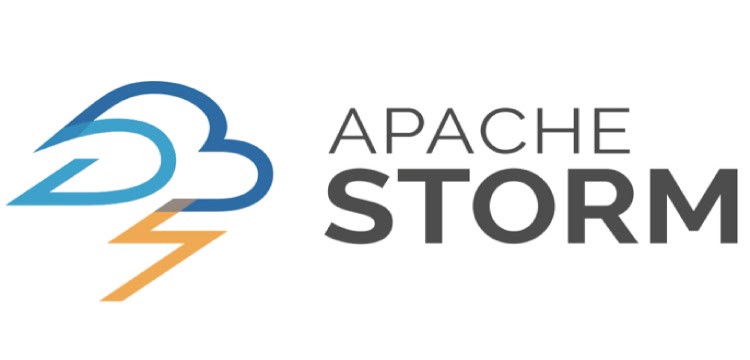 Storm is another great data analytics software for mid-level and enterprise organizations. The best thing about Storm is its frequent update. Above all, it is efficient enough to consume streams of data from multiple streams. It is written in Java format. 
Apache has an open framework architecture that is based on the spouts and bolts for manipulation of information and streaming of data. 
Features: 
Apache uses various computation processes such as Machine Learning, real-time analysis and ETL to process the data. 

Storm has the ability to process millions of tuples in seconds per node. 

It can be downloaded for free and is completely safe to use. 

It can integrate seamlessly with any programming language of your choice. 
8. Apache Spark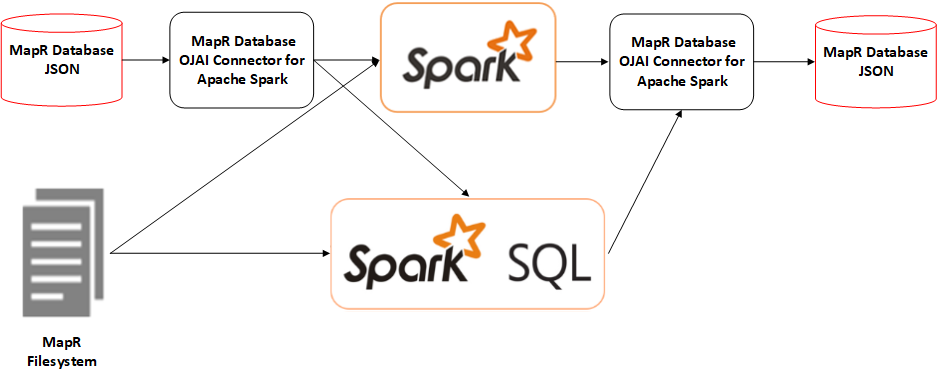 Spark by Apache is a unified engine for large scale data analysis. It is considered as one of the fastest data analysis software due to its scalable speed. 
Spark can be used for various purposes besides processing the data. It can be used in transforming and cleansing the data. For data scientists, it is a goldmine since it can determine the pipelines for production. 
Features: 
It uses a high DAG scheduler that runs 100 times faster for batch as well as streaming data. 

Spark has an amazing execution that sets a series of transformations into a single set of objects. 

You can even check for the corrections in the execution plan to prevent bad coding. 

Lastly, Spark runs everywhere including Hadoop, Apache Mesos, Kubernetes, standalone, or in the cloud. And, it can access data from anywhere. 
9. SkyTree
SjyTree is a reliable data analytics tool for creating accurate models. It comes with a plethora of features for creating the models. 
It uses the predictive machine learning technique to create models for the business. Data Scientists can make use of AI capabilities to create accurate models for business. 
SkyTree is an easy to use big data software for data scientists. It is designed in such a way that complex problems can be solved using predictive analysis. 
10. Plotly
Plotly is a completely cloud-based data analytics tool that works on the Python framework. It can create and interpret information in various forms graphically that is easily accessible from anywhere. 
To create easier analysis, Plotly has got tons of equipment that plot statistical data. Plotly is fully compatible with a various programming languages and architectural frameworks including Arduino, Python, REST, Perl, MATLAB, and Julia
Features: 
It provides a platform for business to create their own data visualization platform.

The dashboard of Plotly is easy to use and has a low-code feature. 

You can even save your data on the cloud and recover it anytime or anywhere.

Plotly integrates with various platforms to create better plots. 
Conclusion
This was our list of Best Big Data Analytics Tools & Software that is fit for small to large enterprises. Big Data is becoming enriching day by day. 
Businesses use big data techniques to gather large information. Thus, Big Data Tools are an effective way to get potential information for your business.  
Before choosing the right tool, know about your needs and always use a free trial beforehand. 
Quick Links: