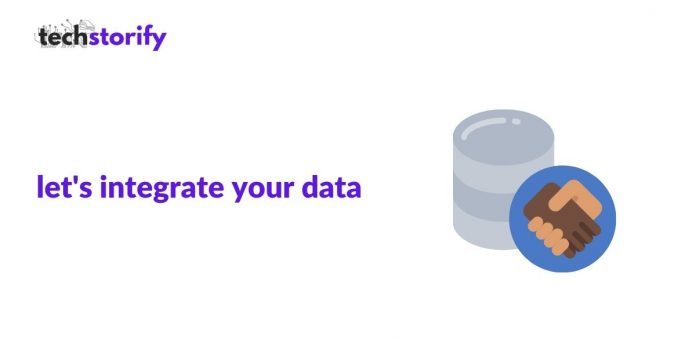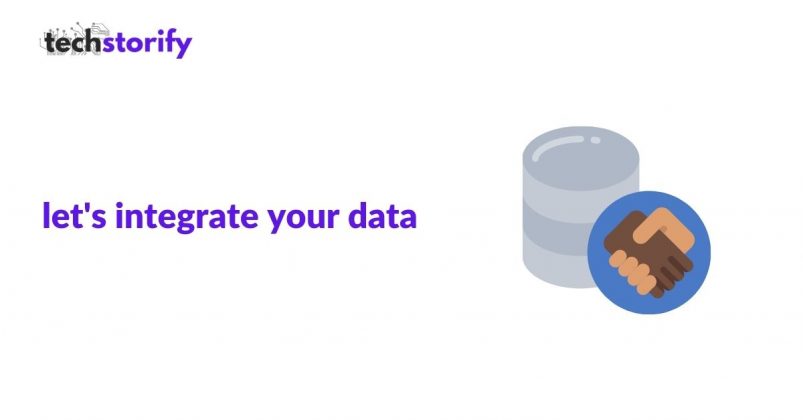 Why do you need a data integration software? Because you want a data which is comprehensive, reliable, correct, and current. A data which is ready for business analysis and reporting.
Heading to data integration, it's a process of combining data from many different sources to a single destination. This integrated data later can be analyzed and converted into reports and visualizations that provide useful, meaningful and valuable insights to users throughout your organization.
Data integration tools help an organization to bring information from different teams such as marketing, finance, sales, HR, operations, production, distribution and logistics at a single place so that data can be efficiently and easily shared across the business.
There are many integration software available in the market, which helps companies to understand their customers better. Here is a detailed list of the top data integration platforms:
Best Data Integration Software Tools
1 – Hevo Data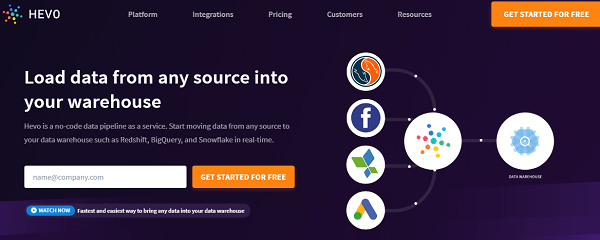 Hevo Data lets you connect with any data source, including cloud-based applications, databases, SDKs, FTP, and more instantly and easily. It does all the heavy lifting to bring any data into your destination, in real-time without using any code.
This integration software helps businesses integrate, clean, enrich, and bring together data from multiple data sources to their data warehouses such as Redshift, BigQuery, and Snowflake in real-time. The tool gives you absolute control and visibility of your data.
Features:
Supports data transformation
Reliable and accurate
Real-time architecture
Top-grade security
Automated data pipeline solution
Fault-tolerant
Handle millions of records per minute without latency
2 – Xplenty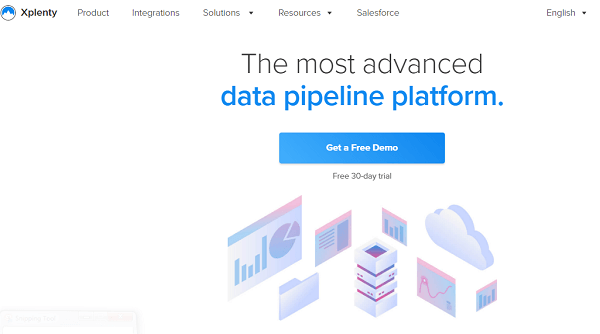 Xplenty is another best data integration software that easily combines multiple data sources. It offers a simple, intuitive visual interface for building data pipelines between a large number of sources and destinations.
Xplenty's transformation tools allow its customers to clean, normalize and transform their data while also adhering to compliance best practices.
The software fetches data from one system. Transforms it, and then imports it into the receiving system regardless of the beginning or ending system.
Using Xplenty, you can quickly and easily prepare your data and analytics for migration. The tool also cost-effective, helping you reduce preparation time.
Features:
Rich connectivity library
Third-party integrations
Scheduling
Scalable and secure
Excellent customer support
3 – Informatica

Informatica data integration tool is best for data integration, migration, validation. It can be connected with a various database such as RDBMS, oracle and Mysql etc. and has good Graphic user interface.
Informatica PowerCenter manages metadata, administration and collaboration between different suppliers. Also, the features include data masking, high availability and seamless recovery.
It offers the capability to connect & fetch data from different sources.
Features:
Has built-in Intelligence to improve performance
Bring together all of your data and applications, in batch or real-time
Support new and complex integration patterns
Centralized error logging system
Data-driven business event detection

Microsoft offers its data integration functionality on-prem and in the cloud. It has its own SQL Server Integration Services for connecting SQL Server Data of different databases. The tool allows easy migration onto one data structure, through which, all the data can be easily migrated without any data loss.
It offers powerful and easy-to-use ETL (Extract Transform Load) capabilities. In addition, it integrates seamlessly with other Microsoft products that use SQL along with outside sources like Oracle and IBM DB2.
Features:
Automates and orchestrates the entire data integration process from end to end
Cost-effective
Powerful & intelligent
More than 90 built-in connectors to acquire data from Big Data sources like Amazon Redshift, Google BigQuery, etc.
5 – Adeptia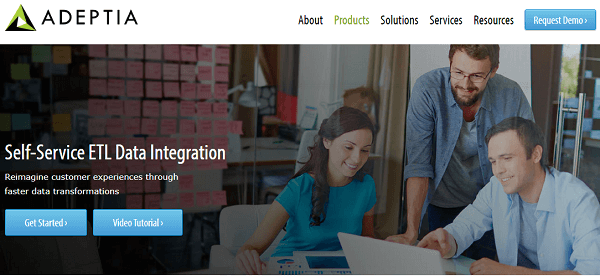 Adeptia is one of the best data integration tools that offer a broad spectrum of data integration capabilities in several deployment methods.
It provides an enterprise-class solution and simplifies all aspects of cloud and in-house integration. The software is designed to integrate customer and partner data with any application database.
Adeptia Integration Suite eliminates the need for multiple integration vendors and applications and maximizes your investment.
Features:          
Creates a visual map of the data from the source to the target database
Transforms the data into the appropriate format
Load reformatted data into the target database
Process various formats
No-code functionality
Metadata-driven
Reporting and analytics
Schema designer
Bulk data processing
6 – Dell Boomi
Dell Boomi Atmosphere is a great solution as a low-code integration platform. It provides standardized and certified connectors to integrate enterprise applications like Oracle E-Business Suite, SAP Business Suite or NetWeaver.
This integration software offers different integration and data management capabilities ranging from a private-cloud, on-premise and public cloud endpoint connectors up to ETL support.
The intelligent, flexible and scalable platform of Dell Boomi unites everything and everyone in your digital ecosystem across channels, devices, and platforms.
Features:
Manage data integration in a central place via a unified reporting portal
Ability to monitor, measure, secure, throttle, and scale published APIs
Web services enablement
Data transformation
Custom connectors
Data security
7 – Jitterbit
Jitterbit is another data integration software that extracts valuable data from SaaS, on-premise, cloud applications and introduces artificial intelligence into any business process.
Its API transformation capabilities are expansive and allow organizations to create, run, secure, and manage APIs and microservices using the cloud.
Besides, it enables all device support, so that the system can be accessed anywhere, anytime and get real-time updated data.
Features:
Offers full control over the APIs for security and compliance
The Management Console offers a complete view of Harmony integrations from any connected device
Easy-to-use visual interface
Wizard-driven tools
Offers connectivity to all major enterprise applications
Connector builder
Training and an on-demand library
8 – Skyvia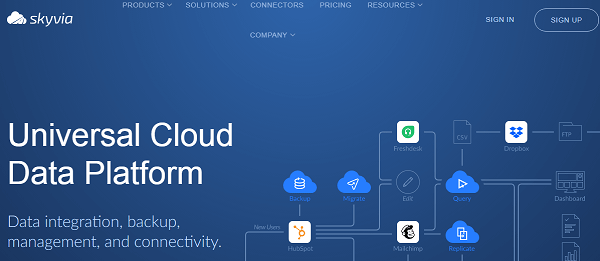 Skyvia is a universal cloud data platform that allows full control of business data in various sources, such as Salesforce, Dynamics CRM, QuickBooks, MailChimp, SQL Azure, MySQL, and many others.
It provides quick and easy data integration between cloud apps and cloud databases without coding. Users don't need to be IT professionals to perform it. Data integration can be automated and scheduled.
Skyvia also includes a cloud data backup tool, an online SQL client, and OData server-as-a-service solution.
Features:
Flexible scheduling setting for tasks automation
Secure cloud backup with search, view, export and restore
CSV export with data filtering
Wizard-based, no-coding required
Predefined templates
All-in-one solution for different data tasks
Fast data migration
9 – Blendo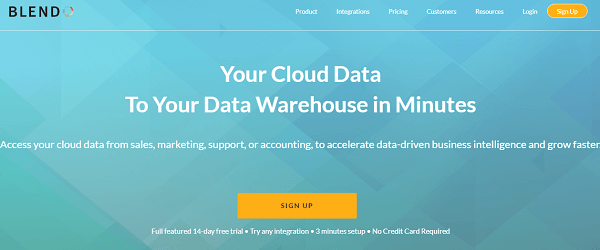 The next integration software is Blendo. It's a reliable ETL and ELT data integration tool to simplify how you connect data sources to databases. The software supports natively built types of data connections that ease the process of loading, extracting, and transforming.
It allows you to collect and sync your data with any data warehouse. Blendo makes it easy to collect data. It has over 50 data sources, majorly focusing on SaaS platforms and databases.
The company provides support through Intercom online chat and via email. Documentation is in the form of an online knowledgebase.
Features:
Automate data management
Data transformation
Match and merge
Data warehouse integration
Ready-made connectors to connect to any data source
Data filtering
10 – Stitch Data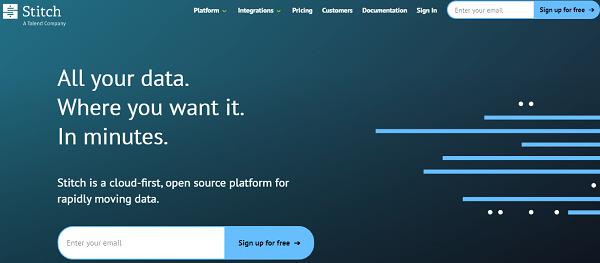 This data integration software is an ELT product. It provides tools for transforming data either within the data warehouse or via external processing engines such as Spark and MapReduce.
Stitch connects to all data sources and SaaS tools to replicate all relevant data to a data warehouse. It can connect to Amazon Redshift architecture, Google BigQuery architecture, and Postgres architecture – and integrates with BI tools.
Features:
Supports more than 100 database and SaaS integrations as data sources
Provides in-app chat support to all customers
Documentation is comprehensive and is open source
Advanced scheduling
Import API
Singer framework that allows data engineers to replicate data from any source to any destination
Error handling
Multiple destinations
11 – Panoply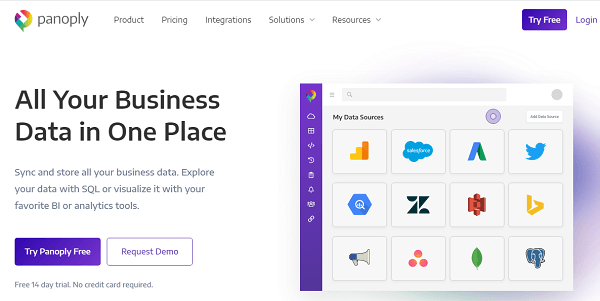 Panoply is another one of the best data integration tools that claim to simplify the task of collecting and analyzing your information drastically.
It provides tools for data integration, connecting, transformation, warehousing, etc. This platform helps ingest data from any source with just a few clicks, which means business users no longer depend on IT/Data Engineering for ETL processes.
Features:
Agile Modeling and Learning Algorithm
Storage Optimization Algorithms
Built-in data governance and security
Smart Data Infrastructure
Data filtering and analysis
Match and merge
12 – Alooma

Alooma is an open-source data integration platform that enables real-time data processing, analytics, and business intelligence. It allows users to extract, stream, transform and connect all data, error-free, in the cloud.
The software offers a data pipeline as a service simplifying big data integration by utilizing popular Databases. Besides, it makes sure that you will not lose any data or have any duplicates in case of failure.
Features:
Import data from any data source
Derive real-time insights
Minimal setup process
Secure and reliable
High volume processing
Supports most popular data sources
13 – Talend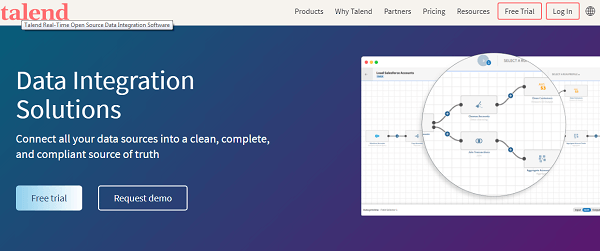 Talend is a fully-featured data integration software that offers robust enterprise cloud data integration. It has a graphical interface for setting up and administering integrations without coding.
There are many connectivity options for cloud and on-premise data sources. Also, it has connectors for social media and apps such as Salesforce, Box, and Marketo.
It is one of the best open source integration tools that offer many unified tools to develop and deploy data integration job.
Features:
Connect and manage all your data
It has more than 1,000 connectors
Drag and drop interface
Discover, highlight, and fix issues as data moves through your systems
14 – DataDeck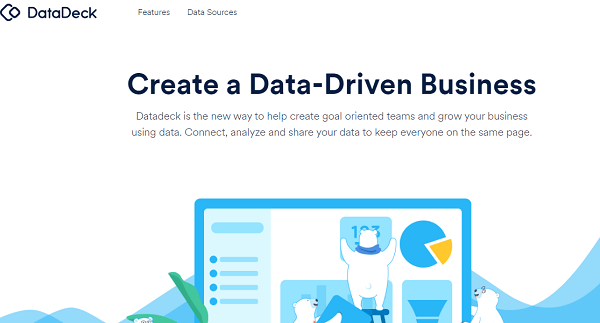 Datadeck collects and integrates all pertinent business data and provides actionable insights to users. This integration tool lets you quickly connect, analyze, and share data with your team.
The software utilizes a single dashboard to collect relevant information and data and present them in attractive visuals that are simple to access, understand, and share.
Features:
Collaboration
Data visualization
Ready to use templates
Automated Smart Alerts and Notifications
Data analytics
No coding experience needed
15 – Precisely
Precisely provides a suite of data integration services for enterprises of all sizes. It supports Metadata Interchange, thereby allowing users to easily import the jobs from other platforms, such as Informatica and IBM DataStage, to accelerate deployment.
The software allows organizations to collect, integrate, sort and distribute more data in less time.
Also, with this tool, you can design your applications once and deploy anywhere- from Windows, Unix & Linux to Hadoop; on-premises or in the cloud. In addition, it supports change data capture, database replication, and ETL processes.
Features:
Bulk/Batch Data Movement
Data Replication & Synchronization
Smart workload manager
Blend, transform and distribute data with Hadoop
Final Words
With the right data integration software, you can combine data from many different sources, typically for analysis, business intelligence, reporting, or load into an application.
If you are looking for the best tool to integrate, clean, and transform all your data, the above-listed software will help you. Select the tool that fulfils your business requirements.