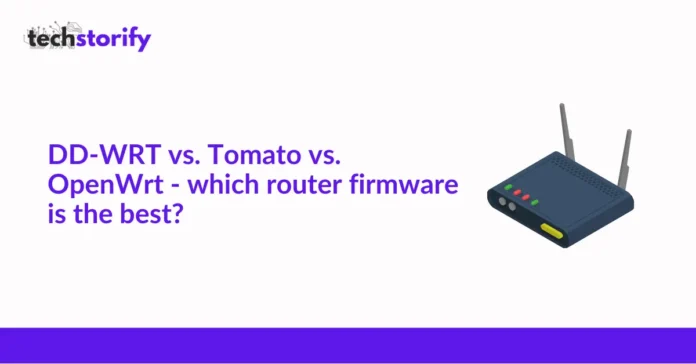 When you get a router, there comes the firmware along with it from the manufacturer. However, it is not always satisfactorily enough and may limit your choices and needs. A functional router needs a custom firmware for optimizing its speed and abilities. DD-WRT, Tomato, OpenWrt are a few custom firmware that can improve the features of your router.
It doesn't need to be that difficult. Each of the three major open-source firmwares – DD-WRT, Tomato, and OpenWRT – has its strengths and weaknesses that make it ideal for one situation or another.
You'll need to consider which features you need for your network and whether the firmware even supports your router. Those should be the most important factors you take into account when choosing.
Why choose Custom Firmware over Manufacturer Firmware?
The manufacturer firmware gives limited network speed and radius, and it decreases as you move away from the router. It does not support QoS, and hence, there is no control over the bandwidth. Considering the security as well, Custom firmwares are more reliable than Manufacturer firmware since the former offers more security features.
Custom firmware, on the other hand, provides Bandwidth optimisation. There is also optimisation of specific features. The radios and coverage offered by a custom firmware are more than a manufacturer firmware. It also provides more LAN Security. Port Mapping is another feature provided by Custom firmware.
Custom firmware enhances the features of the router and makes the network experience seamless. Here is a comparison of the three popular open source custom firmware – DD-WRT, OpenWrt and Tomato. All of them have their plus points and backlogs as well. Thus, you have to look for the features you expect from a router and the firmware that supports it. So here we go –
DD-WRT vs Tomato vs OpenWrt: Which Router Firmware Is the Best?
DD-WRT
DD-WRT is the first name that comes to mind when we talk about an open-source router firmware. This firmware is one of its kind since it supports the number of routers than any other firmware. It is one of the very superior ones considering age.
DD-WRT is by far the easiest firmware to install and use. You will experience a feature called Wake-on-LAN. This puts your device to sleep whenever you are away, but they will be woken up by LAN when accessed from anywhere else. The firmware is much easy to use because of its simplicity.
This firmware has got almost all the features that one would generally expect from a router firmware. And since it is compatible with most routers, there won't be any difficulty in finding routers supporting DD-WRT. Also, many people sell routers that already have the DD-WRT flashed on them.
Pros –
Built-in OpenVPN Support.
Compatible with most routers.
QoS Support.
Easy to install and use.
Access control.
Wide range of options.
Advanced wireless settings.
Stable since it had been developed a long time ago.
Wake-on-LAN Feature.
Cons –
Difficulty in finding new versions for some routers.
Tomato
Tomato firmware is considered to be the most user-friendly and streamlined firmware for the router. Tomato is one such firmware that is believed to speed up the routers. Although you may not see as much support for routers by tomato as other firmware, it certainly does the job of firmware efficiently.
When it comes to operating, Tomato is the easiest of the three. There are options for customisation as well. You will experience firewall features here along with the ability to change the access to the router. There is real-time monitoring that will help in catching any bandwidth issues or security threats.
Tomato router firmware has recently introduced the AdvancedTomato project which aims to and has transformed the classic Tomato by Shibby into a modern Graphic User Interface. This has also allowed the real-time monitoring of crucial stats with the help of animated graphs.
Since the AdvancedTomato project, the interface of Tomato has become one of the selling points, thus making network management simpler. It has also managed to provide a more attractive visual experience. It is a no-nonsense firmware and is direct as well thus providing you only the features you need and terminating the junk.
Pros –
Enhances router speed.
Modern and sleek Graphic User Interface.
Real-time monitoring.
Support for adjustable antenna transmission strengths.
Minimal Footprint.
In-built OpenVPN.
Easiest to operate.
VPN and QoS can be configured.
Cons –
Support for limited routers.
Few vulnerabilities and bugs.
Open-WRT is a combination of LEDE and OpenWRT. OpenWRT is the oldest open source router project. As long it has been in the market, it has gained a lot of reputation and offers several features as well. However, you will have to pay a cost to use this firmware.
For free software enthusiasts, OpenWrt is indeed a great choice. Open-Wrt is the only firmware here that does not have non-free binary blobs. All the three mentioned here are based on Linux, but OpenWRT is more like a traditional distribution.
Just make sure to have the right version of OpenWRT since it has been dwelling around for a long time now. It has many versions floating. Thus choosing the latest and right one is essential. As it has been created keeping the techies in mind, you may find it quite complicated to understand. It surely is the difficult one than the above two regarding GUI.
You will need to have some knowledge before you start using OpenWRT. Speaking, it is basically for the technical people having the experience required. OpenWRT does not support several routers since they need non-free drivers for running.
Pros –
QoS compatibility.
Several options are available.
Lots of options for customisation.
The capacity of digging into lower levels.
In-built OpenVPN.
A large community of routers is supported.
Relatively bug-free than the above two.
Cons –
For technical people.
Only a few routers are supported.
Requires more time to run.
Tomato vs DD-WRT
Here are the features of Tomato that are unavailable on DD-WRT –
Tomato has more advanced and modern Graphical user interface along with help add-ons and visual prompts.
Tomato has a wireless survey page to help users.
Tomato provides better OpenVPN support than DD-WRT. Two VPN Servers can be used in tomato firmware side by side.
Tomato notifies when an update is available; thus, you do not have to keep checking manually.
You get the real-time bandwidth on Tomato, and it goes on an hourly, daily, weekly or monthly basis.
Dual Gateway from Tomato enables you to use the wireless router as a VPN connection and ISP connection as well.
Now coming to the features of DD-WRT that are not available on Tomato –
DD-WRT is more popular than Tomato and is easily available as well.
It has a vast community, and even big manufacturers like TP-Link and others provide DD-WRT easily.
Tomato is stuck with Repeater bridge or WDS, but on DD-WRT, you can use wireless repeat4er nodes on multiple subnets.
DD-WRT Supports many devices and much more devices than Tomato.
The in-built features offered by DD-WRT like – Wifidog, Sputnik, and so on make things easier.
OpenWRT vs DD-WRT
Advantages of OpenWRT over DD-WRT –
Latest Graphics User Interface allows easy configuration.
More control is offered over the router than any other open source firmware.
It has advanced features like QoS and VPN Settings.
Wrapping Up
I hope you have chosen the one firmware for your router by now. If not, let me tell you, whatever firmware you select from the above, all of them will enhance the features of your router as a whole. More functions like OpenVPN Support will add to the efficiency of your router.
All of the above provide frequent updates, and they are also more secure than the firmware of the manufacturer. Lastly, I would say to be very careful while flashing the firmware on the router since there is a risk of damage to be caused on your router.