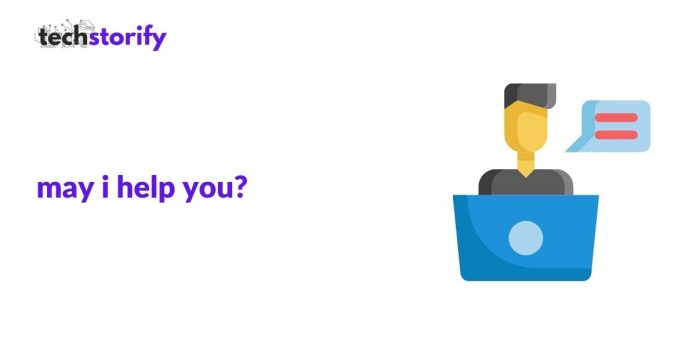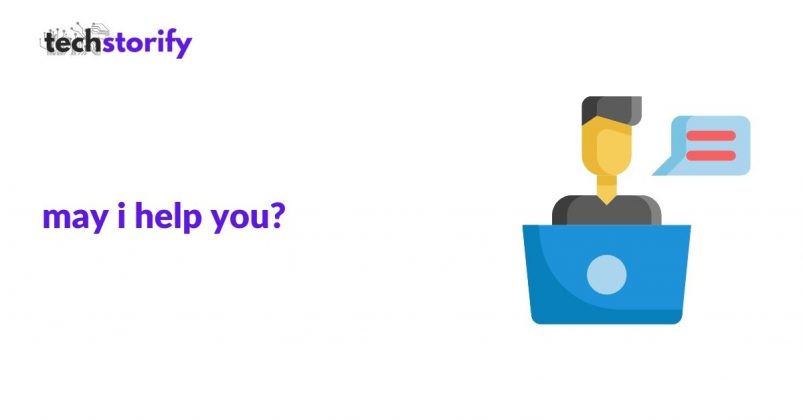 Gone are the days, when users have to visit a physical office to solve a particular problem related to their product. This is 2020 and technology is at its peak. Also due to COVID-19, almost every individual and company is targeting the concepts of the virtual meetings. If you're one of them then help desk software can help you to achieve these serious goals.
Nowadays, customer support became an integral part of the business. And, due to increment in business competition, customers have enough options to move on from one to another. So you can't ignore this important with just swoosh.
What is Help Desk software?
Help desk software is an application mainly focused to solve customer queries by sharing and tracking them online. Although it is also known as ticketing system software, service desk software, or help desk ticketing system. Customers can easily connect with customer support using this app. They can contact the customer support by filling a particular user-id on their's phone. Also, they can solve their query by sharing that id with the customer support executive.
Service desk software is efficient and the quickest way to solve a customer query. And, it works great for both- the customer support executive and for the customer.
Features and Benefits of using a help desk software:-
The ticket management system helps you to save, and track customer queries. It provides you an appropriate data such as how many queries you solved yet or how much is pending to date?
You can integrate the major services or social media to get an easier workflow.
You can also add different contact features to allow customers to contact through various mediums such as Phone calls, text messages, social media, email, etc.
A help desk software can create a database of FAQs according to the customer's queries.
You can set auto responders by adding the FAQs most of the users asked.
Help desk ticketing software can categorize and organize the raised and solved tickets in different categories. e.g. urgent, premium user, payment, reward offers.
Apart from organizing, tickets can automatically assign to the concerned team associative to give a faster response.
Although every help desk software is different. But you can make modifications and customizations according to your business and its requirements.
List of Best Help Desk Software
However, there is plenty of service desk software to choose from. Still, you have to choose it by figuring out the various aspects of your business. For example, your business nature, your targeted audience, compatibility, usability, etc. I mean if your targeted audience is not much tech-savvy, then choosing complicated tech support would be a pure imprudence.
Today we'll talk about the 11 best help desk software. So you can check out this list to find the perfect helpdesk ticketing system for your business. Also, this list doesn't count as best to worst while moving from 1 to 10. So make sure to read the entire post.
1. SolarWinds Web Help Desk – Overall Best Help Desk Software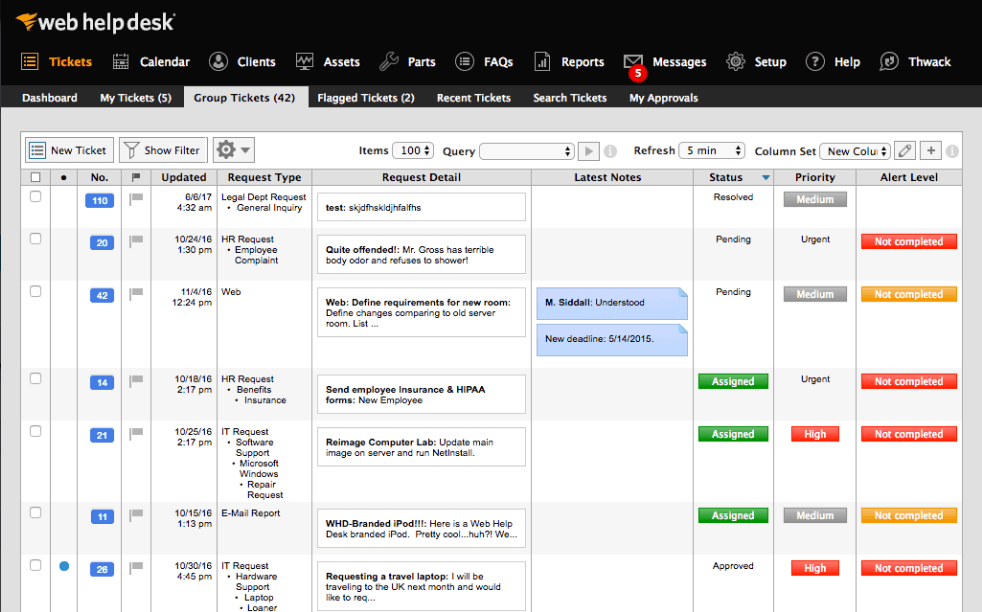 The SolarWinds Web Help Desk is an administration tool that comes with lots of useful automated features. And it can help you with incident tracking, SLA reporting, asset management, and various integration support. You won't find it as a cloud service, hence you can install it on your web-server.
Moreover, it has a well-detailed and slick user interface. And through this, you won't find any problem to take various actions. Also, the dashboard of this ticket management system gives you an overall and detailed overview of all aspects of your business. It shows this data in graphical form, so it's easy to understand. And it helps you to know what are the aspects where you or your team should more focus.
Active Directory and LDAP are some of the services that you can integrate with this software. Moreover, you can buy this from the starting price of $700 for 1-5 technicians and unlimited users. Also, if you're on doubt, you can download it as a 14 day trial without filling any credit/debit card information.
However, it doesn't come with a monthly subscription. But for many businesses it's affordable and one of the best help desk ticketing systems.
2. Atera – Best Help Desk Software for IT Support
Atera is mainly focused on managed service providers (MSPs). And, it is one of the best help desk software for a multi-site organization. It's best for modules like remote monitoring, management, and professional services automation. PSA is a team management module that is a useful tool for IT support, track performance, and accurate billing.
Customer relationship management (CRM) screens also here give the operator details of a particular user. Atera also allows you to track and the performance overview of team managers. The PSA module bills automatically by quickly logging all services' details. In short, handling multiple clients at the same time will be an easy task for you.
Moreover, who likes to pay on monthly basis can choose Atera. It comes with 3 pricing tiers-Pro, Growth, Power. And you can pay as per the technician. The pricing starts from $79/month. Also, you can pay annually to get an additional discount. Also, you can sign up for a 30-days trial by visiting this page. Overall it's a powerful help desk ticketing system with a simple and creative UI.
3. Monday.com – Best Help Desk Software

with Product Management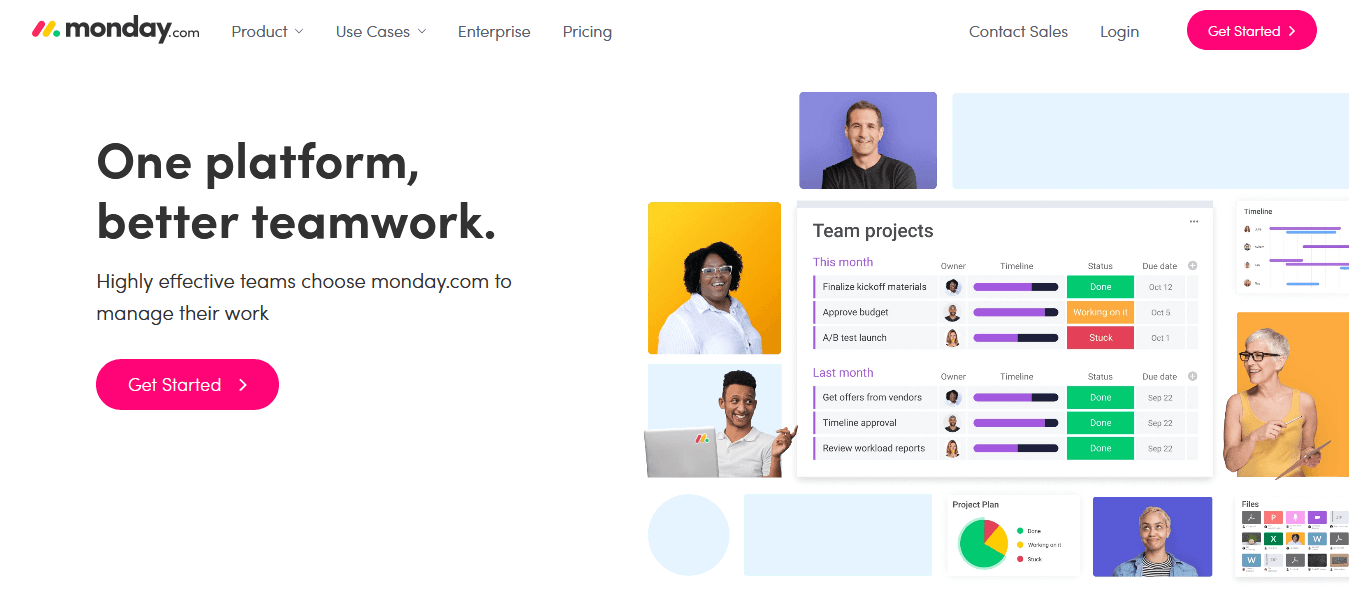 Monday is a powerful software to help and manage the teams in their tasks. Also, it's one of the popular project management software, you'll find in the market.
Moreover, it's also known for a platform mainly focused on IT professionals. So they can operate it as a collaborative software for the IT operations. You can streamline and execute requests using its help desk capabilities. You'll be able to focus on your work better to close more tickets.
Also, Monday is a software which is highly secure to store confidential details of your customers. Also, you can check the data from various points of view like map view. Advance search and time tracking feature saves you time and increases your workflow. Plus, custom tags, private boards, and dashboard features will help you to communicate and manage your team in a better way.
Monday.com comes with four pricing tiers- Basic, Standard, Pro, Enterprise. The basic plan starts from $24/month, the Standard plan costs you $29, Pro plan has a price tag of $48/month if pay annually. And to know the price of Enterprise, you can contact the inquiry team. Also, you can get a free trial to try out the things before making a purchase.
4. ServiceNow ITSM – Best Help Desk Software with Better Team Support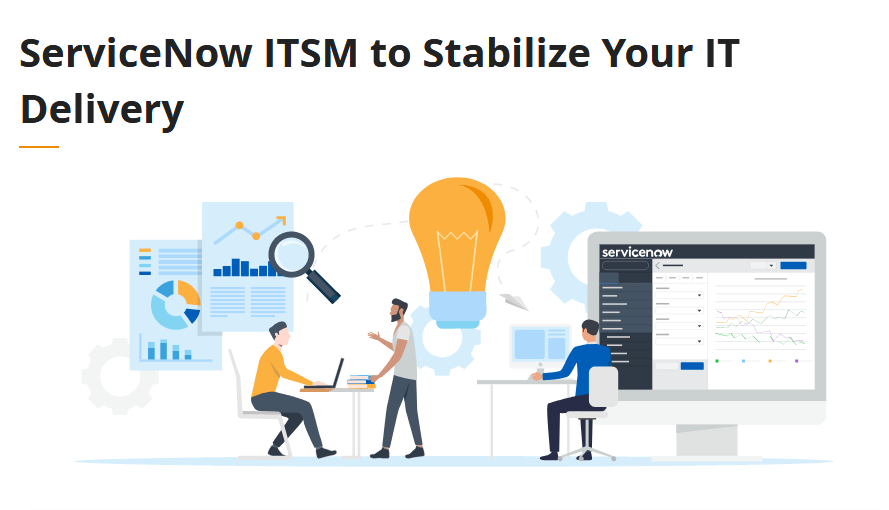 ServiceNow is a cloud-based comprehensive IT help desk ticketing software. It's developed by a U.S. based software development company founded in 1989. And, It has some amazing features such as it can create a wide knowledge base for customer support executives and for the consumers.
Servicenow comes with multiple channels. You can use them to create automation service portals and chatbots by reaching out to the specialists. You'll find asset management, automated categorization, and a configuration management database (CMDB). Also, automatic notifications and alerts help you to follow the work pace and updated with other work projects.
Moreover, you can set assessments and surveys to improve your IT's team performance. And analytics dashboard is here to get deep insights into your overall business performance.
To know the price, you have to first fill a form with some general details. After that, the ServiceNow team will contact you and tell you is Servicenow better for you or not? If it works, you can discuss the price then.
5. HubSpot – Best Not so Complicated Help Desk Software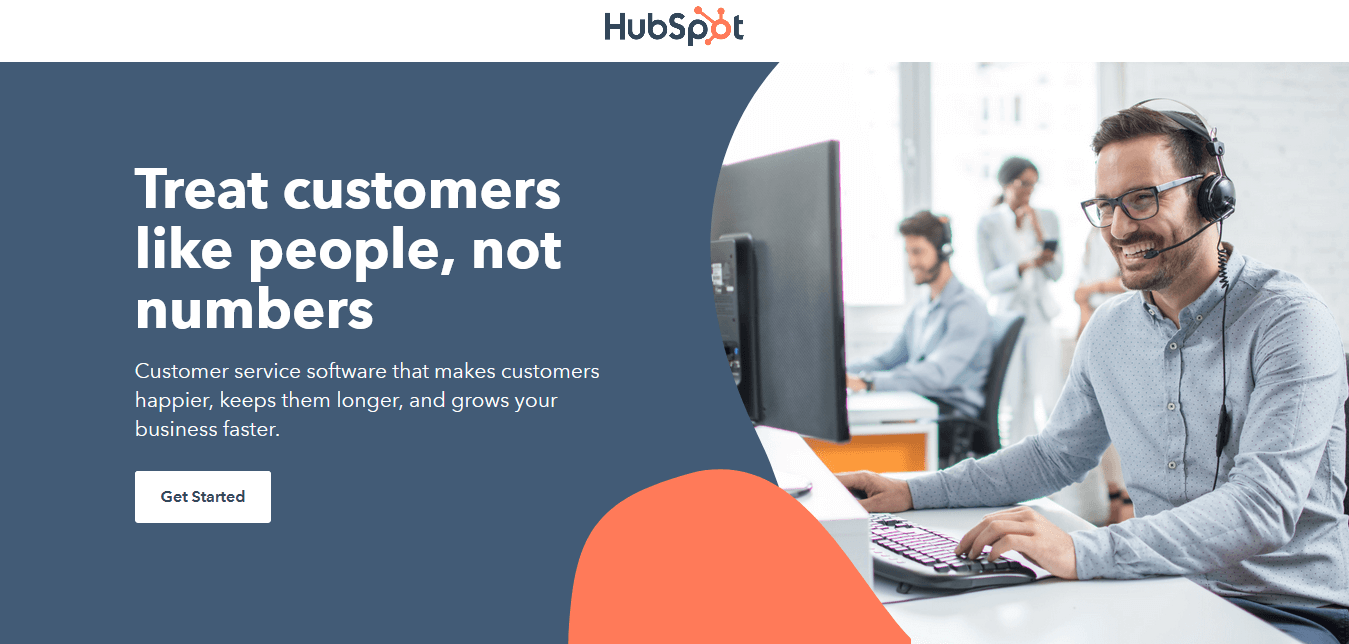 HubSpot is a desk and ticket software that comes with a clean UI. And it simplifies the process of keeping track of your customer raised tickets. You can also organize these tickets to track your workflow in a productive way.
HubSpot comes with an automatic feature that automatically creates a ticket when a customer connects and filled a form. And by checking out the details a customer filled up, it also sends it to the right team executive, automatically. You can also prioritize certain issues to give a faster response to consumers. You can also create a helpdesk and add routing and automation to the tickets.
Moreover, it has the capability of gathering feedback to focus on the parts where your business needs improvement. Other features like communicate with your team, knowledgebase, Team Email makes it one of the best help desk software that you can consider.
HubSpot has different products and plans for different sections e.g. Marketing, CRM & Sales, customer service, etc. And every section comes with three pricing tiers.
Here are the plans for customer service– Starter- $40/month, Professional- $320/month, and Enterprise- $1200/month, if paid monthly. However, it also offers you a free plan with limited features. It may not be helpful as a ticketing software yet you can try the HubSpot product.
6. Freshservice

Freshservice is another cloud-based help desk system that has amazing management features. Cloud-based means you can use this software by installing it on your system. Users, managers, technicians, and support executives can use this software through any standard browser.
This is not just a help desk software but you can use it as a storage space too. And, you can use it to store your essential data and documents. The processing power to run this software will be included in it.
Moreover, all conversations you or a customer do here will be protected by encryption. Also, the stored data will be saved by encryption too. However, to do the security part some of an integral part of this software own by an external company. So the technicians of the Freshservice won't be able to peek in someone's company's data.
Consumers can get support through E-mail and phone calls. Moreover, you can check out the dashboard to track important business metrics and improve it, accordingly.
Freshservice has four subscription program- Blossom, Garden, Estate, Forest. Well, that's kind of unique name. Apart from, you can get a 21 days free trial of Freshservice to check it first.
7. Zoho Desk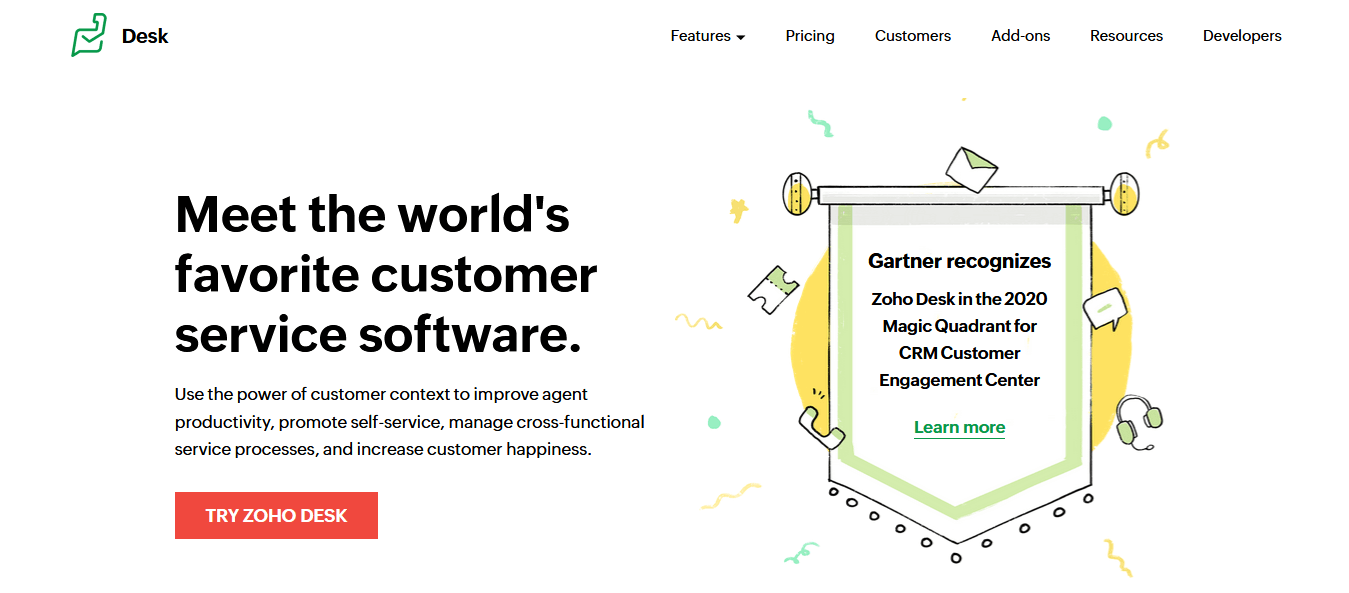 Zoho is a famous project management company established in 1996. And from that year, it's making professional life easier through their unique and amazing products. Zoho desk is one of them and offers such great capabilities to its users.
It's a cloud-based tool that supports customers as well as the various departments of the company. You'll get an operative dashboard to organize tickets from time to time. Also, you'll get to know if a particular ticket is not solved yet and near its deadline time limit. Due to its cloud-based technology, it's not necessary to sit at an office place to solve a customer query. Users can do that by operating it from home too.
Moreover, a knowledge base facility is here too. So users won't have to wait for a response. They can look for a solution if there is already the same case that happened with another user. Also, they can ask questions and suggest some tips or solutions to users in the community. Users can contact customer support through phone, email, chat, and Social media. Although you can disable any of the channels to restrict it from customer support.
Zoho Desk comes with 3 pricing modules- Standard, Professional, Enterprise. And the all 3 pricing module comes with a 15-day free trial. Also, you don't have to use a credit card to get a 15-day free trial. Moreover, it also has a free plan for 3 agents and limited features.
Overall, Zoho Desk is reputed, affordable and a feature-rich help desk ticketing software that you can consider.
8. RemotePC – Ticketing System Software with Better Security

If you're more considered about security rather than other aspects in a help desk software, then here's your deal. RemotePC's help desk comes with an easy to use UI and a couple of amazing features. It also helps you to enhance your productivity without compromising with the security issues.
It's a remote support solution to its customers and owners. Just connect it on your PC or Mac via the internet and you're ready to go. Also, the support sessions will use TLS v 1.2 / AES – 256-bit encryption. So you can't worry more about security. Even if the customer will disconnect the ongoing session in between. Plus, customers and the support executives can transfer the files with consent from the customer.
Also, users can make a video call or can text to raise the query. And it's pretty easy to install for a customer. They just have to visit here and they can enter a 9 digit number that support executives will provide to them. Likewise, a technician can attempt multiple sessions by viewing multiple screens. Also, you can record the remote session to improve your performance. Simultaneously, features like drag and drop and video tutorials to help in need make this one of the best help desk software.
RemotePC is a ticketing software that has 4 pricing plans- Consumer, SOHO, Team, and Enterprise. It starts from $22 and ends up $374. Also, you can check this helpdesk software first by getting a 30-day free trial.
9. Zendesk Suite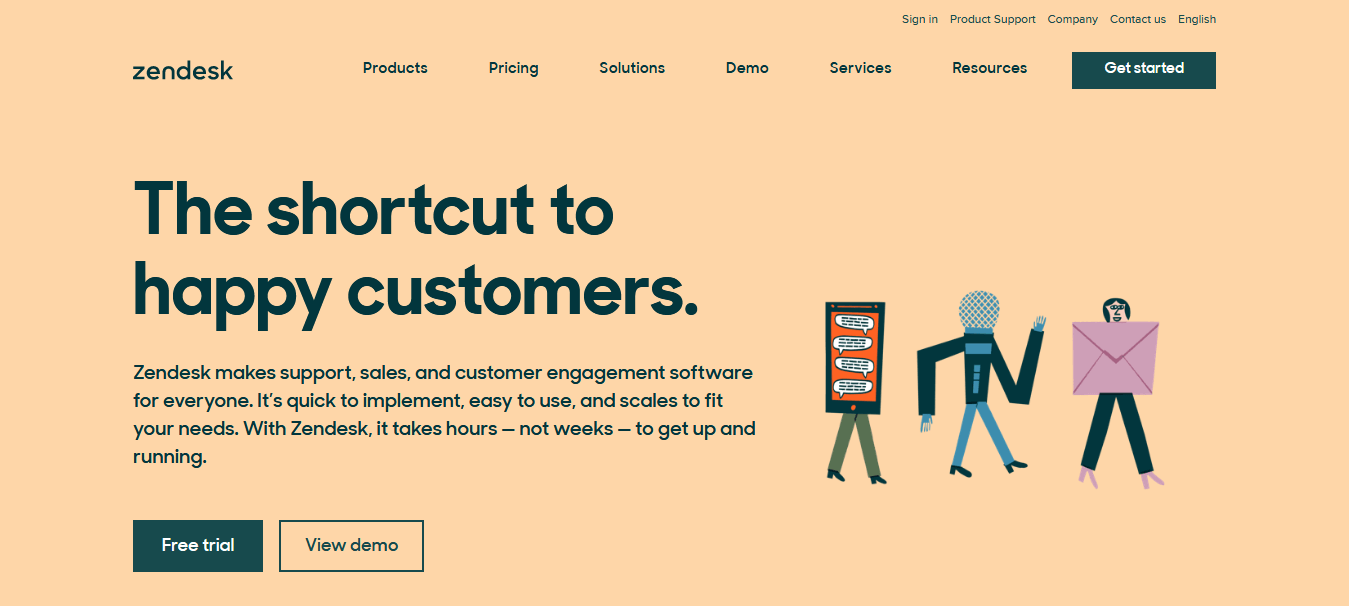 This is the helpdesk software that you find mostly in the VPN industry. And you'll find this ticketing system on every third website which offers subscription service.
Zendesk is also a cloud-based system that comes with lots of support utilities. You can access it from mobile, PC, mac through the web, and obviously with the secured internet connection. Zendesk also features a live chat service. It's one of the best help desk ticketing software for SaaS, cloud storage providers, and IT departments too.
You'll get a knowledge base platform to help your customers in trouble more efficiently. Also, this will help to ease the pressure on your support team's shoulders while doing a troubleshooting guide. Also, Zendesk diverts feature diverts live chat when the chat app is not going to attend. And it automatically sends queries to email.
Also, it has a dashboard with the management screens. It'll help you to analyze and track the overall team's performance. Moreover, you can add a survey at the end of the query to know the consumer's feedback. So you can work more on the weak areas to improve the performance.
Zendesk has a much customizable pricing model than other help desks in the market. You can choose a plan for different business aspects such as support, sales, and platform. And as we're talking about support, this business aspect has 3 price plans- Support, Support Lite, and Custom Built. Also, every plan comes with pricing subcategories.
You can check it by yourself by visiting here. Zendesk comes with add-ons like- Chat, Talk, Guide, Gather, Explore which you can buy at an additional price. Moreover, Zendesk also provides a free trial to try every plan before making a transaction.
We have also highlighted the Zendesk Alternatives.
10. LiveAgent – Ticketing System with a Fastest Live Chat Widget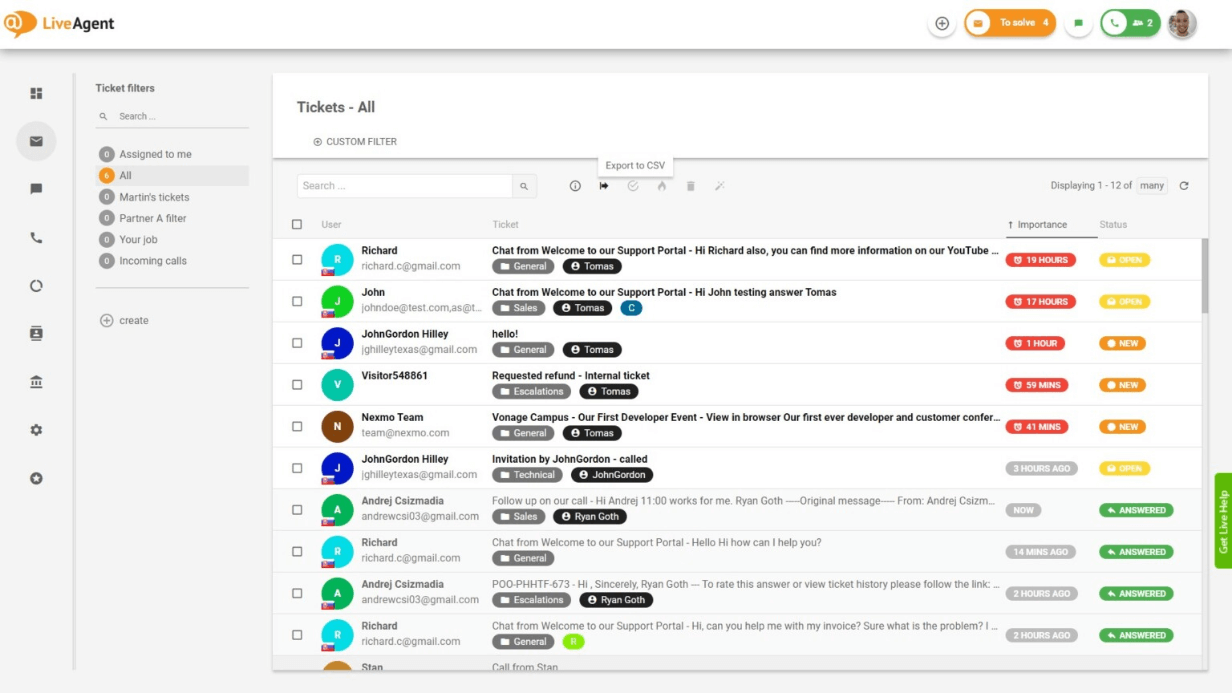 LiveAgent is a help desk software which has a lean live chat widget. And allegedly, it is one of the fastest chat widgets you don't find in any help desk software. Also, it's known for its team support which is actually very supportive. You can contact them 24/7 through various communication channels.
LiveAgent is a powerful and reliable help desk ticketing system. Also, you can streamline multiple communication channels, efficiently. Moreover, it is easy to use and 40+ third-party integration also helps to smoothen your workflow.
It has almost 180 advanced features that can help you to grow your business at the fastest pace. It automatically transforms incoming queries into tickets, so you can start work on it without wasting the time. The live chat option has many useful features such as real-time typing view etc. You'll get a built-in call center with IVR. And it allows you to record a call for unlimited because of its vast storage capacity.
Social media integrations such as FB Messenger, Instagram, Twitter, etc. This can help you and your user to solve their issues by giving both of them a wide range of connectivity. Plus, you can use a vast knowledge base and its customer portal to help your consumers too. You can add articles, feedback, and FAQs to achieve this goal.
LiveAgent comes with four pricing models- Free, Ticket ($15/agent/month), Ticket+chat ($29/agent/month), All-inclusive ($39/agent/month).
Forever Free plan comes with 1 Email address, 1 chat button, 1 Phone number, and a ticket history of 7 days. Also, you can get a 14-days free trial of the rest of the three plans.
11. Jira Service Desk – Famous Help Desk System with 1000+ Integrations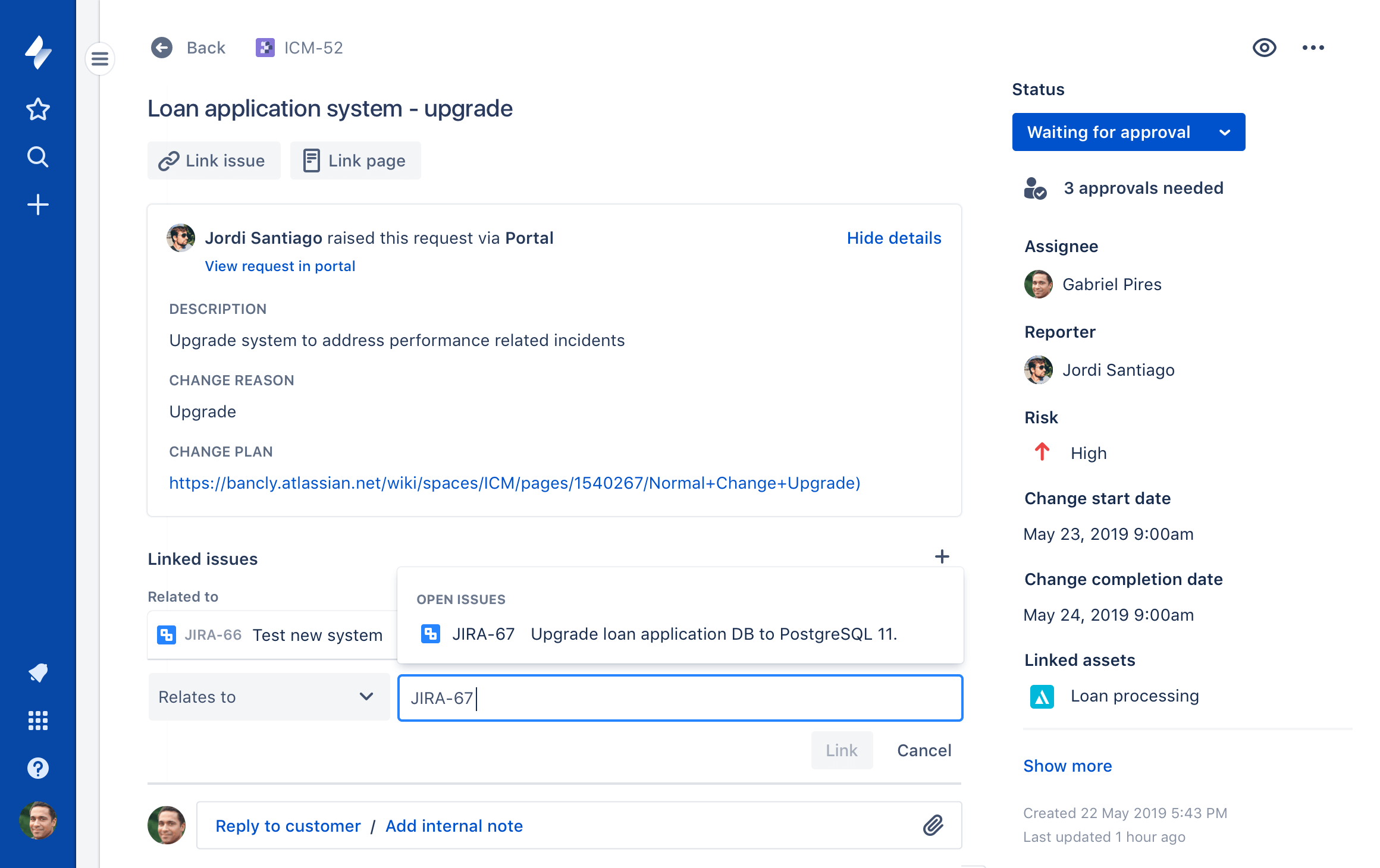 It'd be unfair to the best help desk software list if we will not add Jira Service Desk in it. It's one of the best and famous help desk ticketing systems in the market.
It is famous for its issues tracking features. It helps its customer to get rid of the problem easily by knowing the essential user's details. Moreover, there are tons of management services to explore here. One of the top features Jira has is its clean and simple UI. It's easy to install without any coding and not need many configurations for the first start. Also, It helps its users to understand what they need easily without reading a thick manual guide.
Jira helps you to get full control over the assets to track the services and requests with them. The service management process helps you to keep an eye on your team's performance. And the Tailor service delivery completes your business needs with integrations and essential marketplace apps.
Jira Service Desk is an Atlassian product. So it's easy to integrate other Atlassian products such as Confluence, Opsgenie, and Statuspage. Also, Atlassian provides 1000+ app services and integrations to ease your work burden.
Isn't Jira Service desk is a perfect helpdesk ticketing system?
Jira Service Desk has three pricing modules:- Free, Standard, Premium. Forever free plan has 3 agents, 100 execution per month, 2 GB file storage, and an Unlimited customer limit. The standard plan costs you $600, and the Premium plan costs you $1200 if paid yearly. However, these costs are for 1-3 agents. You have to pay more than the above amount if you want to add more than 3 agents. Still, you can use a 7-day free trial to know this product better before purchasing it.
Conclusion
So this was the list of 11 best help desk software in the market.
Help desk service becomes an integral part of the business industry. And it would be foolish to ignore this certain fact. You can't grow your company if you're not answering your customers, especially when they're complaining to you. And help desk software can ease your workload by solving their issues constantly and efficiently.
However, you must choose a ticketing software according to your business requirements and your targeted audience. Do you need a dashboard, what metrics you're looking for, or what kinds of apps and integrations you want to add?
Share this post with who just start a new business. And comment on what feature you're looking for most in your help desk ticketing software?