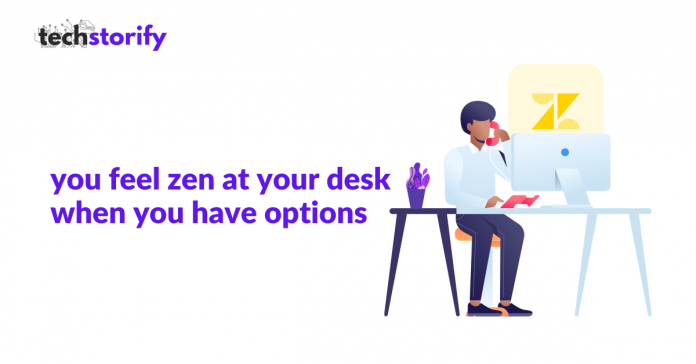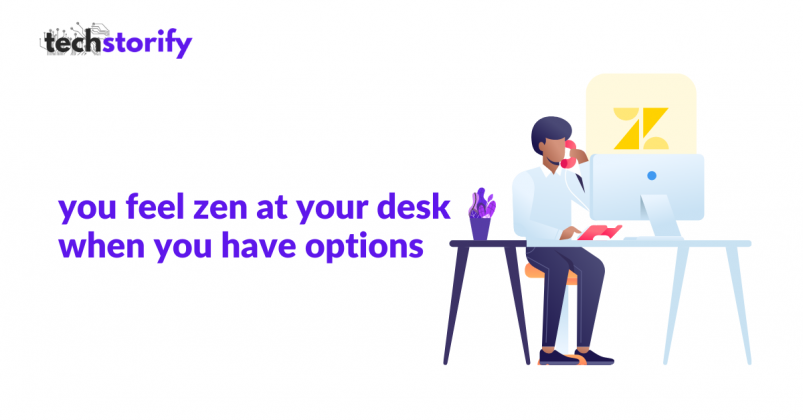 We will not start sharing the list of best Zendesk alternatives in the beginning. You will have to wait for it.
Zendesk is a top-rated tool to help you manage customer inquiries and service requests for any period of time. This customer service solution offers a customizable front-end portal, live chat features, and integration with applications.
Do you know why Zendesk is a popular customer service solution? Because it offers organizations a comprehensive set of tools for every use case: live chat, ticketing, knowledgebase, call center support, CRM etc. The reports it provides to the users are detailed, which gives many insights into their performance. Zendesk helps in converting customer queries into conversations so that business can build healthy business relationships with their customers.
In short, we say, Zendesk offers every single feature that you may require for smooth customer service operations.
But wait.
Why are you looking for Zendesk alternatives?
Maybe you want to test other customer service management software, or you think Zendesk is not perfect for your business.
So, without further delay, let's check out the best alternatives to Zendesk.
Best Zendesk Alternatives
1 – Freshdesk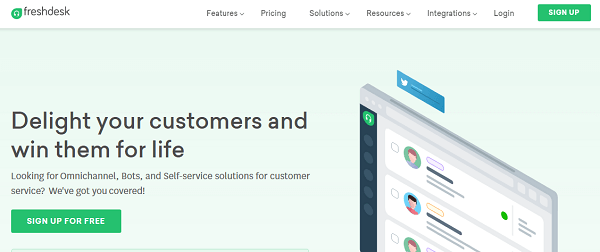 Freshdesk is the best help desk solution that focuses on usability and affordability. This customer service tool allows customers to take advantage of its sales pipeline management and built-in phone and email capabilities.
Freshdesk is a leading customer support software for small and medium-sized businesses. It keeps customers satisfied and establishes long-term profitability.
Additionally, it provides access for an unlimited amount of users, unlimited contact storage, as well as mobile application access and many other features. Real-time updating of information and documentation also managed by this tool.
Features:
Track and manage incoming support tickets from multiple channels with one inbox
Set deadlines for ticket response and resolution
Create custom ticket statuses
Discuss specific parts of tickets with experts to figure out the best solution
Manage all support-related communications (via email, phone, chat, social media, etc.) from multiple channels on a single platform.
Drag and drop appointments
Assign tasks
Intelligent ticket assignment
Automatically suggest solutions
2 – Intercom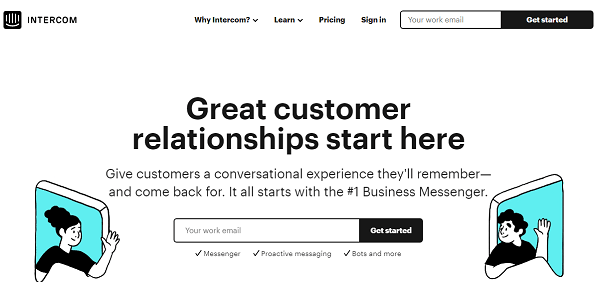 Intercom is one of the best Zendesk alternatives. Its customer messaging platform help organizations to build authentic relationships with their clients throughout every stage of the sales funnel.
Intercom is the first software to bring messaging products for sale, marketing and customer service to one platform. With this tool, sales, marketing and support teams better communicate with customers. It allows users to communicate with their customers via live chat, email, and even in-app messaging and push notifications.
The platform allows you to identify when target accounts appear on your website and lead them to your sales team right away.
There is also a live chat feature that delivers better customer experience.
Features:
Communicate with customers across platforms
Help customers self-serve
Automate work with chatbots
Real-time chat
Integrate with 250+ apps, or build your own
Personalize content and create campaigns
Target right people based on their behaviour on your website or product
Support account-based marketing
View and notified about client status updates
Send surveys and get the feedback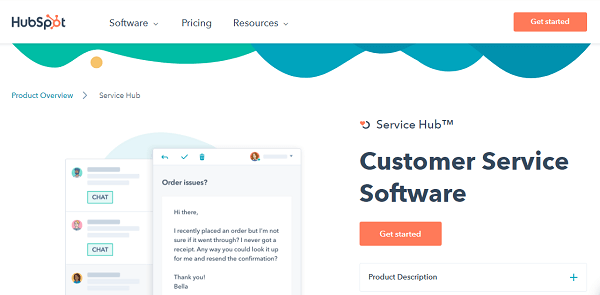 HubSpot Service is an excellent Customer service solution for independent contractors and small-size businesses.
With this platform, you can improve your sales processes and customer data organization at no cost. It brings all your customer service data and channels together in one place and helps scale your support through automation and self-service.
HubSpot customer service tool emphasizes ease of install and intuitive interface. This software will integrate with Google Apps and Microsoft Outlook to automate administrative and documentation tasks.
Related Article – HubSpot Alternatives
Features:
Expand your support team's capacity through automation and self-service.
Quick setup
Click-to-call
Call recording
Performance reporting
Add routing and automation to tickets
Task assignment
Integrations
Customer monitoring
Knowledgebase
Live chat
4 – Groove

Another name that we are adding to our list of best alternatives to Zendesk is Groove. It allows customer service agents to provide support through email, Twitter, Facebook, live chat, phone, and text message.
Groove is a web-based customer service system that includes a knowledge base feature.
It provides managers with real-time visibility into activity levels and performance, regardless of location. There's also a Support widget that companies can display on their website to help customers engage with their knowledge base and open support tickets when necessary.
Features:
Collaborate on conversations
Provide instant answers
Salesforce integration
Email and calendar integration
Knowledge base-Customers can either go directly to your knowledge base page or access it via the customer support widget
Live chat
Ticketing and tagging
Shared inbox
5 – LiveAgent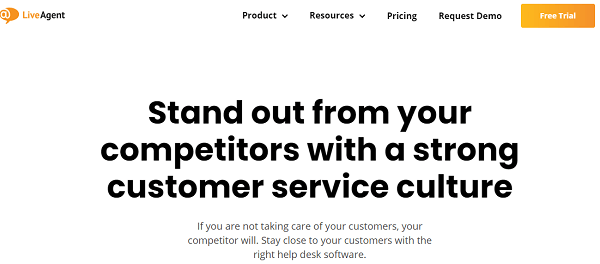 This Zendesk alternative helps users manage all customer requests from multiple channels in a single platform.
LiveAgent is the best tool that helps customer support teams streamline ticketing and servicing.
The best part is it is a cost-effective solution for small and medium-sized businesses that offer many different ways for support teams to communicate with customers like live chat, email, telephone, and video chat.
Moreover, it also comes in iOS and Android apps that make mobile communications easy and efficient.
In short words, we can say LiveAgent is a simple and flexible tool for managing live customers with ticketing and live chat.
Features:
Ticketing
Knowledgebase
Universal inbox
Follow your customer through different channels
Automate your workflow
Assign and transfer tickets between agents and departments
Time tracking
Merge tickets about the same issue
Real-time chat, including video chat, social, and phone support
6 – Kayako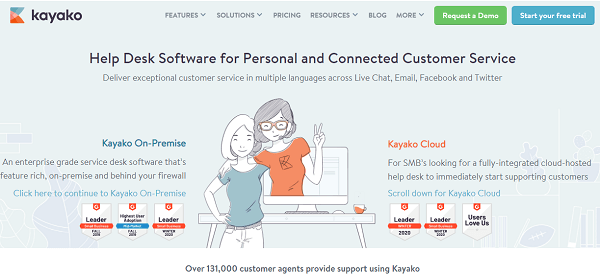 If you are looking for a tool similar to Zendesk, Kayako is the best choice. This all-in-one solution looks and functions much like a ticketing system, making it easy for teams to navigate.
It is offered either as a web-based or on-premise helpdesk software that places all your support channels in a single location to help organizations track customer queries more efficiently.
Kayako manages the chats in the backend with your tickets and emails. Also, stores the complete history of customer interactions.
With this customer service tool, you can expand your helpdesk across different channels. The platform includes phone, live chat, web, email, tickets, and self-service support.
Features:
Solid ticketing system
Real-time messaging
Automatic escalations
Customizable tickets, chats, and customers
Custom fields to collect all information needed
Easy integration
Mobile apps for iOS, Android, Windows, and Blackberry
Phone call tracking and recording
Shared inbox
Multilingual customer support and localizations
7 – Zoho Desk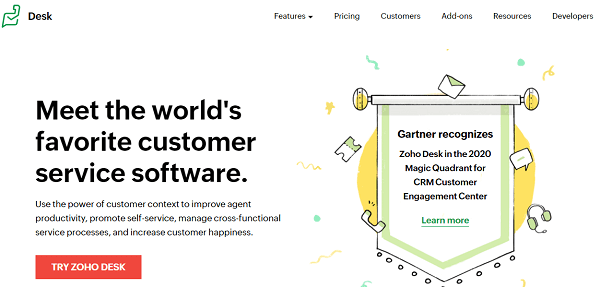 Zoho Desk is another one of the best Zendesk alternatives. Zoho offer tools for sales, marketing, email, collaboration, finance, accounting, human resources, and business intelligence.
It's a feature-rich customer service software that offers almost the same capabilities of Zendesk and its competitors.
The tool provides an automation-powered ticketing system that makes it easy to assign tickets to the right agent. And also informs agents and customers automatically about ticket progress.
Zoho Desk is one of the best customer service software for managing and closing tickets.
Features:
Ticket management
Ticketing workflows
Reports and dashboards
Self-service through a knowledge base
Time tracking
Deliver consistent, quality support to your customers
Manage customer conversations across multiple channels
Customer service AI
Connect Zoho Desk with other tools
8 – Help Scout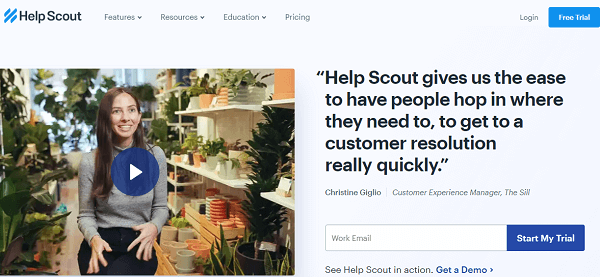 Help Scout is a cloud-based help desk software used by small businesses or small teams in bigger companies to manage customer relationships. This leading platform for customer service is used by 10,000+ businesses worldwide.
It provides inbox that each user shares with the team, enabling collaboration for support whenever a request arrives.
The software makes it easy for companies to track their customer engagements from open to close of each ticket.
Features:
Real-time reporting
Live chat
Integrated knowledge base
Shared inbox
Integrates with HubSpot, Salesforce, Jira, Slack, Shopify, and more
In-app messaging
Easily connect with customers even if no one is available
9 – HappyFox
HappyFox is a great ticketing system that provides faster, more effective customer support. It has all the features for effortless ticket management.
Tickets can be uniquely represented in three unique views – card, compact, and kanban. With this helpdesk tool, companies can provide support through email, live chat, social media, and phone.
One of the best things about HappyFox is it easily integrates with tools, like CRMs, eCommerce platforms, accounting tools, bug tracking applications, and more.
Features:
Ticketing system
Omnichannel support through voice, email, chat, social media and mobile
Auto-assignments
Service Level Agreements
Canned Responses
Business rules
Work-schedules
Help desk reports
Asset management
Powerful Knowledgebase
Integrates with over 50 popular SaaS applications
10 – AzureDesk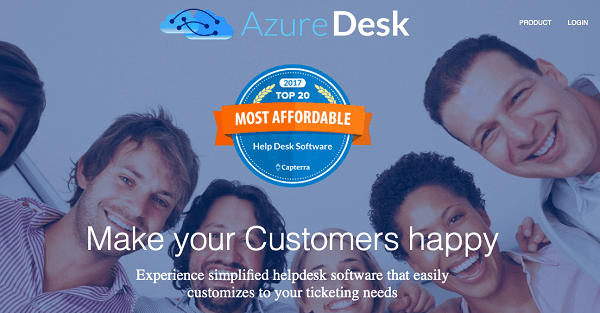 AzureDesk is our last pick in the list of best alternatives to Zendesk. It is affordable and straightforward that focuses on providing support through email.
This cloud-based help desk, ticketing management and customer service software centralizes all customer problems and unifies support emails, tickets and questions.
Using this customer service solution, you can prioritize and categorize tickets as they come in and assign issues to the right agent, quickly and easily.
AzureDesk provides a cost-effective solution for teams that have large customer support staffs.
Features:
Appointment Management
Automated Routing
Ticket management
Email to Ticket Conversions
Complaint monitoring
Customer database
Customer Experience Management
Self-service portal
Live chat
Unlimited mailbox
Collaborative Support
Final Words
All these Zendesk alternatives mentioned above are the best customer service software for your business.
Tell us which help desk solution fits into your budget and which features you find right for your organization.