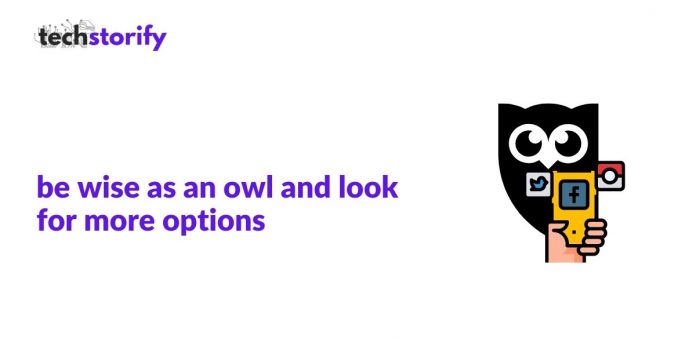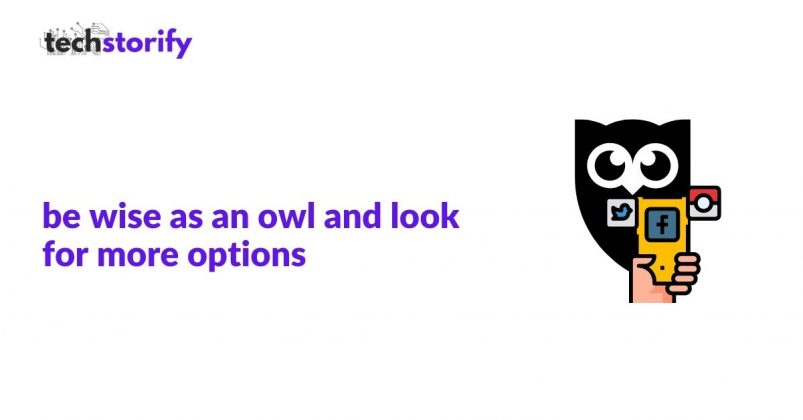 Before we jump to Hootsuite alternatives, let us see some facts.
Social Media has become a virtual planet in itself. What? This sounds crazy? Well, if you talk about facts then no. It is not crazy.
In 2020, there are 3.81 billion people actively using social media in the world, and this is an increase of 9.2% year-on-year from 3.48 billion in 2019. Back in 2015, there were only 2.07 billion users, social network growth rates since then have averaged 12.5% year-on-year.
It is a virtual planet.
Now, with the growing pace of digital marketing, social media has played a vital role in creating digital-first brands. A lot of brands are only marketing on digital. Why? It is more engaging and cost-effective. Also, you get the best thing that only digital offers – Analytics.
All the brands are focusing on a robust social media strategy. One of the challenges they face is to manage all the platforms at once. There is a duplication of work when you spend time to post and monitor all the social media pages.
Here is where a social media management tool like Hootsuite comes into the picture. Hootsuite is an amazing tool that helps to take control of your entire social media management. Be it content scheduling, monitoring, ORM, or analytics. It is a smart tool made for today's social media marketers.
Challenges with Hootsuite?
To be honest, it is not a simple tool to manage. You need to be a little bit tech-savvy to use it. Their training is expensive and some people might find it overwhelming to use it because of its features. Sometimes, you need help in basic things that don't require such an advanced tool as Hootsuite. Also, if you can manage the scope manually then you don't want to invest in a paid tool.
Which are the Best Hootsuite Alternatives?
We have curated a list of 7 amazing Hootsuite alternatives that can be affordable and easy to use for your social media team.
1 – TweetDeck
TweetDeck is a free social media scheduling and monitoring tool that is made for Twitter. As we all know the frequency and agility of tweets play an important role while engaging on Twitter. You have to be on your toes to find a conversation to engage with. For that, you need time and a dashboard that can help you see everything at once.  This is where TweetDeck comes into the picture.
A free platform where you can schedule your tweets and manage ORM. Now, everyone follows a calendar that tells you some fixed content that has to be published in a month. It could be product posts or any topical designs that you have prepared in advance. You can schedule those and save time to engage on a real-time basis on Twitter.
TweetDeck is a smile and effective platform to manage your Twitter accounts.
2 – Buffer
Buffer is one of the best Hootsuite alternatives that you can go for. It is simple to use and gives you the entire control to manage your social media platforms. It not only allows you to schedule more than 1000 posts but also help you craft posts.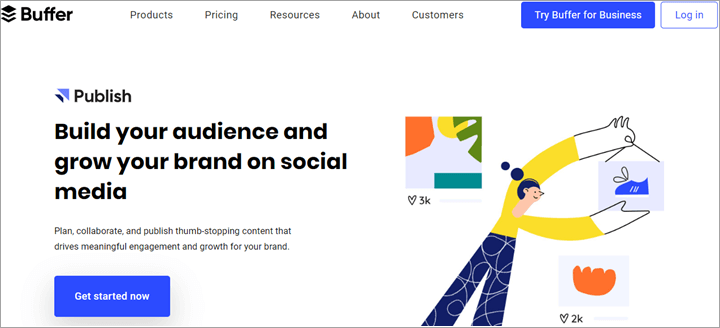 You can also manage comments and basic listening exercises using Buffer. One of the best things about Buffer is its educational content. It not only helps you to manage Buffer effectively but also gives you the best content about social media and digital.
Buffer has a trial period but is more affordable than Hootsuite.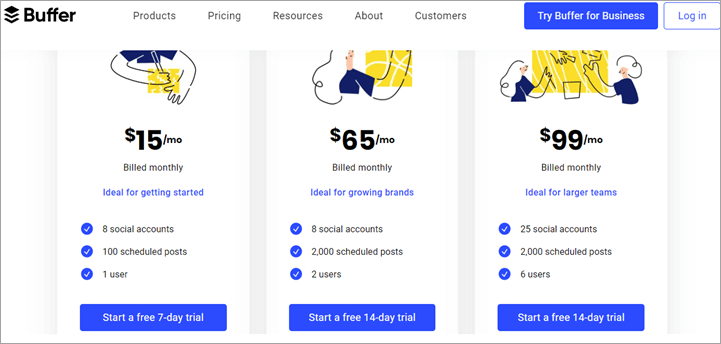 3 – Sendible
Sendible is yet another brilliant Hootsuite alternative. It is known for its amazing reporting and analytics. Understanding data is crucial for any social media team, you would want to understand what type of content is performing more. With its smart reporting structure, Sendible is a data-led social media management platform.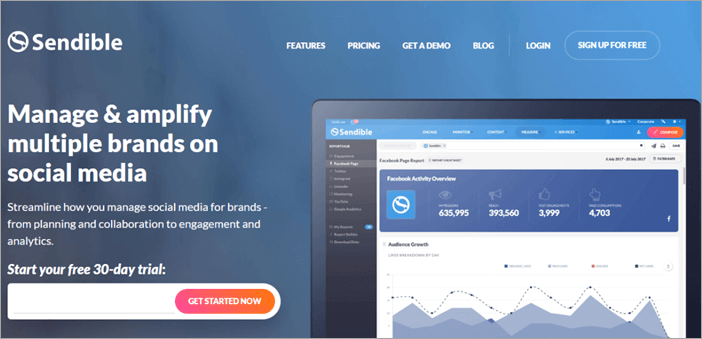 Some other basic features include – post scheduling and managing multiple accounts for clients. You can also focus on the monitoring aspect with Sendible. Their listening dashboards are extensive and give you a complete picture of any situation. \
The free trial is for about 30 days. It offers four different paid plans which are classified based on provided services. It is best for large companies.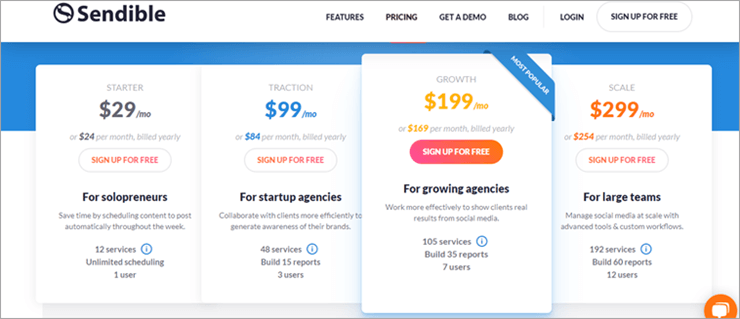 4 – Sprout Social
Sprout Social is a balanced social media management platform that is one of our top Hootsuite alternatives. If you are looking for a good post-management and analytics tool, Sprout Social will do the job. Not only these but you have the option to create a social CRM and a chatbot which is an interesting offering in this category.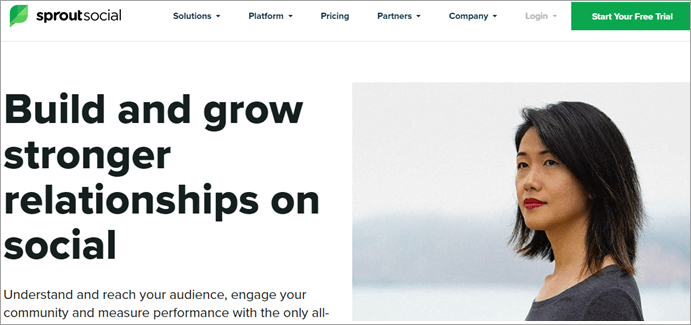 It also has keywords, accounts, and location-based monitoring capabilities for your clients. You can set up to 100 accounts on Sprout Social. It offers a 30 days free trial where no credit card is required. It offers the following three exclusive paid plans.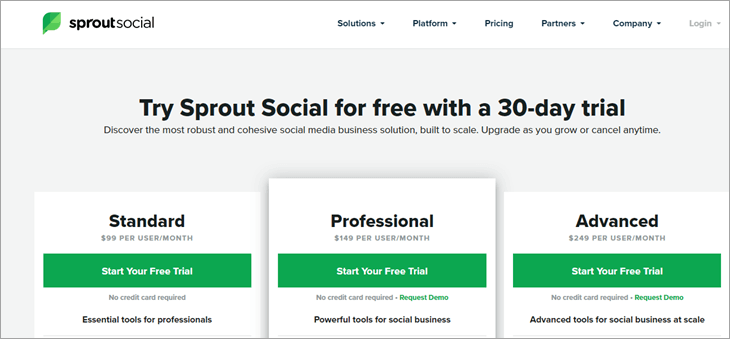 5 – Agorapulse
This is a tool that we discovered while we were researching for the article. We are adding it to our top Hootsuite alternatives. Agorapulse is a smart and efficient social media platform management tool that caters to all the requirements. You can schedule posts, monitor comments, and messages in a single dashboard, and also get analytics that will help you plan your content better.
Agorapulse offers one free plan for 28 days and the paid plans include the following types based on small and large organizations.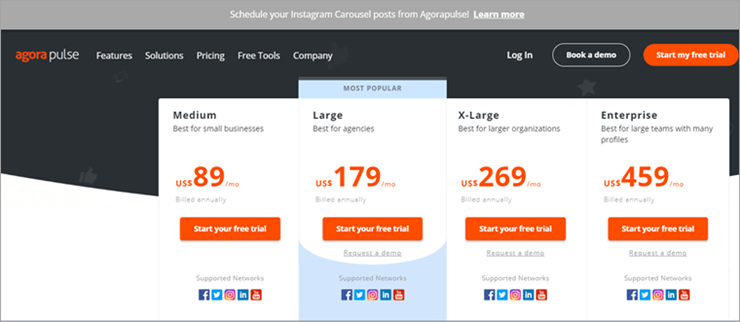 6 – SocialOomph
If you are looking for a seamless content scheduling tool then SocialOomph is your answer. SocialOomh not only helps you schedule social media posts but also blogs. Yes, this is something that a lot of marketers need at this point. There are a lot of brands that need a strong blog strategy to attract traffic to their website. This tool helps to do that using webhooks and RSS feeds.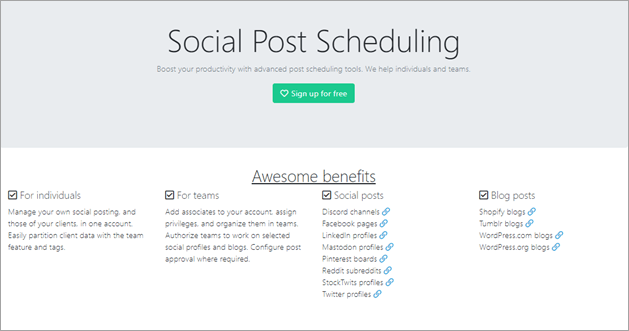 It offers four suite plans to have various specifications. It has a different cost structure for monthly and yearly subscriptions. It also offers a 30-day free trial.
7 – Social Clout
The last Hootsuite alternative on our list is Social Clout. It is one of the top Hootsuite alternatives that can help you level up your social media game. Its real-time analytics is something every marketer would be thrilled to have.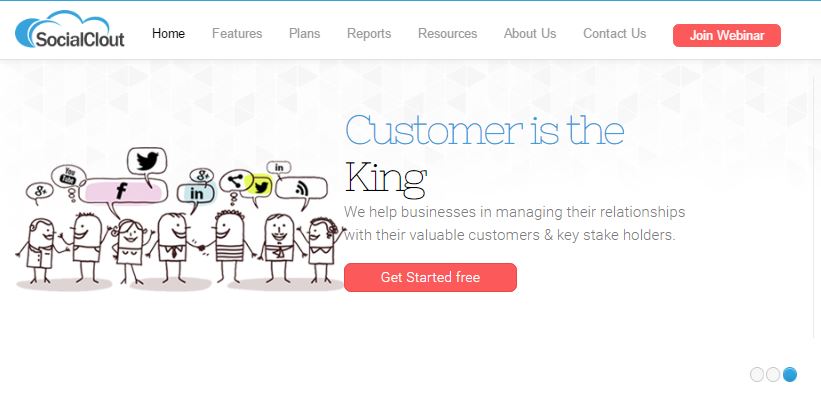 As we all know, publishing content is one thing. This can not only help you publish content but also help you understand the art of engagement with its data let reporting system. You should spend more time understanding your audience on social media.
It offers a free plan and three paid plans as given below.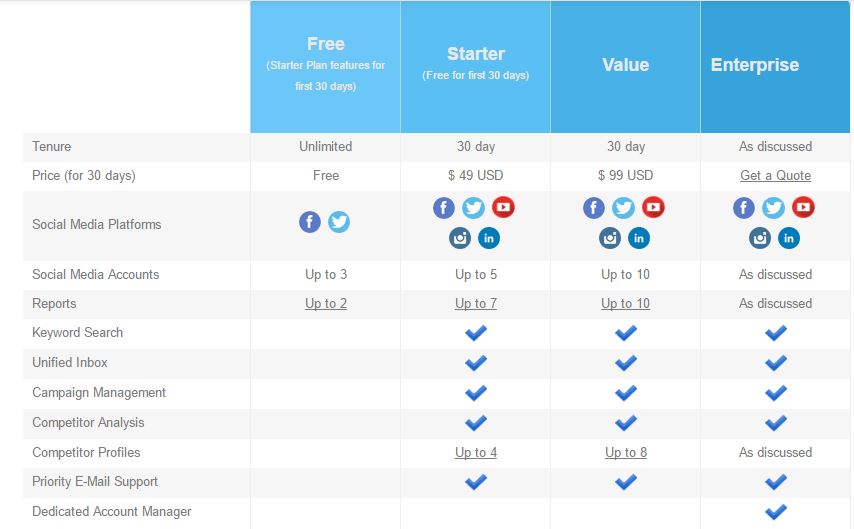 Wrapping Up
Social media in 2021 will be all about how you are engaging with your audience on digital. Everyone is making content which results in clutter for a user. As a social media team, you should be able to focus on creating more trending and topical content to stay relevant. To able to do that you need to invest and save time.
All the above social media management tools can give you that assistance to organize and publish content in an effective manner. Check out some more social media tools.