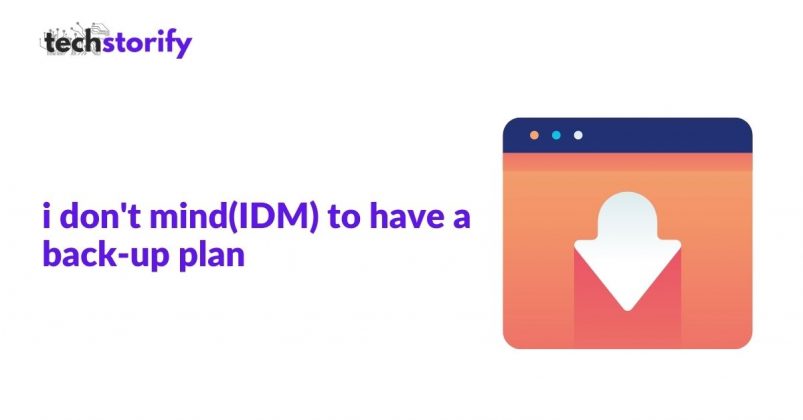 Internet download manager, a.k.a, IDM is a useful utility software that captures the downloads and enhances the download speed and the ability to pause and resume without corrupting the file or breaking the download chain. The obvious reason why one would be searching for an IDM alternative is because of its pricing.
It is priced at $24.95 for each system for a lifetime which is kind of affordable but not everyone is willing to pay this much for download management software.
Therefore if you are in search of an internet download manager alternative, then you are on the right page.
In this article, I will be listing down 10 best free internet download manager alternatives that you can use to manage your downloads.
---
10 Best Free IDM Alternatives You Can Use
1. JDownloader
The first free and worthy IDM alternative in this list is JDownloader which is an open-source tool. It has features like resuming downloading, setting bandwidth limit to each download, auto-extract archives, and more.
Other than this, it has the ability to solve captchas on its own which makes downloading seamless and faster than before. This is really an amazing feature and can be used on sites that require you to solve captchas for downloading ever file.
Features:
You can bypass the ad URLs using Jdownloader
Download youtube videos in mp4, FLV, and mp3 format.
Batch download
Combine and decompress archives
Compatibility:
Windows
macOS
Linux
Java-based software
---
2. Free download manager
Another exclusive and free IDM alternative is the Free download manager which is as good as IDM and can be a good replacement for it. Moreover, the features it offers are similar to IDM such as enhancing the download speed, resuming and pausing the downloads, and more.
Other than normal downloads, you can also download torrent files by adding the magnet link or the torrent files. However, it lacks the feature of grabbing videos from a webpage but can download youtube videos upon pasting the URL of the video.
The free download manager also has a chrome extension for grabbing downloads, it supports chromium-based browsers and definitely one of the best free internet download manager alternatives.
Features:
Torrent downloads
Enhance download speed
Resume broken downloads
100 percent free to use
Compatibility:
Windows
macOS
Android
Linux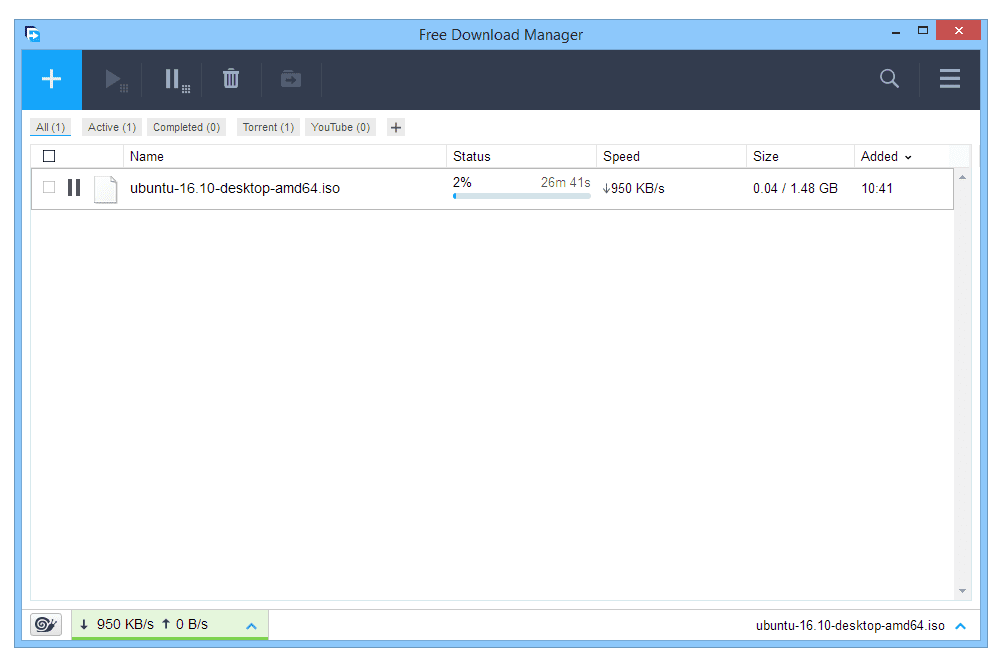 ---
3. EagleGet
Another top-notch and simple downloader manager Eagleget is comparatively a worthy IDM alternative that is lightweight and easy to use.
All of the necessary features of IDM are available in EagleGet such as download acceleration, scheduled downloading, and more. The best part about Eaglenet which makes it stand out the other IDM alternatives in this list is its ability to check for malware in the files which it captures for downloading.
If you are willing to shift to EagleGet from another download manager, you can easily import the download list. You can also resume the expired downloads and the pending downloads of the other download managers after importing the list.
Features:
Automatic Malware check
Silent notifications while gaming
Automatic refresh expired downloads
Appealing user interface
Compatibility: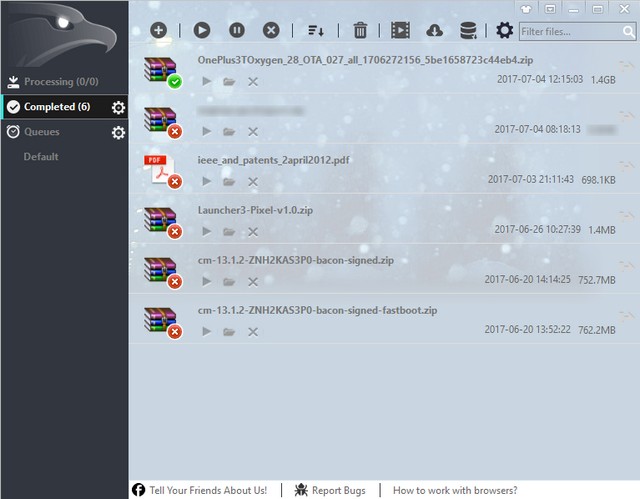 ---
4. Xtreme Download Manager
Moving ahead to another impressive IDM alternative on our list known as Xtreme Download Manager which also supports similar features as that of IDM. It accelerates the download speed, enable pause and resume to the downloads, and even resume the broken downloads.
Moreover, you can even grab videos and download them in mp4 format, all of these features comes at no price.
Features:
Maximize the download speed
Download videos from Facebook, Dailymotion, youtube and more
Built-in video converter
Resume broken downloads
Compatibility:
Windows
macOS
Linux
Java-based software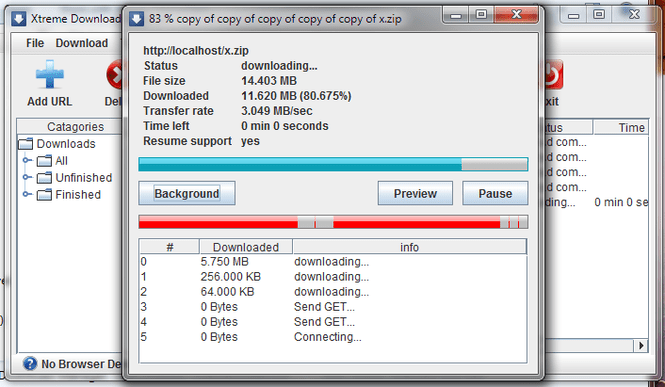 ---
5. FlashGet
Shedding light on a very underrated but powerful freeware downloader FlashGet, previously known as Jet Car, that has features similar to that of Internet download manager. It promises to enhance the download speed by 10 times which is pretty impressive.
You can categorize your downloads and manage them easily, the feature that you would like is that it automatically enables your anti-virus software after downloading a file to scan for viruses.
Features:
Increase download speed
Uses fewer resources on the system
File management system
It is only available for windows.
---
6. uGet Download Manager
We have listed various alternatives to internet download managers which are popular on Windows and macOS, but uGet Download manager is probably the first downloader which was released for Linux back in 2003 and soon popularized among the users.
It later became compatible with other operating systems like Windows, macOS, and Android. uGet Download Manager has most of the features similar to that of IDM which makes it a preferable choice over IDM.
Features:
Free to use
Resume and pause downloads
Schedule downloads
Secure
Compatibility:
Windows
Linux
Android
macOS
---
7. Turbo Download Manager
Another free and worthy IDM alternative, turbo download manager, pretty much makes it easier to manage downloads for the user. The user interface is not attractive, but you will still understand how to use it.
It offers the same features as every other download manager on the list such as, boosting download speed, resume and pause downloads, and more features. However, there is one feature that I personally liked in the turbo download manager which is preview media files.
The best part about the Turbo download manager is that it is free and open-source, hosted on SourceForge which is safe and secure to download software.
Features:
Faster downloads
Resume and pause downloads
Preview media
Compatibility:
Windows
macOS
Linux
Browser Extension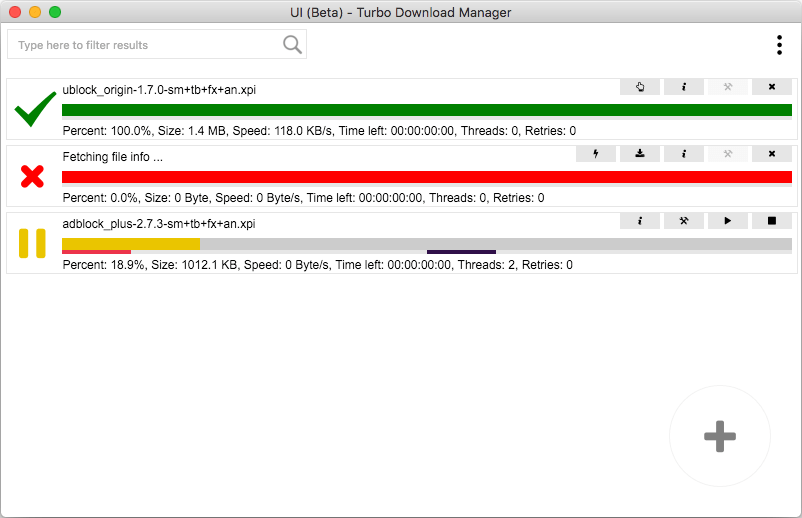 ---
8. Mipony
There are hundreds of IDM alternatives available on the internet out of which Mipony has proved why it should be among the top 10 alternatives of IDM. Mipony can grab downloads from sites likes Rapidshare, Mediafire, Fileserve, file upload and more accelerating their download speed.
It can also capture downloads from the clipboard which is an amazing feature, moreover, it also has the capability to pause and resume downloads. It has a free and paid version, where the paid version is for 19 dollars for a lifetime subscription which enables downloading larger files.
Furthermore, the free version has various other limitations which forces you to upgrade to the premium version.
Compatible: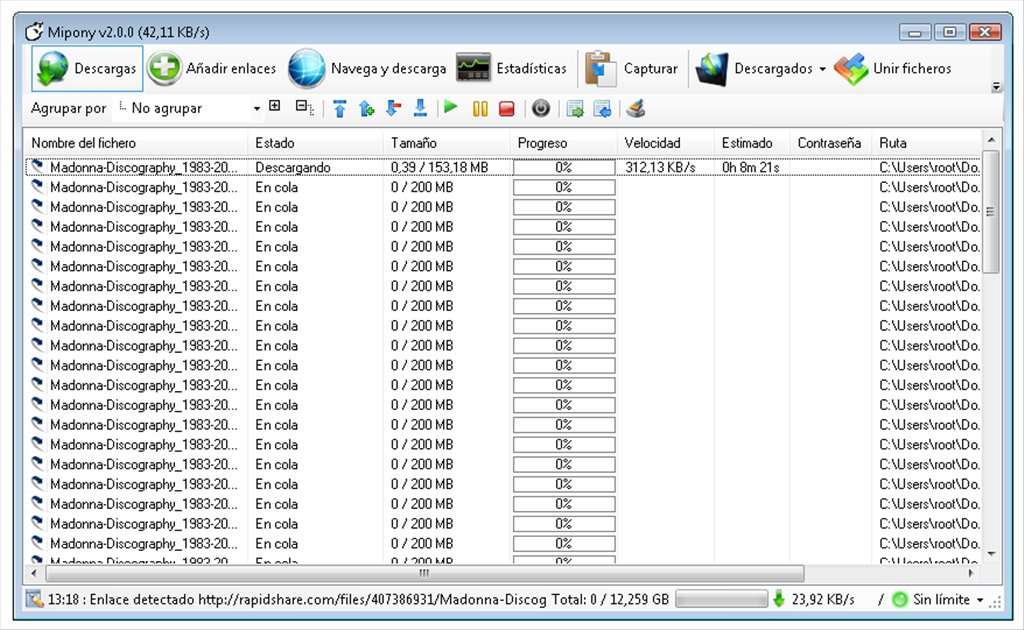 ---
9. Download Ninja
Another amazing and simple IDM alternative is not a software but a chrome extension. Download Ninja is simple yet impressive which makes downloading simple and managed.
You get all the features of an internet download managers such as speed limiting, multilanguage support, themes, pause/resume downloads, and more. Moreover, it also supports the Microsoft Edge browser as it is based on chromium and supports the Google WebStore.
---
10. DownloadthemAll!
If you aren't a user of chromium-based browsers and prefer firefox, there is one such alternative of IDM which you will definitely like. DownloadThemAll! is a firefox extension that captures downloads and accelerates it speed.
It has more than 300k users worldwide and is totally free to use. In case you are looking for an extension based IDM alternative and use firefox, this is the best download manager you can get.
---
Wrapping Up
Downloading large files without any download manager is a risky task, that is why software like IDM exists. We have been using IDM cracks for a long time, but there are tons of free IDM alternatives that should be getting a little attention.
Therefore, in this article, we have listed down the best free alternatives of IDM that you can use to manage your downloads.