Have you been looking for the Best Lead Generation Software tools that you can utilize to generate quality leads to help grow your startup business? If yes! Then this article is meant for you.
Firstly, it is vital to understand that lead generation is essential for any business.
Lead generation helps to get traffic over to your website, but it is also about acquiring leads and converting these leads into customers interested in making a purchase.
Lead generation can easily be defined as a process where marketing strategies are used for alluring out prospects and then convert them into customers who carry an interest in a business's product and services.
Importance of Lead Generation
Targets the right customers

Increases awareness

Presents an opportunity for valuable prospect information

Generates brand royalty
Features of a Lead Management Tool
Content Management

Content Strategy

Analytics/ ROI tracking

Auto- Responders

Automated Publishing

Conversion tracking

Customer surveys etc.
Generation of leads can be laborious, but with the right software, you would quickly get to generate and convert more quality leads that have higher conversion rates and eventually boost your sales and revenue.
Best Lead Generation Software & Tools 
Below we are enlisting the 15 best quality lead generation tools that will help immensely in the process of lead generation!
1. HubSpot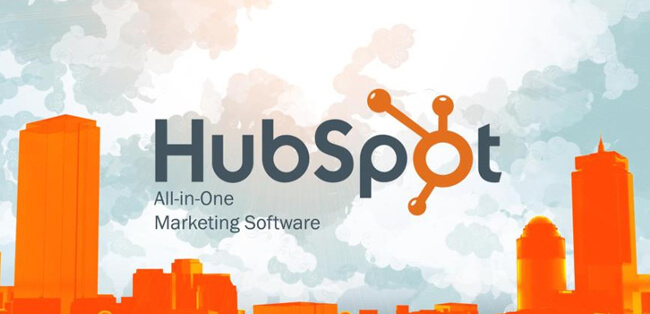 HubSpot is one of the most reputable inbound and sales platforms that help businesses attract traffic and convert leads into close customers.
It carries various functionalities that allow the marketing and sales department to manage activities like the creation of content, social media sharing, workflow automation, lead capture, customer relationship management, sales pipeline and performance tracking.
HubSpot gives companies a stronger base that becomes well equipped to manage sales and marketing activities exceptionally well.
Benefits of HubSpot-
Availability of tools helps build websites, publish content, ease social media management, email management, automate lead nurturing workflow, and much more, right under one platform.

Has a good range of sales tools.

75+ integration partners work with HubSpot, which offers a seamless experience as the app integration is extremely easy. These integration partners include Shopify, SurveyMonkey.
Pricing: Hubspot is a free tool for marketers. However, you can also upgrade for more enhanced features.
Also Check: 10 HubSpot Alternatives for All of Your Marketing Automation Needs
2. LeadFuze
LeadFuze is another popular lead generation software that uses AI to generate leads in a specific role and industries.
When collecting customers data, it collects their basic information and provides in-depth data, i.e., verifies emails, contact numbers, special accounts, and more.
It also has an exciting set of integrations and connects with tons of platforms such as Salesforce, Hubspot, milkshake, G Suite etc.  
LeadFuze helps a business generate leads at record speed.
Benefits of LeadFuze-
Use cases and deployment scope.

Automated process.

Easily integrates with difficult software (CRMs like HubSpot).
Pricing: 
You can get a free plan with 25 free leads. You can later upgrade to premium plans.
LeadFuze offers three pricing plans.
Starter Plan – 500 Leads at $132.30/month
Scaling Plan – 2500 Leads at $447.30/month
Custom
3. OptinMonster
OptinMonster can be the best lead-generation tool for you to turn more of your website visitors into email subscribers and customers.
It allows you to optimize for the highest conversion rates. It helps you create various kinds of opt-in forms such as lightbox popups, floating bars, welcome gates etc.
It has an impressive A/B split testing module, which allows you to take conversion rates to extreme levels.
Benefits of OptinMonster
Page-level testing

Actionable insights

Mobile campaigns

Integration with AI major Email Marketing Software
Pricing:
OptinMonster offers four pricing plans:
Basic Plan costs $9/mo
Plus Plan costs $19/mo
Pro Plan costs $29/mo
Growth Plan costs $49/mo
4. TrustPulse
TrustPulse automates social proof to increase trust, conversions, and sales.
TrustPulse gets you the leverage for marketing and conversions. It lets you create design options that include flexible designs to match the user's website's look and feel.
It has detailed statistics valuable for actionable insights and lets the user track and measure conversion goals and other page wise-data.
Benefits of TrustPulse-
Has unlimited domains.

"on fire" notifications.

It gets you features of smart targeting.

Actionable analytics.

Easy-to-use design editor.
Pricing:
TrustPulse is an entity of OptinMonster. It also offers four pricing plans for the customers:
Basic Plan costs $5/mo
Plus Plan costs $10/month
Pro Plan costs $19/mo
Growth Plan costs $39/mo
You also get the 14-day money-back guarantee here.
5. SeedProd
SeedProd has a library of responsive landing page templates. It processes social media management, communication management, engagement management
It channels social media, Email, and websites. It has capabilities widgets, landing pages and making alerts like pop ups and notifications.
As the landing pages promote the product's benefits as they help build a loyal audience that increases revenue and ROI.
Benefits of SeedProd-
Has Customizable landing page templates.

Maintenance mode landing pages.

It gives you code-free customization options.

Has significant lead generating page elements.
Pricing:
Seedprod is slightly pricey considering the features that they offer.
It has four pricing options:
Basic costs $39.50/mo
Plus costs $99.50/mo
Pro costs $199.50/mo
Elite Bundle costs $239.50/mo
6. Intercom
Intercom has the most ease of use and has depth in maintaining communications between customers and internal communications over all your platforms.
Get intercom if you want to be able to gain insights, offer promos, convert leads, provide support or even host a help centre. It creates unique customer journeys right out from within the platform.
Using Intercom can give you access to different messages sent to different customers and team members.
It is designed to improve the quality of communication between business and their customers. 
Intercom will get your startup business to improve entire marketing through its availability of a wide range of tools, allowing good relationship management with your prospects.
Benefits of Intercom-
Enhanced communications

Quick contact between employees and works working remotely

Message tagging

Personalized reply templates

Key message grouping

Audience segment
Pricing:
Intercom offers pricing for startups and small business.
Start Plan costs $59/mo
Growth Plan costs $119/mo
7. AeroLeads
Aeroleads is a powerful lead generation and prospecting tool. Its user-friendly business platform is also known to be web-based too.
It has a clean interface and has easy to use features.
Getting leads with AeroLeads is extremely easy and quick. It allows the generation of prospects quickly and streamlines your sales and marketing process to give your optimum business growth.
Benefits of AeroLeads- 
Accessible prospects and lead generation

Exports prospects deals to CRM easy and fast

Lets team collaborate over the platform

Easy Email and phone numbers searching option

Has Google Chrome extension. 
Pricing:
AeroLeads offers a free trial plan for its users.
After the free trial,  you can choose any one out of four pricing plans:
TakeOFF plan costs $49/mo
Climb costs $149/mo
Cruise costs $499/mo
Enterprise on request
8. LinkeLead
Use LinkeLead lead generation tool to automate sales over LinkedIn. All that needs to be performed is to install the LinkeLead extension to the Google Chrome browser. It provides end-to-end solutions and is specifically designed for windows.
It automatically presents hundreds of profiles and sends connection invitations. Later on, it generates follow-up messages to a list of chosen contacts.
LeakeLead lead generation tool was developed to help SMEs to generate easy leads.
Includes features of contact discovery.
Benefits of LinkeLead- 
It gets you lead segmentation, lead capture and other prospecting tools right under chrome extension.

Stands head to head with other competitors lead generation tools such as Lead Forensics, Stratics Networks and Salesmanago.
Pricing: Completely Free to use
9. Sendinblue
It is developed to help out all small businesses that focus on needs such as marketing automation, Email Campaigns, Transactional Emails and SMS.
With the Sendinblue lead generation solution, you can quickly increase your sales and nurture contracts using target workflows and its easy scoring feature.
It is a flexible and versatile marketing automation platform that comes with a tracker script that lets you track web behaviour from contact information and use the information to generate complex automation workflows that save you immense time.
It has word plugins such as WordPress, Magento, Salesforce and WooCommerce.
Benefits of Sendinblue
With the growth of your business, you can upgrade Sendinblue's plans that meet your business needs.

Sends up to 300 emails a day. Offers 9000 emails per month that are free.

Easy channel management.

CAN-SPAM compliance.
Pricing:
SendInBlue offers a free plan for up to 300 emails.
Apart from this, it offers three pricing options:
Lite Plan costs $25/mo
Premium Plan $65/mo
Enterprise Plan on request
10. Lead Forensics
LeadForensics provides all that is required to start the valuable conversation with website visitors. This is performed in real-time.
This lead generation tool would give you the availability of all the information that is required to start valuable, relevant and meaningful conversations with your website's visitors. It routes visiting customers directly to their account manager and engaging them with your pro-activity to raise a lead generation.
LeadForensics have over 60,000 customers all over the globe.
Benefits of Lead Forensics-
It gives high account-level insights.

Contact data availability. You can store data of customers in numbers of millions.

It gives you contact data accuracy and account data accuracy.
11. OutreachPlus
OutreachPlus is used by businesses bound to go after a process such as communication management, engagement management, and generation of new leads.
These lead generation tools have a vast nature that covers a lot more than just lead generation and maintaining good communication between customers and team members.
It channels leads through Email, through running promotions and maintains live monitoring.
It can generate a personalized platform and has the availability of dashboards to monitor and manage lead generation easily.
It is developed to work in the industry of marketing and advertising.
Benefits of OutreachPlus-
It personalized a space that is utmost needed for a lead generation platform.

It has the capability of easy data import and data export

If you choose to use the platform, you'd not be disappointed with their support as they are 24/7 available, but it is only efficient through email support.
Pricing: 
Outreach Plus offers a 14-day free trial. It offers both yearly and monthly subscriptions.
Solo Plan costs $19/mo
Multi-User plan costs $29/mo
Agency Plan costs $79/mo
12. Prospect.io
Prospect.io can help you quickly build email lists, set up impactful campaigns, measure results and make integration available with many other services.
Prospect.io gives a tremendous boost to your prospecting efforts just with the chrome extension.  
It helps out brands, publishers and agencies to generate quality leads, backlinks and press mentions.
Outreach plus has helped marketers and sales professionals get an immense increase in their customers base, likely increase traffic, and build relationships.
Benefits of Prospect.io-
It is built for SMB businesses.

The immense increase in the lead right after you've started using.

It has excellent opportunity management and goal management.

Has availability to performance metrics.

Has proposal management.
Pricing: 
Prospect gives a 30-day money-back guarantee. It offers two pricing plans:
Essential Plan costs $89/mo
Business Plan costs $149/mo
13. Marketo
Marketo has been gaining the trust of many businesses for lead generation for precisely ten years. It is well-reputed and helps keep markets on top of the latest trends.
It is a SaaS-based marketing automation software owned by Adobe built to help organizations that need to get campaigns to develop and automate, measure marketing engagement, tasks and workflows.
Marketo gets you lead generation and management. It also nurtures lead that has been generated and monitors via dashboards and reports generations in real-time.
It is excellent for customer marketing and even has CRM integration.
Benefits of Marketo-
While lead nurturing listens to the needs of prospects and provides information and answers to the customers' needs.

Lets a user tests multiple subject lines and different hours it send emails for the purpose of increasing conversion rates
14. Nimble
It was developed for mid-sized businesses. It lets businesses team successfully nurture their personal and business relationships across emails, social networks, and over more than 90 cloud-based business applications.
Nimble gets you accessible and intelligent communication. With its social media connectivity and its integration with office 365, you can use it to manage all your customer's communication easily.
It will perform all functions that a marketer requires to be achieved by easily integrating with productivity apps such as inboxes and calendars.
Nimble also streamlines the user experience and is built to help businesses close more deals quickly and effortlessly.
Benefits of Nimble-
Have an excellent interface to work with.

It doesn't require much user- experience (within no time, anyone can learn to use it efficiently)

For a small business, it has fair and reasonable pricing.

Extremely good at tracking timesheets and scheduling.
Pricing: 
Nimble also offers a 14-day free trial. It has a single pricing plan.
The monthly subscription costs $25/mo whereas the yearly subscription costs $19/mo.
15. Hunter
It is an Email hunter tool that helps marketers search and find customer contact information associated with any webpage or a company.
Hunter uses cold emailing as a way to fill up marketers' pipelines. Hunter can easily be used for verifying emails and performing bulk tasks.
It also allows a user to perform outreach directly through the tool against uploading the customer contacts to another CRM,
Hunter's Email finder is pretty much duplicate as the search function, except that with hunter, it lets you work under a specific assigned domain.
Benefits of Hunter- 
It helps you locate customers that are real.

Its mail merging feature is a Google Docs extension that tracks your emails. opens, making it easier to follow up on these customers.

Gives 100 requests for free.

It gives 50 mail merges per day for free.
Pricing:
Hunter also offers a free plan for up to 25 searches. Besides this, it offers four pricing plans:
Starter plan costs $49/mo
Growth plan costs $99/mo
Pro plan costs $199/mo
Enterprise plan costs $399/mo
FAQ: 
Q- What's the general difference between a CRM and a Marketing Tool?
Answer- If any at any point in time, you have heard the use of CRM around marketing automation tools or vice. Versa. It is pretty general to get confused and mix up their working for lead generation.
CRM and a Marketing Automation tool is a different thing. And should not be confused with each other.
While a CRM provides indispensable value to any organization, they fall short when it comes to marketing. Hence, this is exactly where the need for Marketing automation tools arises. CRM tools are created to track opportunities and pipeline, manage contact and account information, whereas an Automated marketing tool functions to develop customer relationships, automate marketing programs etc.
A CRM is designed for a different purpose, which also creates whitespace for marketing vendors/ also a lead generation tool like Marketo.
Conclusion:
We hope in this article we have given you a clear idea of how and which lead generation tools can work in your favour to generate better, and quality leads for your startup businesses.
These lead generation softwares marketing tools are specialised in different marketing channels. Some are meant to work for large enterprises, and some are only meant for small enterprises, and on the other side, some are just meant to be used as Chrome extensions.
Above mentioned lead generation tools and software are well equipped and can generate quality and loyal customers.
We hope we have helped you choose the one which serves you best for your startup business.
Also Read: