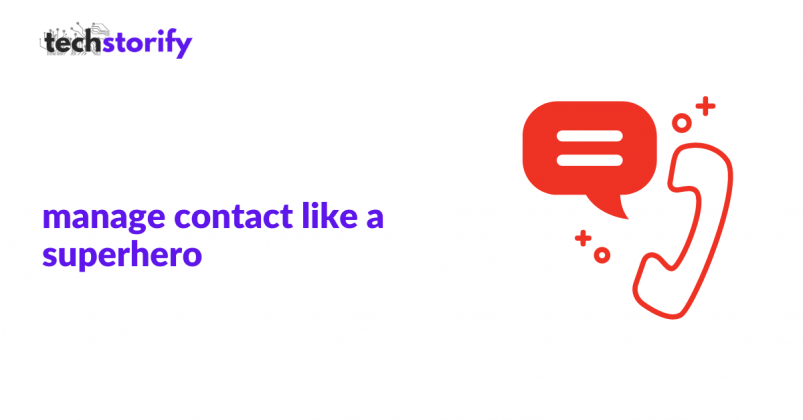 Contact details are essential in any business. And managing contact details of your targeted persona is the first step in closing a sale. No matter if want to make a $1 product sale or a business deal worth $2000. Today we're going to talk about 10 best contact management software that can help you do that.
These days every smart company running ads campaign to get the contact details of its targeted audience. And after that, they can build trust and make a sale easily. However, managing 10,000+ contacts is not an easy task and requires a complete plan.
Also, you have to hire some experts to handle this number of contacts. The evolution of technology can help you a lot too. And contact management system also called CRM definitely can help you with it.
Best Contact Management Software
There are a number of contact management tools available in the market. And, you can save the name, number, e-mail, and other contact details of your prospect in these software programs. Likewise, you can use the data to track certain necessary activities of your prospects.
Also, additional features such as contact search, e-mail integration, or event schedule can enhance your work progress.
Some of them are free while others come with a subscription fee. In this post, we'll discuss both of them.
So let's get started.
1. Insightly – Best Overall Contact Management System
If you're looking for a contact management system with the best automation then here is Insightly. Also, it's one of the overall best contact management system and our #1 pick for this list.
It automatically tracks the activities of potential prospects by looking at some important factors. Further, it sends these reports to the ideal sales expert of your team to close the deal, efficiently. Moreover, you can send emails to your targeted audience or customer in bulks to maintain business flow.
Also, the account management features in this CMS helps you to calculate your assets properly. Also, you can link emails and necessary data to contacts in your database. You can also track the metrics based on your contact with the prospects. That way you can know the present business situation, weak and strong points of your business.
2. monday.com – Best Contact Management Software for Multitasking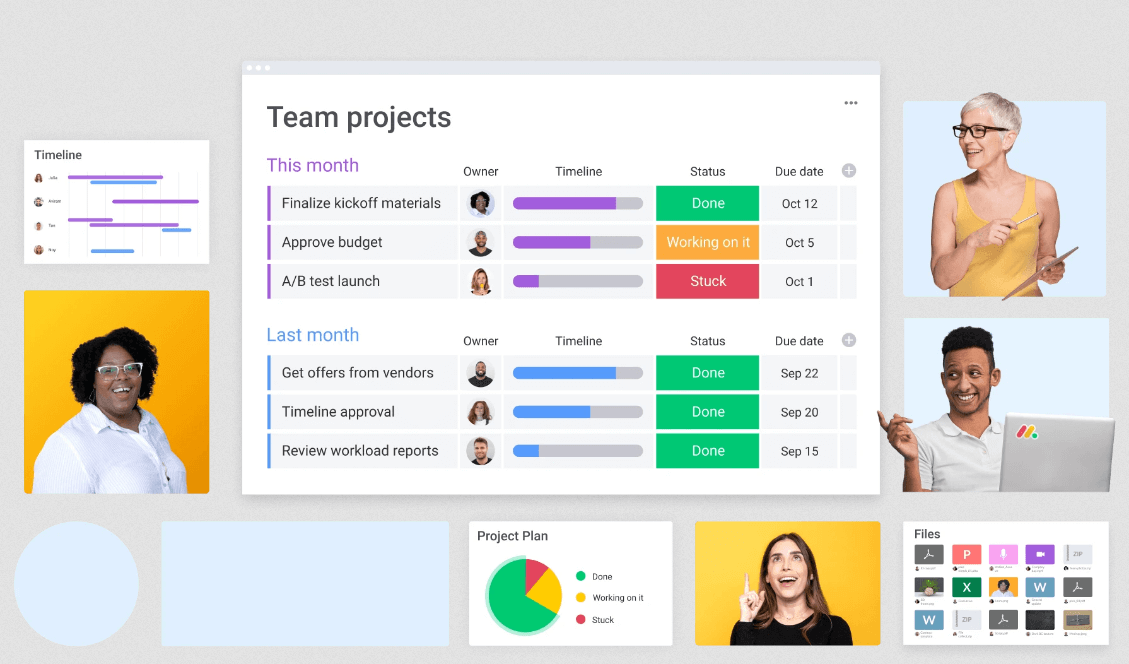 Monday.com is a popular contact management software that you can also use to manage your projects. You can manage, interact, and process further activities with your customer data on Monday.com.
Monday got released in 2010 and gained much popularity in few years. Also, this is the program used or used by lots of famous companies such as Discovery Channel, Carlsberg, Wix.com, etc. Moreover, you get an integrated form feature in it. And this feature allows you to capture the leads online through this form. And also the auto-fill feature inserts the captured details on other forms, automatically.
Meanwhile, you'll get session management, advance account permissions in it. You can allow automation up to 100000 actions per month. Likewise, you can track the business metrics in the dashboard view of it. Moreover, it comes with a list of useful features that make it worth every penny.
Yes, it comes in paid plans from $17 per month to $39 per month. However, you can use the free trial too before making a purchase.
We have also highlighted Monday alternatives.
3. User.com – User Specific CRM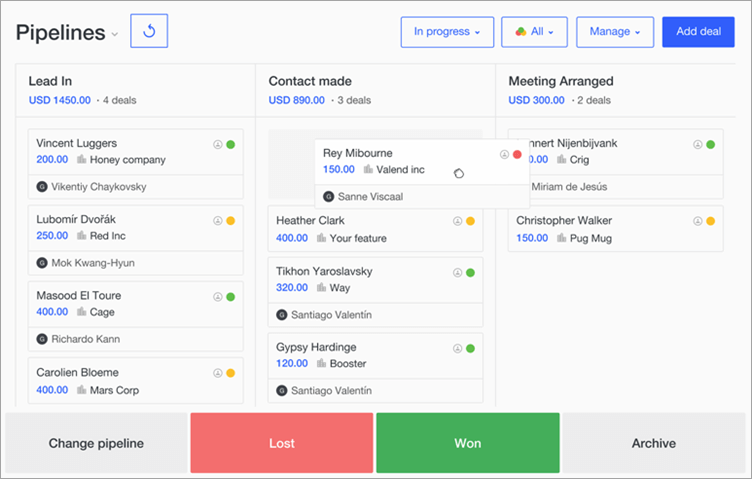 As the name suggests, this contact management software is the caretaker of your contacts. And allows you to make more and better deals with it productively. On the other hand, it's known for its campaigns to turn visitors into happy customers.
User.com got released in 2016, and it's a cloud-based and open API contact management system. It allows you to create an automated and responsive sales funnel to control the activities of the customer's journey. Also features like analytics, live chat, and push notification to help you to generate more leads than before.
It provides you detailed business analytics and graphs to understand the present business condition and weak point of it. E-mail marketing and making warm communication will be easy through this software. Appointment scheduling saves yours and your client's time. Also features like Entire customer tracking and Multichannel selling make this software far better than other CMS in the market.
It comes with a free plan and 3 paid plans that cost you $49 per month to $1349 per month.
4. Microsoft Dynamics 365 CRM – Best for Marketing and Sales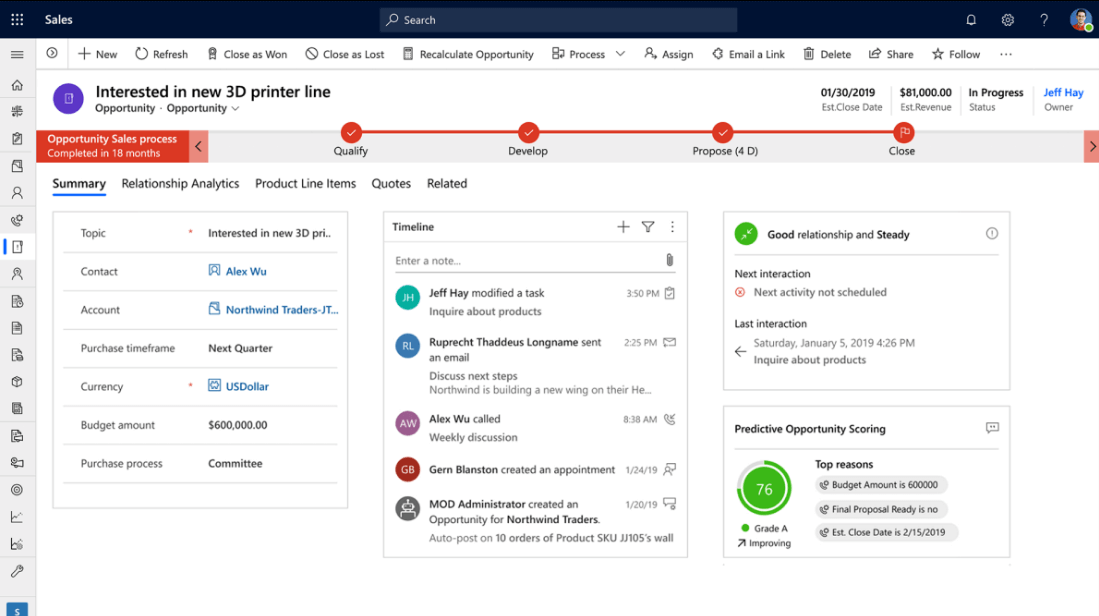 Microsoft Dynamics 365 CRM is another popular yet ideal contact management system to manage marketing, sales, and other customer services.
It comes with broad functionality and great automation features. This also allows you to make better interactions with your consumers or targeted audience. Microsoft Dynamics 365 track and analyze customer data to understand your audience better. Also, this software tool tells you about the campaign that bringing better results. So you can apply the same techniques on other campaigns to improve your conversion rate.
This contact management software comes with customizable templates. You can use these templates to create eye catchy email campaigns and landing pages. Also, it features AI-powered suggestions to read the real-time context. So, if a user comes with a complaint, you can easily solve it by giving a resource related to the same problem.
Microsoft Dynamics 365 offers different plans:-
Customer Engagement Plan that'll cost you $115 per user/ month.
Dynamics 365 Plan at $210 per user/ month.
However, Dynamics plan comes in 3 different pricing tiers as below:-
Sales: $65 per user/ month.
Marketing: $1,500 10,000 contacts/per month.
Customer Service: $95 per user/ month.
5. HubSpot CRM – Contact Management System with Great Visuals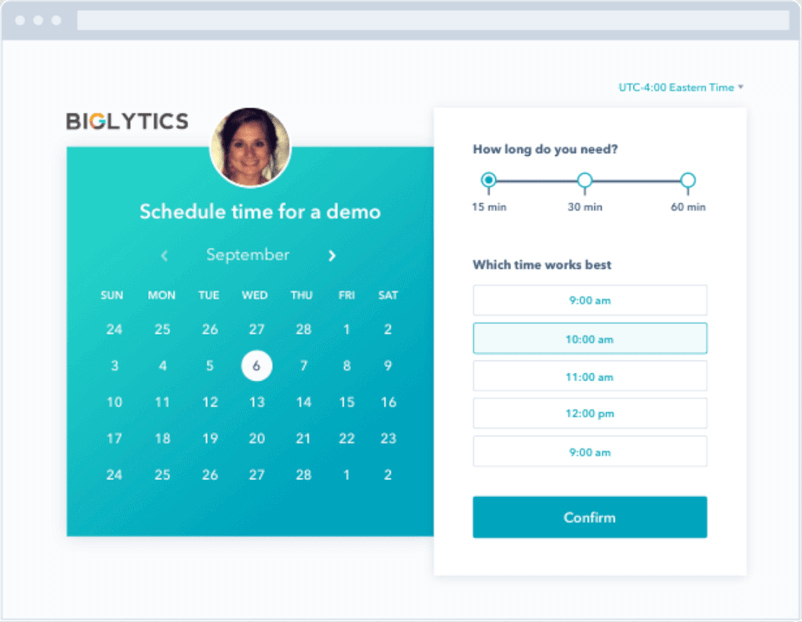 We just can't complete this list without talking about the HubSpot CRM in it. HubSpot is a famous marketing brand. And it helps its user with valuable resources and various software programs. You can definitely rely on HubSpot products, especially if you're looking for products related marketing.
HubSpot got released in June 2006 and based on major languages such as Java, HBase, MySQL, etc. It's a cloud-based service that many famous companies are using now such as Skyline, Vivo net, Heritage, etc. HubSpot CRM is fast, has simple UI, and comes with tons of useful features.
Moreover, the integration system of HubSpot is a plus point that you don't see in other CRM tools. The feature of searching for any company is here. It integrates well with Google services such as Gmail, Google Drive, Google calendar, etc. You can work effectively while running other services in the background. It comes with multi-channel contact integration such as phone, mail, and website.
Although it is free to add several features, you can pay according to these plans:-
Starter: $50
Basic: $200
Professional: $800
Enterprise: $2400
We've also covered HubSpot Alternatives.
6. SugarCRM – Contact Management Software with Great Flexibility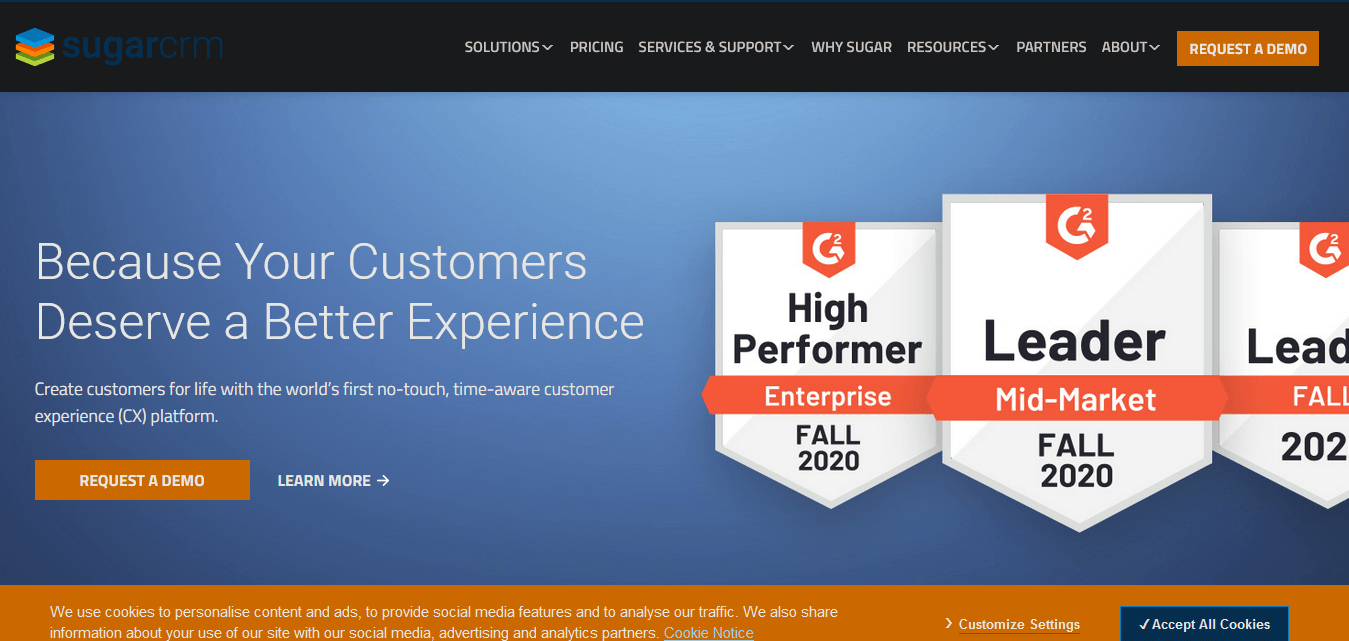 SugarCRM is one of the best customer management tools to manage your sales and marketing sector in a better way. Also, this software makes better communication with your team and prospects for a better conversion rate.
SugarCRM released in 2004 and many publications called it a rising star of the CRM industry. It is a flexible contact management software that allows its customer to choose an ideal deployment method. It is a cloud-based software and alongside the English language, it supports German, Spain, and France language.
Automation features of SugarCRM allow you to improve your sales and lead marketing campaigns. The centralized storage with expanded workflows helps you to enhance your work productivity. Also, it supports Oracle, SQL, and MySQL. And, you can use it on all major operating systems such as Linux, Windows, Android, iPhone, and web-based.
It has better customization options and centralized storage that makes it one of the best contact management software.
You can request a demo by filling a simple form. And later, if you want to invest you can check out the plans by visiting this pricing page.
7. Salesforce CRM – Best Free and Open Source Contact Management System

Salesforce CRM is a world-famous cloud-based CRM tool to fulfill different business requirements. It's useful in almost every business, no matter, it's a small startup or a high scale enterprise.
Salesforce CRM is a cloud-based system that got released in 1999. Yes, quite older than other contact management software on the list. In this company, over 30,000+ employees are working right now. And it's available on almost every major platform such as Windows, Linux, Android, iPhone, Mac, etc.
It comes with a single view which makes it easy to understand and available with required features. You'll know all the requirements that can help your customer. And solve their issues in a better and quick way. Moreover, social media capabilities are here to target different platforms and generate more leads.
Salesforce CRM is scalable and easy to use and also supports mobile and integration.
Salesforce CRM is based on cloud, scalable, and in turn very easy to use too. Customizable and provides a platform for growth and upgrades. Supports mobile and integration. However, it's quite complex in comparison to other CRM but definitely gives you a wide range of capabilities too.
It's an open-source contact management software and costs you nothing. However, you can add lightning essentials with it that start from $25 to as your requirements.
You can check this also – Salesforce Alternatives
8) SAP CRM – Best Contact Management Software with Enhanced Communication Features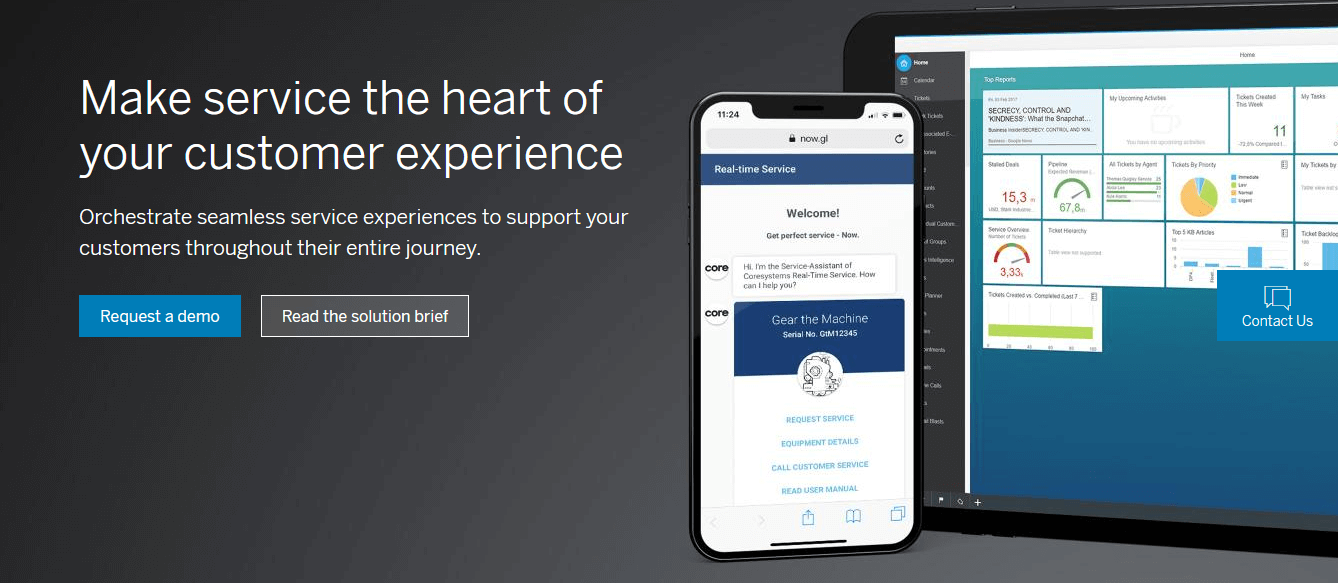 SAP CRM is another famous customer management platform to improve the working capabilities of your business. It's also one of the best CRM to enhance communication between you and your prospects.
If we talk about the deployment system, it's a little different than the other ones. It comes with a deployment type of cloud-based and on-premises. It basically depends on customer requirements. By automating and integration supports you can improve your sales and marketing leads conversion.
Moreover, it supports lots more languages like German, Spanish, Chinese, Swedish, Dutch as compared to other CRM. You can track time, pipeline, and your marketing campaigns in this CRM. Also, you can recover contact history and contacts in case you lost it somehow. Also, the 360-degree view, a variety of reports, and tools to analyze your business in a better way.
SAP provides most of its products with a free trial but you can check out the pricing details by visiting this page.
9. Zoho CRM – World's Critics Recommended Contact Management System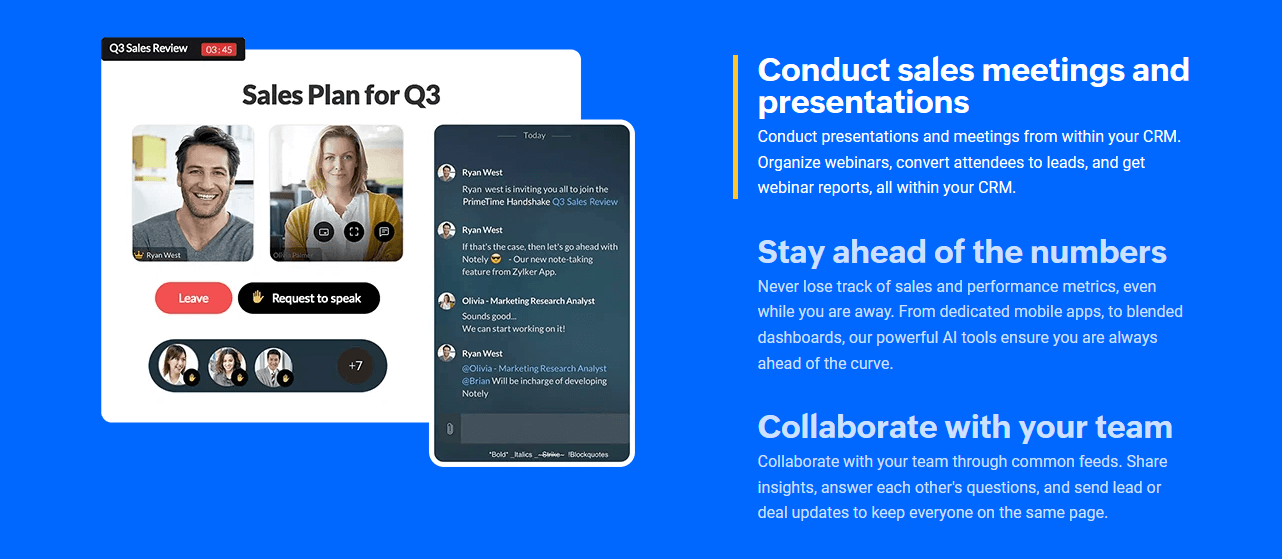 Zoho is a well-known brand in solving business-related problems of its consumers. Also, it has 15 years of experience in the CRM industry. And Zoho CRM also a contact management software that works wonderfully while creating sales funnels.
Zoho is developed by Sridhar Vembu and Tony Thomas in 1996 and based on the Java language. It's a cloud-based SaaS product that you can use in all major OS such as Linux, Windows, Android, iPhone, etc. It is also a winner of PCMag's Business Choice Awards 2019. Plus, one of the most recommended contact management software by the world's critics.
Zoho CRM supports a total of 26 languages so it got worked with lots of international companies.
It is free up to 3 users and after that, it comes with 4 pricing plans as below:-
Standard: $12/month if billed yearly
Professional: $20 """
Enterprise: $35″""
Custom Quote: You can call a sales inquiry to know the plan price.
10. Oracle CRM – Best Companion to other Oracle Products
Oracle CRM is a contact management software that is well-reputed in the CRM industry. It's a renewed software to give a better and modern customer experience.
Oracle CRM is commercial Siebel-based software that got a release on 12th Sept 2005. Further, it works on a program such as Linux, Windows, Android, Mac, Web-Based, etc. It's an On-Premise deployment type and supports English, Chinese, German, Japanese, and Indian languages.
This CRM comes with a wide range of deployment models. As a result, it becomes a fine solution for sales, commerce, marketing, and campaigns on social platforms. Plus, it helps you to maintain better communication between you and your prospects.
You can do integrate well with Siebel CRM and CRM gadgets. Also, social interaction becomes easy with client data integration. Moreover, you can understand your business workflow by tracking sales, and leads on it. Also, it's simple to install and works better with other Oracle products.
It has a starting price of $75, and the other three versions have a price as below:-
Standard Version: US $90
Enterprise Version: US $125
Self-Deployed Version: US $110
Conclusion
Every contact management software has its pros and cons. Also, choosing a #1 CRM doesn't guarantee you overnight success or increment in sales/leads. You have to research on your business to create a certain plan around it to get success. Contact management software can make your road simpler and less pressurized. So yes choosing a CRM is a great idea.
However, make sure what kind of software you're looking for? Or what are the features you want in a contact management software? For example, HubSpot is perfect, if you're looking for a CRM that has visual more than complicated text.
So this was the list of 10 best contact management software you can consider in 2020. Let's know which CRM you like the most. And share this post with your known who's going to launch its new startup.
Also, check out our latest posts related to business:-