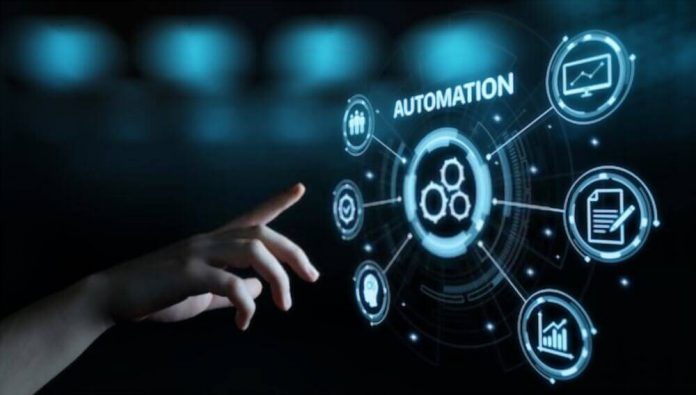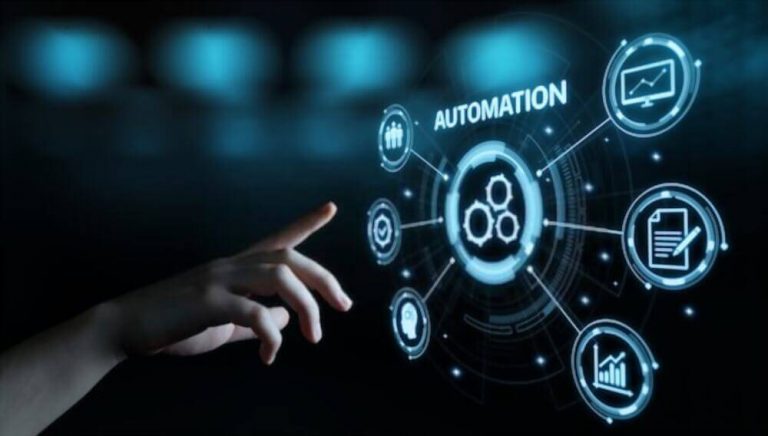 Every individual running a business comes to a point where organizing things becomes a tedious task. A lot of digital marketing agencies are filling these voids with their versatile products. The sole aim of these companies is to provide cost-effective services. Four years ago, Brian Halligan founded the Hubspot platform for marketing, sales, customer service, and CRM software to help businesses grow.
HubSpot serves customers across 90 countries all over the world and is good at what they do. But with time, things change, and so do the requirements. The only problem with HubSpot is that many small scale businesses cannot afford it.
Competitors come into the market with a more flexible and reliable product, and today we are going to see all the best Hubspot Alternatives.
HubSpot Alternatives available in the market
1. ActiveCampaign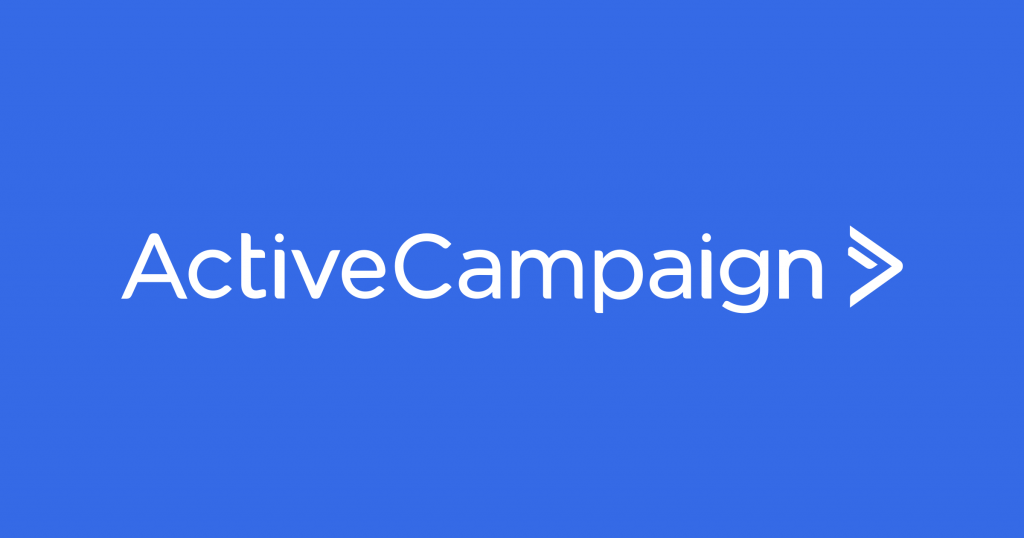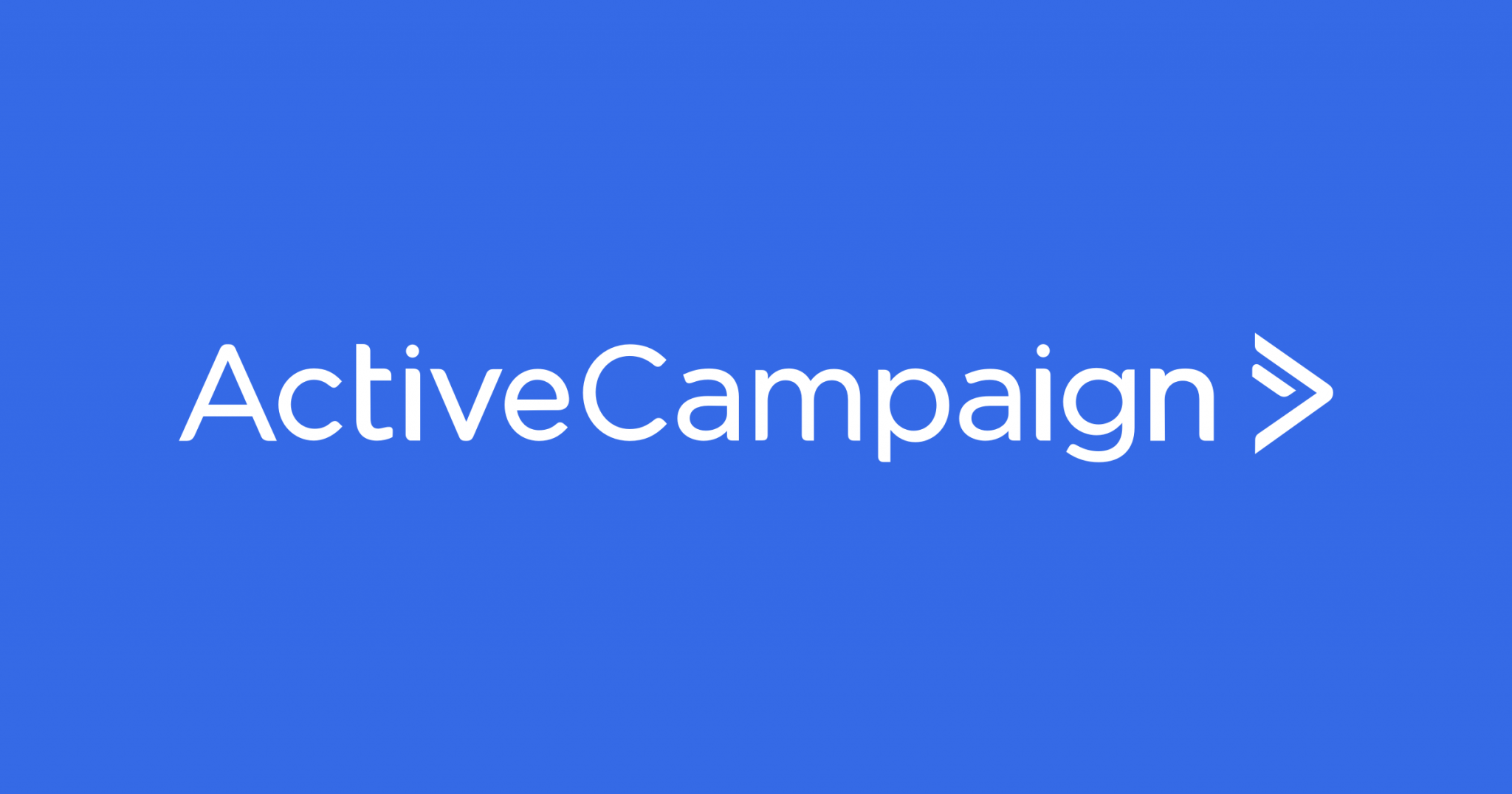 Email marketing is the modern way of providing customers with quality services, with advancement; only email marketing is not enough these days.
ActiveCampaign helps not only with the email but the right kind of messages. The conversion rate from emails to leads and then into customers is quite convincing.
ActiveCampaign has a large customer base and is known for its customer service relations.
The most eye-catching features are machine learning, CRM, Messages, sales, email marketing, marketing automation, etc.
Lets drill down each of them
A simple ActiveCampaign Chrome extension syncs with Gmail and Outlook. With the extension, a detailed contact information report, ease of accessing the contact information, and adding the new contact information from anywhere.
The email tracker feature enables the user to get notified when the recipient opens and reads the email message. It automatically ads new contacts to your email automation setup.
No matter how much fanfare social media creates, email marketing has its roots deeply rooted in the marketing area. The fundamental principle of email marketing is understanding the target audience; with ActiveCampaign, it is possible to send messages that fascinate them and trade what we want to sell, thus making it one of Hubspot's best alternatives.
The winning drag and drop feature allows you to write appealing emails for the consumers.
You might agree that once you have the leads flowing in, there will be no scarcity of the data. Social media has opened new doors for marketers to gather contacts. Keeping this data well organized allows you to stay at peace and focus the time and energy on other things. 
ActiveCampaign keeps all your data perfectly arranged and sorted to get a clear idea of the customers. The initial data gathered is essential to provide value to your business.
2. Aritic PinPoint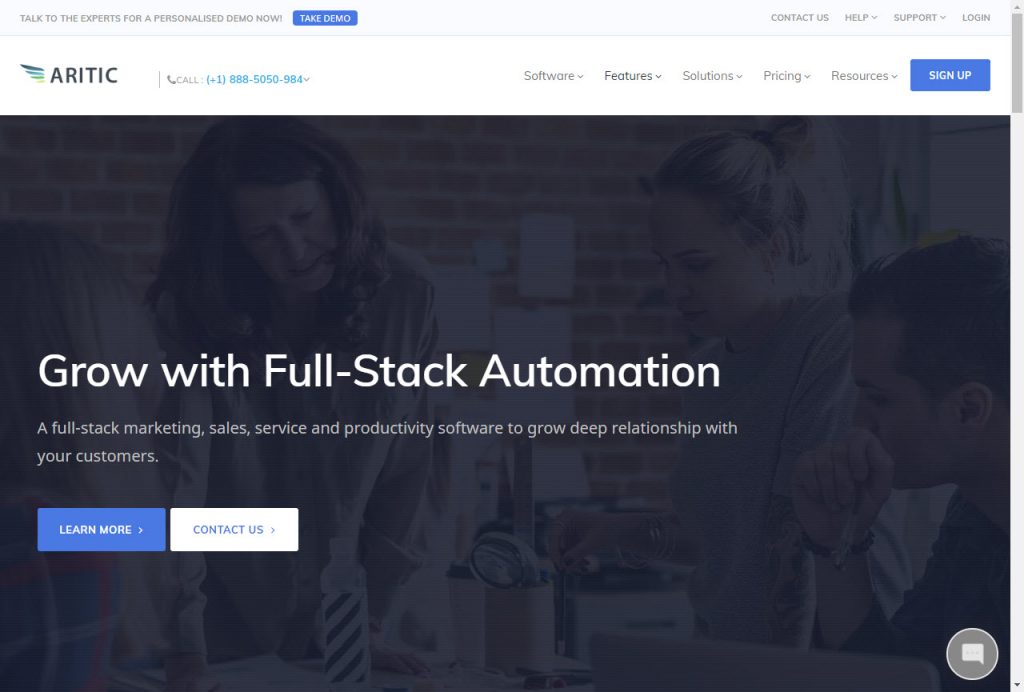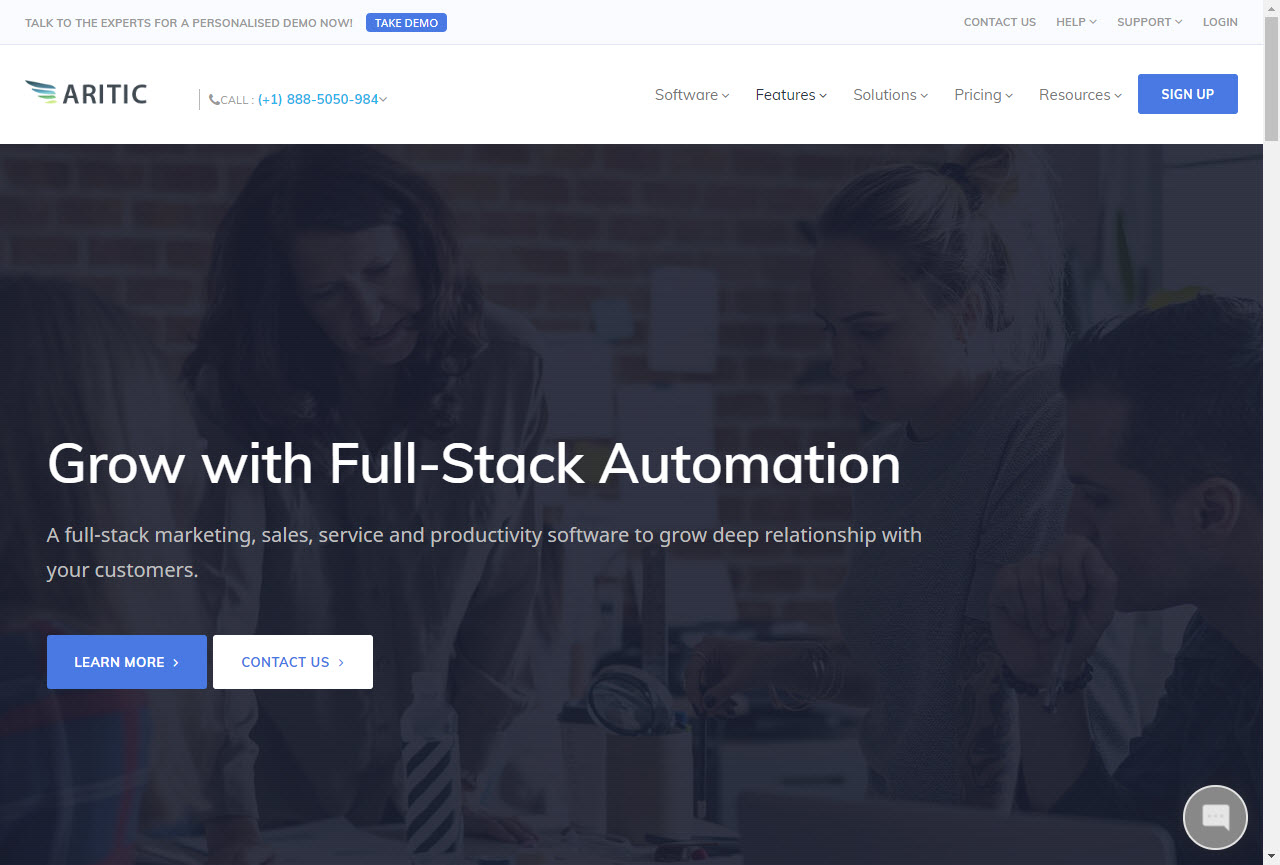 This is a full-stack marketing automation tool for businesses that are scaling at a rapid pace, which is first among HubSpot alternatives
The attractive feature of Aritic PinPoint is all in one automation. It allows you to automate emails, Push notifications, SMS, and also. Schedule your social media posts.
Aritic PinPoint focuses on lead behavior, lead profiling, nurturing-converting, and tracking through Omni-channels /multi-channels/ cross-channel campaigns. It has a prime focus on targeting and segmentation of your leads. Along with CRM, social media, Ads network, and CMS.
Aritic Pinpoint focus on marketing where the customer is at the center of the campaign, and everything revolves around the customer. It is entirely behaviour-based.
Programs like Hubspot offer similar features to the customers, but where Aritic PinPoint beats HubSpot is offering more features and value at a much lower price. Aritic is much more generous than Hubspot.
As compared to Hubspot, it isn't that automatic. Aritic has some features which are pretty clunky to use while on the other hand, HubSpot is much more user friendly.
3. SendinBlue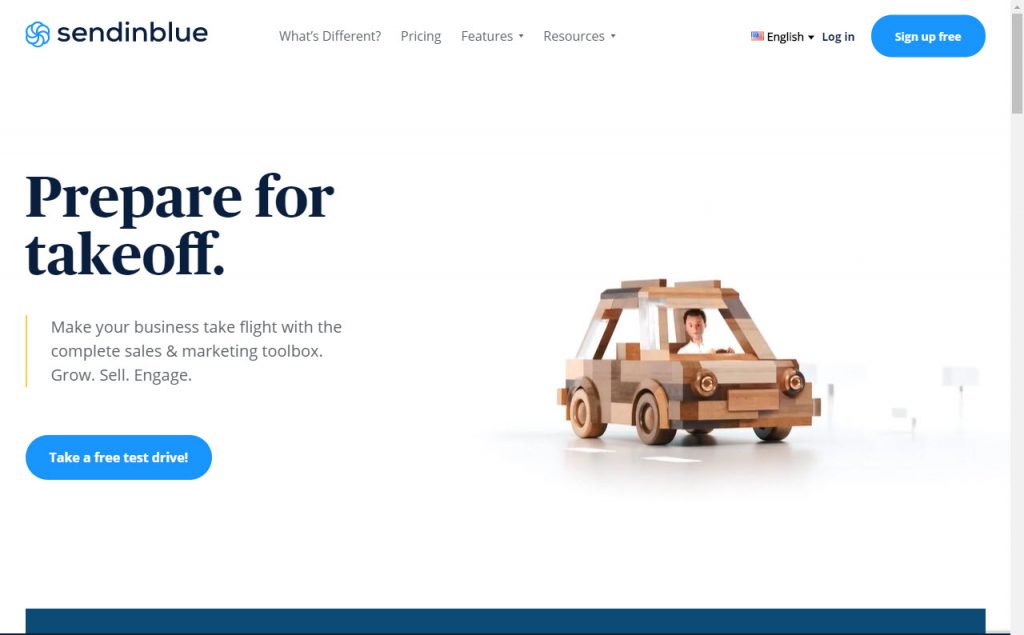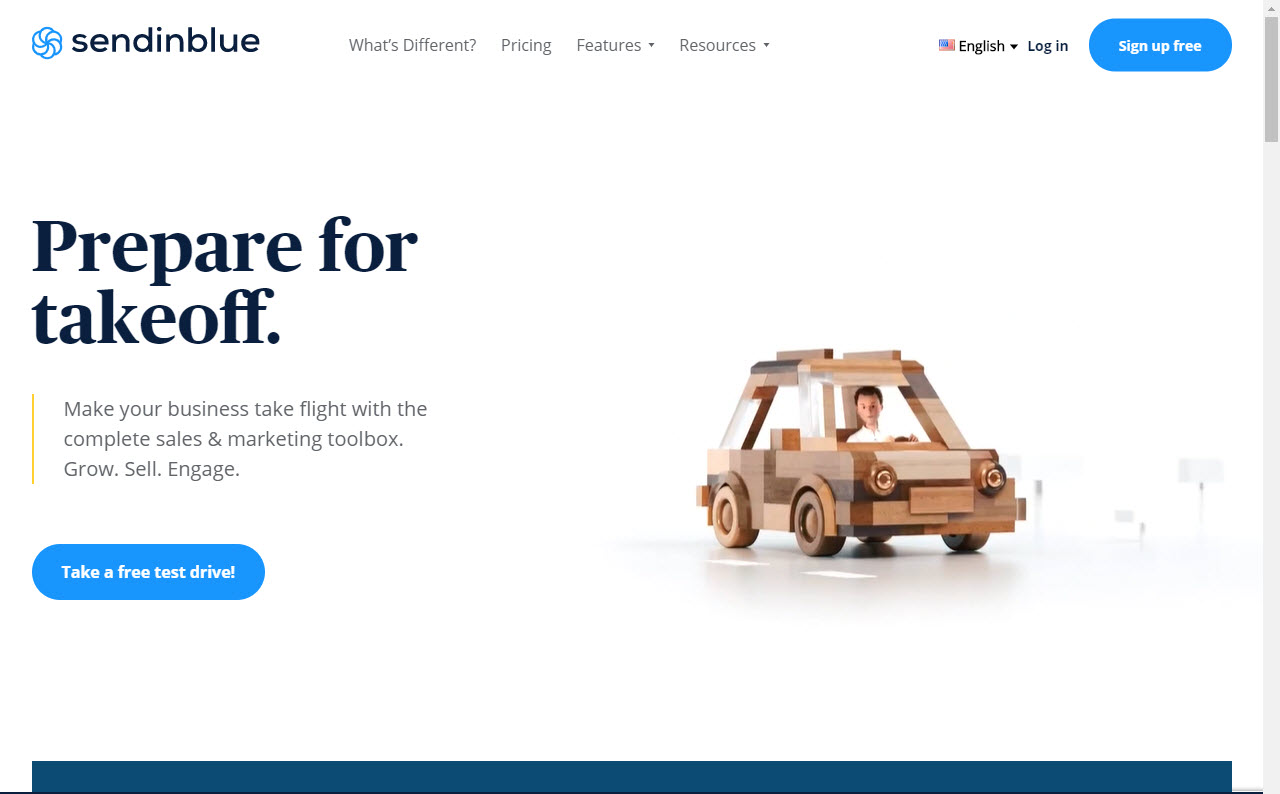 SendinBlue has around 80,000 users worldwide and boasts about sending 100 million + emails every day. Launched in 2012, SendinBlue has made its place in the industry undoubtedly. The plans offered are pretty much complete in all aspects.
It is equipped with email automation, CRM, Landing pages, Facebook ads, and the list continues. They also have a free plan that lets you explore the product, just like HubSpot.
Pricing is one of the prime aspects of why SendinBlue is a HubSpot alternative. The free plan provides features like unlimited contacts, web—tracking, marketing automation, etc. There is very little difference between the paid plans, with plans starting at $25 per month.
SendinBlue has this transactional email feature that Hubspot lacks. A few examples of Transactional emails are billing invoices, sign up emails, etc.
But the CRM features of HubSpot are at par when compared to SendinBlue. HubSpot's deal-tracking and pipeline management traits are much more sophisticated.
4. Drip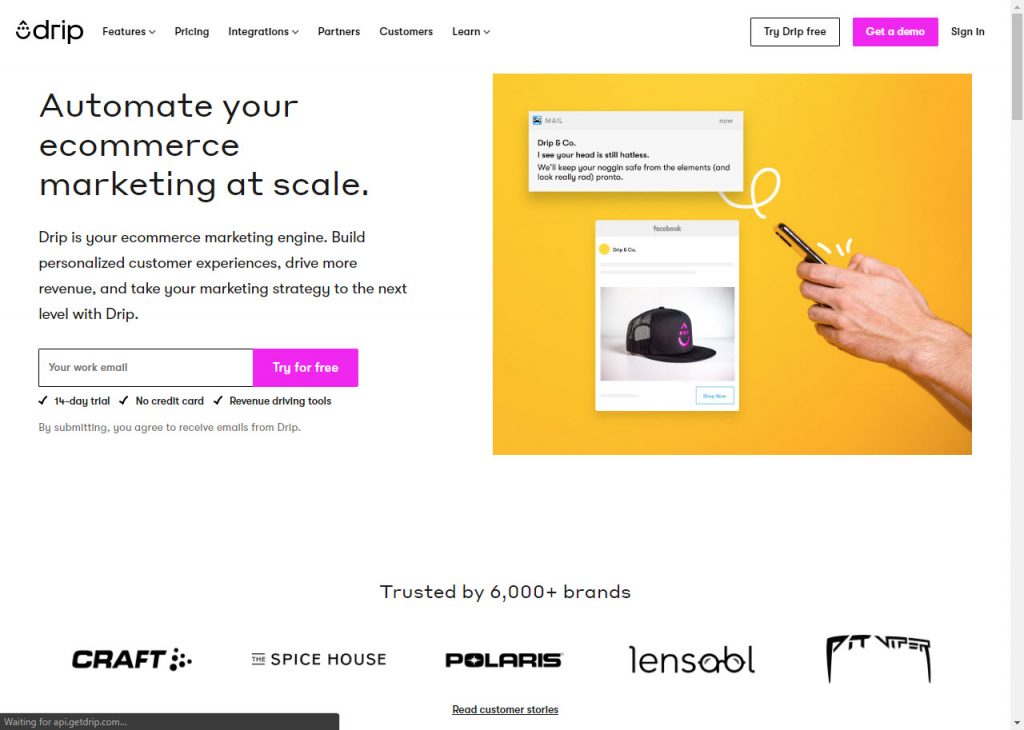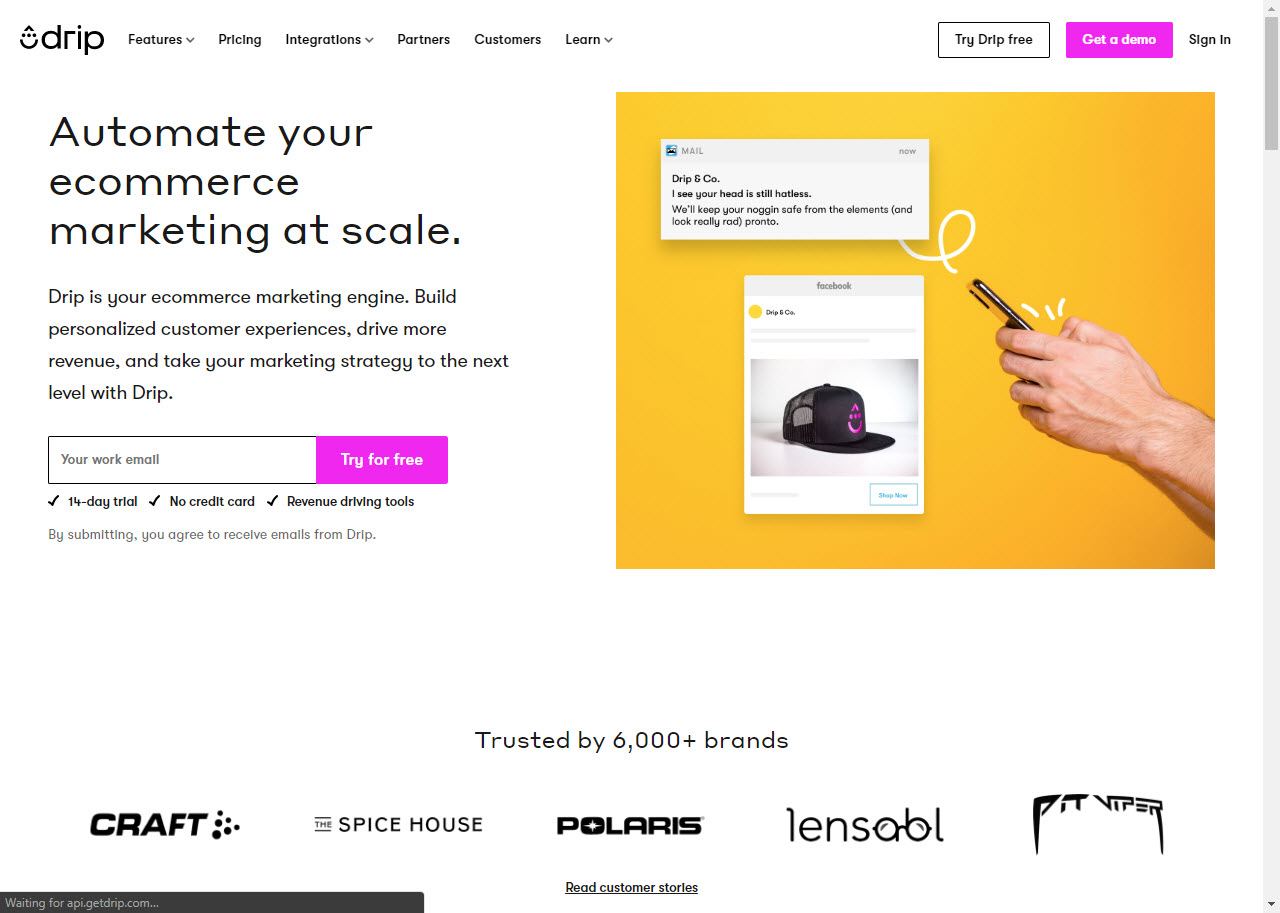 This email marketing tool focuses on the 'human side of online marketing.' It allows you to personalize every single draft sent to the lead in a personalized fashion. More than 6,500 eCommerce stores have a tie-up with Drip.
Drip is more advanced in terms of automation. As compared to HubSpot, and its automation workflow editor is pretty userfriendly. The user interface is bright and bold, making it very clean.
ECommerce automation is brilliantly designed that not only lets you automate the cart but also. It allows users to directly checkout without necessarily even completing it. Build the automation of your choice with elementary steps.
Another great feature is the Tag feature. You can tag your contacts with different characteristics such as source, if they are a customer or not. Any particular page they have visited. You can tag these leads as 'interested' and set up a customized campaign for them.
The only drawback that we see here is it does not have a spam testing capability. HubSpot, whereas test your design on a different host of email clients.
Drip is the all in one solution for all your business needs. They set up, and deployment is sophisticated, and one-click triggers the automation and saves a lot of your time. One of the best HubSpot alternatives.
5. ONTRAPORT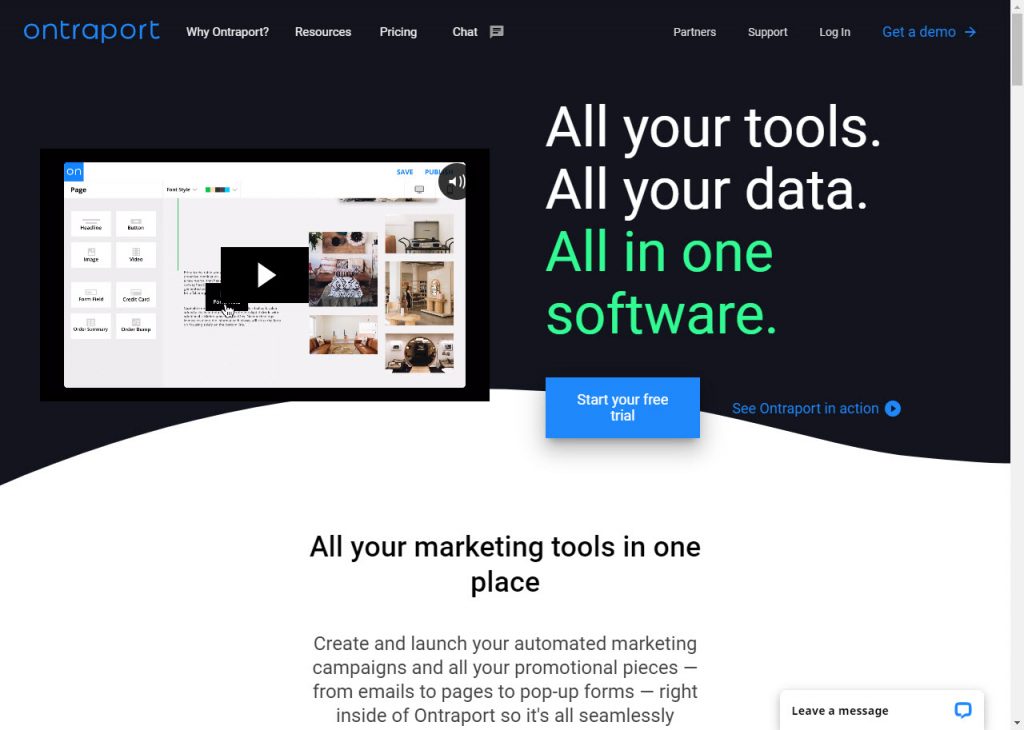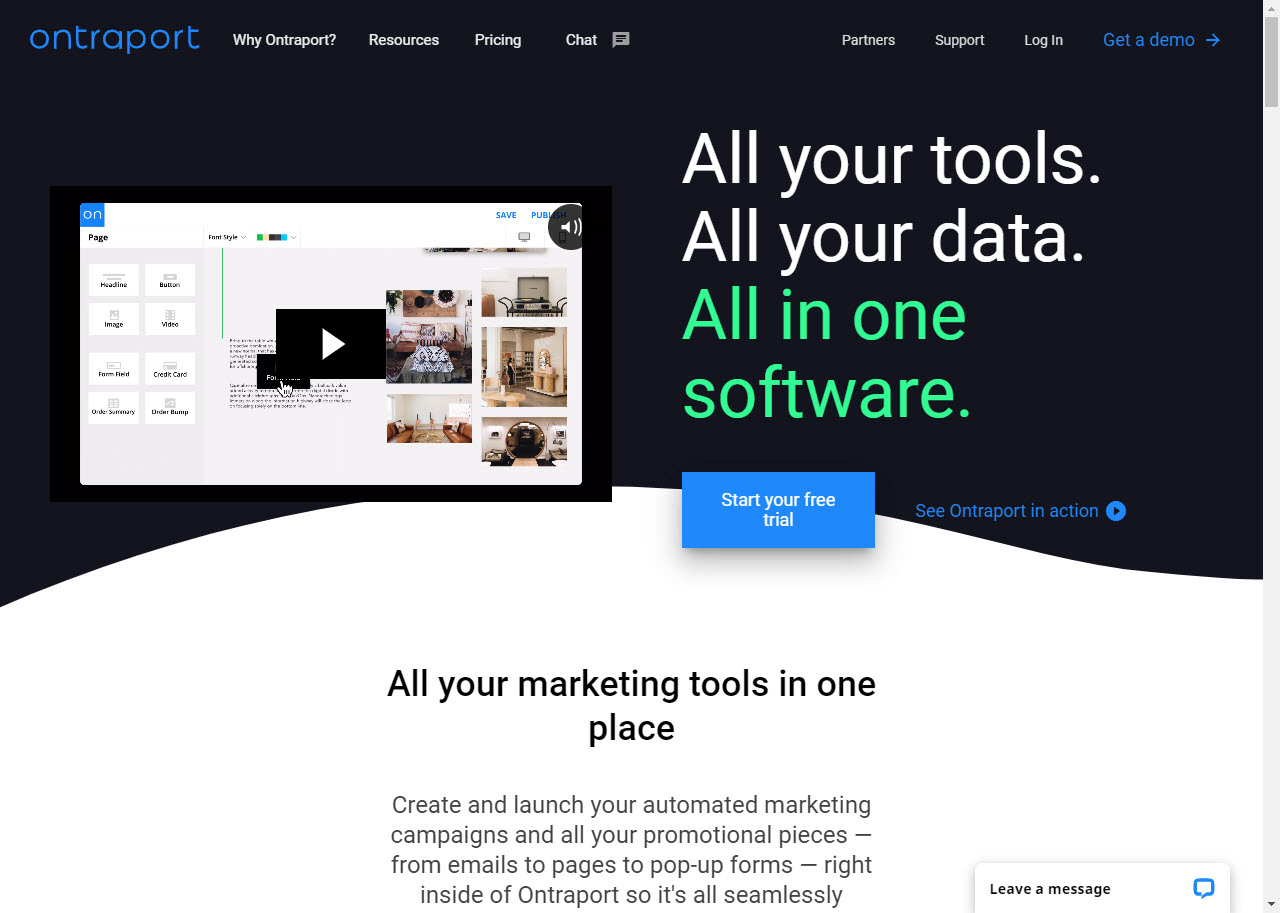 Ontraport has gained popularity in quick succession due to its outreach and simplicity. Clients from over 60 Countries love it. Scaling a business is never easy unless you know the secret of drawing the appropriate customers, helping them understand how you can add value to them and help them grow exponentially.
Why is Ontraport one of the best HubSpot Alternatives?
Marketing has many layers to unfold, and sometimes it gets tedious to manage all your emails, social media ads, landing pages, forms, etc. Ontraport lets you integrate all these factors with ease and create totally automated funnels.
This helps you give an integrated view of all the hard work that you put in and track your success.
Hundreds of automation templates free of cost allow you personally to customize the buyer experience. This helps in building a one to one bond between you and the user.
Their collection of responsive landing page templates is vast, and it is easy to split test across different pages.
All the gathered information is right in from of you on the CRM screen makes it a mighty HubSpot Competitor.
The only thing where we found Ontraport is a step behind HubSpot is the languages supported. It supports only two languages currently, i.e., English and Spanish. However, HubSpot supports 6 languages, and the support spreads across the globe.
6. GetResponse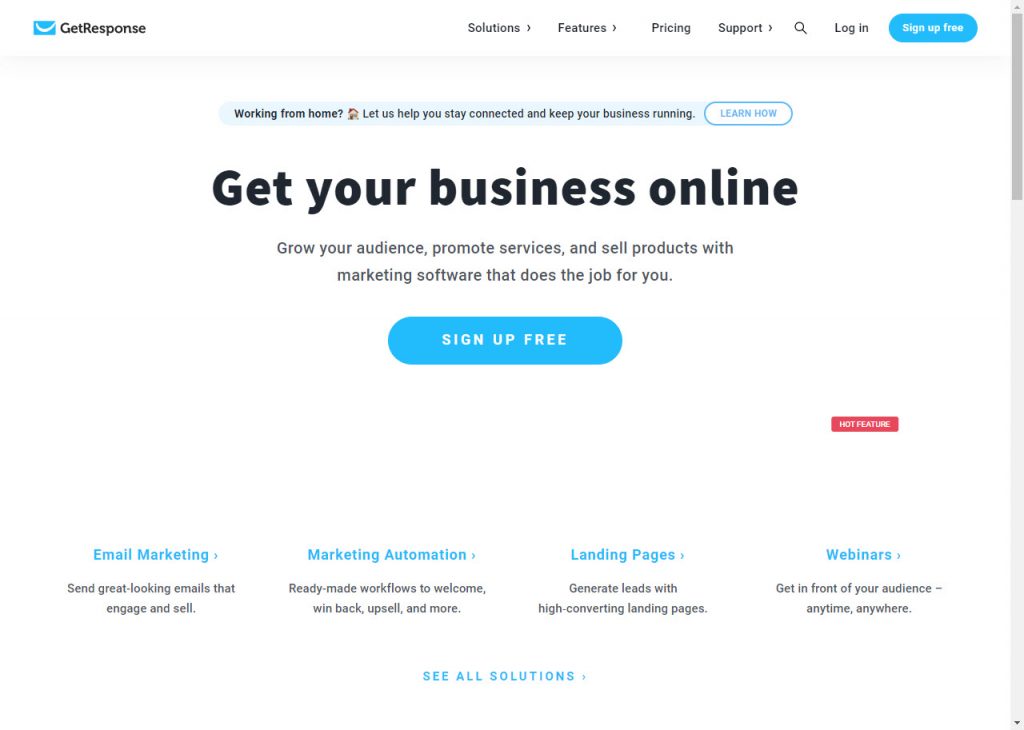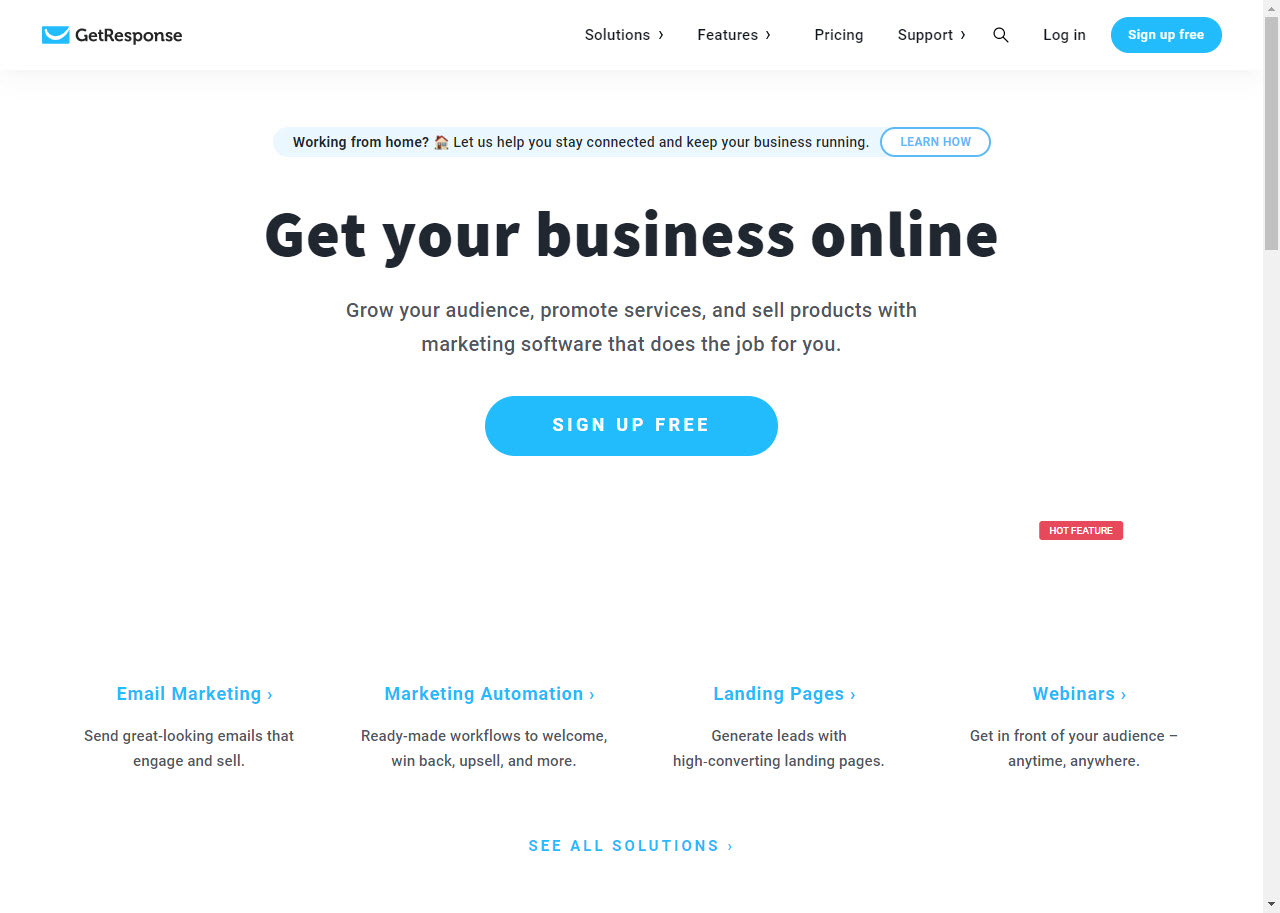 They are dominating the business industry for 15 years and counting. This polish company reaches around 183 countries and supports its client in 27 different languages.
The features are unique and easy to use, especially the Autofunnel. The feature added at the start of 2019, which handles the traffic generation part and it can also be an online store itself.
The impressive automation resembles ActiveCampaign(HubSpot Alternatives) that is both advanced and easy.
GetResponse beat programs like Hubspot when it comes to Autofunnel. Pre-built funnel templates make your way hassle-free, and you can efficiently create funnels that include landing pages, emails, forms, etc. and payment processing is available through PayPal, Square, and Stripe.
180+ responsive landing pages templates for A/B testing to get optimal results. All of their plans have unlimited landing pages that means even if you are using their basic plan, you'll be benefited.
GetResponse has advanced features, and for those, you will have to pay a few extra bucks. The Pro plan is a bit expensive, but the features make it worth the money. 
GetResonse does not have a free plan to go through the versatile features. HubSpot offers free CRM and is an excellent option to opt for.
HubSpot offers content creation, SEO, Social media scheduling, etc, and if you are ready to pay around $800/month, Hubspot is a great option.
But to be honest, it is on the expensive side, and you could do things without it.
7. EngageBay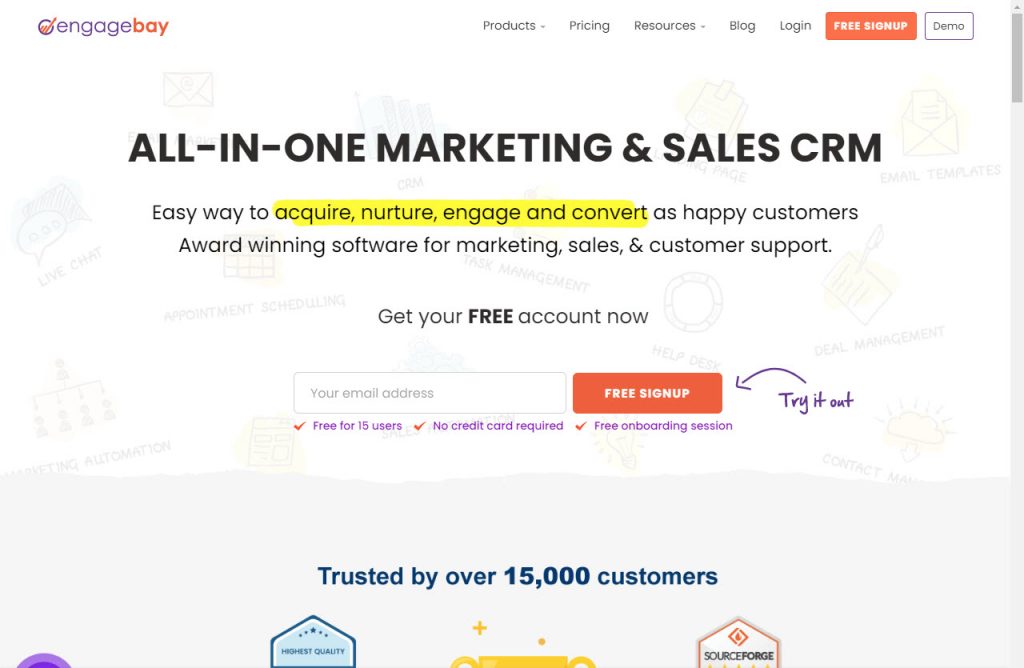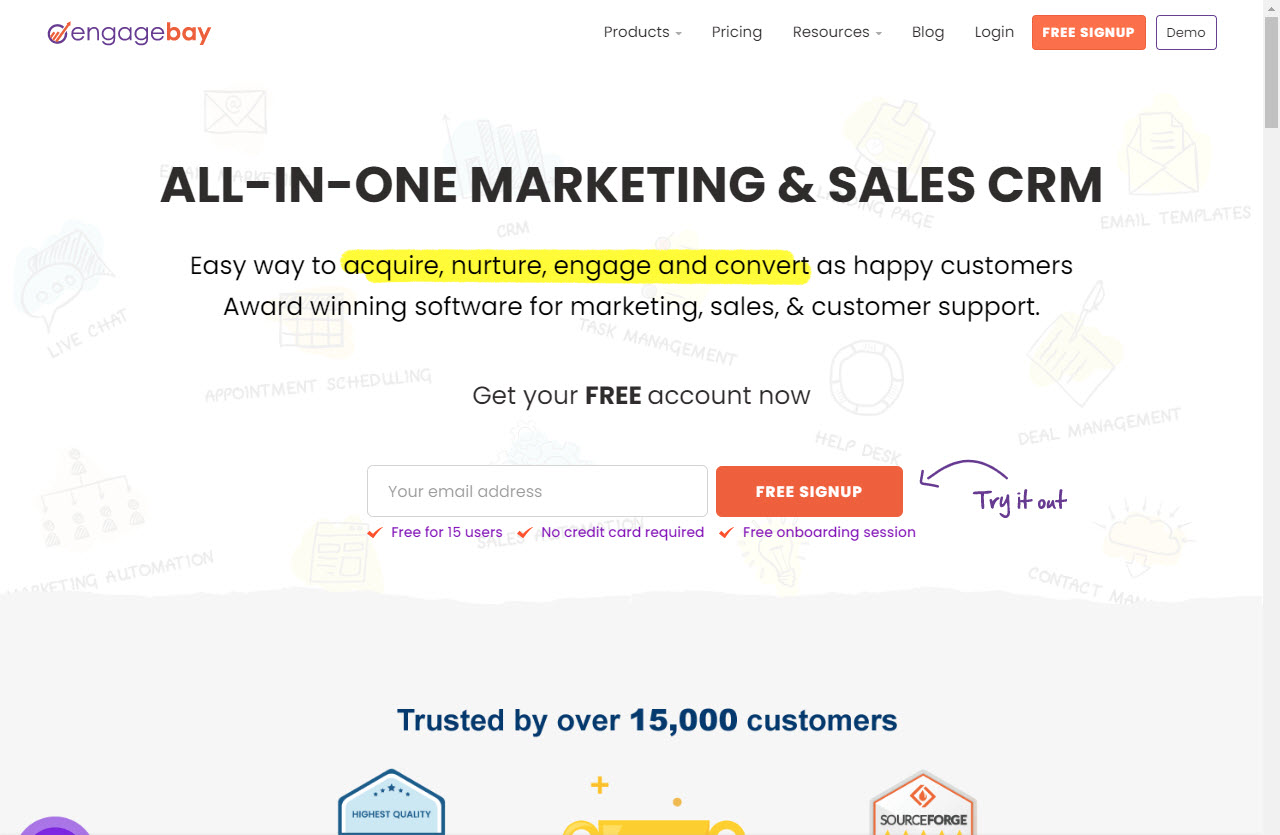 EngageBay is a tool with all the features of HubSpot, and they match the quality of the features. They include email marketing, live chat, landing pages, scheduling of appointments, contact management, and more. The cherry on the cake is that it is quite easy to use as well.
The free plan offered by EngageBay offers a wide variety of features, and that resembles Hubspot a lot. There is not much of a difference when you look at Hubspot's paid plans. Even the paid plans are reasonable when you compare them to their services offered.
EngageBay does not have any limitations when it comes to contact management. Unlimited notes, documents can be stored. The sent emails to leads or the recent chats you have had.
The free plan of EngageBay is limited to 1,000 emails and contacts, whereas HubSpot is a bit lenient on this, providing 2,000 emails and 1 million communications.
Hubspot beats EngageBay in terms of integrations as well.
8. WishPond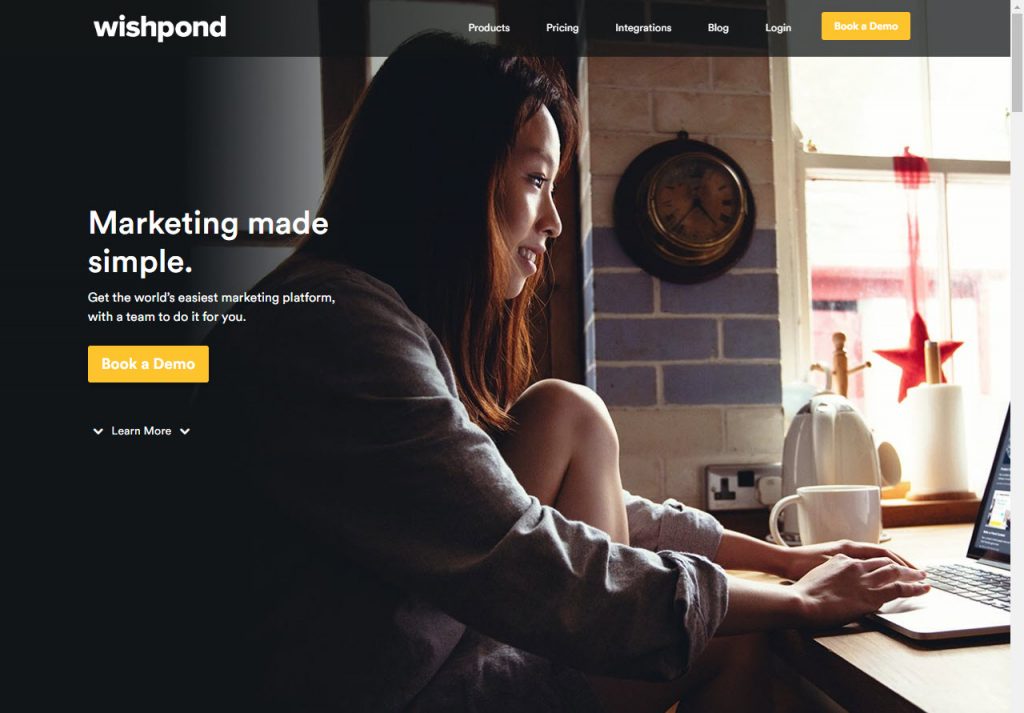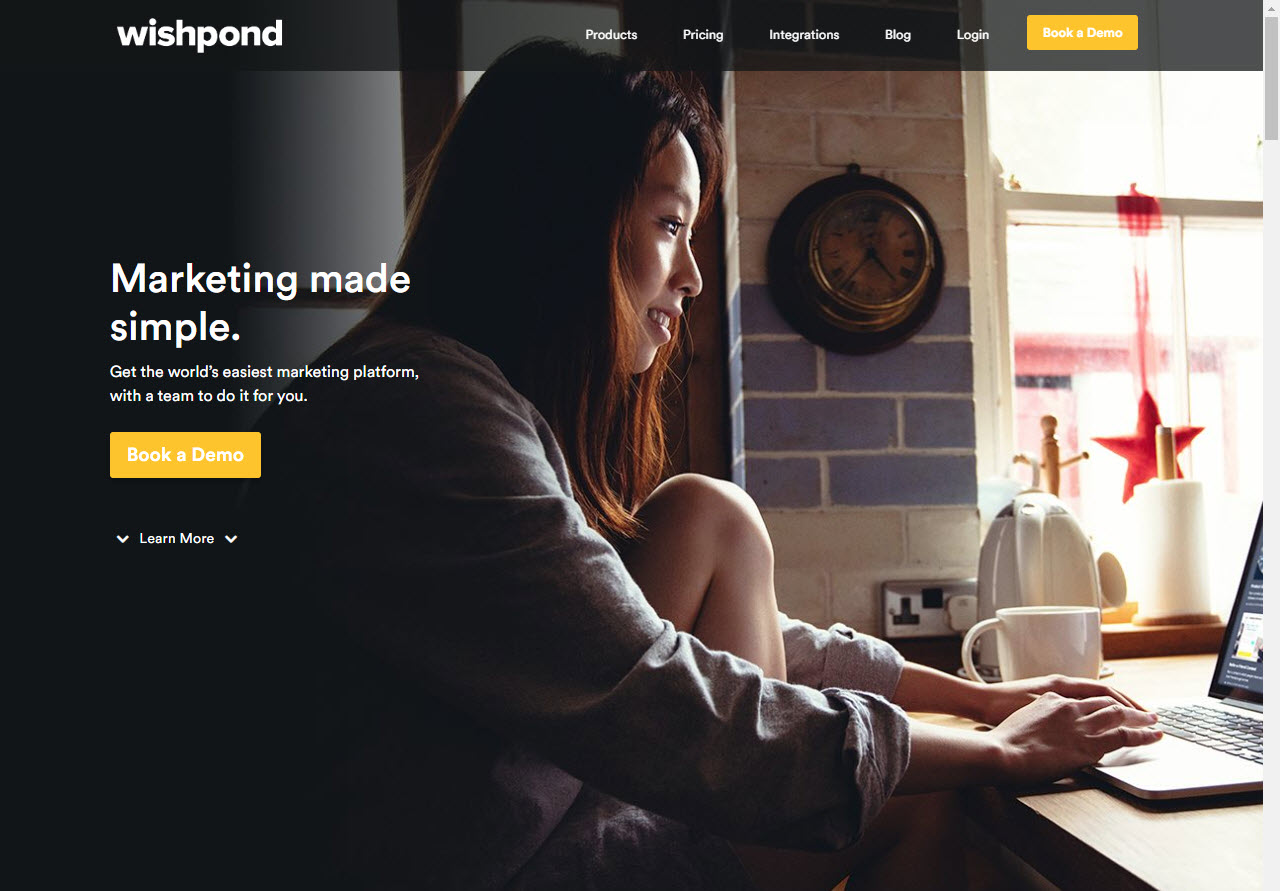 Wishpond is one more HubSpot alternatives with all in one marketing resolutions. User-friendly platform allows you to create hassle-free landing pages, social media posts, contests, pop-ups. The eye-catching feature here is the automation software and the inbuilt CRM.
The templates by HubSpot are pretty miserable for landing pages. Wishpond has a great variety of beautifully designed modern style templates that are easy to set up.
Even though the charges are comparatives similar to what other Hubspot alternatives offer, Wishpond is still cheaper for $75/month. You will get unlimited social media posts, marketing automation, landing pages, unlimited user accounts, pop-ups, and 1,000 leads.
Unfortunately, Wishpond does not come with a free plan. The starting plans could be a little cheaper. If you are a fan of keeping an eye on things through your mobile, Wishpond can slightly disappoint you. However, everything depends on your choice of interest.
9. Infusionsoft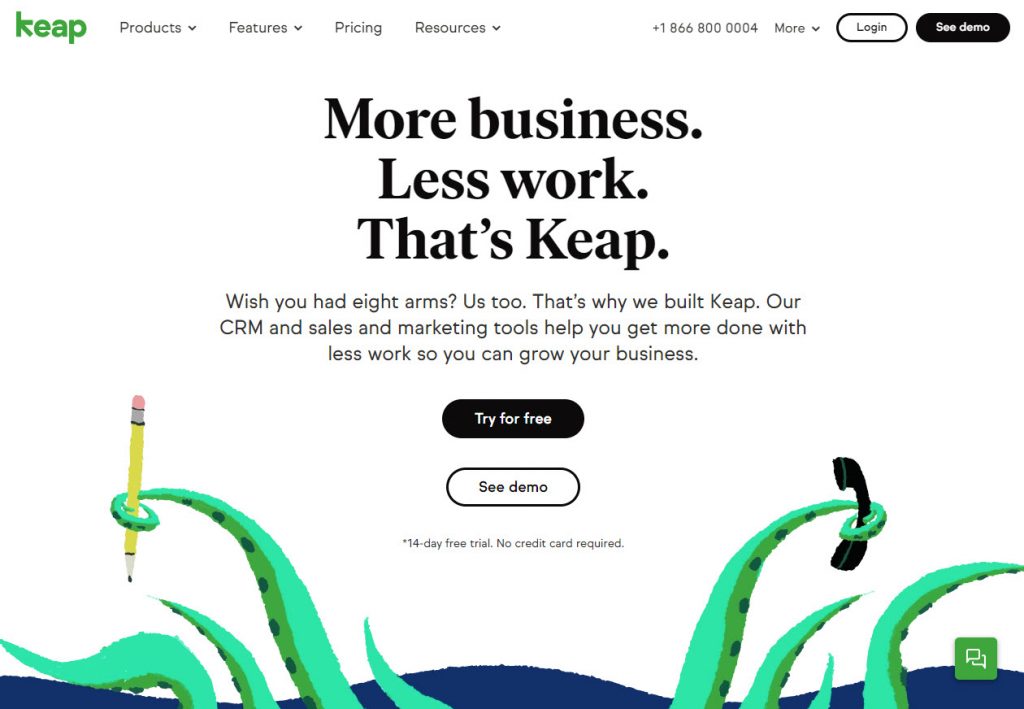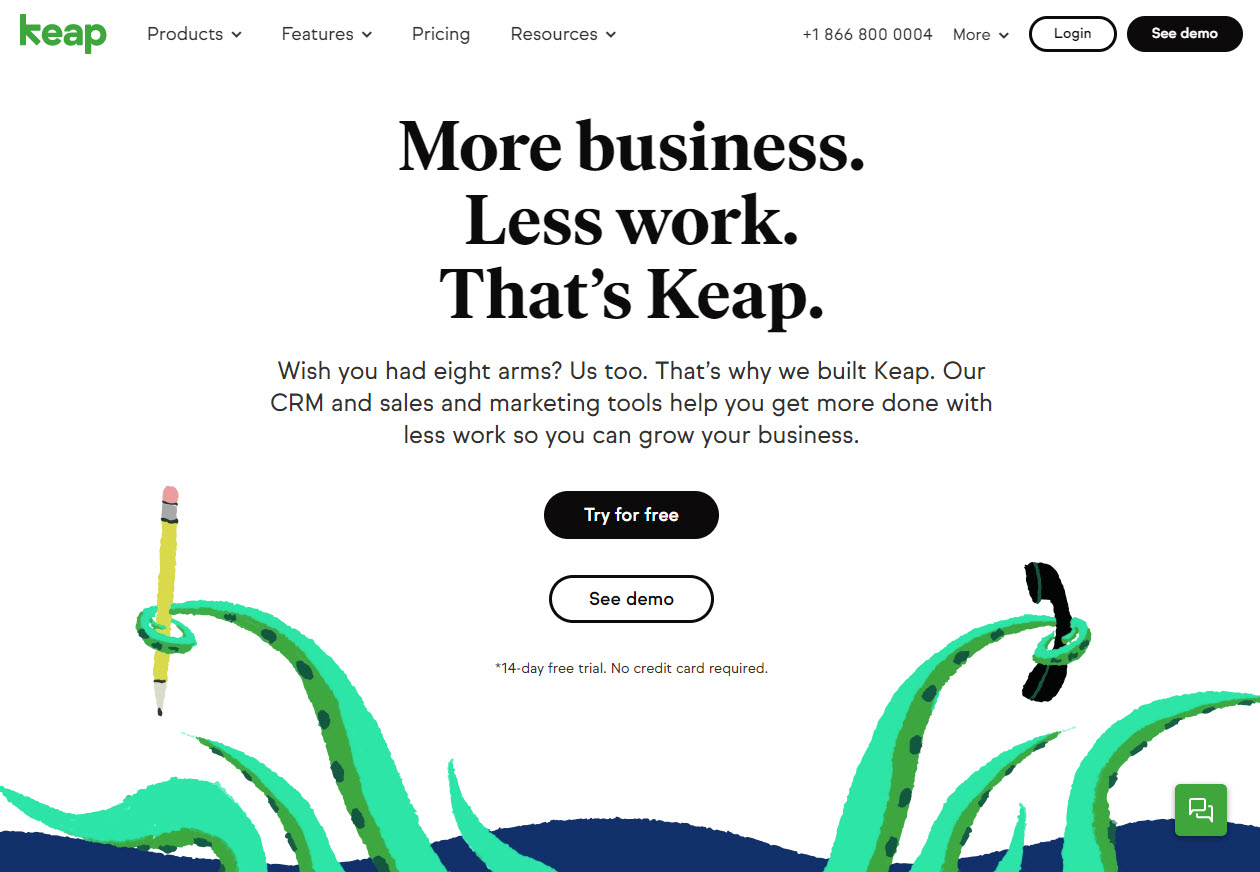 Infusionsoft has all the functionalities that should be there for Hubspot competitors. It also allows you to collect user data based on the contact's behavior and organize them. 
Infusionsoft has a smart feature of automating lead captures. Well, this feature can save a lot of your time and energy. It allows you to create personalized communications that can automate based on the contact's behavior, which we collected earlier.
Infusion soft provides all your activities, sales, meetings, tasks, payments in one place. Along with that, it automates responses when a payment is made through the gateway.
In-depth Analytics is a modern way of growing your business. Proper evaluation of your data and performance can help you with calculating current and estimated revenues.
Their Mobile app is quite interactive and easy to use—all the necessary information at your fingertips.
You can easily create, design, and send timely emails through their mobile app.
10. Kajabi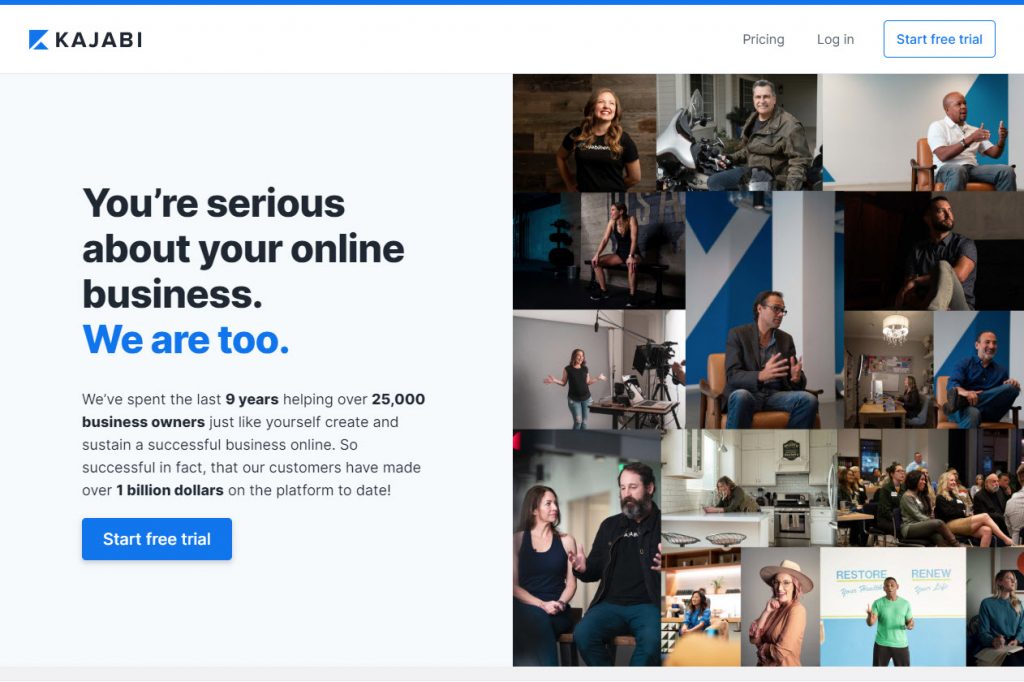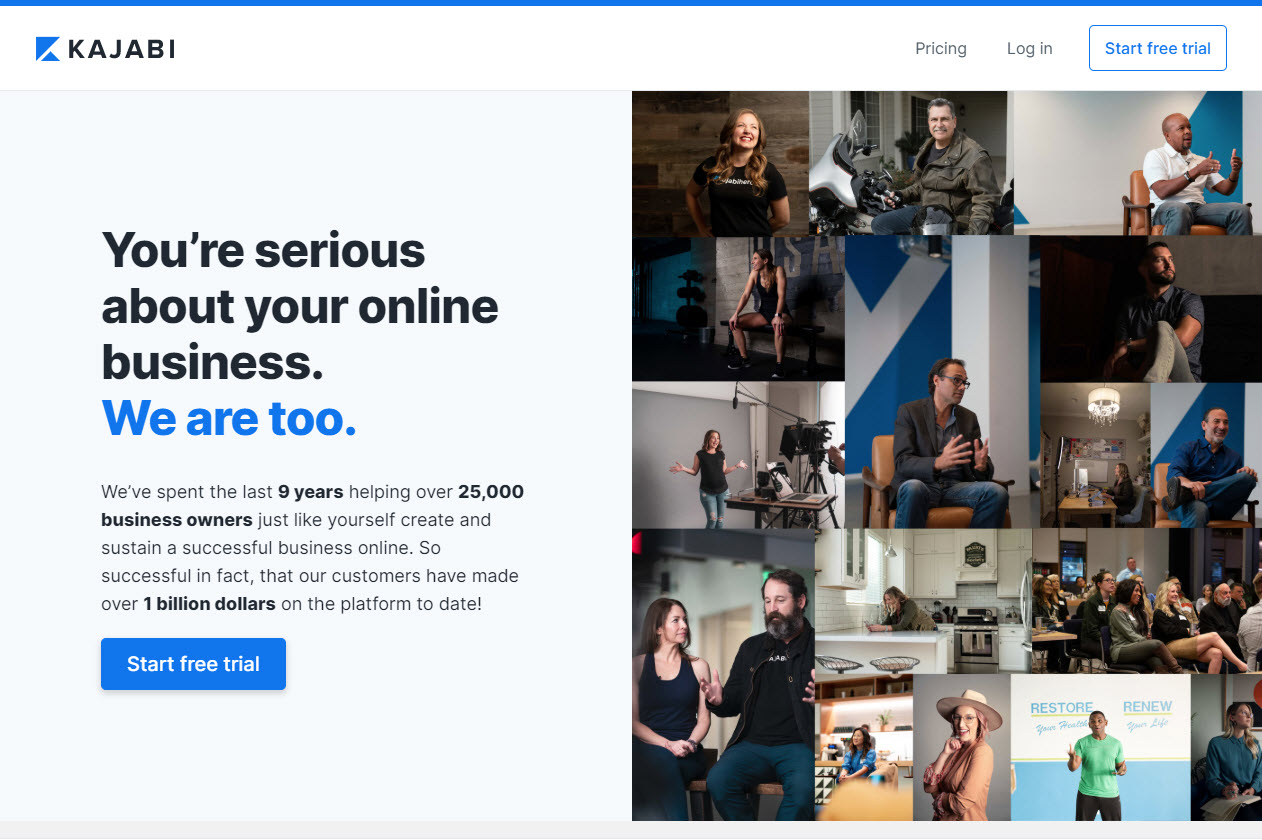 Finally, Kajabi is one of the most straightforward systems for your online courses and products. A peculiar set of services has interested many businesses in this software.
Businesses based on content resources like courses, training, video lectures, etc. that sell these contents will be most satisfied with Kajabi.
You can upload videos, membership programs, subscription sites, etc. using Kajabi. User can create simple landing pages by simply selecting a template and a theme that best suits.
Kajabi has drip email campaigns and an analysis of your email feature. The built-in blog feature allows you to create a small blog on the go. If you own your website, you can quickly link it to your blog. 
Conclusion:
Honestly, All the HubSpot alternatives that we went through are fantastic and are unique in their way. 
As we see, none of the two products is the same. Depending on the size of your company and your requirements, one will choose the best in the category.
Let's just quickly go through all of them.
If you are in search of top-notch automation, we would recommend GetResponse.
If you are looking for easy-to-operable tools without compromising features, then Drip or EngageBay are awesome options.
The value for money HubSpot competitors would be Sendinblue, Wishpond, or Enagebay.
If you are running a business where you deal with videos or online tutorials and courses, Kajabi would be a great option.
Let us know which one you opt for and how is your experience with the product.