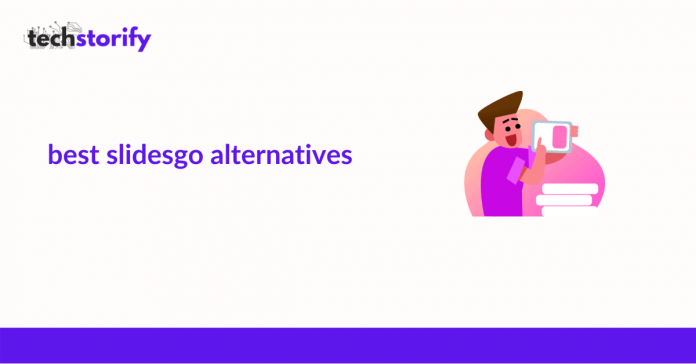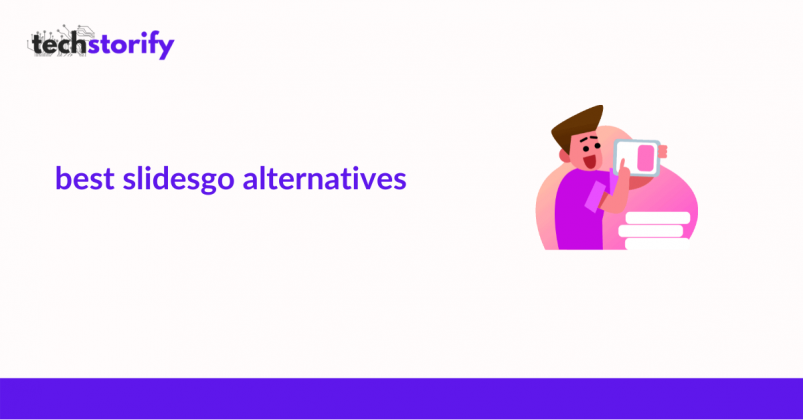 Slidesgo is a website that offers a vast assortment of free Google Slides and PowerPoint templates. It offers different marketing, education, business, and medical templates.
As a division of the Freepik Company, Slidesgo provides a vast assortment of infographics, high-quality vectors, icons, and other graphic materials.
Although the majority of Slidesgo templates are free, users are required to maintain the attribution links. There are Google Slides and PowerPoint templates available for instructors and students.
As an educator or marketer, you may utilise these inventive visual designs for a variety of purposes, such as presenting abstract concepts in an understandable manner, elucidating difficult-to-grasp topics, simplifying complex procedures, offering step-by-step guides, etc.
Its creative style and simple-to-edit visual tools will help you communicate your thoughts effectively. Its free, customizable themes can help you connect with your clients during business presentations.
They are perfect for business meetings, sales pitches, and project proposals.
However, Slidesgo has a few disadvantages.
It is not simple and intuitive to use for the majority of users, it lacks artificial intelligence technology featured in modern presentation software, and it does not enable 3D model presentation.
In addition, the free plan offers limited features; you'll need to subscribe to get the greatest ones.
These restrictions are sufficient to cause to seek alternatives to Slidesgo that provide an extraordinary user experience and outstanding functionality.
Best Slidesgo Alternatives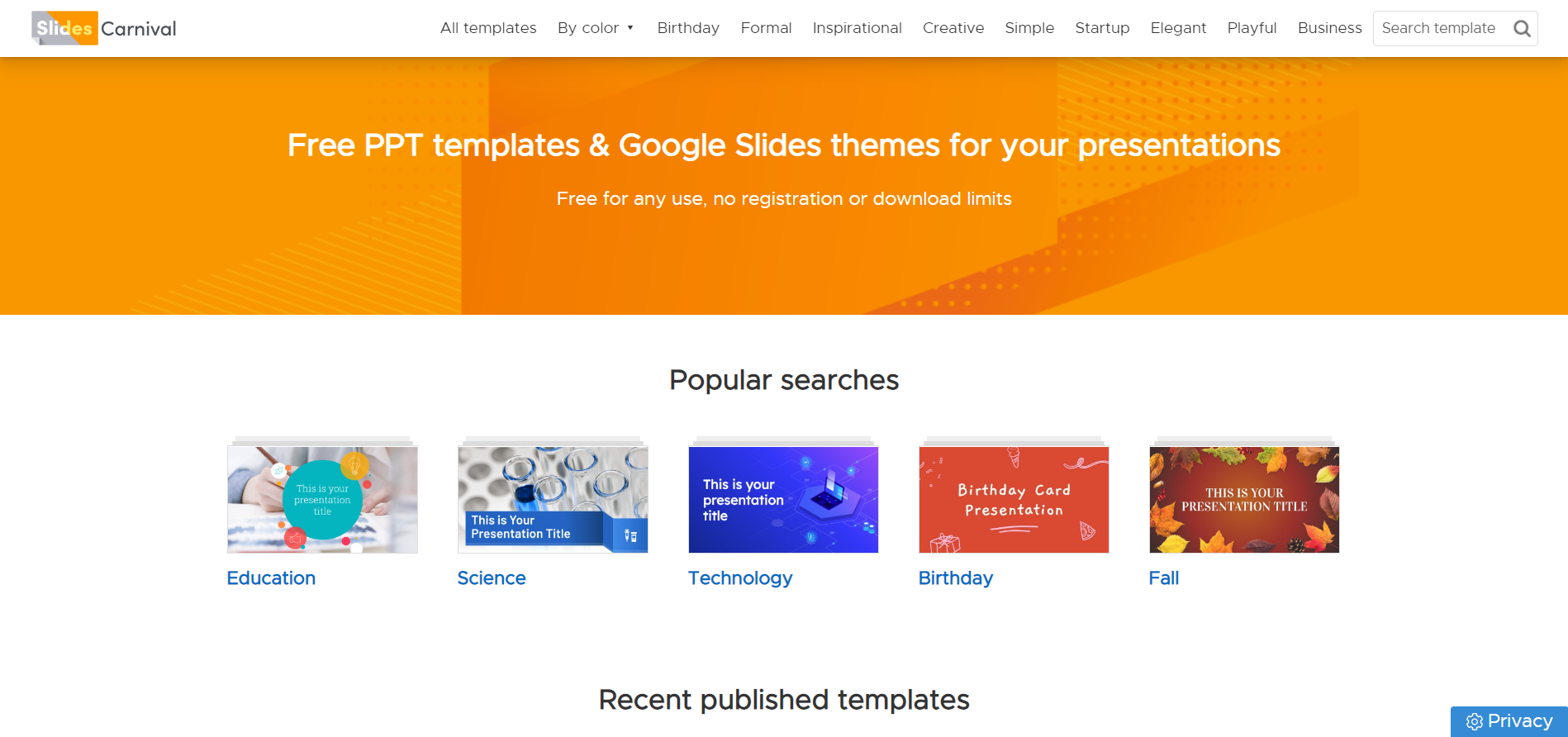 SlidesCarnival is our first alternative to Slidesgo. It provides a vast library of free PowerPoint templates and Google Slides themes that can be used to enhance any presentation.
Each template is fully editable, simple to modify, and available for both personal and professional use.
You can build your presentations using one of these PowerPoint templates or Google Slides themes. The feature-rich and modifiable templates provided by SlidesCarnival allow you to build amazing presentations in minutes.
You will stand out from the crowd by being creative, professional, and employing an unusual design. Because presentations need not be dull, this tool enables you to provide your audience an exciting and lasting experience.
It enables you to throw the ultimate birthday celebration or celebrate your achievements.
These fantastic birthday templates are designed to help you arrange a birthday party for a friend, family member, or coworker, and can bring your vision to life in a flash.
In contrast to Slidesgo, which offers business-oriented templates, SlideCarnival provides customizable templates for startups to utilise when presenting their concepts.
With their free PowerPoint templates and Google Slides themes, SlideCarnival enables you to easily create outstanding corporate presentations. Feel free to utilise these designs for your presentations, as they all have a professional appearance and convey confidence.
2. Padlet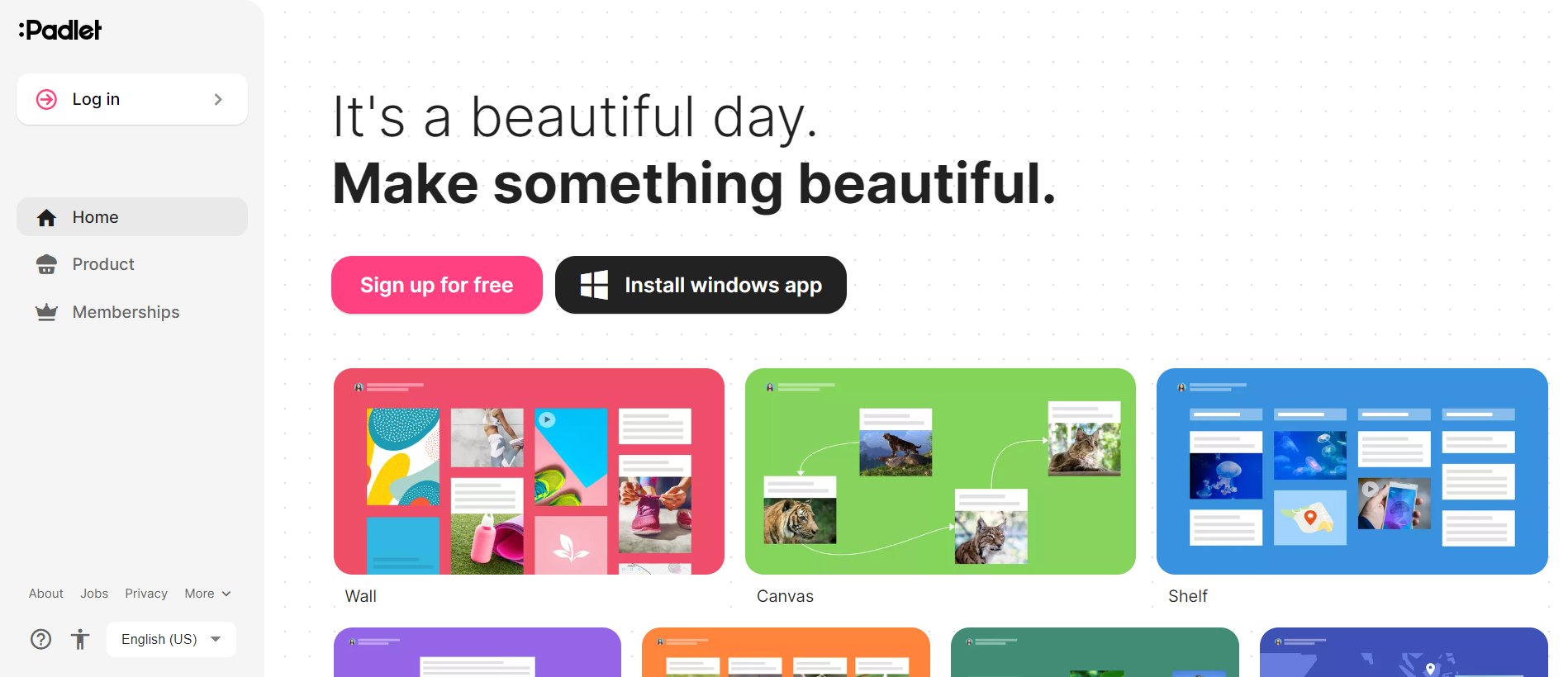 Even if you've never used productivity software before, Padlet is simple and entertaining to operate. You can post with a single click, by dragging and dropping, or by copying and pasting.
When creating designs, modifications are automatically saved.
The application is compatible with Apple and Android devices. Additionally, you may capture photographs and scan QR codes with the app.
Padlet is compatible with other applications. Unlike Slidesgo, Padlet can be embedded into a blog or website. You can copy and paste a link URL to export your data as a CSV, PDF, or Excel file, or as a picture.
This software can display your best work, providing your colleagues and audience with additional information about you. Additionally, you can follow others who share your interests in order to become a part of the community.
It allows you to modify your profile with different backgrounds and colours. It is simple to use because it supports over 42 languages, which is superior to Slidesgo.
On this platform, you can cooperate with your closest friends and coworkers on different designs. You can grant the reader access to read, supervise, write or administer documents, with the opportunity to revoke it at any time.
You'll receive updates on all of your devices as soon as they become available, and others will be able to use and modify your work as a template.
If you are blogging or fostering conversation, there's no need to look further. Three layouts will aid you in achieving this objective. These are a square board, an information feed, and a blank canvas.
There are five distinct security options available to secure your data from unauthorised access. These settings are public, private, password-protected, organization-wide, and entirely confidential.
Select who may view, edit, and moderate your Padlets using the drop-down menus provided for each option. Customers with a premium account have access to a network that is segregated from the main Padlet.
3. Keynote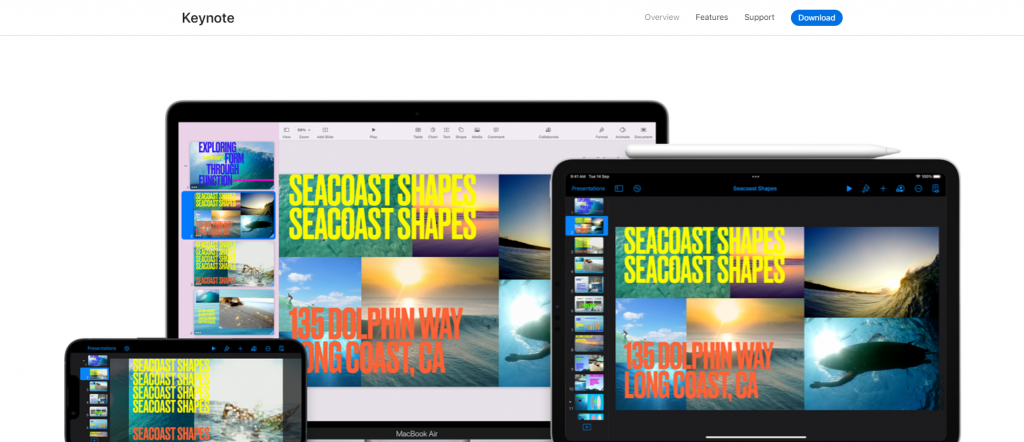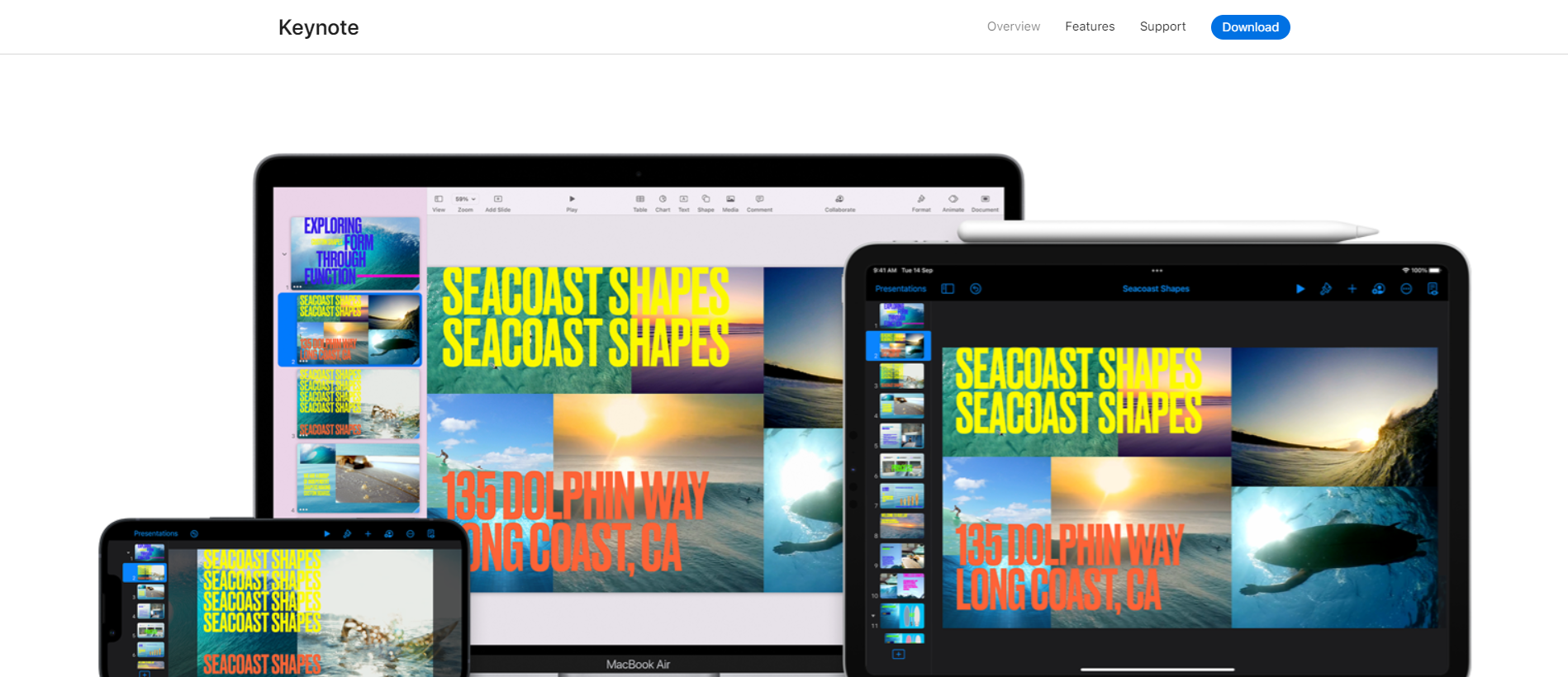 Keynote is an alternative to Slidesgo with more than 700 pre-designed charts and galleries.
The majority of Apple devices include Keynote, making it easy to create outstanding and memorable presentations.
Unlike Slidesgo, Keynote includes an Apple Pencil for sketching diagrams and visuals on an iPhone or iPad.
In addition, members of your team can collaborate in real time regardless of whether they use a Mac, iPhone, or iPad.
Keynote functions identically on all Apple devices. Thus, any presentations prepared on a Mac or iPad will look identically on an iPhone, and vice versa.
With the aid of over thirty captivating themes, you may make your presentation look more polished. Alternately, you can customise your presentation's styles, background pictures, and individual pages.
It features more than 30 transitions and effects that will bring emotion to your presentation.
You may also add photos, textures, and colour gradients to your presentations to make them stand out.
Keynote lets you and your colleagues collaborate on the same project, regardless of their location.
4. SlideEgg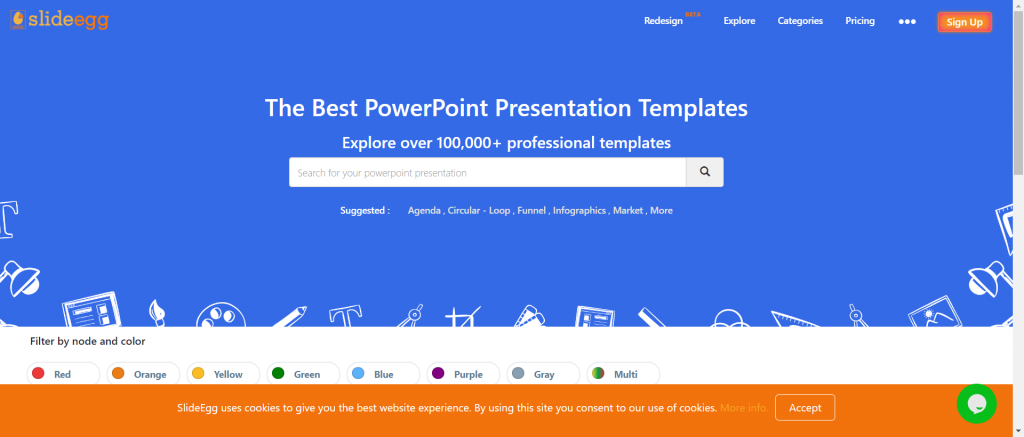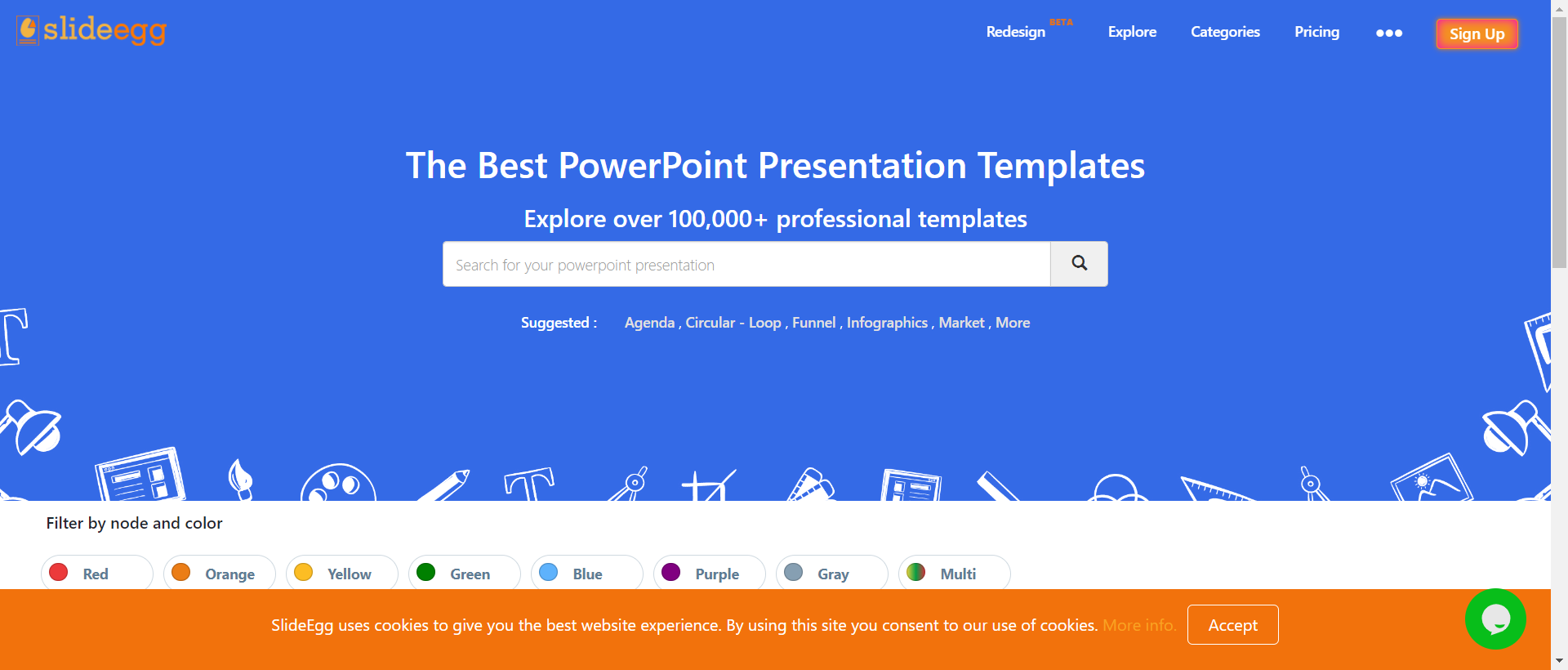 SlideEgg offers the best PowerPoint templates to help you and your organisation succeed in every professional endeavor, with a team of over 25 designers and imaging experts.
Unlike Slidesgo, SlideEgg will construct your presentation on your behalf for a fee. They verify that every detail aligns with your desired objective. You must provide them with a comprehensive list of specifications, and you can rest assured that they will create interesting and gorgeous Microsoft PowerPoint slides.
Every presentation and template they create is editable and customizable in all versions of Microsoft PowerPoint, Google Slides, and Keynote.
5. PSlides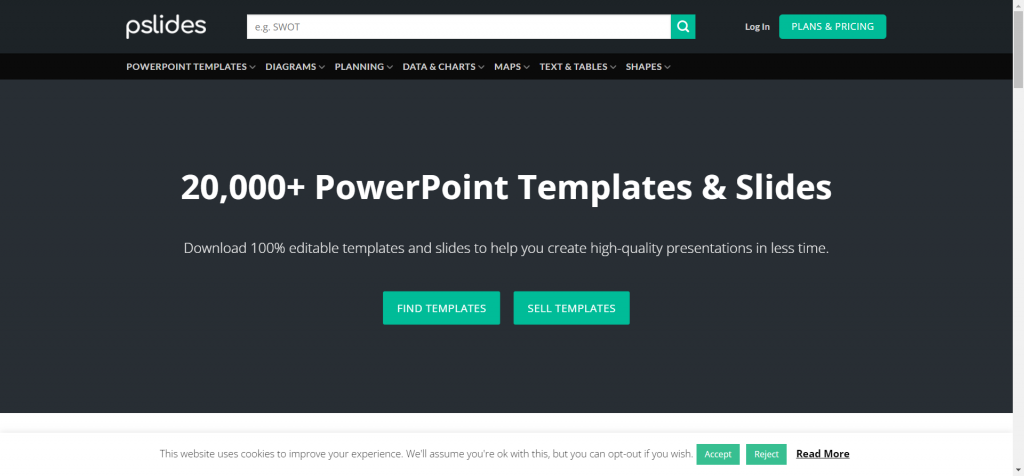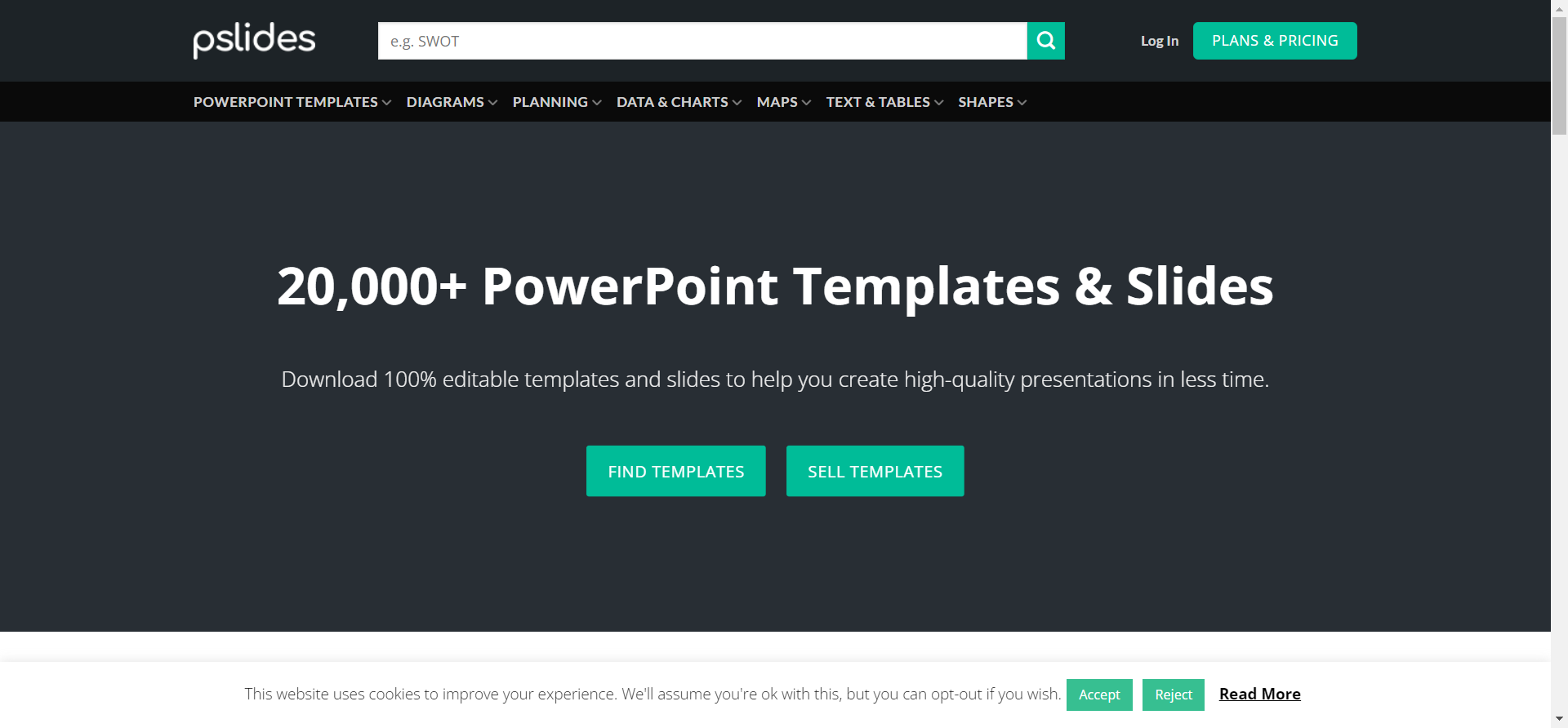 Its purpose is to assist you in creating stunning slides that captivate audiences, convey ideas, and achieve results. Their customizable presentation decks enable you to communicate your ideas and engage with your audiences.
PSlides allow you to correctly and clearly present data and numbers or your ideas. Using PowerPoint charts in a presentation allows you to swiftly explain complex concepts by illustrating their relationships.
Suppose you are looking for PowerPoint templates with timelines or plans. PSlides provides a variety of templates, such as calendars, flowcharts, and project plans.
Its PowerPoint charts enable you to display your team's revenue, customer service, social media activity, and other metric goals. You may display the performance of your employees or business partners.
With its variety of charts, including, line graphs, bar charts, circle graphs, and percentile graphs will make it easier for your team to identify areas for future improvement.
PSlides' Editable Map PowerPoint presentations provide access to several PowerPoint maps. It is an easier-to-use program than Slidesgo.
You can rely on the Texts & Tables PowerPoint templates when giving a presentation with numerous numbers. Using this collection of PowerPoint templates, you can simply associate the numbers with a visual cue, making it easier for people to retain the information.
6. HiSlide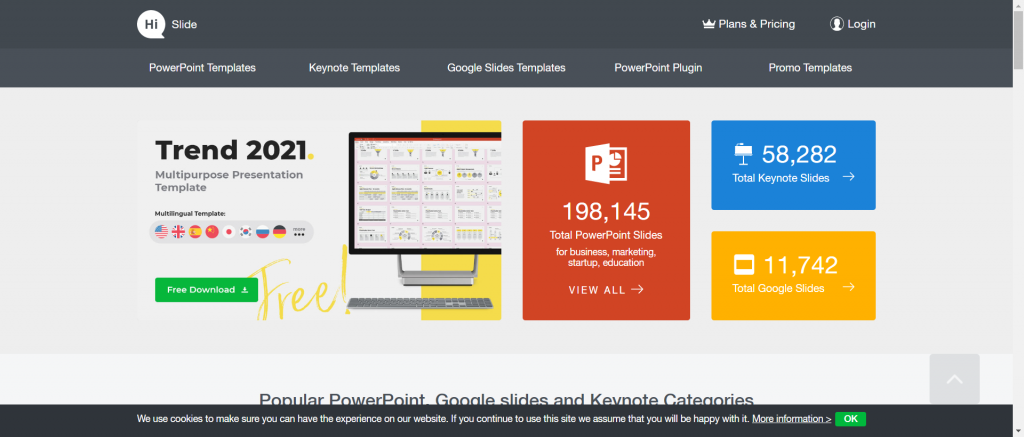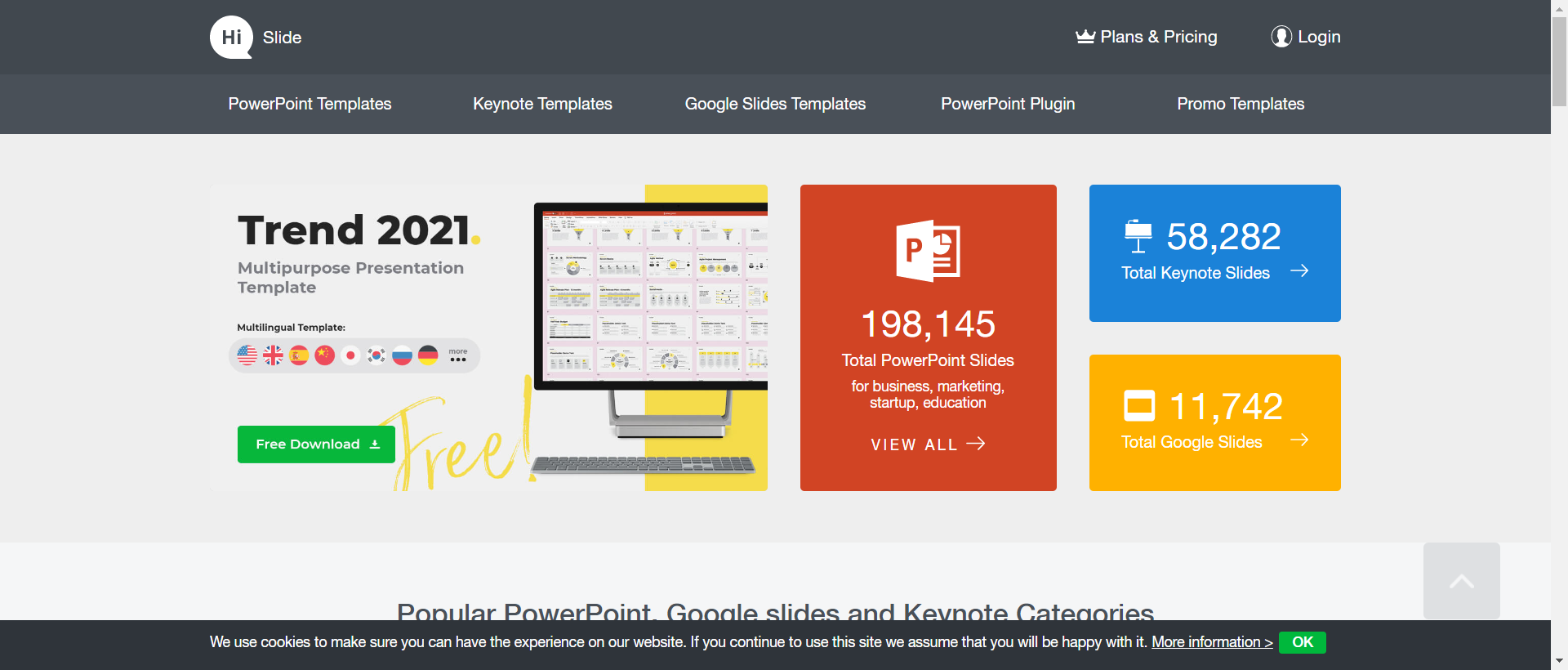 HiSlide contains free presentation slides to impress your audience. Choose from premade Google Slides, PowerPoint, and Keynote templates.
Customizing a colour scheme requires less than two minutes. HiSlide enables you to change data in PowerPoint charts, graphs, and dashboards using Excel spreadsheets.
In the business presentation section, you may also get hundreds of slides of analysis, infographics, reports, and interaction templates.
Its Google Slides templates are so straightforward that even novice users can utilise them.
No additional software is required to modify any Google workplace features.
Unlike Slidesgo, HiSlide includes Keynote Presentation templates that are compatible with retina displays. All of its infographics and photos are compatible with MAC Keynote, allowing you to modify them with just two clicks.
7. Template Monster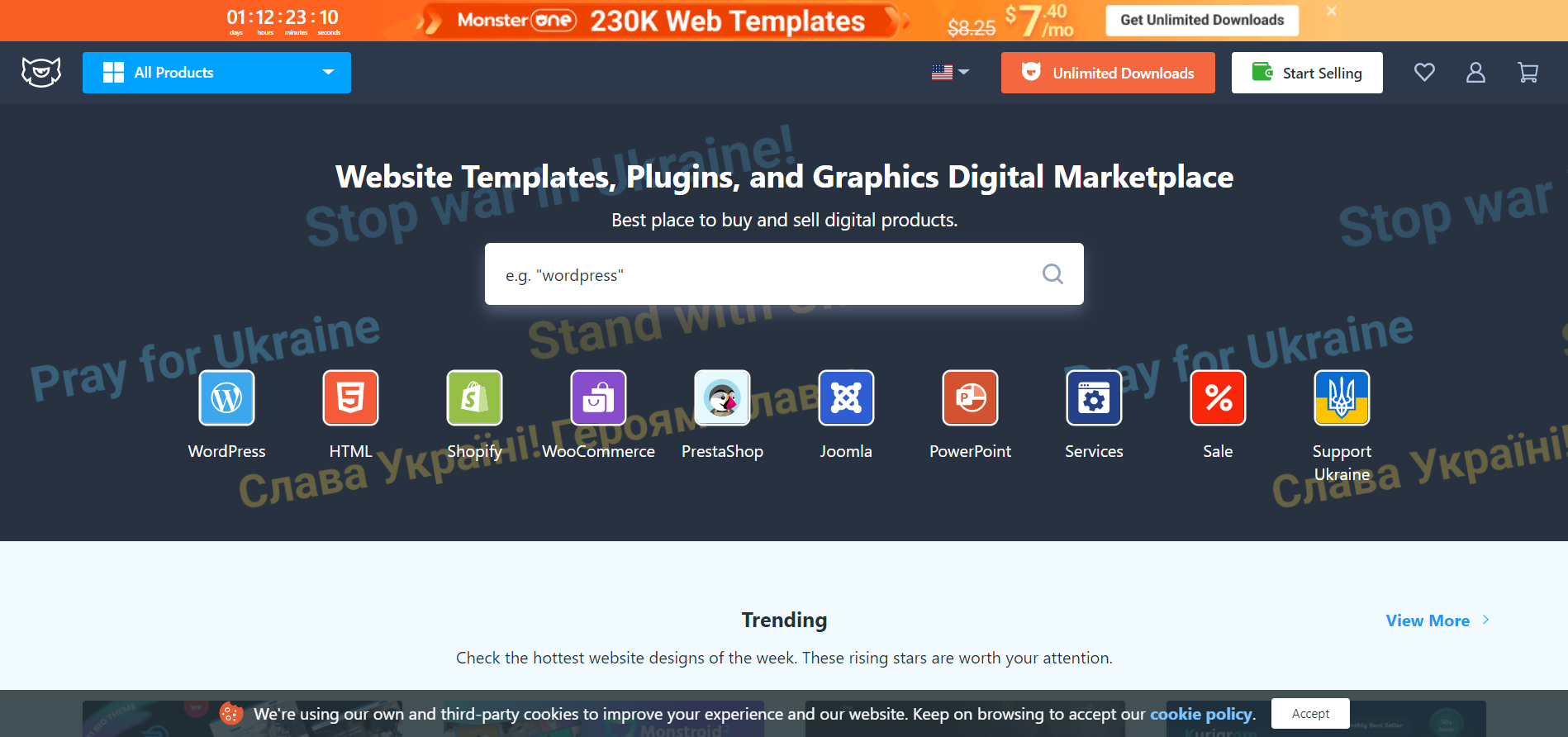 Template Monster is a wide, quickly increasing marketplace where you can find high-quality digital products that correspond to the latest online standards.
In addition, it has a selection of templates suitable for a variety of unique presentation projects, small and large businesses, startups, and any business. It has a sleek and basic
Keynote template that makes it easy to modify the content.
Google slides themes for blogging and PowerPoint business templates are available in many designs and styles from Template Monster. The majority of them are fully customisable.
This application allows you to create 3D presentations, unlike Slidesgo.
With its infographic template package, you will receive a variety of presentation templates that can elevate your presentation. These templates have business-related elements that will assist you in presenting statistical data.
If you want to add visual appeal to your presentation, this platform provides a huge library of high-quality graphics. A graphic is an icon or logo library, an animated banner, a typeface, After Effects, etc.
In addition, it gives templates that will help you establish a good brand profile and distinguish your firm.
8. Pitch Deck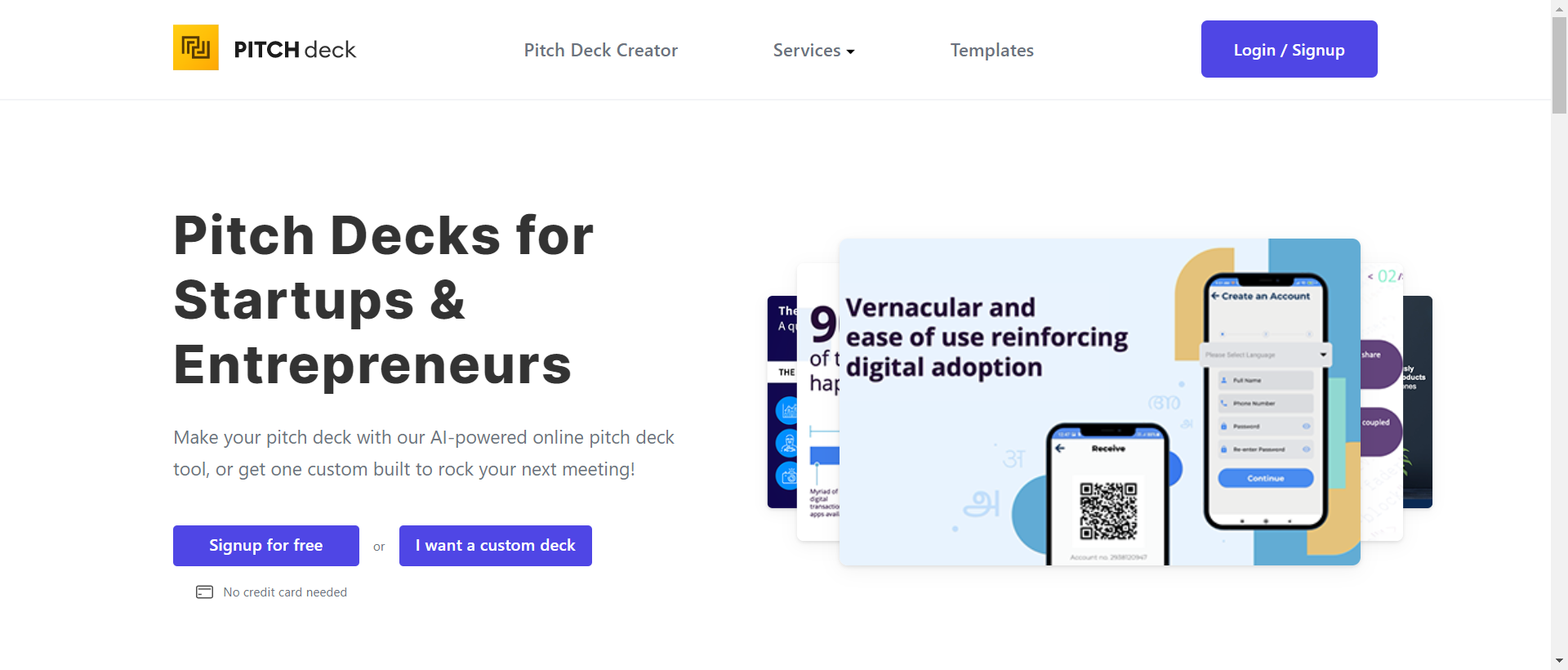 Using Pitch Deck, you can create aesthetically stunning online presentations.
Since its launch, more than 10,000 business professionals from a variety of industries have used Pitch Deck to make presentations that encourage and excite their employees while displaying their products and services.
By creating a Pitch Deck using its tried-and-true templates, you can create a concise, persuasive, and prospect-friendly pitch without any guesswork.
When designing, strive to use a variety of bright icons, stock images, fashionable designs, and exciting transitions that will captivate the audience.
Unique visual analytic assets in Pitch Deck make mundane information appear intriguing and simple to comprehend.
Its Artificial Intelligence technology will assist in transforming monotonous presentations into dazzling designs. This is a tool that Slidesgo lacks.
You can track your progress and influence. You may measure your audience's reaction in real-time and make adjustments accordingly.
Final Word
Among the aforementioned Slidesgo alternatives, SlideWin triumphs. Why?
It offers numerous free PowerPoint and Google Slides templates of great quality. You can obtain presentations organised under more categories, like professional, minimal, religious, modern, dark, elegant, and technology.
You can also search for templates by colour, like red, green, pink, orange, yellow, and others. The colour schemes make it simple to locate templates using your brand's colours.
In addition, when you click on a template, you have the option of downloading it in either PowerPoint or Google Slides.
Also Read