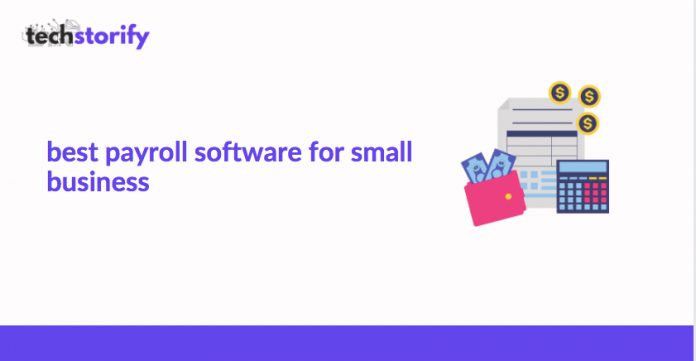 If you are a small business owner then you have the idea that giving out salaries to employees is not as simple as giving out fixed pay-checks rather there are so many calculations like taxes, bonuses, deductions and more. Usually one has to employ HR manager to manage these, however nowadays there is a less expensive solution to this-Payroll Software.
Payroll software is a lifesaver for business owners as they take up and automate many mind-boggling tasks off the owner's hand. It includes lucrative tasks such as calculating payments, performing statutory compliance duties, depositing monthly payments into the designated bank account of employees, administering benefit plans, payroll tracking and auditing, running payroll balance and calculating reports and many more.
Best Payroll Software For Small Business That You Must Try
Take a look at our top picks for the best small-business payroll software to find one that works for you.
1. Gusto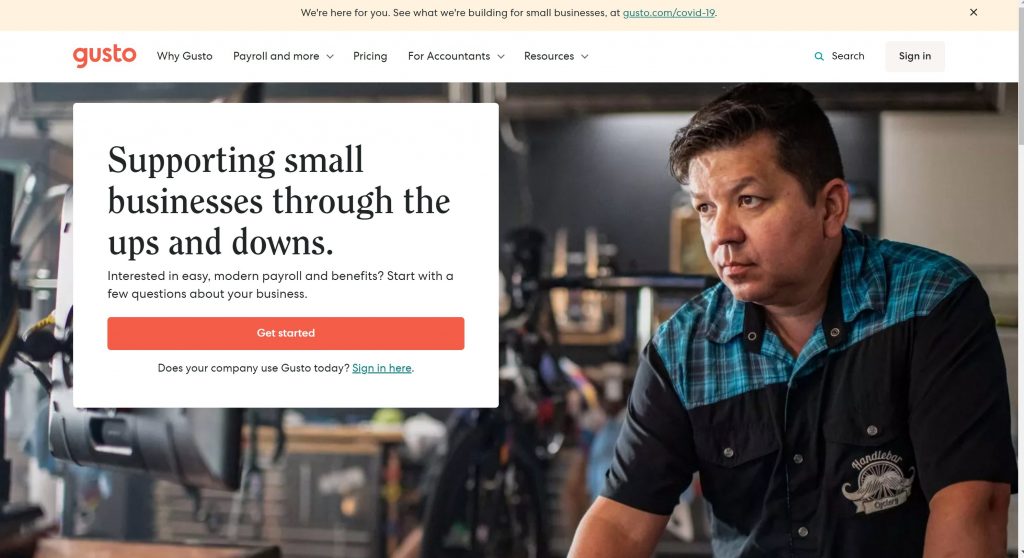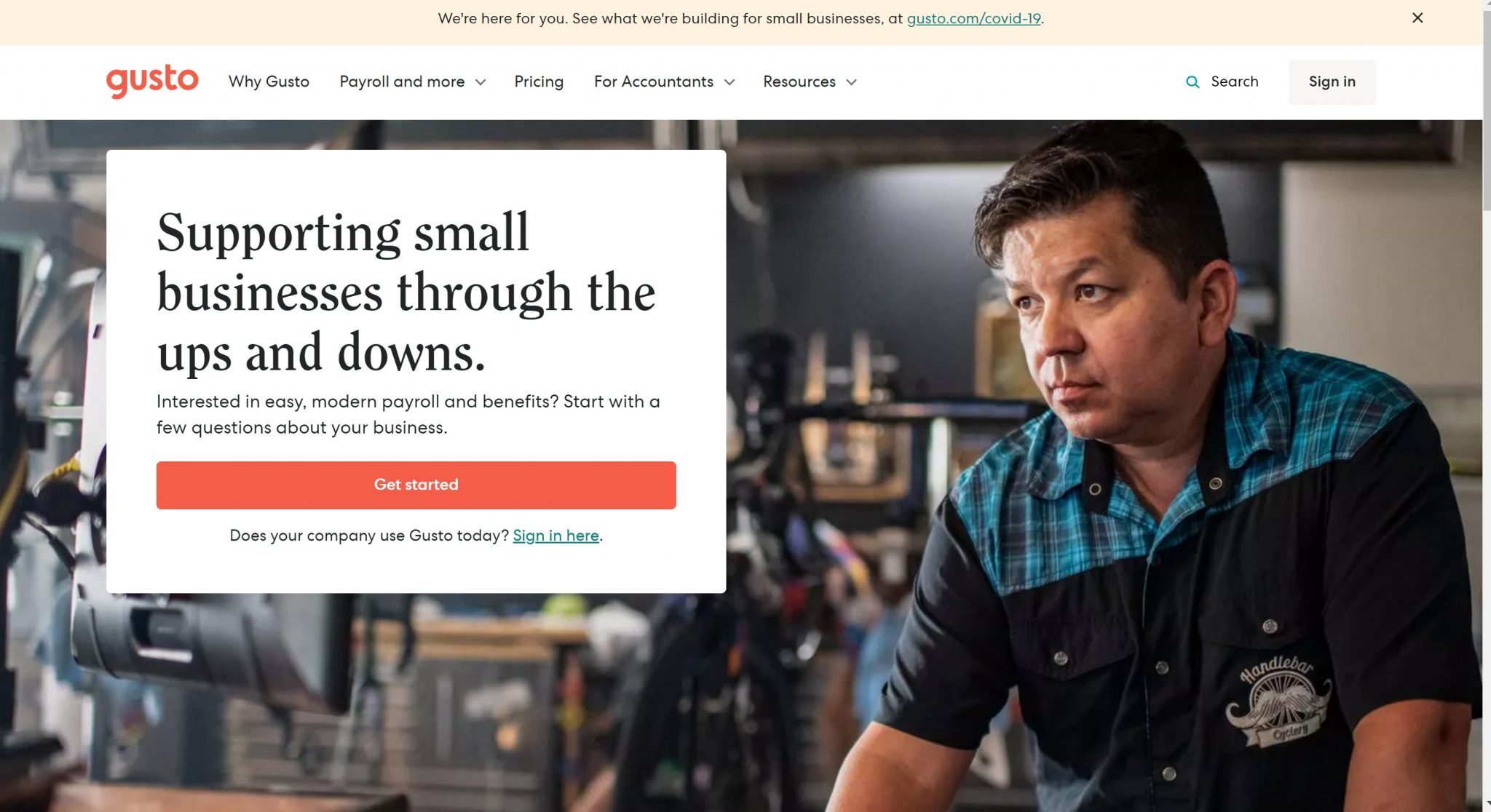 Gusto was launched in 2012 and serves more than 100,000 businesses currently. They have gained quite a lot of popularity due to their smart payroll tools, easy-to-use user interface and intuitive navigation.
In the matter of payroll software functionalities, Gusto has not left any unturned stones, you name it and they got it! Starting from unlimited contractor payments, hiring and onboarding tools to tax filing(federal, state and local).
They provide their users with unlimited support on chat, email, and phone in case of any queries.
Pros:
Automatic local, state, and federal payroll tax filing

Unlimited payroll

Thorough employee records

Satisfactory automation

Contractor-only version

Strong, customizable reports

Remarkable employee versions and mobile access
Cons:
Limited PTO and holiday pay features with the cheapest plan

Support limited to daytime hours on weekdays

Weak dashboard
2. Keka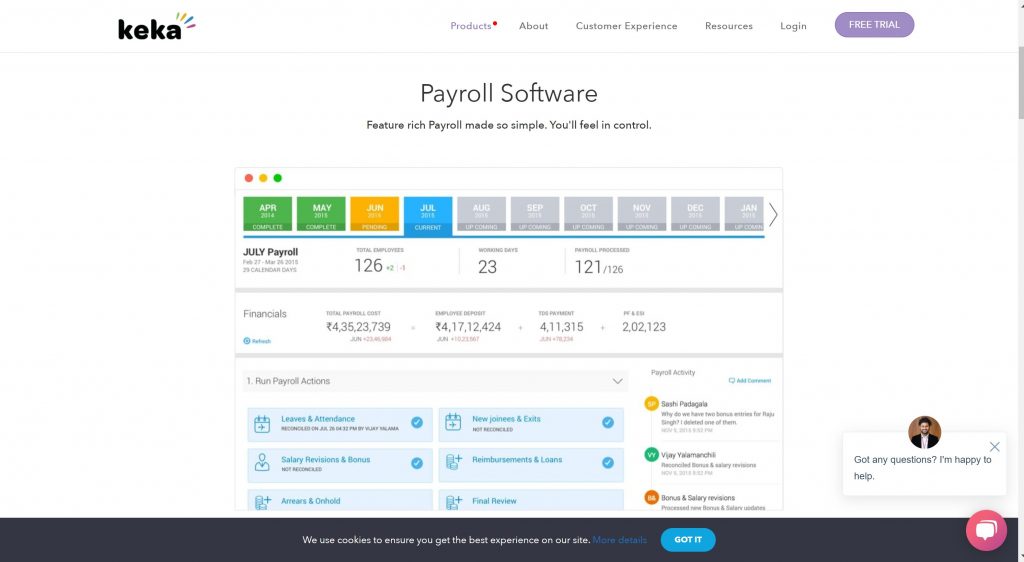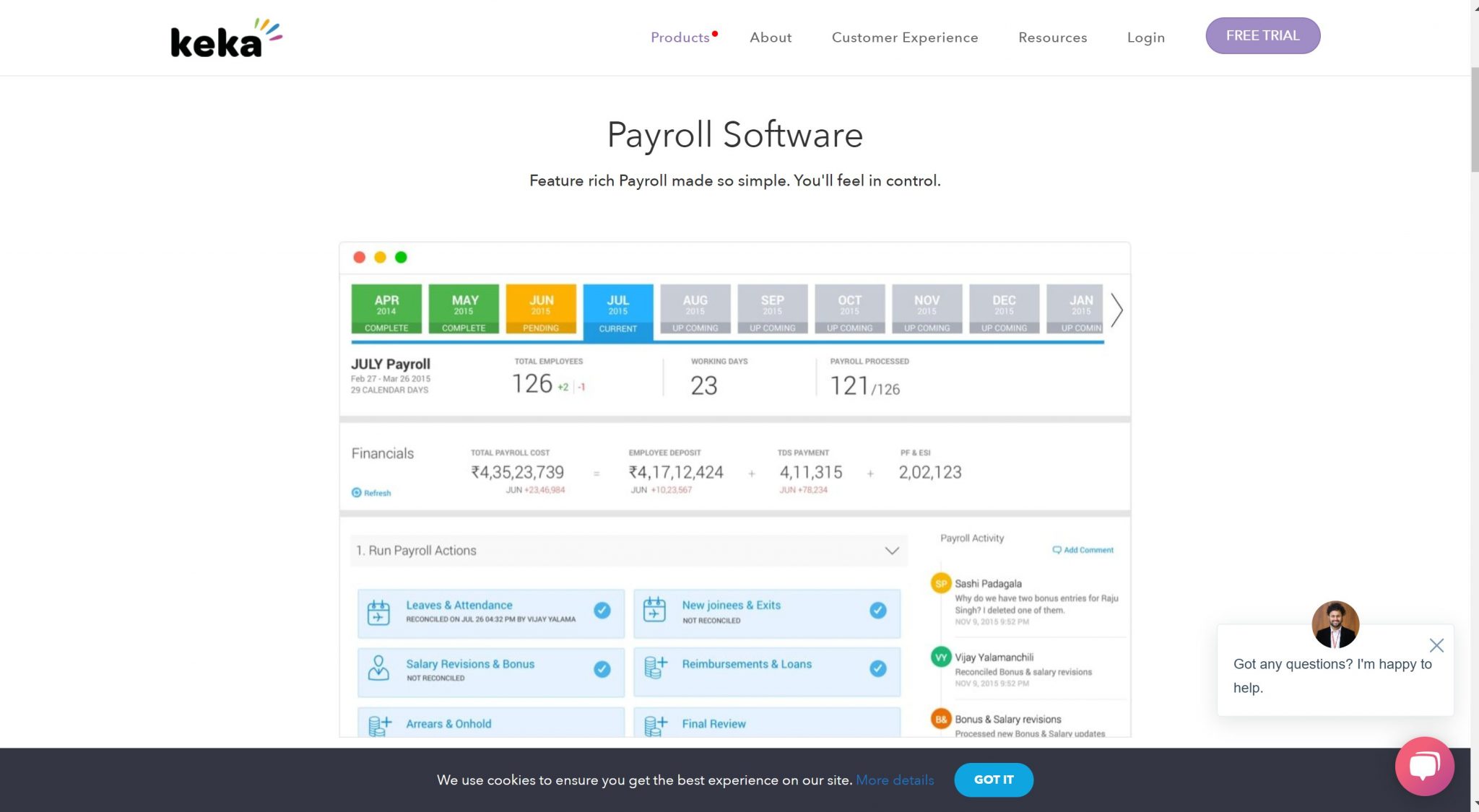 Keka is one of the youngest and finest automated human resources management and payroll solution. It has been awarded as the 'Best Payroll Software' in India by 'World HRD Congress".
It can manage and automate any feature that an HR system can have, like applicant tracking system, Payroll Management, Employee Finances, Loans and Bonuses, Attendance Management, Performance Management, Leave Management, Timesheets, Statutory Compliance and more.
Pros:
     Cloud-based,

     Packed with features

     Strong, customizable reports

     Employee self-onboarding tool

     Superb automation

     Notifies of upcoming holidays and employee birthdays
Cons:
    Confusing Navigation

    Compact User Interface
3. OnPay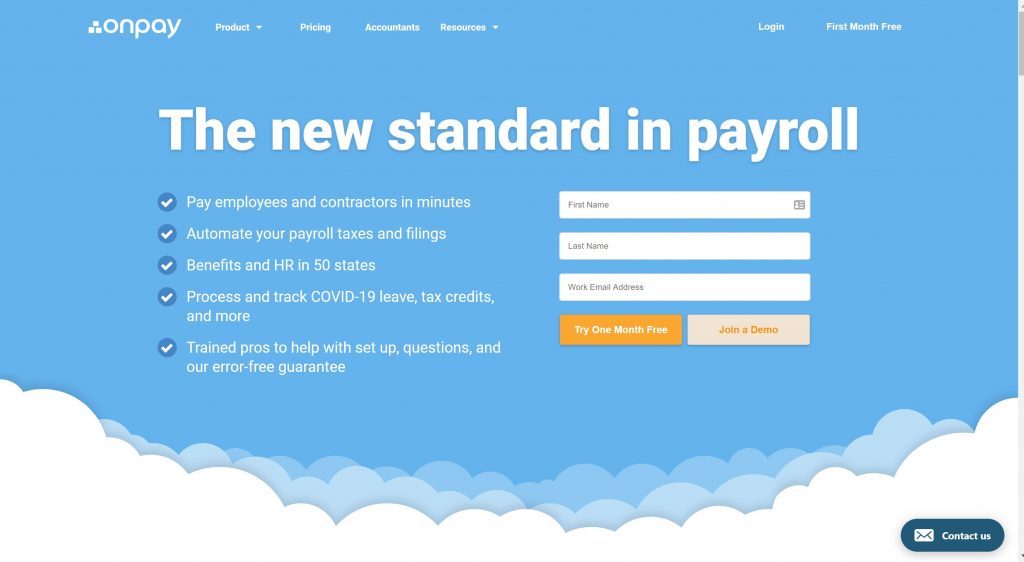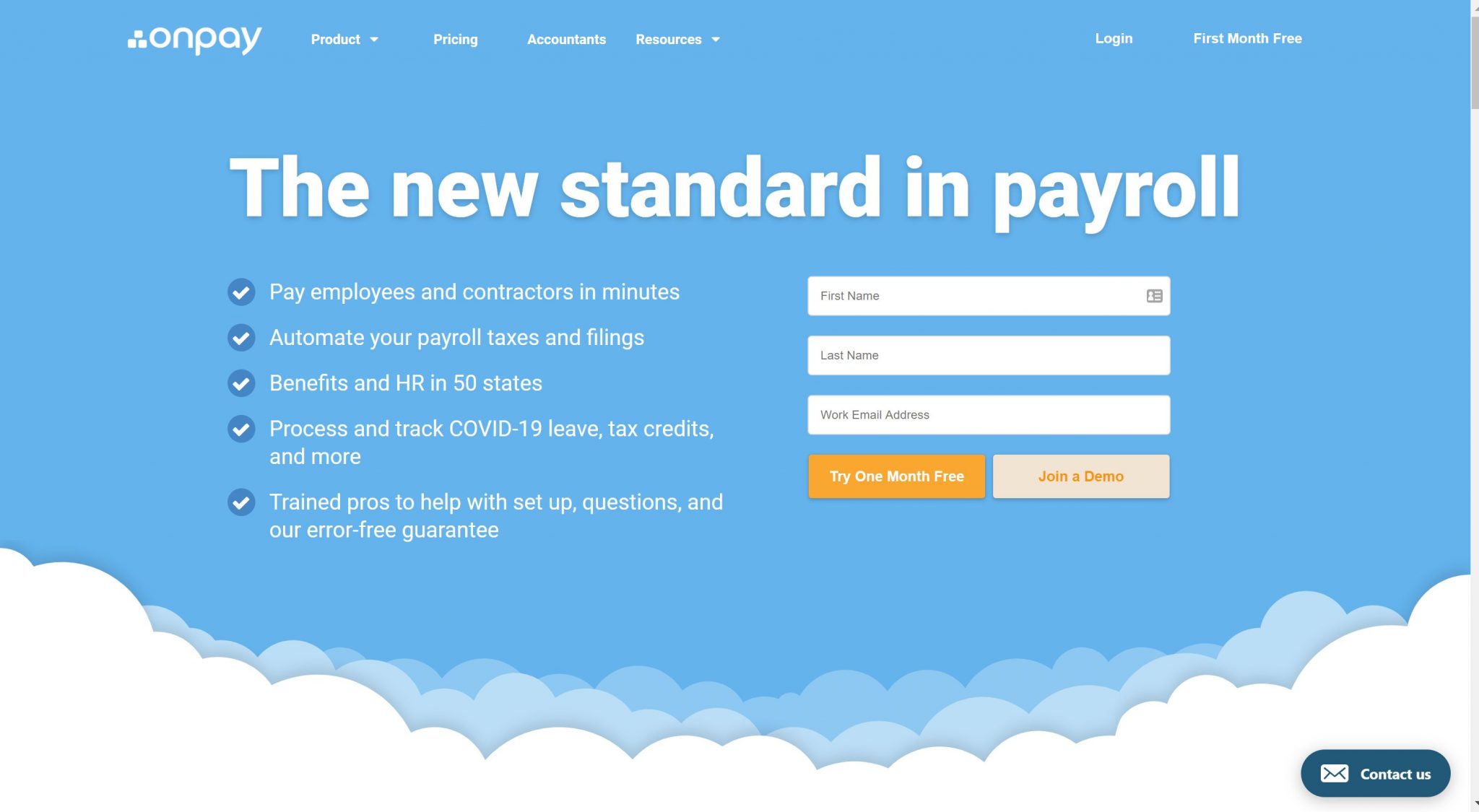 OnPay is one of the most affordable cloud-based payroll software for small to medium-size businesses. Their key features include employee management, payroll compliance, and HR tools.
This tool is highly flexible and has ample functionalities; the reports generation is highly customizable and it can easily handle complex payment calculations for payroll taxes. There are no hidden fees for tax filings, W-2s, HR tools, our software integrations, or anything else.
All in all, OnPay is the ultimate choice of business owners because of its successful blend of customizable payroll and HR tools.
Pros:
  Brilliant UI and Navigation options

  Free Trial

  Employee self-onboarding

  Self Service Portal

  Integrations for accounting and time-tracking

  Benefits Management

  W-2/1099 Preparation

  Easy PTO tracking

  Payroll Reporting
Cons:
Complex Initial Setup

One plan only

No mobile app

Additional fee(year-end fees)
4. QuickBooks Payroll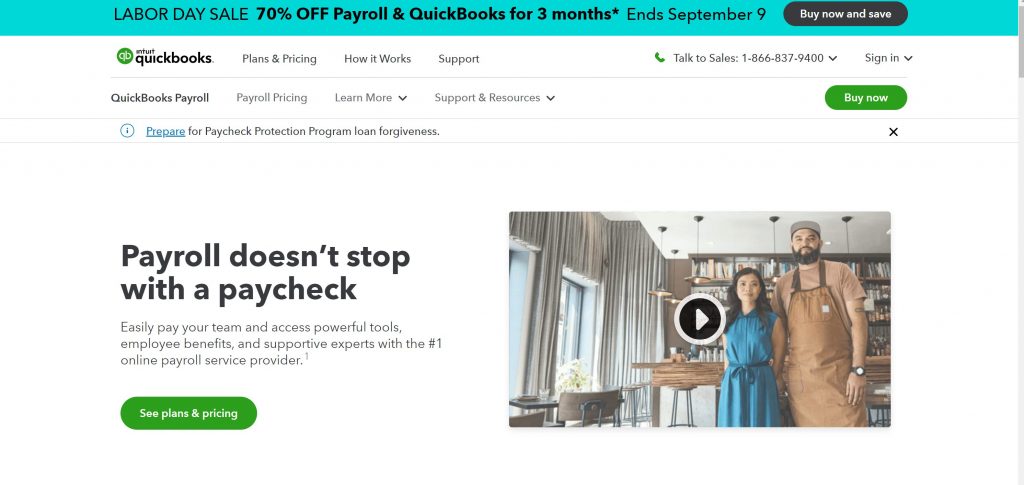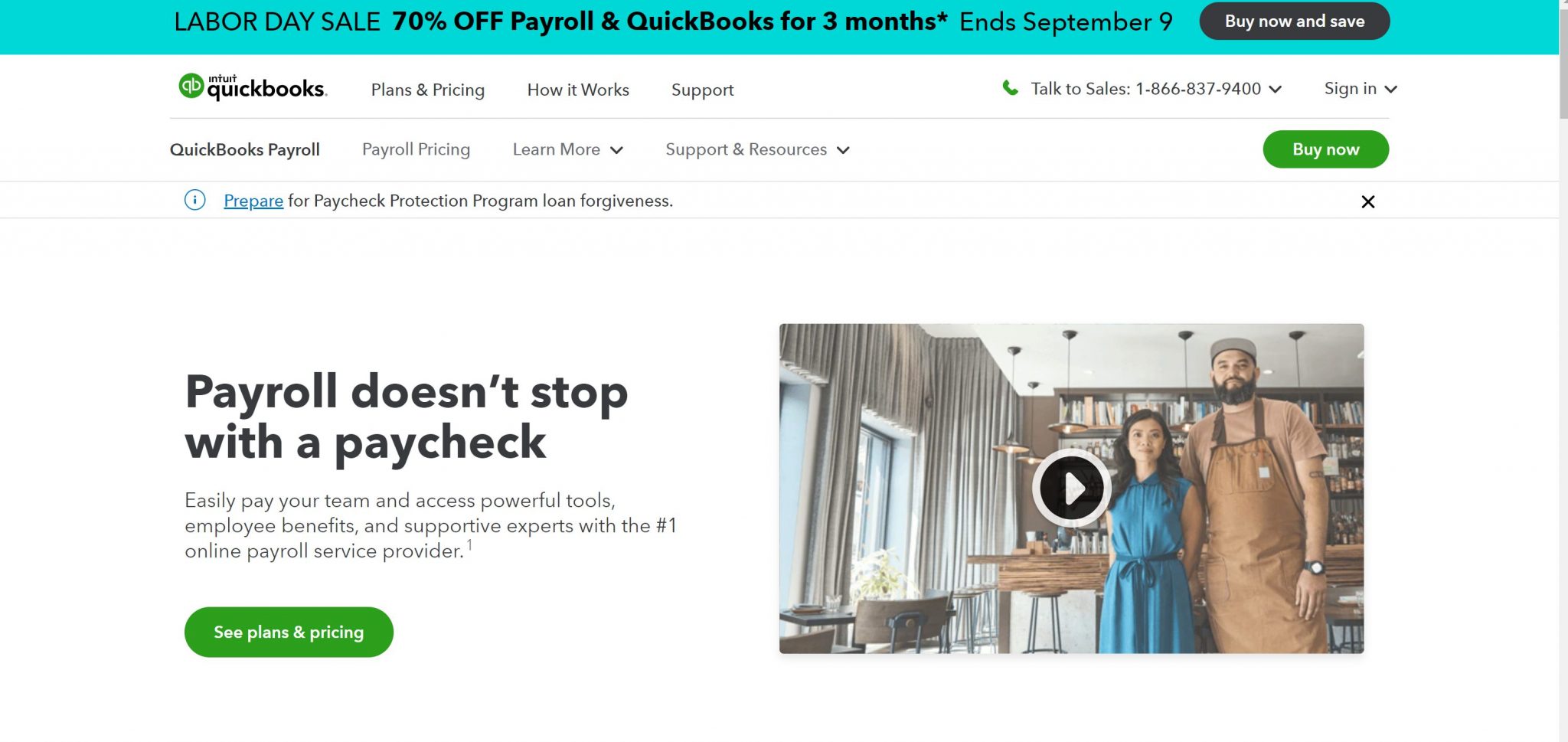 QuickBooks Payroll is another top choice among cloud-based payroll software for small businesses.
It was launched in 2019 The software offers payroll and HR services like calculation of paychecks, taxes, premium time tracking, HR support centre, employee onboarding, time tracking with geofencing and many others.
Pros:
   Easy to use UI

   Customizable user permissions

   Personal HR advisor
Cons:
   Relatively expensive

   Lack of integration
Also Read: QuickBooks Alternatives for Small Business
5. HROne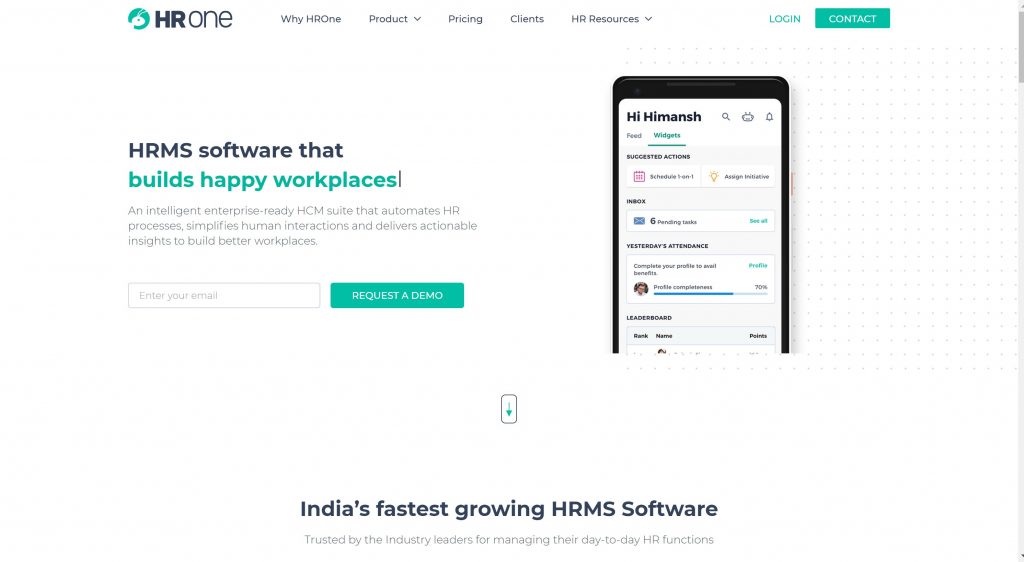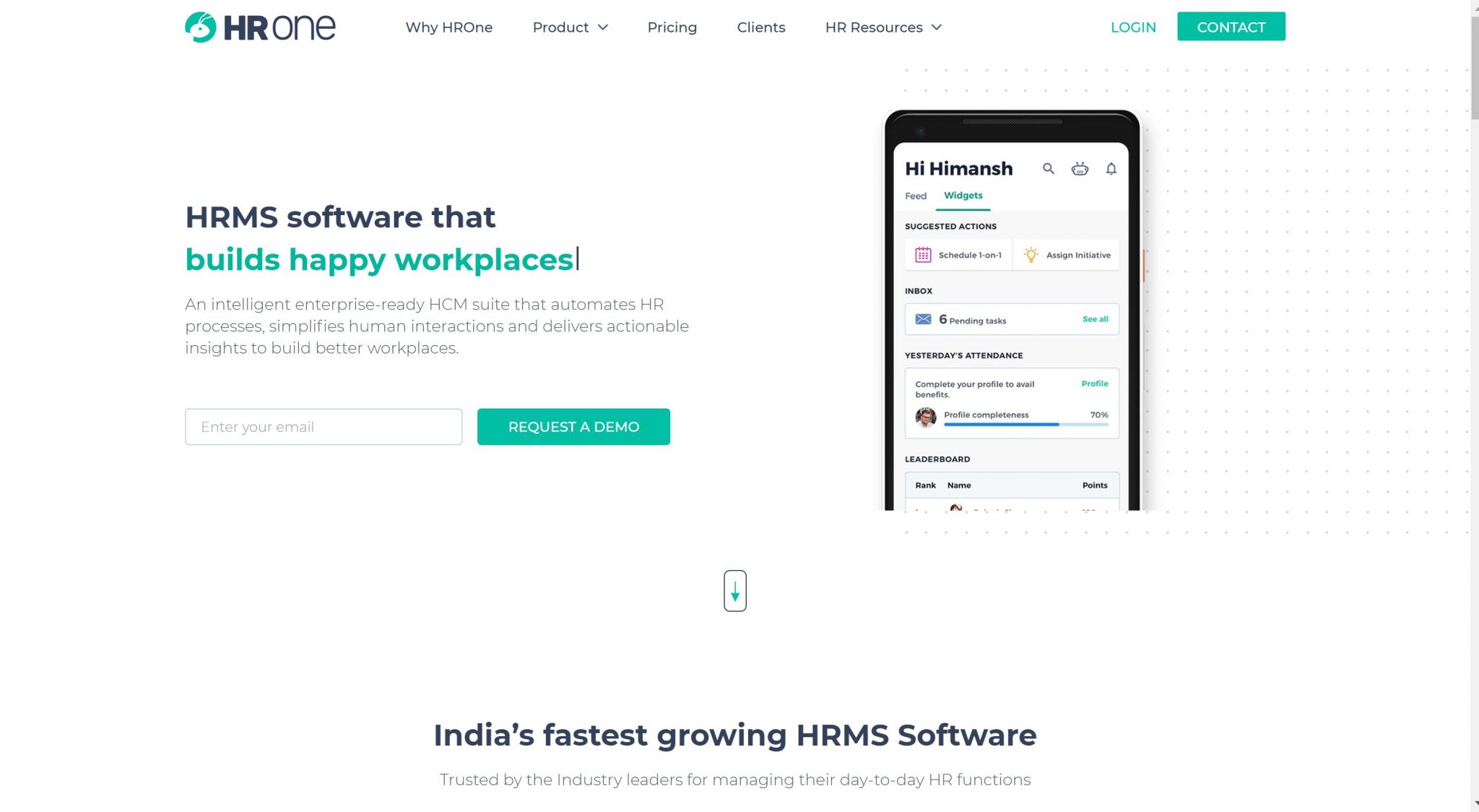 HROne, as the name suggests, is excellent HRM software. It is extremely intuitive and easy to use the platform and anyone can integrate their HR operations seamlessly.
Some of the basic features of the software include payroll management, recruitment, expense management, timesheets, training and reporting operations.
It also has some smart tools for analyzing employee performance; users can set review cycles, provide ratings and appraisals and obtain 360-degree peer feedback.  
Pros:
Affordable easy to use 

No intensive training required

Multi-device compatibility

Self-Service Portal

 

Vacation/Leave Tracking

 

360-degree feedback
 Cons:
No W-2/1099 Preparation

No free version

Not very fast

Slow customer support
6. RUN Powered by ADP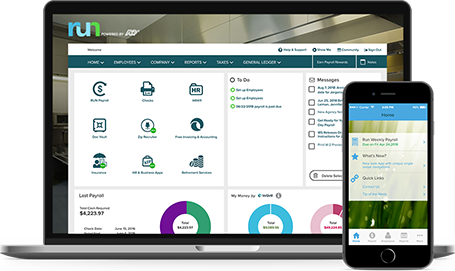 ADP is a very popular name when it comes to professional employer organizations, their aim is to serve other business with outsourced HR.
Apparently they launched a separate software service called RUN which gives payroll solutions along with HR packages. Undoubtedly ADP holds expertise in the business and the same can be witnessed in RUN.
RUN offers four plans, some of the common features of all four are direct deposit, automatic payroll tax filing, and W-2 submissions, employee onboarding, health care compliance forms, and a regular HR checkup.
Pros:
Advanced employee management

Strong payroll features

Great customer support

Custom-tailored plans

No-penalty guarantee
Cons:
Not the most cost-effective

Pricing undisclosed online

Additional fees
7. Wave Payroll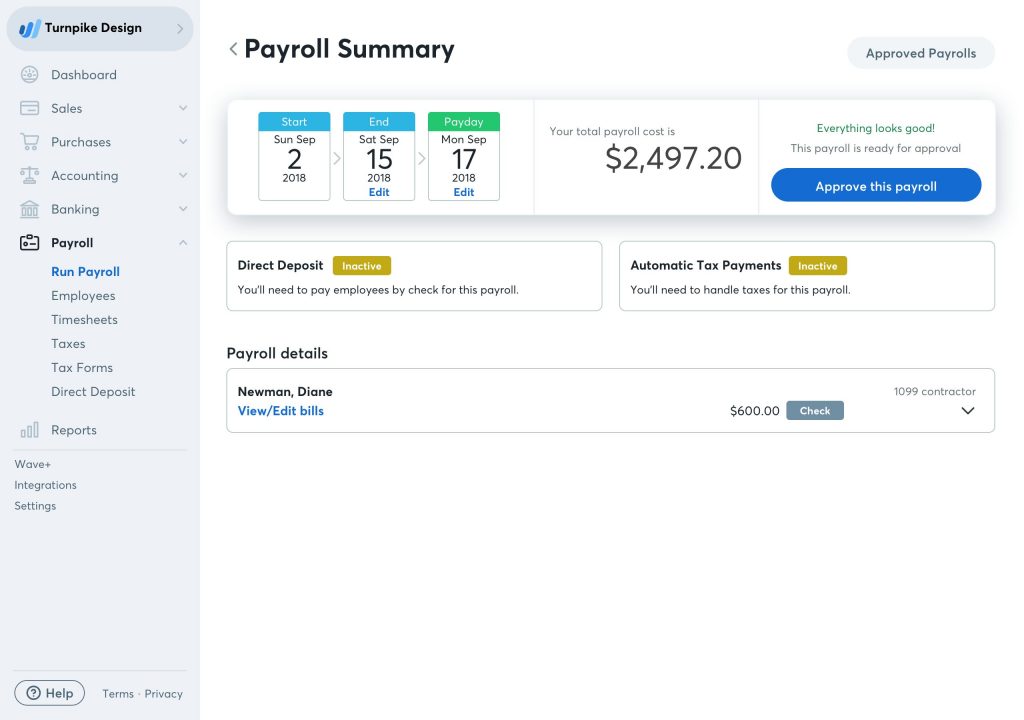 Wave payroll software is one of the most affordable options on our list. It is specially designed for small businesses and offers a fantastic range of accounting services. They offer a free trial and the pricing starts from $20 per month.
They offer two plans: a self-service plan and a full-service plan. Basic features include invoicing, accounting, online payments, lending, reporting and receipts. Even the self-service plan includes workers compensation coverage options, W-2 and 1099 tax form preparation, and great customer service.
Pros:
Low base cost of $20 per month

Free trial

Exceptional customer service

Easy integration with Wave's free accounting software

Employee W-2 and 1099 tax form preparation

Self Service Portal

 

Tax Compliance

Vacation/Leave Tracking
Cons:
Limited automatic tax filing

Fewer customization options

No wage garnishment
8. Paylocity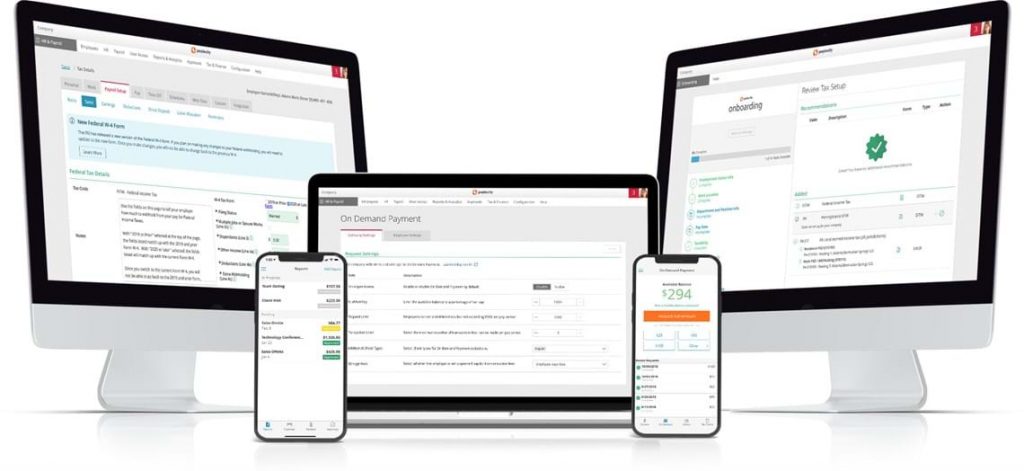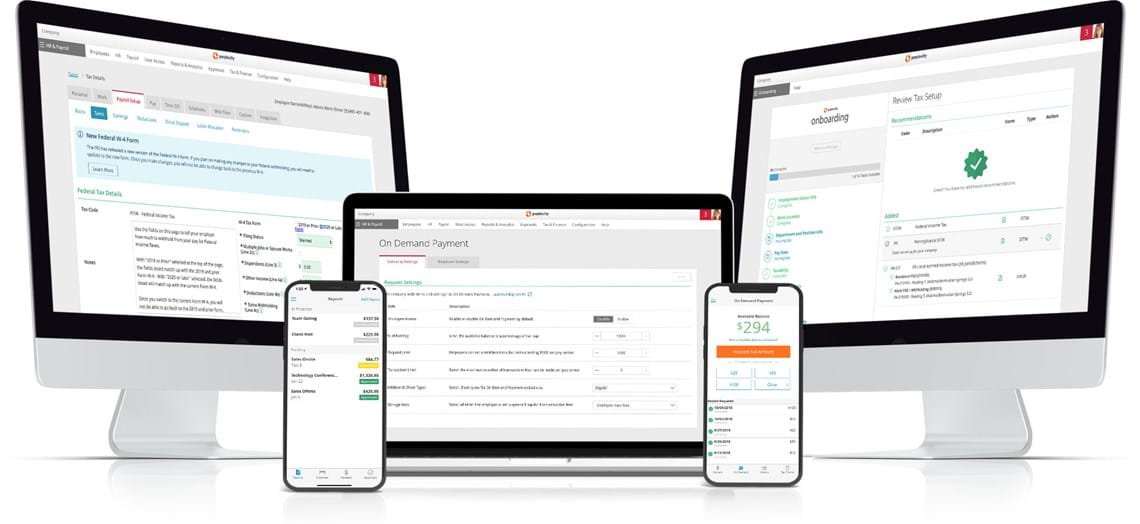 Paylocity is another well-liked web-based human capital management (HCM) platform that provides human resources and payroll services, specially designed for small to mid-size businesses to help them manage core HR functions.
Ita Key attributes include payroll functions, timekeeping, benefits administration, talent acquisition and management, employee engagement, an integrated applicant tracking system (ATS) and reports.
Pros:
Multi-device compatibility

 

Dynamic Reporting

Self-service portal

 

Tax Filing

 

Fine automation

 

Wage Garnishments
Cons:
Slow customer support

 

Not very flexible
9. Paychex Flex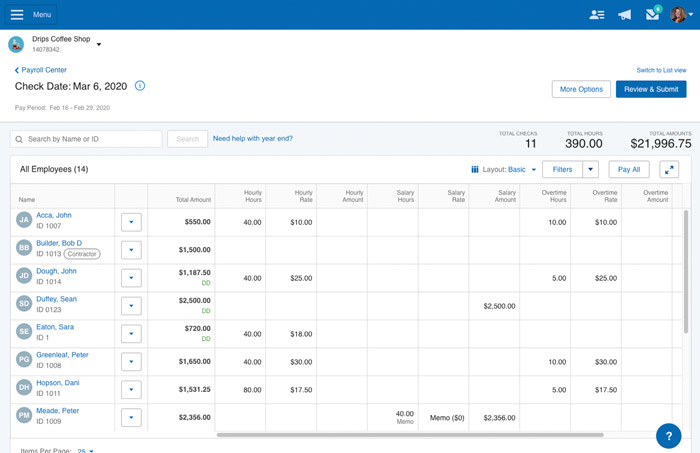 PayFlex is a payroll and human resources solution for small to medium-size businesses. The basic features that it offers are payroll management and HR administration, along with retirement, and insurance management.
Other important services include HR records, hiring, and onboarding, time & attendance, recruiting & applicant tracking, benefits administration, and reporting.
Pros:
Easy to navigate

24/7 live support

Free online quotes

Robust plans

Self-service portal

Efficient tax administration

Comprehensive mobile app
Cons:
Relatively Expensive

Some reviews note slow support

Slow customer service

Additional charges for many features
10. SurePayroll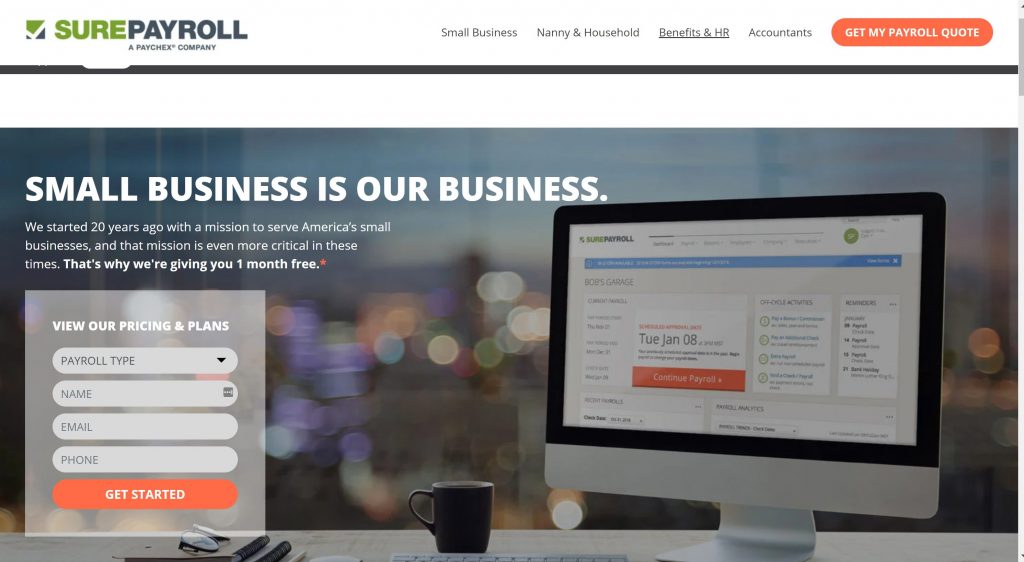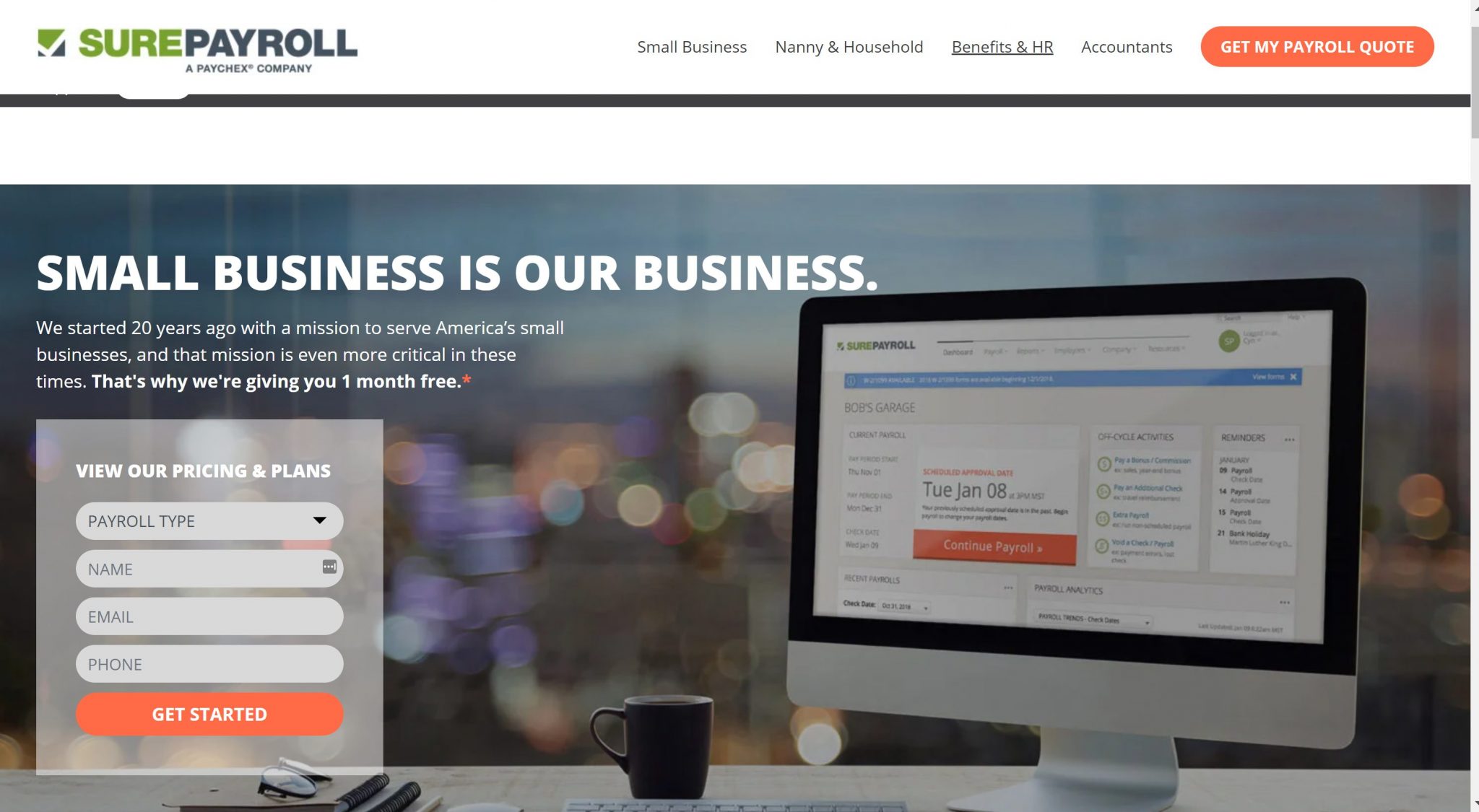 Sure Payroll is one the leading and most affordable picks on our list of online payroll services for small businesses.
The basic features offered are payroll management, tax filings and payments, benefits and HR management, reporting, and more. Additionally, there is quality insurance plans and additional employee benefits, such as workers' compensation insurance, 401(k) retirement plans, and health insurance. 
Pros:
Personalized support

Pretty Flexible to suit the need

 

Self-service portal

 

Great customer support

 

Integrates with numerous accounting sites
Cons:
Extra charges for W-2s, 1099s, and accounting integrations

Mobile apps not comprehensive
Conclusion:
Payroll software is a huge support to any small business as they relieve you of the hassle of managing payrolls, incurring the cost of hiring a bookkeeper, and risk of erroneous calculations. Choosing the best software depends upon your business needs and budget.
Hoping that our list of 10 best payroll software for small to medium-sized businesses was resourceful enough to help you find the best payroll software match for your business.
Quick Links: