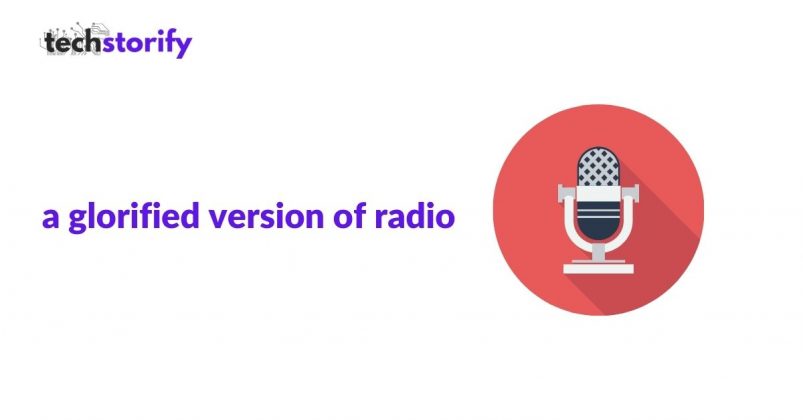 In this article, we are explaining the best platforms for you to have your podcast hosting available for public listening.
To know about this much there are certain ins and outs that we should know, for example, what is podcast hosting? And how podcast hosting works?
What is Podcast Hosting Platform?
Podcast hosts are service giving companies that are strictly designed to have/store your podcast audio files. To make content available to the listener, the podcast data/ audio files are stored somewhere and then made available via the internet.
The process of having your podcast available to the listener through a podcast host is referred to as podcast hosting. 
How Podcast Hosting Works?
Certain steps to have a podcast hosting platform work for you:
Upload your podcast to a podcast hosting site

Store your podcast audio files

Website's platform then collects them into "feed" that people can follow or subscriber to

Podcast website delivers your podcast to the listener on search/demand. 
Considering this, we have shared the 13 Best Podcast Hosting sites that can help you launch your first podcast.
13 Best Podcast Hosting Sites To Start Your Podcast
1. Buzzsprout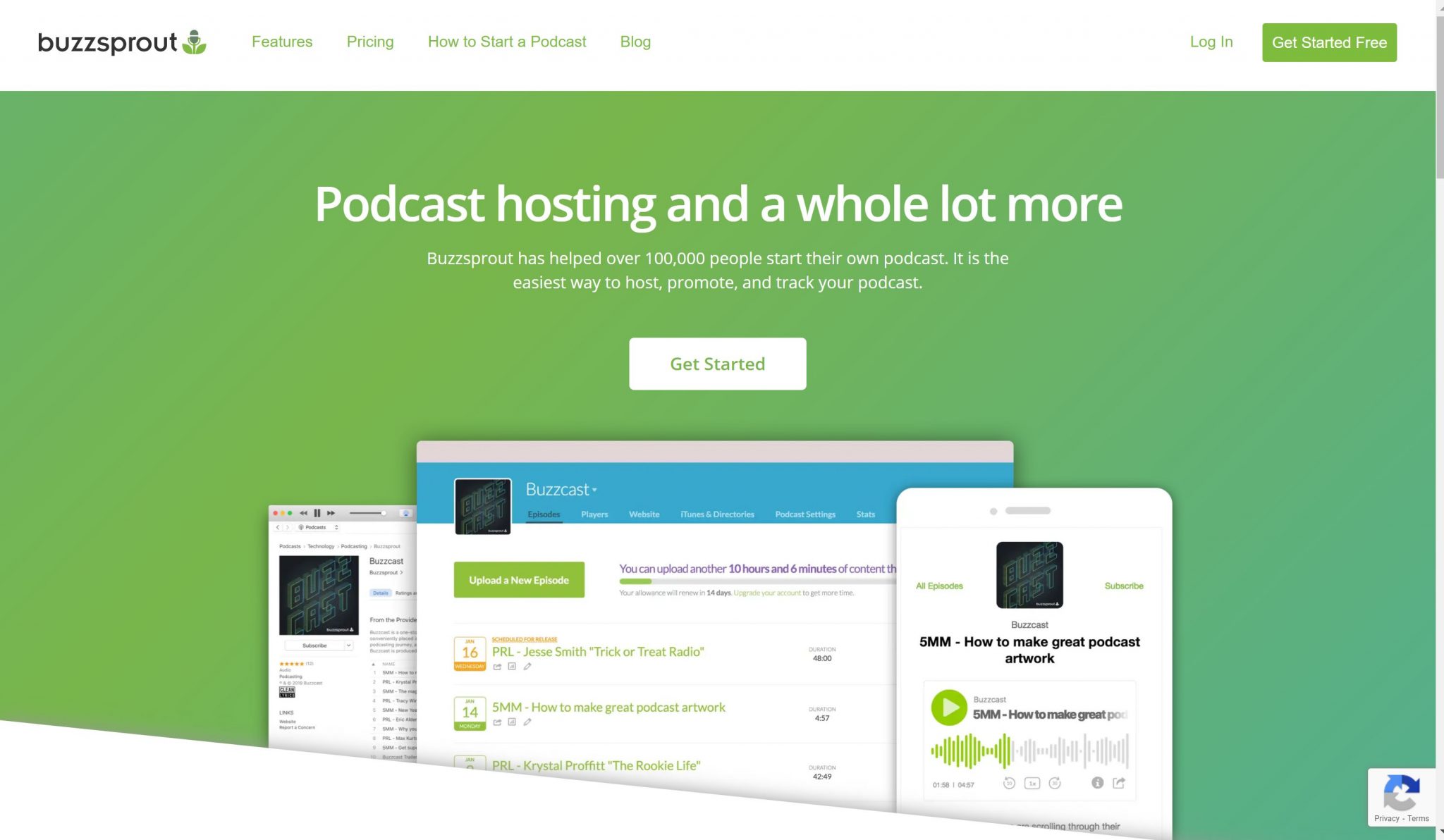 Buzzsprout lets you schedule your podcasts advance.
You, the administrator, will help you get content in order and keep up with multiple platforms and posting schedules. This podcast platform is extremely affordable and very reliable too.
This free podcast hosting site is best recommended for beginner podcasters. Buzzsprout program makes it easier to automatically post podcast content and distribute them to different channels.
With Buzzsprout you will be able to see stats that this podcast platform tracks for you. You can easily update or edit episodes.
Pros- 
Good customer support

Super easy to use

Distribute to major directories
Cons-
Free plan deleted your audio files after 90 days
2. Transistor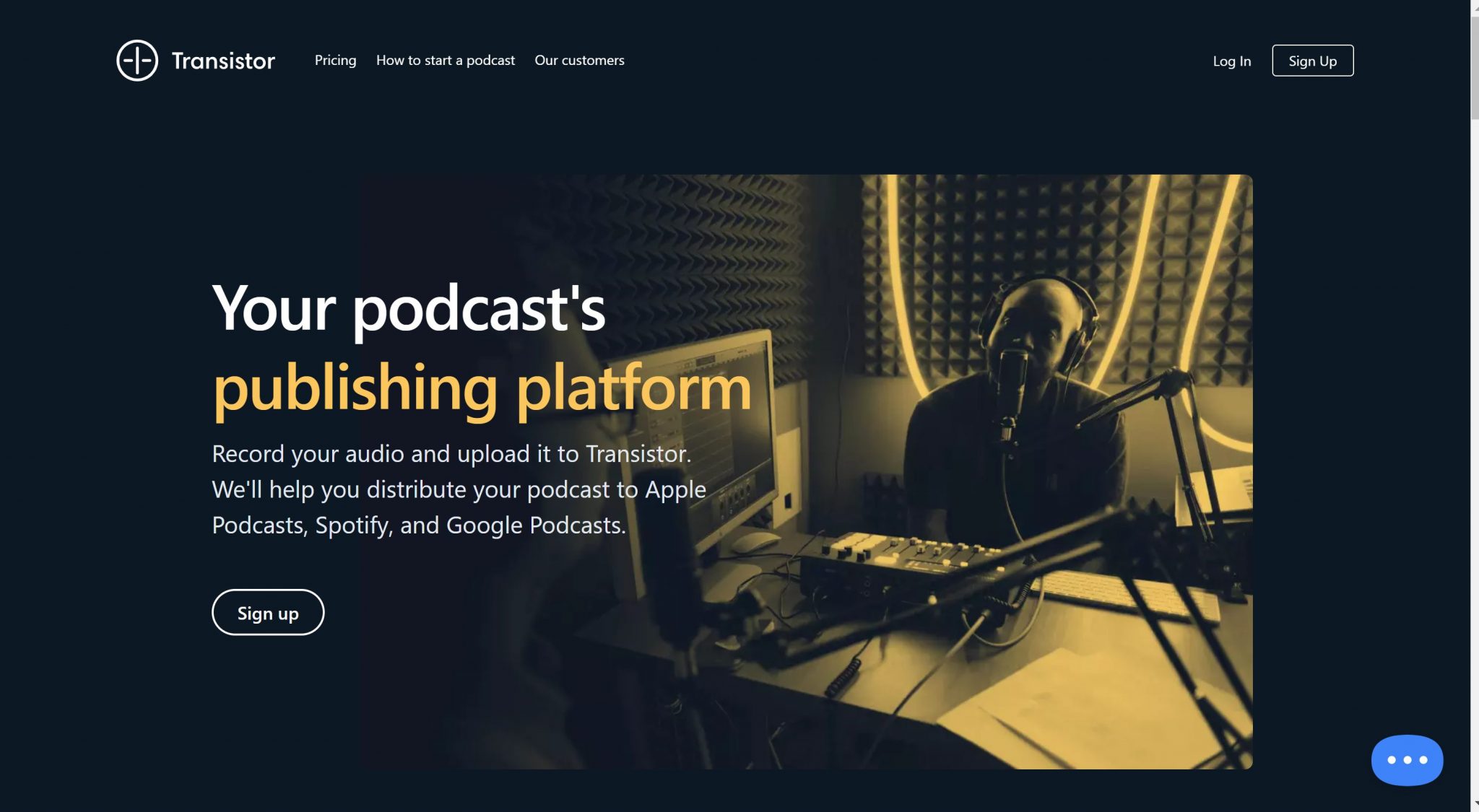 Transistor is a podcast hosting site that provides podcast hosting and analytics for thousands of brands, organizations, and creatives throughout the world.
Transistor podcast host will let you host as many different podcasts under one account as you want. Their pricing is based on downloads. Transistors will provide you with detailed download statistics that quickly shows your progress at a glance even if you have just posted one podcast/show.
Transistor has great audio hosting that has been rated 34% above the industry average and 99.95 uptime feature has been rated 150% above the industry average. 
Pros-
Good analytics

Good team management focus

Hosting of unlimited podcasts
Cons-
No free plan

Monthly downloads are limited
3. PodBean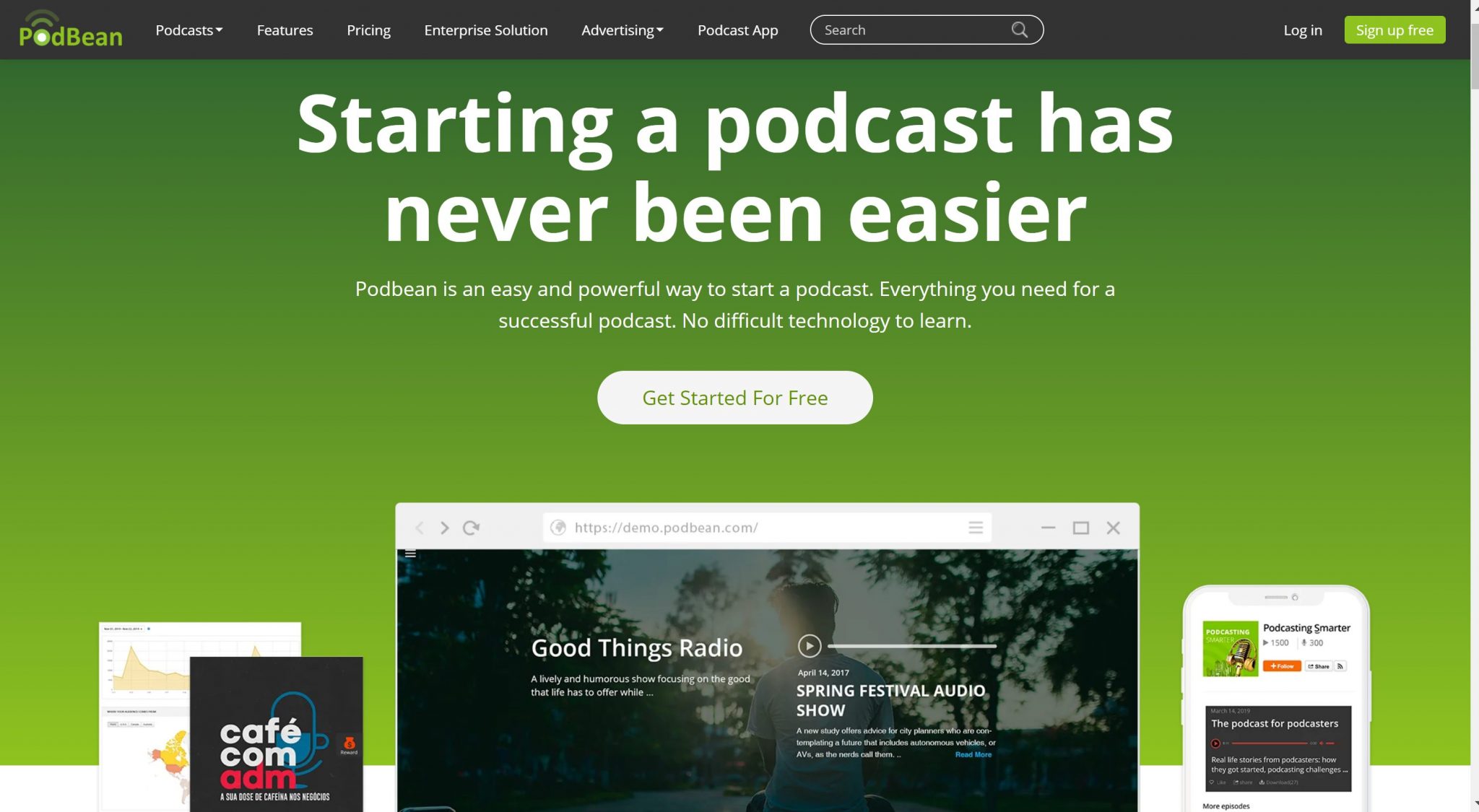 Podbean gives you unlimited space at a modest price, great ease and timeliness of uploading. It has a simple interface and carries the ability to share to social media sites and a large and ready group of downloaders and listeners. 
Podbean has some great features like automatic uploads. With its distribution and feature of reaching to new listening, it is a lot easier to gain new followers than you can expect.
Podbean podcast platform is easy to use and podcasts are Easy for a listener to find and extremely easier for a newbie to get started fast and maintain with limited effort. 
Pros- 
Easy to use

Affordable plans

Good monetization options
Cons-
Basic functions

Better bandwidth costs more
4. Simplecast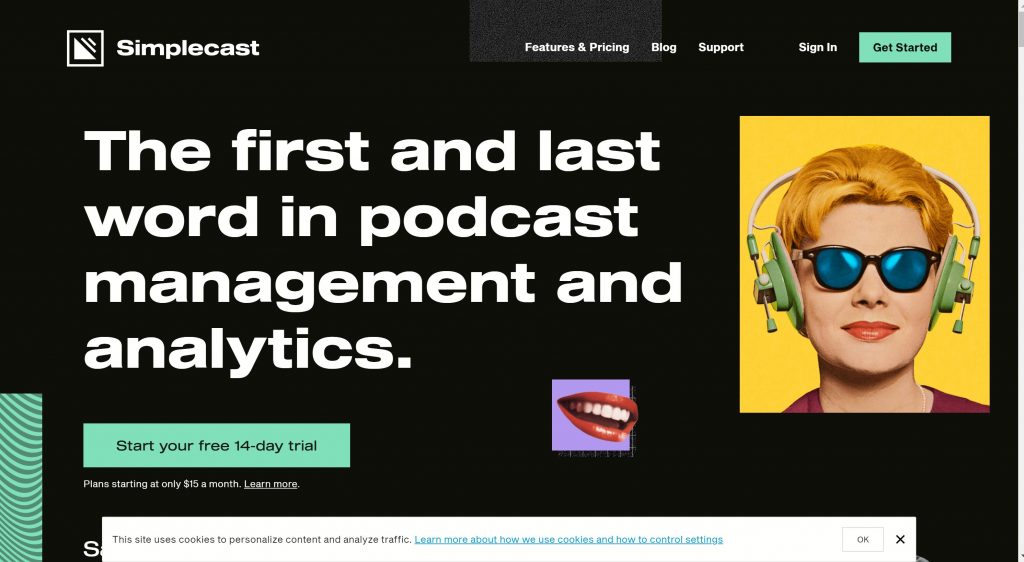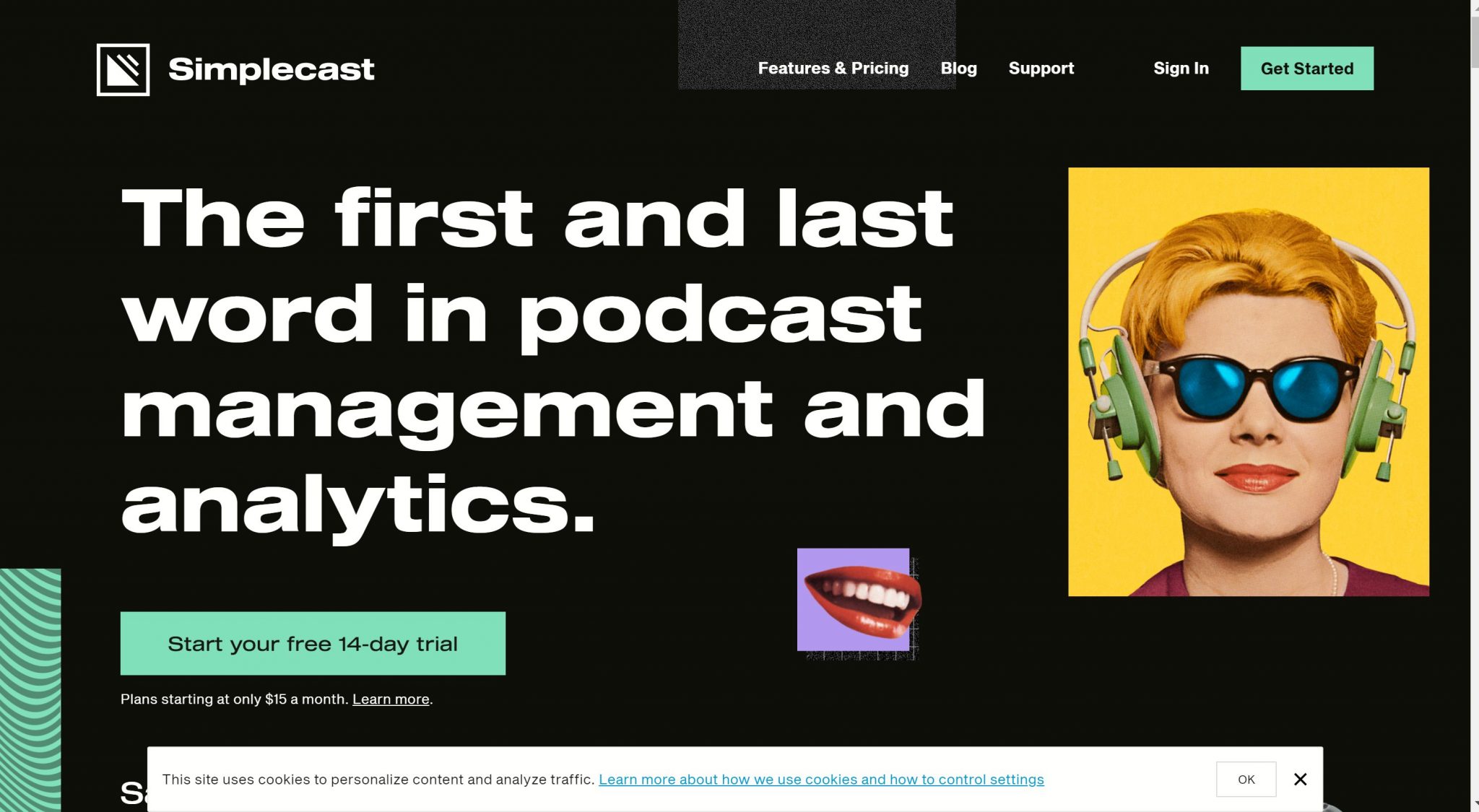 Simplecast is an independent modern podcast management platform, build for both new podcasters and experienced podcasters.
For some good years, Simplecast has remained to be the easiest podcasting sites to publish content to the world. It needs only one click to get you can get started and can easily publish with Simulcast.
This Podcast platform is built with a good user interface. It is very practical and easy to use. Simplecast supports OGG guaranteeing excellent audio quality during broadcasting. 
Formats like MP3, MP3pro and other formats of audios which are on the side of used and being more professional is also supported.
Pros- 
Good reacts

Amazing analytics

Ease of use

Simple and powerful

Low cost software
Cons-
5. Captivate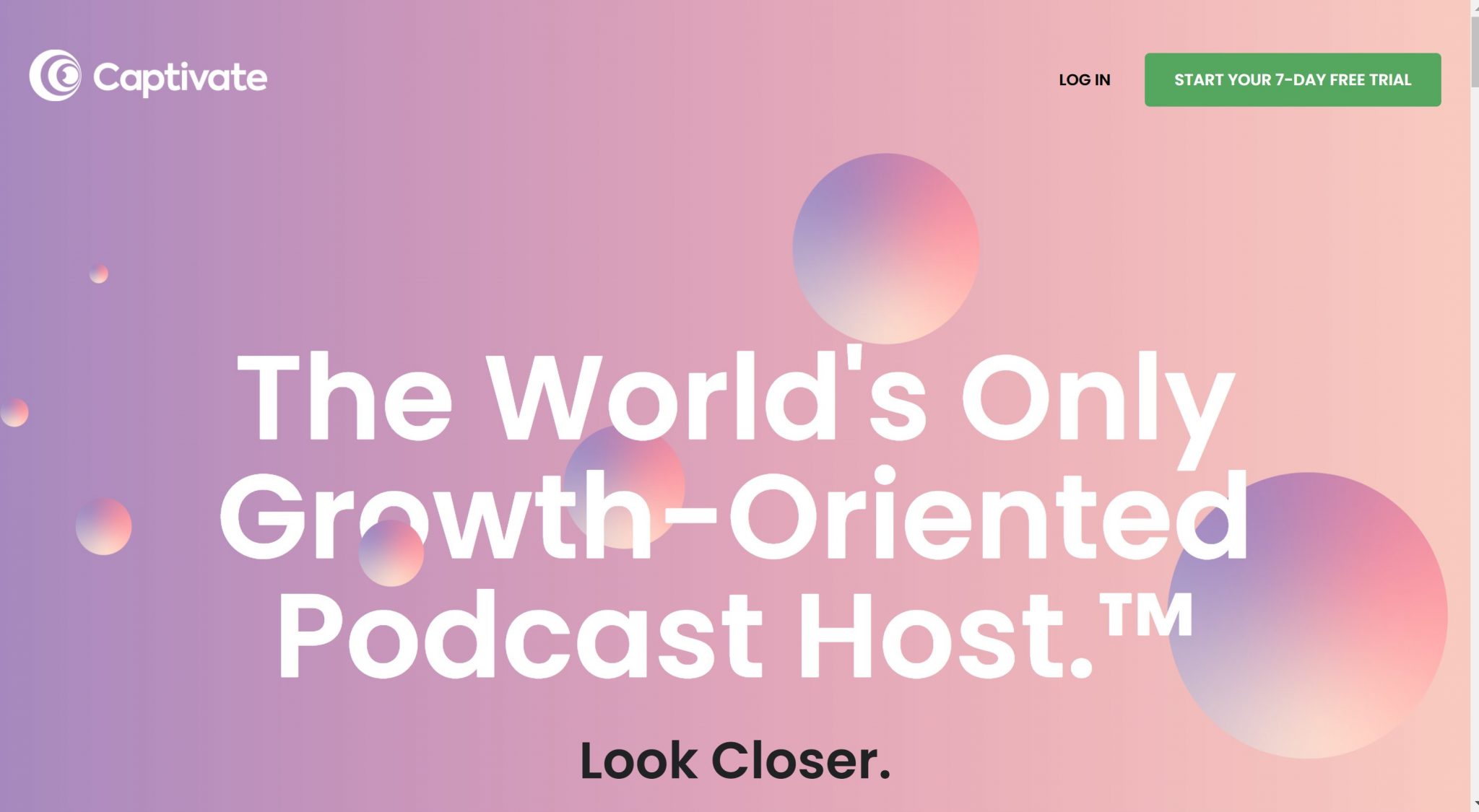 An extremely well-designed platform that will make everything very easier for you, if you are just adopting to podcasting.
Captivates lets you use two-way integration with your existing WordPress website via the simple Captivate Sync plugin. IT helps you with building teams and option to create multiple podcast that will be an attractive feature to some.
Captivate might look newer to many but the working team behind it are industry heavyweights. Captivate team knows the space inside out and that Captivate ended up becoming one of the best podcast hosting go to's there when it launched back in 2019.
Pros- 
Superb-looking player

No changes made to files

Very easy to use
Cons- 
Costlier than other competitors
6. Spreaker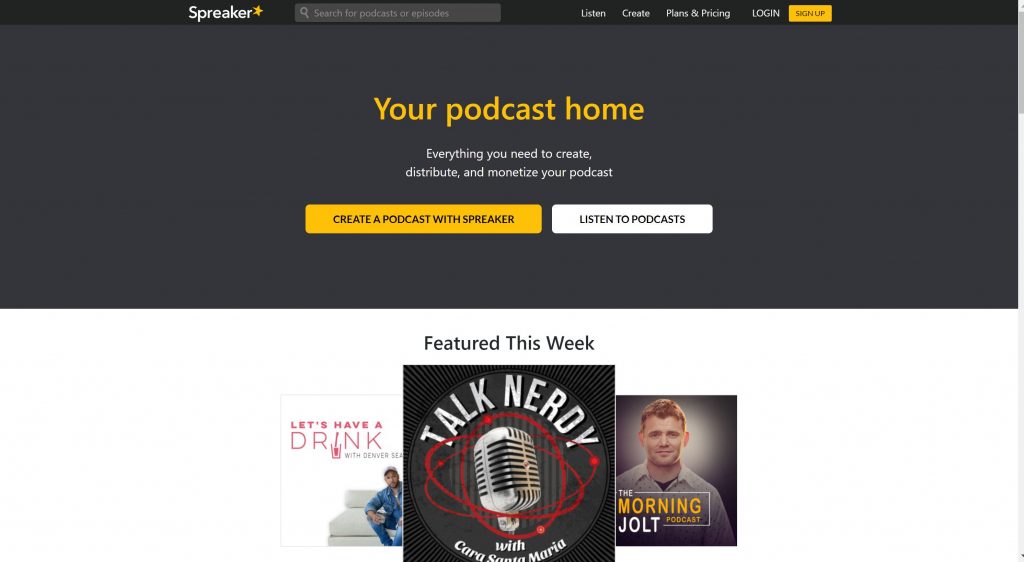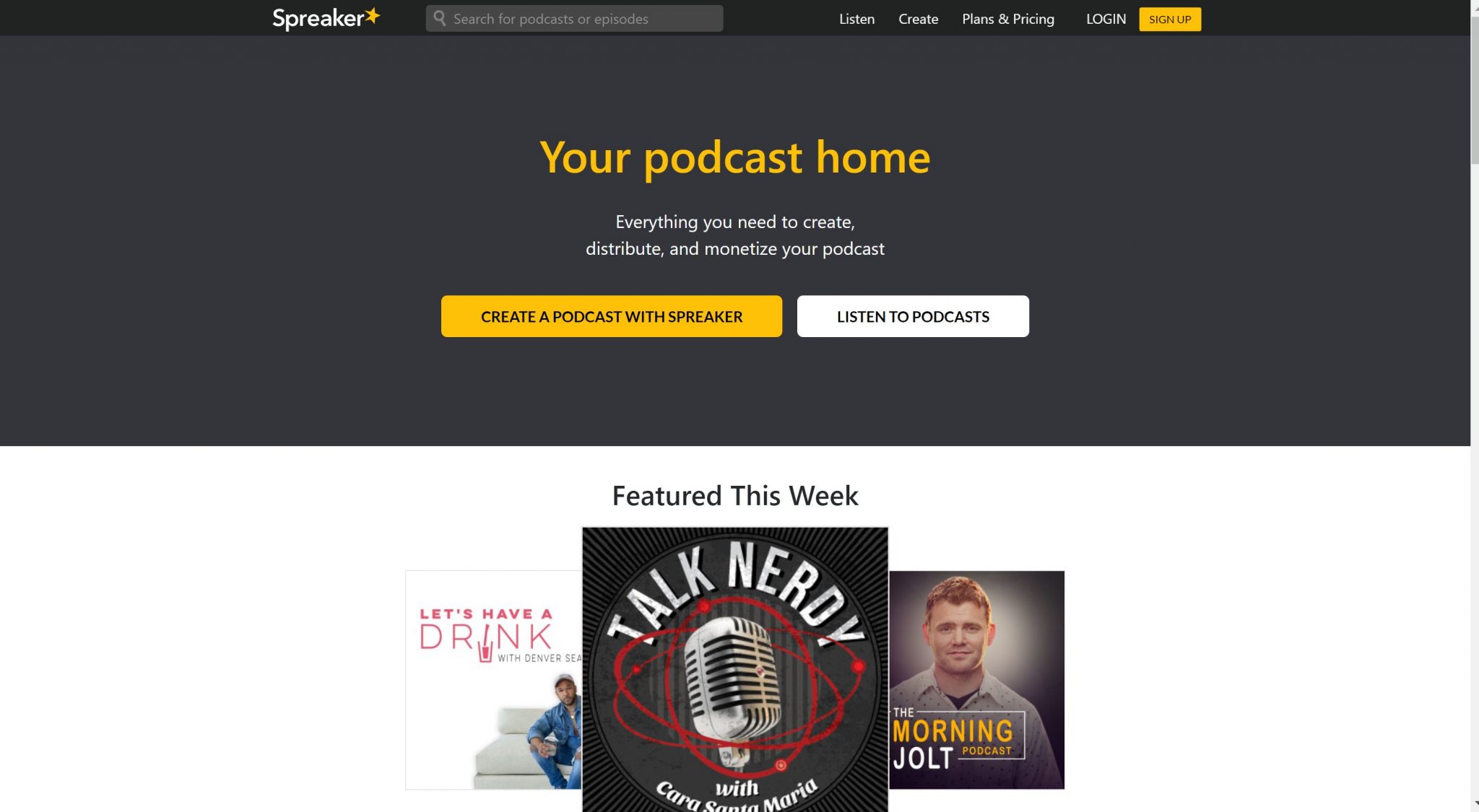 Spreaker is extremely user friendly podcast platform when comes to uploading and sharing podcasts to a larger audience and community and many platforms simultaneously.
Spreaker was built up to be a mobile-focused podcast site, with its speaker studio available for both mobile and desktop.
This free podcast hosting site has a basic plan which is pretty limited. It only gives you 5 hours of storage with a single session allowance of 15 minutes. The need for upgradation arises, when you show/content cannot survive for long enough. Once you upgrade you will get to choose from their three plans if you need more storage and unlimited streaming.
Pros– 
Live broadcasting

Option to chat with listeners

Complete integration with speaker studio
Cons-
Stats are tiered though depends on the plan
7. Fusebox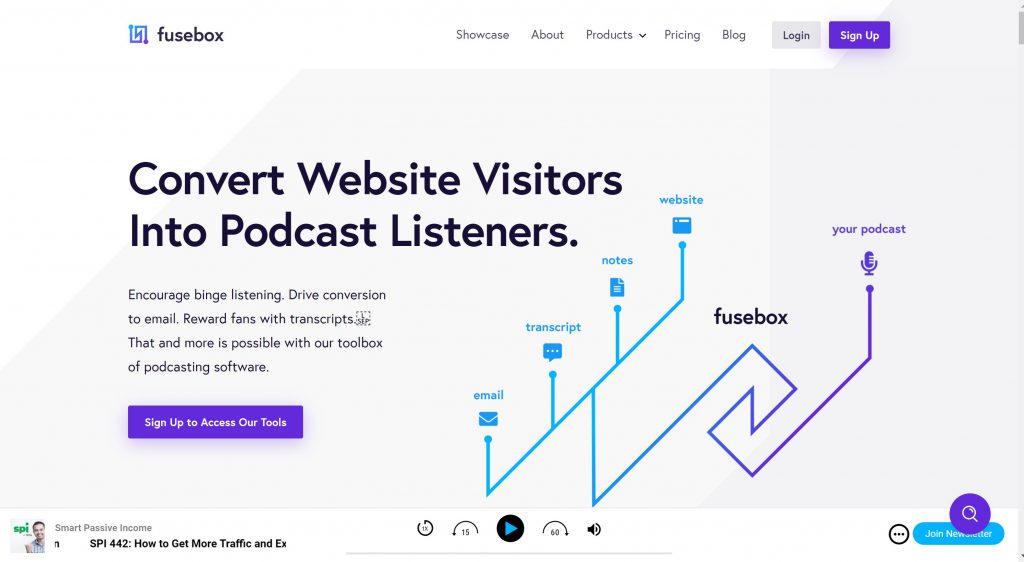 Fusebox has the most advanced options to have your podcast grow bigger by constant engaging audience and simultaneously giving you the opportunity to grow your audience base bigger.
With FuseBox Notes transcript, you can reach out to those who are not podcast listeners and are rather fond of reading.
Fusebox is a plugin that will transform the visitors on your website into listeners on your podcast. IT helps you with building teams and option to create multiple podcast that will be an attractive feature to some.
Pros- 
Three in one player

Powerful transcription plugin

Good options for social sharing and download

Customizable front end
Cons-
Free version has basic functionalities
8. Libsyn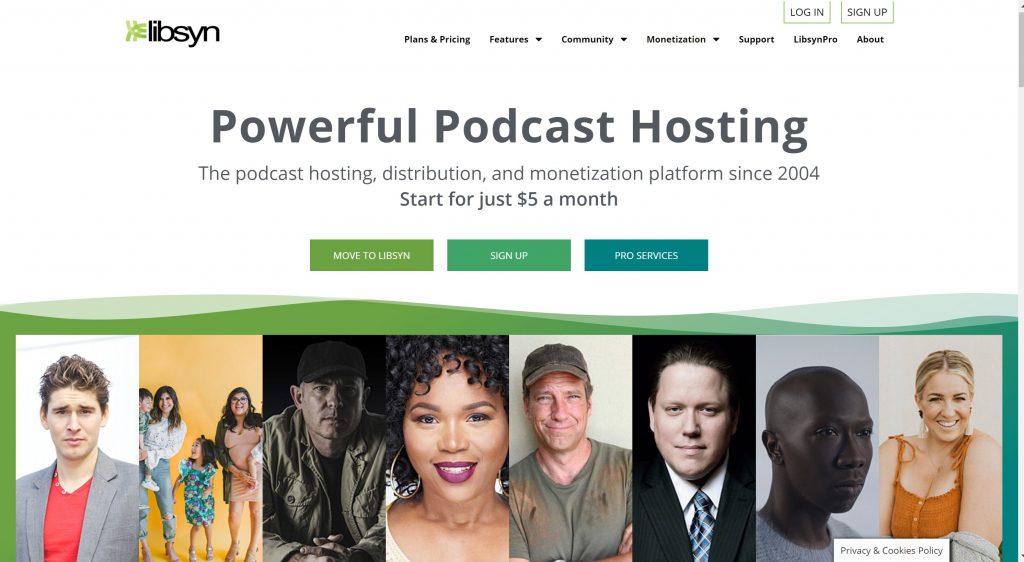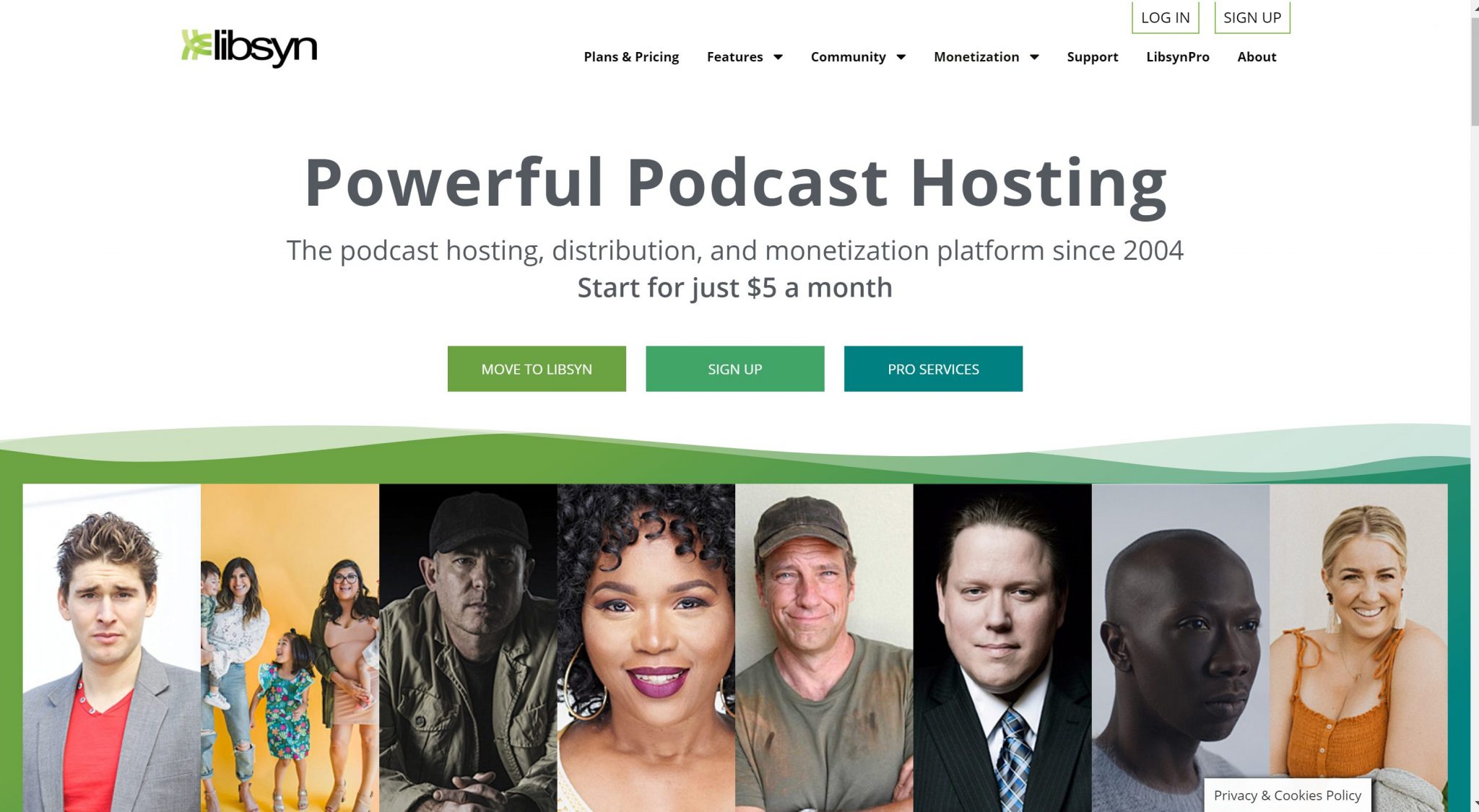 Libsyn is a free podcast hosting platform and one of the biggest, oldest and most famous podcast hosting platforms in the world. This podcast hosting platform is the place industry heavyweights like Marc 
Maron and Adam Carolla- along with 50,000 other podcasters- choose to host their show. 
 With this podcast hosting site, you can publish to any day/time in the future to the minute to each director or independently. Their detailed analysis will give you detailed insights regarding your podcast shows/ content performances.
Pros– 
Easy change of plans

Promotion through multiple platforms

Good reputation
Cons-
9. Blubrry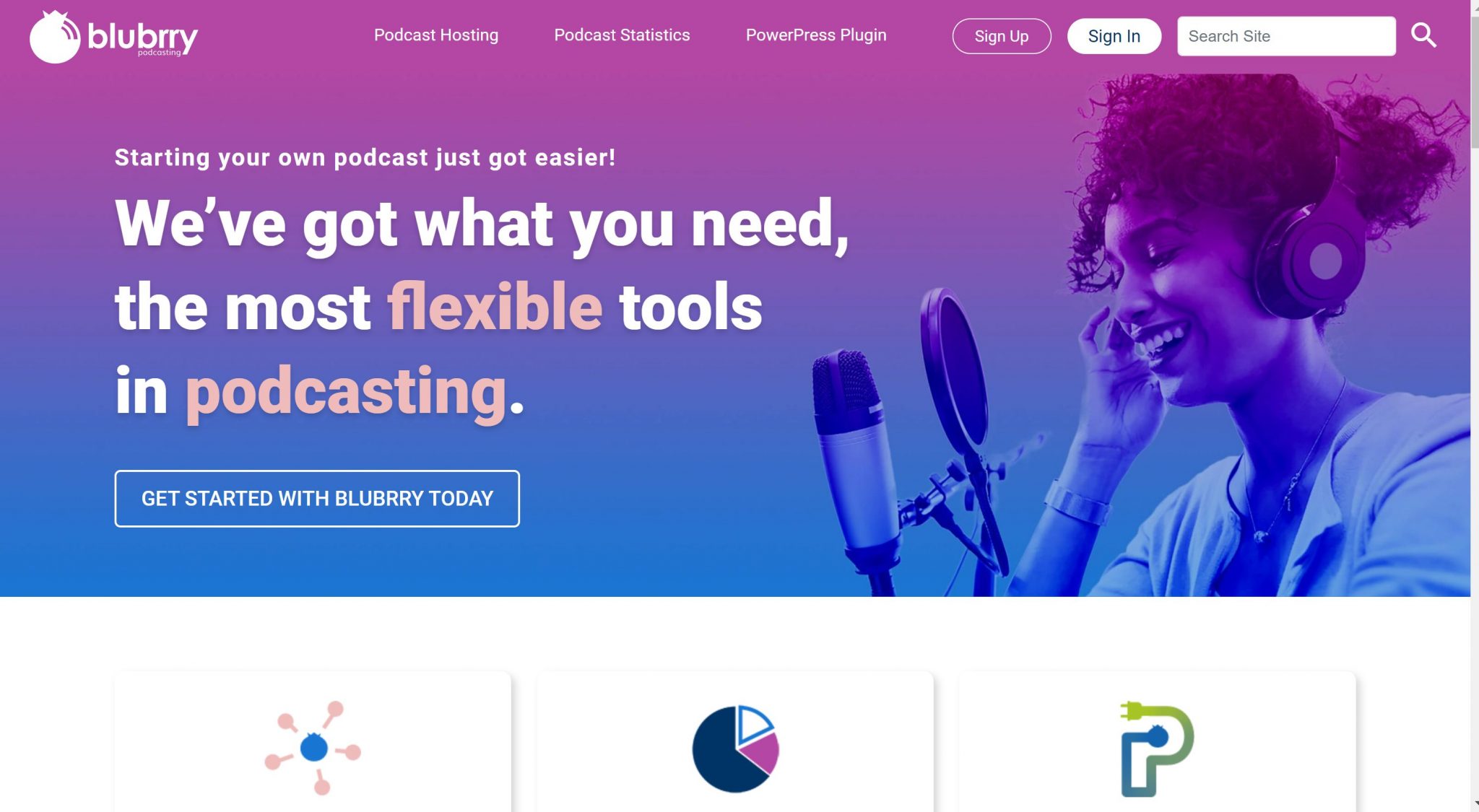 Blubrry is another podcasting hosting platform that is built up by podcasters for podcasters. Blubry hosting has good mentionable features – like, WordPress integration and good professional statistics.
This podcast host will help podcasters of all levels by storing and publishing their podcast files with ease, as well have them optimizable using a good range of tools.
There some good podcast hosts out in the market with equally big names but Blubrry stands out mainly thanks to its nifty WordPress plugin called Powerpress. 
Other than these, Blubrry allows you to upload podcasts directly from the WordPress dashboard without having to log in to the Blubrry one.  
Pros- 
Unlimited bandwidth

Edit and replace old content
Cons-
Overwhelming stats

Can be complex for non WordPress users
10. Podcast websites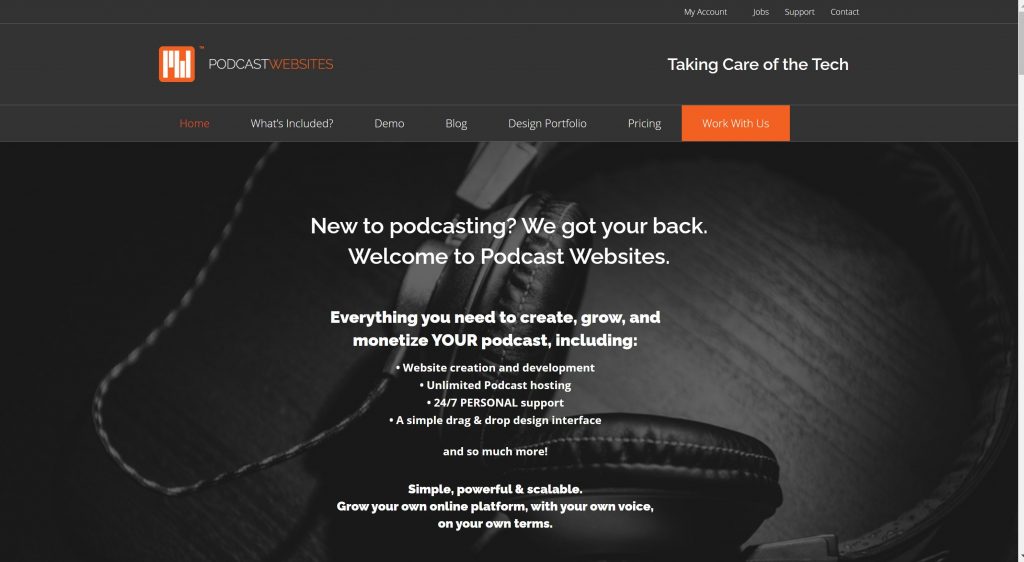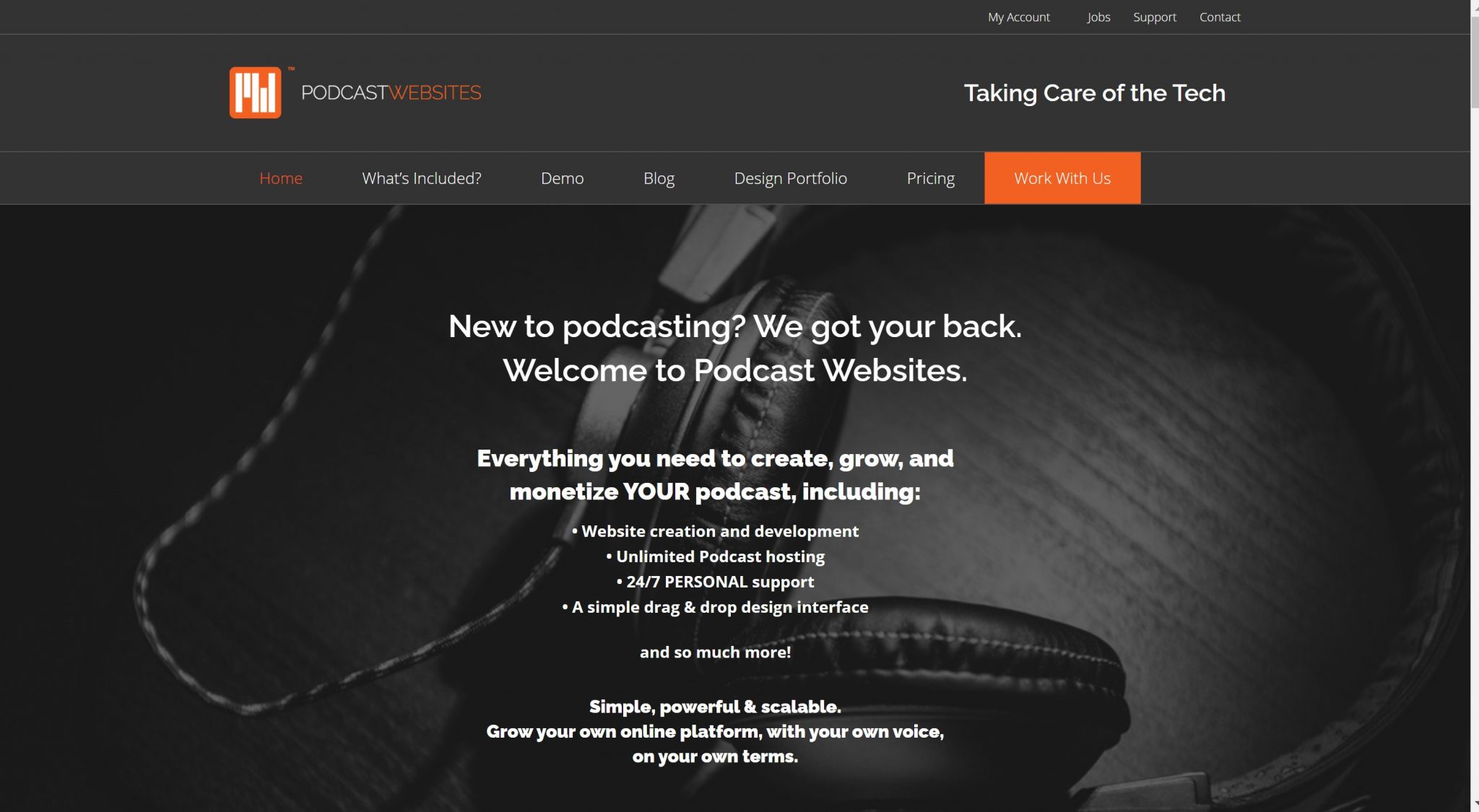 Podcast websites will work for podcasters that are looking for a new experience with podcasting, i.e. if you want to give a new look, that is modern and sophisticated then to rather have your podcast over to outdated looking websites choose podcast websites. It has WordPress plugin which makes it more appealing and fluent. 
Podcast websites has built-in integration for proving a podcaster with services such as Aweber and MailChimp to help you grow their, mailing lists. 
Pros-
Versatile podcast player

Grows subscribers effectively

Offers training

straightforward
Cons-
11. Fireside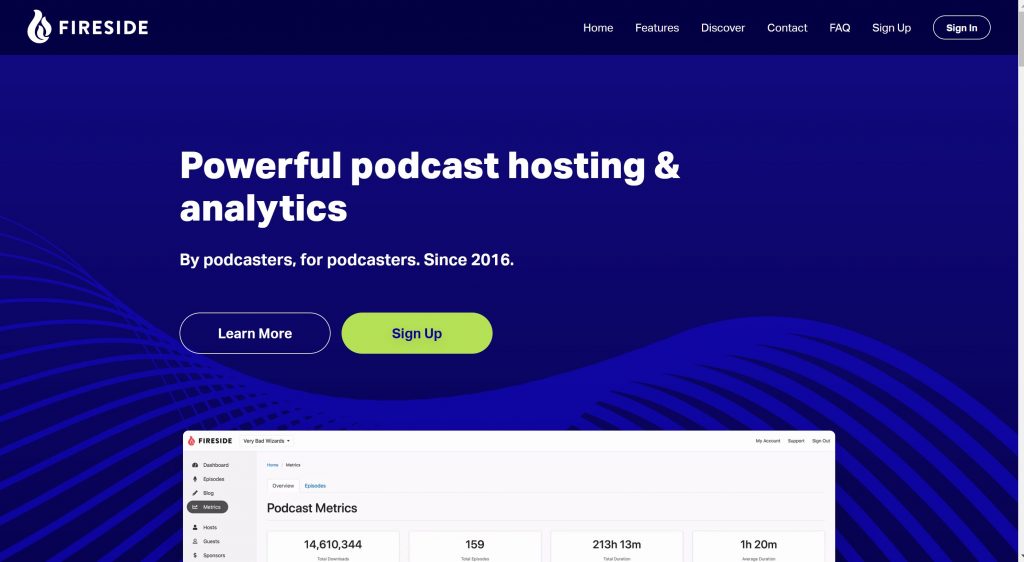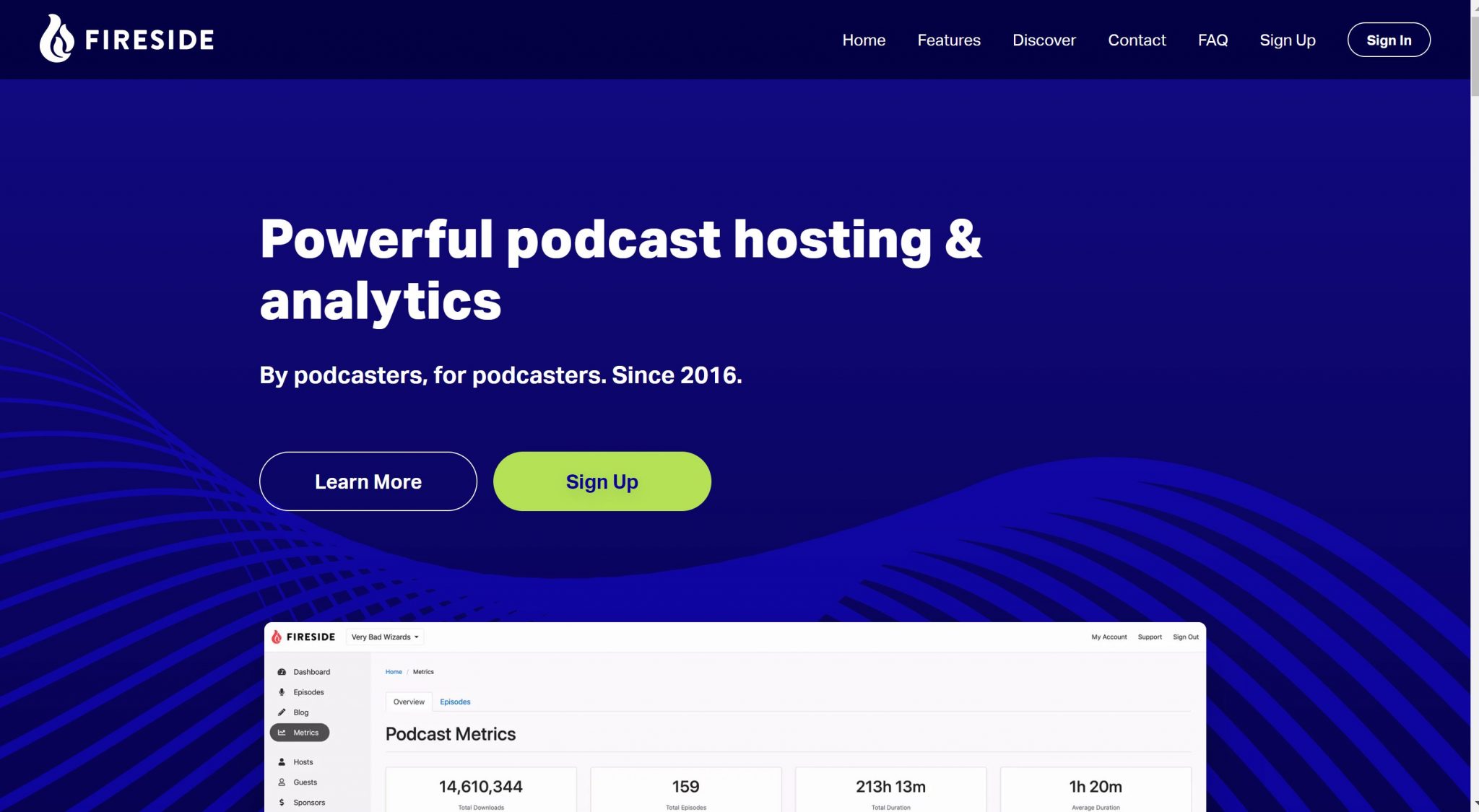 Fireside podcast hosting platform is built and managed by podcasters for podcasters. If you join this hosting platform, it will give you unlimited episodes and downloads right after joining.
Fireside is quite different from other podcast hosting sites, it has an interesting features hat is customizable website with an attached blog, detailed analytics. It also gives you a player that can be embedded anywhere.
It has multiple beneficial tools for sharing stats with sponsors, collaborators, and scheduled publishing.
Pros- 
Simpler user interface

Multiple tools

Unlimited subscription
Cons-
New platform

Not many communities
12. Audioboom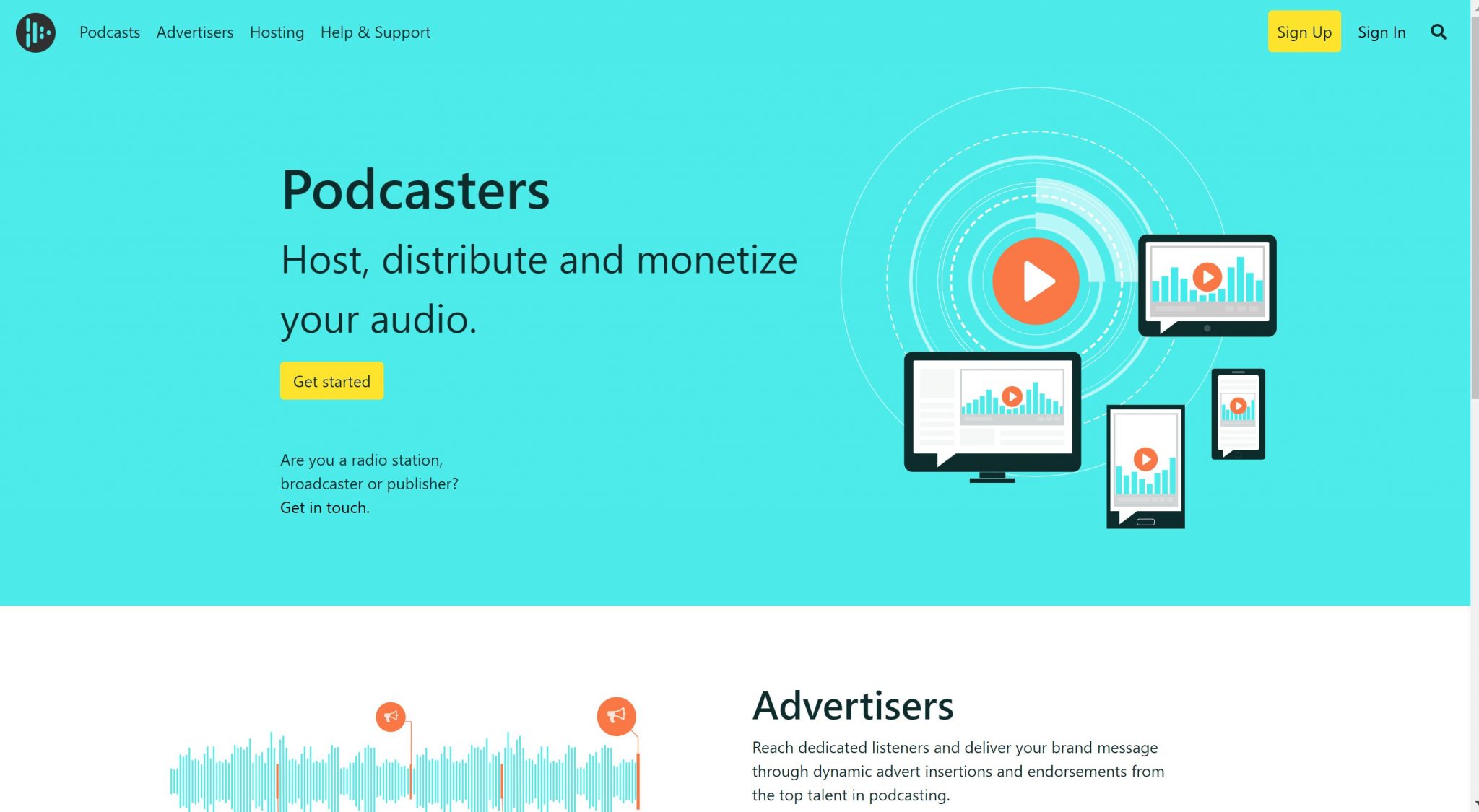 Audioboom is best for podcasters that not only want to put out their content but also advertise and market it. This podcast platform will give you an excellent hosting solution and platform to connect with advertising.
This podcast site would help you distribute your podcast episodes to the largest directories. And adding a responsive embeddable player so that you can access it anywhere you want.
Their detailed analysis will give you detailed insights regarding your podcast shows/ content performances.
If you have a business, or a well-accomplished positioning and good following, Audioboom is best for you, it will give you a larger volume of listeners and subscribers so you can get access to the advertising partnerships, contributor accounts, sponsorships, sales service, and more.
Pros– 
Large community

Option for advertising

Will get you good volume of listeners
Cons- 
Not preferable for newbies
13. SoundCloud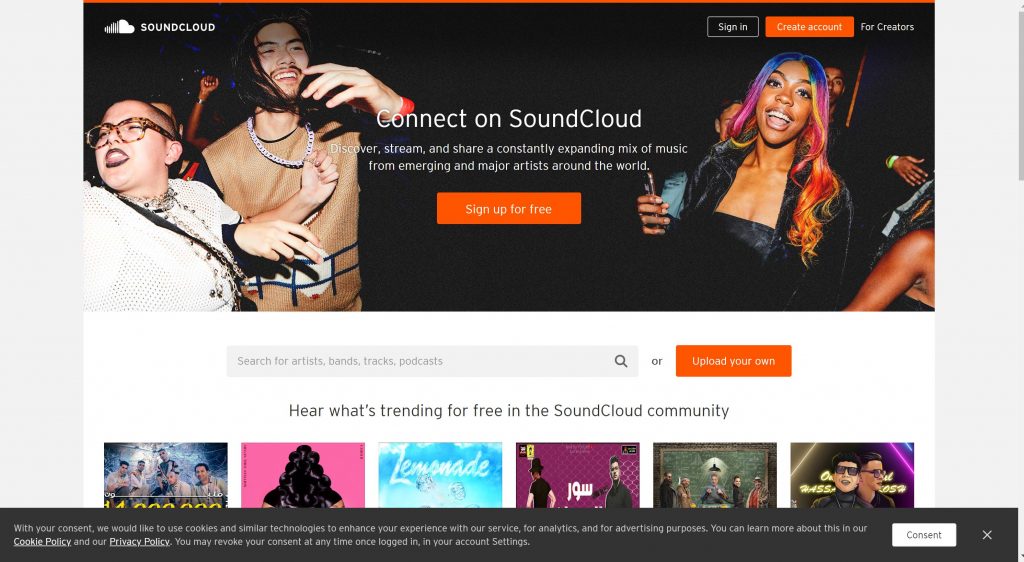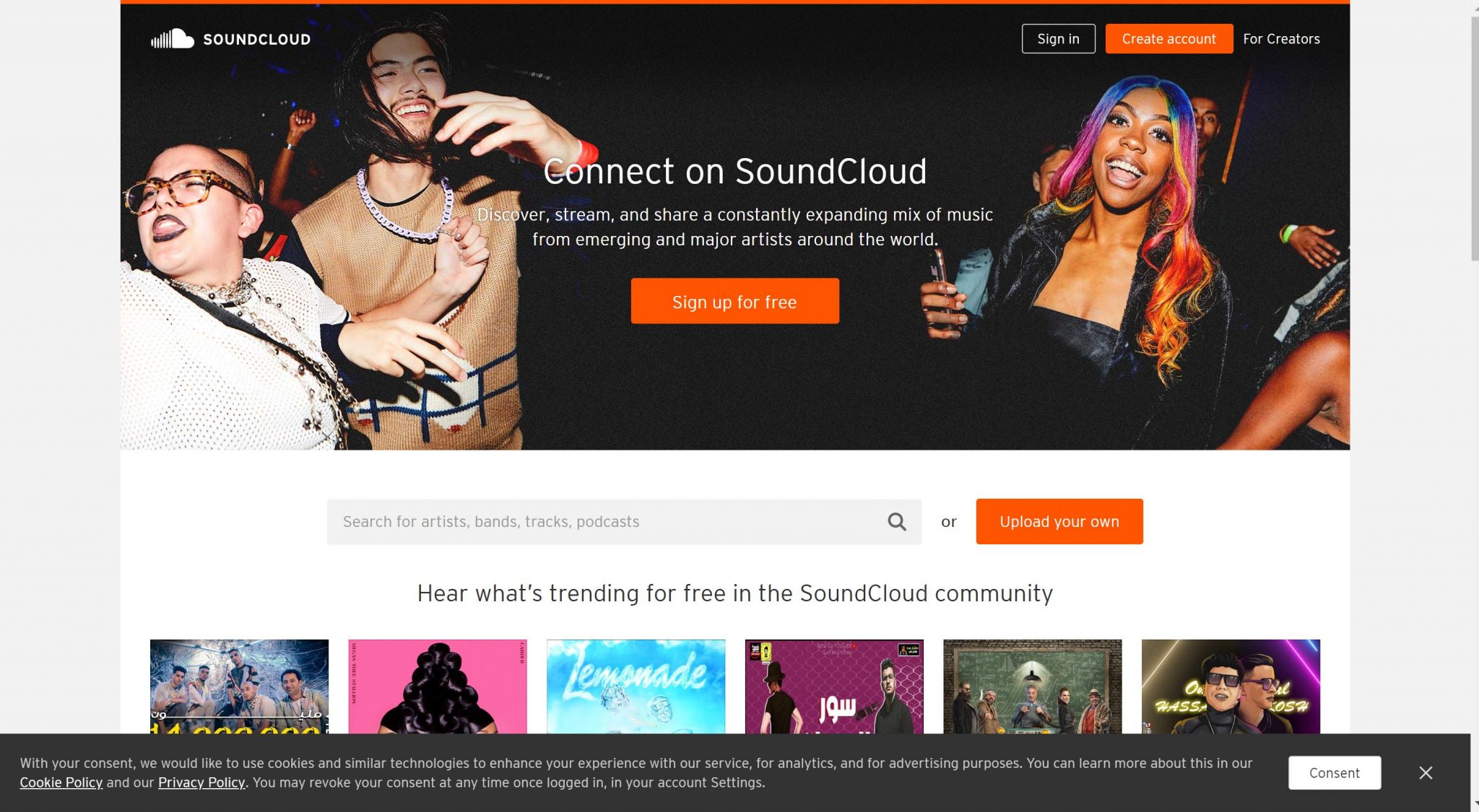 This podcast hosting platform is amongst the most popular music hosting platform that has gigantic communities and following, for this reason, many people choose to use this website as their podcast hosting platform.
With users in million, the site is pretty outdated. Soundcloud's hosting services will get you access to their embedded players, and timed comments.
While it is free with limited features, but a pro and premium will unlock advanced features for you, like, unlimited upload time, scheduled releases, embed controls etc.
If you want to be seen quicker, use the abilities of SoundCloud to make yourself discovered organically on the Soundcloud website.
Over this podcast hosting site people can subscribe to you for more podcasts and shows. Over SoundCloud, only the pro plan will give you the benefits of detailed analytics, scheduled releases, and removal of public stats.
Pros-
Affordable, pricing plans

Easy embeds

Gets you traffic from a large community
Cons-
Conclusion:
That's it. This was our list of the best podcast hosting sites to host your first podcast. When choosing it, keep in mind the essential features, pricing and if it is worth for you.
Try to upload as much content that is needed and it should also be compliant. Besides this, the Podcast platform should be able to give analytics for it.
Most of these companies work by distributing the content at the right place and help you boost the podcast journey.
Also Read: