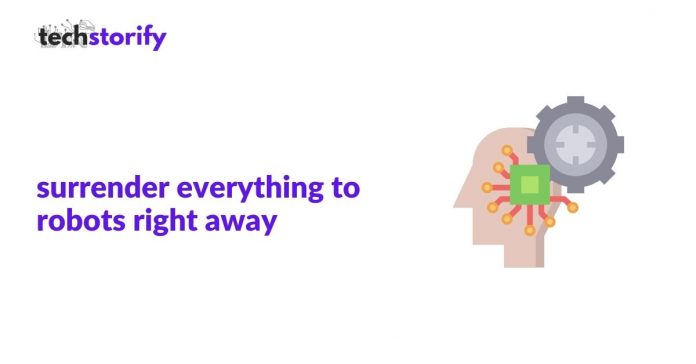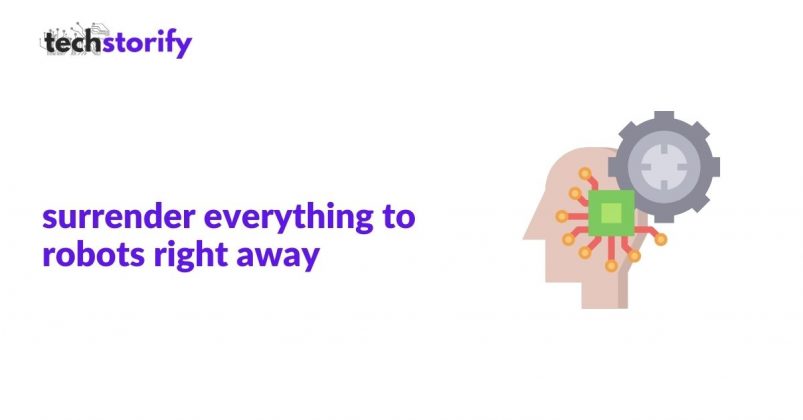 The human mind is logical and easily gets bored by a certain repetitive process. Therefore, it ends up making silly mistakes. Thanks to technology, we have Robotic Process Automation. It is an automation process that can easily help you to overcome these common problems.
What is Robotic Process Automation
Robotic process automation is a process of performing a bundle of commands by bots. You can use certain types of commands depends on your business activities. Also, you can run Robotic process automation on the user's system using RPA software or tool.
Robotic process automation is a powerful and innovative way to remove these ninny mistakes from your production workflow. Certainly, a robot can complete tasks with 100% accuracy and much faster than a human being. Therefore, you can save lots of time, energy, and money by applying robotic process automation to your business work.
Moreover, look out the quote we took from Forrester's report:-
the RPA market, while only $250 million in 2016, will grow to $2.9 billion in 2021. Adding AI to RPA will free it from an exclusive focus on rote tasks. AI will account for an increasing portion of the digital workforce, and in the end, RPA will be a small fraction of the overall AI "cubicle" market spend.
In short, if you want to make a certain growth to your business by doing smart work, an RPA tool is definitely a must-have.
Things to Consider Before Buying an RPA Software
Now, you'll see dozens of companies with their RPA tools. However, if you're a total newbie to this automation process, you'll easily get confused by it. And, you might end up purchasing the wrong product. So here are some tips for you that can help you to choose the perfect RPA software:-
1. Easy to use UI:
You might have some employees from a developer background who know programming languages. Still, you have to choose an RPA tool with a user-friendly UI. It should have a well-detailed and graphical dashboard to know what is happening all around the process. Also, a drag and drop feature can help you to add/remove the activities from the dashboard screen.
2. Reliability: 
You'll automate dozens of if not hundreds of tasks through the RPA tool. And, if something happens with your chosen software it should inform you ASAP through analytics, dashboard activities, or via sending you notifications. So you'll get peace of mind even when you're not in front of a computer screen.
3. Speed:
We're choosing RPA software to simplify and speed up our workflow. So a fine speed of an RPA tool should be one of the first priorities. Therefore, choose an RPA tool that is able to execute the running or a new task in an ideal amount of time.
4. High-grade security:
You can also call it as enterprise-class security. It is an RPA solution that provides you a high grade of security. And, it should have security essential features such as encryption supported communications, secure storage to save your important data such as user's details, and other necessary user management controls.
5. Training or Support:
Setting up Robotic process automation could be a little tricky. And it can be difficult if you never used an RPA tool before. Therefore, you can choose RPA software that comes with a bundle of training resources. It could be a video library, tutorials, guides, and pre-recorded sessions. Also, it'll be great, if your chosen RPA tool has quality technical support. To clarify, it could also happen that you won't understand the process by watching videos and reading how-to guides. At that time you can contact technical support to arrange one to one demo to understand better.
10 Best Robotic Process Automation Tools
Now you know the important tips to buy a Robotic Automation tool. Still, you have to do research to find the perfect RPA tool for your business. And for a newbie, this is still confusing and a hectic task.
Techstorify noticed this problem and come up with this post. In this post, you'll get a list of the 10 best robotic process automation tools. You can definitely consider this software to buy in 2020 according to your business needs.
So let's check it out one by one.
1. Blue Prism- Overall Best for Robotic Process Automation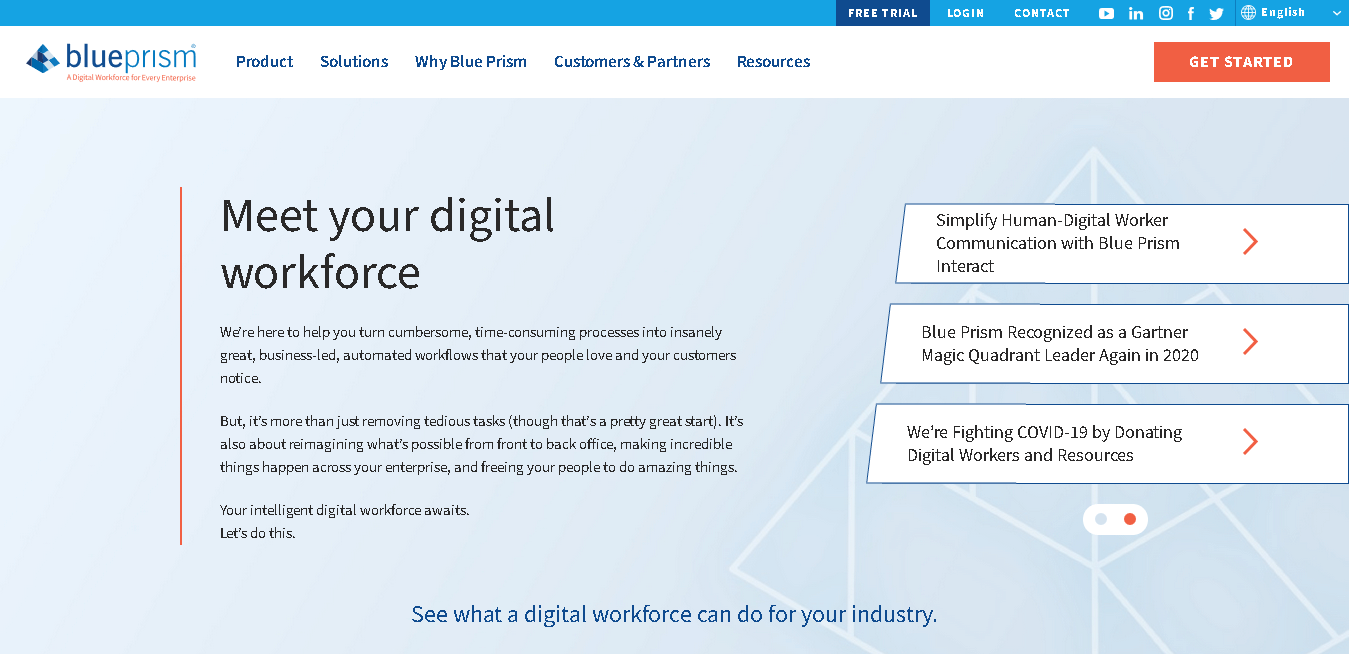 Blue Prism is the starting point of RPA because it invented the term RPA. It's a Microsoft.net framework product and supports all the major applications. American IT research was the first one to recognized Blue Prism. And, it's mainly focused on users who know the programming languages. So, it would be difficult to use for newbies. However, if we talk about the capabilities, it's the best RPA software for medium, mid-large, and large industries.
You can contact the sales team to know the pricing. However, according to some publications, it costs around $ 15000 to $ 18000 annually. Still, it could vary from different aspects. Also, you can get a free trial for 30 days with 1 digital worker and up to 15 processes
Key Features:
Supports a multi-environment deployment model.
Accessible on the multi-platforms.
Deliver a 24/7 intelligent digital workforce.
Integrate perfectly with any application.
Advanced AI, and intelligent automation.
Fast and reliable.
2. UiPath – Robotic Process Automation Without any Cost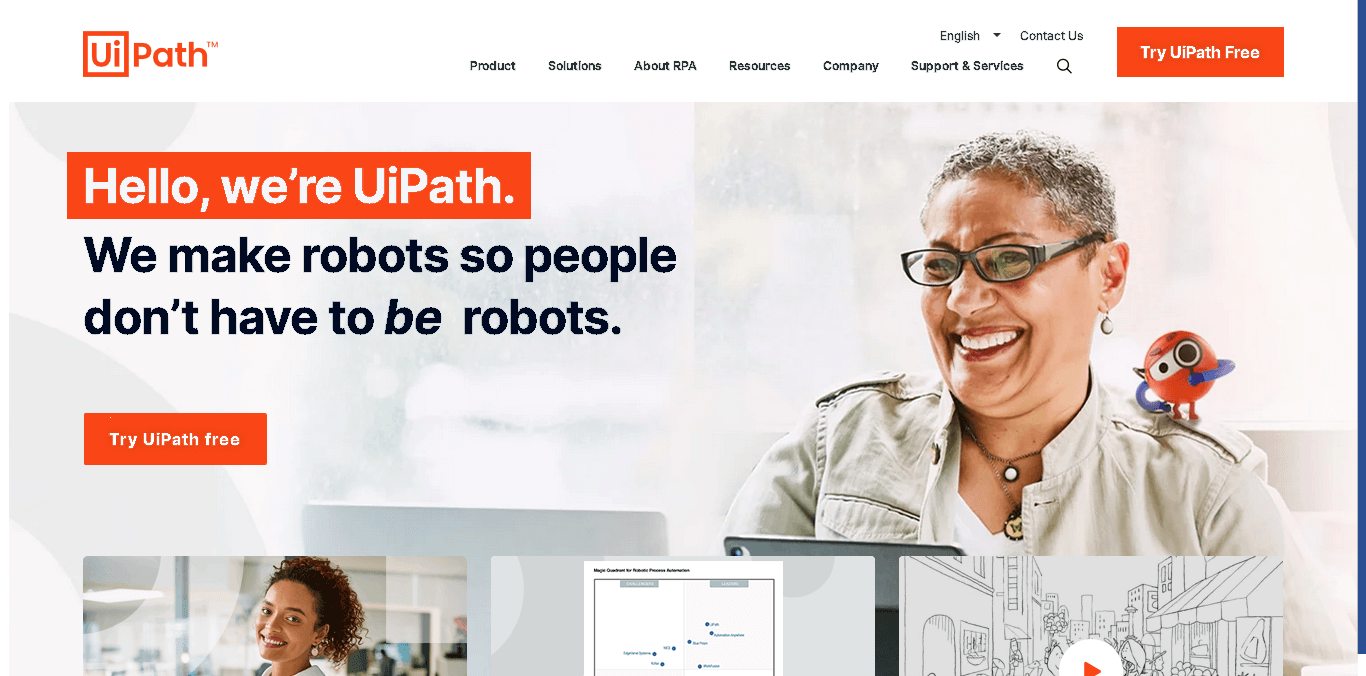 UiPath is a New York located company founded in 2005. With a revenue of 5.4 million, it's one of the well known and best software in the RPA industry. Further, lots of big industries such as SAP, J.P.Morgan, Accenture, BBC, etc are already working with UiPath.
Most importantly, it comes without any cost and free forever. Therefore, you have to do is visit here, and sign-up through Linkedin, Gmail, Microsoft, and E-mail.
UiPath is not alone but comes with 3 RPA tools as below:
UiPath Studio
Front Office and Back Office — UiPath Robots
UiPath Orchestrator
Key Features:
It comes with a drag and drop capability.
User-friendly and easy to use.
More than 200 components to work right away.
Supports encryption, and secure credentials management.
Fast, cost-effective, and

streamlined process.

You don't have to learn programming languages to run it.
3. Automation Anywhere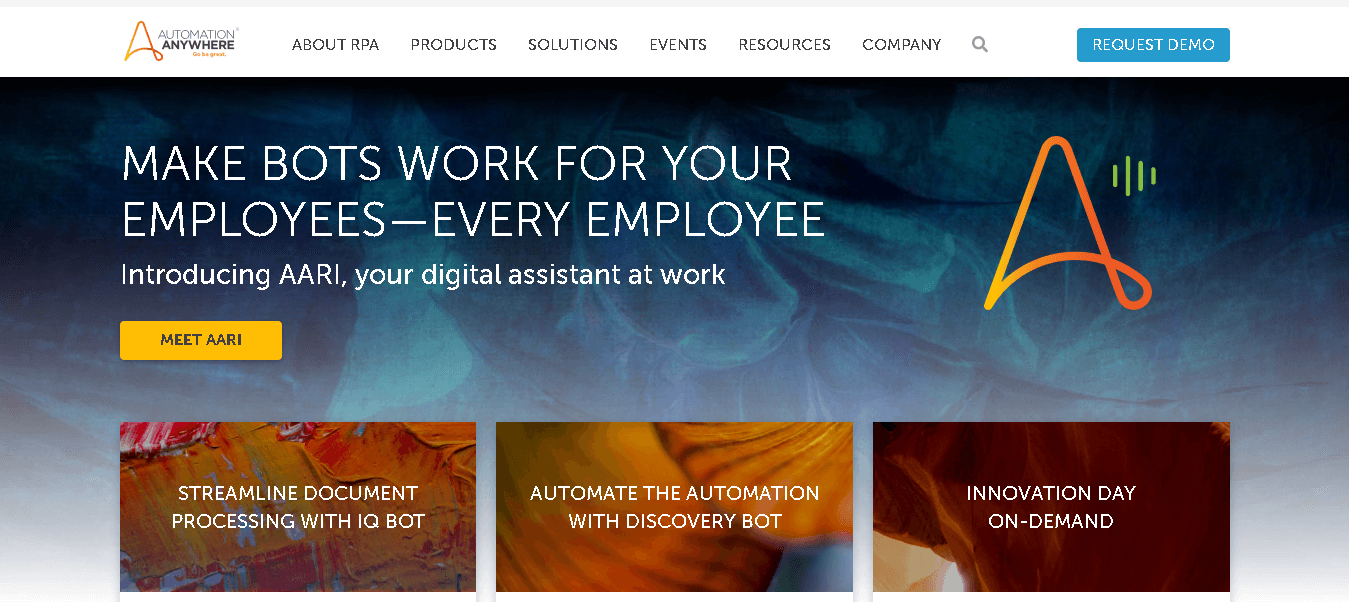 Automation Anywhere is another best Robotic Process Automation software in the RPA industry. It's based in California, USA. And helps you to automate your tasks in an easy way. It is also featured in companies like Infosys, Accenture, Deloitte, and many more.
Also, according to their website the Sprint Corporation used this RPA software. Moreover, by using this software they save over 20,000 hours. And they were able to do that in just six months by developing 50 different automation.
Likewise, Automation Anywhere comes with two pricing tiers: Cloud Starter pack and Advanced pack. Cloud starter pack costs you $750/month and $9000/annual. To buy the Advanced pack, you can contact the sales team. Moreover, you can also get a free trial to test it before making a transaction.
Key Features:
Supports High-grade security.
Check automation reports and analytics in real-time.
Authentication and encryption supported work system.
Access from a mobile app.
Pre-built bots and digital workers.
descriptive and actionable business insight.
4. Pega – Best Cloud-Based RPA to Robotic Process Automation

Pega is an RPA tool that provides a cloud-based solution to automate your work process. It's a well-known business management product to industries like Insurance, Healthcare, Communications, and Government, etc. Certainly, you can use it on Windows, Linux, and Mac. Therefore, it is a perfect robotic process automation tool for medium and large industries.
Pega works great in categories of CRM applications and the BPM platform. Also, it has three products for particular kinds of business tasks:
Pega Customer Service.
Sales automation.
Pega Platform.
And, it comes with a starting price of $200 per month. Also, you can get a free trial of any of them by visiting official website.
Key Features:
Carries a cloud-based solution.
Helps you in the deployment of your solutions to the customers.
Doesn't store any credential details and critical data in its database.
Available on three major platforms- Mac, Linux, Windows.
Real-time interaction business management.
Well-detailed, and graphical analytics.
Faster and reliable.
5. KOFAX from Lexmark

Kofax is a highly flexible and reliable product which helps you to automation almost any kind of robotic activity. Alongside the RPA software, it has a Web Data Integration product called Kofax Kapow.
Moreover, it comes with features like desktop productivity, intelligent automation process, financial process automation. And that's why it becomes one of the best robotic process automation software to buy in 2020. You can contact the inquiry team by filling this form before buying it.
Key Features:
You can manage it centrally from a server.
The best tool to automate repetitive tasks.
Better support system.
A separate learning section to learn from scratch.
Allow integration with the Kapow Katalyst Platform.
PDF, OCR, and other document conversion solutions.
free learning resources in written, visual, and webinar format.
6. NICE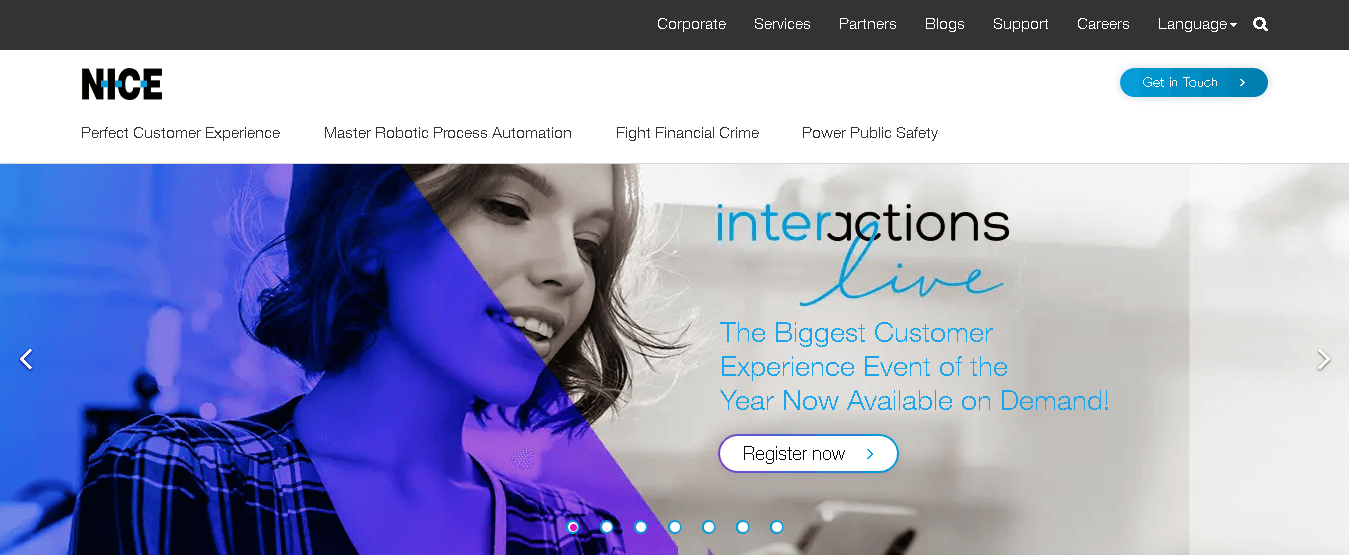 NICE is a leading Robotic Process Automation company that helps you master the Robotic automation process in a better way. Over 25,000 customers and more than 85 out of 100 companies using NICE.
It comes with a complete cloud-native platform that gives you a better customer experience than before. Also, fighting with cybercrime is one of the priorities of NICE. Moreover, you can read more about them in their free ebook named RPA Case Studies.
To know the pricing, you can visit the pricing page. After filling the form you will receive an email with an on-demand recording.
Key Features:
Supports attended and unattended server automation.
Automate repetitive tasks and Up-sell tasks.
Provide you Anti-money Laundry solutions.
Built for scale with security and stability.
Provides cloud-based and on-premise solutions.
Supports advanced monitoring and analytics
7. Softomotive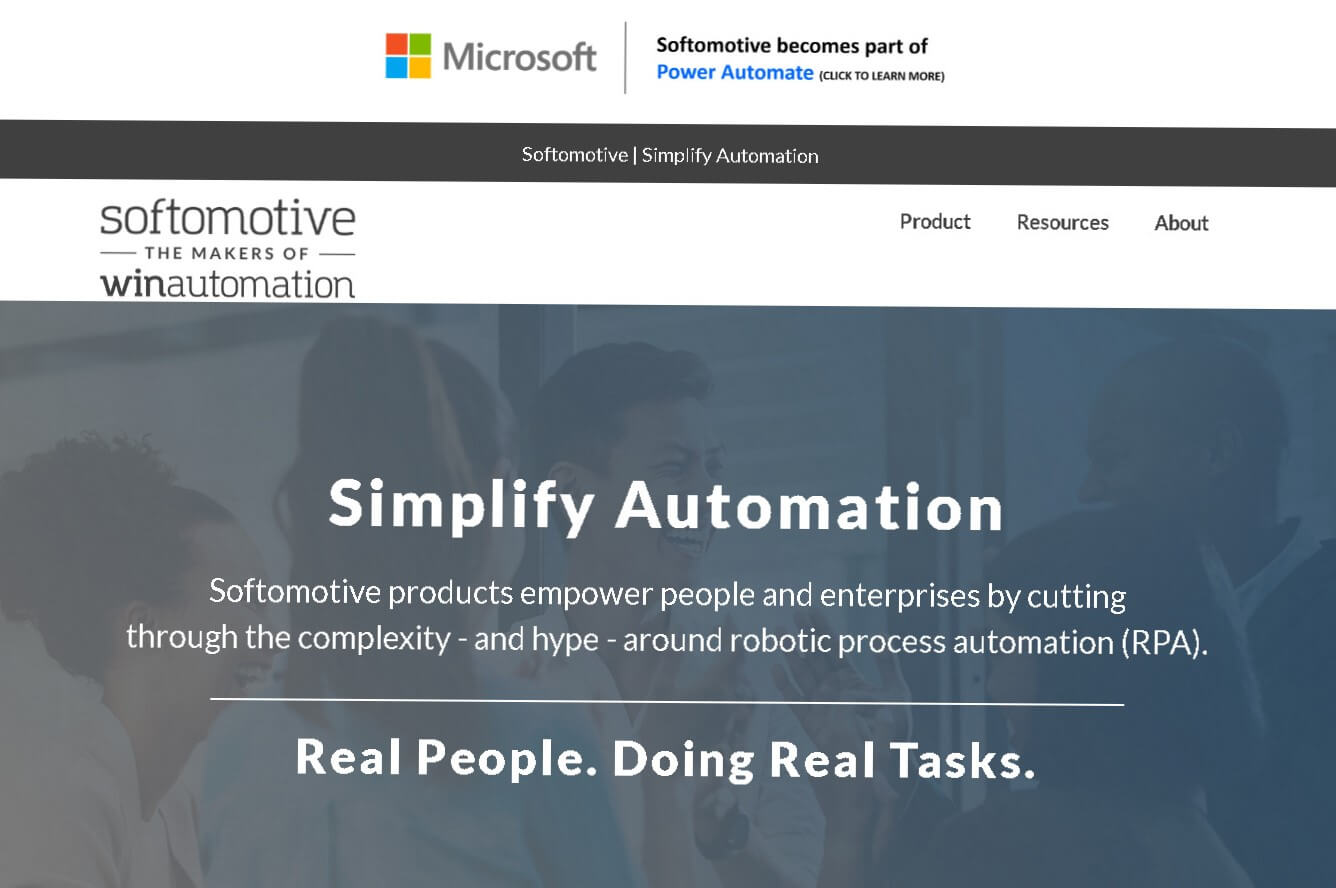 Softomotive is a Microsoft product which is easy to use, cost-effective, and comes with premium support. It provides you better and professional automation services as compared to other RPA software. For example, you can see the list of over 6000 companies such as IBM, Adobe, Xerox, Cognizant, etc.
Softmotive Robotic Process Automation comes with two different versions- Enterprise Automation and Desktop automation. Enterprise automation helps you to grow your business by increasing productivity and performance it. On the other hand, you can use  Desktop automation if you just started a business.
Key Features:
Supports integration with essential business software such as Salesforce.
Make robotic process automation (RPA) much easier.
Exceptional technical support.
Supported by SQL Server and .NET.
Better automation management system.
Best RPA for Enterprises.
8. Inflectra Rapise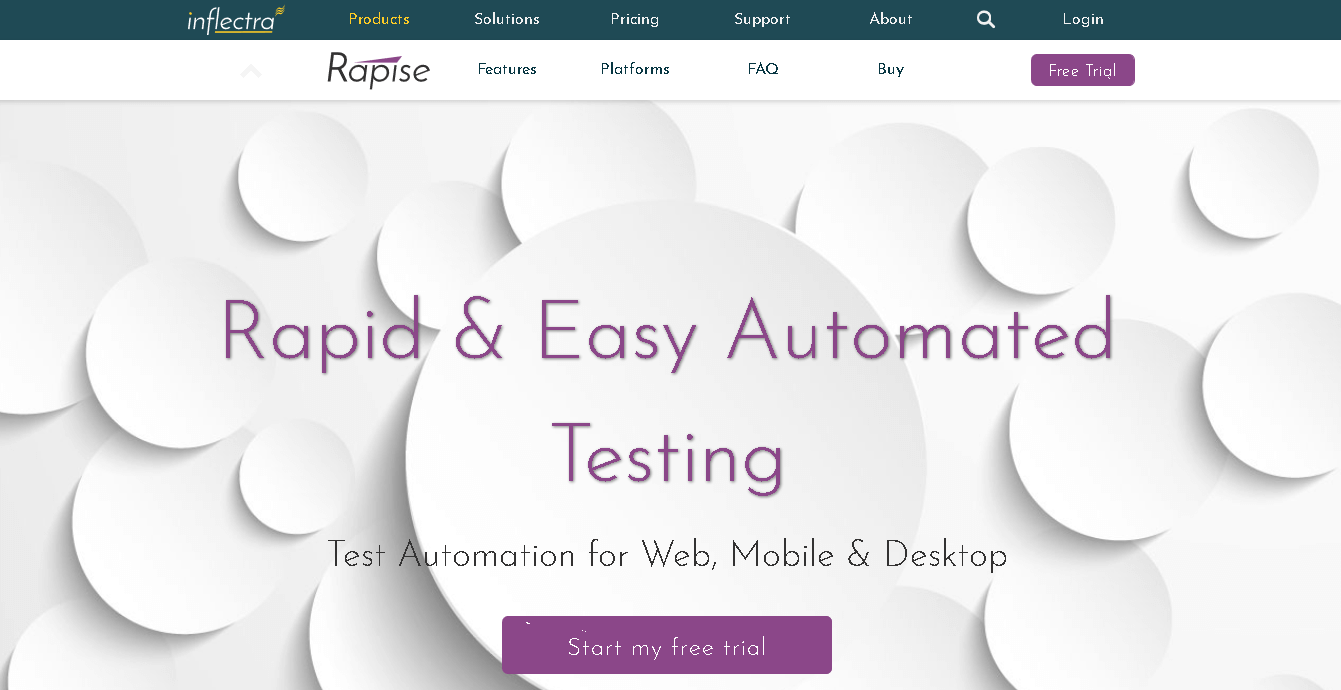 If you're looking for Robotic Process Automation to automate Web, Desktop, and Mobile applications, look no further. With scriptless automation, you can record once, and playback automation in a browser. Also, during recording, the live validation process makes it easier and straight forward.
You can use it to create a Robotic Process Automation, no matter if you know to code or not. Therefore it is one of the best RPA software for small and medium organizations.
It comes with a price tag of $1,599 for a single developer license. It offers you unlimited execution agents; Unlimited support and free upgrades for 1 year from purchase.
Key Features:
Support automatically record and playback feature.
Web and screen scraping.
Supports REST and SOAP calls.
Integrate better with Microsoft Dynamics applications.
Works better with any size of the automation project.
Keyword and data-driven testing.
User-friendly and comes with lots of learning resources.
9) Kryon – Robotic Process Automation with Three Versions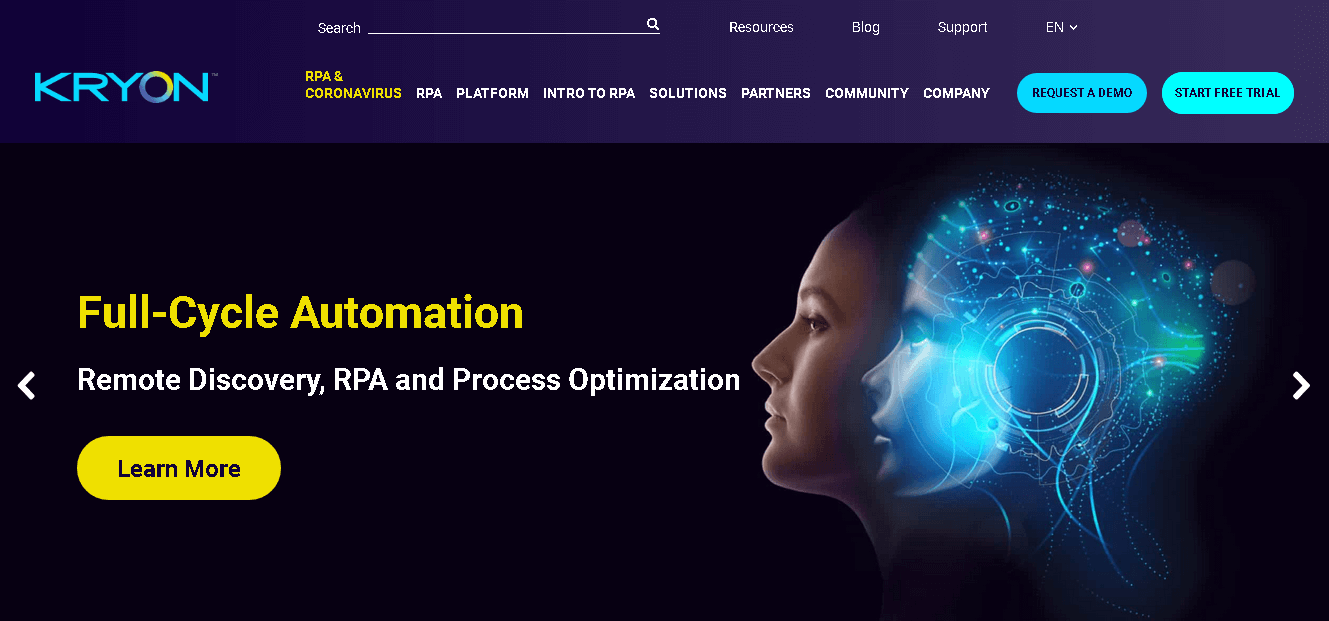 Kryon RPA is a Robotic Process Automation process with three solutions- Attended, Unattended, and Hybrid. Every tool has its own pros. For instance, the attended tool can speed up your work efficiency without losing accuracy. An unattended solution is able to make decisions. And, Hybrid automation tool is a fusion of both attended and unattended automation.
Kryon RPA comes with two pricing tiers- for Individual developers and for Enterprises. People who just started a business can go for the first plan. On the other hand, big enterprises can choose the second one. You can fill the form to contact the inquiry team and know the price. Meanwhile, both plans come with a free trial.
Key Features:
Provides a different version of automation.
Direct deployment to RPA in a single platform.
Provides you an analytics dashboard.
It is a scalable and user-friendly system.
A full cycle automation program.
Helps you to increase productivity.
10. Contextor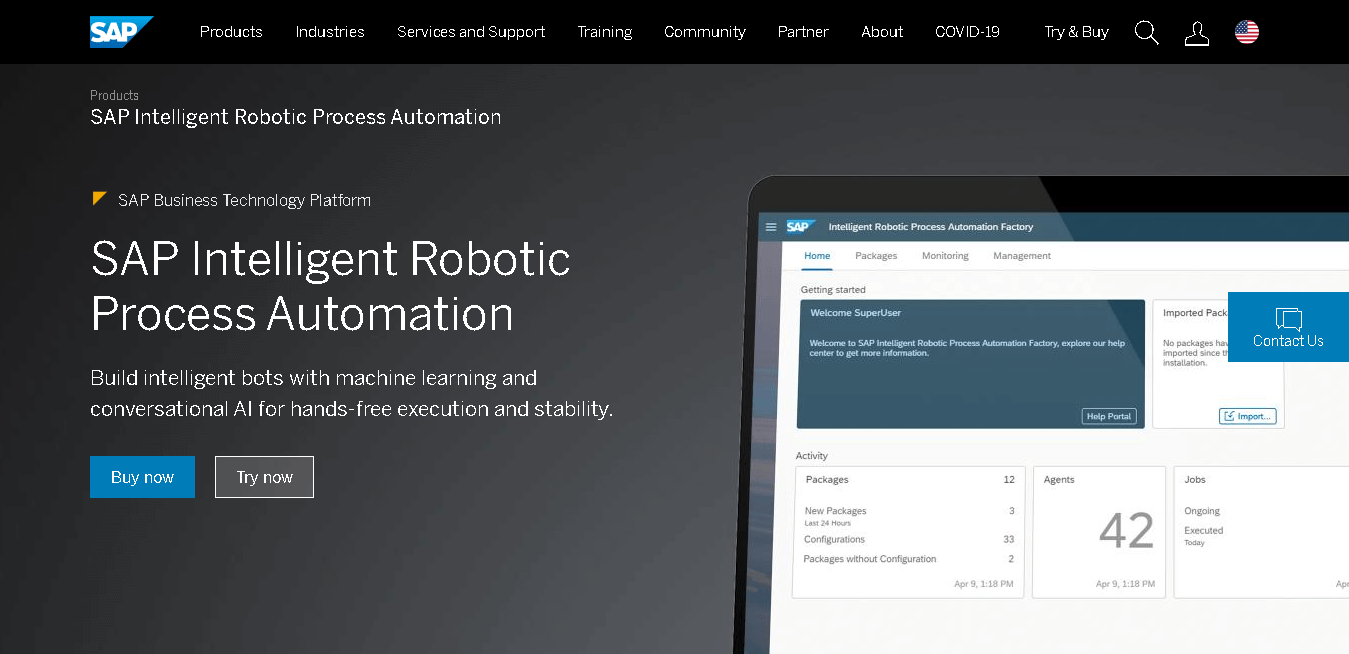 Contextor is a Robotic Process Automation software that provides you with cloud and on-premise services. While searching for Contextor you end up with the old Contextor site. However, this site is working but Contextor is part of SAP now. And you can click here to visit the official Contextor site.
It is the perfect Robotic process automation tool for business with any size of audiences. Moreover, you can buy it at the starting price of $597/month. Likewise, if you want to test it before spending money on it, you can also get a free trial.
Key Features:
Provides support for Citrix.
Communicate with all workstation applications.
Provides well-detailed reports and analytics.
Also supports with RDP hybrid virtualization environment.
It can communicate with all workstation applications in parallel.
Faster and reliable.
Integrate with AI very fast.
Conclusion
Robotic Process Automation is a perfect way to save time, energy, and money. However, you have to spend money on RPA software first. And as you can see, there is some RPA tool worth thousands of bucks just for 30 days. And if you're choosing paid training, the process could be more expensive. Therefore, If you're totally a newbie, you can choose a cheap RPA tool from the list. Also, it would be good if you choose beginner-friendly software.
On the other hand, you can check out little complicated software like Blue Prism to automate your business. It would be difficult to adapt and not user-friendly RPA software. But, if you got a mid-large or large enterprise, it would be beneficial for you in long run.
Hope this post helps you to find the best RPA software for better Robotic process automation. And, if it does, let's know in the comments. Also, don't forget to share it with other entrepreneur friends who just launch a startup.
Later read: