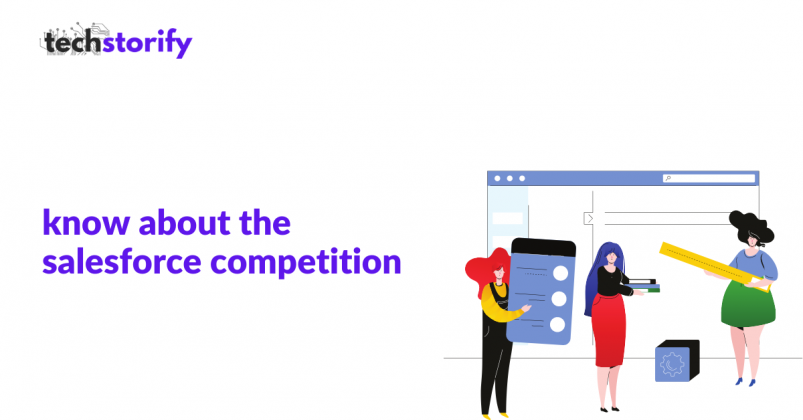 Are you the one looking for Salesforce alternatives that's suitable for your business operations? Here in this latest instalment, we have prepared a list of other CRM solution to help businesses grow their client base and manage relationships with customers.
Salesforce is undoubtedly one of the best Customer Relationship Management (CRM) Softwares that offer a comprehensive range of marketing, commerce, sales and analytics solutions to its users.
This powerful CRM platform for startups and developing businesses lets you manage contacts & leads. Moreover, it offers sales forecasting, email integration, workflow and approvals, file sync and share, sales collaboration, territory management, sales data and intelligence, and reports.
Now we are going to share the top alternatives to Salesforce that are easier to use and cheaper.
Keep Reading!
Top Salesforce Alternatives
1 – Pipedrive

Our first pick is Pipedrive, and the reasons are very obvious. With easy to use interface, this CRM platform is designed to simplify your sales process.
Pipedrive is a clean and simple software that is easy to use right away. It generates more leads and sorts your sales in a single location. Moreover, it provides the setting of goals, contact history, API and mobile App. It also has a good sales pipeline, email integration, maps integration, email tracking, data import, export and many other features.
With this software, the privacy and security of your business data will be maintained.
This amazing CRM tool was built for minimum input and maximum output.
Features:
Track calls, emails and contact history
Manage deals and leads at single location
Automation
Mobile app access
Allows integration with other sales-boosting apps
No compromise with privacy and security of your business data
The clean and visual dashboard of HubSpot CRM makes it stand out of other CRM solutions in the market.
It offers enough functionality to improve processes and organization at zero cost. The good part is they have CRM for multiple roles within an organization, such as CRM for sales leaders, business owners, operations managers, marketers, salespeople etc.
Not only this, but their blog is also one of the best places for content related to sales, marketing, and services.
Features:
Email templates and scheduling
Offers detailed reports on sales activity
Meeting scheduling
Recommended – HubSpot Alternatives
3 – Insightly
Insightly is another one of the best Salesforce alternatives out there. Many top companies, like Bosch, AT&T, and Bloomberg use Insightly for CRM software.
The software organizes all of your leads and sales in a single place and then uses analytics to offer important insights.
This CRM tool offers permissions at the administrative level, so employees can see and change records that relate to their job function.
Features:
Build a clear view of an organization's structure and informal networks
Track milestones
Manage processes
Send, track, and manage emails
Easy integration with external systems
Manage organizational security
Provides training videos
Lead routing
Build and deploy custom apps
4 – Zoho CRM
The next best CRM software similar to Salesforce is Zoho CRM. It helps businesses convert more leads, engage with customers, and grow their revenue.
Zoho CRM is used by 150,000+ businesses in 180+ countries. Top brands like Bose, Netflix, Amazon, Ducati, and Suzuki all use Zoho CRM for customer relationship management.
With this CRM solution, you'll get a powerful set of marketing and sales features with SaaS apps and online productivity apps.
Features:
Manage sales
Provide excellent customer support
Organize contacts
Better lead and deal management
Integration with the other marketing tools
Collect leads through social media
Workflow automation
5 – Agile CRM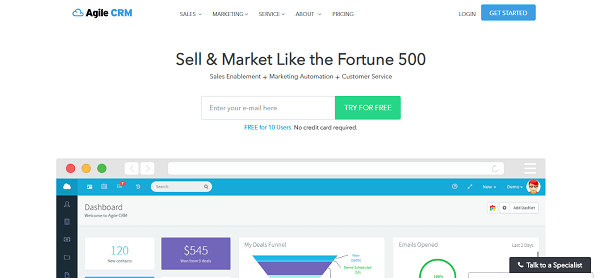 Agile CRM is an all-in-one CRM platform that offers contact management, sales, marketing, and customer service in one dashboard.
This software provides marketing tools to generate and capture leads. You can also create email newsletters, landing pages, and send out emails.
With this CRM software, you'll get modern features & integrations, easy implementation and great support at a reasonable price. It is free for up to 10 users. Well, the free version is quite limited in terms of features offered.
This software also supports widgets and a large library of plugins.
Features:
Drag-and-drop marketing automation
Custom appointments
Contact management
Track deals
Detailed reports
1-click calling
Offers landing page builder
Track email performance
6 – Freshsales
Freshsales is another interesting name in the list of best Salesforce alternatives. This software lets you automatically capture your website visitors as sales leads. After that, it groups them based on their engagement with your website.
Once it is done, these sales leads are assigned to the right salespeople on your team.
It's easy to use CRM software and offers a sales-oriented approach. It contains all the features you need to maximize your conversions.
Features:
Email management
Built-in phone
User behaviour tracking
Deal management
Reporting
Track calls, events, sales, and leads
Capture and assign website leads automatically
Schedule meetings and calls
Send email campaigns
7 – Capsule CRM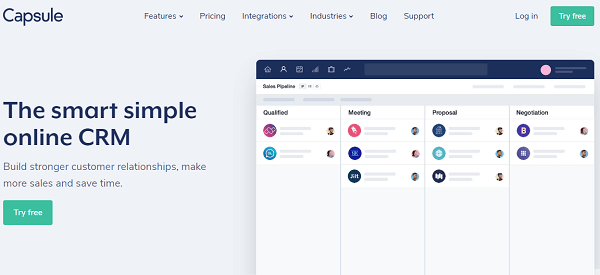 There are many good alternatives to Salesforce, and Capsule CRM is one of them. It's very old and popular software that allows its users to track both relationships and sales pipelines.
Capsule CRM offers a web-based platform that will organize your contacts and keep your opportunities front-and-center on a clean sales dashboard. You can try this software for free for 30 days without giving your card details.
Furthermore, it provides an excellent option for businesses that need highly customizable and flexible contact storage.
Features:
Manage relationships
Manage sales pipeline
Organize emails
Perform task management
Keep your data safe
Offers advance reporting
Works smoothly with popular applications such as G Suite, Mailchimp, Xero and many more.
8 – NetSuite CRM

NetSuite CRM is an excellent option for businesses that want to access various information about leads and customers at any point in their lifecycle.
With this tool, employees can automate the entire campaign process, with no manual upkeep. Also, it will track your campaigns in real-time and let you know the exact source of your leads.
This CRM system measures essential items such as quotas against actual sales, customer satisfaction, and unique website visitors.
Features:
Provides innovative sales forecasting
Excellent customer support
Real-time dashboards
Order management
Commission management
Pairs with Ecommerce software
Partner relationship management
Marketing automation
9 – vCita
vCita offers a full cloud solution for storing, managing, and labeling the leads, contacts, & clients.
This CRM platform has various tools available for scheduling, billing & invoicing, client portal, lead generation, and marketing campaigns.
Because of one secure cloud location, you can quickly access all the data related to your leads, contacts, and customers.
Features:
Lead generation
Client management
Combine with over a dozen third-party apps
Automatic meeting reminders
Handle billing and invoicing
10 – ConvergeHub
ConvergeHub is another best software similar to Salesforce and the right choice for small to medium-sized businesses. It can manage your sales, marketing, support, and billing needs at an affordable price.
With this CRM system, users can store contact lists and design campaigns. It also includes built-in SalesForce automation and marketing automation modules.
Features
Powerful salesforce automation
Lead management
Contact management
Create effective marketing campaigns
Effortless billing and payment tracking
Flexible and customizable software
Final Words
A good CRM software allows businesses to manage customer interaction and customer data effectively. Above mentioned are our top picks for the best Salesforce alternatives.
Which CRM platform you liked the most? Share your views in the comments section below!