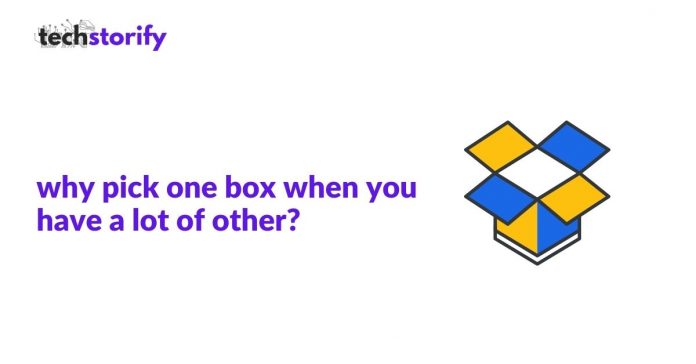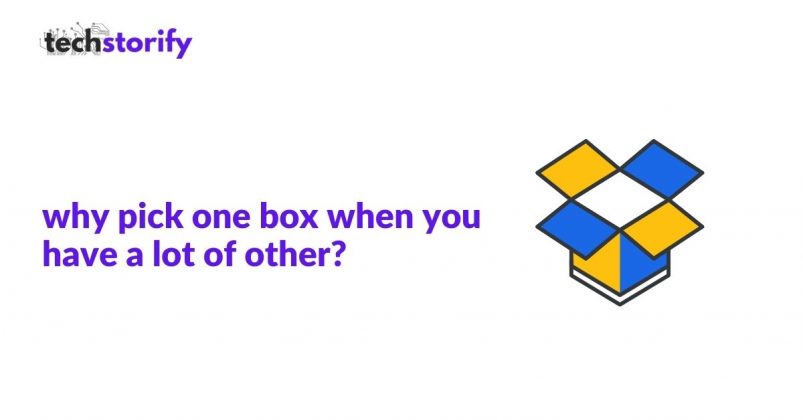 Yes, we know you are here for the best Dropbox alternatives, but before that, let's understand what Dropbox is?
Dropbox was designed by Dropbox Inc., which is one of the earliest cloud storage services. It is developed to host files, share documents and sync them with your devices so that you can access them from anywhere.
With 500 million registered users, including 11.9 million paying users, Dropbox is the world's most popular cloud storage. It is very easy to collaborate and share files like Photoshop, PowerPoint, and Sketch in an efficient manner through this cloud storage platform. And also, you can keep all your files in a central place. It lets you access a particular file without much of a hassle.
Besides, Dropbox has expanded its business offerings. It offers many collaboration tools. You can create teams, centralize content, and more.
Since you are here for the best dropbox alternative, there are many similar services like Dropbox that offer unique service, better security, and overall enhanced user experience. Enjoy this list!
Best Dropbox Alternatives
1 – SYNC.com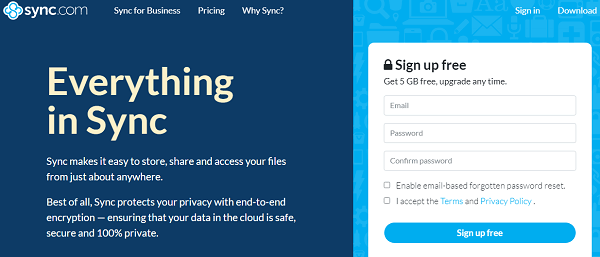 In case you are looking for the best alternatives to Dropbox as a project manager, SYNC is the right option. It is cheaper and also comprises more features.
This collaborative cloud storage service aims to make it cheaper for people to store their files on the cloud. Its free plan comes with 5 GB of free storage and basic collaboration options.
You can store valuable data, files, videos, pictures alongside the option of making these files available offline for later preview. Also, it lets you share them with friends and colleagues without downloading any other plug-in. Sync.com is best for small to large businesses.
Features:
Zero-knowledge privacy and client-side encryption
Affordable
Offers 5GB free storage
Automatic backup, sync, and restore
Allow sharing and collaboration
Access from anywhere
Offline access
Activity logs
Apps for Windows, Mac, iOS, and Android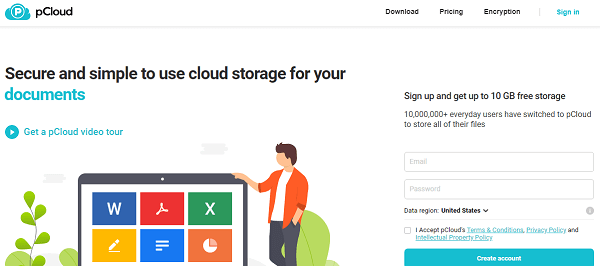 Our next most recommended cheap alternative to Dropbox is pCloud. It comes with 10 GB of free storage when you sign up.
The software offers a drag and drop facility that helps you upload a file quickly. This cloud storage provider's paid subscription plans are very flexible, allowing a user to choose the storage sizes and the different features according to their needs.
In addition, there is a feature called pCloud Drive that lets you access content stored with pCloud without having to download it to your computer. Also, with both free and premium plans, you get better security options than Dropbox.
Features:
Share and collaborate
File management
Digital Asset Management
Automatic upload
Offers the highest level of encryption
Allow easy retrieval of the file as you can add various filters and narrow the search results
Automatic sync across multiple devices
Unlimited file size and speed
3 – OneDrive

OneDrive is another reliable file-sharing software for medium and large enterprises and also for personal use.
Just like Gmail users have access to Google Drive, OneDrive comes built-in with Windows 10. So, if you are using Windows 10, you're fortunate enough, and you don't even need to sign up to access it.
Its free plan only offers 5GB. OneDrive encrypts every file using AES 256-bit encryption and uses the TLS protocol to prevent attacks during transfer.
Also, it doesn't limit how many devices you can sync to. You can have as many PCs, Macs, phones, and tablets as you need.
Features:
Selective sync is available
High transfer speed
Integrates with Office Online and many other Microsoft apps so that you can easily open, collaborate, and edit various Office documents
Auto-sync files
Share files via a link, and control what users can do with the files
Automatically upload photos and videos from connected devices
4 – Box

Box is one of the best Dropbox alternatives for business professionals and project managers. It is made with keeping the needs of businesses in mind. The platform provides quick collaboration, authentication, and syncing of files. Also, it uses encryption technology, which is managed by customer and activity logs.
In addition to collaboration on a document in real-time, this application also adds chat support, meaning you can chat with your teammates from right within the document you are working on.
Box has several tools that can enhance your workflow while keeping your files protected.
Features:
Provides effective security services like double authentication.
Feature-rich collaboration tools
256-bit encryption
Integration with more than 1,400 apps
Simplified workflow
Send large files
Back up files
5 – SpiderOak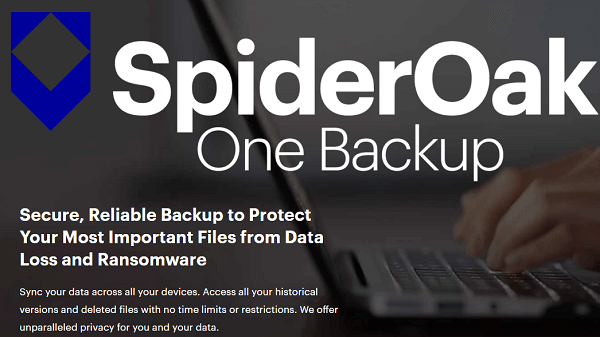 If security is your main concern, SpiderOak will be the best alternative for you. The company focuses heavily on security. It offers additional layers of protection against theft and damage.
Every file you store on SpiderOak is encrypted end-to-end, and you're the only one with the encryption keys to unlock your data.
There is also a quick link sharing feature that helps you create a link to files for future reference and tracking.
SpiderOak is fast, reliable, and secure when it comes to cloud data management.
Features:
End-to-end encryption
Zero-knowledge encryption
Create a lot of back-ups
Sync files and retain every copy
File-Sharing Support
6 – Tresorit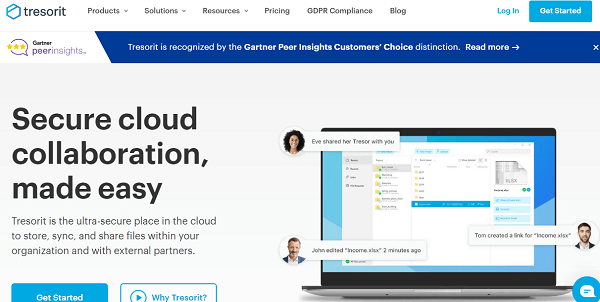 Similar to SpiderOak, Tresorit also provides the most comprehensive security and privacy features. Like many other alternatives to Dropbox, it also uses zero-knowledge encryption which means that Tresorit doesn't know anything about the file when you upload it to the cloud.
It provides a seamless teamwork opportunity from anywhere and offers monitoring options. The free plan lets you share files up to 5 GB.
This ultra-secure cloud service lets you store, share and sync files from anywhere, anytime, with ease.
Features:
End-to-end encryption
Online file syncing
Version recovery and file control
Supports several languages
Unlimited file sharing
Intuitive mobile and desktop apps
Automatic backup
7 – iDrive

iDrive offers backup and sync space. With this Dropbox alternative, users are able to share files via email, Facebook and Twitter, as well as restore up to 30 previous versions of backed up files.
This cloud storage solution comes with full system disk image backup, true archiving, and end-to-end optional encryption. It offers full apps for Windows, macOS, iOS, and Android devices.
The iDrive cloud storage plan lets you automatically backup devices and save individual files. In addition, it also lets you specify the level of permission for each share, but there's no way to set a password or expiry date.
Features:
File sharing
Disk image backup
True archiving
Multi-platform support
Online file syncing
IDrive Express backup feature
Several compliance options
8 – MEGA

MEGA is one of the most popular names in the cloud storage space. It lets you enjoy free services and a little more storage than other cloud storage providers on the list.
Their free plan comes with 50 GB of storage, which is amazing. You can share files generating a link or sending via email and collaborate with other people if you want to. Like others, it also supports end-to-end encryption and has cross-platform app support allowing you to access your data from any device.
It also has browser extensions which give you quick access to your files.
Features:
End-to-End encryption
Fast transfers
Secure communication
Easily automated synchronization between your computer and your MEGA cloud
Automatically backup photos and videos from your mobile device with Camera Uploads
Maintains historic versions of your files
Export secure links to your files and folders
9 – Mediafire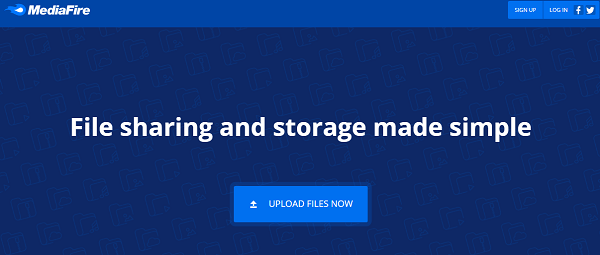 Mediafire is a very affordable cloud service available. It is simple and easy to use cloud storage service with an emphasis on making file-sharing quick and simple.
A free account has 10GB of storage, providing unlimited bandwidth for file downloads.
It allows you to store and share any file type. Also, you can email large files easily. You can view, manage and share your photos, videos, audio, or docs from anywhere.
Features:
Easy to use interface
Share through email, link, or social network
Collaborate
Unlimited bandwidth and downloads
Easily share after uploading
Allow multiple uploads at once
One-time sharing links
10 – CloudMe

CloudMe is a standard online backup and sync service that comes with a free option and extra storage for referrals.
This Dropbox alternative offers 3GB of completely free storage. The main Web interface is simple and clear. It also provides synchronisation apps for Windows, Mac, Linux, iOS and Android.
In addition, it offers a good range of sharing options, ranging from basic sharing, which allows you to provide access to your files to people by sharing a link, to more collaborative sharing options.
Features:
30-day free trial
Schedule a backup
Collaborate and share privately
Offers a Cloud File Server with a shared space for employees, suppliers, partners, and customers- all managed by the company
Sync selectively
Stream and enjoy the music you own
Final Words
What's your favorite Dropbox alternative? Different business professionals have different priorities, so select a software solution that meets your needs. All these Dropbox alternatives offer better cloud storage services and online file sharing.