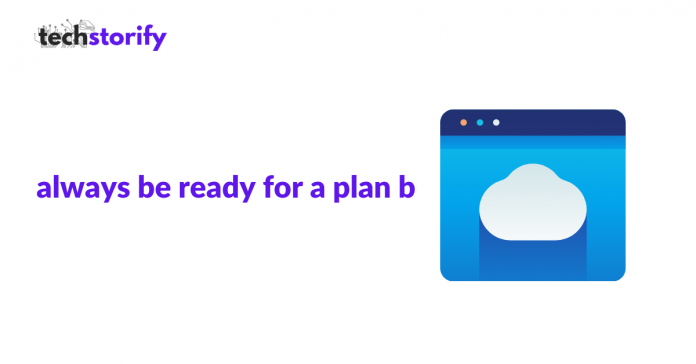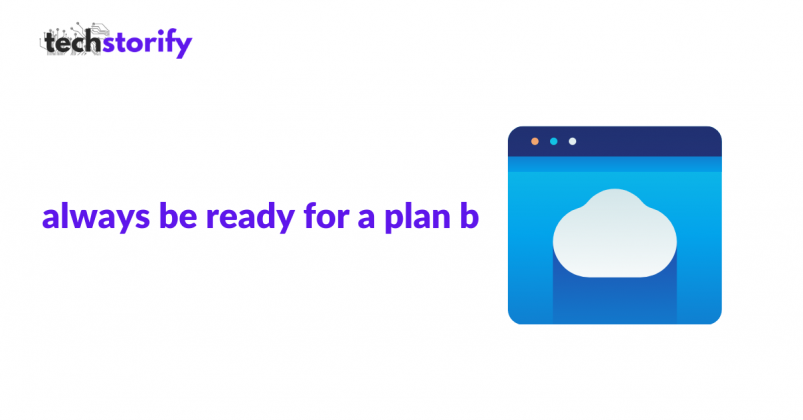 If you are looking for the free backup software that works with Windows, read out our comprehensive list and check out these software for free.
A Data backup software is a software specifically used to create a duplicate copy of data to safeguard and enable recovery of the data, noticing if there happens an event where the data gets corrupted or infected by malware. 
The best Backup Software gives you a feature to recover versions of a file or deleted files with just a click of a button.
Capabilities of the best backup software include centralized management, reporting, scheduling and monitoring. Backup software normally uses deduplication, compression to reduce backup size. While not all of the backup software but some software packages use encryption to protect sensitive data. 
What Are Some Methods to Backup Your Computer?
You can very easily backup your data to an external drive, over the internet, or using cloud storage services, or using services like dropbox.
These data backups can be performed using:
1) full backup
2) incremental backup
3) differential backup.
A best free Backup software should include the features below:
Access Control

Automatic backup

Automatic notification

File management

Drag and Drop

Document storage

Search functionality

Third-party integration
It is paramount to find the backup software with all these features and above that, it should be free.
In this article, we have listed the 10 Best Free Backup Software For Windows and Mac That can keep your files safe and stored.
Best Free Backup Software For Windows and Mac 
1. Paragon Backup and Recovery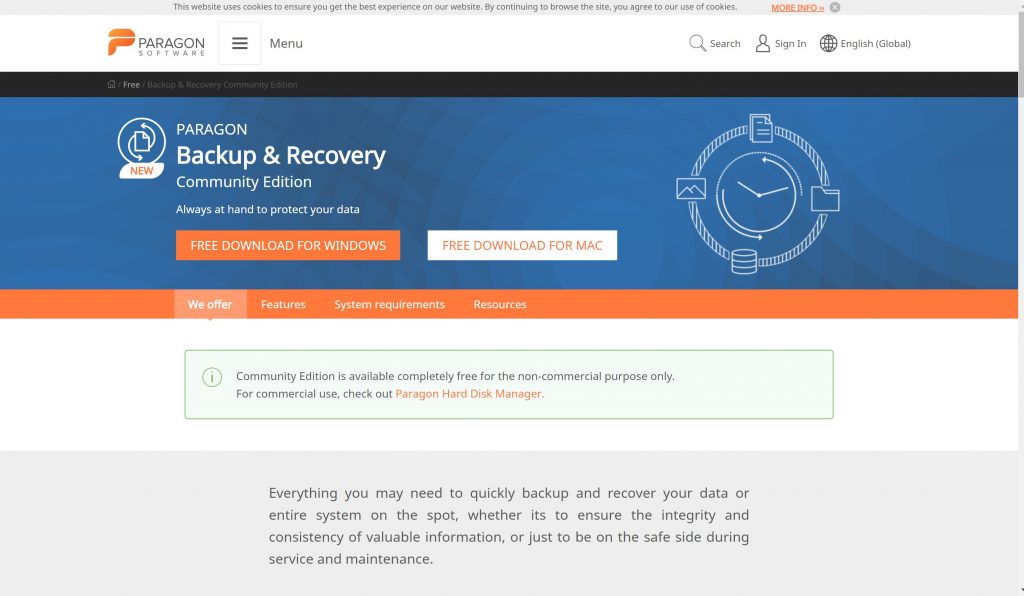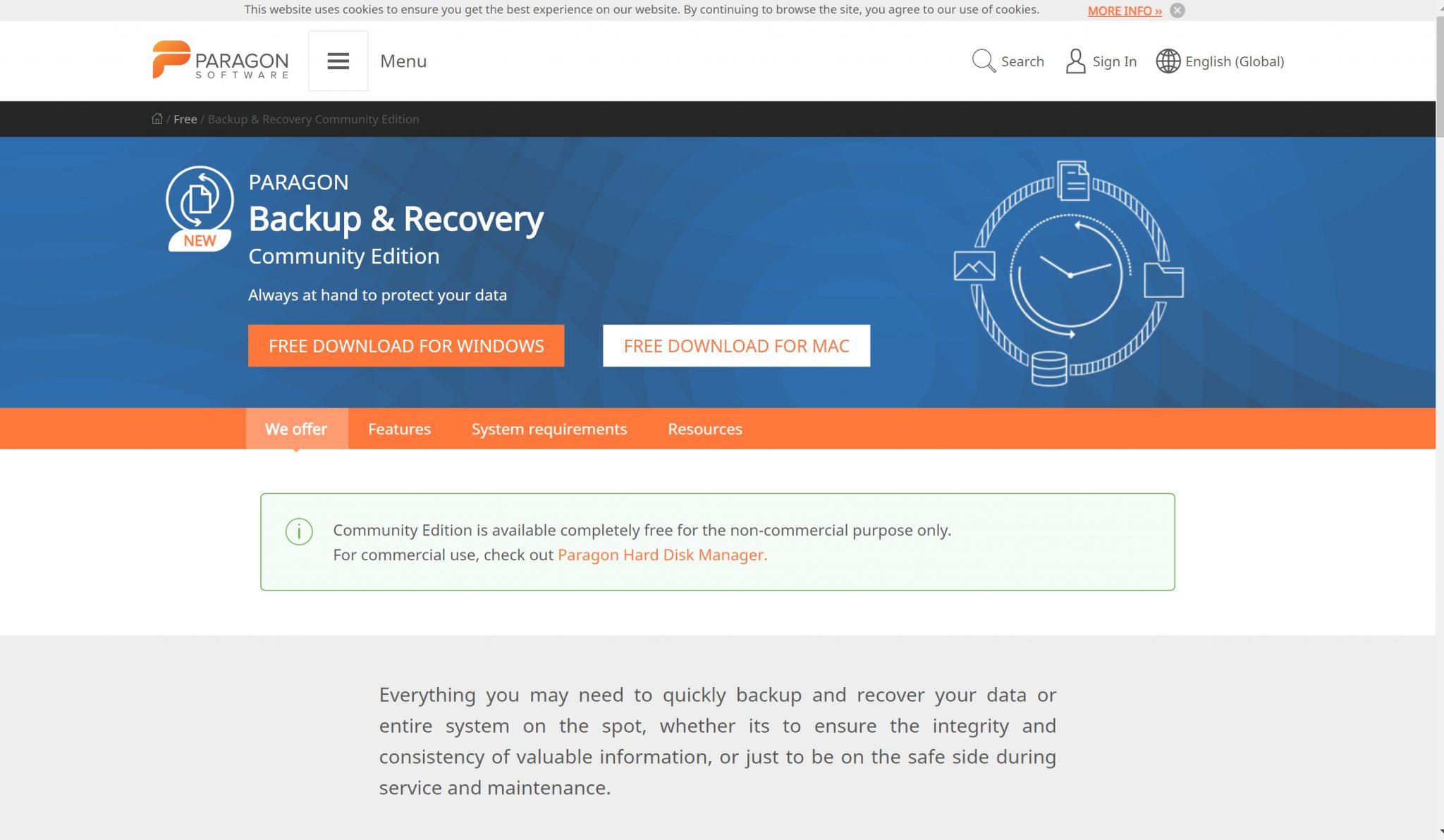 Paragon Backup is a free backup software to get your data safe and recoverable from major threats and hardware failure, system errors, computer viruses, defective hard disks and ransomware. 
Paragon Backup software gets backup and recovery tools to allow personal users as well as small and mid-range enterprises to effectively manage and protect their resources.
The most intriguing part is that you can back up images in various formats such as VHD File, VMWare and PVHD image format as well.
Features- 
Version control

Disk partitioning, volumes

Copy disks

Creation of recovery disc
Pros-
Creates and runs runtime backups at once

Restores full backups 

Prepares data or OS virtualization on VMware, Microsoft Virtual PC, or Hyper-V

Creates bootable media to restores windows in case of emergency 
Cons– 
Setup and install files are big

Doesn't support notifications
Pricing- Free for personal use, $49.95 for premium
2. FBackup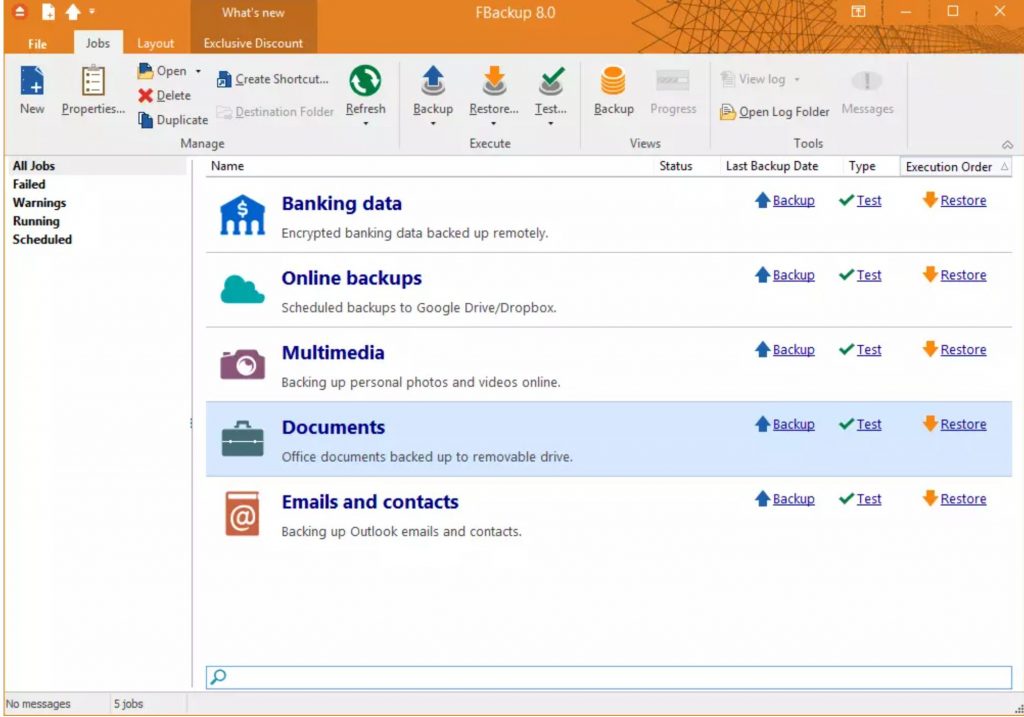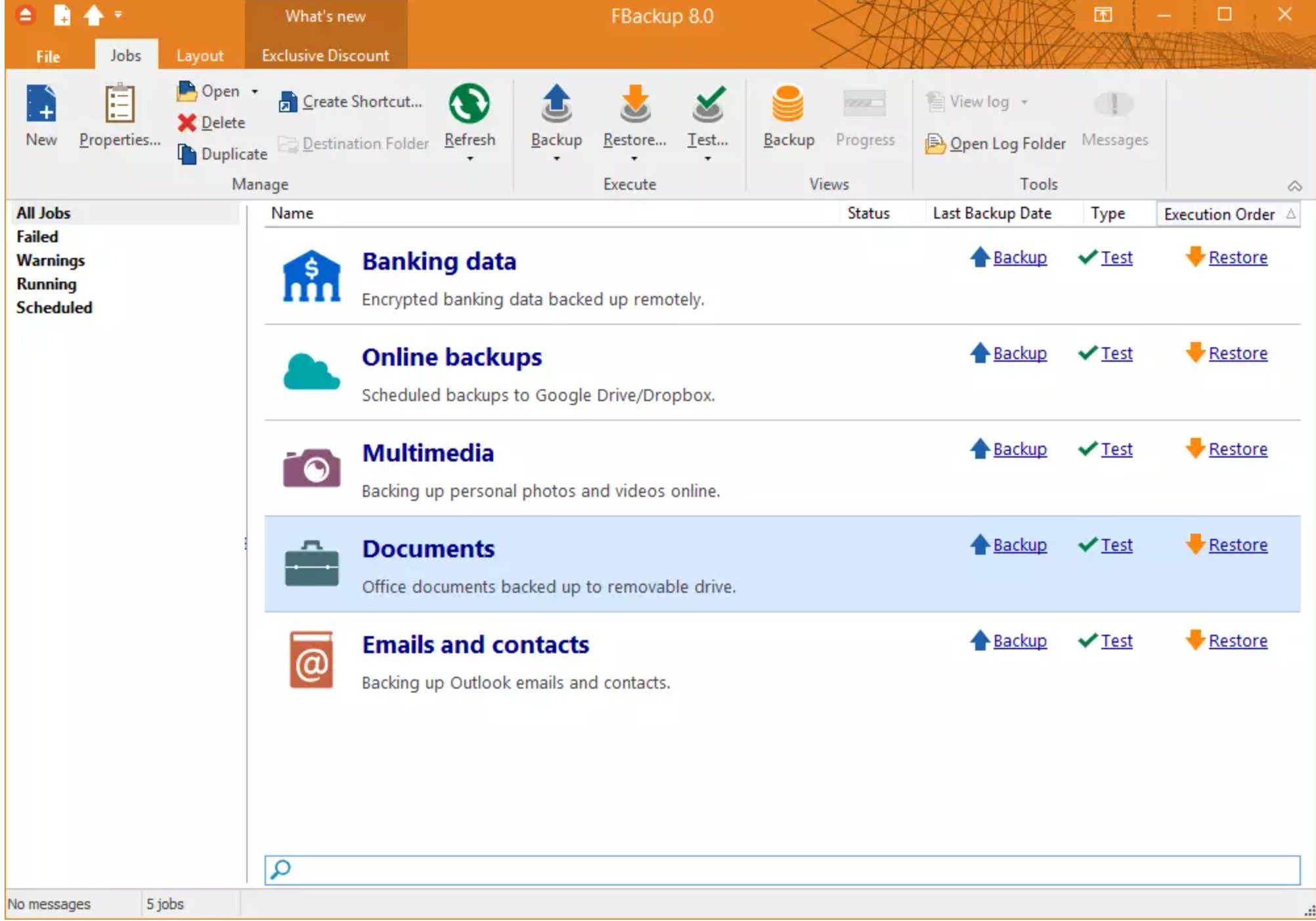 Fbackps will backup your files to the cloud, zip compress backup files, backing up sources from local drives to destinations like mapped devices connected by USB or Firewire. It uses mirror backups for users who has a need copying their files to uncompressed and version like the original file. 
FBackup is windows 10 backup software and has free backup plugins to restore or backup data. It is available in more than three dozen languages.
Features- 
Mirror Backups

Multiple Backup Destinations

Backup Plugins

Action – defined Backups

Cloud Backups
Pros–
Process guide availability

Multiple views of tasks

Block-level backup

Lets you choose the compression level
Cons- 
Pricing- Free 
3. Veeam Agent for Microsoft Windows Free


Veeam enables data protection, management, and intelligence which is simple, flexible and reliable. Unlike its competitors, Veeam is a reputed name among the corporates and offer enterprise solution. 
However, the free version of this backup software is a good choice for the home and personal users.
This free Backup software has advanced capabilities and powerful tools to achieve the goals of 100% data protection with High Availability. This free backup software is best for start-ups and largest enterprises.
Veeam Agent is the extremely simple, flexible, and reliable solution that dispenses comprehensive cloud data management. 
Veeam will give you greater platform extensibility, data mining through APIs, and over 150 enhancements.
Features– 
On-premises NAS

Storage and Network efficiency

Public IaaS storage integration

Cloud instances and application
Pros- 
Cons- 
No secure data storage

No local server options

No backup scheduling
Pricing– Free, Premium pricing is available on request.
4. Acronis True Image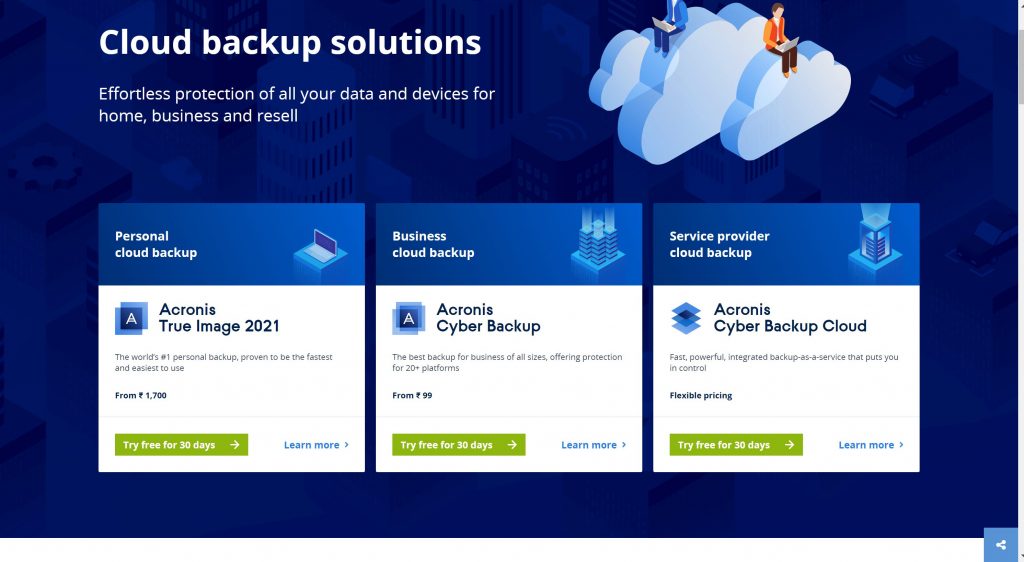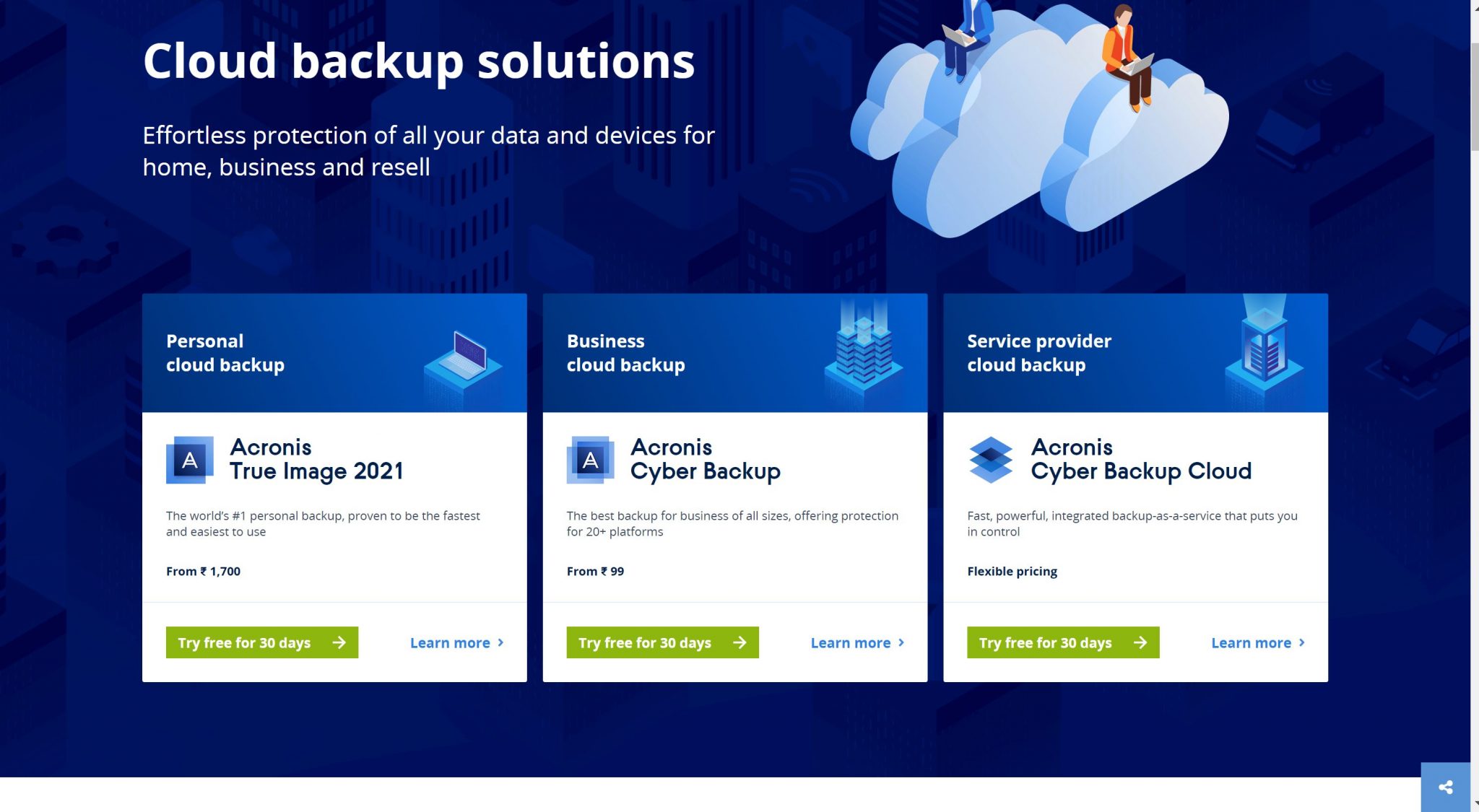 Acronis True Image allows you to remotely manage backup through a remote device.
If you are looking for a complete backup solution for Windows then Acronis True Image will be the best backup software for you. 
Get Acronis True Image to ensure your accounting and other business data is being protected. Use its features of creating local and cloud backups, locally on a USB drive, on corporate Microsoft OneDrive, and using Acronis for cloud backups.
Features-
Real-time sync

Good Storage capacity

Local backup

Disk Backup

File sharing

Remote Backup
Pros- 
Excellent desktop interface

Local and cloud backup

File synching

Fast upload speeds in testing
Cons-
Slow web interface

Not so great password protection
Pricing- Free trial for 30 days, premium version for $34.99
5. Genie Timeline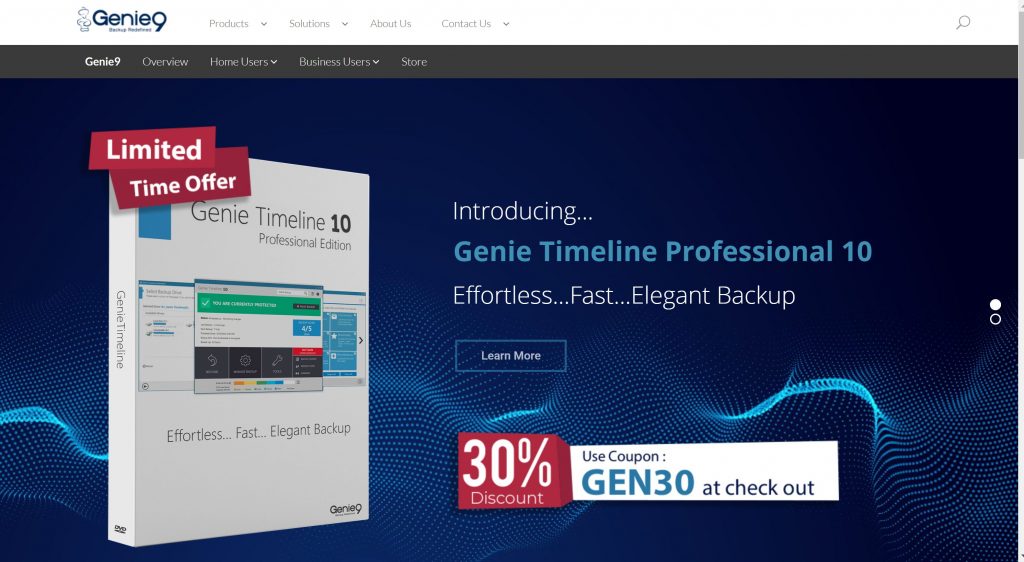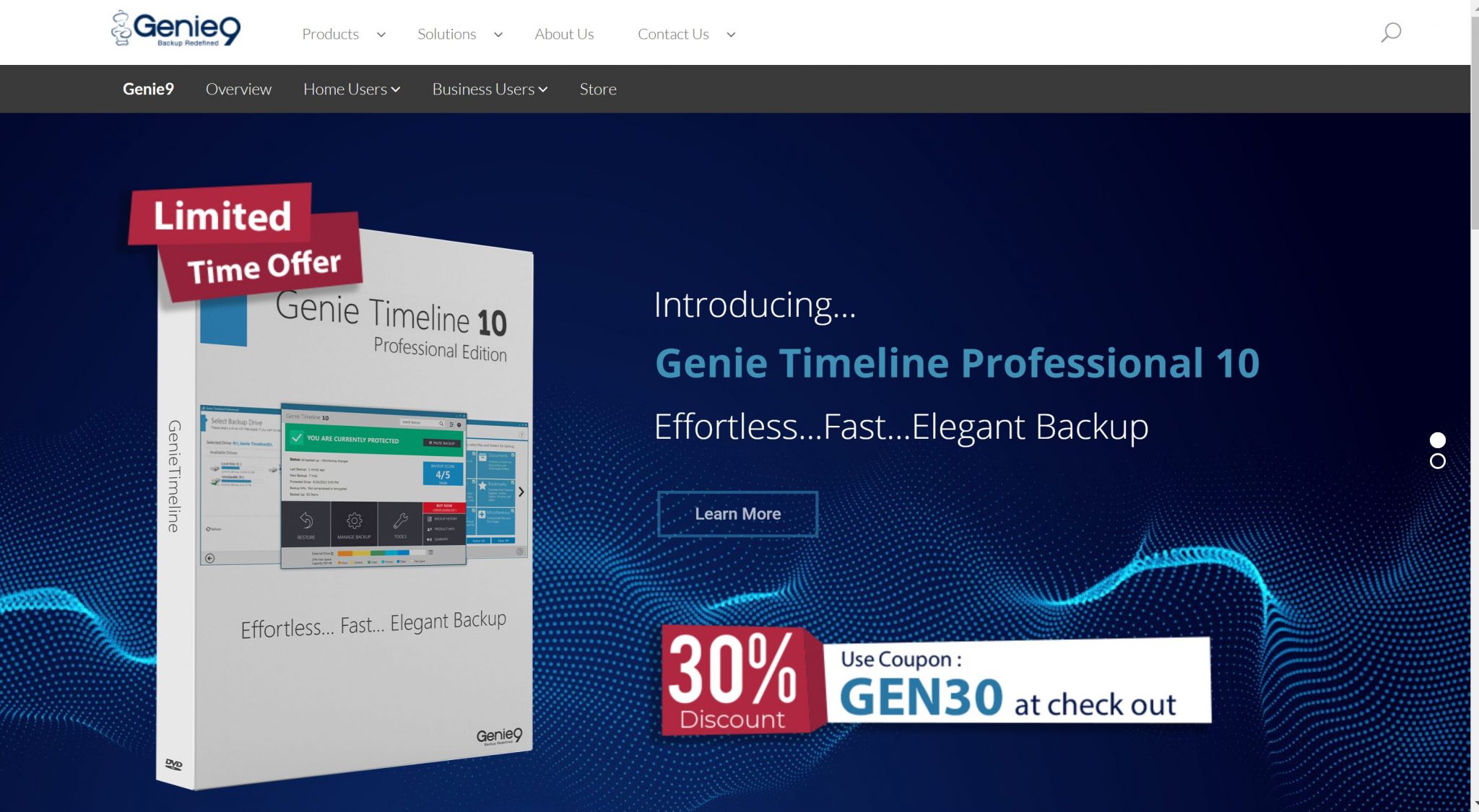 Genie Timeline proposes an improved level of protection which ensures that the backed-up data is not accessible to unauthorized people. 
Genie Timeline has 256-AES (Advanced Encryption Standard) encryption to back up your data and to make it highly secure. This best backup software configures backup in three simple steps. 
Genie Timeline has an advanced setting for identifying duplication to save a lot of space. With Genie Timeline Pro backs up only one copy of your duplicate files, this will reduce the used space on your drive.
This is the best backup software for windows 10, Genie Timeline will keep you informed with the latest protection status of your backup.
Features-
User friendly and effective

Fast process

Integration and automation

Data recovery

Disaster recovery
Pros- 
Reliable, safe and easy to use backup software

Great performance

Provides important options to protect data

– Lightweight
Cons-
Pricing- Free 30 days trial, $39.95 for a lifetime license
Google Drive allows easy organization of files and has access to them on the go. With mobile application and website access, you can access your files anywhere if you have internet. 
It is the best backup software for windows 10 for a corporation/ team, members can access all same shared files and collaborate on projects.
Features- 
Access files everywhere

Document storage

Security and encryption

Offline access

Automatic backup

Photo albums

Access control
Pros-  
Excellent productivity-suite collaboration

Many third-party integrations

Cross-platform apps

Generous free storage space
Cons–
Privacy concerns

No-password protection for shared files

Doesn't support Linux
Pricing- Free Version
7. EaseUS Todo Backup Free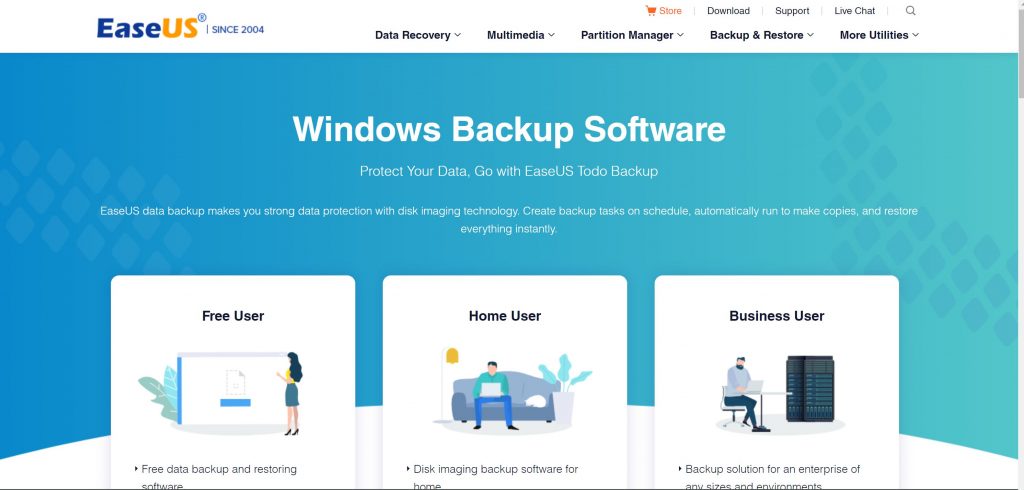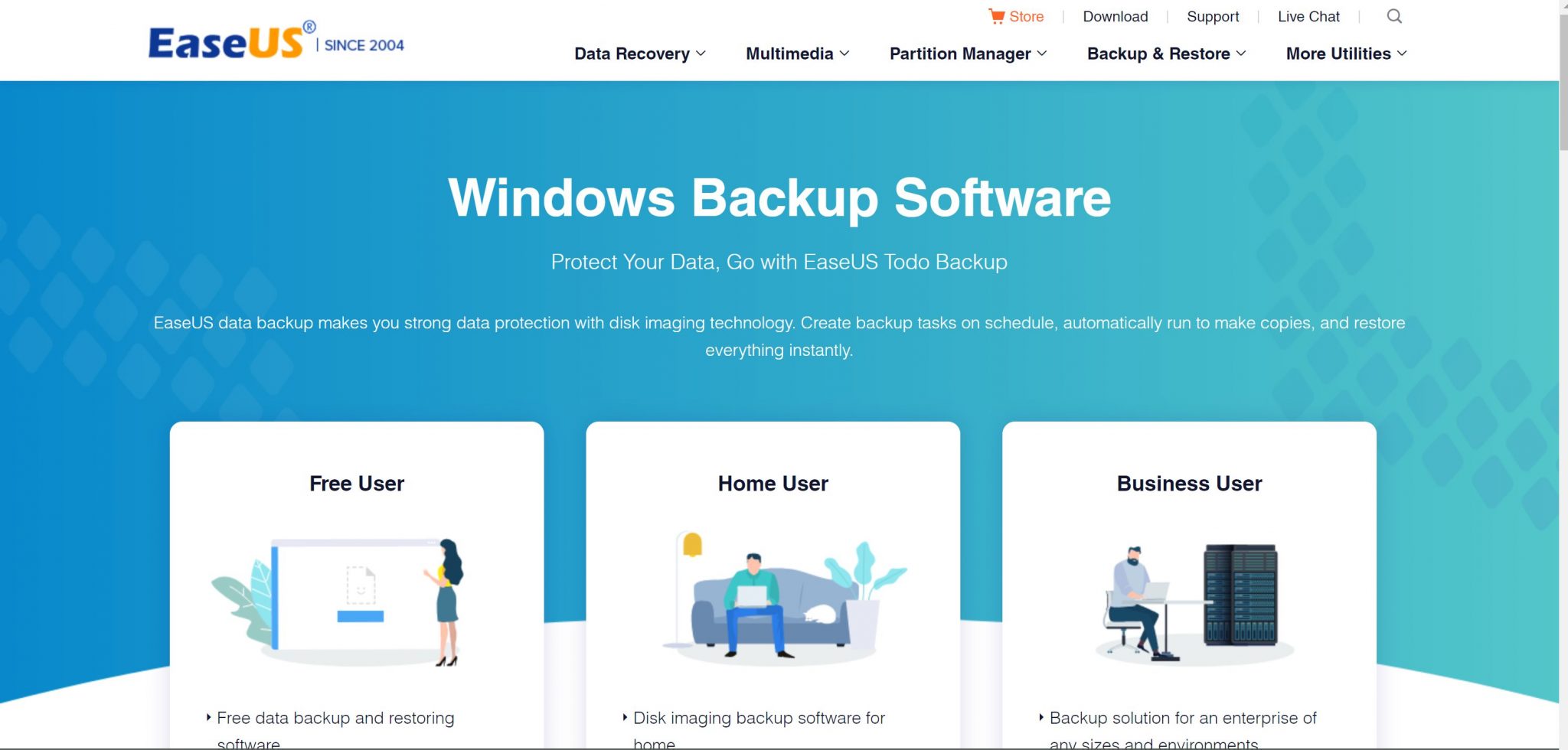 Use Ease US Todo Free lets you back up and restore photo, music, video, documents, hard disk, and partitions performances. The current version of this free backup software has zero flags on VirusTotal.
Being one of the best free backup software in the market, it lets you choose the type of backup you'd like to create to get it started and let the program do what's left. 
It supports automatic backing up of system drive, specific files and folders, and whole hard drives. 
Features- 
Backup scheduling

Disk Cloning

Web/Restoration

Differential Backup

Incremental Backup
Pros-
Simple backup and recovery

Extensive backup modes

Fast disaster recovery

Command-line backup

Disk clone, migrate OS to SSD/HDD
Cons- 
No sync between devices

No integration with cloud 
Pricing– Free edition, $29.95 billed annually for home edition
8. Macrium Reflect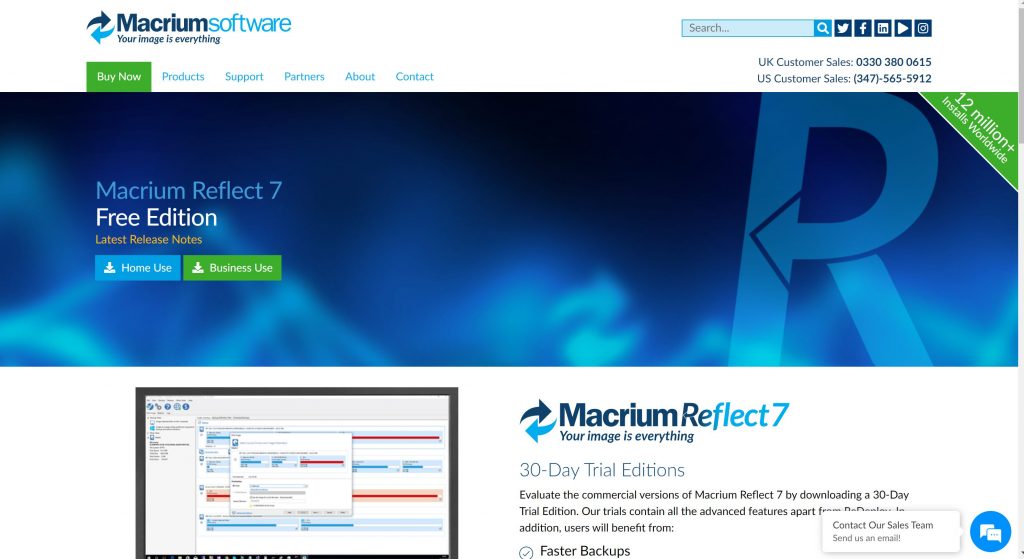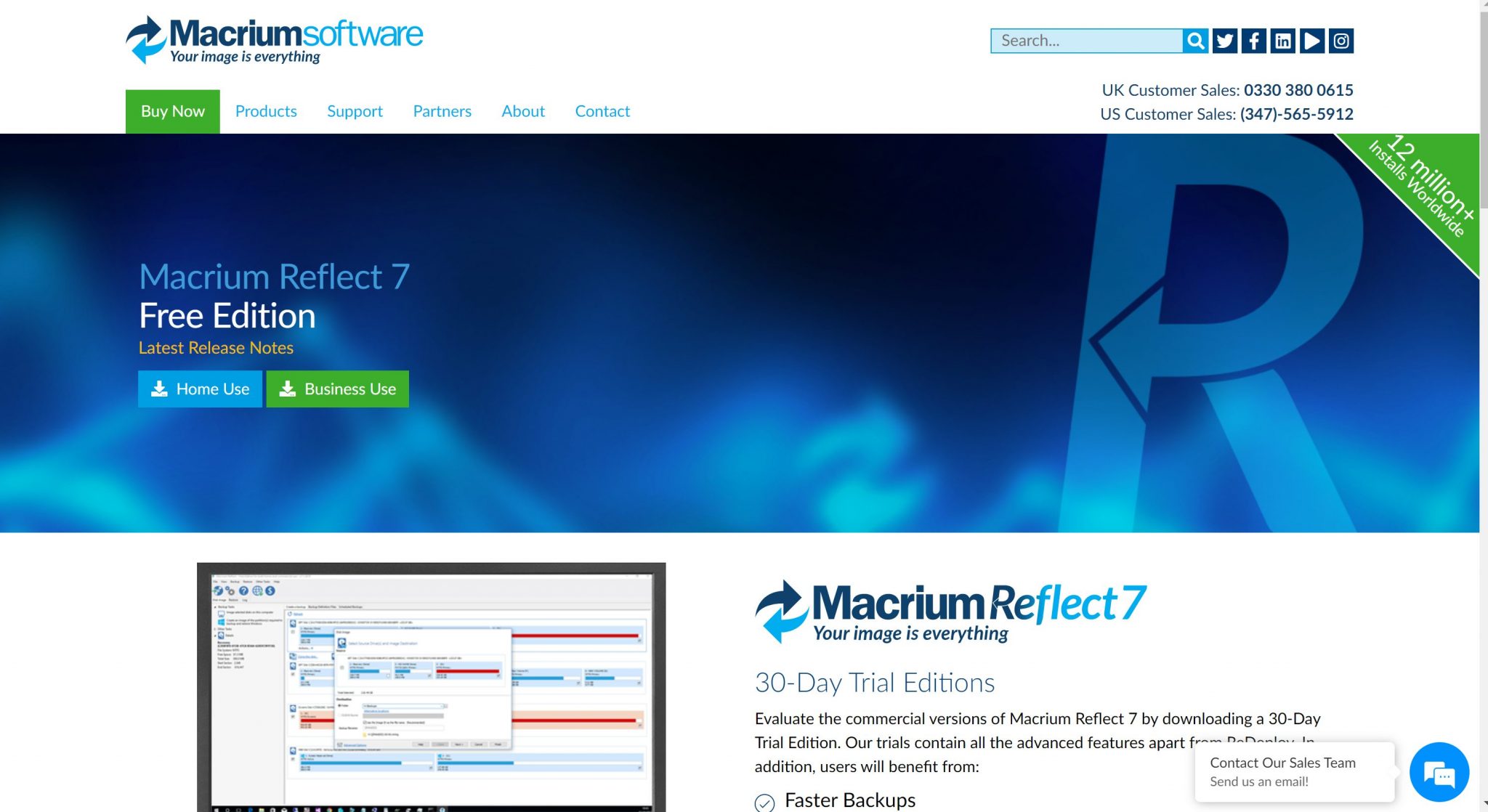 Macrium Reflect free back up software is a disk imaging, backup, and cloning software. It is considered the best free backup software for Windows users. 
It is loaded with advanced features aimed at all users with experience backing up data. It does compression potential varies by file type, so it is possible results could be better or worse.  
A free edition of this software backs up, disk imaging, and cloning solution fulfils needs of both commercial and personal users.
Features-
Backup content browser

Backup encryption

Backups schedule

Site manager
Pros-
Visualized images to restore services

Multiple backups methods

Clones laptop drive
Cons-
Incremental only for pain users
Pricing– Free edition, Premium Version starts from $69.95
9. Cobain Backup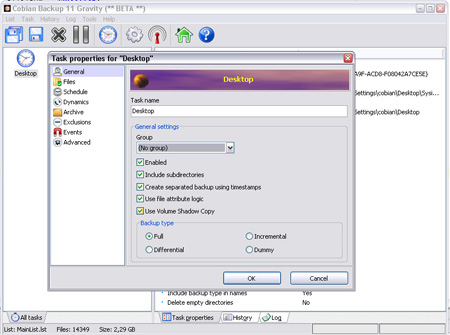 Cobain Backup software is used to make automatic backups for file and directories. This free backup software program can perform backups computers. FTP server, network. 
It works perfectly with windows. Each and in every aspect of this software is duly configured and there are over 100 kinds of settings that are extremely useful.
Features-
Incremental backups

Drag and drop

Disk spanning

Multilingual

Shadow copy
Pros- 
Simple but with many options

Runs as service or an application

Supports remote use
Cons-
Pricing– free edition
10. Clonezilla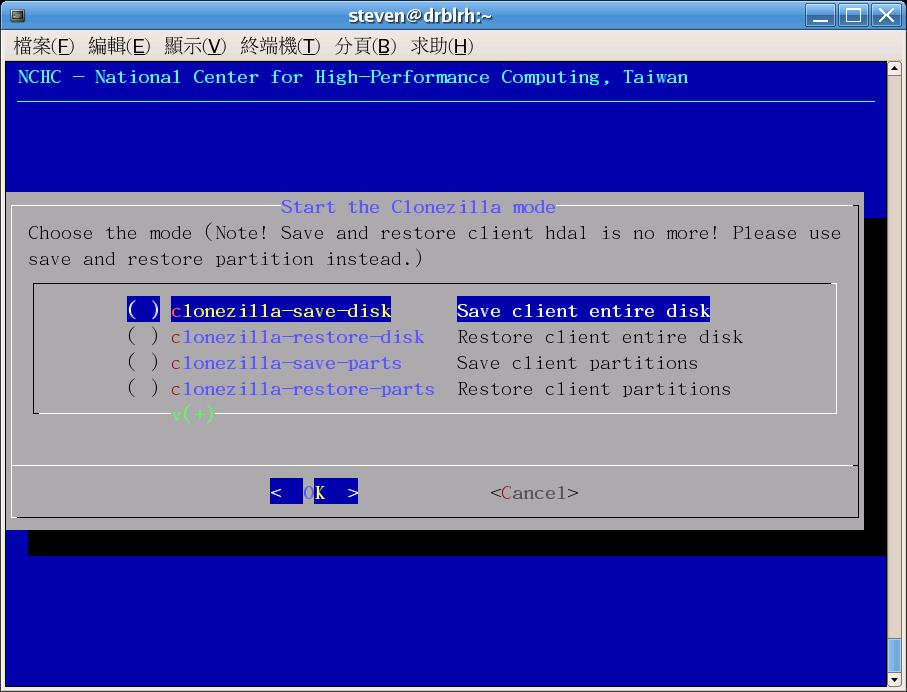 Clonezilla is a free backup software for Windows to clone system images. 
This free backup software has several applications including that of cloning a physical disk to, making an image backup of a disk or partition to a file or deploying new PC hardware using a Clonezilla image as a base build image.
This free software backup software has an excellent function and easiest way to retrieve backed up files with the lowest resources consumption. 
Features- 
Disk cloning

Image deployment

Web access/ restoration

Encryption
Pros- 
Solid kernel and boot process

Any file system supported

Low resource consumption

Good for older hardware
Cons- 
Not designed for non-experienced users

Old fashioned GUI
Pricing- Free edition
Conclusion:
While above mentioned free backup software falls into the list of widely used software doesn't mean they would meet your need for an excellent backup software.. 
It is indeed important to keep the backup ready of your digital files, documents and any folder in case of ransomware attacks or any hacks.
You can also enjoy extensive features of these data backup software by choosing their premium subscription which may offer increased storage and faster backups.
If you have any backup software recommendations, let us know in the comments box.
Quick Links: