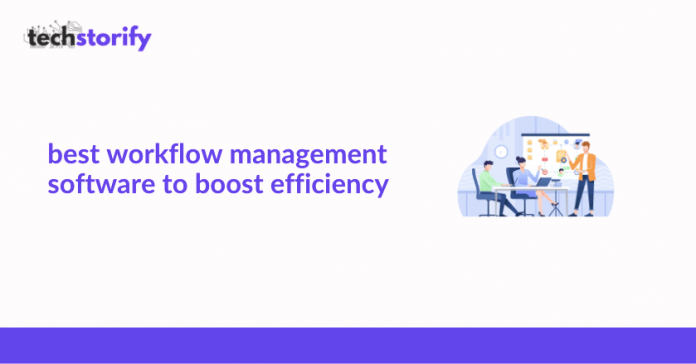 In the era of technological advancements and cutting-edge technology, no large enterprises or even medium-sized businesses want manual processes. Manual workflow processes may work well until you have a small team to handle. But, once you start expanding, you need more comprehensive software for automating and managing the workflow. The Workflow Management system can handle tedious tasks by transforming the data accordingly. Hence, it becomes important to choose the right Workflow Management software. 
What Is Workflow Management Software?
Workflow Management Software consists of advanced tools that can help streamline the workflow of businesses. These tools may help you to manage redundant tasks, create a workflow, provide analytics, and also content management for your business. 
Workflow Software is based on the model of Business Process Management which is a human-centric model for creating business processes. Workflow management software is often referred to as the Workflow Automation Software because of its efficient automation process. 
Adding the workflow management tools in your arsenal can benefit your business: 
Automates the process

Follow-up the tasks

Track the progress on an individual level

Streamlines the tasks and manages the documents. 
Even if you have got a clear understanding of the working of a workflow system, it is still hard to comprehend the Best Workflow management software for your business.
How To Choose the Cheap Workflow Management Software For Your Business?
Before investing a hefty amount of sum on your workflow software, keep in mind the features that it has. 
Integration:

Your workflow management software should integrate with various tools. This would make the file transfer an easy process and eliminate the need for switching between different software. 

Cloud-based:

It should be cloud-based so that it can be accessed from any other location or any device by signing in. 

Easy Process:

No one likes complexity. Thus, the Workflow management tool should be intuitive and easy to use. Managing the documents should be an easy process. 

Flexible:

Besides the functionalities, it should be flexible enough and require no coding. 

Cost-efficient:

Lastly, the workflow management system should be enough cost-efficient so that it should be affordable for small businesses, agencies and freelancers.
In this article, we have compiled the list of Best & Cheap Workflow Management Software for professionals. 
List Of 12 Best Workflow Management Software For Business 
1. Monday.com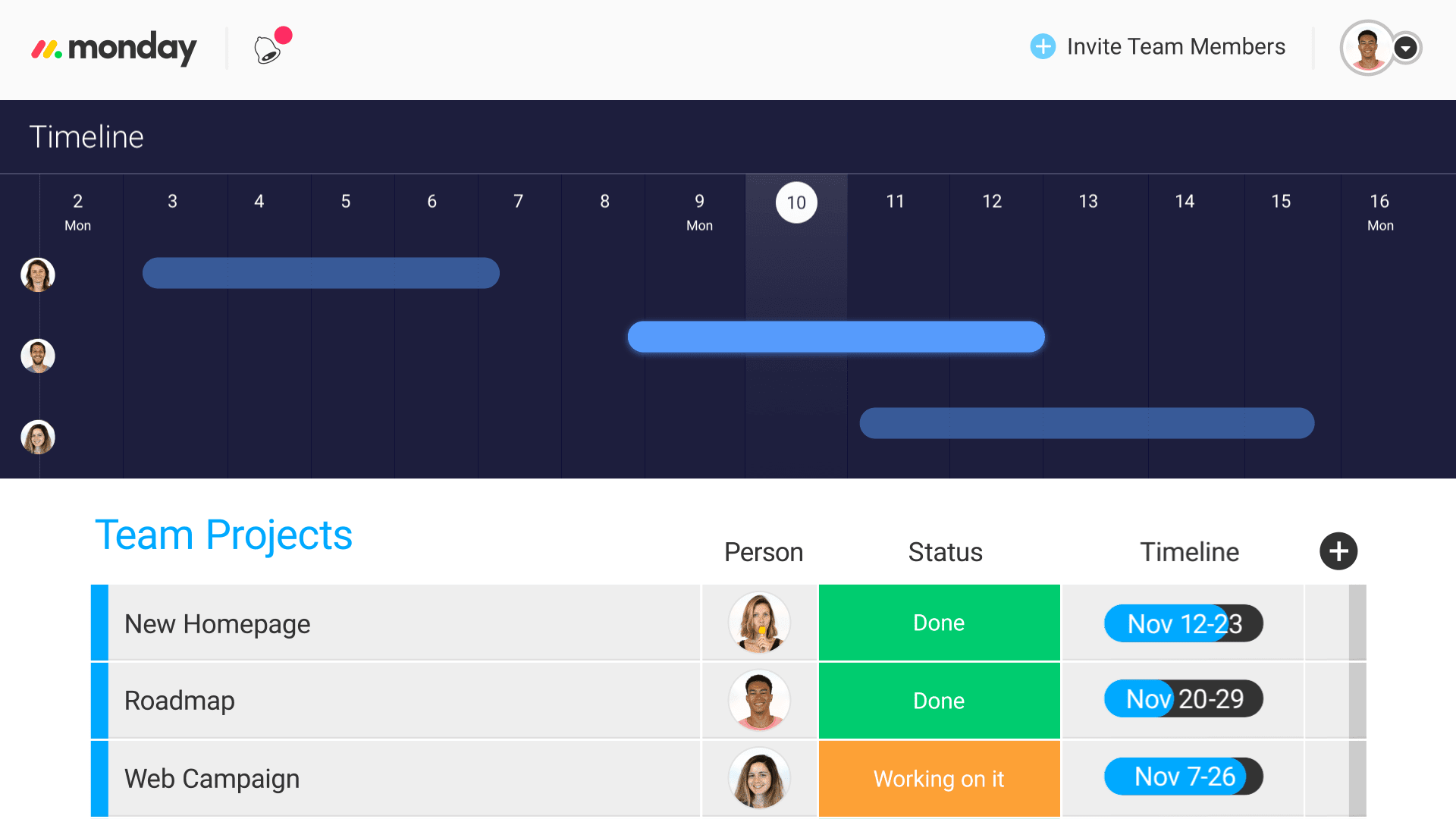 Monday.com is one of the most amazing Workflow management systems and hence tops our list. It currently serves over 100,000 organizations worldwide. 
It has a simple colour-coded interface and a unified dashboard interface for managing the tasks and streamlining. Yet, this single dashboard displays different metrics and will give you a complete overview of the tasks. 
You can manage your tasks and sort the tasks on the basis of priorities. You can create boards to manage your tasks. Also, it works much like the spreadsheet for organizing your data. However, you can set notifications and alerts. 
Monday.com integrates with over 20+ platforms such as MailChimp, Slack, Google Drive, Gmail and many others. 
Pros: 
Stellar 24/7 Support

Customizable Dashboards and Filters

99.99% Uptime
Cons:
Pricey for small business
2. Wrike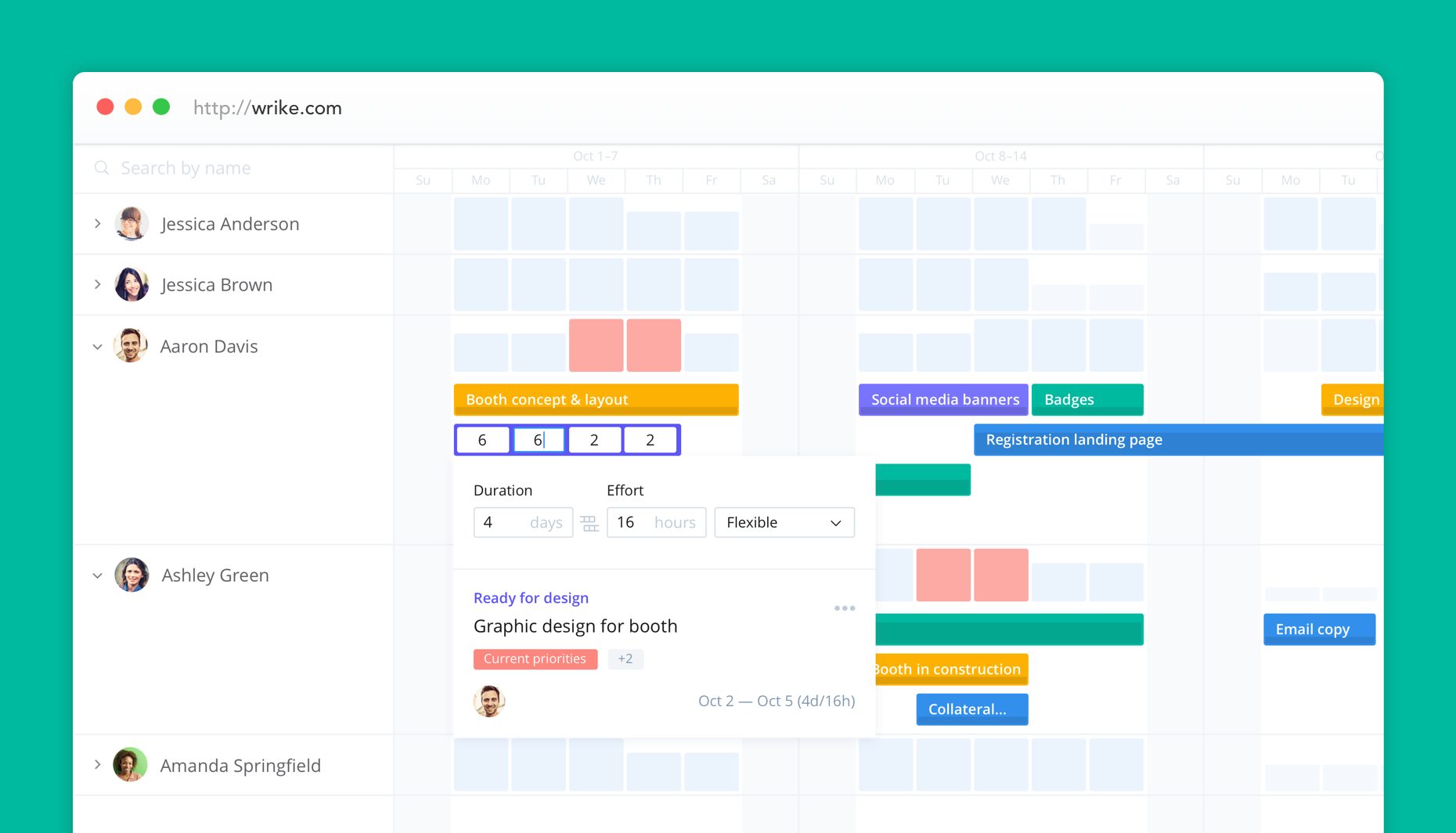 Wrike is a complete workflow management system designed for managing companies with a large workforce. It is a cloud-based platform as well as an on-premise version for PC. Wrike is used by companies such as Google, L'Oreal and Airbnb. 
The dashboard is a sleek one with tasks divided into four groups; active, deferred, cancelled and completed. Also, Wrike has a number of customized templates that ease the workflow. 
You can choose the notifications alert and set it up according to your preference. 
Each task consists of a timeline that is created to optimize the goals, prioritize tasks and analyse your results. Similarly to Monday, Wrike offers different views such as the Kanban board, table list, and Gantt chart. 
Pros:
14-day free trial

99.99% Uptime

API Integration and 3rd Party Integrations with tools like Slack, Salesforce and Dropbox. 

You can customize storage 
Cons:
Complex learning curve

Expensive for small businesses
3. Nintex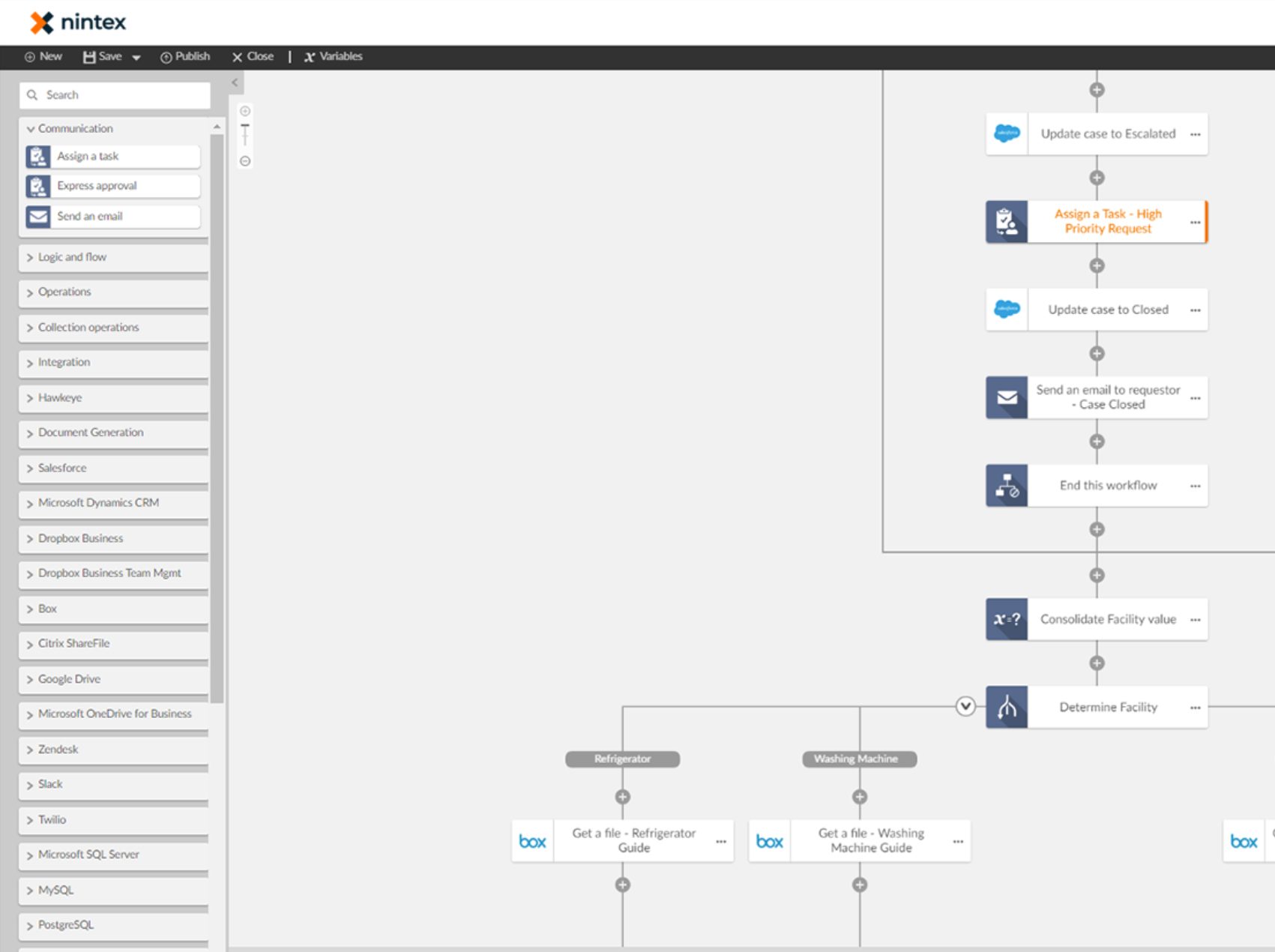 Nintex is a great workflow application that can automate any process in your business. Furthermore, it is one of the most recognizable among the top brands. Nintex serves companies like Coca Cola, Toyota, McDonald's and various other brands to smoothen their workflow. 
The dashboard is a handy one and creates a workflow diagram for creating sales and closing the deals. Nintex has various filters and conditions that can be applied to test workflow efficiency on an individual level. 
If you have a content management platform, you can automate the process by integrating with content platforms and optimizing them with the help of employees wherever they are located. 
Nintex offers integration with apps like Google Drive, Office365, Salesforce, Adobe and various others. On top of that, if you need more integrations, you can use the Xtensions framework. 
Pros:
Suitable for all business sizes

Affordable for all sizes of businesses

Supported on various devices
Cons:
Pricey for large teams

Steep learning curve
4. ProWorkflow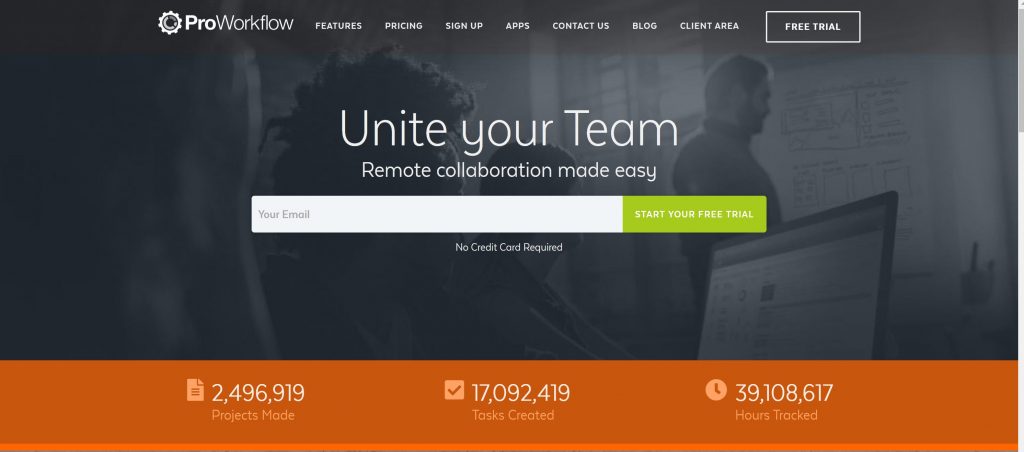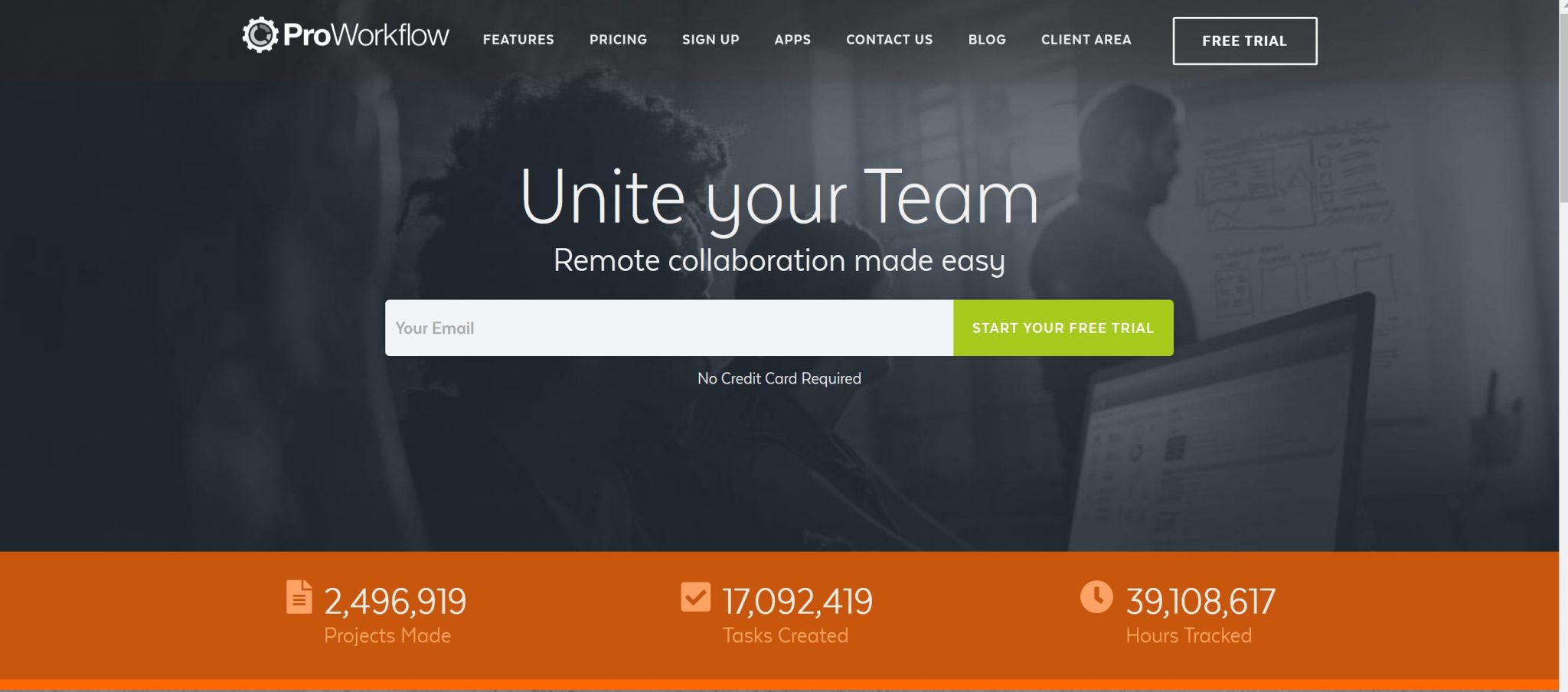 ProWorkflow is the oldest and most comprehensive project management and workflow management tool. With 17 years of experience, the company is capable of handling a team of 5 to 5000. 
In fact, it is perfect for the newbies in workflow management as the learning curve is pretty simple and the setup is a breeze. 
It includes extensive features such as task management, timesheet, and pre-made templates, notifications and alerts. ProWorkflow consists of a complete suite of tools for time-tracking, invoicing, resource management, reporting and invoicing purposes. 
It is an amazing collaborative tool and can help you to work extensively with multiple members onboard. This built-in app allows the members to send messages, share documents and also notify them of important tasks. 
Pros:
Affordable for Small and Mid-sized businesses

Quick analysis and reporting

30-day free trial
Cons: 
Limited automation available

Fewer Integration Options
5. Process Street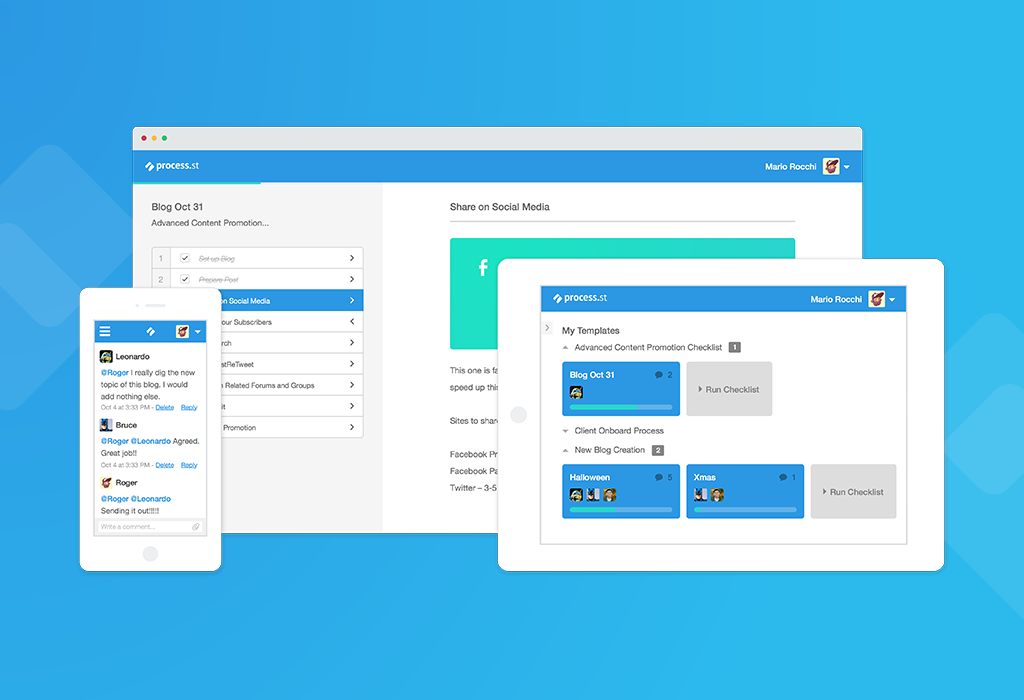 Process Street gives a smooth workflow management process and a recurring process. Moreover, it can create powerful checklists for setting up the tasks and manage to invoice for the members. 
The best part; it integrates with 1000+ apps using the Zapier automation tool. You can use checklists to save time and ensure a smooth workflow. Process Street is utilised by companies such as Microsoft and Uber for creating workflow management. 
The learning curve for Process.st is pretty simple. However, it is an online workflow management tool and is not available as an on-premise or as a mobile app. Apart from that, Process Street offers stellar support with its guides and live webinars. 
Pros:
Easy to use

Cheap for businesses 

No learning curve
Cons:
Limited integrations

May lack reporting functionalities
6. Kissflow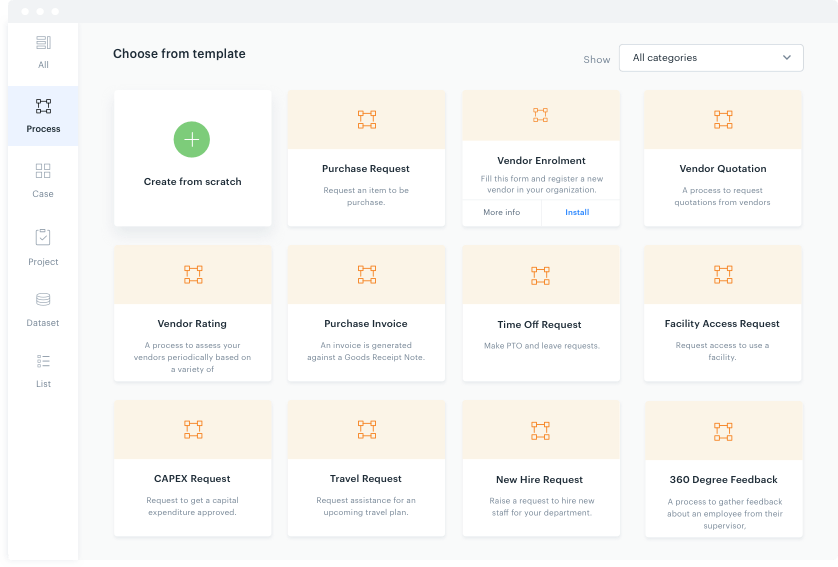 KISSFLOW is best known for its simplicity and affordable pricing. It has a robust drag-and-drop interface and lets users create a customer-centric business platform. 
One of the most intriguing features of Kissflow is that it is a no-coding platform that lets users create business process models and deploy apps with ease. You can start everything from scratch or you can even edit the applications. 
It is one of our personal favourites due to its ability to install 50 applications such as those needed for vendor management, mileage reimbursement, purchase orders, employee onboarding, and more. 
However, Kissflow still lacks some features such as the Gantt layout and the project breakdowns. It does not have any timelines. It gives a Kanban dashboard layout. Regarding the integration, Kissflow integrates seamlessly with webhooks or API integration. 
Pros:
Designed for Mobile Interface

Free demo for 30 days

Built-in analytics Apps

Wide variety of templates
Cons:
Lacks timeline feature

Not affordable for all businesses
7. Pipefy

Pipefy is a workflow management software for frontline employees in the field of HR, Sales, Finance & Marketing, Customer Service and IT Help Desk. 
The best part; it doesn't need any coding and can be done without the help of IT experts. Pipefy has clients from every industry such as IBM, Volvo, UTSG. 
You can use and edit the tasks using the pre-made templates. It has a Kanban dashboard layout with the option to add and edit various templates for onboarding and customer management. 
Pipefy lacks the Gantt layout chart. So, it cannot be used for creating the timelines for the projects. Pipefy integrates with third-party apps like Slack, GitHub, GitLab and Google Hangouts for creating smooth workflows. 
Pros:
Handles complicated scenarios

Create tasks and cards via email.

20% Discount On Annual Plan
Cons:
Crowded interface

No Gantt view
8. Hive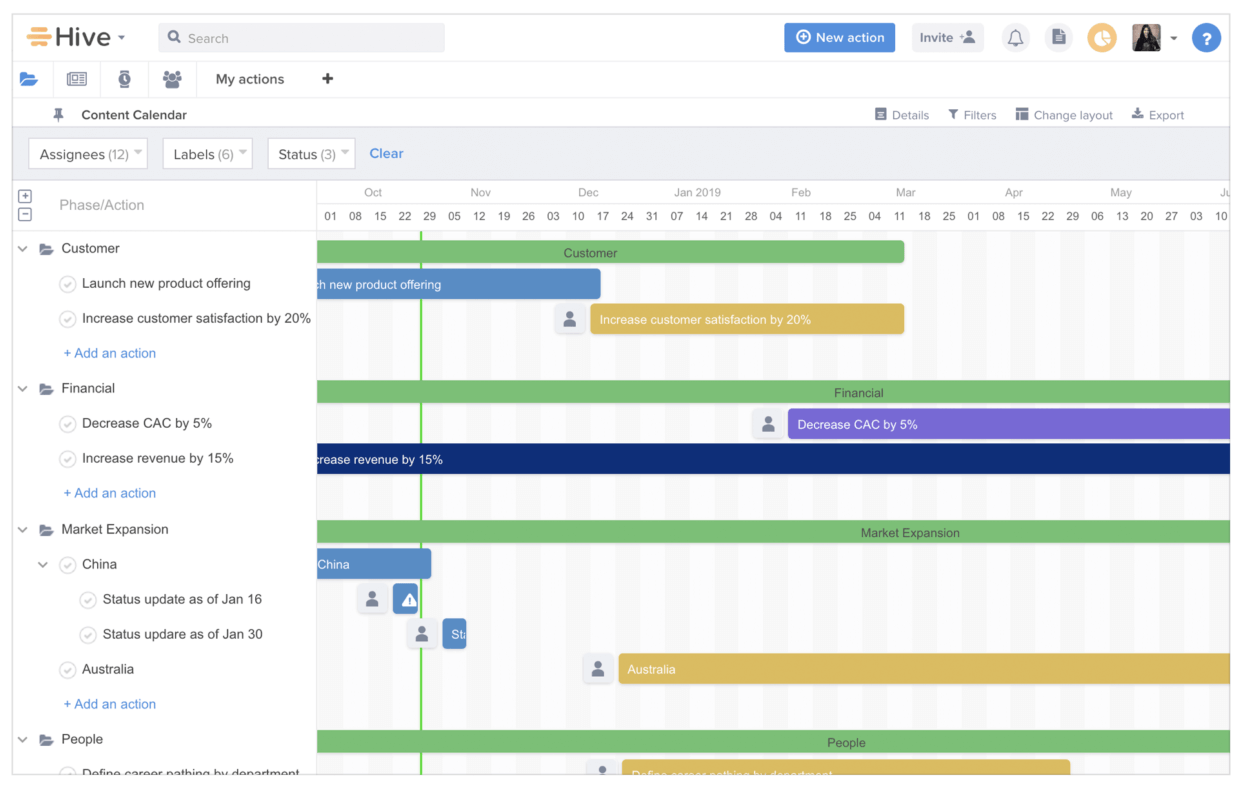 Hive is a cloud-management and on-premise software for PCs and Androids. It creates tasks, automates the workflow, assigns team members, sets dates and sets up the invoicing. 
Hive offers services to companies like Uber, Starbucks, and Harvard University for its smooth workflow.
Hive is easy to use and tasks can be managed with ease using different colours. Only a few of the workflow tools give Gantt view, and Hive is one of them. Hive gives you functions such as assigning the team members on board, managing your files, creating the sub-actions and commenting on each task. 
Hive has a feedback approval option for creating the feedback approvals which may cost extra.  Above that, Hive has five automation tasks and integrates with platforms such as Slack, SalesForce, Zoom, and DropBox. 
Pros:
Easy to Use

Suitable for all businesses

Hive Analytics

Quick form creation
Cons:
Limited Customizations

Add-ons may be pricey
9. Orchestly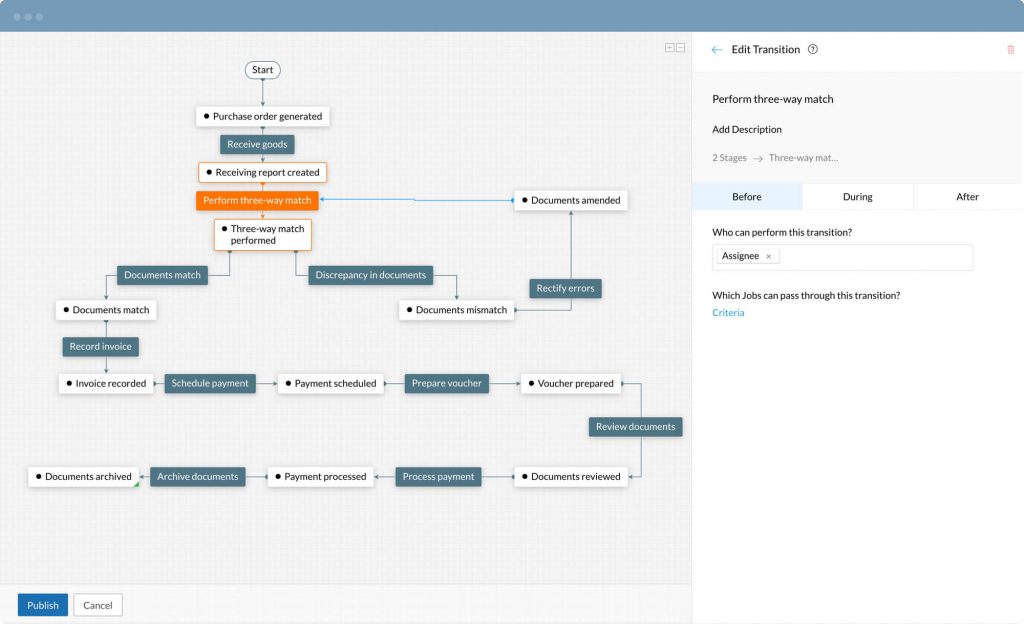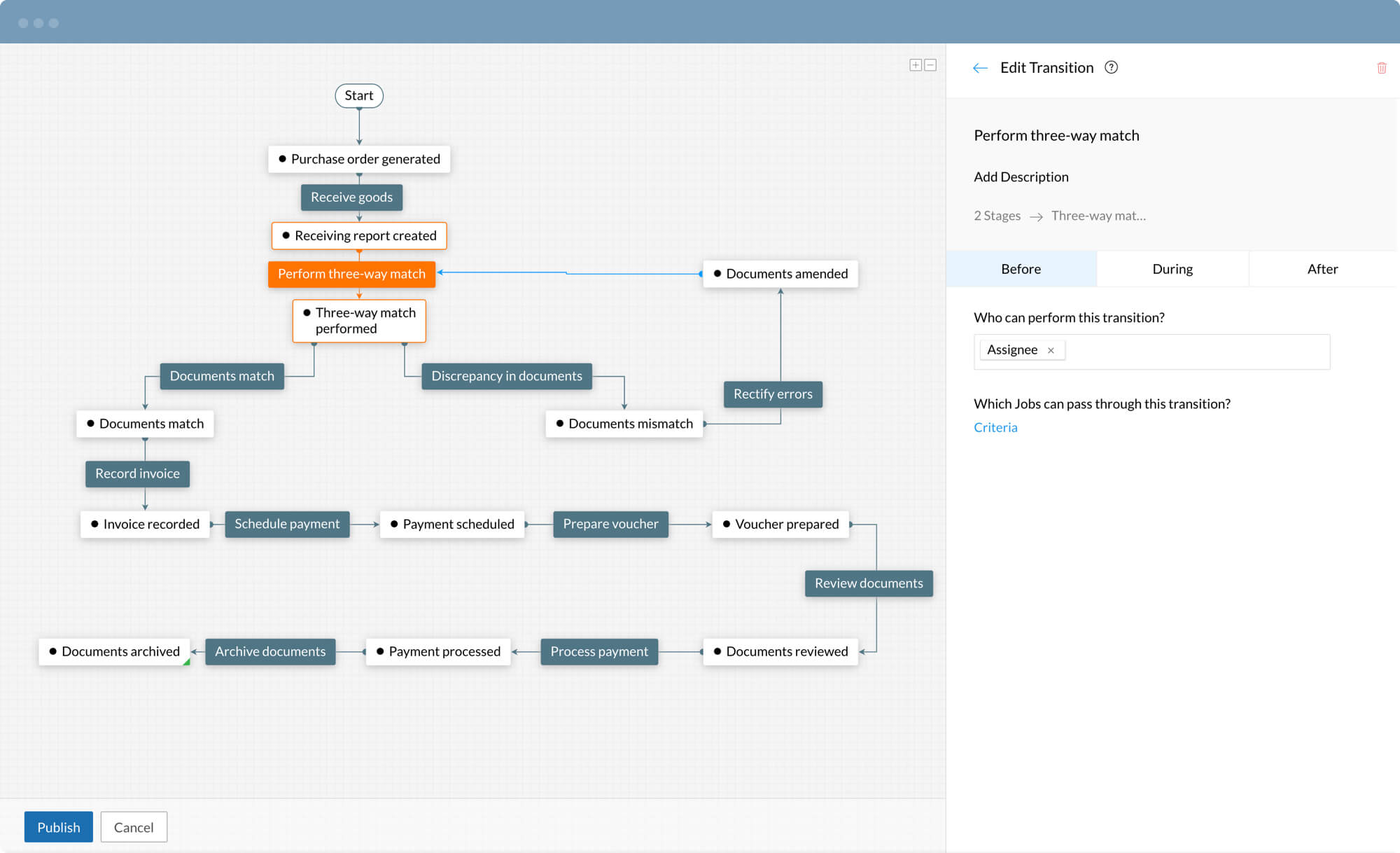 If you are looking for cheap workflow automation and management software, then Orchestly is certainly the best choice for small businesses. It has a drag and drop interface that automates and orchestrates the business workflow process.  
Orchestly offers features such as process mapping, form sharing, and task management. Task Management becomes a breeze with Orchestly. Also, it helps increase ROIs and improve KPIs. 
 Pros:
Form Builder

Bring all your tools to one platform 

API integration

Workflow Builder Automation
Cons:
No timelines for project management
10. ProcessMaker
ProcessMaker is a low-code BPM software tool for business automation.  It is a better alternative to KISSFLOW which creates business models and deploys apps on demand. 
It has enriching features such as KPI management, dashboard, and form designers.
It offers a drag and drop builder just like Kissflow and the visual flowchart creates the workflow in every step. It even integrates with a third-party app via API integration. 
Pros:
WYSIWYG based interface

Workflow embedding 

User management and user portal

No-coding required
Cons:
Too pricey for businesses

Not recommended for complex business processes. 
11. Backlog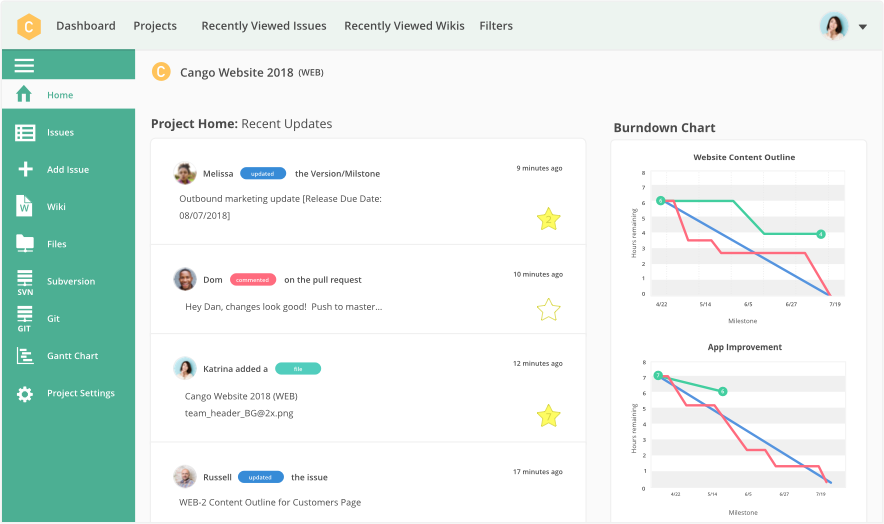 Backlog is a great process management tool specially designed for software developers. It has complete automation and workflow management involved in software development. It is perfect for software developer agencies and small companies. 
Backlog is one of the best collaboration tools for connecting the non-tech team to the developers for better coordination. The best part about Backlog; it keeps everything at the same place so that you can assign it to others. 
Pros:
Burndown and Gantt chart view

Track Progress by enabling comments

For all types of business industries

Integration with any tool

Free 30-day trial
Cons:
No Kanban view

Crowded Dashboard
12. Nifty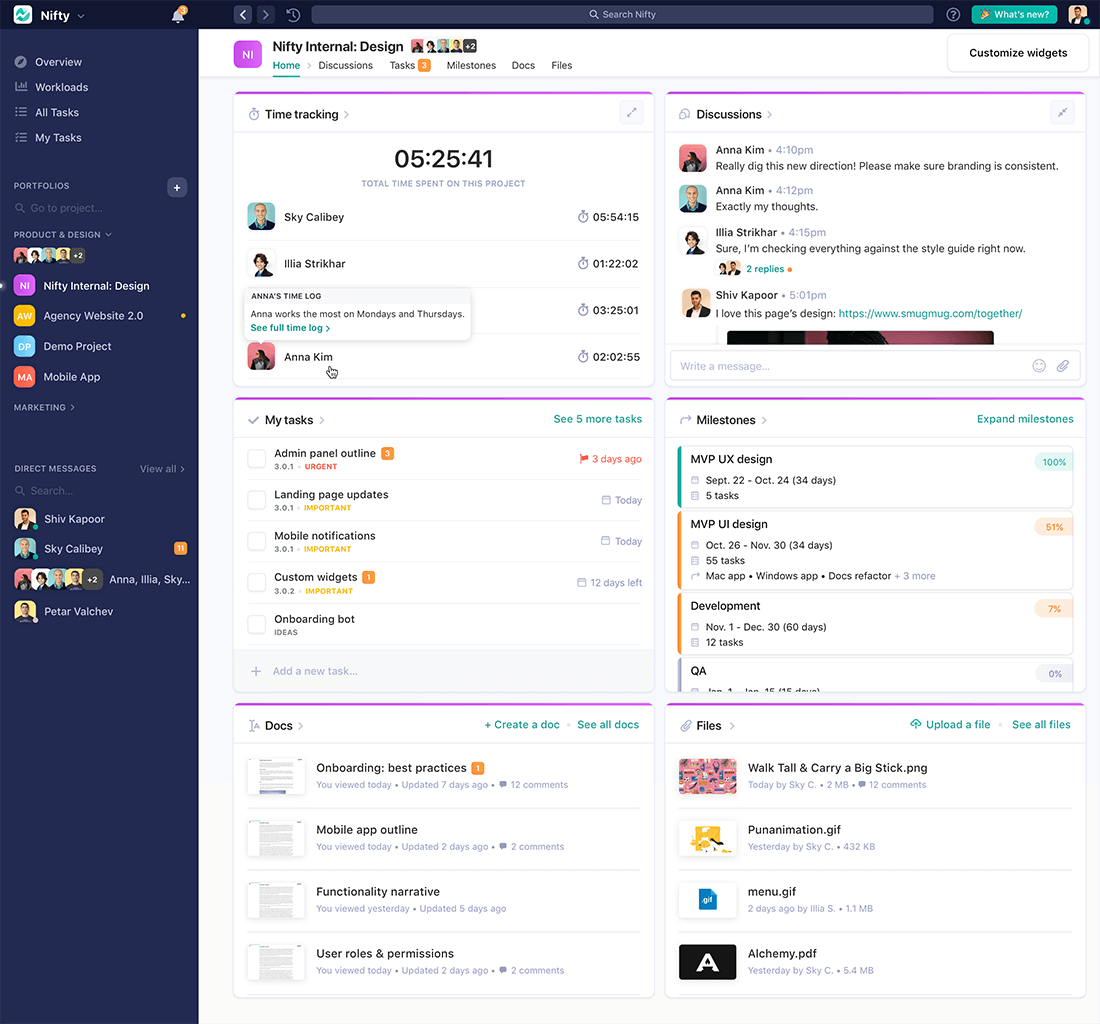 Nifty- as good as it sounds. It is a cloud-based workflow management software designed for small and medium-sized businesses. Some of the most prominent clients are Apple, IBM and Verizon. 
It offers both Gantt and Kanban views on the dashboard. However, Nifty is yet a newbie in this industry but it has managed to get the reputation. It has a built-in collaboration tool that works much like Slack. 
Above all, Nifty offers the migration from various workflow management tools such as Jira, Asana and Trello. 
Pros:
14-day free trial

Gantt and Kanban chart view

Quick document creation and sharing
Cons:
Less integrations

Limited automation
Conclusion
When choosing the best workflow software, it is always recommended to choose the one that offers more functionality at an average price.
Workflow Automation software can help automate the business processes and save your hours of hard work. And, it isn't just word-of-mouth. In fact, these tools are used by top brands like Google, Apple, IBM and Volvo for creating smooth workflows. 
That said, this was our list of most budget-friendly and low code workflow management software for startups to large-sized businesses. 
Do share in the comments the best workflow management software of your choice. 
Also Read: