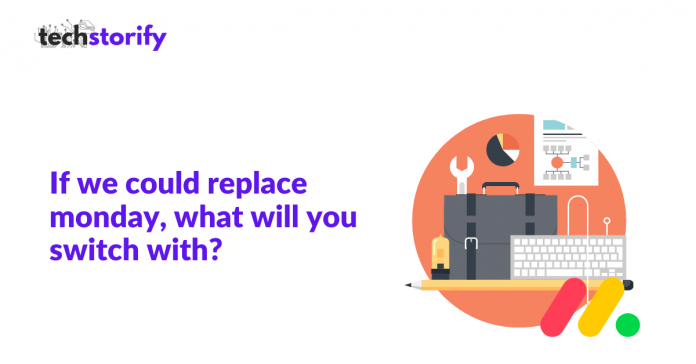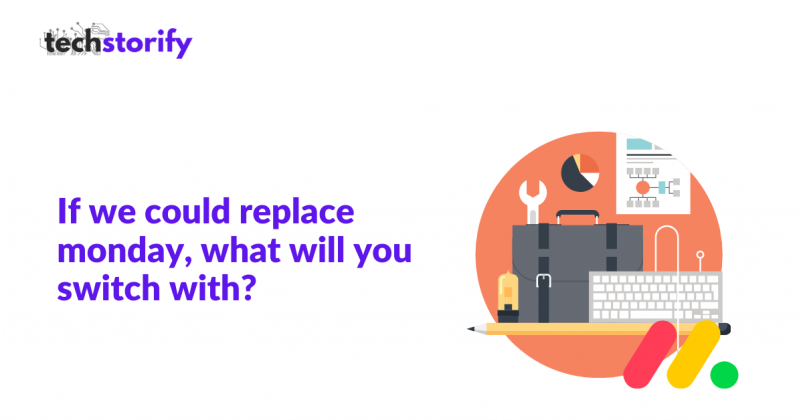 In 2010, Wix.com created "daPulse" in the ample market of project management software. And, in 2017, daPulse changed into Monday.com which becomes a popular one to manage various projects. However, today we'll go through Monday alternatives from all over the industry.
It's not like something "Monday is bad" (pun intended). Everything has its pros and cons. But most of the time it depends on personal preference. Techstorify created a list of 15 best alternatives with its key features and pricing. So you'll get a clear idea of what software suits your business in a better way.
Even Monday is one of the most used project management software, yet it has some cons. We compiled the major of them as below:-
The basic plan of Monday costs you $8/per user for a month. However, you have to add a minimum of 3 users in this plan. As a result, it costs you $24/month which is expensive for most of the startups.
Suppose somehow you manage your budget to buy Monday's basic plan. Still, I advised you to not buy it without considering the essential features you need. For example, in the basic plan, you can't store your important files in it for more than one week.
You also won't find the invoicing function to bill your clients.
You can't do private chat, and search important data in it.
It comes with no minimal support.
Many options are available for the different projects yet not a particular guide to set it up.
Surely, it's not an ideal project management software, especially for startups. Now let's talk about the good ones that you can use as of Monday alternatives.
Best Monday Alternatives
1. Smartsheet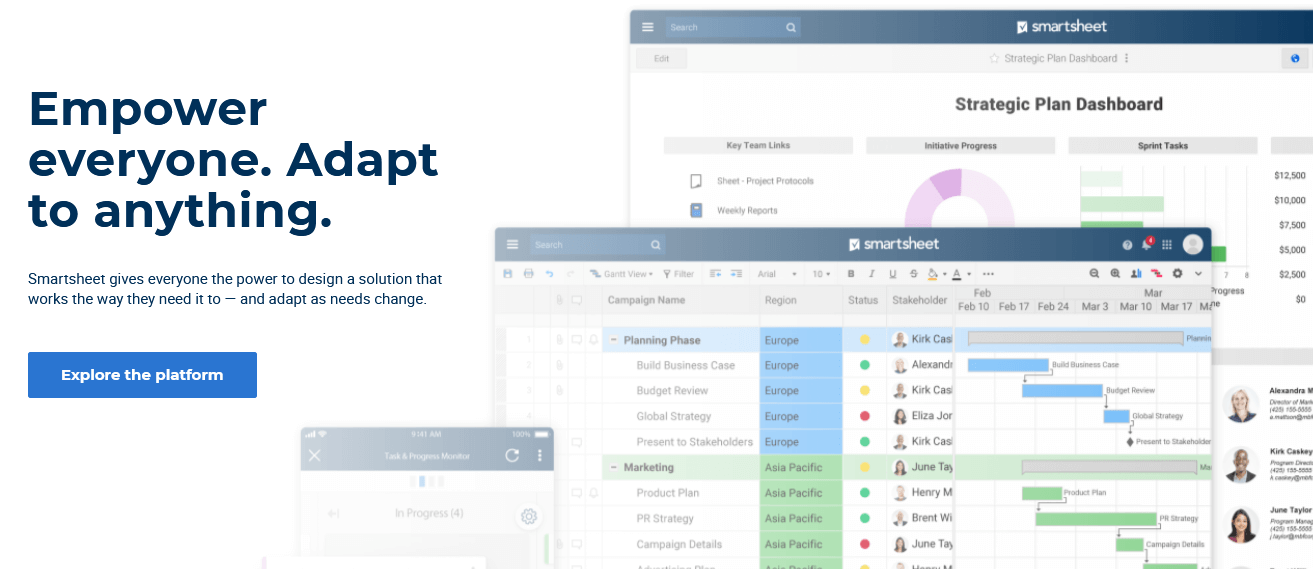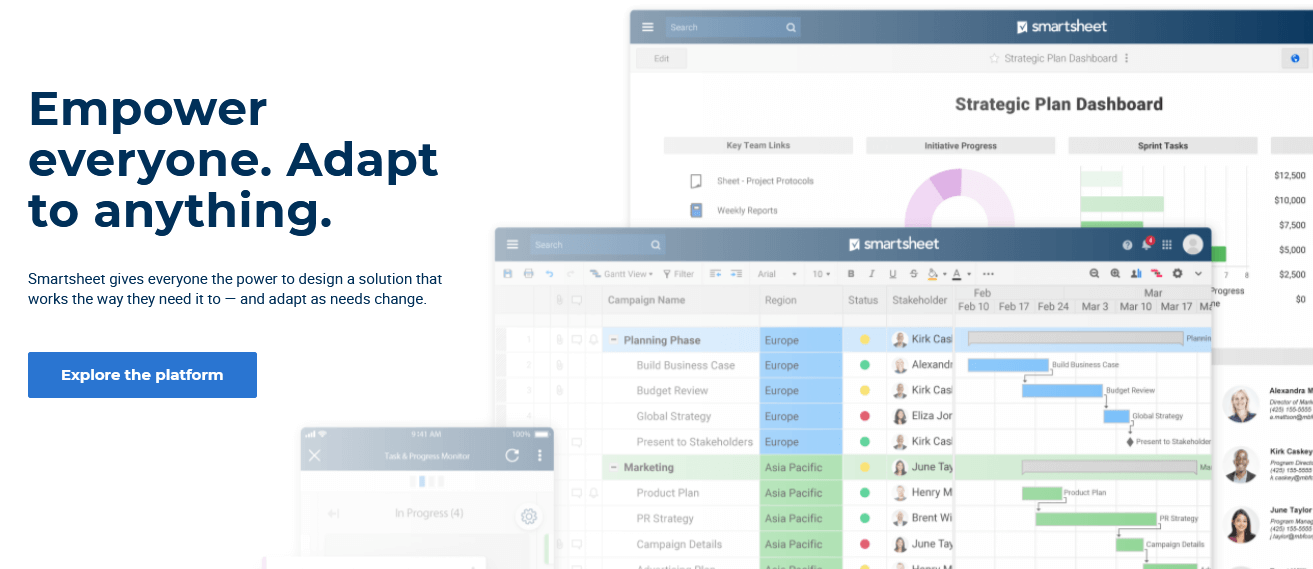 Smartsheet is one of the best project management software to simply manage your tasks. It comes with Excel-like sheets to give you complete detail. And, that feature helps you to maximize your business productivity.
If you're used to with Excel, Smartsheet would be a good pick for you. Because it has similarities like Excel. From the drop-down menus, you can access particular fields or parameters. Also, a feature of creating a hierarchy is here to tasks or subtasks and organize the workflow better.
Moreover, it comes with an easy to use interface alongside pre-made templates. And, a list of support videos is here to learn this software better.
Pricing
Smartsheet got four pricing tiers as below:-
Individual: It costs you around $14/month.
Business: It costs $25/user/month and best for small and mid-sized teams.
Enterprise: You can contact them to know the pricing tier. It is suitable for large companies.
Premier: It's the same as Enterprise but It's also for large companies who want additional features.
2. Workzone – One of the Best Monday Alternative with Advanced features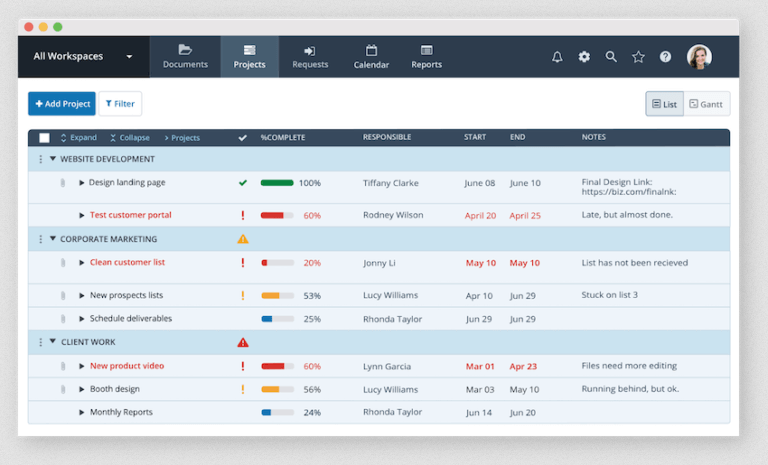 Workzone is another Monday alternative which is based outside Philadelphia, PA. And, it has been playing a great role in project management services for over 18 years. You can handle the complex workload with its usability.
Workzone comes with a support and training service program to complete your project successfully. You can see all the work projects of your team members through project dashboards alongside a portfolio view. You can create a personalized to-do list to keep your team members on track.
Moreover, features like customized project request forms, interactive Gantt Charts, security permission levels, and Unlimited support makes it one of the best Monday alternatives.
Pricing
Workzone has 3 pricing tiers as below:-
Team:- It costs you around $24/month and good for five or more users.
Professional: It costs $34/user/month and best for small and mid-sized teams.
Enterprise: It costs you $43/month with endless customizations.
3. Basecamp – One of the Free yet Best Monday Alternatives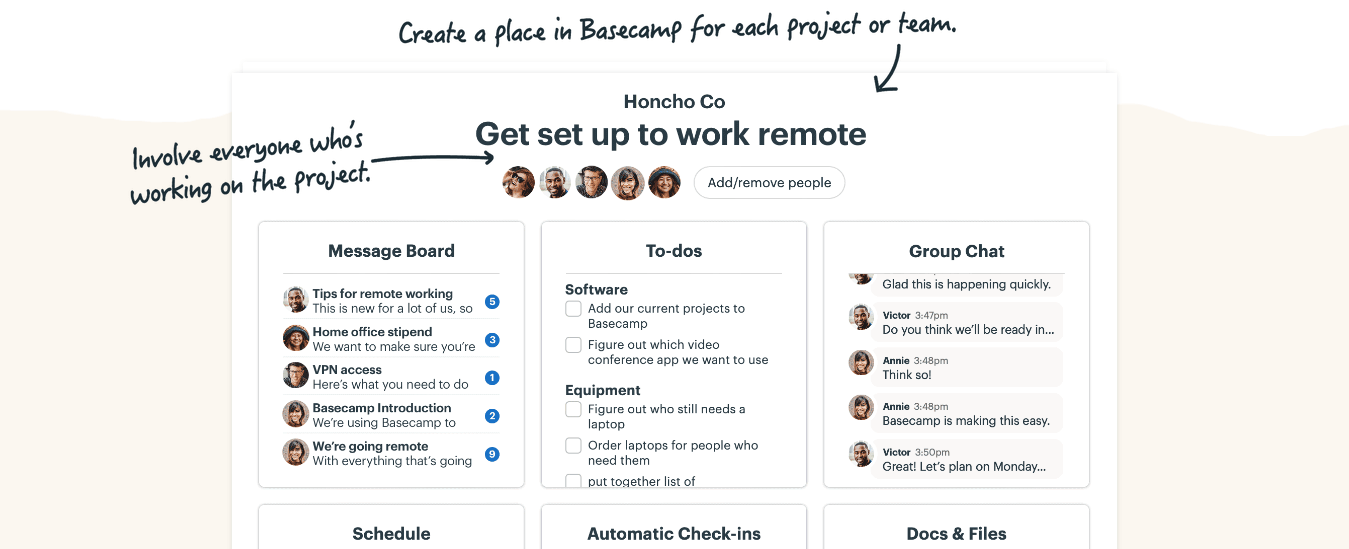 Basecamp is a popular project management tool and already familiar with many agencies. It has the sole purpose of enhancing work productivity by simplifying project management. It comes with such useful features and comprehensive tools.
Moreover, it doesn't have advanced features like time tracking and dependent subtasks. Still, it's a plus point. Because of its suitable collaboration space for teams, you don't have to go through these advanced options.
However, it has a negative point that you can view one project at a time. Still, considering other features like real-time chat, to-do lists, check-ins makes it an another best Monday alternative.
Pricing
It has two pricing tiers as below:-
Free:- It has limited features yet you can use it for Personal plans.
Business:- It costs you $99/month and best for Business plans.
Recommended – Best Basecamp Alternatives to Dominate Projects
4. nTask – Monday Alternative with Clean UI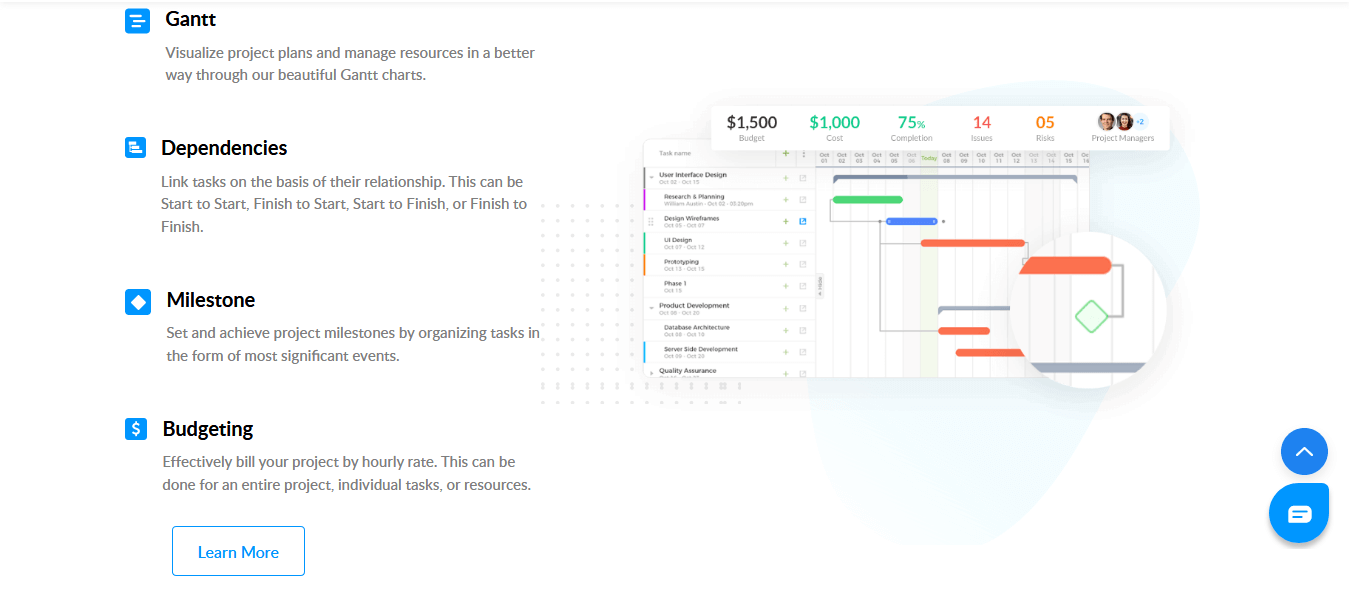 nTask comes with a clean interface and quite easy to learn. You'll get efficient modules integrated with it on the side. And, it will help you complete your tasks, projects, and timesheets in no time.
nTask comes with comprehensive task management to structure, prioritize, and assign your work. You can also schedule your tasks on a time basis too. Also, integration with Slack is also available, so you can create tasks while conducting a discussion too.
You can track time for each task individually for better task planning. Also, you can set alerts, notifications to keep everything on track. Moreover, it's available on both iOS and Android apps. And for some of the teams, it's on the #1 of the list of Monday alternatives.
Pricing
Free:- You'll get an unlimited workspace, 100 MB storage, 5 team members in each workspace, and unlimited tasks in it.
Pro:- It has the lowest starting price of $1 per user/month. And it has unlimited Gantt Charts and projects, budget management, and custom filters.

Here is another one of the best Monday alternatives from a well-known company-Microsoft. However, it's mostly popular in mid and large-sized companies. You can effectively monitor the project through this project management software.
Microsoft Project comes with a simple interface and clear menu options. You can easily track your people's progress while they're working on a particular task. Moreover, the additional panels like accounts and costs to keep an eye on essential business aspects.
Plus, you can make a great budget and can do "Earned value" calculations with a budgeting toolkit. Likewise, the tools and functions shortcuts are here to find something quickly. Now you can tell yourself is it enough for becoming a great Monday alternative or not?
Pricing
Microsoft Project has two pricing models as below:
1. Cloud:- You can start from $10/user/month. In this plan, you'll get basic features. You can also pay $55/user/month for advanced project portfolio optimization.
2. On-Premises:-
Standard: In this tier, you get a full application for 1 PC per person. And, it'll costs you $620 for managing tasks.
Professional:- You can pay $1,030 for additional features such as syncing with Project Online and advanced analytics, etc.
Server: For more advanced customization. You can contact sales for inquiries.
6. Notion – One of the Best & Organized Monday Alternatives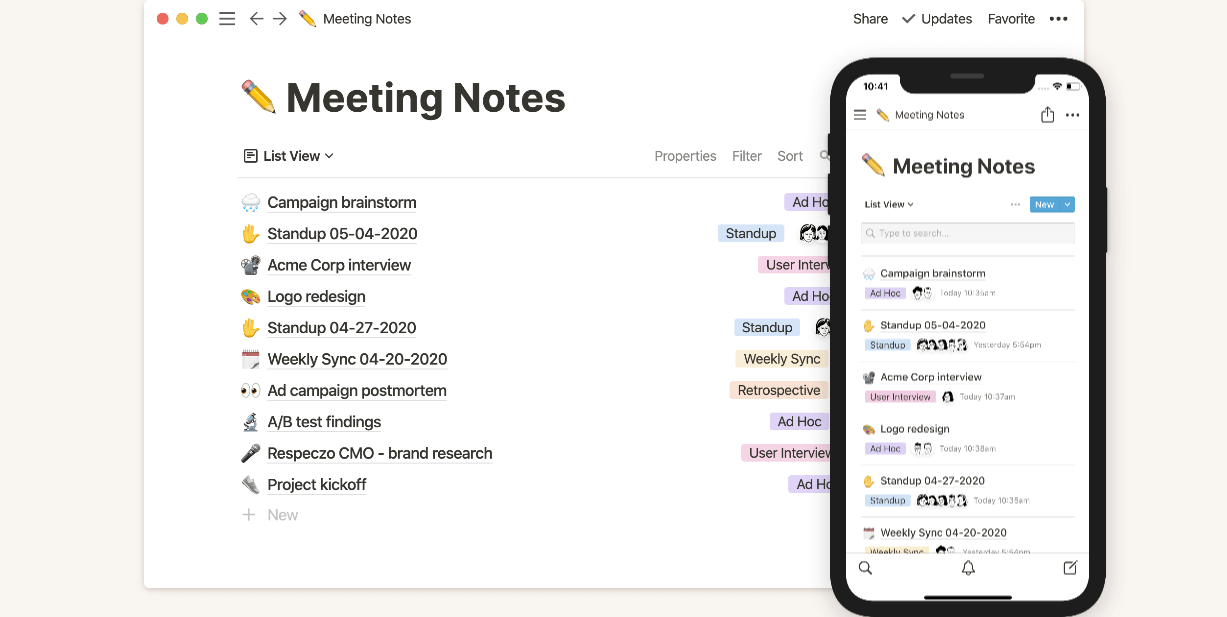 It is one of the best Monday alternatives to get your work organized using a single platform. This program is free like Monday with limited features. Still, works better to monitor your company's processes. It's also useful in sharing notes and completing projects with its Kanban style.
The notion is known for simplifying the process of creating, sorting, and collaborating among teams. Moreover, it has a wide range of pre-made templates to make the replication process of pages easier.
Also, you can include images, to-dos, and more than 20+ block types. Users can also add comments in real-time to be updated. Also, it's a powerful note-taking feature that allows you to add a list, text, sounds, and code snippets.
Pricing
Free: This plan costs nothing and has basic features such as an invitation to members, exportation, and uploading of a max 5 MB file.
Personal: It costs you $5 per member/month for a whole year. And it comes with features like unlimited invitations, no upload limit, permissions control, etc.
Team: It costs $10/month and $8/month for a whole year with added features such as access to admin settings, access version history, etc.
Enterprise: It costs $25 per member/month for a whole year. And it comes with the extra features like plus managing employee access, customer success manager, exportation
You May Like This – Best Notion Alternatives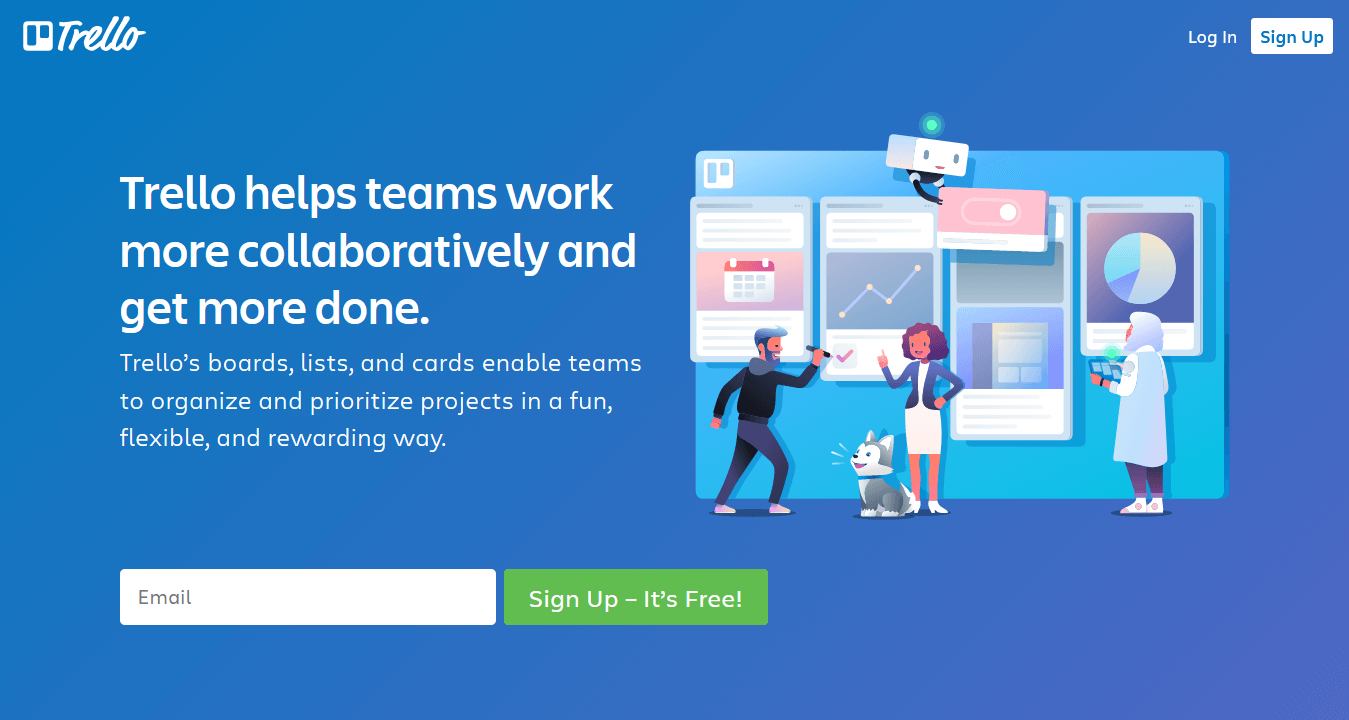 Trello is created by a web-based project management solution named Frog Creek Software. And, it is one of the best project management software that you can use as a Monday alternative.
This allows you to create a digital board named "Trello Board." You can use it to pin your important projects. Also, you can use it to prioritize and organize tasks as well as for collaborating comments, files, and photos.
Trello also one of the most kanban based project management software. However, it has a steep learning curve and got 3.5 out of 5 ratings by PCmag. Still, with an easy drag and drop task placement, great integrations, and due it lightweight, it's one of the fine Monday alternatives.
Pricing
Trello has two price tiers as below:-
Free:- In this tier, you get features like an unlimited board, cards, lists, checklists, attachments, and members. There is also an option that you can use one "power-up" per board to attach 10MB files to your board. And all of them are free.
Business:- It costs you $9.99 per month when you pay annually. The added features include unlimited "power-ups", integrations and file attachment size will be increased up to 250MB.
8. Scoro – Beautiful Monday Alternative

Scoro is another awesome Monday alternatives to manage your all work in one place. It's a project management software that has features like dashboards, templates, alongside a better and secure business management atmosphere.
You can manage tasks through the dashboard while being on the same page. Scoro also has scheduling, tracking, CRM, and database features that smoothen the business flow. The alert functions help you to stay alert for due tasks and deadlines.
Also, Scoro is a good option for integrating Email and use it for better task management to save your effort and time. Also, the drag and drop features can help you to move users freely and efficiently.
Pricing
Scoro comes with 4 pricing plans available:
Essential: It costs you $26/user/month and best for smaller or startup teams.
Work Hub: It has a starting price of $37/user/month. And it has added better time management and collaboration tools.
Sales Hub: This price tiering starts from $37/user/month. It helps you with more forecasts and reports.
Ultimate: This price tiering has advanced customizations. Although to know the price you have to talk with sales support.
9. Airtable – One of the Best Monday Alternatives with Better Functionality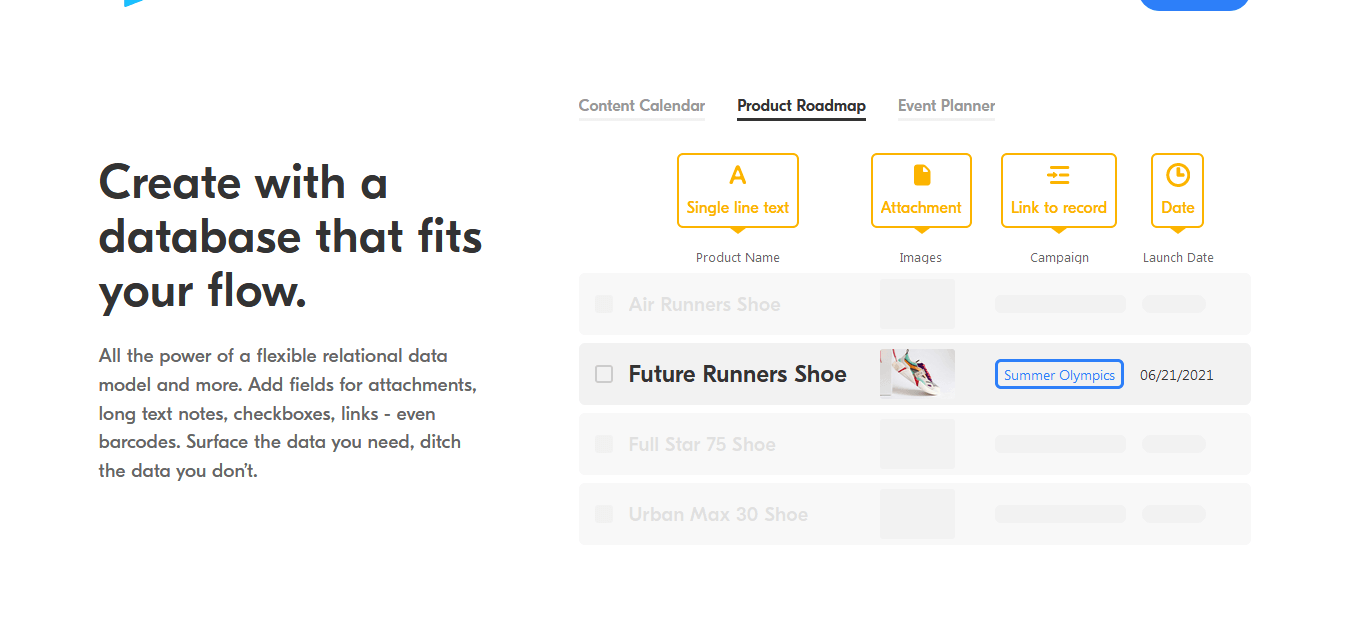 Airtable is a project management software that comes with a clean and beautiful interface. It also comes with great functionality of database and spreadsheet. In short a complete solution to modern user management problems. Apart from beautiful and clean UI is simple to use and easy to learn.
Moreover, you'll get an interesting feature of Blocks to create a productive team workflow. Users can also adjust project visualizations and format according to a particular project.
You'll also get a library full of ready-made templates to easily get started. Meeting management can be done greatly with video chat features. Plus, you can attach certain files within the tasks and can integrate third-party apps. Simultaneously, detailed task management and bug tracker makes it one of the best Monday alternatives.
Pricing
This Monday alternative has 4 pricing plans available:
Free:- You'll get all the basic features without paying a single buck.
Plus:- This plan costs you around $10 per user/month.
Pro:- You can buy this plan at $20 per user/month.
Enterprise – For more custom advanced features you can contact the inquiry team to get this plan.
Recommended – Best Airtable Alternatives for Project Management
10. Easy Project

As this project management software's name suggests, it is simple and easy to use. And a cloud-based project management solution. It offers a collaborative workspace to companies, customers, teams to simplify their businesses' growth.
The easy project comes with simple time logging and a task creation system. This system allows you to archive jobs that is completed now. Also, you'll get enough parameters and customization options to customize your task and design. As well as you get plenty of templates, calendars, and timelines to organize your company's process in an easy way.
Moreover, this software provides you with essential analytics such as budget, cost, revenue to measure your business. And
It also offers financial metrics such as revenues, costs, budgets, and other expenses. And, you can use this software anytime, anywhere, and on any device.
Pricing
Easy Project comes with 3 pricing structures:-
Essential: It costs you $6.5/user/month and good for classic project management
Business: It comes with a price tag of $13/user/month. And it has added features for better work and finances.
Platform: It costs you $20.56/user/month. And alongside all features, you'll get a help desk.
11. ProWorkflow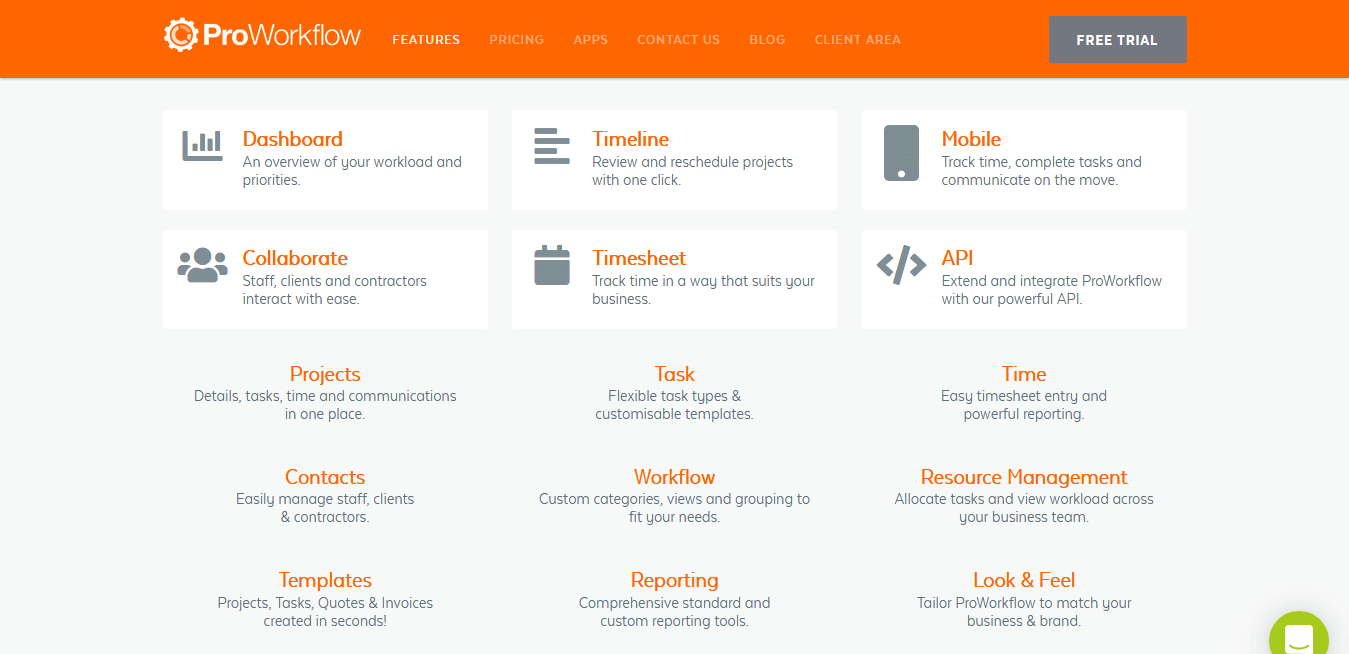 Including all the templates, reminders, timesheets, and alerts, this software becomes one of the best Monday alternatives. This project management software popular for managing all projects in a smart and simple way.
ProWorkflow is another project management solution that eases and manages all your projects smartly. Including all the specs for the traditional PM system, this software has templates, timesheets, reminders, and alerts. Also, this software tells a good overview of what's going inside a company by presenting a graphical data summary.
ProWorkflow can be accessed through a laptop, phone, or web from anywhere. You'll also get a built-in messaging platform to chat and share files. Also, it's useful to assign tasks to multiples.
Pricing
Solo: It is a known ideal deal for freelancers and costs $10/user/month.
Professional: It has a price tag of $20/user/month. And it has added features like comprehensive task and project management.
Advanced: It costs $30/user/month and perfect for large companies or agencies.
12. Jira – One of the Popular Monday Alternatives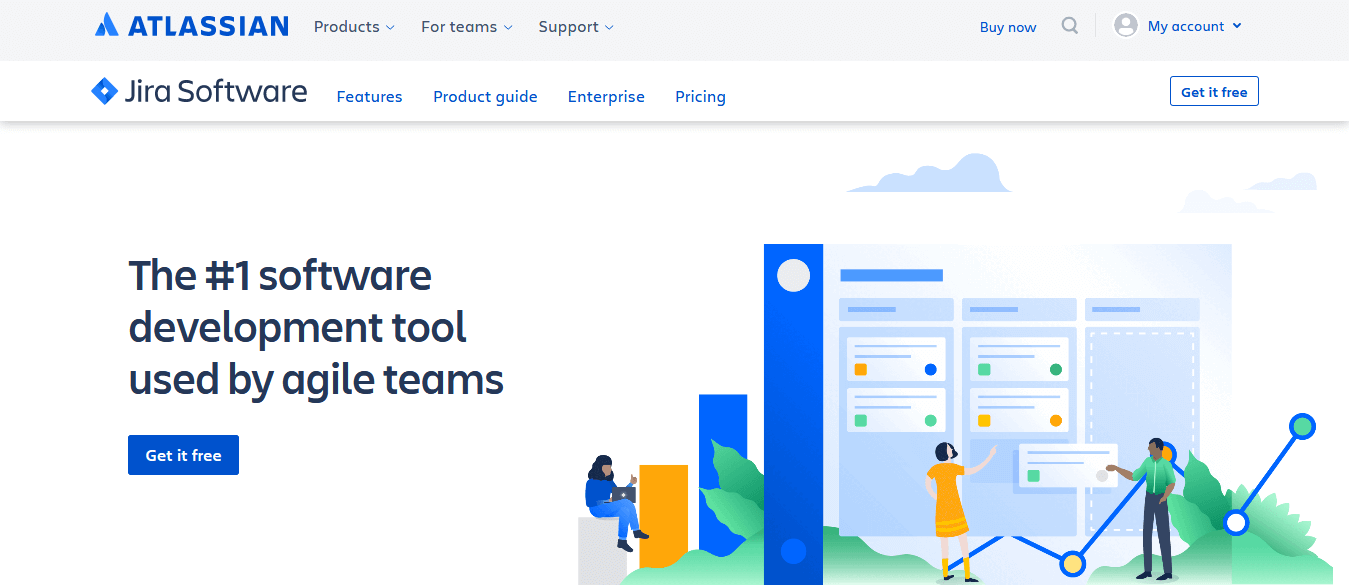 It's one of the best Monday alternatives that you can pick from the market. It is a project management tool created by Atlassian and allows you lots of customizations. Also, it is a great platform to organize tasks in scrum and Kanban boards with color used.
Jira also has developed a new mobile interface that seems faster than before. You get 250 GB storage to store your big data. You can also add and edit comments to do faster mentions. Moreover, it has an agile reposting system to give you complete real-time insights.
You can integrate Jira well with other platforms to talk with colleagues and team members. Also, you can use custom filters using the Jira Query language according to your goal.
Pricing
Free:-  This plan is for up to 10 users and allows you to do 100 executions per month
Standard:- This plan costs $7/user/month. And you can use it for up to 5,000 users with advanced permissions and 500 executions per month.
Premium: This plan comes with a price tag of $14/user/month for up to 5,000 users. Plus, you'll get advanced features and additional support in it.
13. Confluence – One of the Powerful Monday Alternative with Major Integrations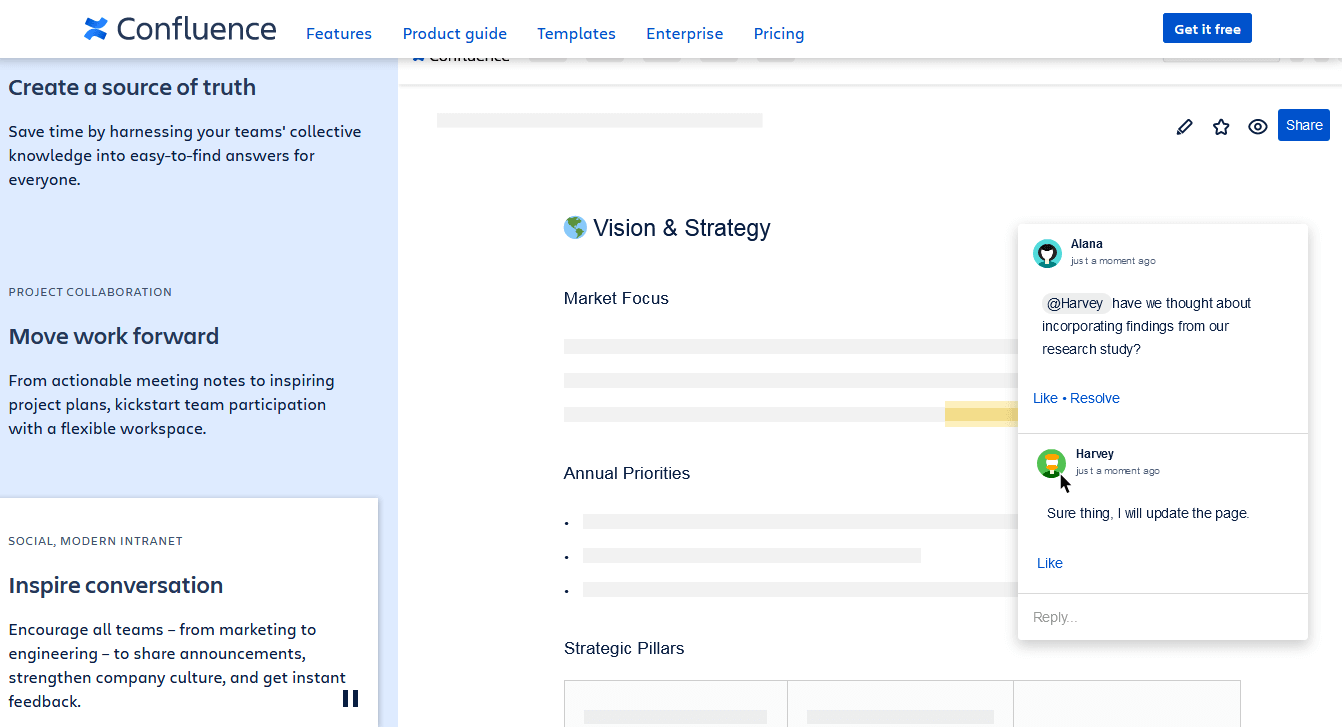 If you're looking for a free task management software, here is your pick. Confluence is one of the best Monday alternatives that allow you to manage your team and work simply and precisely.
It creates a better and organized environment by allowing you to add group pages together. You can also use 15 customized templates to unleash your creativity without starting from scratch. Also, you can add documents, images, and particular files to produce better results.
Moreover, Confluence provides better integration with other major software like Jira and Trello. So you'll be able to get your work done without losing other favorite software. Also, it is available for all major platforms such as Android or iOS. Also, features like permission controls, advance search, and commenting options make it one of the best Monday alternatives.
Pricing
Confluence is available with these 3 following pricing plans:
Free: It supports up to 10 users, and features basic templates, 2 GB file storage limit, and community support.
Standard: Standard plan costs you $5 per user/month. And it includes extra features like anonymous access for third parties, 250 GB file storage, 9-5 standard customer support, and more.
Premium: This plan includes all the standard plan's feature plus analytics, access and permission management, audit logs, unlimited storage, 24/7 customer support, and more. And it costs $10 per user/month,
14. Asana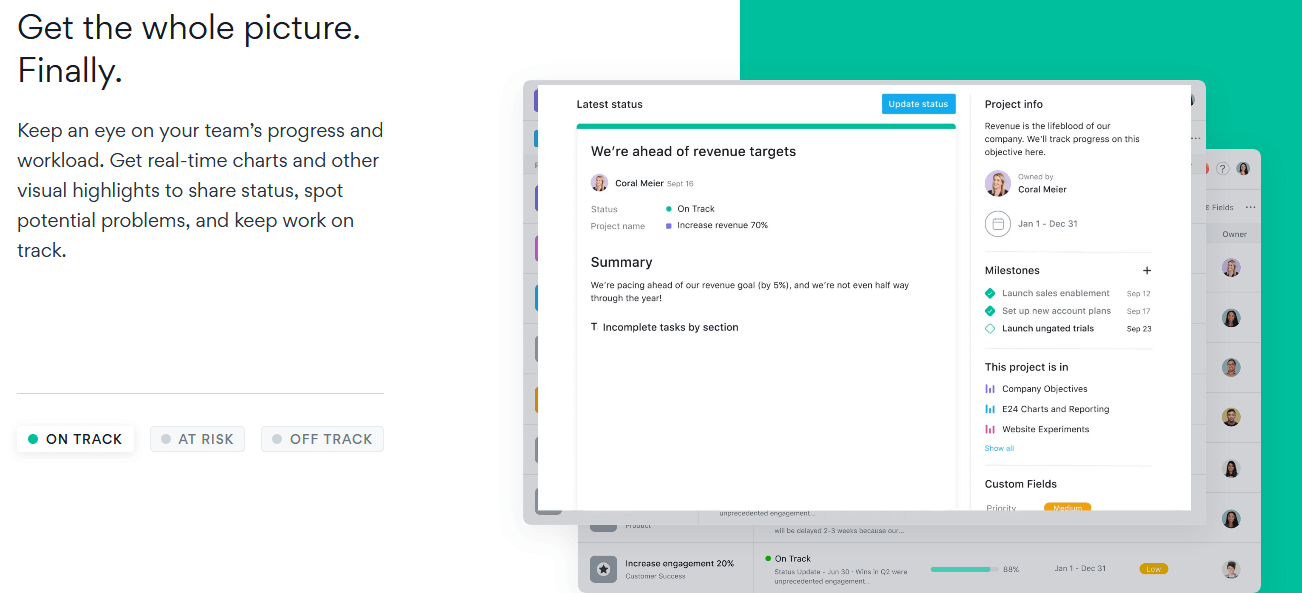 Asana is a project management software that comes with tons of useful features to boost your company's workflow. The wide range of options allows you great portability while working on various projects.
Moreover, its designs to be useful in different sizes of agencies. Also, it is easy to personalize that helps you to manage and organize your projects in an efficient way. The timeline feature is helpful to set a project schedule as well as keep an eye on pending work. Plus, it comes with a project portfolio management to handle multiple projects, greatly.
You also get native templates in Asana so you won't end up wasting time creating projects. Team conversations are also here to keep everyone updated. Moreover, issues and bug tracking features help you to get rid of a frustrating error asap. Simultaneously, the 100 of integration smoothen your workflow and make this one of the best Monday alternatives.
Pricing
Asana provides you with four pricing plans:-
Basic:- This plan cost you nothing and has basic features such as tasks, multiple views, and due dates.
Premium:- You'll get this plan at $9.99 per user/month. And it has added features to the basic plan.
Business:- This plan cost you at $19.99 per user/month.
Enterprise:- You can add custom features also this plan comes with priority support. You can contact the enquiry team to get the price.
15. Bitrix24 – One of the Best and Free Monday Alternatives

Bitrix24 is excellent software to get great business growth at an ideal pace. With its advanced features, it is also effective for team communication, task management, and various projects. Also, it is a project management software for document management, calendar, planning, and file sharing.
Bitrix24 comes with great device portability. You can access it from your iPhone, PC, or phone anywhere, anytime. Time tracking tool allows you to check work reports, check-ins/outs as well as to create a daily plan for project goals. Moreover, it has a built-in Gantt chart which can give you a good overview of your projects.
You can customize forms for various projects and according to your needs. Also, it allows you several workspaces and templates to customize it accordingly. Likewise, it has several pre-coded automation which makes it a user-friendly software. Isn't it deserves a place in the list of best Monday alternatives?
Pricing
Free: This plan costs you nothing. And it comes with 5 GB storage and basic features for various Bitrix24 modules for 12 users.
Project+: This plan costs you $39/month for 24 users. And, it includes all essential CRM, sales intelligence, and task/project management features alongside a 24 GB online storage.
Standard: Standard plan costs you $99/month for 50 users and 100 GB online storage. It comes with few limitations and includes features like all CRM, sales intelligence, contact center, website management, eCommerce modules.
Professional: Professional plan has unlimited users and unlimited storage. It includes all the features of previous plans and has no limit cap and costs $199/month.
Conclusion
Using a Monday's like software makes your workflow easy but every software has its advantages and disadvantages. So choosing an ideal one becomes hectic. It depends on your personal preference or the work nature of your company or team.
Moreover, we included the project management software that lots of agencies and companies are using already. However, the motive of using a certain task management software vary from person to person. Still, all of them are the best of Monday alternatives.
Let's know what Monday alternative you like from the list. And what kind of task management software you/your company is using right now.