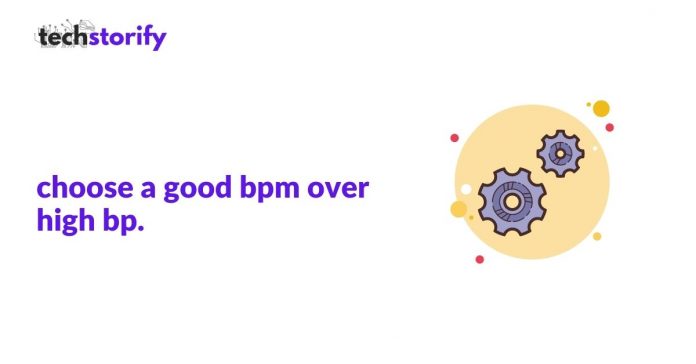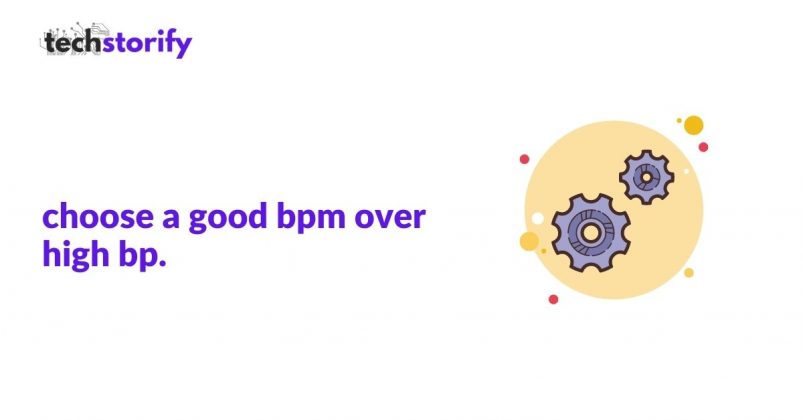 Every business needs Business Process Automation Software in 2021.
Technology today has taken the economy to heights that we could never even dream of. Every business is adapting the power of technology to grow its footprints in the market.
We can't deny the fact that automation is the next big thing. We need to understand its importance and how it will be a key pillar in your business growth path.
Every business is run on a combination of processes. Some of these are man-managed, and some of these are technologically driven. It is critical to analyze the process taken by automation software to maintain efficiency and effectiveness.
What is Business Process Automation Software?
Business Process Automation Software is an application used to streamline and manage various business processes like collecting, organizing, analyzing, automating, etc.
In simpler words, a business process automation software aids in automating and structuring various processes between IT and non-IT groups that are required to run a business smoothly and efficiently. 
The business process automation software also optimizes different business ent processes and workflows to improve overall efficiency & outcomes. 
6 Reasons Why Do You Need Business Process Automation Software?
Increasing efficiency and adaptability of various business processes. 

Automating workflows

Reduces costs & increases revenue 

Improving productivity 

Improving customer and employee management 

Greater customer satisfaction
And the list is endless. 
5 Things You for Look for in a Business Automation Software
Clean & attractive user interface

Easy to learn and support options

Features & functionalities

How easy it is for you to integrate it with other tools.

Value for money
List of Top Business Process Automation Software
We've curated a list of the best 10 business process automation software. Take a look!
1 – Wrike

 
This business process automation software is ideal for all small to large businesses. This powerful yet easy-to-use software is loved and used by organizations across the globe.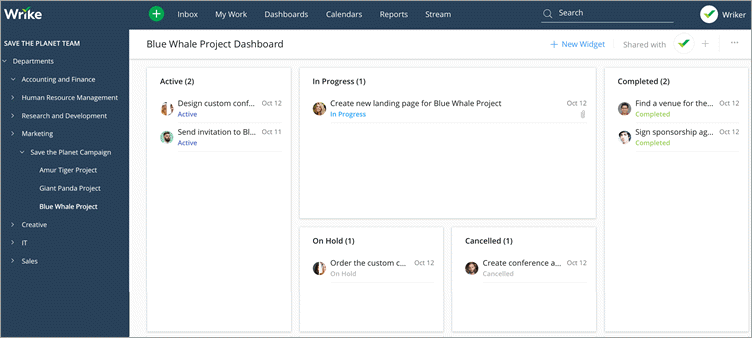 The highly customizable tool helps you organize, manage, track, and prioritize work with the help of templates, the awesome time tracking feature, and the real-time dashboard. 
User Interface: Intuitive and easy-to-use. You can easily toggle between different screens, folders, tasks. 
2 – Quixy
If you are a business user with no coding skills, then Quixy is something that you must look out for. Ideal for businesses of any size, this cloud-based platform helps you automate processes and build enterprise-grade applications at a meager cost.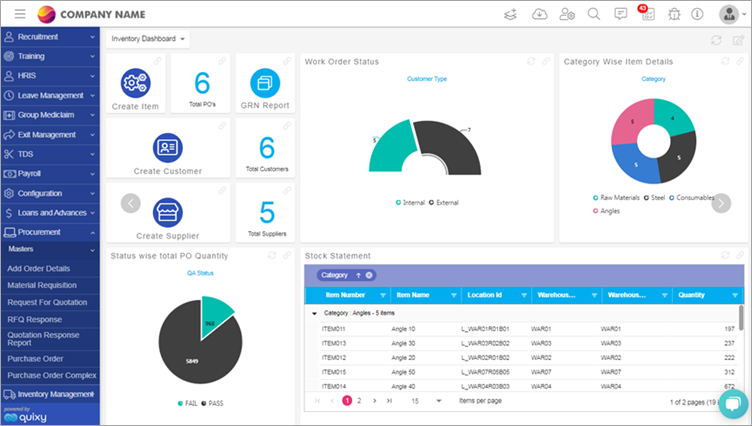 Quixy also provides you with multiple pre-built solutions for various use cases such as CRM, HRMS, travel & expense management, project management, etc. With Quixy you can customize your workflows and processes as per the need of your business. 
User Interface: Easy-to-use & understand.
3 – Process Street
This one is a great fit not just for businesses but also for freelancers. The process-driven tool is a blessing for teams that have a document-driven workflow. Certain functionalities of Process Street like assigning & automating tasks, progress tracking, and training of new employees.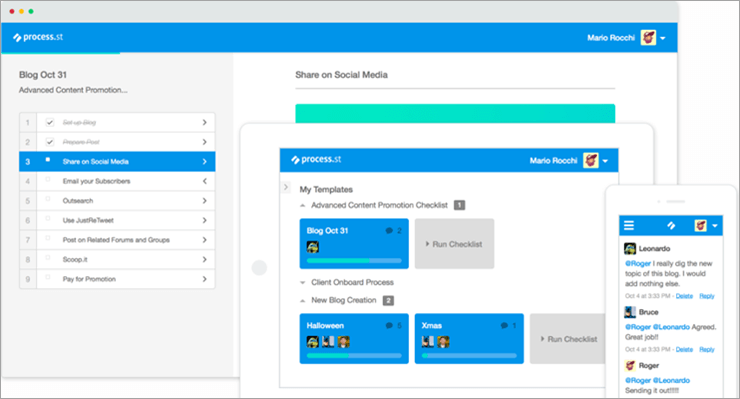 Apart from all this, Process Street can be easily integrated with other apps for the purpose of task automation. In short, the platform can be used to create complex & collaborative workflows. 
User Interface: The drag-and-drop task manager & intuitive shortcuts makes it extremely easy to use.
4 – Bizagi Modeler
Improve efficiency & collaborate better with this another great Business Process Automation Software. Offering a wide range of features & capabilities like process modeling, digital presence automation, case management, real-time notifications, working offline, and dedicated cloud, this free tool is ideal for small to large businesses.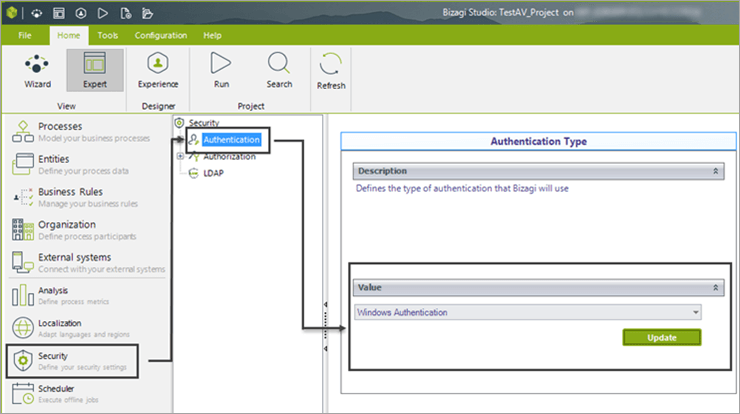 The tool lets you transform your work by allowing you to publish processes to Word, PDF, Excel, and more. With this tool, you can increase the efficiency and process governance across your organization.  
User Interface: Intuitive & easy.
5 – SaaS BPM
Streamline your business & manage your resources with this another cloud-based business process automation software. SaaS BPM is excellent for growing companies that require quick and affordable solutions to organize, plan, and put into execution their teams and business processes. 
If you are using SaaS BPM, then creating tasks and activities is extremely easy. You can create custom activity templates, recurring activities, describe, organize, set goals or deliverables, and assign roles to different teams or individuals. 
Another handy feature of SaaS BMP is the mind-map feature. In short, this is an affordable and easy solution for your business. 
User Interface: User-friendly and easy-to-use. 
6 – Nintex Process Platform
Used by private and public sector organizations across the world, this Nintex Process Platform helps in managing, automating, and optimizing various business processes. 
The automated workflows ensure that you deliver projects on time with less scope of errors and miscommunication.  
Platform's deep integration capability allows you to run your processes whenever you find it convenient – whether on-premises, in the cloud, or in a hybrid environment, you won't face any trouble.  
User Interface: Powerful, intuitive, and easy to use.
7 – Pipefy
Want to create a seamless flow of information & centralize the whole thing? Pipefy is something you must look at. This business process automation software allows you to track, manage, and refine the everyday business processes that are required for the proper functioning of your business. Mind it; it's all data-driven.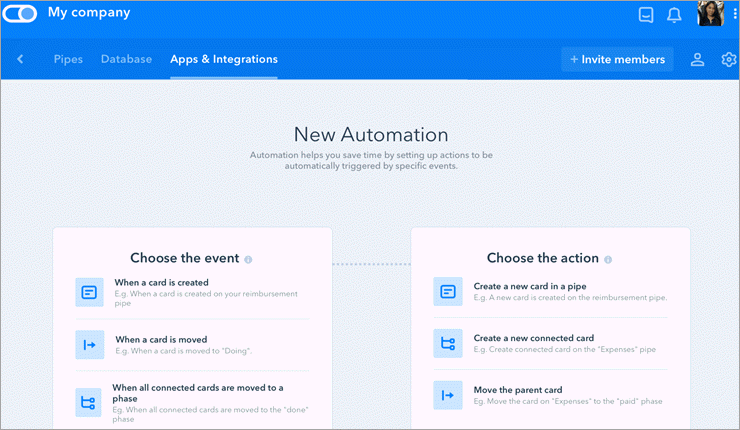 This easily customizable platform comes with thousands of pre-built templates, has advanced reporting capabilities, and requires no-code automation, making it a great tool to provide effective communication for all your stakeholders. 
User Interface: Flexible, easy, and modern. 
8 – Studio Creatio Free
Studio Creatio Free is a leading global business software company. Perfect for medium to large businesses, this business process automation software provides solutions for business process automation for CRM and low-code.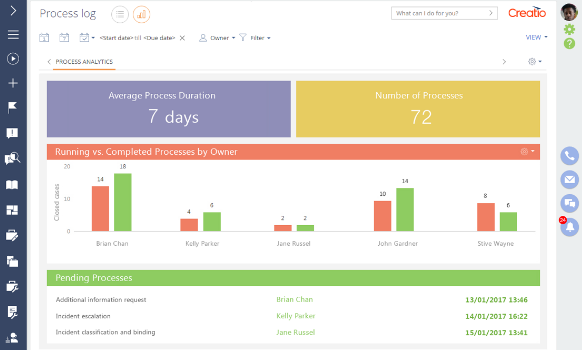 The platform enables you to automate, execute, monitor, and analyze complex business processes. 
You can also use their process designer and process library to accelerate the whole process and in a unified environment. The process designer also allows collaboration with different teams. 
User Interface: User-friendly and easy
9 – iGrafx
This business transformation software is all you need to automate your business process. iGrafx is a comprehensive cloud-based business process automation software that supports RPA, workflow automation, governance, risk, customer journey, and much more.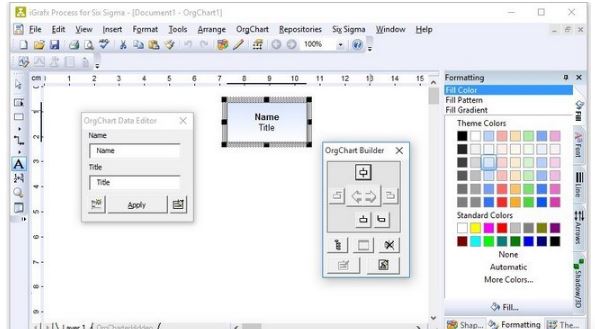 Two of the great features of iGrafx are the what-if analysis of hypothetical or upcoming process changes, and the second one is the process documentation.
With this platform, you can communicate, improve, and optimize every aspect of your business. 
User Interface: Easy-to-use
10 – Monday.com
This one is a powerful and well-known business process automation software that helps you plan, execute, track, and optimize business processes.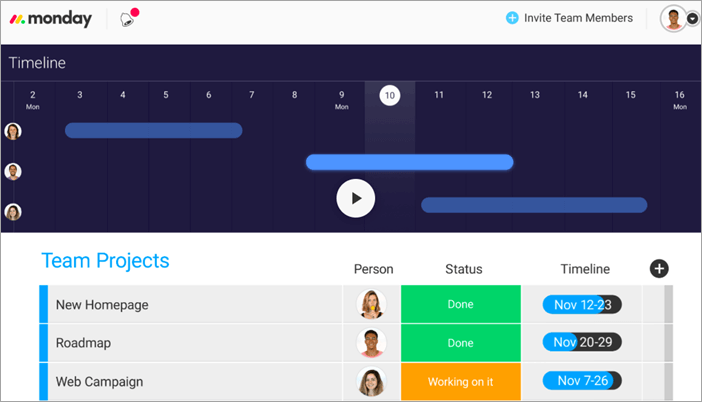 With Monday.com, you can easily create customized workflows, assign tasks, set due dates and dependencies, and prioritize. Monday.com also provides real-time insights so that you have a clear picture of the task and ff you wish to centralize your data, then it is easily doable by integrating other tools.
And guess what?
Monday.com has a mobile app, too, so that you can stay productive even on the go. If you are interested in tools like Monday, there are a lot of Monday alternatives available. 
User Interface: Intuitive and easy-to-understand
Wrapping Up
These are some of the great business process automation software that you can look for to automate your business so that you get more efficiency. We hope this helps you in deciding the right solution for your business needs. 
Let us know if you have any other BPM to add to this list.