The all-new Samsung Galaxy S20 and S20+ are the most anticipated phones that are expected to be launched on 11th February.
The phone will most likely be released on 6th March. Formerly known as the Galaxy S11, it seems like Samsung is now changing the name. There are three devices that are expected in the Galaxy S20 family and it looks like that it will be the biggest upgrade to its flagship phones.
The three models will be – the 6.2" Galaxy S20, the 6.7" Galaxy S20 Plus and the 6.9" Galaxy S20 Ultra. This phone will have a vastly improved camera, with the S20 and S20 Plus are expected to sport a new 64MP sensor, and the S20 Ultra will get a whopping 108 MP camera.
Let's look at all the top Galaxy S20 leaks rumours so far.
RELEASE DATE
The Galaxy Unpacked Event in San Francisco is supposed to take place on 11th February. The event will start at 2 p.m. EST/11 a.m. PST. Whereas, the phone's actual sale date is going to be March 6. Max Weinbach says the launch date for the all-new Samsung Galaxy S20 will actually be the "first Friday in March."
Samsung confirmed the March 6 date by letting people register to pre-order the Galaxy S20. The order page says that people who pre-order the new Galaxy phone will get it by March 6.
GALAXY S20 PRICE AND MODELS
In a tweet by Max Weinbach, he mentions five Galaxy S20 models
Samsung Galaxy S20 Ultra 5G
The Ultra variant is expected to lead the range this time with its world-class offerings. Weinbach reports that the 4G LTE versions may not release in the U.S. because they lack 5G connectivity. All these models will like to forfeit the Snapdragon 865 as well.
Weinbach also tweeted the price for the entire S20 range in euros. The S20 is expected to be for $1,110. The S20 Plus is expected to be for $1,300 and the S20 Ultra for $1,443.
If you pre-order either S20 Plus or S20 Ultra you will get a free pair of Galaxy Buds Plus, which is the advanced version of last year's Galaxy Buds.
GALAXY S20 RUMORED SPECS
Galaxy S20
Galaxy S20+
Galaxy S20 Ultra
Display (Resolution and Max. Refresh Rate)
6.2 inches Dynamic AMOLED (3200 x 1400, 120 Hz)
6.7 inches Dynamic AMOLED (3200 x 1400, 120 Hz)
6.9 inched Dynamic AMOLED (3200 x 1400, 120 Hz)
Operating System
Android 10

One UI 2.0

Android 10

One UI 2.0

Android 10

One UI 2.0

Processor
Qualcomm Snapdragon 865
Qualcomm Snapdragon 865
Qualcomm Snapdragon 865
RAM
12GB
12GB
12GB / 16GB
Storage
128GB
128GB
256/512GB
Rear Camera
12MP main, 64MP 3xoptical telephoto,12MP ultra-wide
12MP main, 64MP 3x optical telephoto, 12MP ultra-wide, time-of-flight
108MP main, 48MP 5x optical telephoto, 44MP ultra-wide, time-of-flight
Front Camera
10 MP
10 MP
10 MP
Dust / Water Resistance
IP68
IP68
IP68
Battery
4,000 mAh
4,500 mAh
5,000 mAh
Weight
164g
188g
221g
THE DISPLAY
A leak from Evan Blass points to 6.4" for S20 and 6.7" and 6.9" for S20+ and S20 Ultra. All of these phones will be larger than the Galaxy S10. As for the resolution, the XDA Developer's pre-release S20 Plus handset has hinted that all three devices will have a resolution of 3200 x 1400, which means the phones will have a Quad HD display with an aspect ratio of 20:9.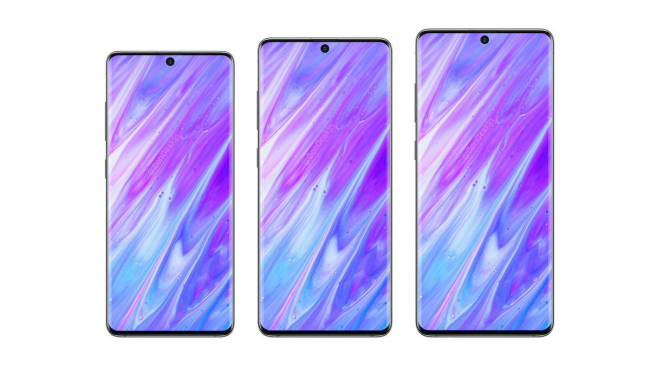 We can expect the S20 to come with bezels, but narrower. XDA Developers' story claims the display glass on the latest S20+ 5G to be remarkably flat in comparison to the previous Samsung phones. We've also heard that the display of the phones will be set to 60Hz by default, which means you'll have to make a deliberate choice to enable the high refresh rate mode.
The Ultrasonic fingerprint sensor is not expected to be a part of the display but will be beneath the panel.
THE DESIGN
While the other mobile brand has achieved a bezel-free look, Samsung Galaxy S20 is most likely to have a cutout like the Galaxy Note 10. The Galaxy S20 could tout four to five lenses on the back. The phones are expected to feature a massive & elongated camera patch.
Ice Universe says, "There could be a reason three of the S20's lenses will be stacked vertically, with a remaining shooter pushed off to the side. It would leave space for a periscope mirror to boost the phone's optical zoom capabilities."
All versions can get Cosmic Gray (S20, S20 Plus, and S20 Ultra), Cosmic Black (S20 Ultra and S20 Plus), Cloud Blue (S20 Plus and S20), and Cloud Pink (S20). The S20 Ultra will have a stainless steel frame making it the toughest and expensive version of the Samsung S20 series.
THE 108MP CAMERA
Get ready to welcome better photos with the all-new Galaxy S20. According to XDA Developers, the Samsung Camera app code has a 108MP photo mode. An inside source also confirmed 8K video support, Support for a 20:9 screen ratio device (maybe S20), and new modes named Director's View (lets the phone track an object with all its cameras so that the user can switch between them as per their wish), Single Take Photo (Automatically takes a shot when the phone thinks it's the optimal moment – this is based on AI analysis of Samsung's library of professionally taken photographs), Pro Video ( Allows customization options for video recording), Smart Selfie Angle (Uses the wide-angle lens now added to the 10 MP front camera to switch between standard and wide shots) and Night Hyperlapse.
The S20 Ultra's main 108 MP camera takes photos instantly and can automatically turn on HDR, making it really easy to click impromptu and candid photos.
 SPECIAL FEATURES: SPECTROMETER, MOTION DETECTION AND MORE
1. According to Max Weinbach, Samsung Pay (The Samsung digital wallet service) will work with the S20 series.
2. Samsung may include an extra sensor called the spectrometer or a material sensor. The sensors will help you analyze the chemical makeup of a given object – you'll be able to analyze your own health via body fat or skin moisture, you can check fruit sugar levels, pills to verify whether they are genuine or not, and even drinks to find their alcohol content.
3. Galaxy S20 is expected to come with advanced facial recognition features.
 THE HARDWARE
Most likely the new Samsung Galaxy S20 series will run either on the latest Exynos Chipset, the Exynos 990, or Qualcomm Snapdragon 865. The devices are expected to have good RAMs which could be as much as 12 GB. However, according to the rumours, the S20 ultra will get a 16 GB option. As to 5G, they are expected on all three devices of the series.
 SAMSUNG QUICK SHARE
Samsung is working on an AirDrop like share service for the new Galaxy phones. This feature will be called Quick Share. This feature will allow you to send files to one another in a quicker and faster way.
THE BATTERY 
According to Ice Universe, the Samsung Galaxy S20 will have a high battery capacity of 4,000 mAh, which is 900 mAh more than the previous S10e. The S20 Ultra is assumed to have the largest version of battery in the series with up to 5,000 mAh battery.
The S20 Plus will be equipped with 45W fast charging capabilities, which means allegedly filling up from empty to 100% in just 74 minutes.
Unfortunately, there is no headphone jack on any of the S20 variant. So, you'll have to have wireless earbuds.
That's all that we know about the upcoming Samsung Galaxy S20 series. Some things are staying the same and some are changing. We are eagerly waiting for the unveiling and for some official news to confirm or deny the rumours that we have been hearing.