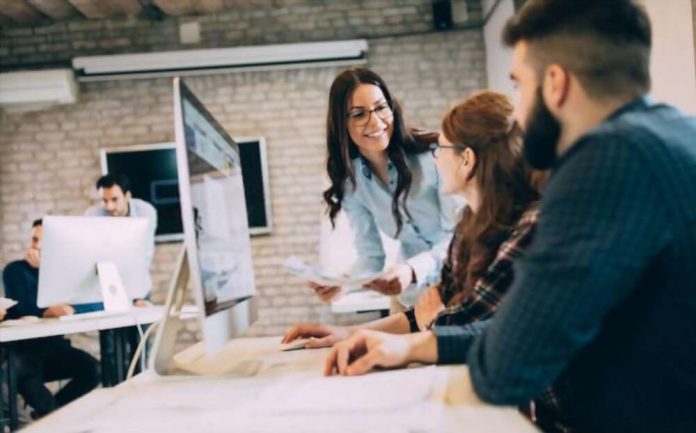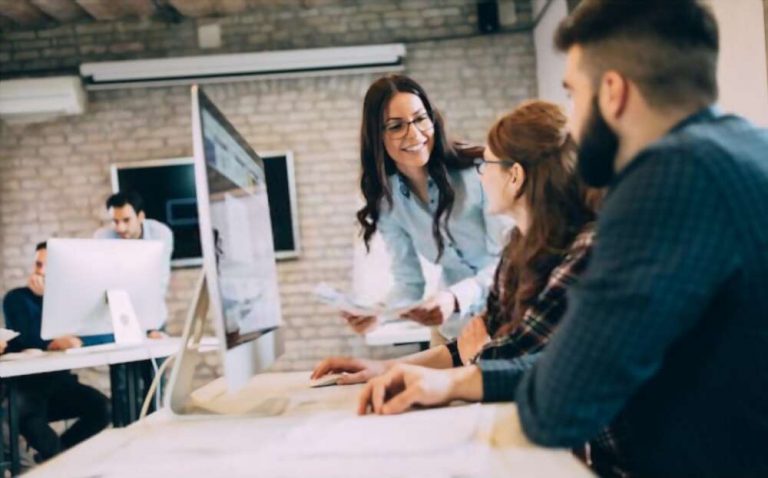 Choosing a captivating and catchy domain name itself is a mind-boggling job, and then comes the next step of building a website i.e., selecting the best domain registrars.
Nowadays, there are innumerable registrars and each one of them offers homogenous features and does pretty much the same job, so to tell them apart so that you may choose what suits you the best, we are to your rescue.
Here we will walk you through the best domain name registrars and highlight the features that make them stand out so that you know what to watch out for, the good and bad of some of the most popular domain registrars out there.
Hopping on to the list of 10 Best Domain Registrars for Small Businesses that you must try.
10 Best Domain Registrars For Small Business 
1. Domain.com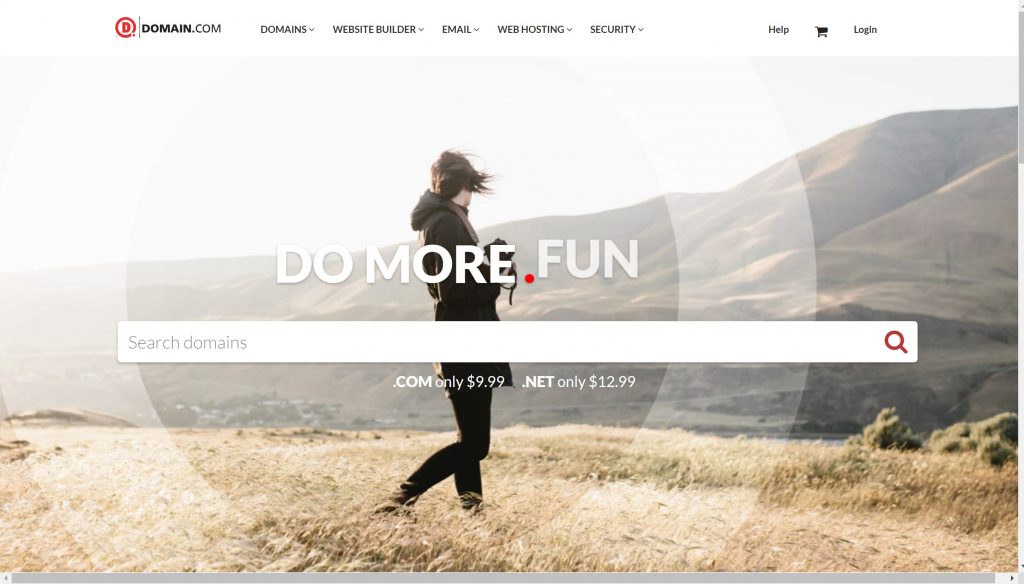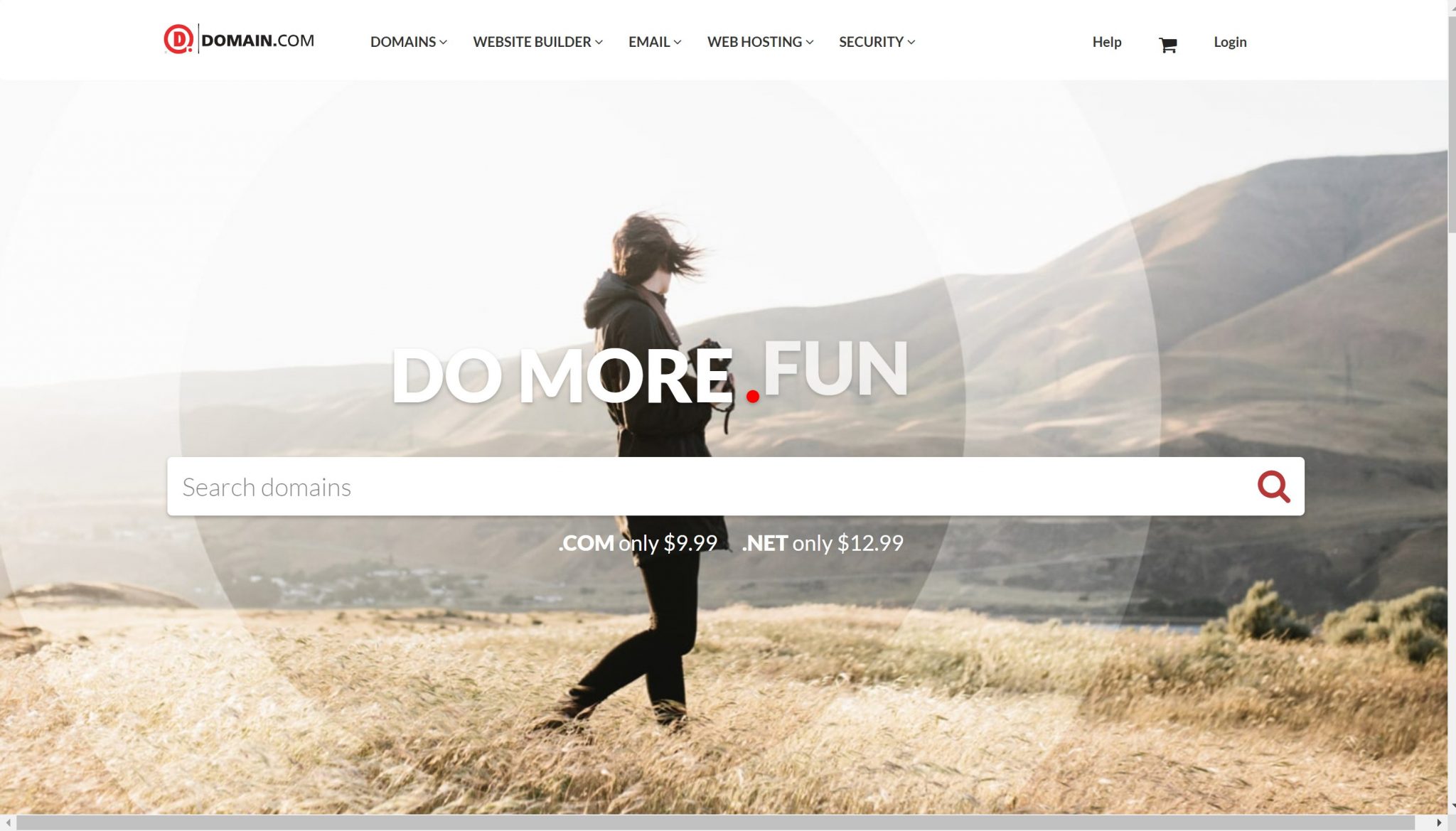 Domain.com undoubtedly tops the list of best domain registrars for small or medium businesses as they are especially known for their quality of service and reasonable pricing.
They have been in the market for two decades now and specialize in a number of services like domain names, web hosting, VPS hosting, Email, SSL certificates, web design, and online marketing.
They offer the most popular top-level domains, over 25 country code top-level domains and also sell premium domains as a broker.
Also, the base time for a domain purchase set at two years, so you'll need to adjust it manually if you only want to purchase a domain name for only one year.
Pros:
24/7/365 online support via live chat or email
Inexpensive introductory prices
Custom Website Builder
Easy to use interface
Few annoying upsells
Easy to transfer domains to and from
Resourceful knowledgebase
One-stop-shop for many website products
Cons:
Best prices restricted to longer subscriptions
Performance not optimized for large or resource-intensive sites
No cPanel
Pricing:
.com – $9.99
.co – $6.99
.net – $12.99
2. GoDaddy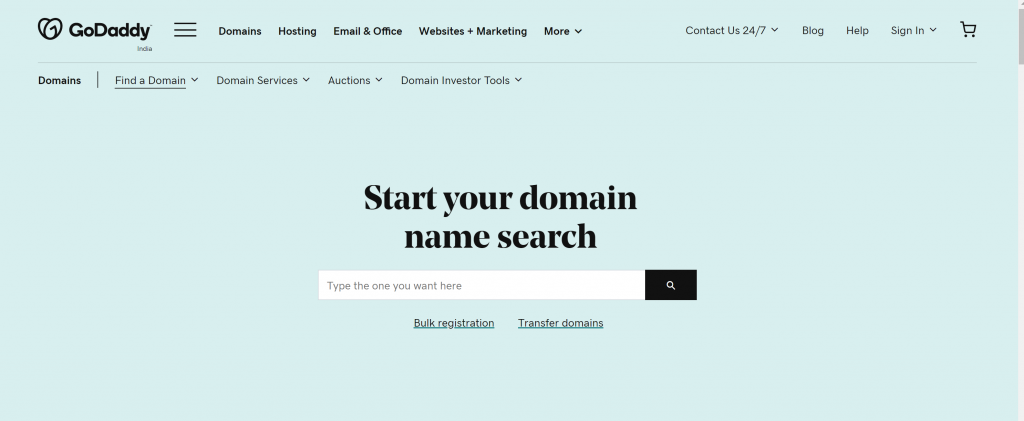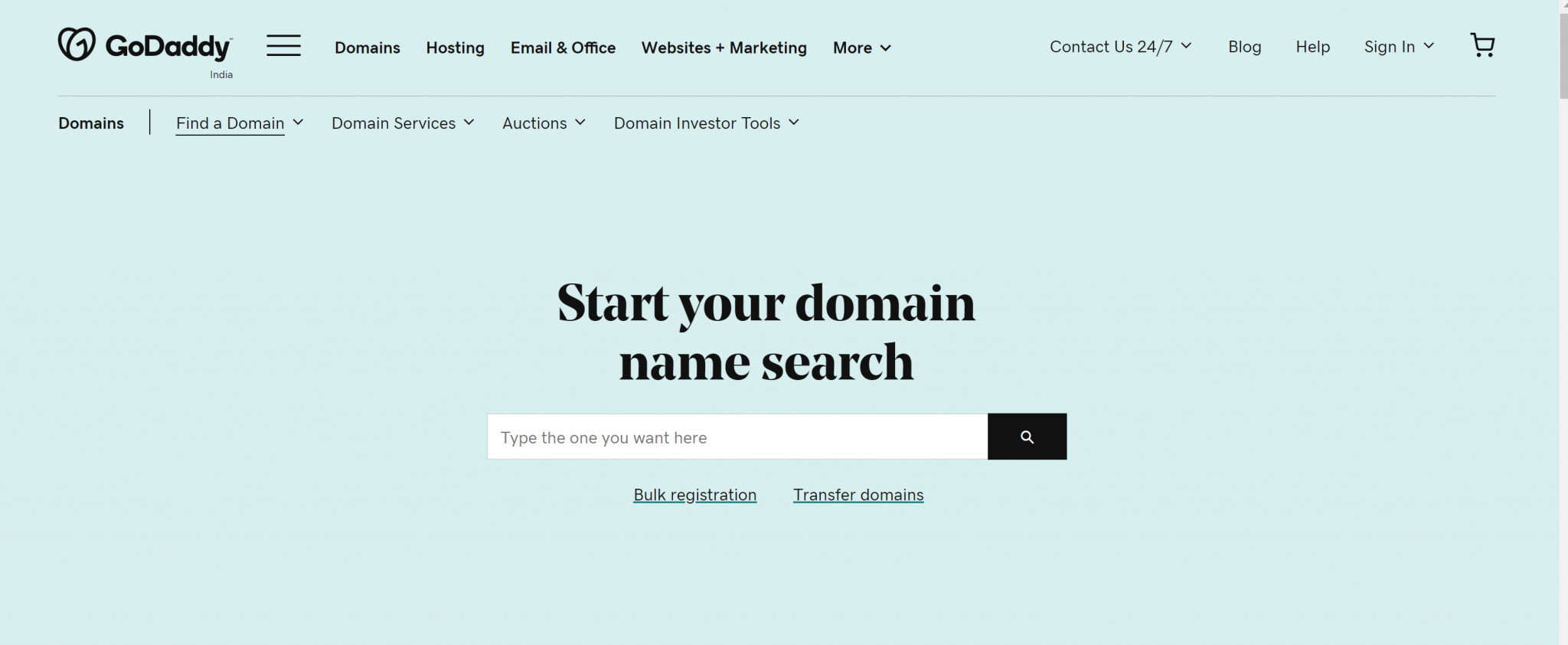 GoDaddy has been one of the world's largest and most popular domain name registrars in the market.
One of the reasons why this is the most suitable option for small businesses is their cheap starting prices ($9.99 for the first year), and terrific customer support over the phone and live chat.
They offer a variety of web hosting plans, including shared, VPS, dedicated hosting, domain transfer, domain privacy protection, domain name extensions, domain auction, and who is searching. They offer both Linux and Windows hosting. Their bundled hosting and domain registration deal is a win-win for both.
On the downside, if you wish to get privacy protection for your business as well, it'll cost you a bit more – $14.99 per year per domain.
Pros:
World's #1 ICANN-accredited Domain Registrar,
Popularity with website owners,
Purchase domain names in bulk,
Easy to transfer domains to and from,
Super-low starting prices,
Suite of website products,
Numerous modes of payments.
Cons:
Aggressive with upsells,
The significant renewal price hike
Pricing:
.com – $17.99
.net – $19.99
.co – $34.99
3. Bluehost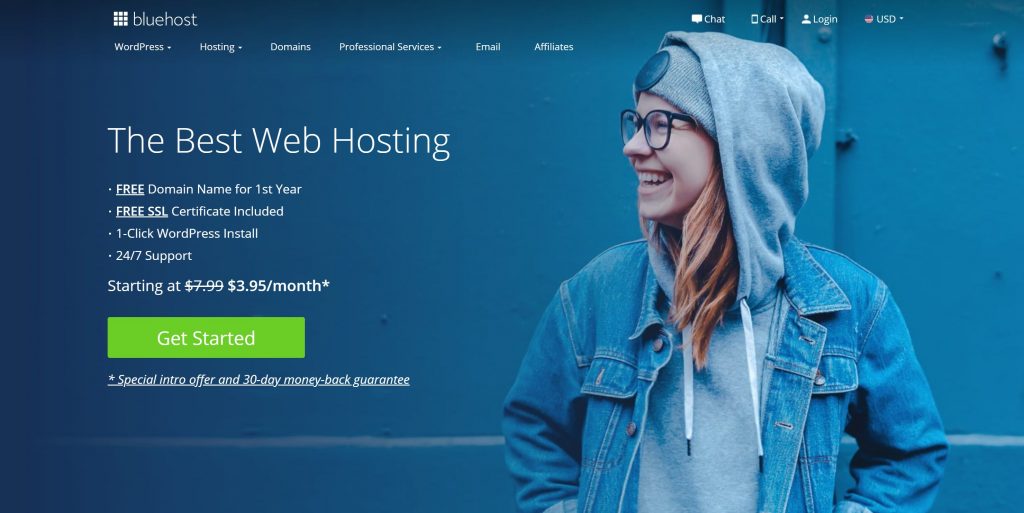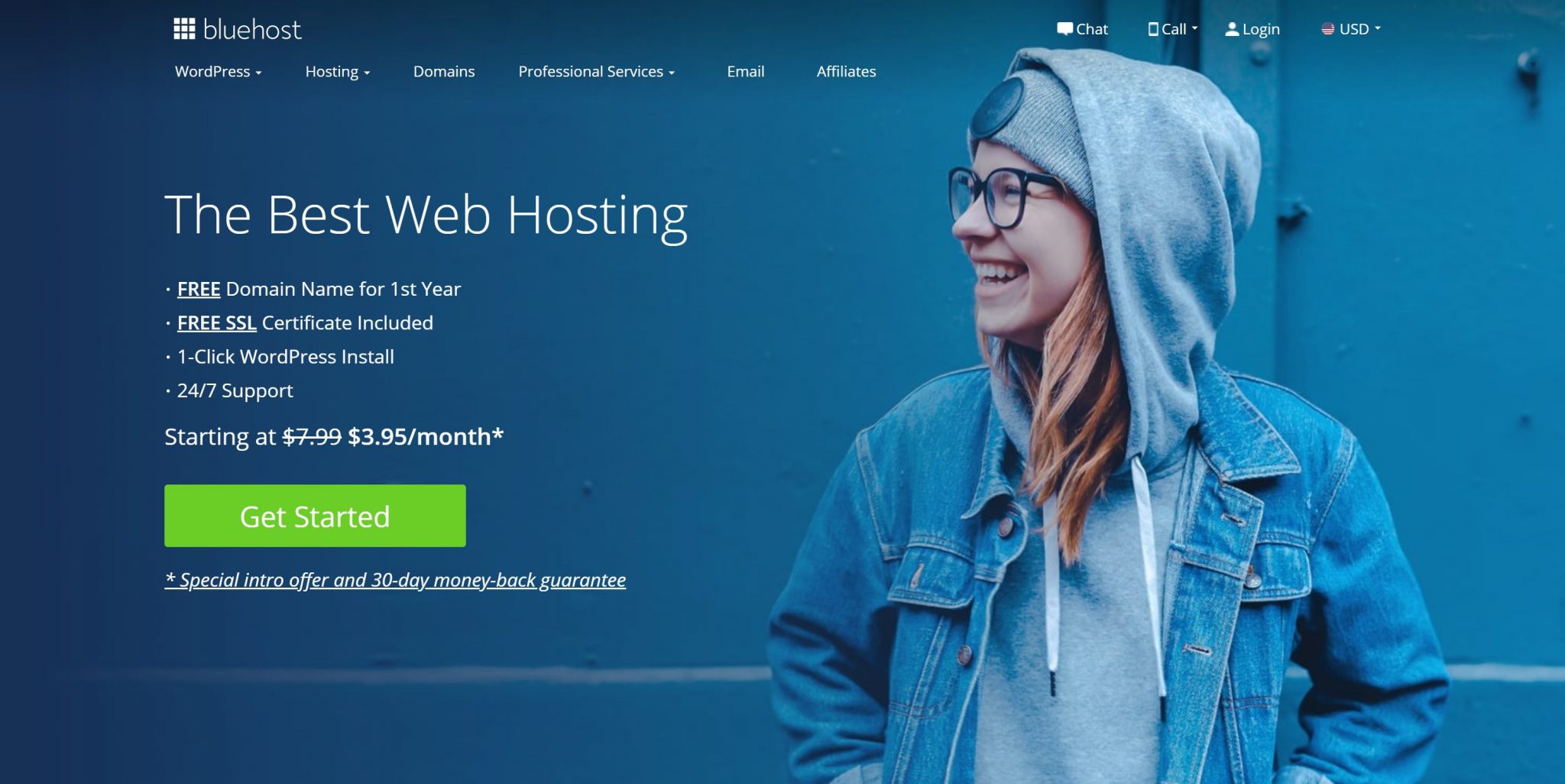 Bluehost was founded in 2003, this is the subsidiary company of Endurance International Group. It is certainly the best place to buy a domain name for all size of business. Bluehost offers shared WordPress, VPS, dedicated, and reseller hosting.
They are the perfect solution for new businesses who are looking for bundling domain registration with web hosting. Besides, they offer pretty decent quality hosting at reasonably low prices, with fast load time of 398ms and 99% uptime.
They provide support 24/7 with live chat, email ticketing, and phone.
Pros:
The free domain name included when you buy web hosting,
Plans start at $2.95/month,
24/7 phone and chat support,
No hidden charges,
30-day money-back guarantee,
free SSL certificate,
offers auto-renewals for domains
Cons:
Higher domain renewal price
aggressive upsell process during signup
Pricing:
.com – $99
.net – $99
.co – $99
4. NameCheap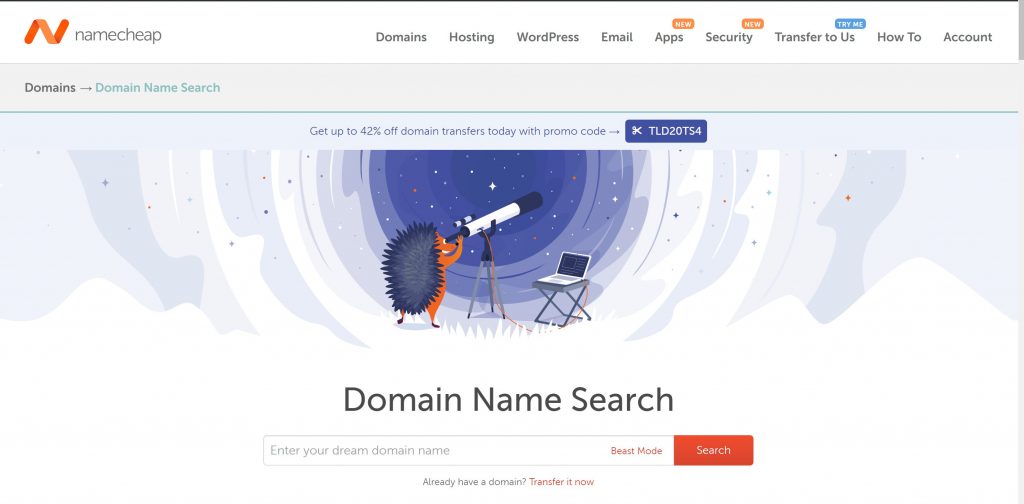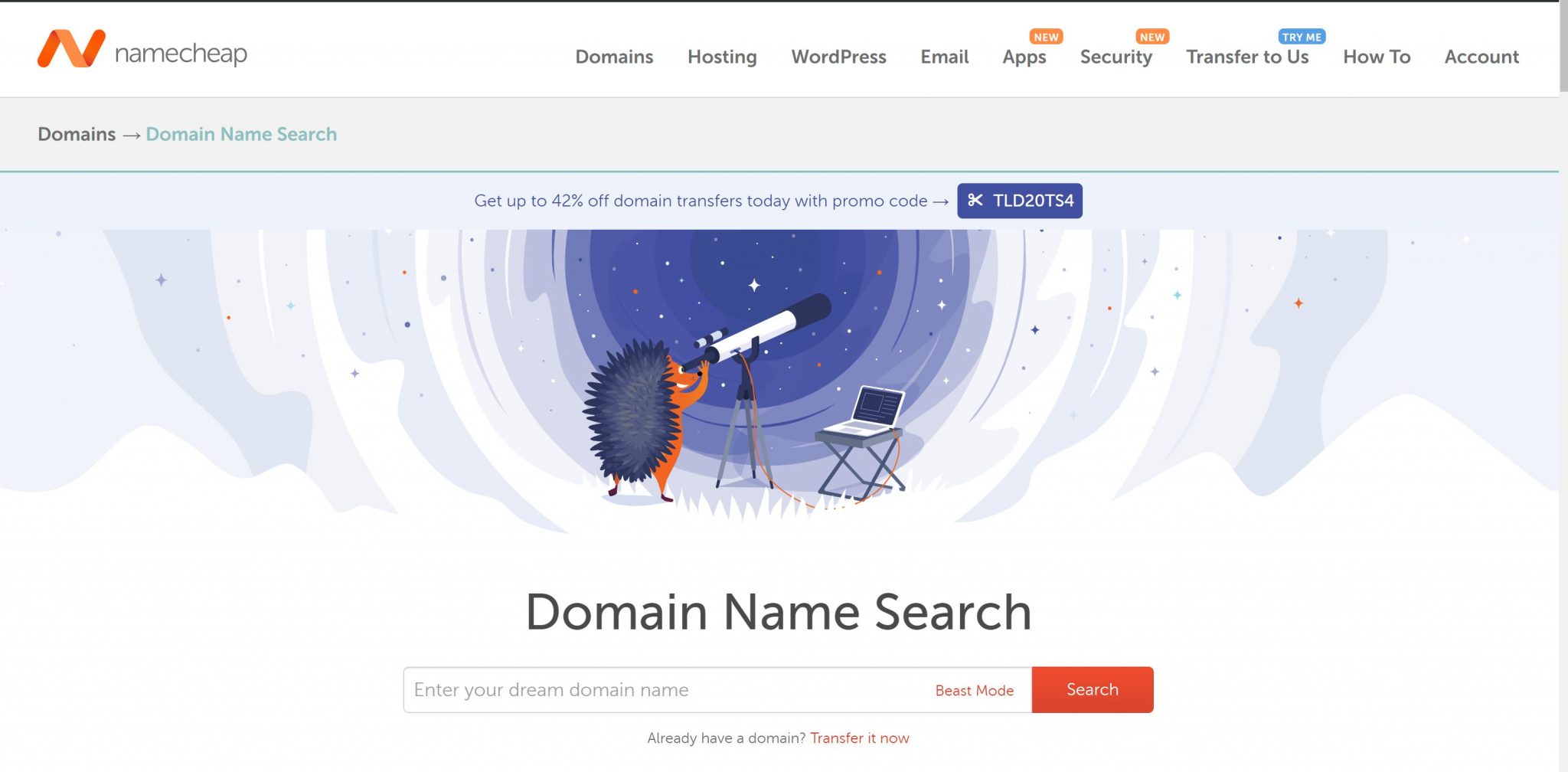 NameCheap is another popular choice for domain registrars, they have served over 3 million customers, and they manage over 11 million domains.
Namecheap is a web hosting service provider as well. They offer all hosting types such as shared, WordPress, reseller, VPS, and private email hosting.
One of the key features is that the lowest rate for the longest period of time, so one can register their domain for up to ten years with Namecheap and stay unbothered about renewing every year.
Pros:
No obnoxious number of upselling
Thorough and helpful knowledge base
Simple checkout process
24/7 live chat support and a 2-hour ticket response time.
free domain privacy with domain names
Plenty of available add-ons
Competitive pricing
Cons:
Negative hosting reviews
Renewal price increase
Pricing:
.com – $8.88
.net – $11.98
.org – $11.98
5. Hostgator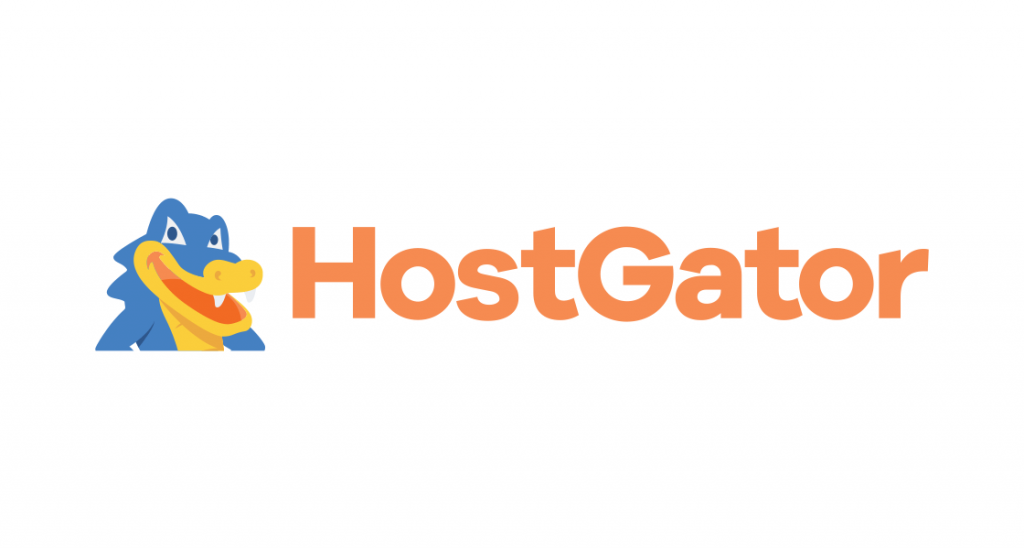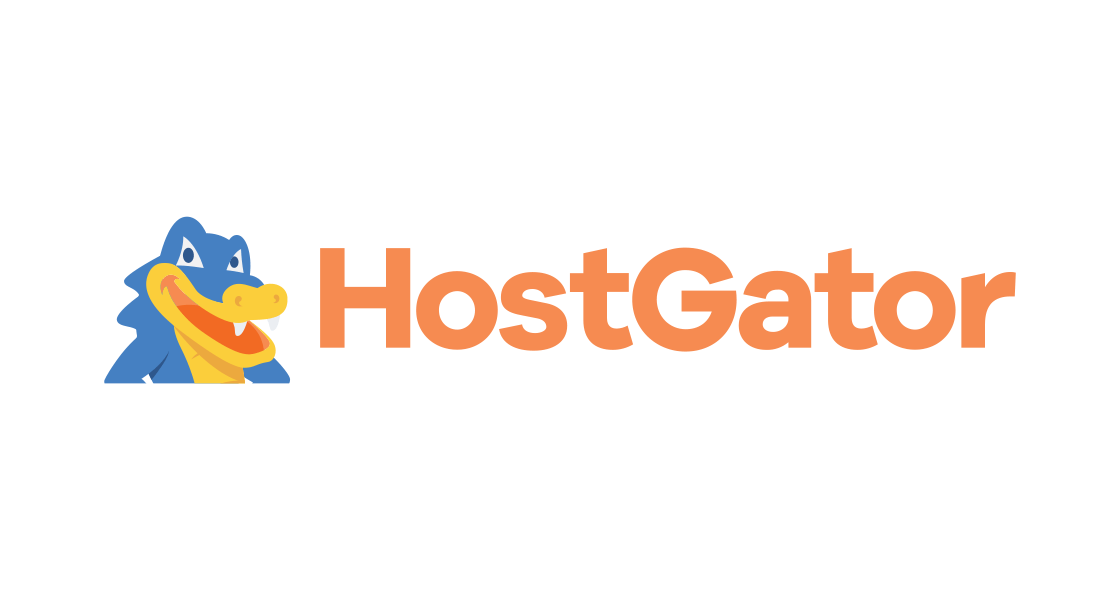 Hostgator was founded in 2002 and just like the above mentioned, they primarily serve as a web hosting provider and other options include web, cloud, WordPress, reseller, VPS, dedicated, application, and Windows hosting.
However, at competitive pricing they provide quality hosting with decent uptime and page loading speeds.
Pros:
Decent quality with competitive pricing,
Cloud hosting,
live chat and email ticketing
Intuitive dashboard to understand your site's performance,
45-day money-back guarantee
Free Site &cPanel Migrations
Cons:
Slow page load time
Hidden cost
High renewal rates
Pricing:
.com – $12.95
.net – $12.95
.co – $12.95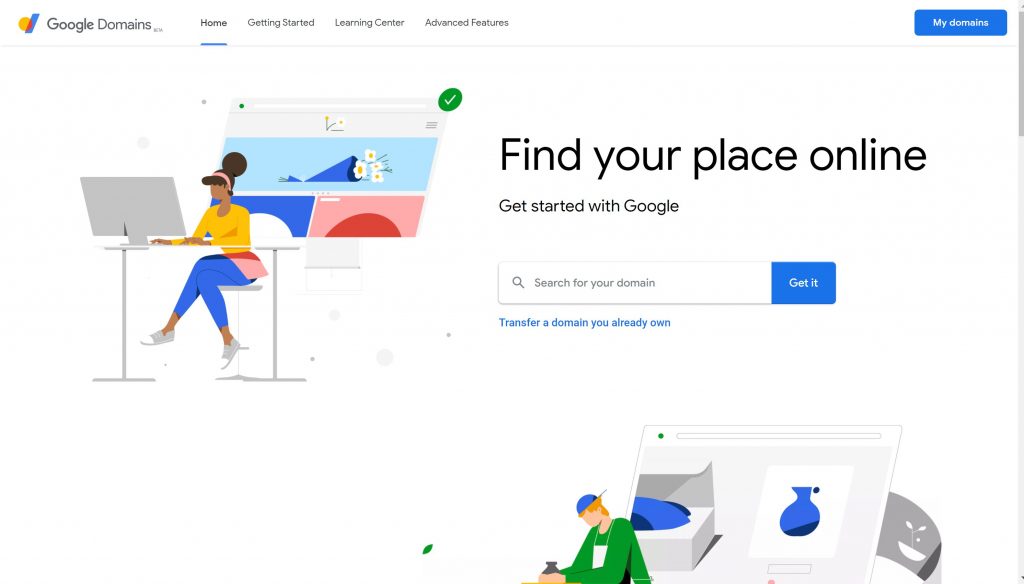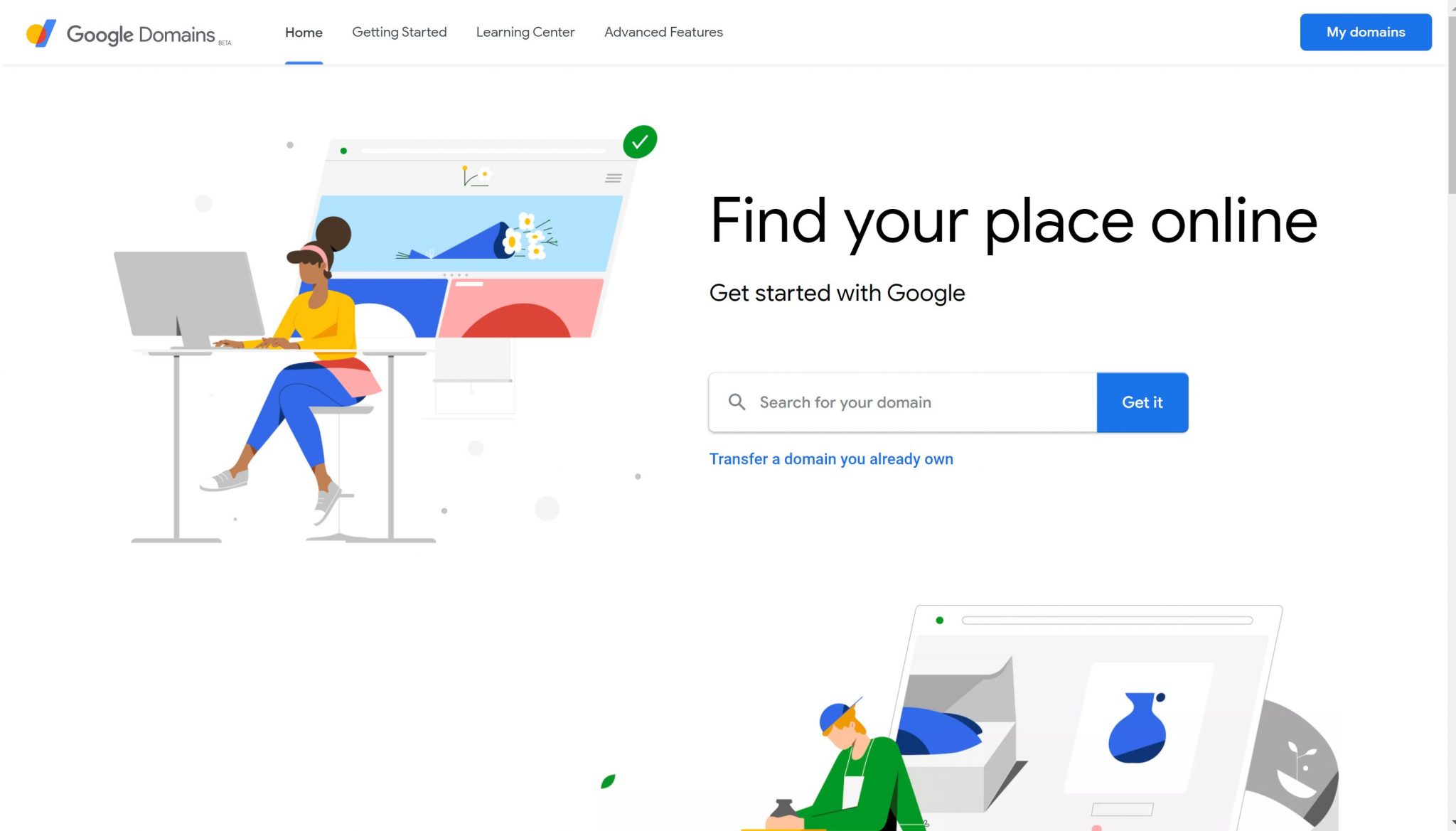 Google domains have appeared recently in the market and unlike a lot of other registrars they don't offer any type of hosting but one can register a new domain.
Additionally, there will be free privacy protection, easy transfer in the existing domain from other registrars, email forwarding domain and sub-domain forwarding.
Pros:
Familiar and simple interface
Zero upsells
Integrates with Top Website Builder
GSuite Custom email setup
New domain name endings
Fast Infrastructure set up with Google
Domain management tools
Support available 24/7 via live chat, email, or phone.
Cons:
Above-average prices
No SSL available
Limited knowledge base
Few TLDs(top-level domain) aren't supported
By default, your domain registrations are linked to your Google Account.
Pricing:
.com – $12
.org – $12
.io – $60
7. Hover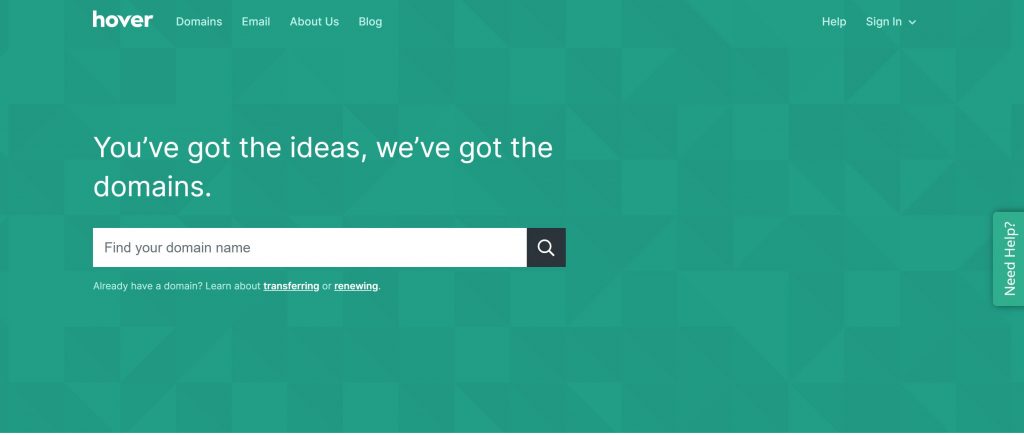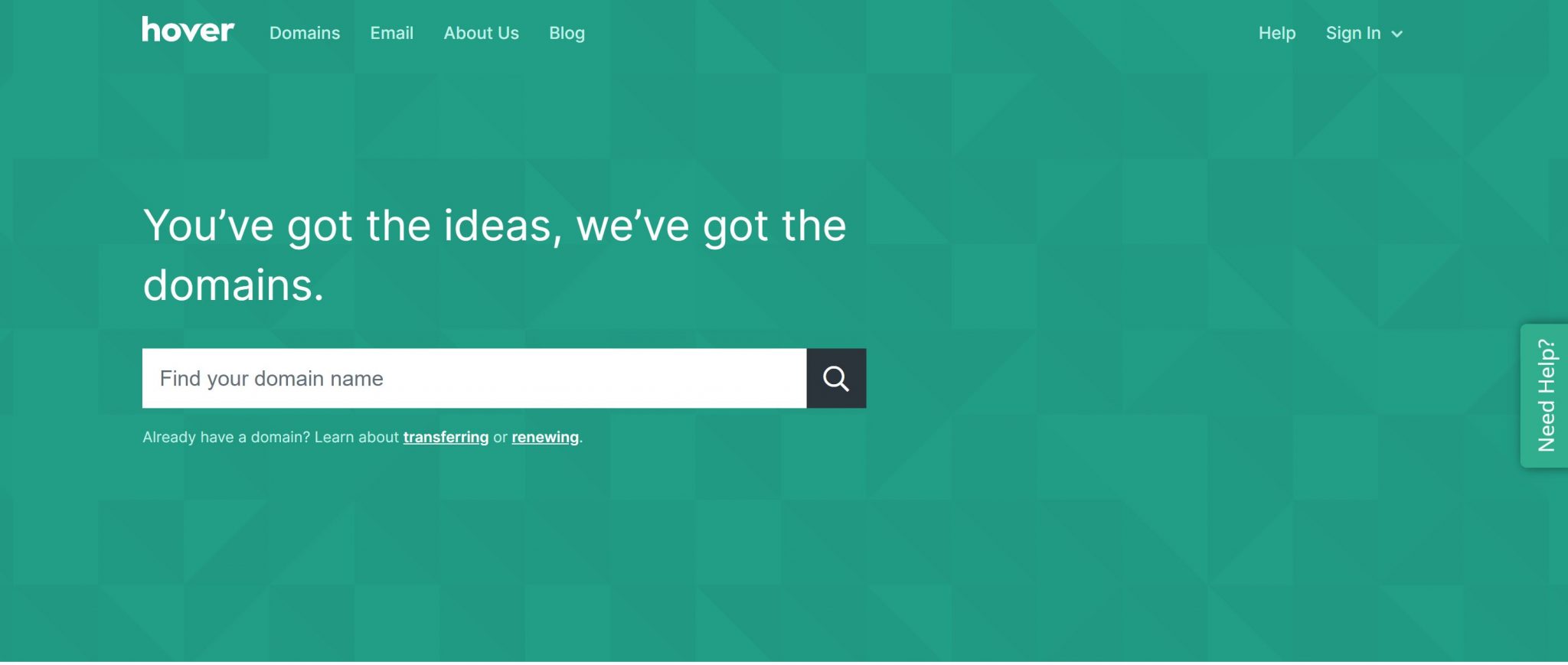 Hover is a relatively new domain seller. Their business limits to selling domain names, transfer of domain name from another registrar, renewal of domain name but they excel at their job by providing the customer with a pretty intuitive and easy to navigate user panel.
It is mostly preferred for small businesses.
Pros:
Fun automated name engine
Limited upsells
Privacy protection included
Some stability issues
accept a myriad of payment methods
Cons:
Frequent outages
Email forward is not free
Limited customer support(8 AM-8 PM on weekdays and 12-5 PM on weekends)
Pricing:
.com – $12.99
.org – $13.99
.net – $15.49
8. DreamHost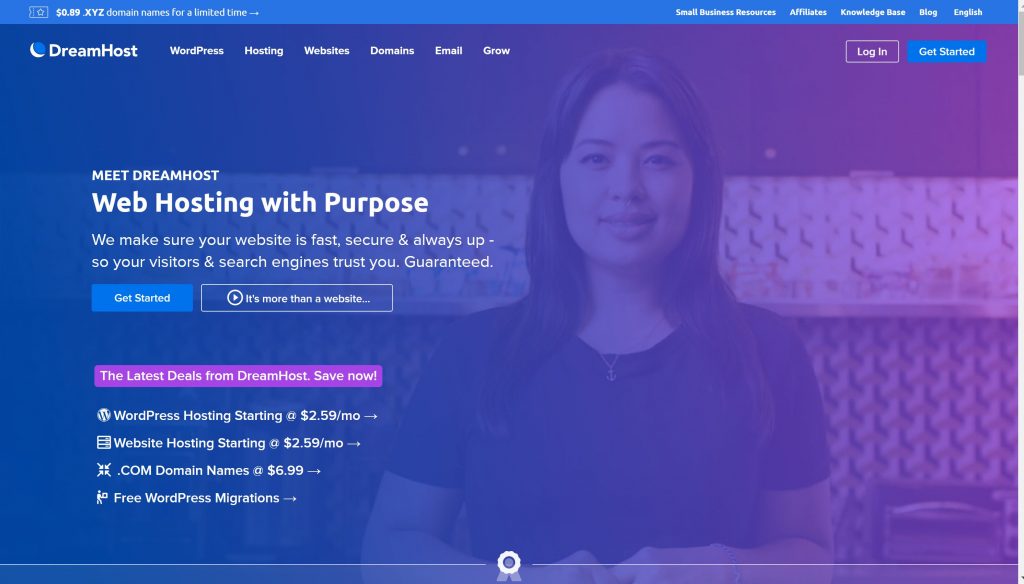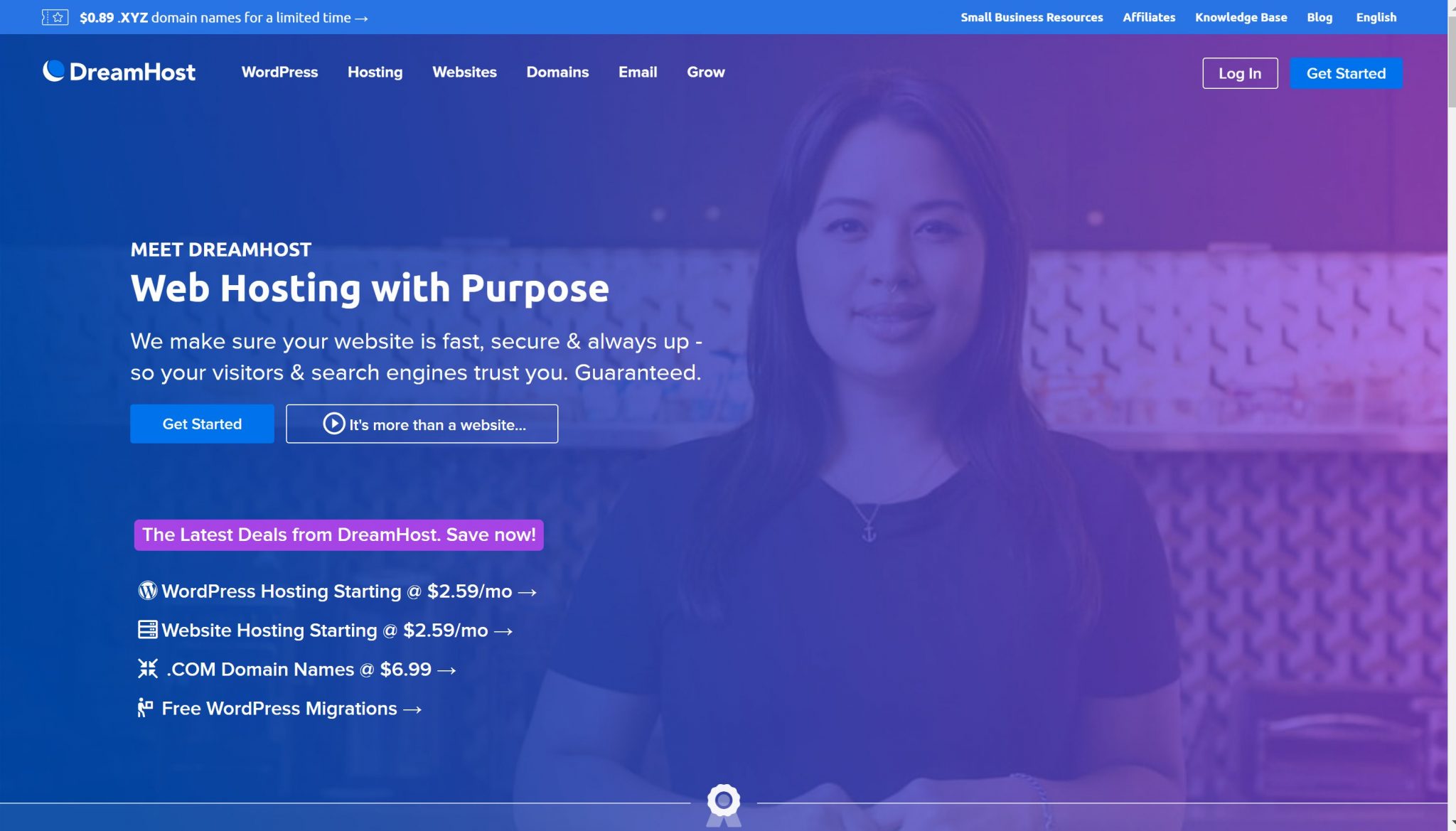 Dreamhost has been one of the oldest players in the market they have grown to host over 1.5 million websites. It is a perfect solution for a small business with web hosting needs who cannot afford to be offline for long, as Dreamhost offers a 100% uptime guarantee.
Pros:
Free domain privacy
Easy control over your domain's settings
Free SSL certificate
The minimal renewal cost increase
Extra SSL available
Numerous security features
Unlimited data transfers per month.
Cloud storage plans
Money-back guarantee
Cons:
Lacks Windows-based servers
Bot-based customer support
Renewal cost bump
Pricing:
.com – $8.99
.net – $
.co – $
9. 1&1 Ionos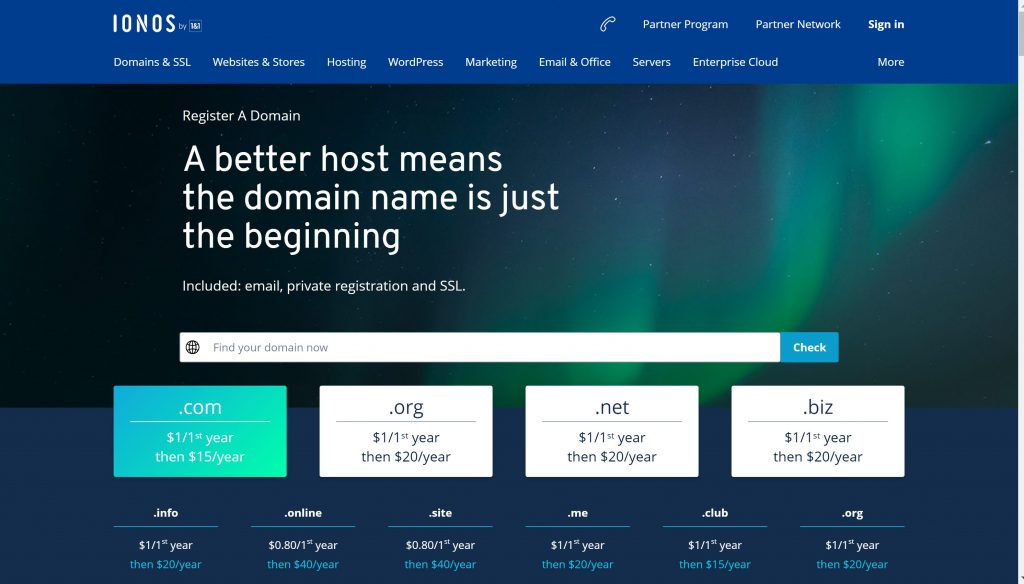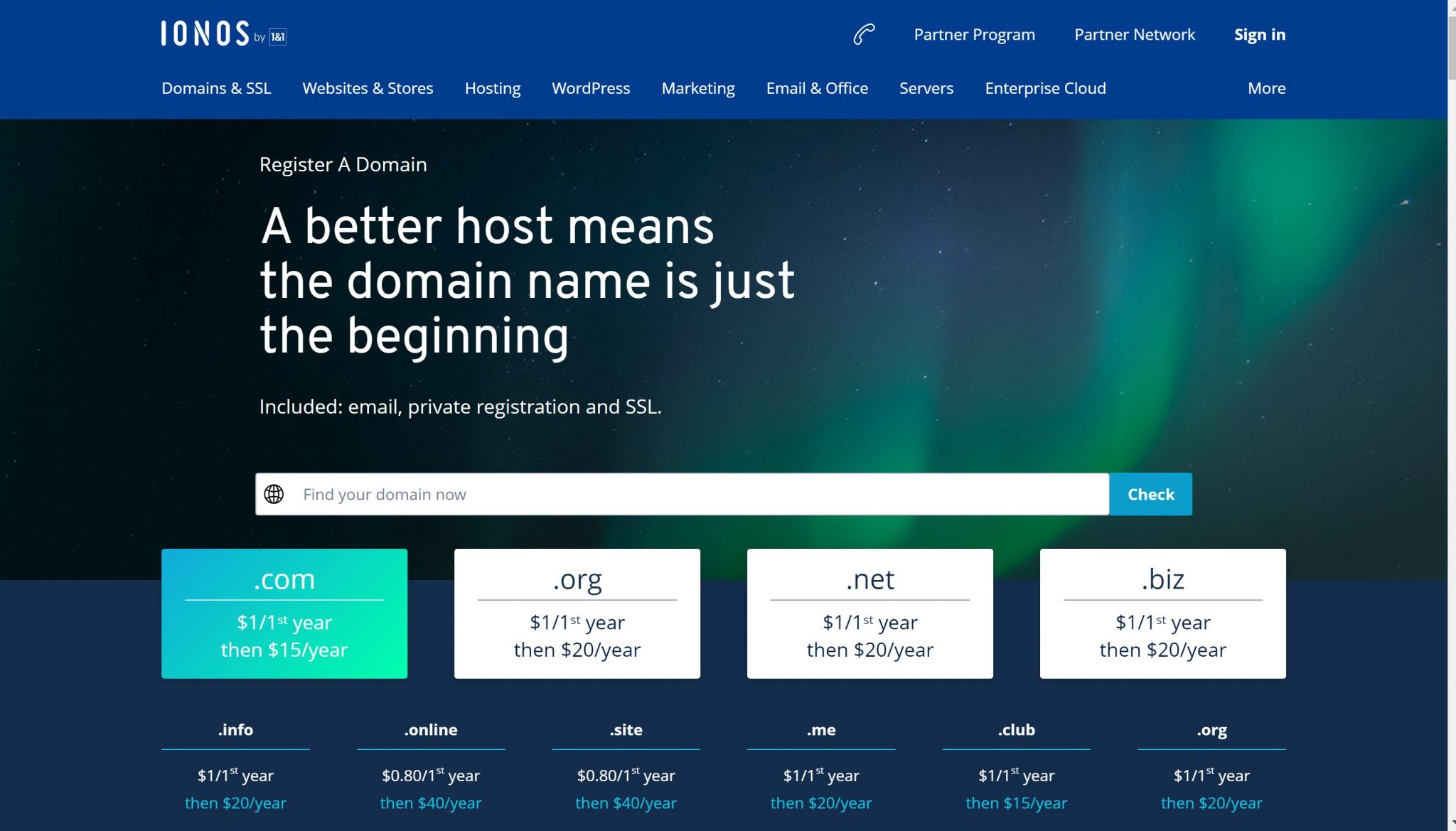 1&1 Ionos is one of the oldest and very popular domain service providers in the market. They are a German-based company and ICANN accredited this company.
Services offered by 1&1 include domain transfer, a website builder, an online store builder, web hosting, WordPress hosting, managed cloud hosting, VPS hosting, business email management and accounts, and more.
Pros:
Consistent pricing
the domain comes with privacy protection
24/7 customer support via chat, phone, email
Free-extras
Other website products offered
Cons:
Pricing:
.com(first year)- $1
.com(renewal)- $15
10. Name.com
Name.com is best known for bulk domain registration. They are the ICANN-accredited domain name registrar. Its features such as domain transfers, app integration, SSL certificates, a website builder, email makes it a better place for domain name registration.
Pros:
High-speed hosting
Robust Knowledge Base
Easy domain transfer
Provides SSL certificate
free whois check-up
Cons
Overdose of upsells
Limited customer support
Pricing:
.com – $8.99
.com(renewal – $12.99
Conclusion
In our opinion, it all depends upon your personal/business requirements although and budget.  Of all, Domain.com is one of the best and cheapest place to buy a domain name for your business.
However, you can get you a free domain name from both Bluehost and HostGator when you sign up for their web hosting.
This was our list of Best Domain Registrars for Small Business that are budget-friendly.
Quick Links: