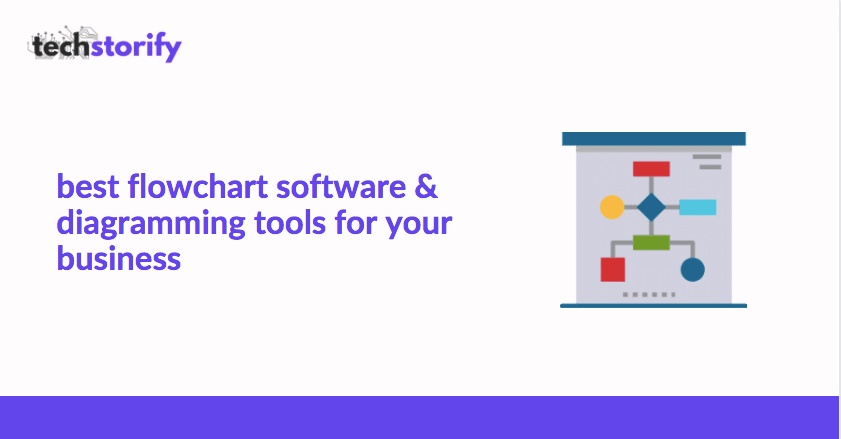 Flowcharts and Diagrams play a crucial role in planning out your business. Flowchart software can help businesses in documenting, collaborating, training, and planning out their campaigns. 
But, drawing a flowchart diagram manually can be tedious and time-consuming. Flowchart software or Diagram tools offer various features such as pre-made templates, organizational charts, technical diagrams, and various others. 
What Does Flowchart Software Include?
If you want to make a flowchart diagram, you should keep in mind the following features: 
Usability:

How usable is the flow chart software of your choice? If it provides the diagrams or suitable shapes for creating a diagram, Flowchart software is worth the choice. Furthermore, you can use the drag-and-drop interface to create quick flowcharts. 

Variety of Shapes:

This software and tools give an extensive library of shapes and graphics.

Add Graphical elements:

Some diagramming software also offers a variety of shapes and connector shapes so that you get the desired flowchart diagram. 

Collaborate:

That's important! If you have a large team to share your flowchart diagram, this software also offers collaboration tools. 

Exporting and Importing:

Diagramming software should also have the option to import your pre-built flowchart and edit them. Similarly, you can export your flowchart in various formats. 
Besides this, there should be other features to create an impressive flowchart for your business and marketing. 
In this article, we have shared the 10 Best Flowchart & Diagramming Software that might save your time and effort. 
10 Best Flowchart Software & Diagramming Tools to Try Out
1. LucidChart: Best Flowchart Tool Overall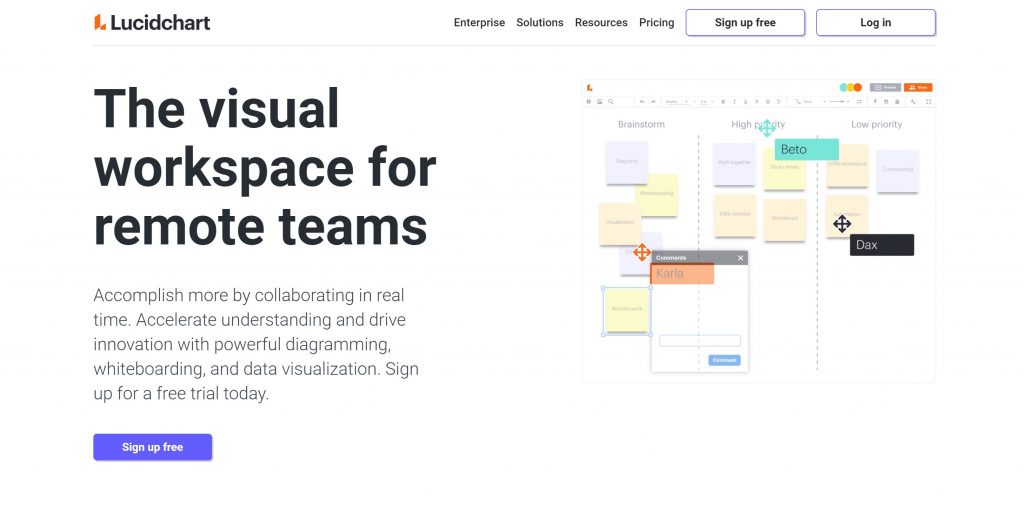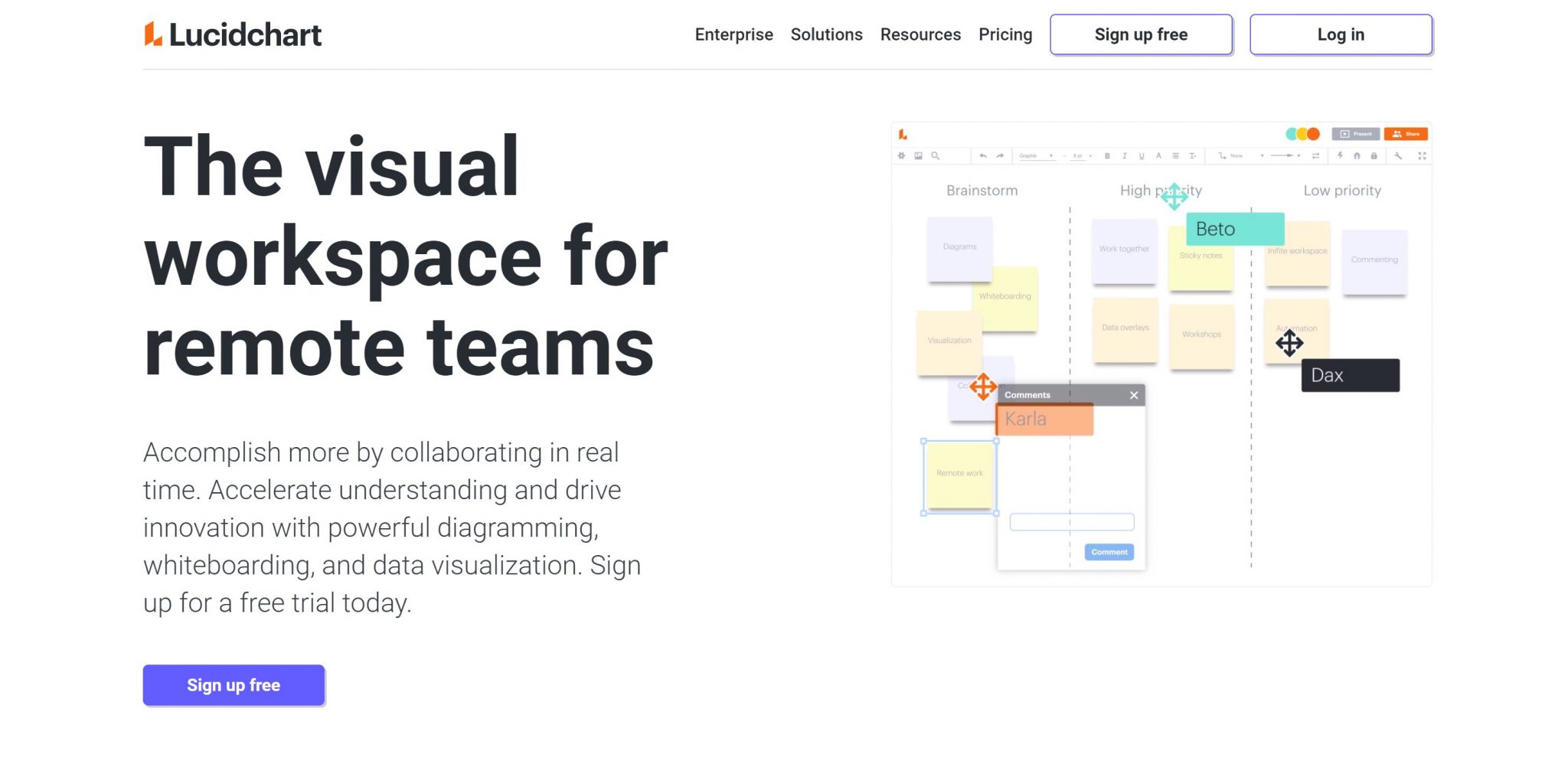 LucidChart is an amazing flowchart software that comes with various diagramming tools. It was launched back in 2008 and has since added the latest features that you might need in your diagramming software. 
LucidChart is a great option with drag and drop functionality as well as the choice for team collaboration. This is the reason that 99% of the Fortune 500 companies choose Lucidchart.
The reason why Lucid chart tops our list is because of its variety to offer various diagrams; Business mapping, circuit diagrams, Data flows, concept maps, and others. 
Features:
700+ pre-made templates

It has iOS and Android applications. 

Integrates seamlessly with cloud services like Google Drive, G Suite, and others. 

It offers an online team collaboration so that users can work together and check edits as well. 

Offers added security with GDPR compliance. 

Lucidchart also offers a free trial. 
Pricing:
LucidChart offers a free plan forever with some limited features. If you have a small, medium, or large team; you can choose the Individual, Team, or Enterprise plan. 
Also Read: Best LucidChart Alternatives You Should Use
2. Microsoft Visio: Best Windows Flowchart Software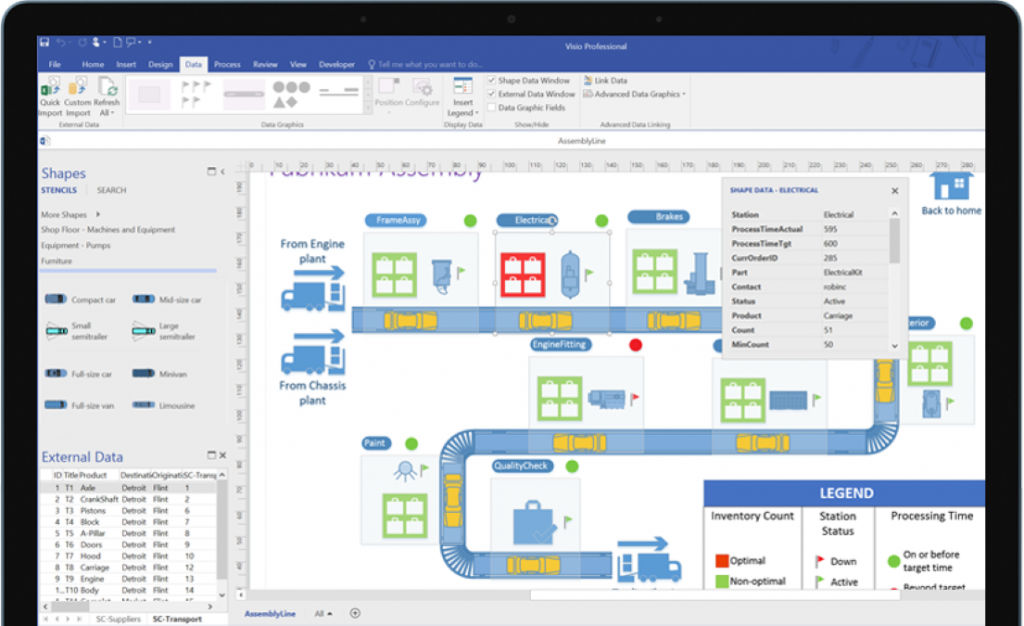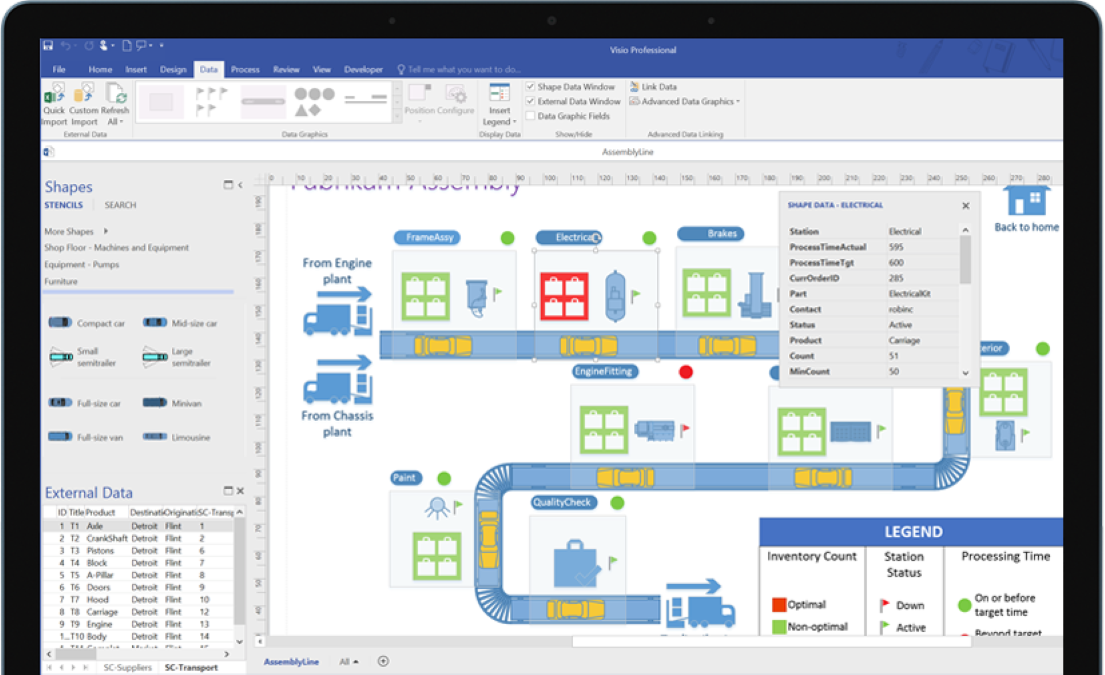 Visio was launched in 1992 and later got acquired by Microsoft in 2000. Visio offers a wide range of diagrams; be it the flowcharts, engineering diagram, floorplan, or software mockups. 
Visio's flowchart program offers a wide variety of shapes and templates, to begin with. With diagram tools like Visio, you can quickly create a flowchart for any information and share it with your network. Visio diagram tool offers 3D maps, built-in shapes, and it can also pull out the information from external sources such as Excel sheets.
Features:
Automatic sorting of flowcharts that save up your time and effort. 

It integrates seamlessly with Microsoft Office and other diagramming software such as LucidChart, AxisTV, The VIP test Modeller, and others. 

Visio also offers team collaboration just like other collaboration tools where you can work with co-workers. 

Wide variety of import options such as SVG and other image formats. 
Pricing:
When compared to the competitors, Visio is too expensive and hence affordable for large enterprises. Visio offers various plans with a variety of features. It doesn't offer any free trial or free version. 
The lowest premium plan of Visio costs $280/month with $6/user/month. That's why I have shared the Visio alternatives with you.
3. Gliffy- Best Flowchart Tool For Beginners
Gliffy is one of the best flowchart software and collaboration tools for beginners. You can create your business diagram from scratch. With drag-and-drop capabilities, Gliffy is an easy to use diagramming software for small businesses. 
To get started, you need to choose the templates straight away and pick up the shapes, Venn diagram to create your desired diagram. It is certainly one of the best tools for software engineering teams.
Features: 
Add or Upload as many shapes and diagrams

It integrates with Google Drive, Google Apps, JIRA, as well as Confluence. 

Easily share diagrams via URL or embedding

You can also import and export diagrams, or even get new creations. 

Users can also create graphics with Gliffy's flowchart maker. 
Pricing:
It offers a 14-day free trial. Gliffy gives three plans to choose from;  Team, Professional, and Enterprise.
4. SmartDraw: Best Software For Flowchart, Mind Maps, charts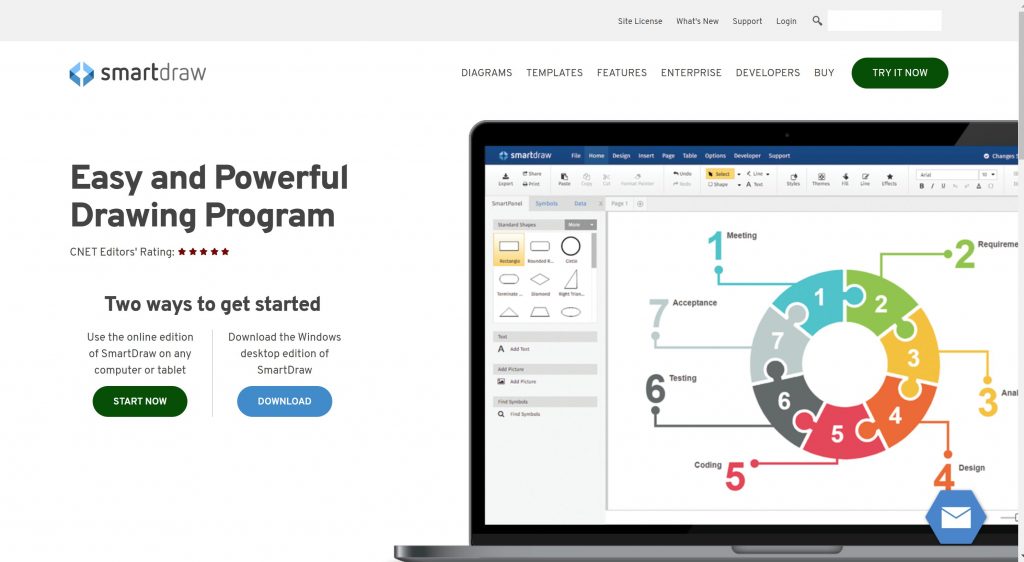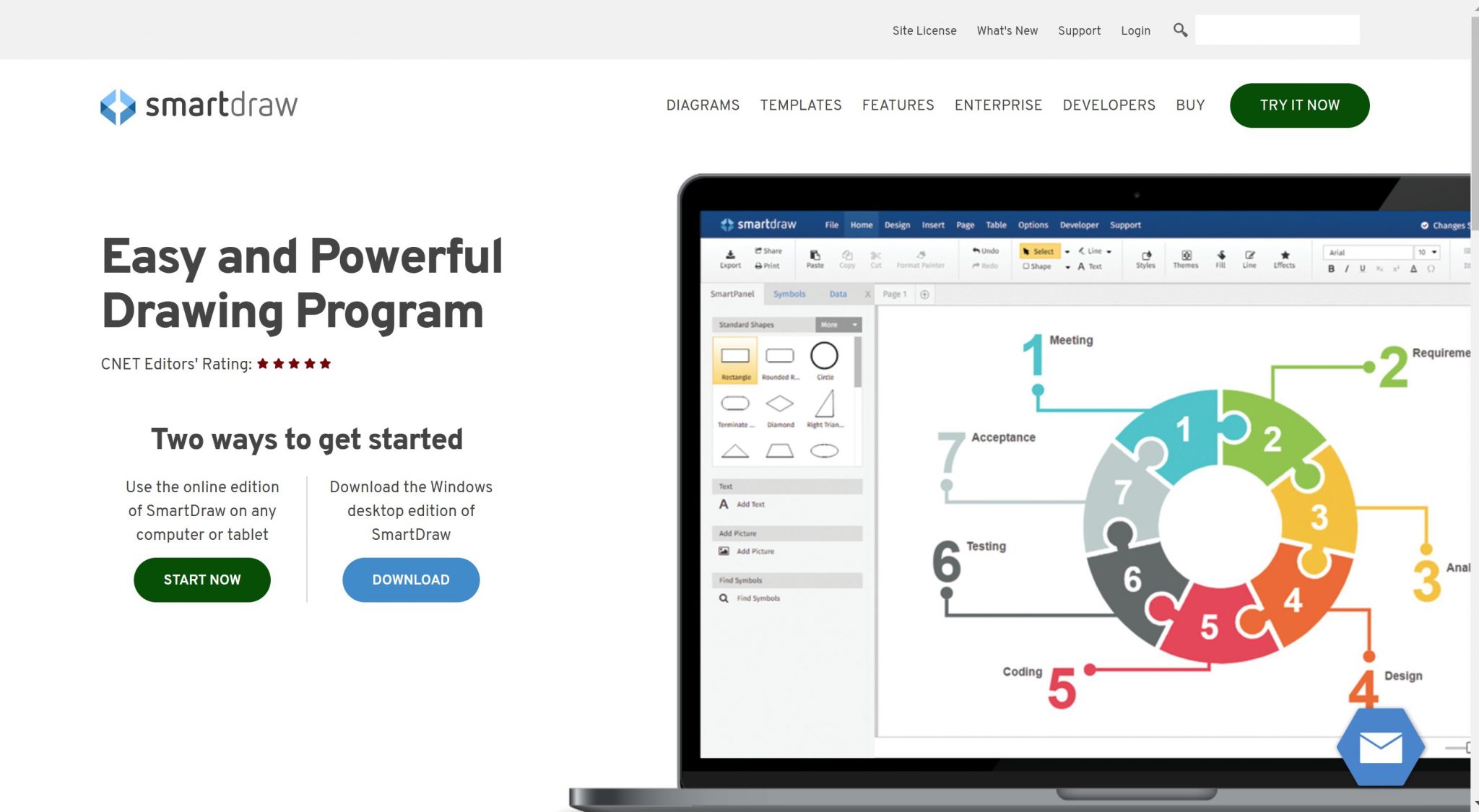 SmartDraw is a powerful and intuitive online flowchart maker tool that was launched back in 1994. It is considered as one of the competitors to LucidChart. Like Lucidchart, it is one of the best choices for Fortune 500 companies. It is slightly more expensive than the Lucidchart and a bit difficult to use. 
Not just the flowchart, this tool also offers options to create diagrams, mind maps, project charts, and floorplans. It is used by all sizes of organizations and companies. 
Features:
4,500 pre-made templates for diagrams, projects, and flowcharts. 

Option to draw over 34,000 unique symbols and shapes. 

Files can be imported from various diagramming tools as well as saved and exported to Google Drive, Dropbox, OneDrive, and other cloud platforms. 

Also offers integration with REST API.    
Pricing:
SmartDraw offers a free trial. After the free trial, users can get a premium license as a one-time purchase or yearly subscription. There is no monthly subscription. 
For a single user, you can get a lifetime license for $297. For 5+ users, you need to pay $595 annually. 
5. Cacoo: Best For Intuitive Use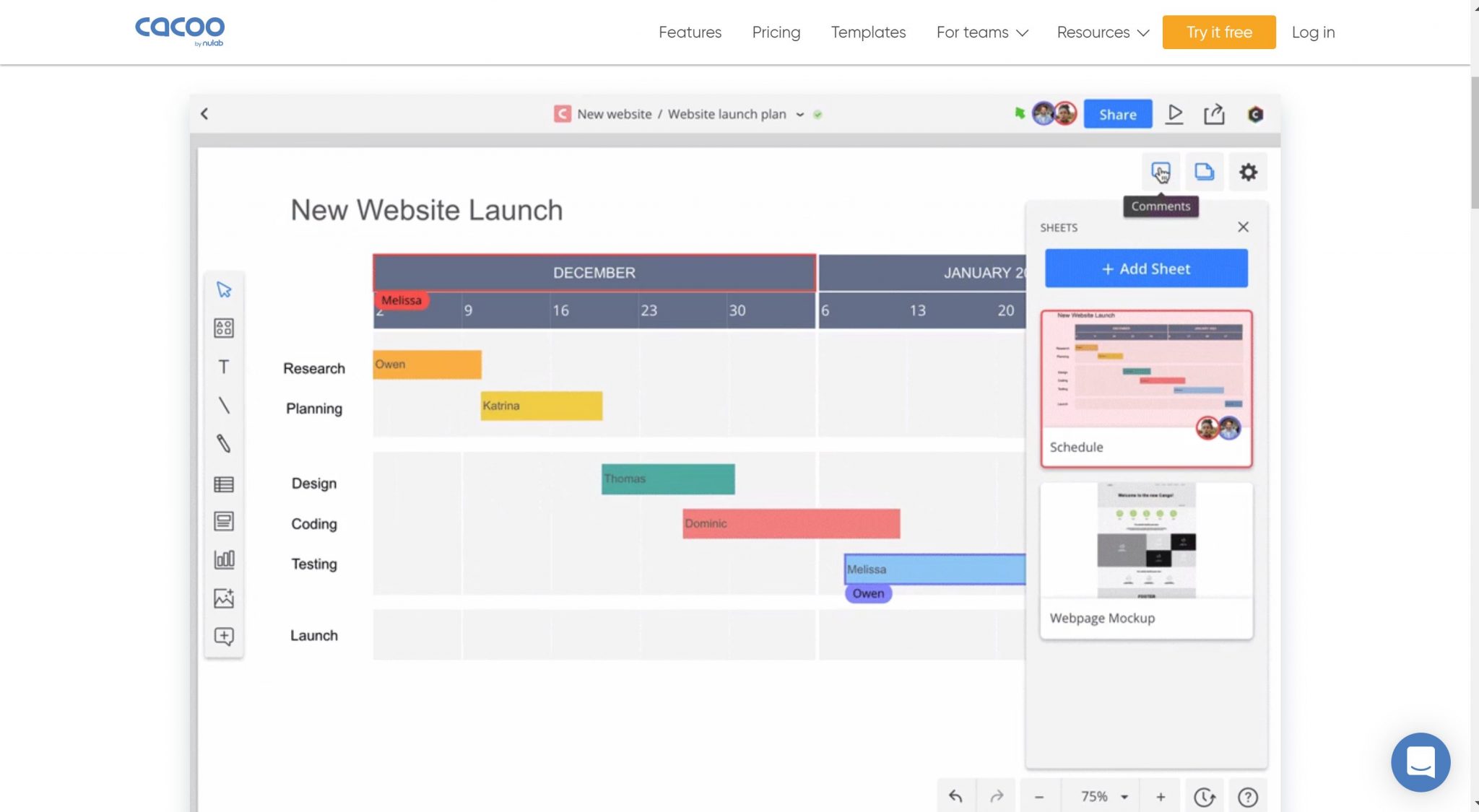 Cacoo is the cheapest cloud-based flowchart and mapping tool designed by the Japanese company Nulab. Cacoo can be used to create flowcharts, wire-frames, organizational charts, and other diagrams. 
Cacoo is considered best for companies, colleges, and research organizations. The dashboard of Cacoo is a robust and sleek one. 
Features:
Share diagrams via link or URL

Export diagram as SVG or vector image

Collaboration tools for the team for quick feedback. 

It integrates with Visio and Slack as well as cloud services like Google Drive and Docs, Confluence, Adobe Creative Cloud, Box, and Dropbox. 
Pricing:
Cacoo offers a 14-day free trial. It offers a single plan for $6/user/month. 
6. Draw.io- Easy To Use Flowchart Tool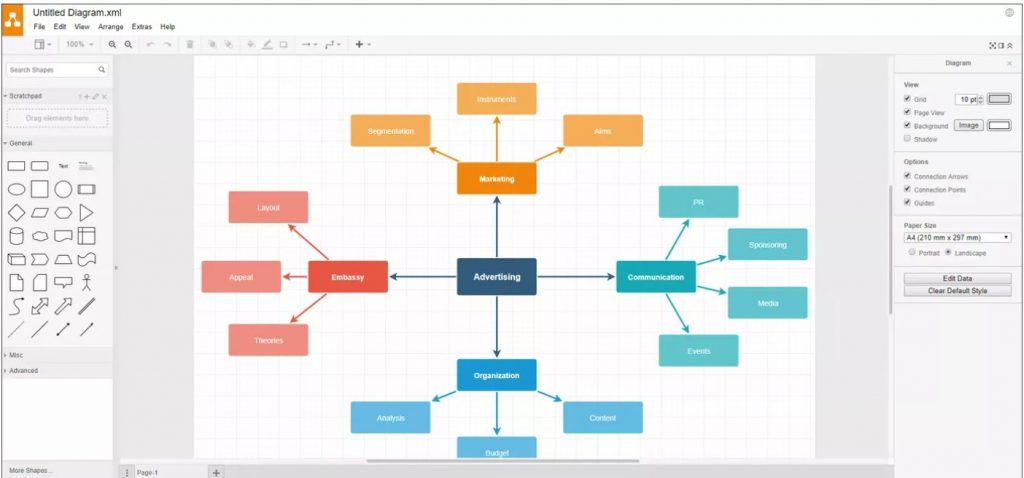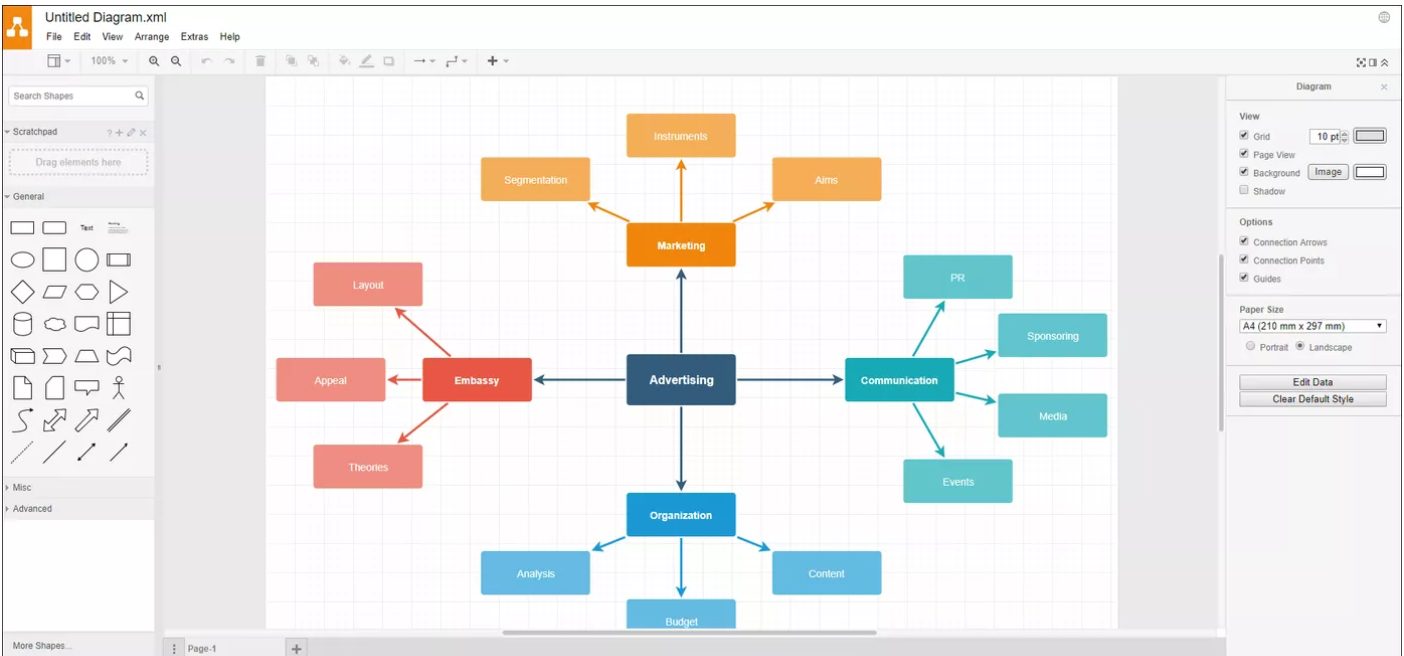 Draw.io is a free diagramming software for small businesses and startups. With Draw.io, you can quickly share and create diagrams efficiently. It can be used to create mapping diagrams, flowchart diagrams, and UML diagrams. 
For the newbies, the interface is too user-friendly. It works much similar to MS Paint. 
Features:
Share your files on various cloud platforms such as Dropbox, OneDrive, and Google Drive. 

It also offers various templates for creating flowcharts. 

You can also arrange the shapes and elements which are present in the form of a grid. 

You can import information from GitHub, Trello, and GitLab. 

With Draw.io, your files can be exported in various formats. 
Pricing:
It is completely free to use diagramming software.  
7. EdrawMax- Best In Features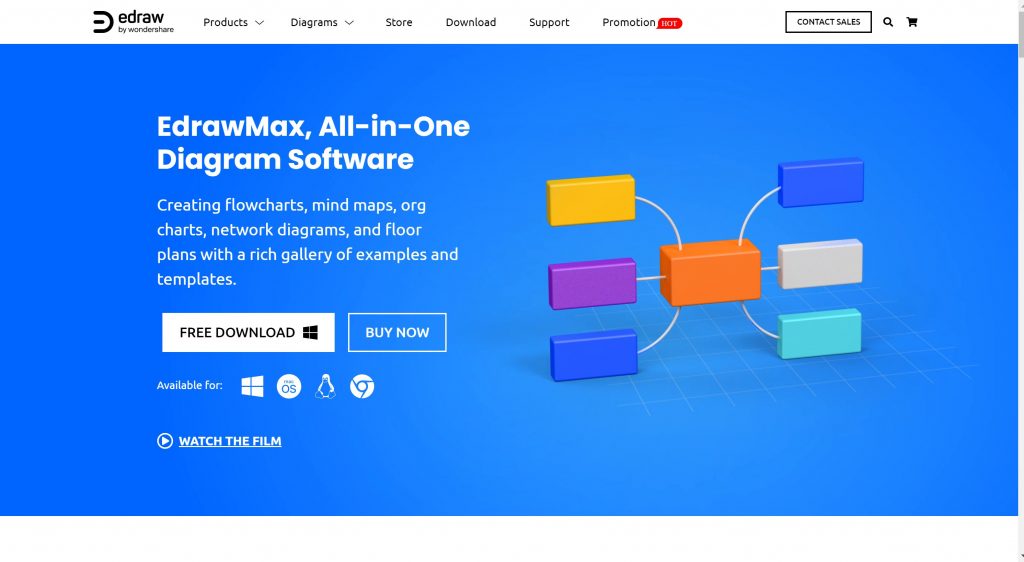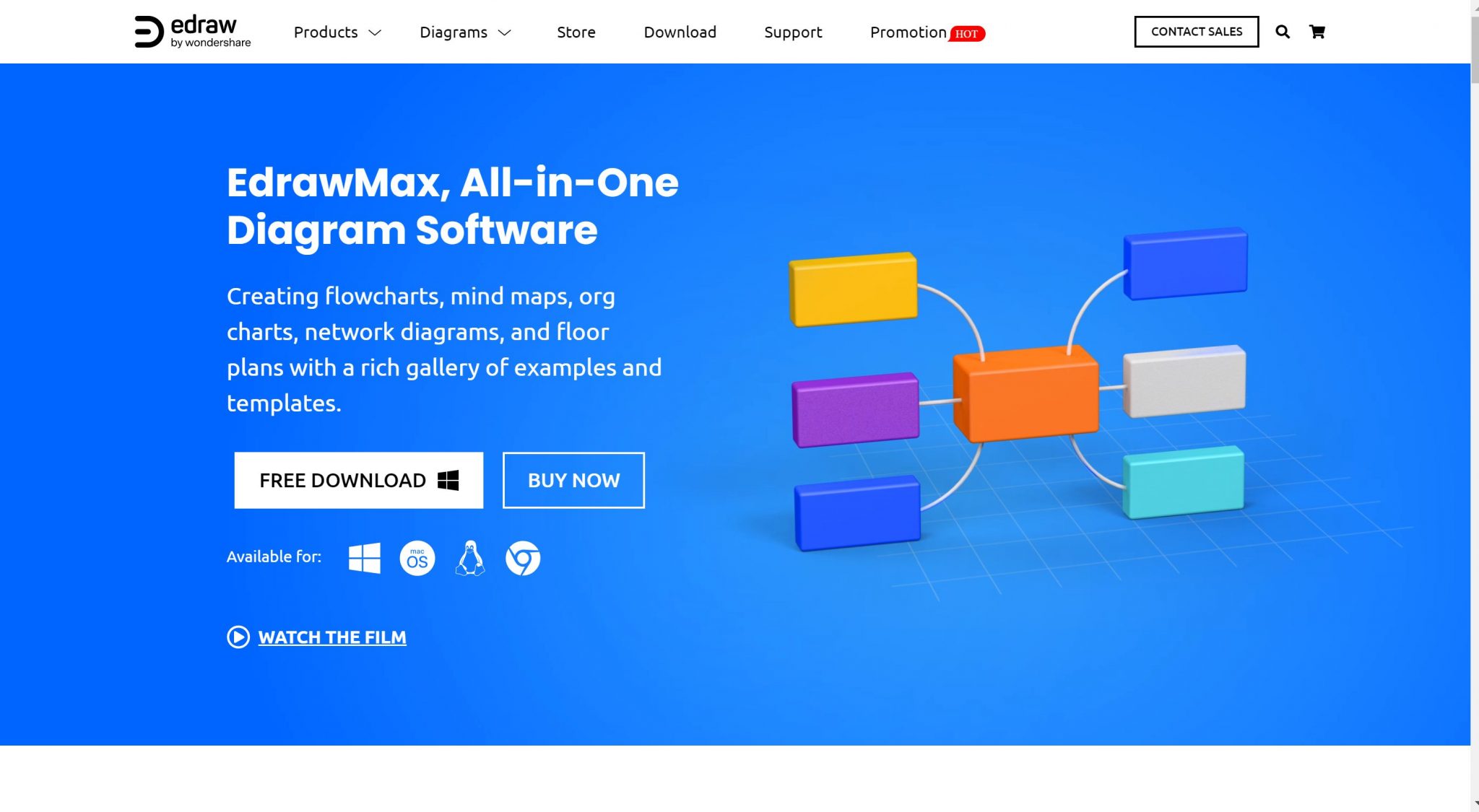 Edraw is an all-in-one diagramming software for small to large businesses. Edraw has a wide library of templates for creating flowcharts, mindmaps, network diagrams and floorplans.
Features
The interface is easy to use similar to MS Word.

Export your drawing in various formats such as PDF, PPT, JPEG, and more. 

Edraw gives 280+ flowchart and diagram solutions. 

It also offers a drag and drop interface and editable dashboard. 
Pricing: 
It offers a 30-day free trial. After the free trial, you can get a premium subscription for $99/year. You can also get a lifetime license for $179. 
8. Creately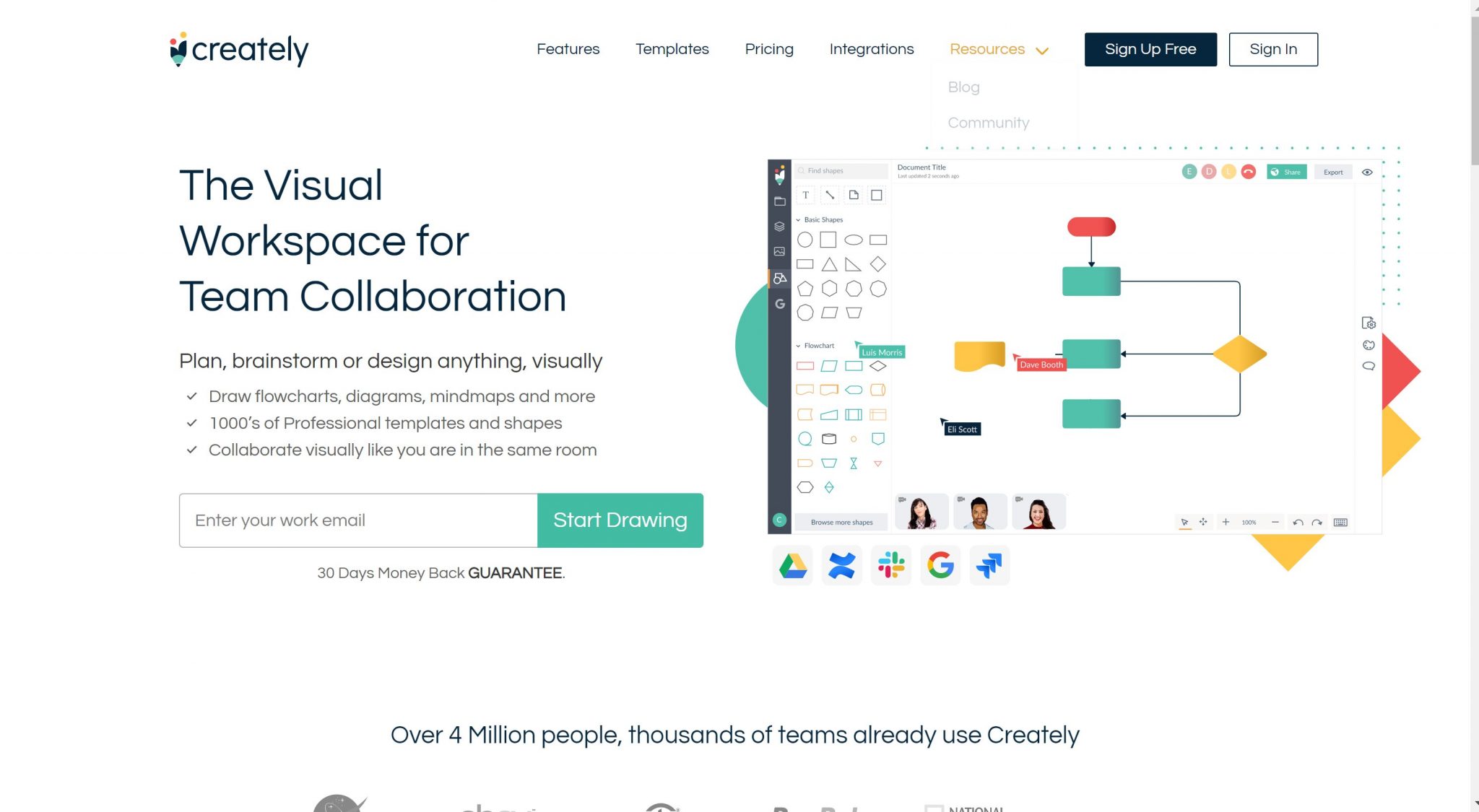 Creately is not only the best diagramming software but also one of the best collaboration tools for workspace. It offers a plethora of features to draw your desired flowchart. 
Features:
1000's of templates and designs. 

It integrates with tools like JIRA, Confluence, GSuite, and others. 

Offers iOS and Android Mobile Apps

You can also import the Visio files to Creately. 
Pricing:
Creately offers a free demo as well as a free trial. It also offers various plans for Team as well as the Individuals. 
9. Visme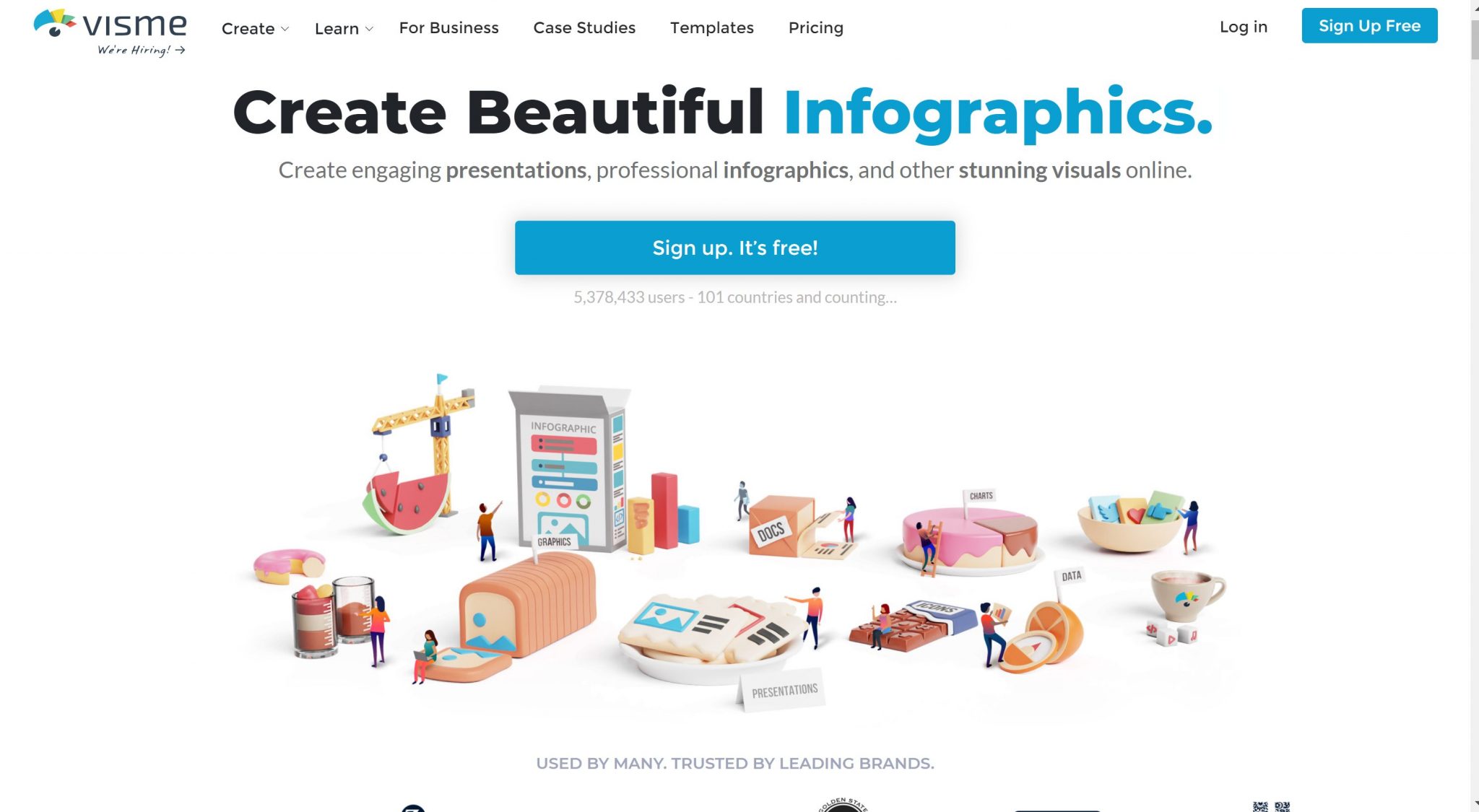 Visme is more focused on creating engaging presentations and infographics and other visual content. However, the flowchart capabilities are limited to some extent with this tool. 
Features: 
You can record voice with flowcharts. 

It offers 100s of customizable shapes, sizes and icons. 

Option to publish your flowcharts online and you can even download them offline. 

1000s of templates and designs
Pricing: 
Visme's single-user plan costs $39/month. For the team, it depends on the number of team members. 
10. Google Drawings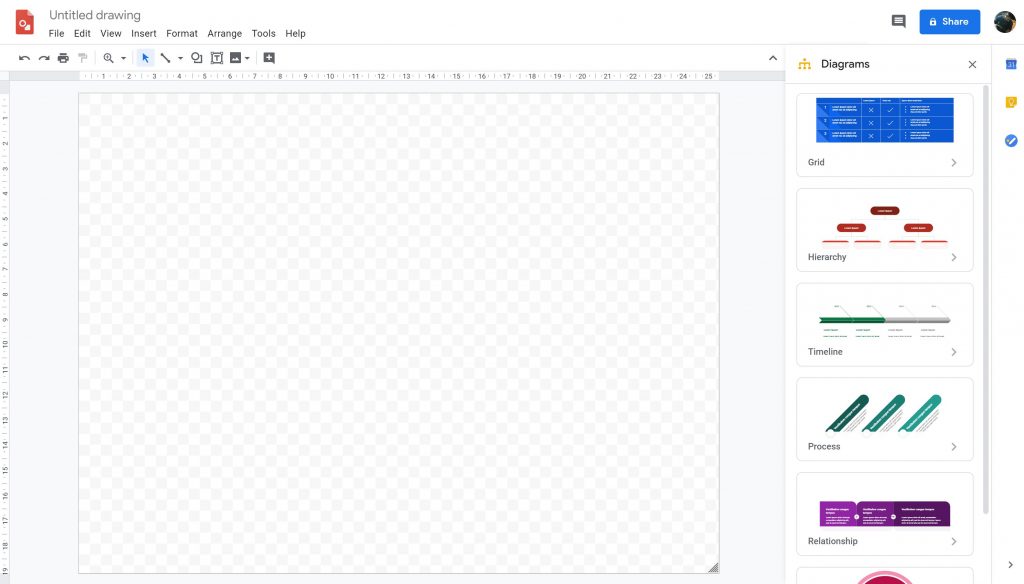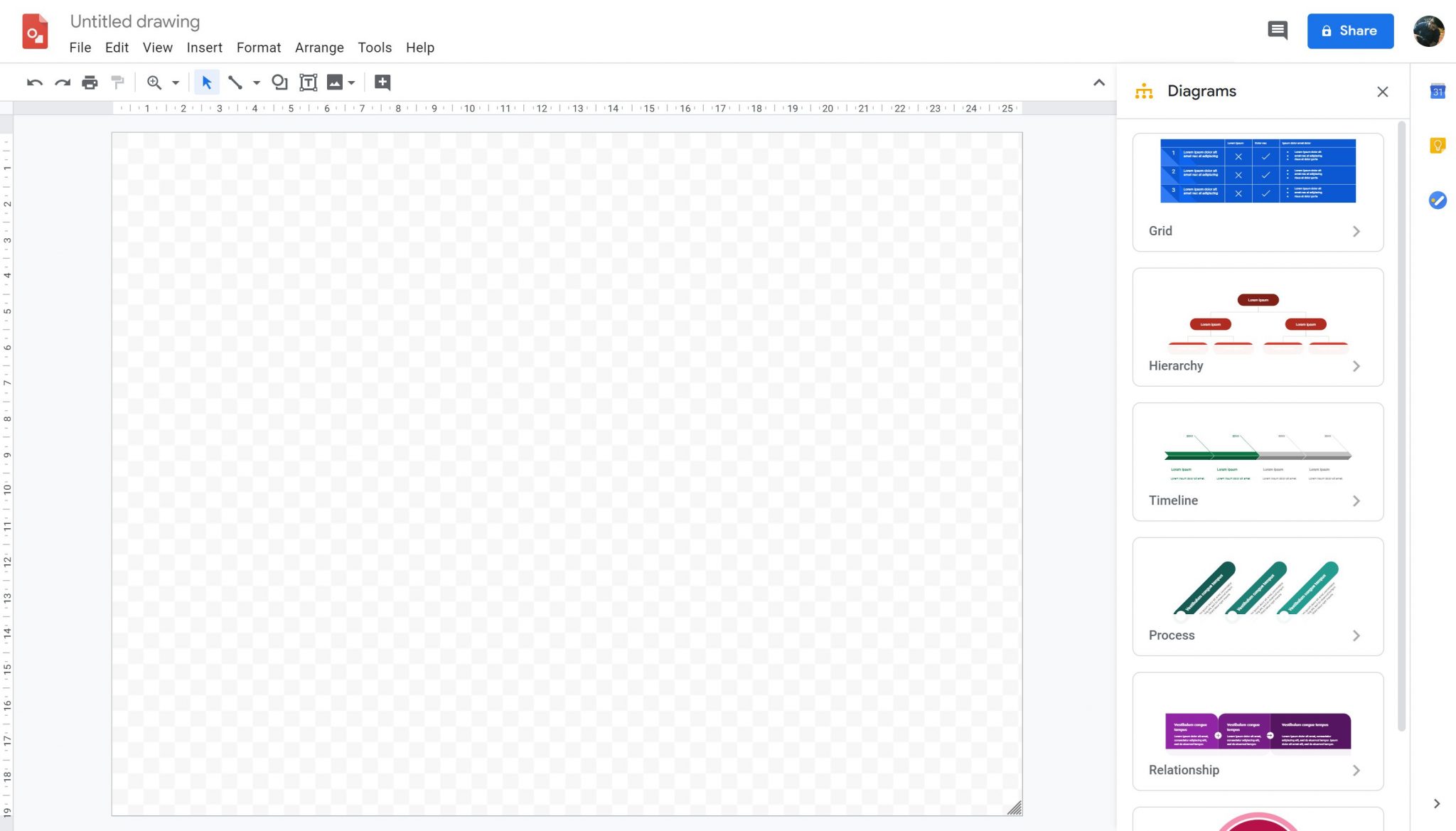 Google Drawings is yet another cloud-based diagramming software that is designed for startups and small businesses. 
Features:
It offers handy relationship diagrams, charts, flowcharts, and other customizable options. 

It is shareable with various users. 

Unlimited shapes and elements. 
Pricing:
Completely free to use.
Conclusion
This was our list of the best software for making flowcharts and diagrams. Creating a flowchart using these softwares can cut your time and effort. 
They work best for drawing simple and complex diagrams. If you need feature-rich software for large businesses, then Visio is the best choice. 
You can also choose free diagramming software for creating small diagrams. If you have more tools to recommend, leave a comment for us. 
Also Read: